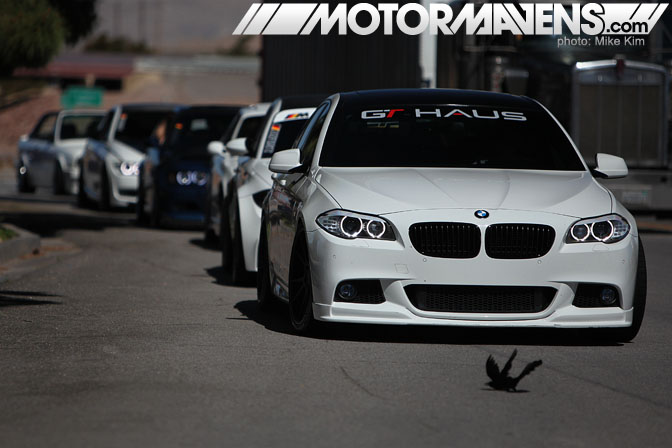 Reporting live from Sin City, the 2012 MFest is already underway… and it's getting HECTIC over here! MFest is much more than a BMW meet. MFest is much more than a BMW car show, and it's definitely more than a run-of-the-mill track day. What started out as a meeting of BMW M-cars has turned into an entire takeover of the Las Vegas Strip, with hundreds and hundreds of cars mobbing the freeways to Vegas in a huge caravan, averaging roughly 100mph (although, honestly, I saw some people that had to be going MUCH faster than 120 because of the speed at which they passed us on the 15 North!).
While there were plenty of M-powered caravans (we're talking multiple M cars, not Dodge Caravans with M engines) driving from other states, we drove along with the Southern California group, and it was super fun!!! While everyone else is out pre-partying it up at Lavo inside The Palazzo, we're sitting in our suite next door at The Venetian uploading pictures into the new gallery we made, which contains Images From MFest 2012.
Now our readers can see what the MFest experience is like, whether they're with us in Vegas, or chillin out at home. Enjoy the images, and if you're here at MFest with us, please upload YOUR own photos into the shared gallery linked above, so everyone can see your MFest photos too!
Earlier during the caravan up to Las Vegas from Southern California, we made a quick stop in Jean, NV so the MFest BMW crowd could set another world record for the most BMWs in a single caravan. However, when rolling into the parking lot an injured bird ended up stopped the flow of traffic for a few moments as it kept hobbling around in front of the car having trouble moving off of the road. Luckily for the bird, the passenger of the new F10/F11 BMW 5 series got out to help the poor creature. (I think most others probably would have just run it over. These Bimmer guys are nice!)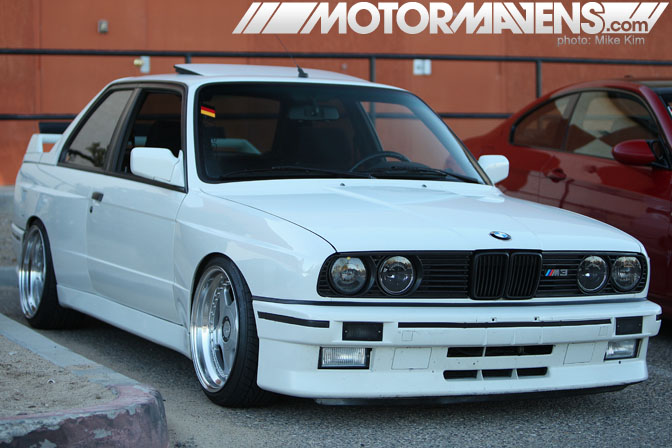 We spotted this clean rare BMW E30 M3 on our way up. The aggressive wheels and factory box flares on this generation M3 gives the car a very aggressive look, and we LOVE it!!!!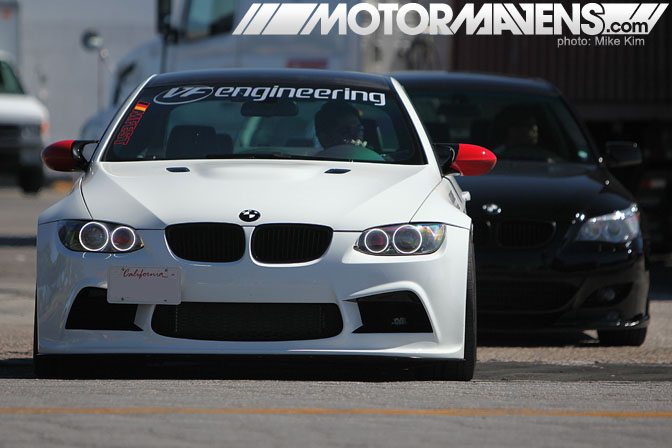 There were a lot of great looking Bimmers rolling up from SoCal during the caravan, and this E92 M3 from VF Engineering was no exception. With red painted side mirrors, it helped complete the 'track day' look for this M3.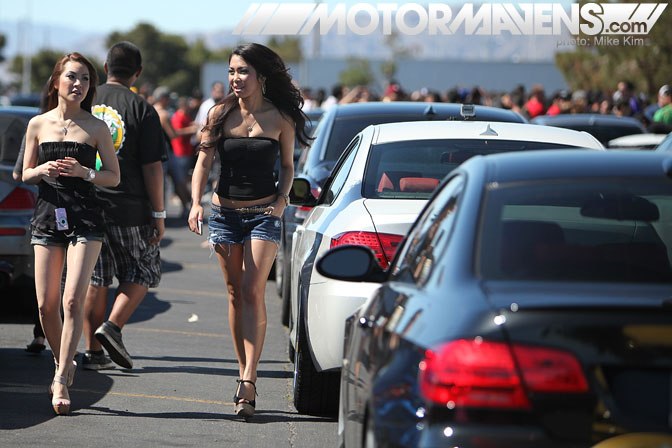 With the massive sea of BMWs already here in attendance, and even more people joining us tomorrow… this is going to be one exciting event to attend! If you are here in Las Vegas, you NEED to come down to the Speedway to check out the festivities!
We will be posting live updates from the event via Instagram, Twitter, Facebook, and Tumblr all day, so make sure to Follow @MOTORMAVENS for more pictures and updates! Oh and a special thanks to Chris From MFest and his team for inviting us, and for their amazing hospitality! It's all love between the MotorMavens Crew and MFest!
:: Mike Kim
View More Images From MFest 2012 and UPLOAD YOUR OWN PHOTOS to be shared on MotorMavens!
---