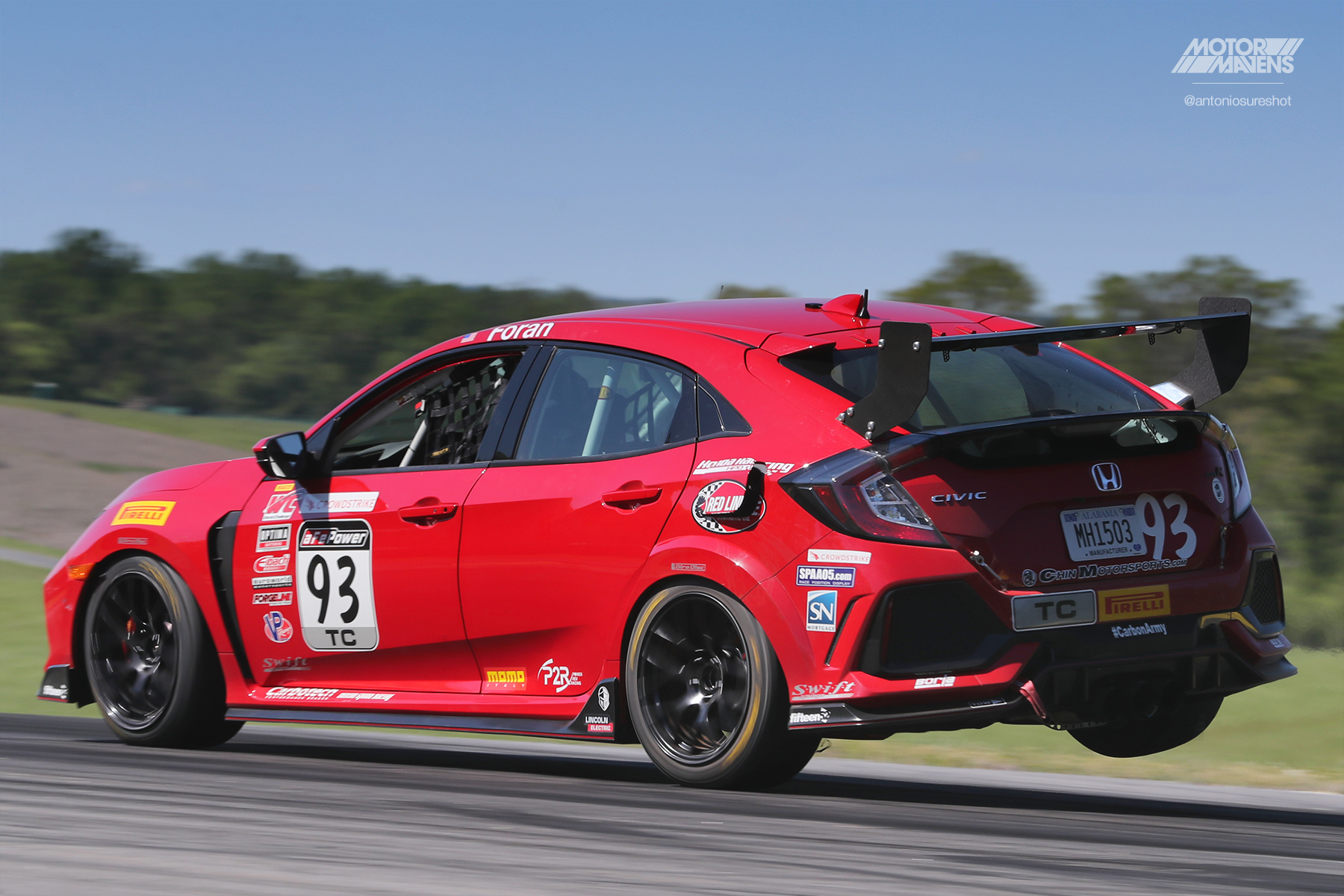 This past weekend, I visited Virginia International Raceway for the very first time. I was at VIR to work with the Pirelli World Challenge team on some content creation surrounding their event, and as soon as I began posting up my first round of photos on Facebook and Instagram, I received tons of text messages from automotive industry friends, telling me to look out for certain cars that they were excited about.
Since I have a TON of friends that own different generations of Honda Civic, Integra, S2000, RSX, NSX, and the like, it seemed that all these people were interested in watching the new TC, TCA and TCR classes from World Challenge. On the internet, there was a lot of speculation on how the new Honda Civic Type R would fare in the PWC VIR event.
The PWCVIR event marked the first North American racing win for the Honda Civic Type R TCR.
While anyone who tracked Pirelli World Challenge's social media updates or watched the race on CBS already knows that the Realtime Racing Civic Type R won top honors in the TCR class's Saturday race, there was another Civic Type R at the event that I think deserves some attention. Namely, the HMA Motorsports Civic Type R with Josh Foran in the driver's seat.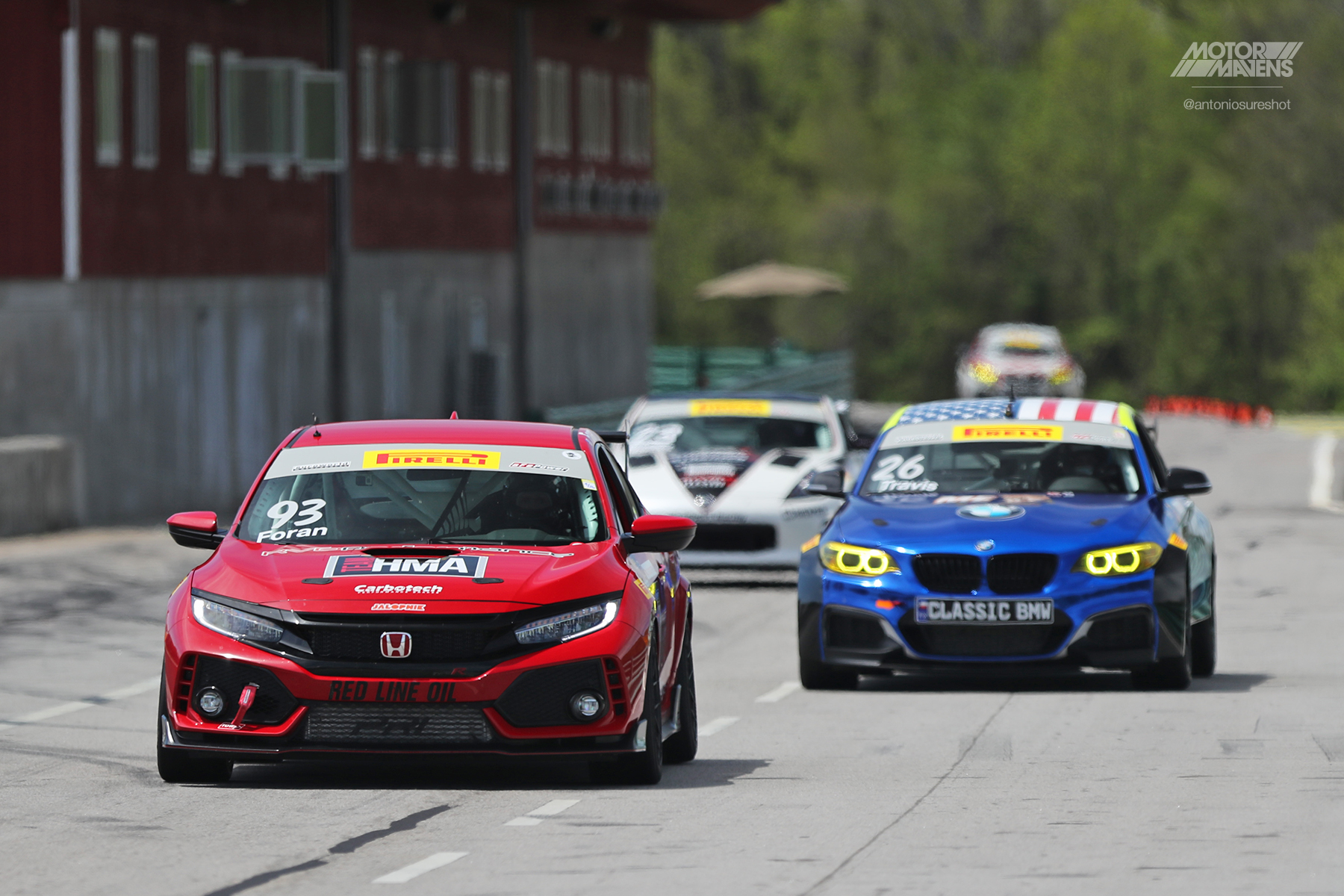 HMA Motorsports is racing the exact same Civic Type R that you can actually buy today at your local Honda dealership.
While the TCR class widebody Civic Type R (can we just call it a TCR CTR?) from RealTime Racing certainly looks amazing with its DTM-esque widebody fenders, the factory bodied CTR from HMA Motorsports with a bone stock Honda engine is pretty much the exact same Civic Type R that you can buy TODAY at your nearest Honda dealership. All you would need to do is add some safety equipment and you are good to hit the track!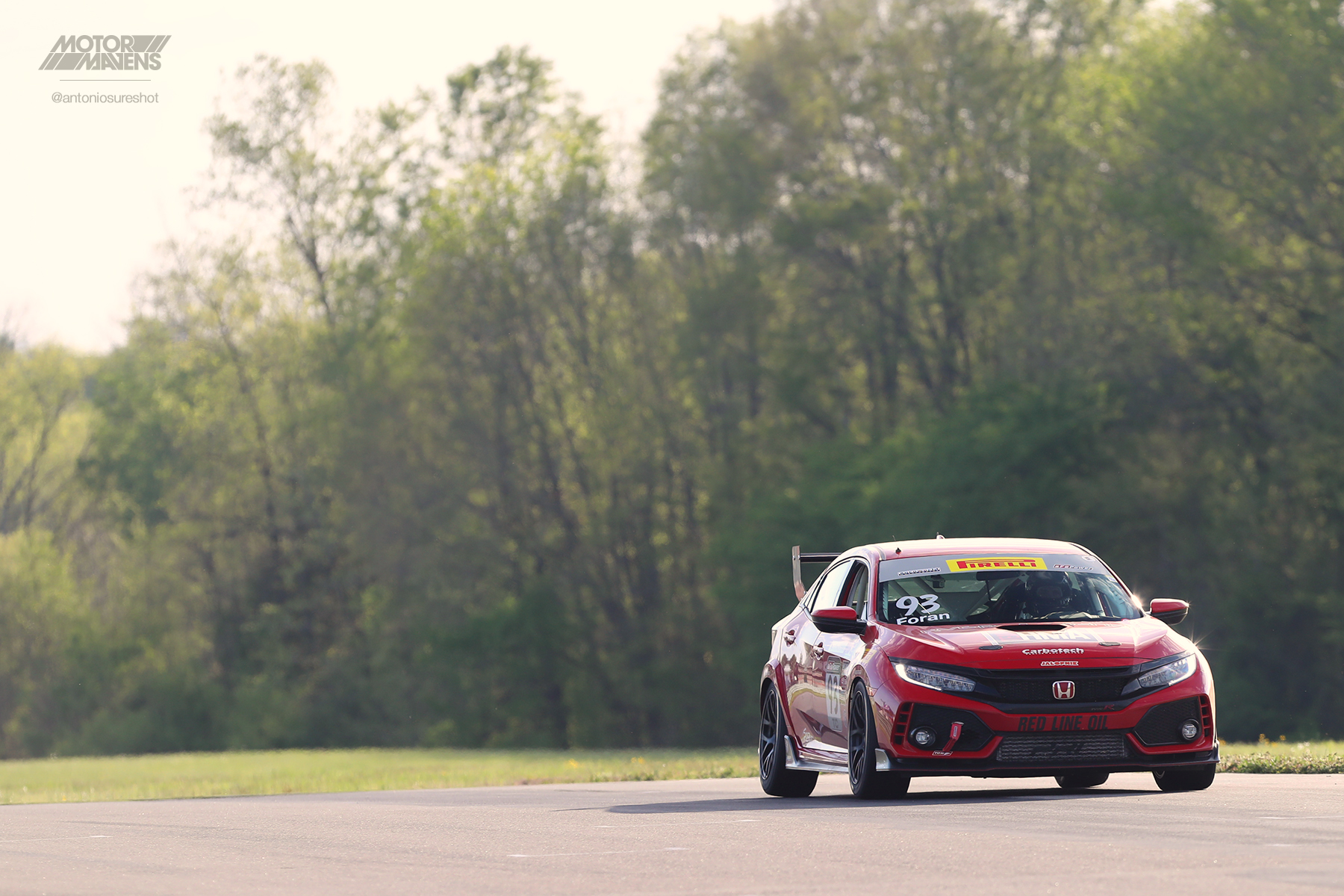 For those who haven't heard of HMA Motorsports, it's a team made up entirely of Honda factory employees from the Honda Manufacturing of Alabama plant that produces the Honda Ridgeline, Odyssey, and Pilot.
Passion, dedication, and consistency.
All the members of HMA Motorsports are VOLUNTEERS that have committed their time to the team for the love of racing. Contrary to popular belief, they are not a big dollar factory backed race team in that sense, although they are extremely thankful for the support they do receive from Honda.
It's almost as if they read Gary Vaynerchuk's 2009 book on entrepreneurship, Crush It – the members of HMA Motorsports are grassroots racers who clock full shifts building Hondas at the factory, but after work, they go to their race shop to fulfill their dreams of building race cars. Now that is dedication and passion. Now that is truly The Power of Dreams.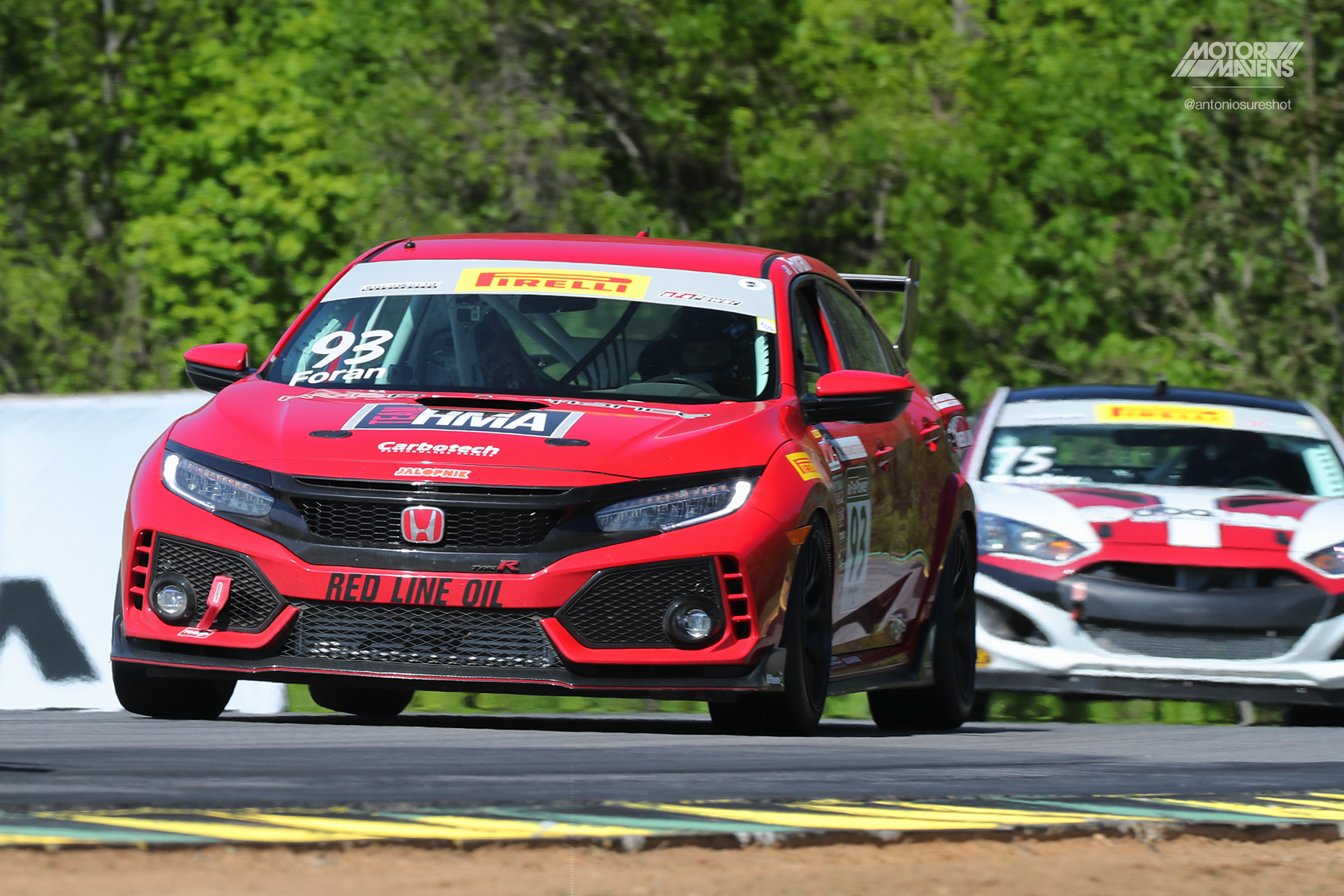 Prior to driving the HMA Motorsports Civic Type R, Josh says he began driving indoor go-karts when he was about 15 years old. He heard that Red Bull was doing an F1 driver search at local karting centers all over the country, and the local kart track in Sterling Heights Michigan (near Detroit), Kart 2 Kart, was one of the approved centers that they were pulling drivers from. This was the start of his path towards becoming a racing driver.
He always wanted to race, but didn't come from a ton of money, so he had to find another way to get behind the wheel. Josh explained, "I mowed lawns for money, and asked my neighbors if they would give me their coupons that the local kart track sent out to everyone in our neighborhood in the mail."
"I grew up in the 8Mile area of Detroit (Note: he has never met Eminem – I asked him already), and my mom taught piano in the projects, so we regularly passed houses with holes in the roof and all that. I remember when the hubcaps off our car got stolen. Why the hell would people steal HUBCAPS?" he asked, laughingly. "I'd understand if they were a mag wheel or something, but these were plastic hubcaps!"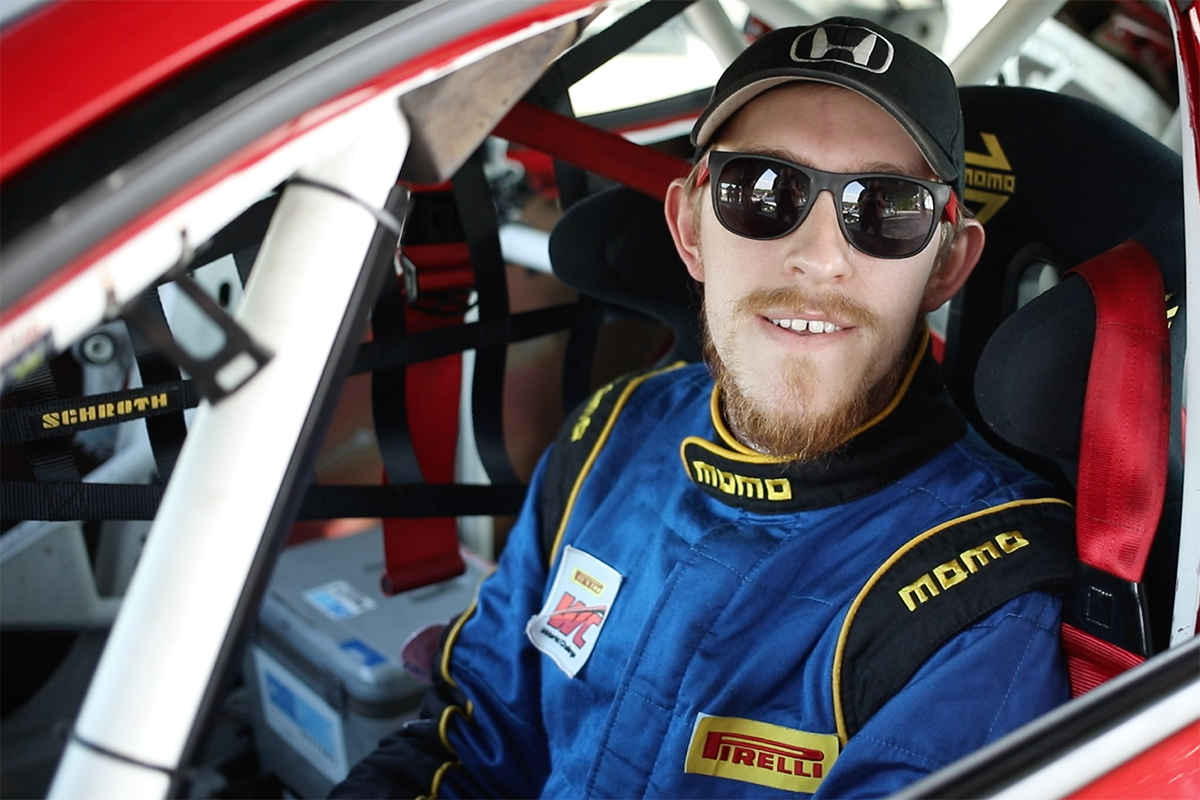 Apparently, before Josh ever began road racing Hondas, he used to drift a black S13 Nissan 240SX hatchback for 8 years. He first started started autocrossing the single cam KA24 powered S13, then he bought some used Tokico blues (Tokico HP shocks) and Eibach springs and started drifting – even without a limited slip differential.
But they said drifting isn't racing because it isn't the fastest way around a corner…
Even though he was going to school in Tennessee, he would save up money and drive 4 hours each way to attend grassroots drift events that were put on by our mutual friends (when we met, I had NO IDEA that he was into drifting previously, and NO IDEA that we had mutual friends) in Atlanta. His first event ever was an early event thrown by our mutual friend Marcos from South East Drift Association, and he was hooked. He kept driving to Georgia to attend SEDA events and events thrown by the Drift Mechaniks crew. (At this point, I was blown away that he knew Andy Sapp from Drift Mechaniks, a good friend of mine from Atlanta who was one of the original founders of the MotorMavens website!)
Josh explained that he thinks that his experiences in drifting helped him adapt more quickly to new cars and got him a lot more comfortable controlling a car with a loose rear end.
He says this translates to driving his Civic Type R in World Challenge, because "in order to make a front wheel drive car fast, you have to set it up so it handles super loose. You want the rear end to slip a little so you're not understeering all over the place."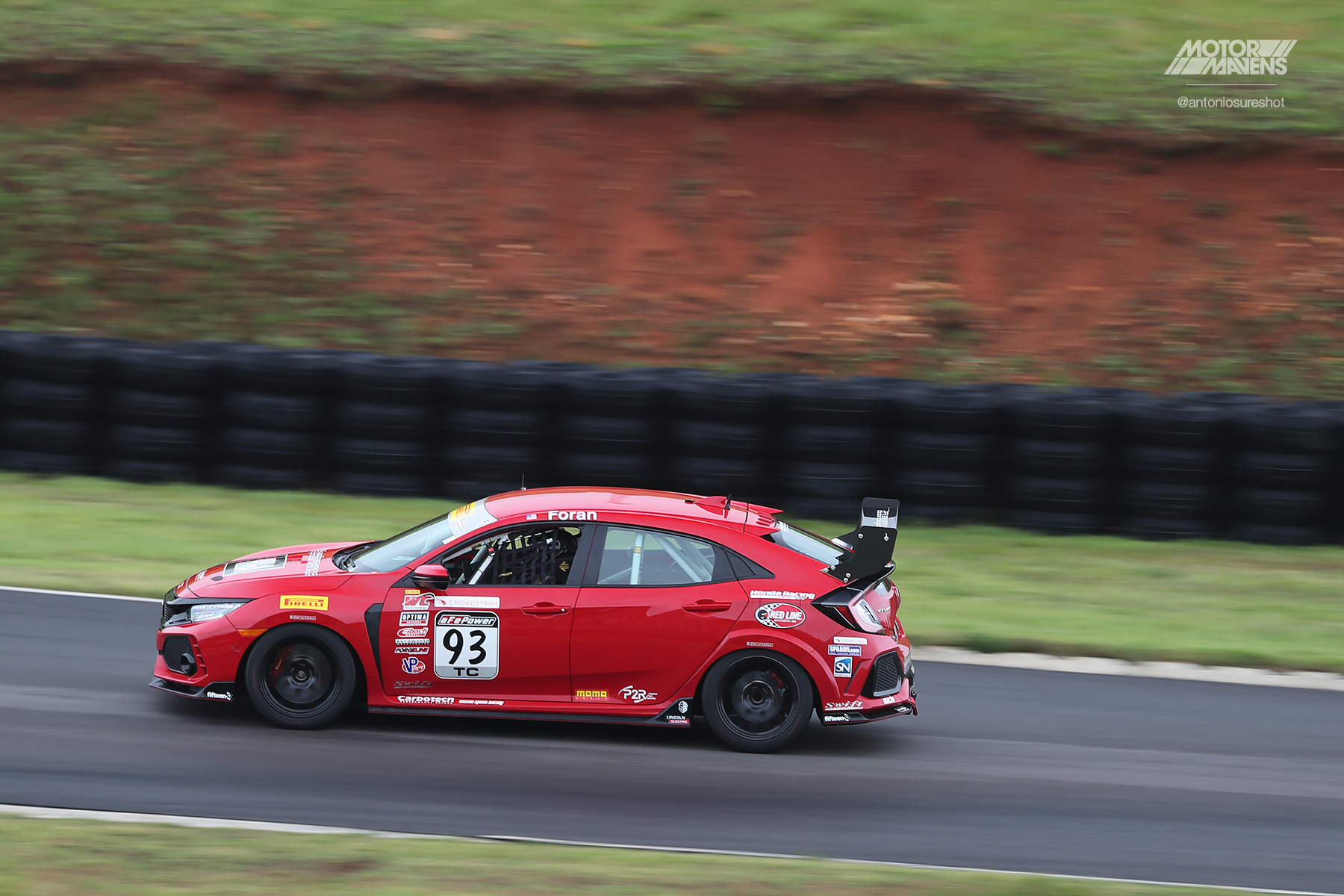 In addition to drifting his S13, he was also involved in the Formula SAE program at his college, Tennessee Tech University. It was through Formula SAE that he learned how to do tig welding and fabrication.
When he eventually interviewed for the job at the Honda plant, Josh saw HMA's Honda Odyssey race car parked outside, with Enkei RPF1 wheels and a race seat and a roll cage, and he was immediately drawn to it. When his interviewer mentioned that they had a race program, Josh knew right away he needed to take the job at Honda so he could get involved with racing, even though he had some other lucrative job offers to consider also.
HMA Motorsports values sweat equity and commitment.
He got involved with the HMA Motorsports team right away, and paid his dues by cleaning the warehouse, moving boxes and cleaning a lot of car parts for the team before he was allowed to jump on any real race projects. He stuck it out though, and eventually showed enough dedication to the team to be allowed to compete in the One Lap of America in the HMA Acura MDX. "We finished 25th out of 60 competitors in our SUV… even though all the other competitors were driving sporty cars," he explained, "So that was pretty cool."
Josh says he owes a huge debt of gratitude to Paul Street for helping him get to where he is today. Paul was formerly the HMA team leader and main driver before Josh came on board. He basically helped groom Josh into the position of team leader, encouraging him to get his Pirelli World Challenge racing license in the event that the team would need another driver… so when Paul left Honda to pursue other opportunities, the other team members voted Josh into the position of main driver and team leader.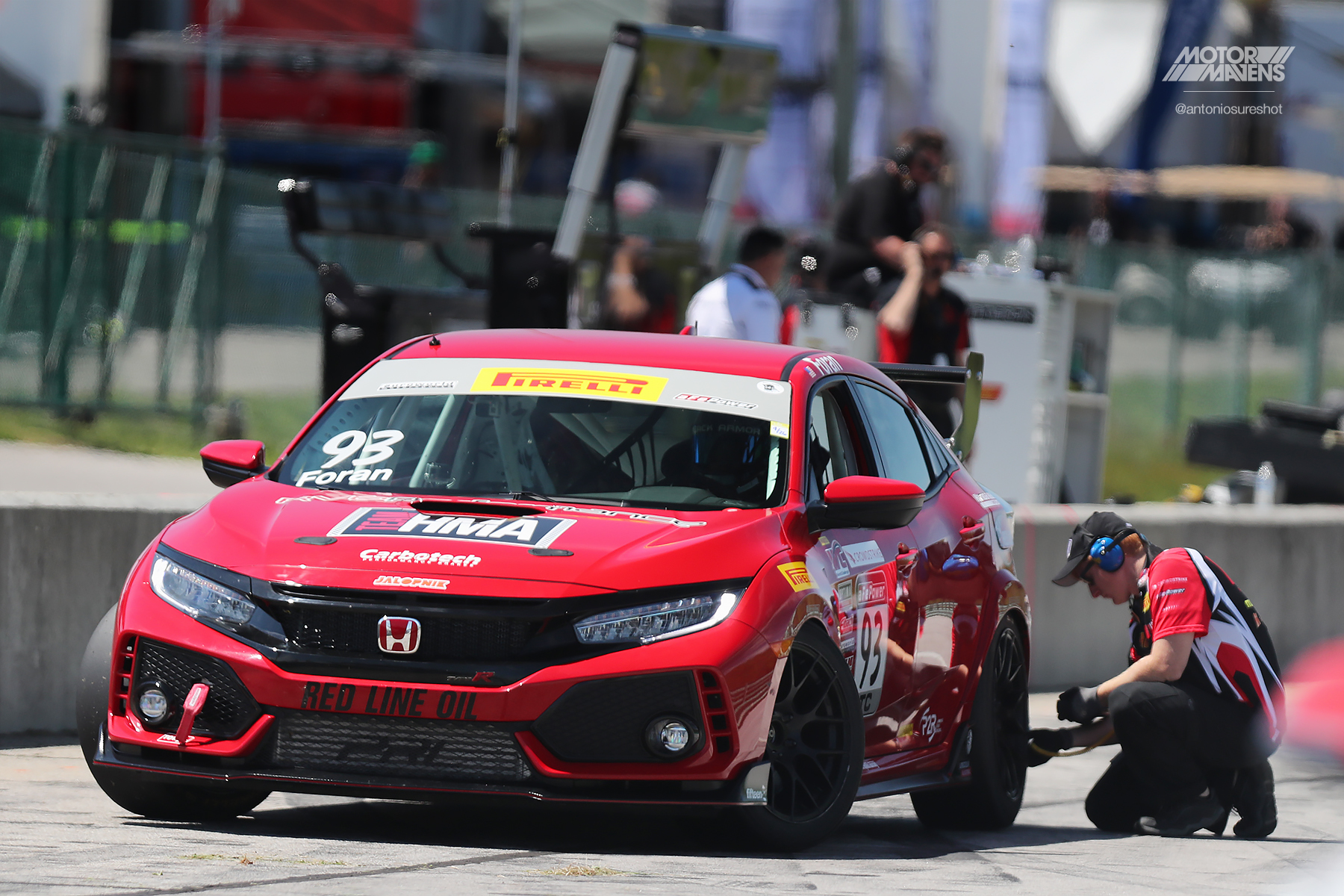 Karl Hertel does PR and social for the HMA team. He also checks tire pressures trackside, as shown in the above photo.
Karl initially got his introduction into motorsports through the Formula SAE team at his college, Kansas State University. After college, he worked at the Ford plant in Kansas City for a while before eventually moving over to Honda in Alabama.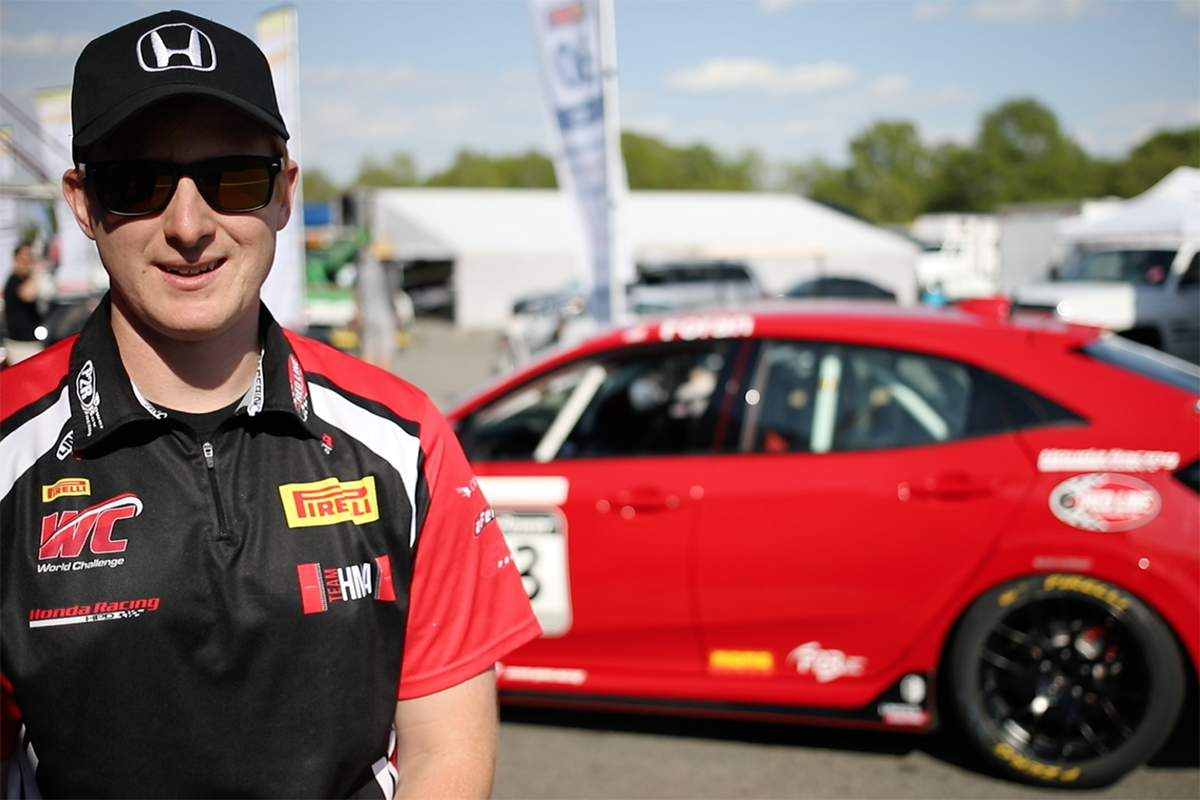 When Karl found out in his initial job interview with Honda that there was a race team run by the factory employees, he was intrigued right away. He explains, "Actually, I found the team on Facebook, and sent them a direct message saying that I was gonna start working at the plant, and asking how I could get involved with the race program. I actually started volunteering and doing work for the race team two days before I even officially started working at the Honda plant! It's kind of funny, cause now I'm the one who runs that Facebook page."
Aside from doing PR and social media, Karl also drives for the team! He currently races the HMA Honda Odyssey in NASA Honda Challenge when he's not coordinating the team's appearances at community events like the annual Honda 5K marathon and other local events.
"Daaaaaaamn! Sick rear camber, bro."
While we were hanging out in the paddock area and I started getting more comfortable talking to the team (we had just met a couple hours prior), I noticed all the rear camber on the car, and joked with Josh, "Sick rear camber, bro. Are they going to have a Stance Nation show here at World Challenge?"
He laughed and said, "yeah man, we run a ton of rear camber!" I mentioned to him that I run a ton of negative camber and extended lower control arms on the front of my AE86, but the rear end has zero camber because it has a live axle rear end. In all seriousness, I asked why they are running so much rear camber.
I figured it would be a good question, because rear camber seems to be such a huge debate on the internet with so-called "race car experts."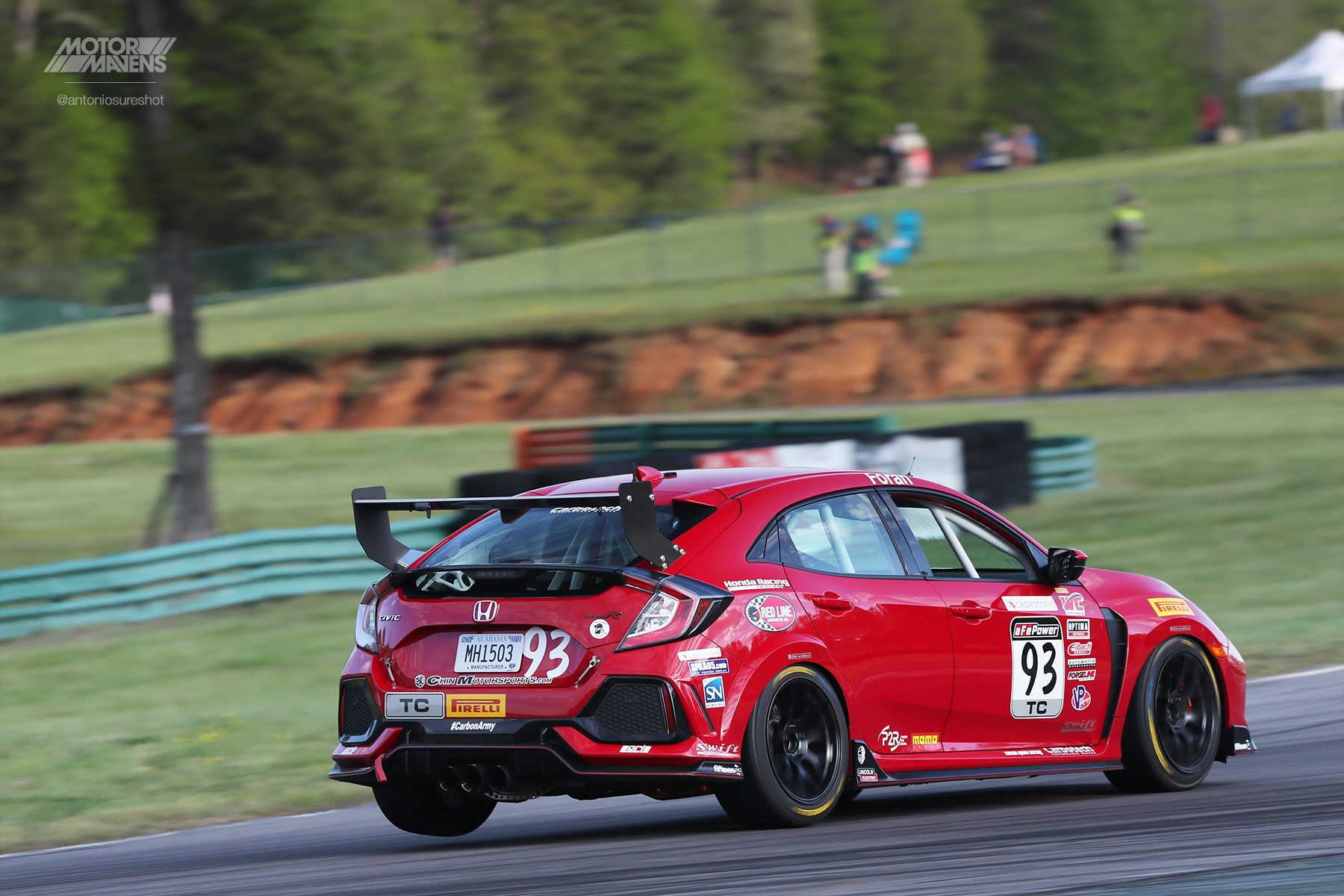 According to Josh and the guys from Team HMA Motorsports, there are two schools of thought when it comes to "looseness" in a front wheel drive car.
One way to make an FF (front engine, front wheel drive) car handle well is to run the rear wheels straight up and down with no negative camber… but with a little bit of toe out in the rear wheels. Having the rear wheels toed out helps the driver rotate the car while cornering, because you're driving on the outside of the tire.
They continued to say that the other way to make the car handle real well under heavy cornering is to run a bunch of negative camber in the rear wheels so that on initial turn in, the tire contact patch is small; however, the contact patch gets bigger under cornering loads as the suspension compresses. This setup also means that on straights, the contact patch is real small, reducing the rolling resistance of the tire.
They also run 5mm of toe out on each side of the car, which means the car's rear end is super loose. There are people who run more, but HMA is also running FIVE DEGREES of negative camber in the rear of the car also, which is why the rear camber is so noticeable – it also helps them tremendously under cornering.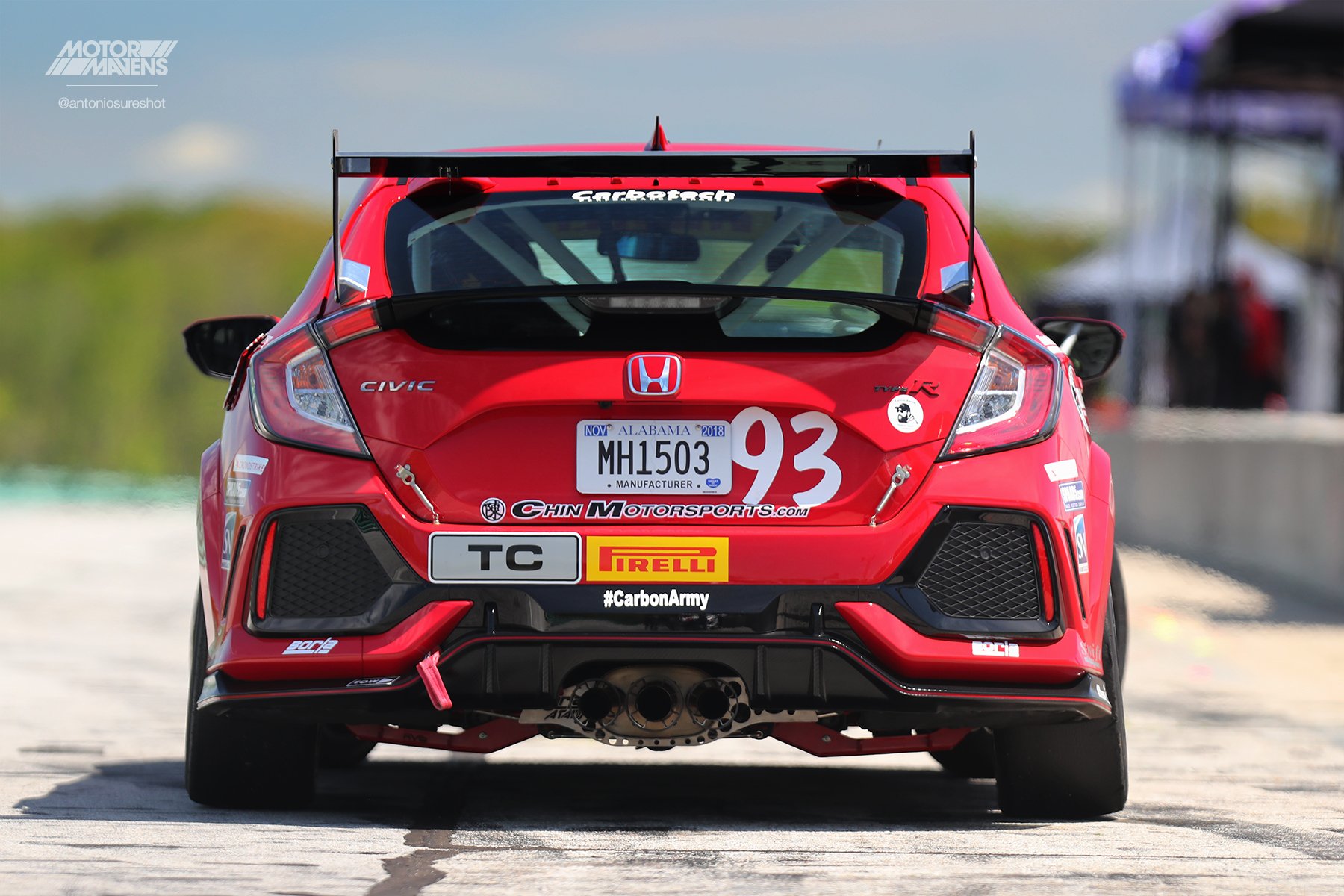 A close look at the rear of the CTR will reveal the rear control arms with spherical rod ends for rigidity, and the newly designed triple tip Borla Exhaust in the middle of the car.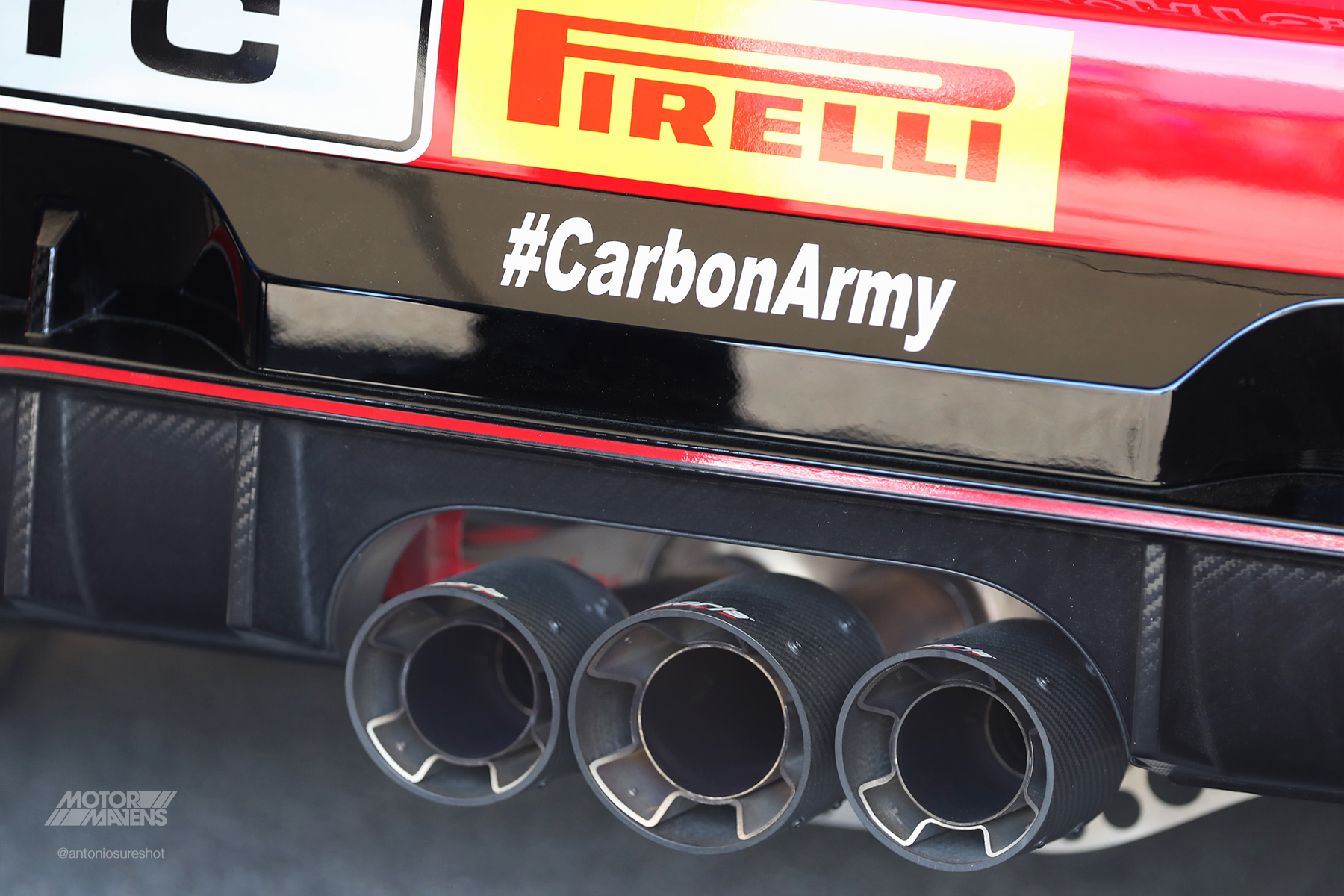 It was cool to see the new Borla Exhaust for the CTR, as it was designed by a friend of mine at Borla named Alvin Tolosa. This brand new exhaust for the Civic Type R can apparently be ordered in two sections – the 3″ Competition-Use-Only down pipe (this means it's not street legal in California, so keep your stock units around for when you need to smog your car! :D), and the single-muffler 2.75" catback exhaust with 3-carbon fiber tips that match the look of the carbon on the CTR's rear bumper.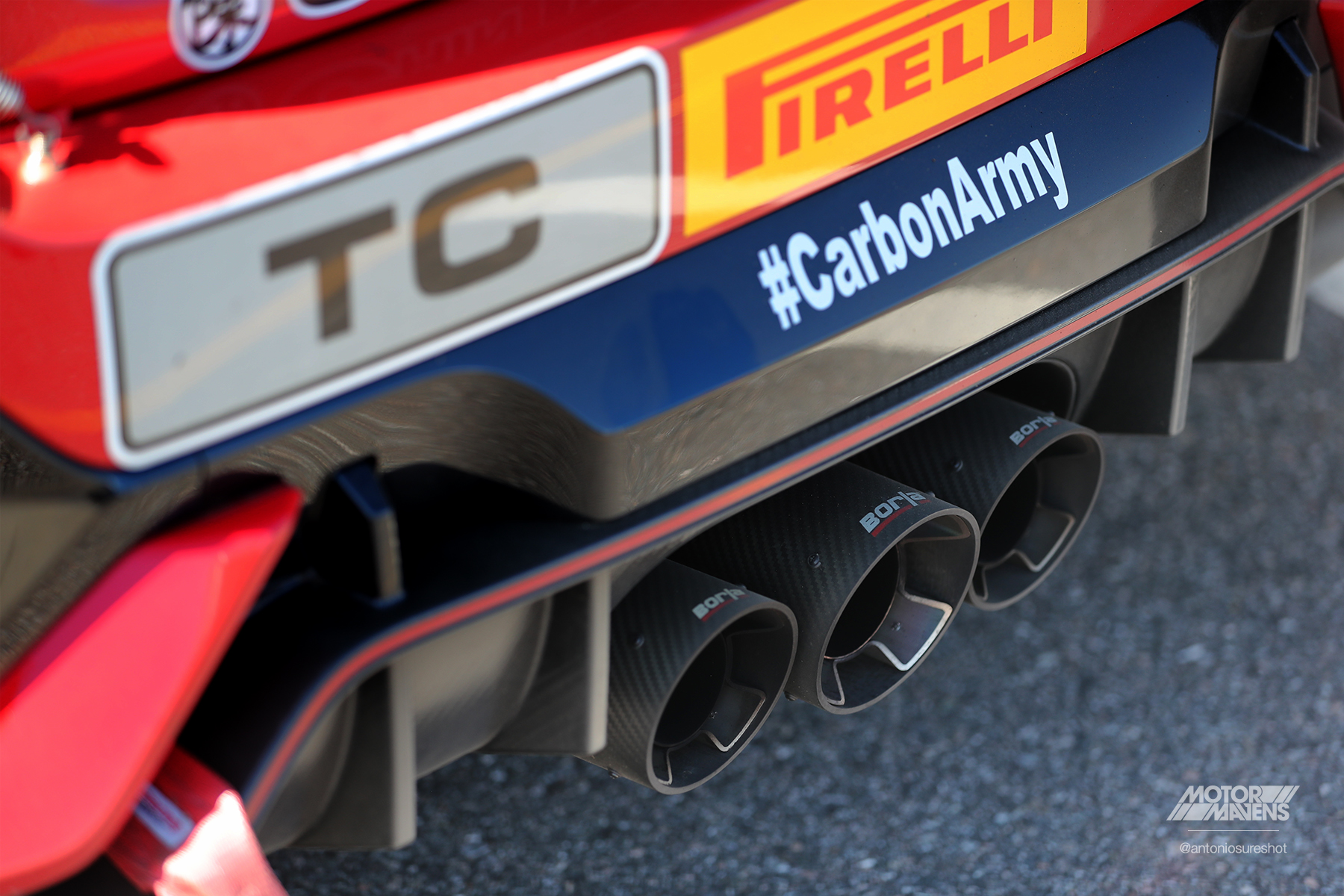 Apparently, the folks at Honda Performance Development contacted Borla Performance to provide a turbo back exhaust for the Civic Type R since Borla R&D already logged many hours of performance evaluation with the CTR on their Dynojet.
Borla developed the down pipe to mate with their catback, so it was a good opportunity for them to get involved with the HMA program to get performance and durability feedback on their products from people who actually race the car. They also provided HMA with some special front mufflers with Polyphonics Harmonizer technology, which enhances the exhaust note at wide open throttle.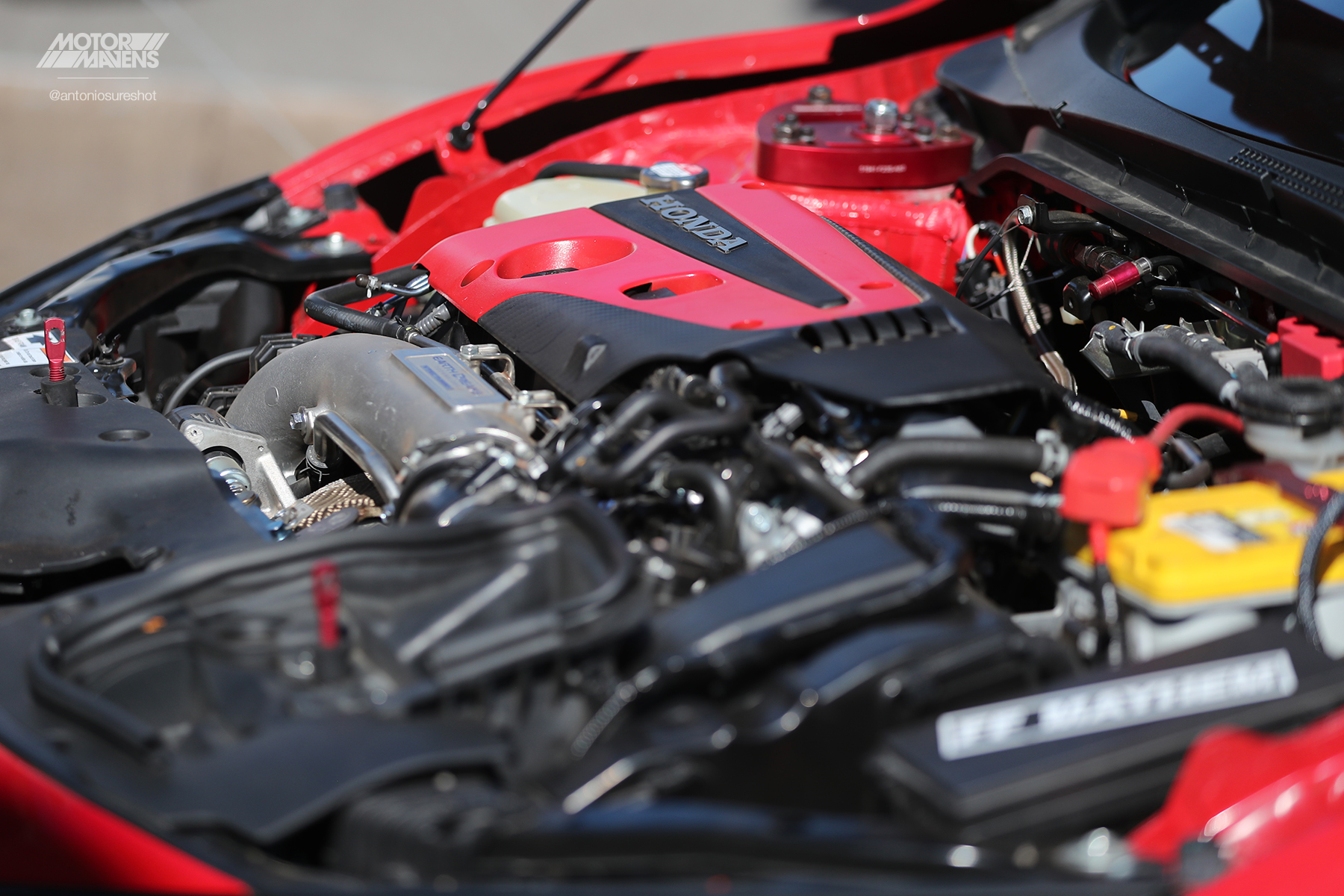 True factory performance with a bone stock Civic Type R engine.
Under the hood of the HMA Motorsports CTR, one might expect a crazy engine setup, since it's a real race car… but quite the contrary. The engine bay on this car is pretty much bone stock aside from the USR Turbo Blanket covering the turbo to prevent heat soaking the engine bay, and the aforementioned Borla downpipe.
This CTR also currently uses the factory Honda tune, so it truly is the same engine that anyone can find on a dealership lot! In fact, they had to drill holes into the valve cover and block, and their engine was officially sealed by Pirelli World Challenge tech inspectors in accordance to the series rules. This means they can't change anything without going through a rigid approval process with PWC.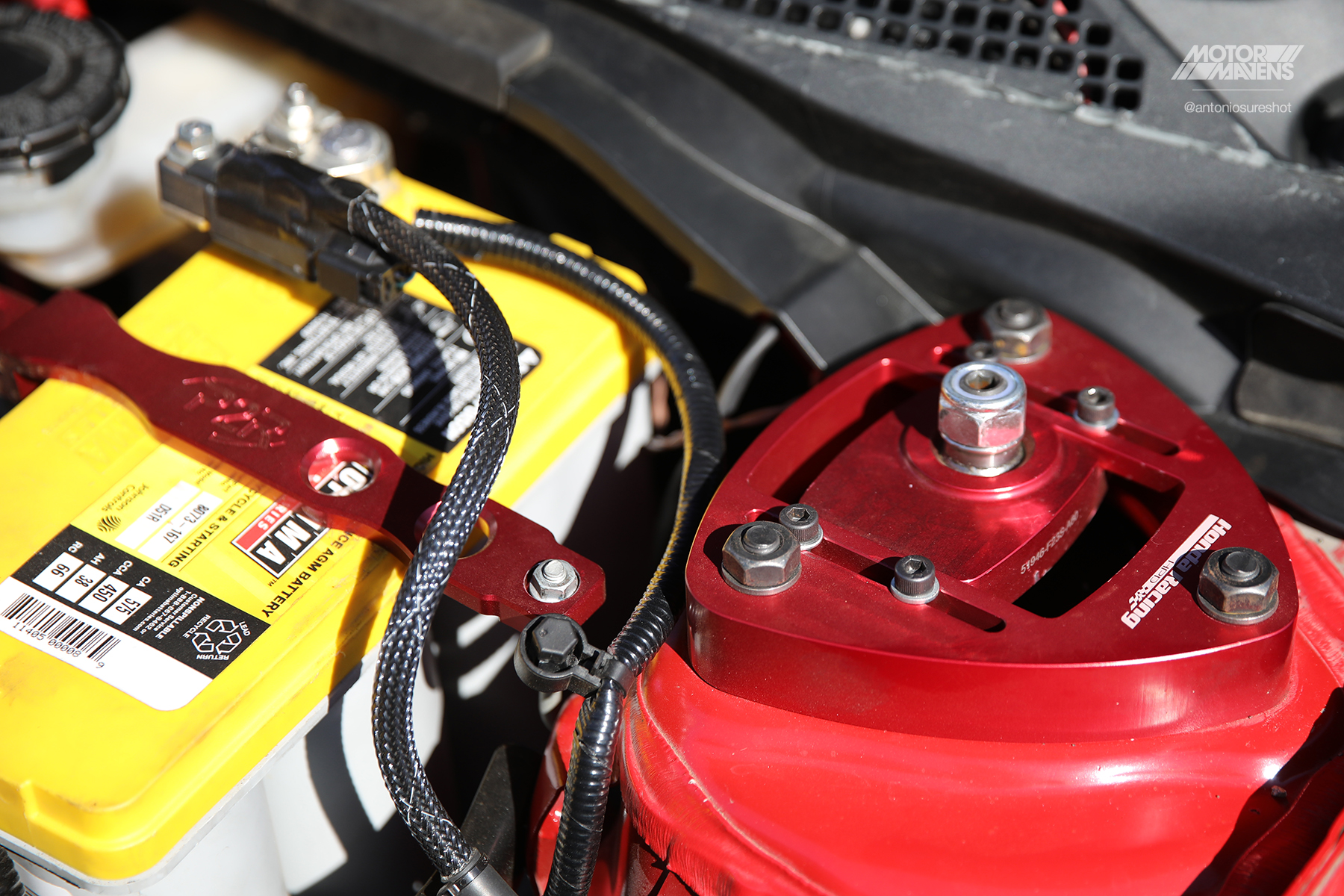 This detail photo shows the Honda Racing HPD camber plates, which moves the strut mounting point higher and further back towards the firewall, which gives the car 7 additional degrees of caster.
Also visible is the grounding kit from FF Mayhem, which is attached to the yellow Optima battery.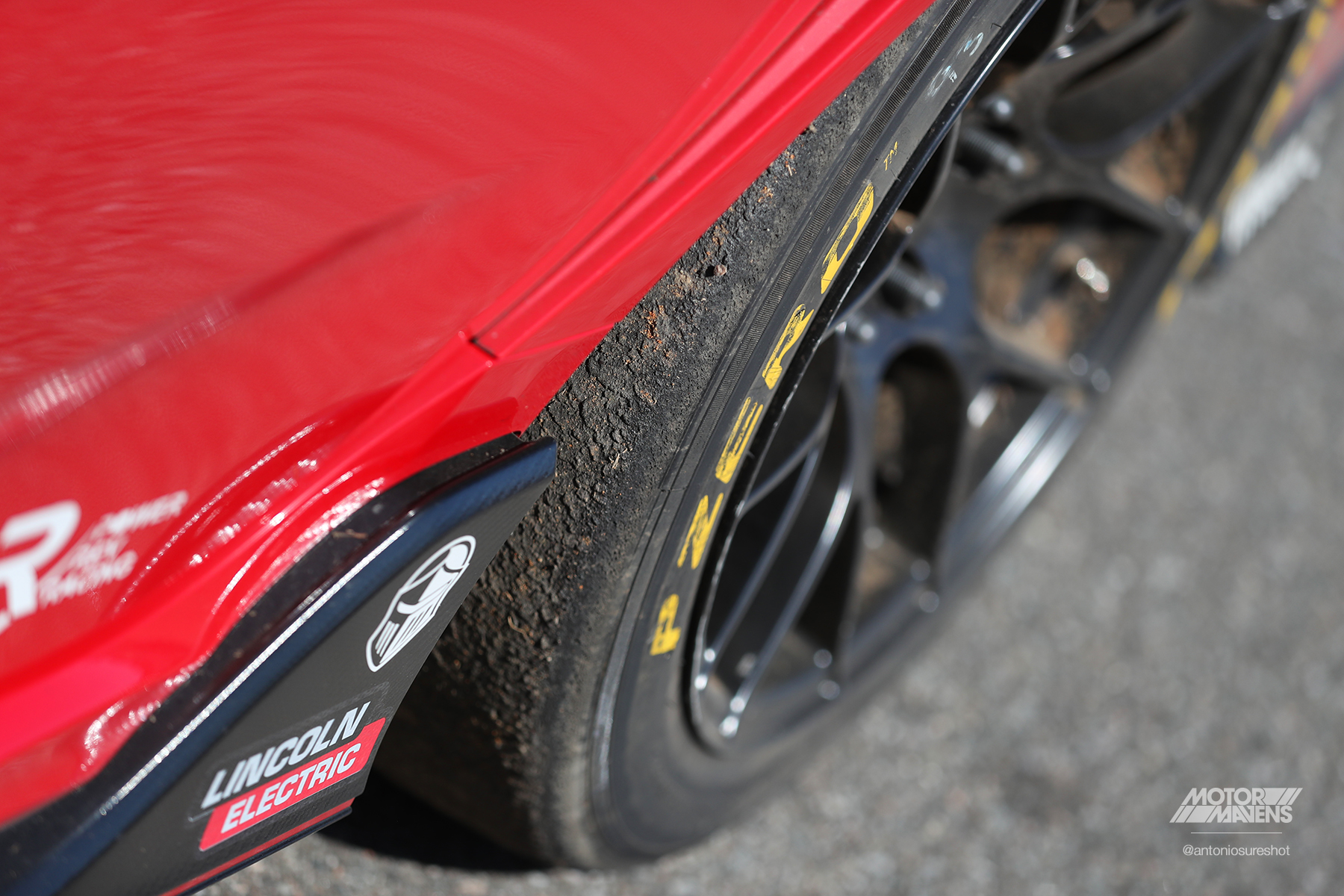 Just look at the texture on those front tires after the race!!! Aside from running tons of laps of hard driving, the team runs 3 degrees negative camber up front and 3mm toe out per side.
When asked how many tires the team goes through per PWC event, they mentioned that they typically use four tires per test session, then check and rotate the tires in between each session. This being said, they go through 6 new tires and 4 scrubs (used, but usable condition tires) on an entire 4-day race weekend.
Get this though – when I asked how much they spend on tires, they gave me a hint. Apparently, the Pirelli PZero tire size they're running costs them $565 for each tire! FIVE HUNDRED SIXTY FIVE DOLLARS. For each tire. :O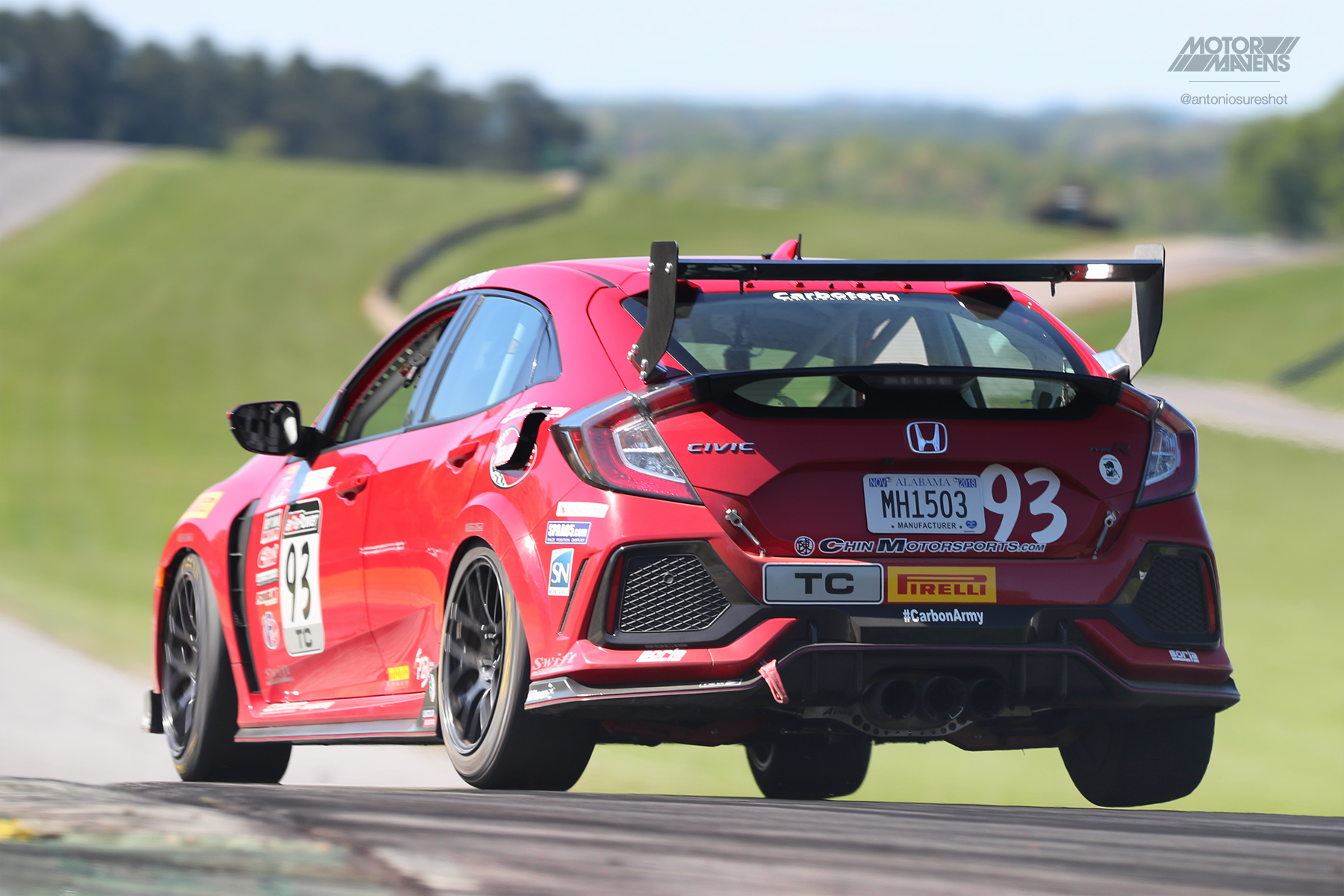 Josh and Karl were quick to point out, "even though you mainly met and spoke to the two of us at VIR, there are a lot more people involved with our team. Michael Maier works in QA exterior for Honda, and is the team's main crew chief and suspension engineer. Kelvin Murphy works in our plant's VQ quality improvement center, and was the fill-in crew chief for VIR. He also builds the team's transmissions. Michael Gordon works at the plant as an engineer in facilities, and handles all the teams electrical projects. Alex Meeker works in the factory on line 1 under body, and is the team's lead mechanic. Rebecca Anderson works as an engineer in AF new model and handles any composite work the team needs. She is also our resident cookie provider, which is arguably the most important role on the team."
In closing, the members of HMA Motorsports asked if they could give some closing remarks – "We would like to give HUGE thanks to Honda Manufacturing of Alabama for providing us this once in a lifetime opportunity to fulfill our dreams! And thanks to HPD for all their support, and for making the Type R program happen! We are so proud to be racing this car!"
:: Antonio Alvendia
TECH SPECS
Redline 30wt Race Oil, MT90 Gear Oil, Water Wetter, Racing Brake Fluid
RV6 Performance Front Lower Control Arm spherical bushing and compliance bushing
RV6 Performance Rear Control Arms with Spherical Rod Ends
RV6 Performance Rear Sway Bar
Carbotech XP24 Front Pads
Carbotech XP12 Rear Pads
MOMO quick release steering wheel hub
MOMO Lesmo 1 XL Racing Seat
MOMO Steering Wheel
Borla Full Turbo Back Exhaust
Prototype Fifteen52 18×10 +40 Wheels
Swift Springs 650lb front and 1400 lb rear
Bilstein/HPD Dampers
SPC/HPD Rear Upper Control Arm
Pirelli DH Slicks 265-660-18 all around
HPD Fuel Cell
HPD Tow Straps
HPD designed roll cage built by Kirk Racing
HPD High Flow Grille
PRL/HPD Intercooler
CSF/HPD Radiator
Crawford Composites rear wing with HPD designed endplate mounts
USR Turbo Blanket
Girodisc Front Rotors
Hybrid Racing Shifter Bushings
Pro Car Innovations Seat base
United Speed Racing supplied Goodridge FK8 Stainless Steel Braided Brake Lines
P2R Titanium Valve cover bolts and battery hold down.
FF Mayhem Ground kit
MSI Racing Studs/lug nuts
MOTEC C125 Dash
Aerocatch Hood Latches
Schroth Harnesses, Window Net, and Shoulder Net
Racing Radios Communications
FireSense Suppression System
Black Armor Helmets Aero Pro
Optima Yellow Top
Factory ECU/Tune
TEAM MEMBERS
Joshua Foran
Karl Hertel
Michael Gordon
Michael Maier
Kelvin Murphy
Rebecca Anderson
Alex Meeker
Acura MDX
,
Alex Meeker
,
Alvin Tolosa
,
Borla Exhaust
,
Civic Type R
,
Drift Mechaniks
,
FF Mayhem
,
Formula SAE
,
Gary Vaynerchuk
,
HMA Motorsports
,
homepage
,
Honda Manufacturing of Alabama
,
Josh Foran
,
Karl Hertel
,
Kelvin Murphy
,
Michael Gordon
,
Michael Maier
,
NASA Honda Challenge
,
One Lap of America
,
Optima battery
,
Paul Street
,
Pirelli World Challenge
,
PWC
,
PWCVIR
,
Rebecca Anderson
,
RV6 Performance
,
South East Drift Association
,
TC Class
,
Tennessee Tech University
,
Touring Car
,
VIR
,
Virginia International Raceway
---