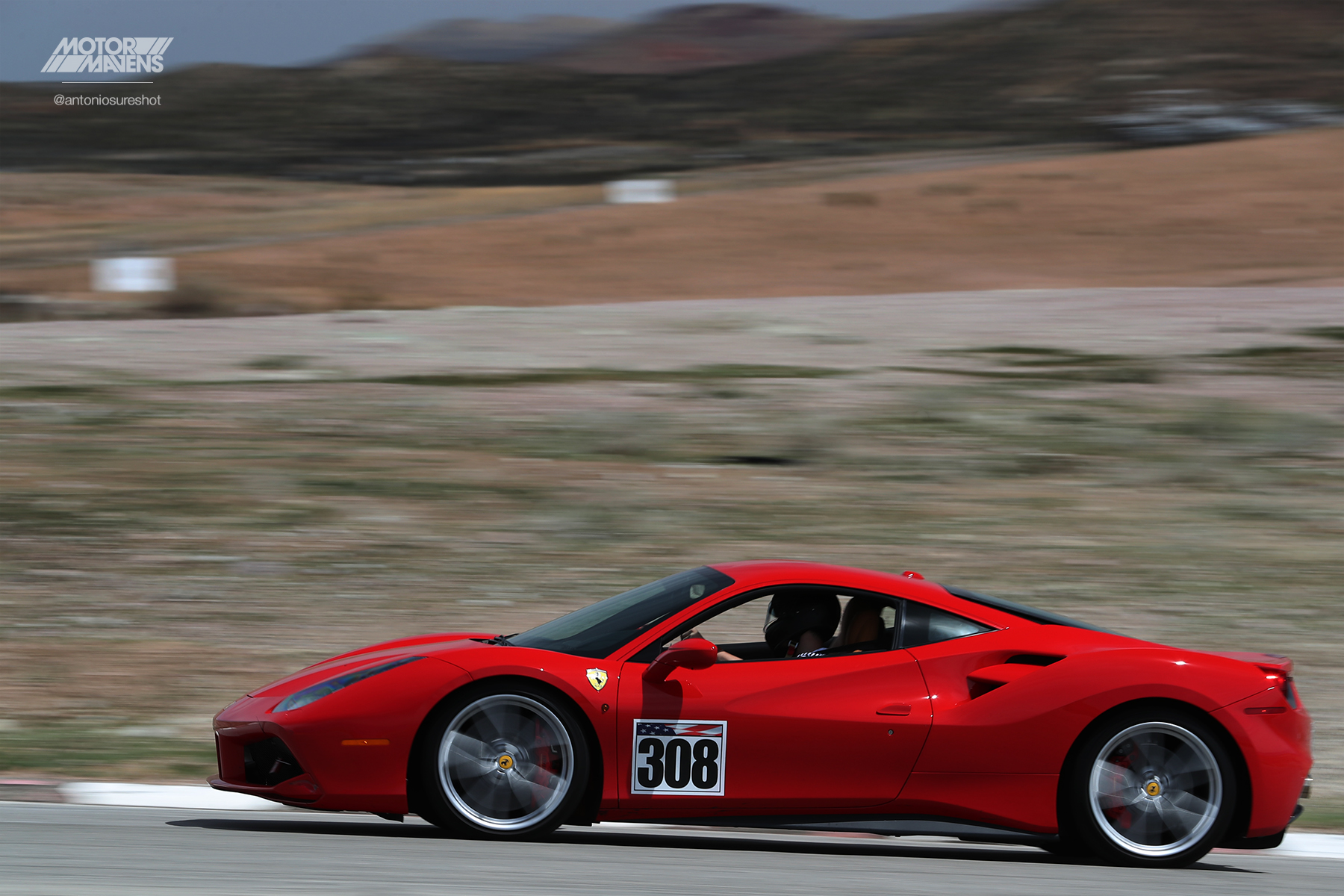 While shooting photographic content for one of our sister websites at Willow Springs International Raceway's Big Willow course this weekend, I noticed a flash of red whizzing past me, along with the amazing exhaust note that could only come from a turbocharged Ferrari V8 engine.
When the car came around again, I noticed that it was a Ferrari 488 GTB, the successor to the popular Ferrari 458 Italia.
Since I live in Southern California, it's not uncommon to see Ferrari 458s randomly cruising local city streets while I'm going my daily errands, but the Ferrari 488 is still a pretty uncommon sight as far as I'm concerned.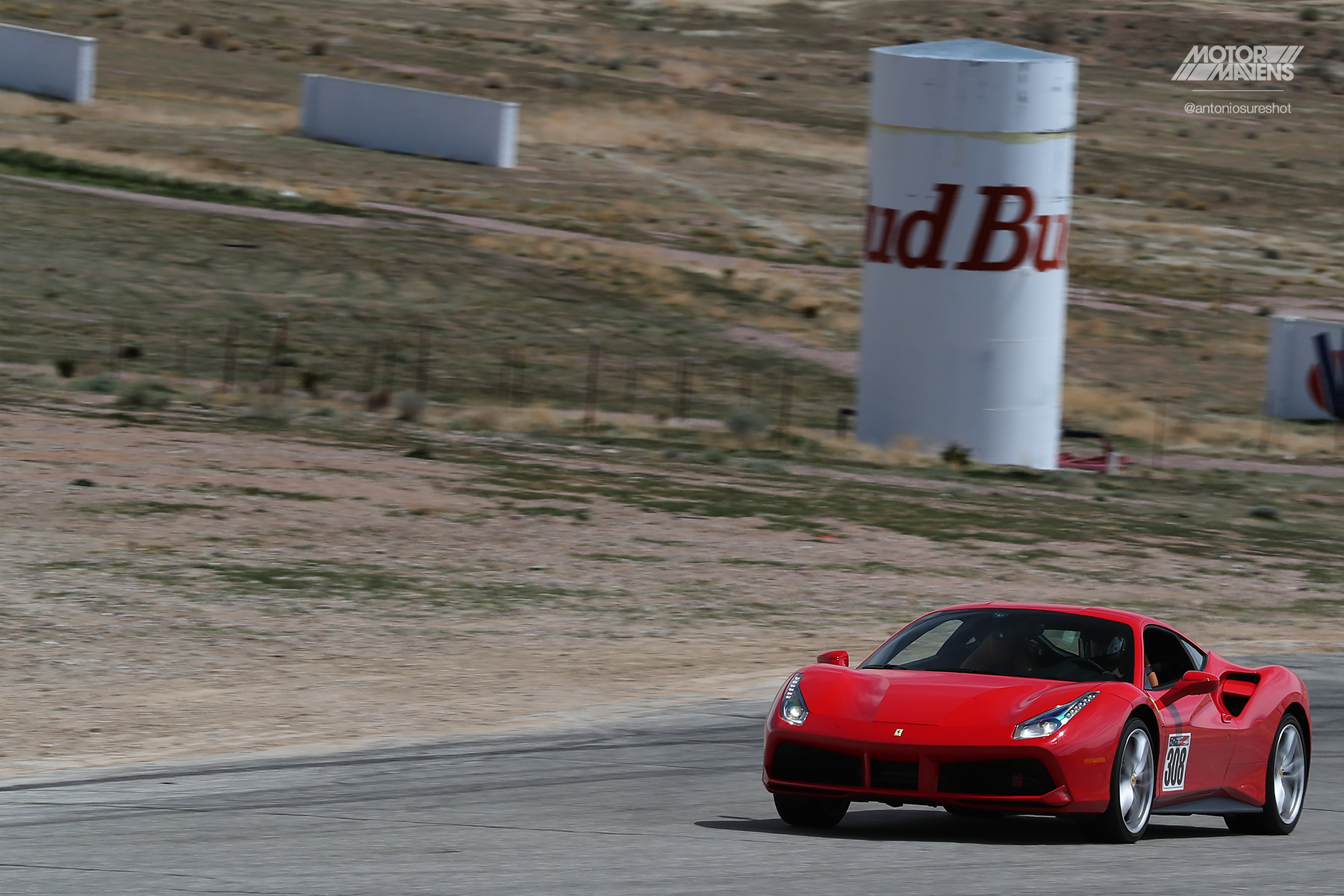 This being said, it was super cool to see a 488 GTB at the racetrack being put through its paces! I've driven the F430 Scuderia and the 458 Italia on the racetrack before, but the 488 is a new animal.
Its displacement of 488 cubic centimeters per cylinder gives the car its name: 488GTB. The new 661hp, twin turbocharged 3902cc engine on the 488 is mated up to a seven-speed dual-clutch automatic transmission, just like with the 458 Italia.
Ferrari says that the new 488's twin-turbocharged engine has zero turbo lag, due to twin-scroll turbos which use premium components like shafts mounted on ball bearings and compressor wheels made from lightweight titanium and aluminum.
I just can't wait to get behind the wheel and test drive one, especially since media outlets like Top Gear and Car&Driver all raved about it! (I'll most likely need to wait for a media drive program or another invite from Exotics Racing, as it looks like the $257,000 price tag on the 488 GTB is slightly out of my budget this year.)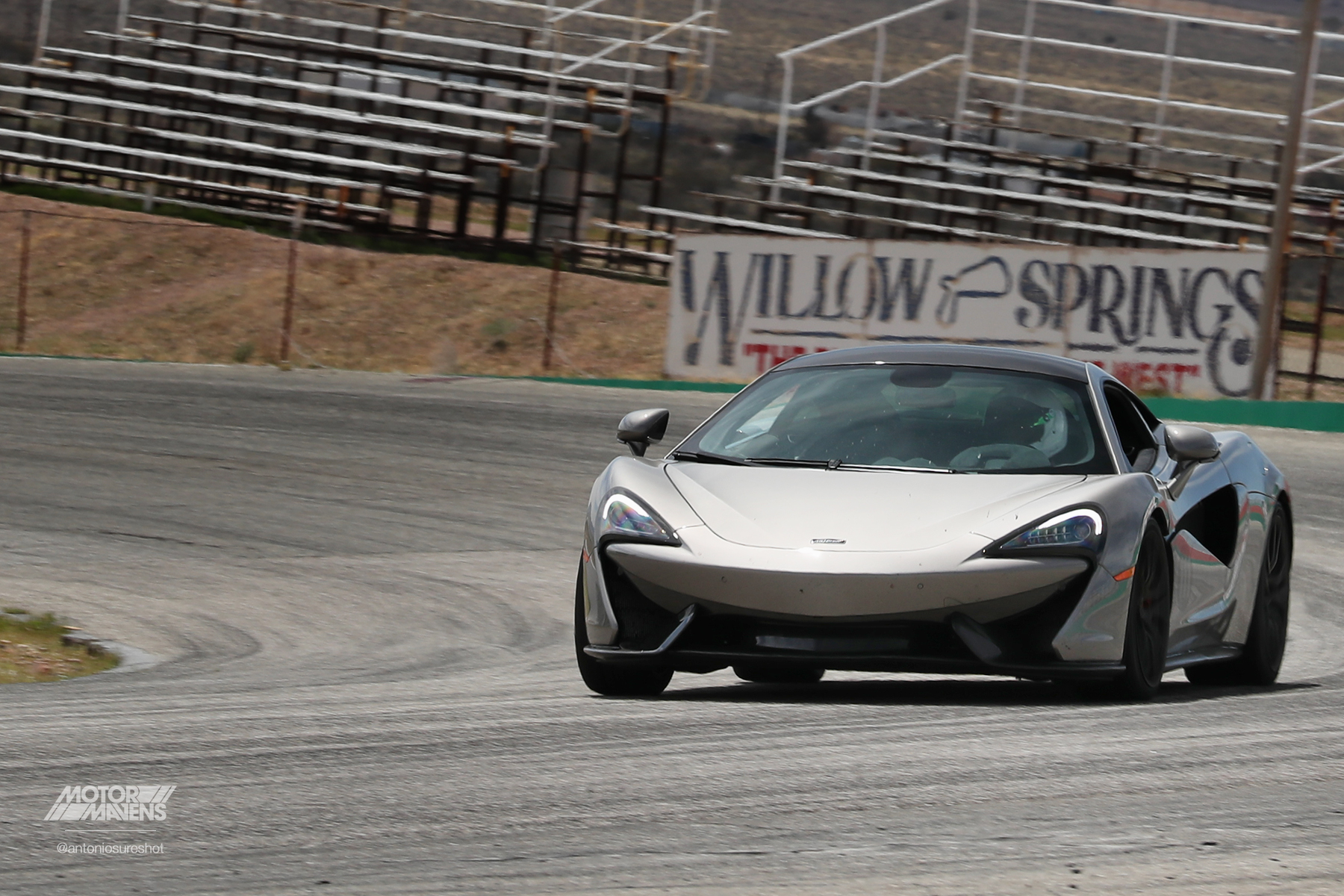 Playing a game of cat and mouse alongside the 488 GTB was a menacing silver-gray rear wheel drive mid-engine McLaren 570S, with 562hp of twin turbo 3.8 liter V8 snarl.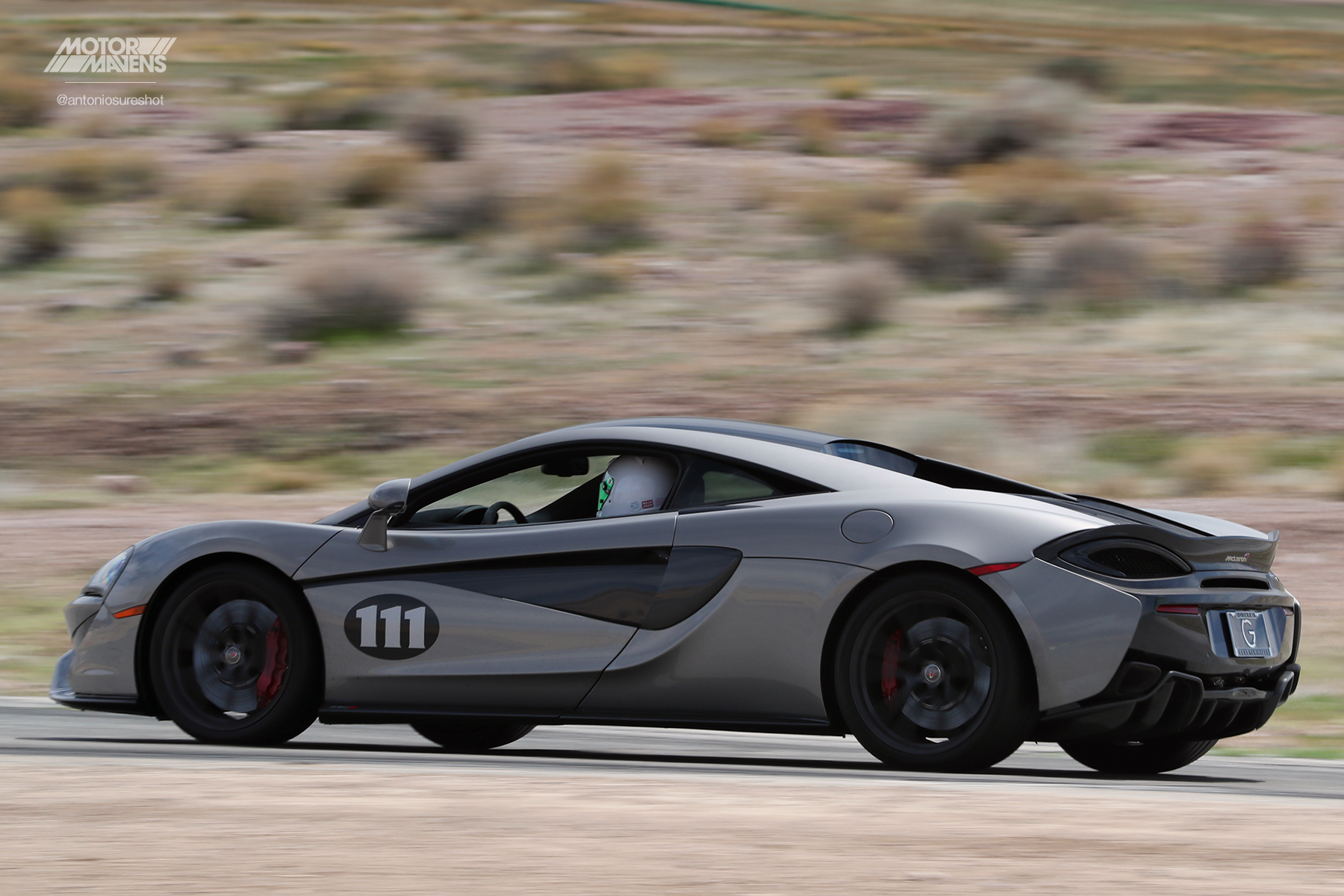 I didn't get a chance to talk to the owner of the car back in the pit area, but judging from the exterior color and writeups I've seen online, it looks as if this 570S has the $23,660 Track Pack option (in addition to the $185,000 base price), which cuts the 570S's weight by approximately 55 pounds thanks to a combination of lightweight wheels (in a dark finish), carbon-fiber seats, and microsuede replacing leather on the seats, the dashboard, and the steering wheel.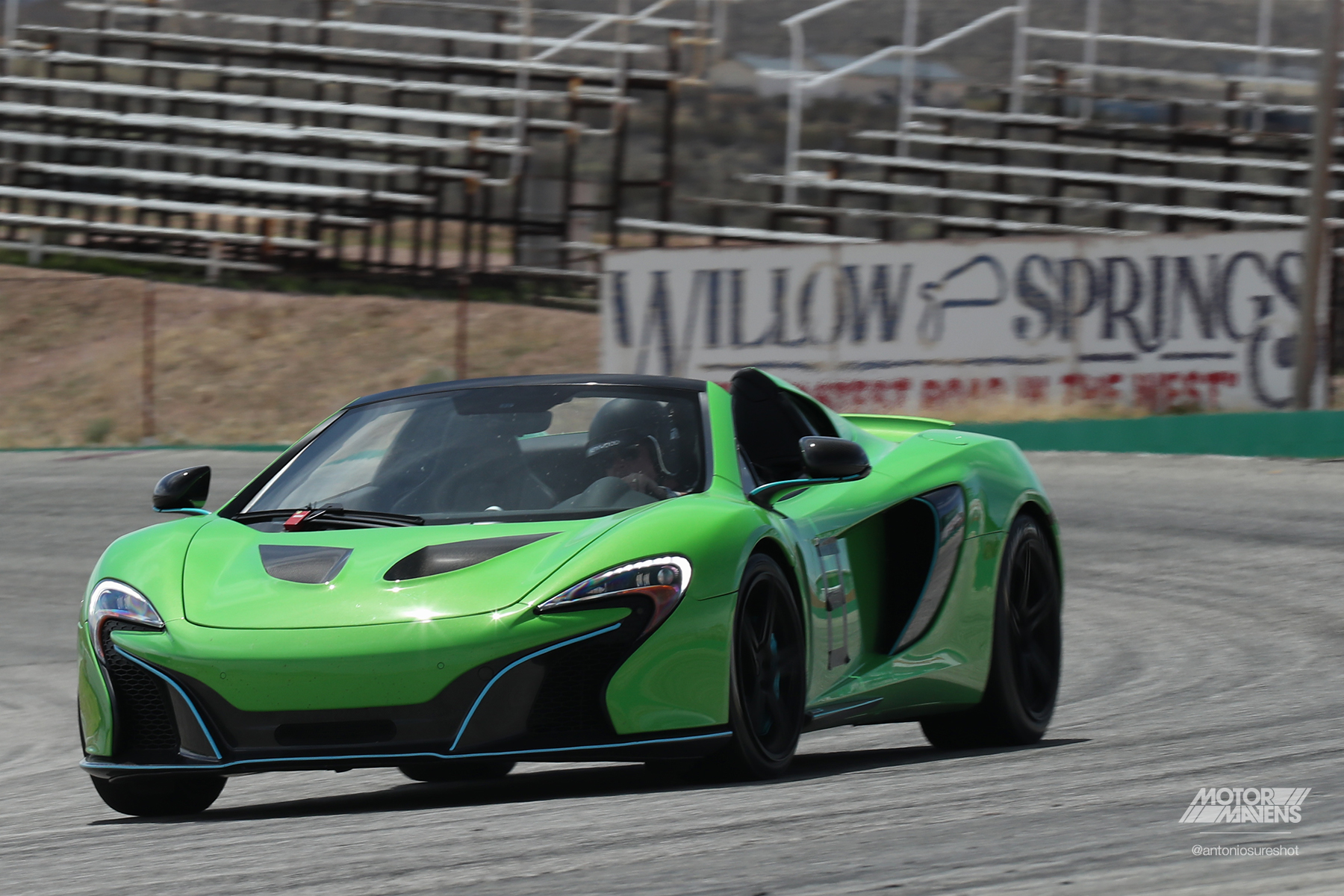 I also spotted what looks like a McLaren 650S Spider. I could be wrong – I clearly don't spend a ton of time staring at supercars. I tend to focus a bit more on normal cars. I should ask some assistance from my supercar owning friends like Daniel Song or Sean Lee from The Purist Group.
Anyway, the 650S comes with a 650hp twin turbo V8, and a price tag of $256,500 so it's definitely competition for the Ferrari 488 GTB.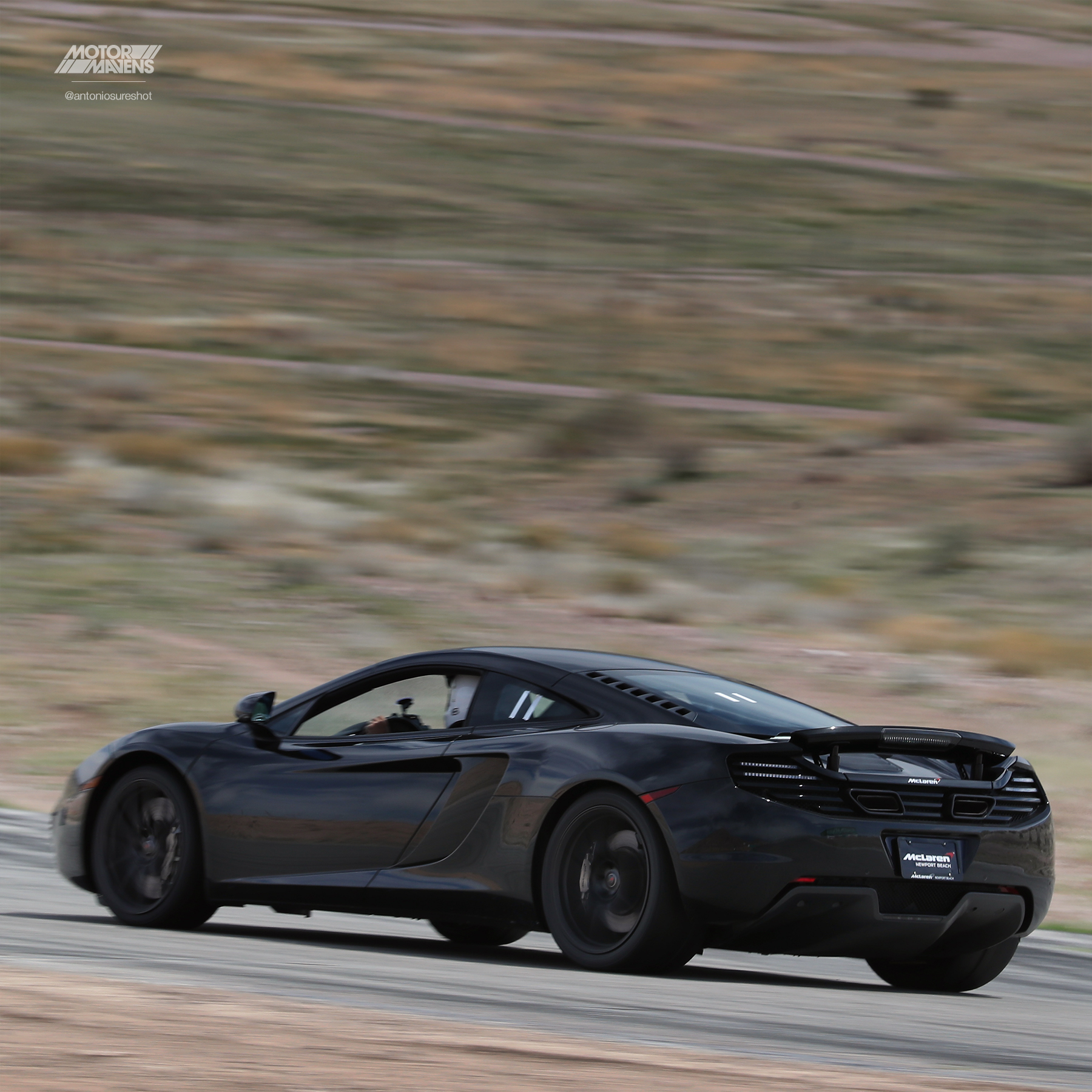 Here's one I know! The 600hp McLaren MP4-12C is such a great looking and great performing car at $229,000. My friend Daniel used to have one. I probably should have shot photos of it before he sold it to buy the Porsche GT4 or the Lamborghini or… to be honest, I forgot what he replaced it with. There are new cars in his garage every few months, so it's hard to keep track.
Anyway, respect to the guys driving these supercars on the track, because most supercar owners only drive to Cars&Coffee. I wanna join in on the fun next time. If you had the opportunity, which of these supercars would YOU prefer to drive on the track?
:: Antonio Alvendia
---