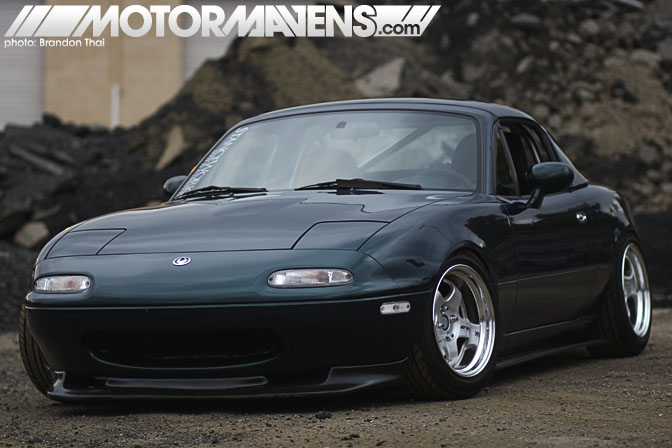 Fall is arguably one of the most beautiful times of the year in Washington – aside from the rain that is. The normally muted palette caused by an overcast sky suddenly comes to life with bright orange, red and yellow leaves amidst the evergreens that stand fully dressed all year. It's in times like these that the Seattle car community shines; auto enthusiasts like Karim Kerawala keep their rides looking fresh all year round. Where the question of, "Is this your daily driver?", is met with a slight smirk, because this Montego Blue 1997 Mazda Miata is, in fact, Karim's daily driver and any other suggestion would be more than absurd – there's no other way to roll.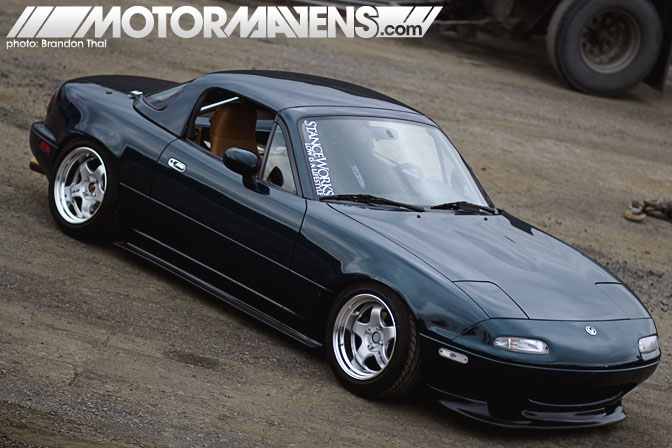 Purchased in stock trim late last year, Karim has put a lot of time and effort into his little ridge racer; turning it into a beautifully executed street car. But he wasn't always into Miatas, in fact, he was very recently surprised at how much fun and awesome they could be.
Last year he was in the market for a new car after getting bored with his 2006 Evo IX MR. With that sold, it was time to look for something new. Having been into cars for a long time, his first thought was to go back to his Honda beginnings. Previously he had owned an RSX Type-S and an S2000, but he was interested in looking at a Civic EG hatch this time around. Since he was in the market for a small, light-weight car, he test drove a few Miatas and fell in love with them. This particular one he found was a one owner car with 26k original miles!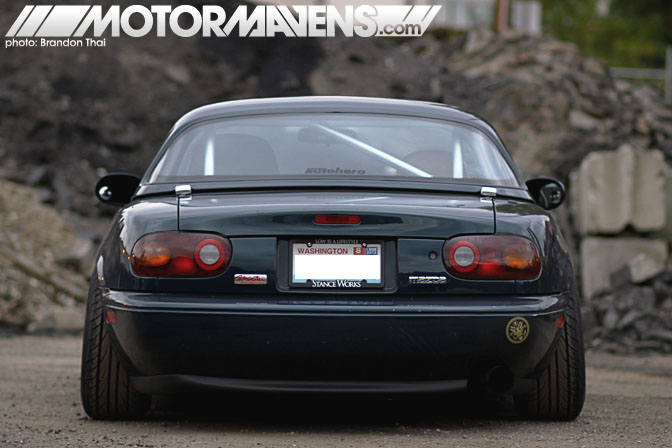 Whether you love or hate them, Miatas have a healthy following with many aftermarket parts available from the mild to wild. Karim chose to tastefully mod his car into something really aesthetically pleasing. Despite being a very popular car in racing and autocross, there aren't many in Washington that push the envelope as head turners – chalk it up to the all go – no show mentality. We've all heard both sides of the debate. Karim chose to have his cake and eat it too; the best of both worlds.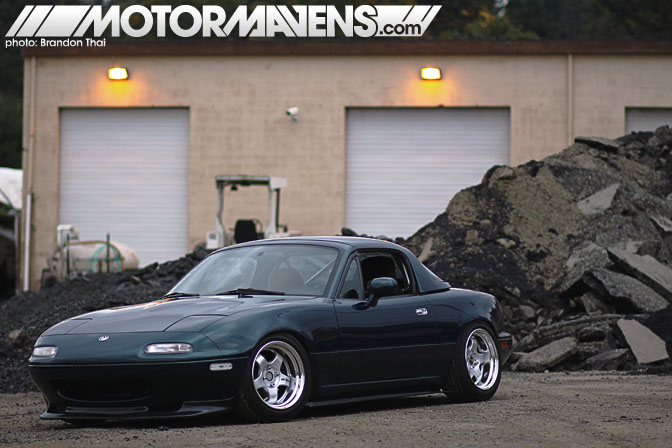 Karim's car is a prime example of a car that has been planned thoughtfully and carefully put together with the help of Ray Stonehocker at Garage Autohero. The most obviously eye catching parts of the car are the shiny Work wheels that Karim specially ordered in this size, so they would be functional as well as form fitting. The Work Meister S1s are 15×8+11 O-Disk, wrapped in 195/50/R15 Yokohama S.Drive tires. The car is slung low due to the Megan EZ Street coilovers. Together they give this Miata a great stance with a sleek profile that is still very functional.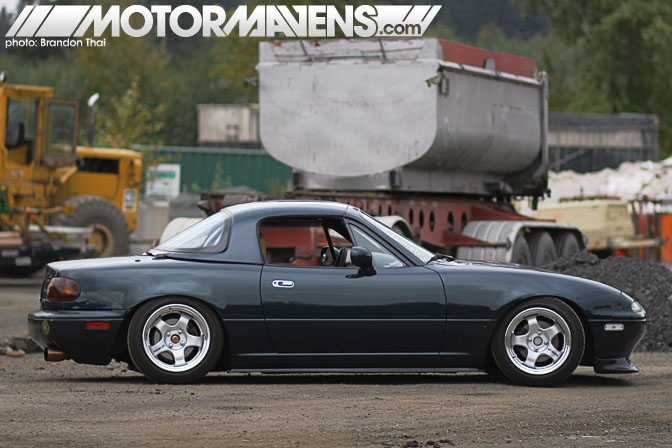 On the body side, the car is an amalgam of OEM and aftermarket parts. The OEM hardtop was paint matched perfectly though the Touge Run front lip, R-Speed rear lip, and Feed style sideskirts were kept black to add just a dash of contrast. Under the hood there is nothing too crazy going on other than the standard bolt-ons such as a Racing Beat intake, Jackson Racing header, Boss Frog test pipe, and a Fujitsubo RM-01A exhaust.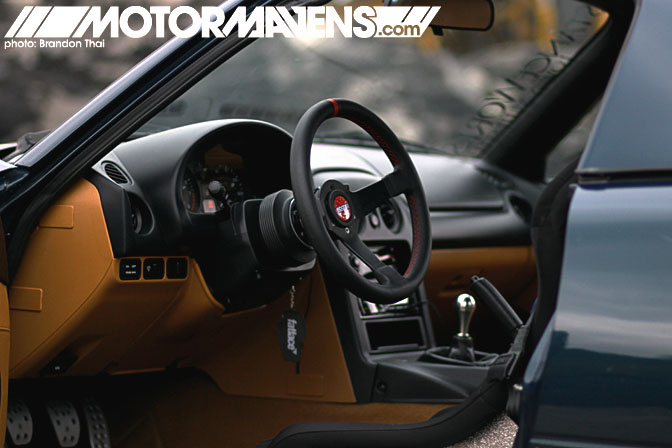 The interior is just as nice as the exterior with each part carefully selected. The steering wheel is a limited edition Sparco Champion 330 connected to the wheels through the Works Bell quick release and short hub. When Karim is shifting through the gears, his feet touch the SRP aluminum pedals and his right hand shifts with the weighted ARC style shift knob. Holding him in place is the Touge Factory bucket seat with a Sparco harness. Keeping him safe in the event of a roll over, there is a Hard Dog M2 roll bar.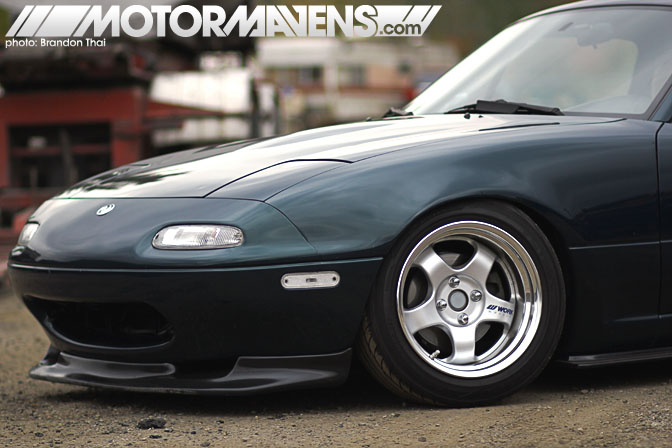 When I asked Karim what his plan for the car was, this is what he had to say: "My goal or vision when I first got the Miata, was to slam it with cheap coilovers, get a set of cheap wheels, and call it a day. Those plans changed; they always do when it comes to me and modding cars. I decided to create a car that's balanced in all aspects. I want to keep it clean, reliable, slammed, stanced, and basically be able to take it to the track at the same time. A lapping day at PGP (Pacific Grand Prix) is next on my list now that the car is 90% complete."
In the future, Karim plans to get a bucket seat in tan to match the interior and change up the headlights to something other than the stock circles. If he decides to keep the car, then he has his eye on a Toyota Starlet to make into a track car. If he sells the Miata, he would be interested in getting the new Scion FR-S. I think a lot of enthusiasts are contemplating doing that. I know I am!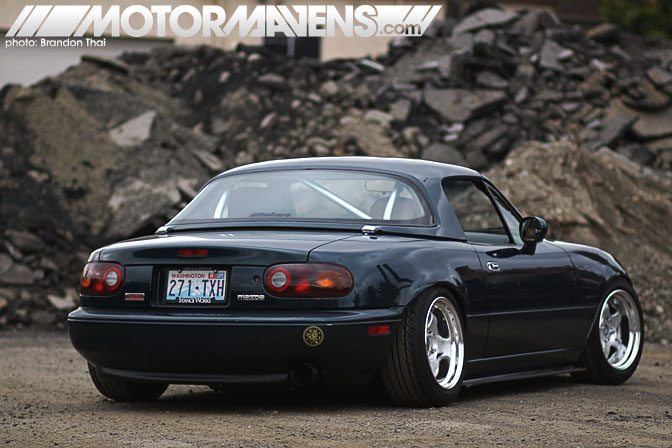 Thanks Karim for letting us share your car – by us I'm referring to a friend of mine here in the great Northwest, Brandon Thai. Brandon has been taking pictures of local cars and events for a few years now and has grown a lot. Thanks for the photo help, Brandon!
::Lucas Perez
Photos by Brandon Thai
Acura
,
Brandon Thai
,
Civic EG
,
Evo IX MR
,
Garage Autohero
,
Hard dog
,
Honda
,
Karim Kerawala
,
Lucas Perez
,
Mazda
,
Megan
,
Megan Racing
,
Miata
,
Mitsubishi
,
Pacific Grand Prix
,
Racing Beat
,
Ray Stonehocker
,
RSX Type-S
,
S2000
,
Scion FR-S
,
Sparco
,
Starlet
,
Touge Factory
,
Toyota
,
Washington
,
Work
,
Work Meister S1
,
work wheels
,
Yokohama
---