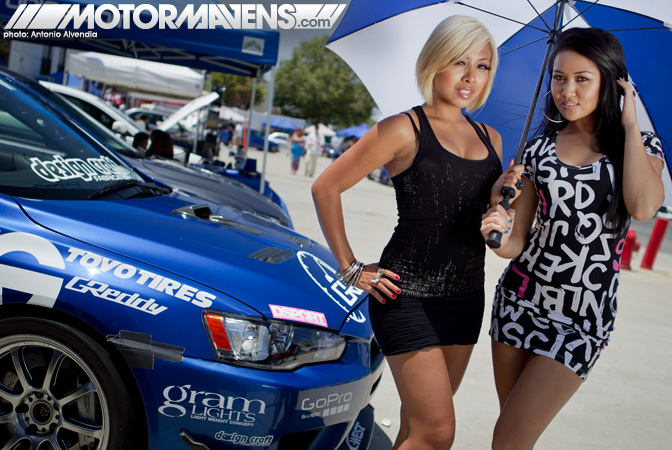 Oh snap! We're still working on compiling and posting all the photos we took at Mitsubishi Owners Day 2011 at the Mitsubishi corporate offices in Cypress CA. I got to the event super early, mostly because our good friend Brian Urbano from Mitsubishi kept hyping the event online through Twitter, Facebook, and direct text messages to us, saying… "Yo! Are you coming? It's gonna be soooo fun!"
The event definitely WAS fun, but I'll be honest. I screw up sometimes. I was so concerned with picking up a friend and getting to the event on time, I forgot to put my memory card case in my camera bag! #FAIL!!! Yup, I know. LOSERRRR. Good thing one of our MotorMavens shooters, Horacio Flores, owns a Mitsubishi Evo X! He showed up to the event later in the day and took some photos for the site! Whew… he saved me from my royal screw up!
Horacio did let me borrow his camera to take one photo, and here it is… this is @DiannaLushus and @CHABA1LOVE. Follow them on Twitter if you aren't already, and also make sure to follow @MOTORMAVENS for even more random car photos that we don't post on our website!
Meanwhile, we'd like to INVITE YOU to post up links to the photos that YOU took, or links to other sites, Flickr pages, and/or forums with good photos from the show! Post up in the comments section!
:: Antonio Alvendia
3000GT
,
DSPORT
,
Eclipse
,
Evo 8
,
Evo 9
,
evo x
,
FTO
,
Gram Lights
,
GReddy
,
GTO
,
Lancer
,
Mighty Max
,
Mirage
,
Mitsubishi
,
MOD
,
MOD 2011
,
Outlander
,
Sparco
,
Starion
,
Toyo Tires
---