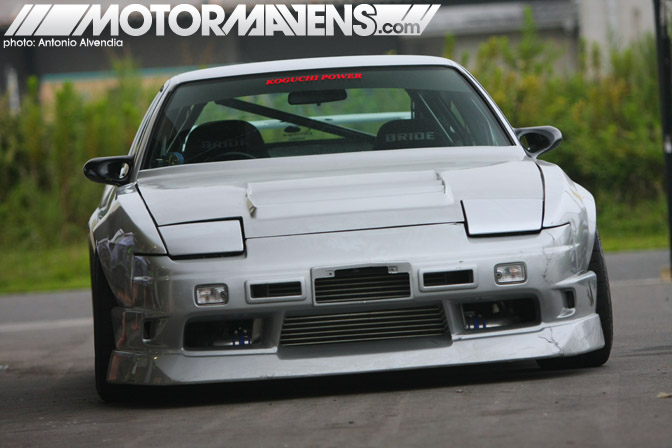 Oh Snap! Today is May 13th (5-13), officially referred to as S13 day to all my ichisan friends from Japan. In honor of the S13, I thought I'd post up a photo of a certain Koguchi Power RPS13 180SX built by a man who is revered by many as the King of the S13s – Yoshinori Koguchi.
I consider myself lucky, because I've been fortunate enough to have spent a lot of time with Koguchi, from the early days of D1GP in the USA, to Drift Showoff, Pike's Peak Int'l Hillclimb, Formula Drift, Summer Matsuri at Ebisu Circuit, Tokyo Auto Salon, certain gentlemen's clubs on Valley Blvd in City of Industry, to just chillin with Koguchi and his gf at Koguchi Power.
Almost all the S13 owners I've ever met show a great deal of respect to Koguchi. He was probably the first famous RPS13 drifter in Japan! I wonder if our readers would be interested in seeing some more of my old images of Koguchi and his shop…
For now, I'd like to invite any of our readers that have Tumblr accounts to connect to MotorMavens on Tumblr (http://motormavens.tumblr.com) and post up photos of your favorite S13s! We'll reblog our favorite posts from you throughout the day!
:: Antonio Alvendia
---