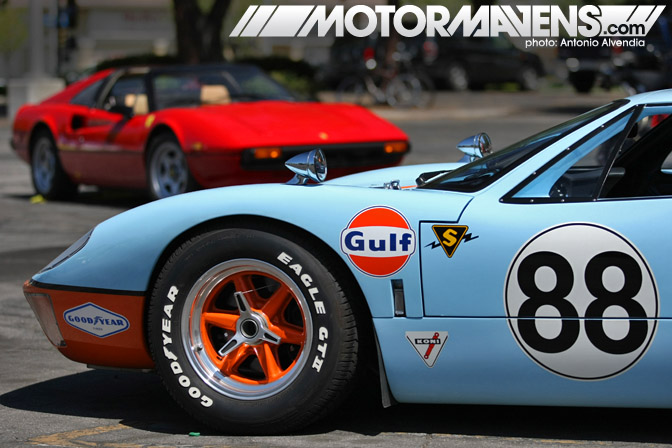 I always seem to get up too late on weekends to go to early morning events like Supercar Sunday in Woodland Hills and Cars And Coffee in Irvine CA. I think that's a behavior that needs to change. Until yesterday, I just didn't realize how much automotive epicness I was missing – I can sleep when I'm dead!
Yesterday, I got up before dawn and made my way to the Westfield Promenade Mall off Topanga Canyon and the 101 freeway to meet up with other members of the MotorMavens Crew for a morning of photo taking, Instagramming (Follow us: @MOTORMAVENS), and talking cars!
As I walked through the parking lot, my jaw dropped at the sight of this Gulf-liveried Ford GT40. Talk about a dream car!!! The Gulf theme is one of my favorite racing liveries of all time, and the Ford GT40 is one of my favorite American-made vehicles of all time. What a perfect pairing. In the background, we have the Magnum PI Ferrari, a 308 GTS.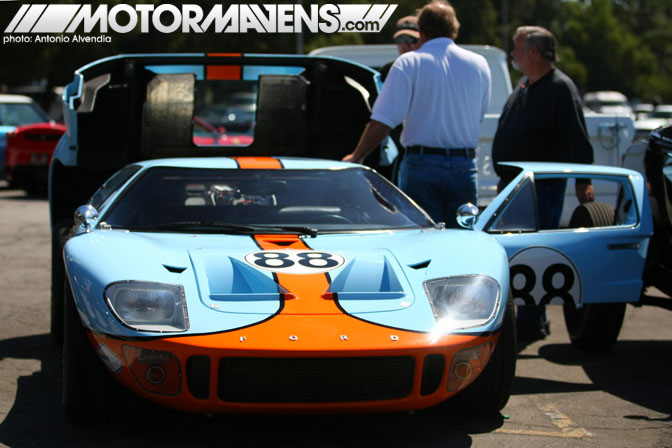 I spent quite a while waiting to talk to the owner of this GT40, who was bombarded with people asking him questions about the car, LeMans history, and aviation. I suppose people with fast cars also like airplanes. It makes sense!
By the way, if the Gulf Oil Ford GT40 that beat Ferrari and won LeMans intrigues you like it does me, then you MUST click this link to watch this vintage racing footage of the car at Le Mans in 1968!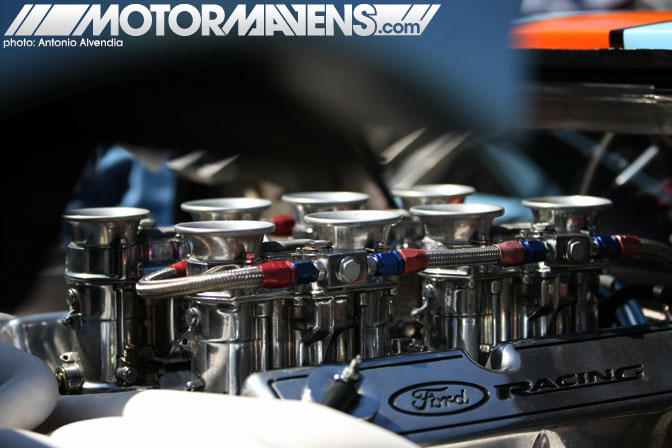 The rear engine cover was popped up to reveal the heart of this GT40 Mk1 continuation car, a Ford Racing engine complete with Earl's AN fittings and stainless steel braided fuel lines.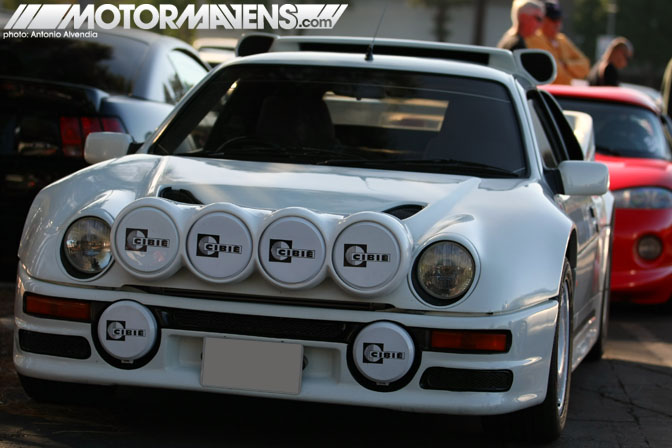 What a rare thing to see in the United States! Could it be?! An actual Ford Escort RS200??? As I was taking photos of it, someone randomly walked up to me and said, "it's not real," but I don't care. It still looks awesome, and I can't hate on a car like this. I'm so curious about it, in fact… if it IS actually an RS200 clone, I wonder what it takes to produce such a clone?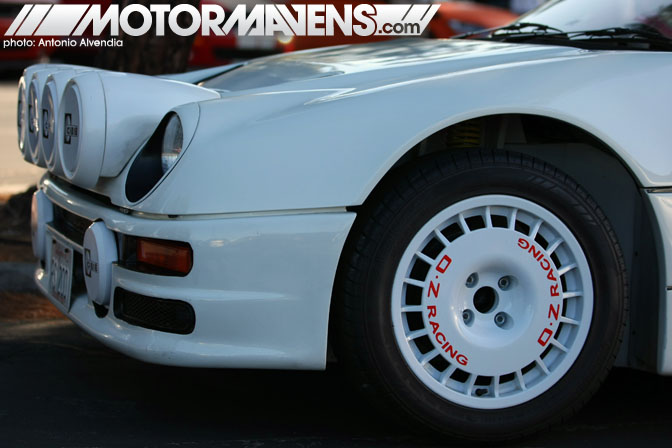 Here's the front of the RS200, with a huge hood-mounted light pod, with Cibie rally foglights all up on the bumper and the pod. Including the headlights, that's EIGHT lights in total!!! The OZ Racing wheels are a nice touch. Super legit.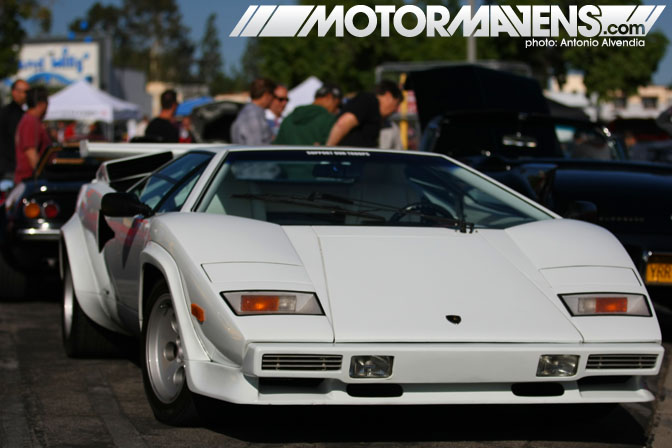 Just about everyone who grew up in the 1980s (and the early part of the 1990s) probably had a poster of a Lamborghini Countach on their wall, or some sort of die cast toy or model of it. I know I did! It was so awesome to see this clean Countach in person. I'd love to have one some day, just because.
In the areas where I live and hang out, I see brightly colored Lamborghinis on the daily, so it's not a big deal. However, it's a lot more rare to see a Lamborghini Diablo cruising city streets! This Diablo definitely caught my eye, because of its awesome body styling and its interesting paint hue.
Metallic brown, huh?! I've never seen that color on a Lambo before, but it's certainly a welcome change than some of the bright, gaudy hues that I normally see them in. I don't mind the orange or even the yellow, but lime green? I dunno, man…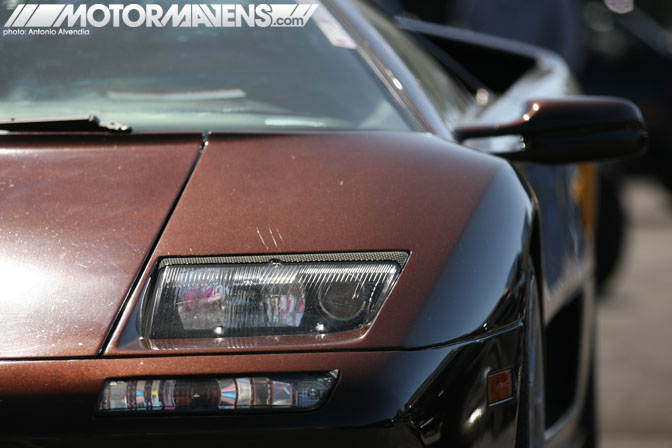 Being Japanese car spotters of the highest caliber, my friend Ben Hsu from Japanese Nostalgic Car Magazine and I immediately noticed the Lamborghini Diablo for its Nissan 300ZX Z32 headlights. Yup, they came from the factory with Z32 300Zx projector lights. Next time you're up close to a Diablo, check the stampings on the light.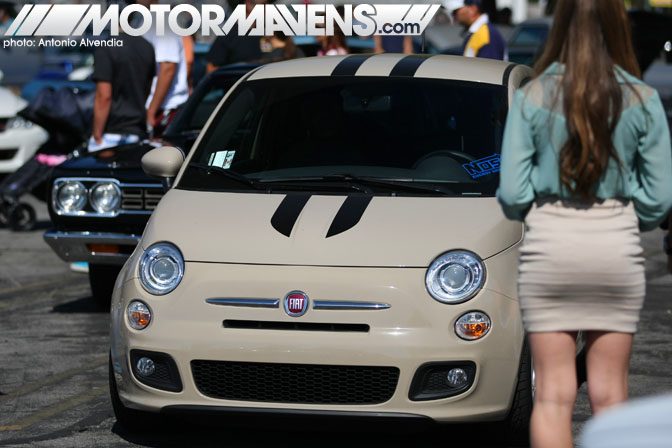 I was attempting to take a photo of this Fiat 500, but this girl rudely stepped into my shot when I wasn't paying attention. At least her skirt matches – oh well.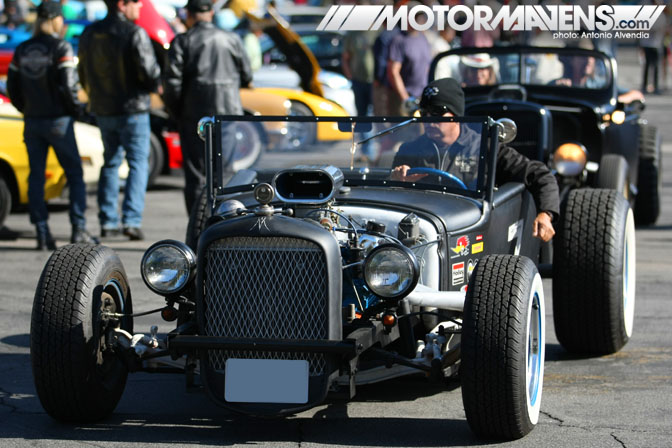 Normally, the owners of "rat rods" don't really like that term being used to describe their cars, but the owner of this 1930 Ford embraces the term. He even made a custom license plate with it. I think the car looks cool! It might look even cooler with different tires though… maybe some period correct piecrust slicks? They wouldn't perform nearly as well, but they would look cool! I guess it depends on your priorities when building a car. This guy obviously prioritized performance.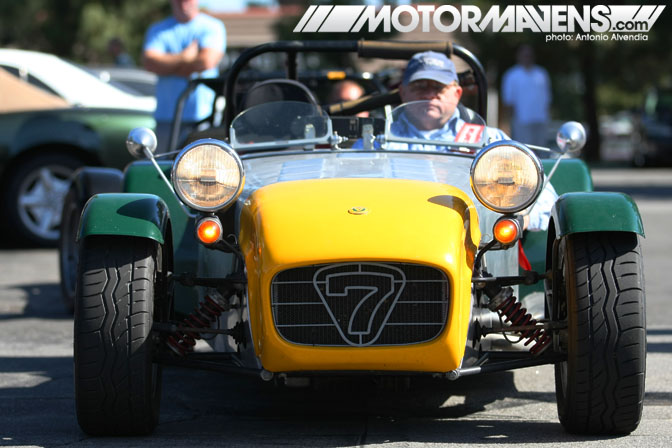 I lovvvvvved the look of this Lotus/Caterham Super Seven. It's sort of like an American hot rod (compare to the rat rod photo above), but with sports car engineering and British styling! I love the classic raw aluminum body with British Racing Green fenders and a yellow nose. It screams classic Lotus! Interesting that the owner decided to put Falken Azenis RT615 tires on the car, instead of Dunlops or a brand more commonly associated to Lotus, or British cars in general.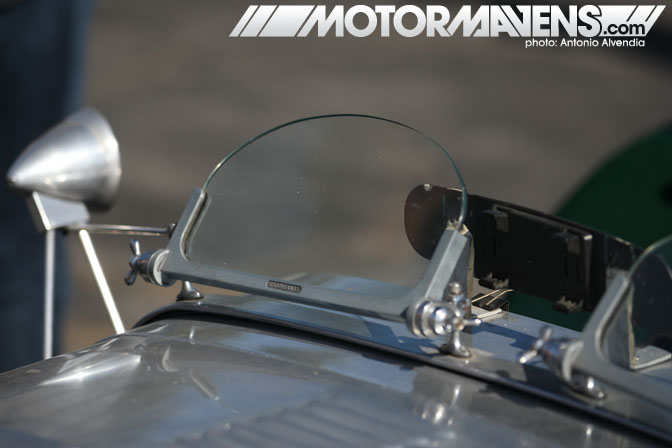 One thing I noticed about this Super Seven was its awesome louver work on the aluminum hood, and these Brooklands mini windshields and bullet-type side mirrors. I wonder if those tiny windshields are capable of deflecting anything at all? I'd probably feel inclined to wear a bandana or helmet to avoid getting bugs in my teeth and eyes while driving!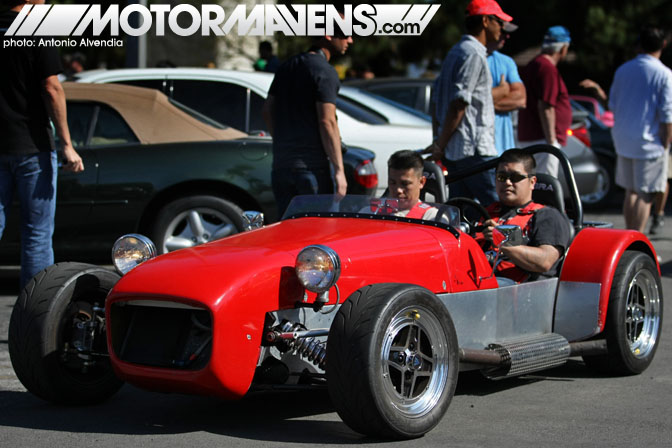 Wait a minute… Vietnamese guys driving a Lotus Seven??? Yeah right. That car couldn't possibly be THEIRS!!!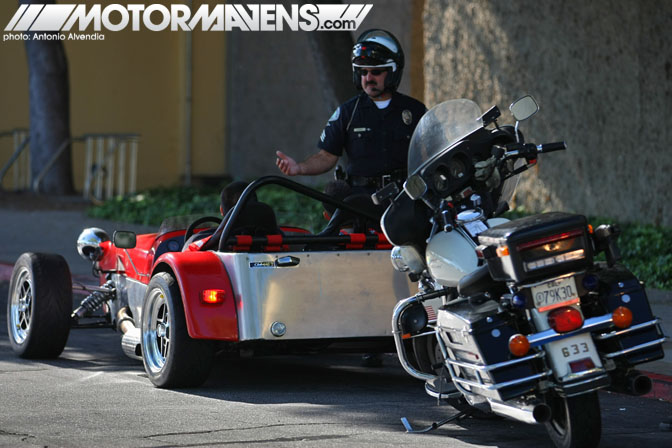 That's probably what this police officer was thinking when he saw Tony Pham and Old Man Tony from Team Infinit driving this turbocharged Toyota 4AG powered Locost roadster through Woodland Hills. They got pulled over immediately upon entering the Supercar Sunday parking lot. I wonder if he's saying "Who owns this car? What are you doing in Woodland Hills???" LOL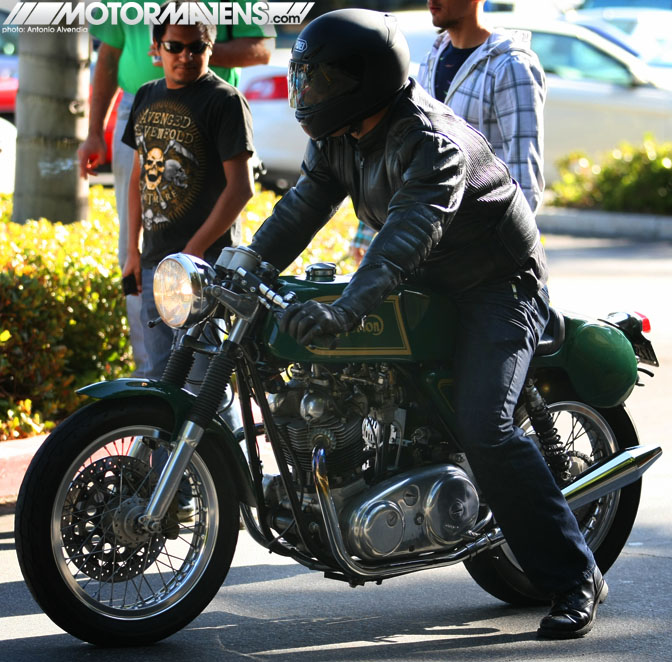 Supercar Sunday also attracts some pretty incredible motorcycles. I don't know ANYTHING about bikes, but I can certainly appreciate the mechanical beauty and color scheme on this Norton cafe racer…
This past Sunday was actually a Porsche-themed Supercar Sunday, so be on the lookout for Porsches in our next post!
:: Antonio Alvendia
---