---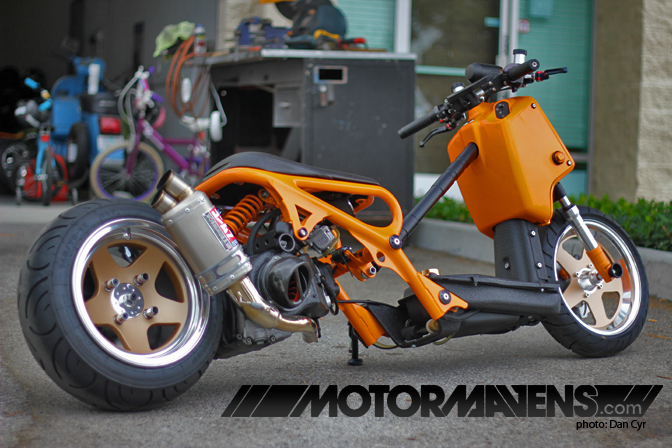 As some of you may (or may not) know, I'm definitely not from
California
. So when I found out that I would be going to California for a week, I knew that I'd have to check out as much stuff as I could possibly get around to checking out while I was there. Usually, when I go somewhere in the name of drift events, I don't really get to act like a tourist very much since the team is always busy taking care of race car stuff - but there was no race car stuff this time so I knew this was going to be my best chance to really see some cool stuff.
Once I got into town, my buddy
Nick Soo
suggested that we check out the
Rucksters Customs
garage. My experience with
Honda Ruckus
scooters was fairly limited, to say the least. I had seen a dude cruising on a fairly unmodified one at
Drift Mania
, and then this year at
Formula Drift
in Florida, I saw a stretched out Ruckus for the first time cruising around the paddock area. I was definitely intrigued but I was unable to get a really good look at the machine.
As soon as we pulled up to the Rucksters shop, it was clear we were at the right place. I figure that when your front door is this legit, you
must
have some awesome stuff behind it. We were greeted by shop manager
Hai
who was hanging out at the front counter, and he was more than happy to show us around the place and really school us on some crazy Ruckus knowledge.
Read more...
---
---
---
---
---
---
---
---