---
---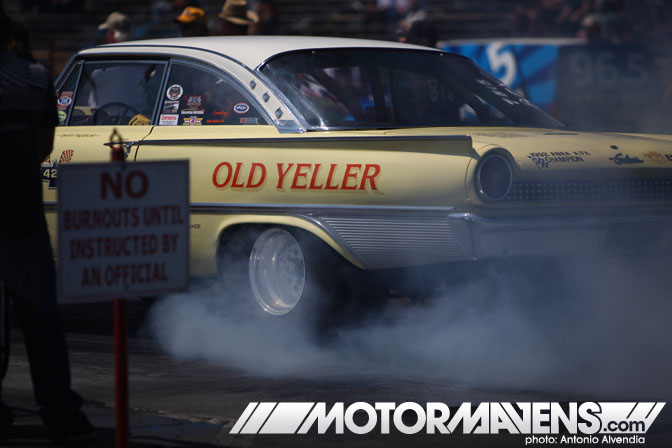 When I was growing up and first became interested in cars,
Japanese cars
were the focus of my automotive interests. My grandfather and all my uncles drove Toyotas, so that might have something to do with it. In college, I hung out with mostly Asian kids that were "fixing up" their import cars (although in reality, most of them didn't know what the hell they were doing at the time; they were ruining the reliability of their street cars in hopes of looking cool at the illegal street races), so American domestic cars were definitely not on my radar at the time.
Even though I've always admired and respected cars like 1968 Camaros and Shelby Daytona coupes, I'll honestly admit that when I was younger, I was never really interested in musclecars or
hot rodding
either - probably because I completely misunderstood what hot rod culture was all about! I used to think that hot rods were only for old guys that wore unfashionable Hawaiian print shirts with their cargo shorts, long white socks, and military trucker hats bearing the name of some sort of Navy vessel they worked on back in the day. I just didn't get it. The whole hot rod scene just didn't connect for me - possibly because most of the muscle car owners from my high school were always at odds with the import car crowd. Their high-and-mighty attitudes and
constant disparagement
of the 4-cylinder cars I loved created a social barrier that made it hard for Japanese car enthusiasts like me to
connect to
and
learn about
the cooler aspects of hot rodding.
It actually wasn't until I began building and restoring my
1973 Corolla 1600SR
that I began seeing a lot of parallels between the Japanese nostalgic car culture that I love and the whole hot rod and scene. I don't want to get too deep into this subject (at least not in this story), but let's just say I'm a big fan of traditional hot rods, retro funny cars, and diggers now! This being said, I obviously couldn't miss
Rod&Kulture Magazine
's annual
Dragfest
at
Famoso Raceway
in Bakersfield, CA this weekend!
Read more...
---
---
---