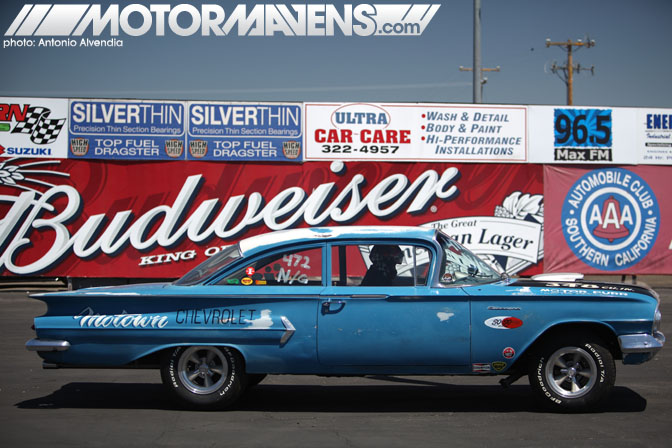 When I was growing up and first became interested in cars, Japanese cars were the focus of my automotive interests. My grandfather and all my uncles drove Toyotas, so that might have something to do with it. In college, I hung out with mostly Asian kids that were "fixing up" their import cars (although in reality, most of them didn't know what the hell they were doing at the time; they were ruining the reliability of their street cars in hopes of looking cool at the illegal street races), so American domestic cars were definitely not on my radar at the time.
Even though I've always admired and respected cars like 1968 Camaros and Shelby Daytona coupes, I'll honestly admit that when I was younger, I was never really interested in musclecars or hot rodding either – probably because I completely misunderstood what hot rod culture was all about! I used to think that hot rods were only for old guys that wore unfashionable Hawaiian print shirts with their cargo shorts, long white socks, and military trucker hats bearing the name of some sort of Navy vessel they worked on back in the day. I just didn't get it. The whole hot rod scene just didn't connect for me – possibly because most of the muscle car owners from my high school were always at odds with the import car crowd. Their high-and-mighty attitudes and constant disparagement of the 4-cylinder cars I loved created a social barrier that made it hard for Japanese car enthusiasts like me to connect to and learn about the cooler aspects of hot rodding.
It actually wasn't until I began building and restoring my 1973 Corolla 1600SR that I began seeing a lot of parallels between the Japanese nostalgic car culture that I love and the whole hot rod and scene. I don't want to get too deep into this subject (at least not in this story), but let's just say I'm a big fan of traditional hot rods, retro funny cars, and diggers now! This being said, I obviously couldn't miss Rod&Kulture Magazine's annual Dragfest at Famoso Raceway in Bakersfield, CA this weekend!
Up above, this Chevrolet Biscayne is the spitting image of all American muscle, parked underneath that big Budweiser logo to create a classic red, white and blue image. Check out how crazy the a-pillar looks, and imagine how difficult it must have been to produce the incredibly curved front windshield on this car! I dig the Motown Chevrolet lettering painted on the side of the car! Super cool.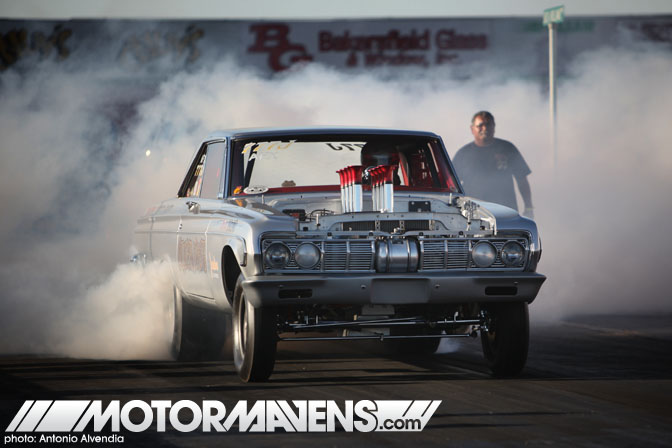 Another thing that I kind of associate with American muscle cars is big fat race slicks and huge, ridiculous, smoky burnouts. I dig all the attention to detail on this AFX Plymouth… the chromed rods that make up the front suspension, the aftermarket baffled oil pan, and of course… the super tall, red anodized air horns from the carburetors, which match the car's interior.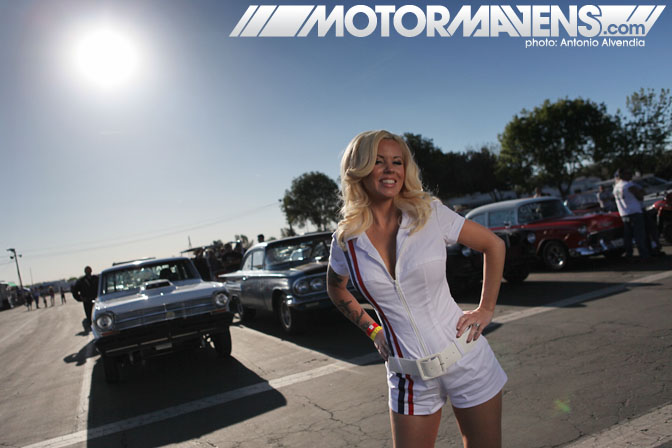 There weren't very many ladies at the event, but I did happen to make friends with Julie here, who caught my attention with her stylish retro-jumpsuit outfit and tattoos. She traveled all the way from Northern California to check out the event, and I'm glad she did, because she definitely improved the atmosphere as she walked around in that awesome vintage jumpsuit.
As I walked around the starting grid with her, I couldn't help but think, "man, this is what it must have actually looked like and felt like to be at the drag strip 30 or 40 years ago. Being surrounded by funny cars, diggers, and altered wheelbase drag cars, with blonde back-up girls walking around…" It felt kind of like a time warp… but I didn't arrive at the event in a DeLorean, driving 88 miles per hour.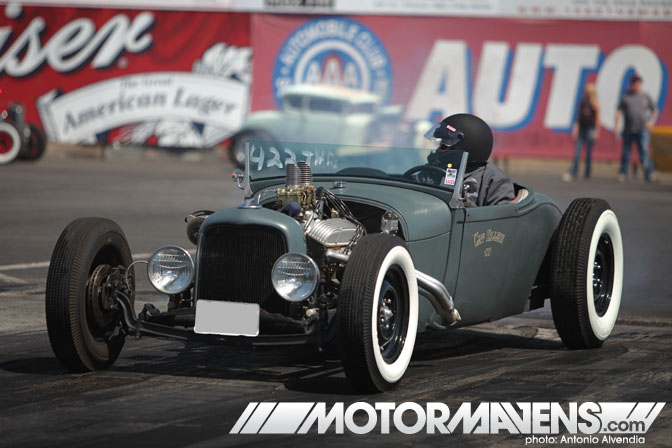 I thought it was really cool to see a 1929 Ford like this one out at the dragstrip. Most of the time, when I see these cars, they're just parked at a carshow. It was great to see someone actually running his traditional-looking hot rod – especially since he was doing burnouts and running the 1320 with vintage whitewall period-looking tires too! This car must be super fun to drive. I noticed that it had some non-period correct modifications, which were probably for safety and performance reasons – notice the disc brakes and calipers up front?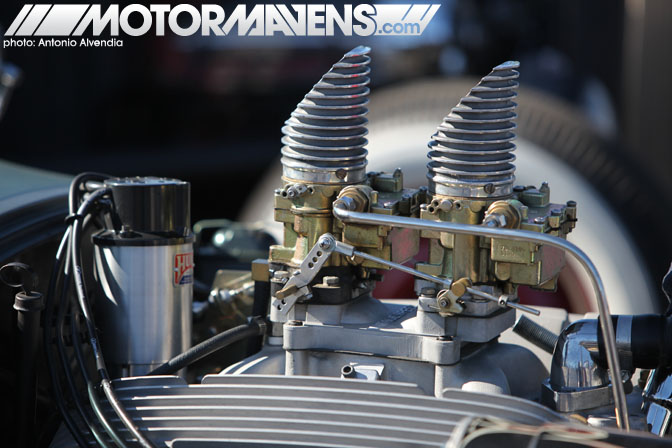 Taking a closer look at the engine, I noticed that the carbs on this '29 Ford looked pretty immaculate and clean, and the air horns bolted on top certainly set themselves apart from the polished velocity stack air horns I'm normally used to seeing on carburetors. I wonder how much power this thing is running.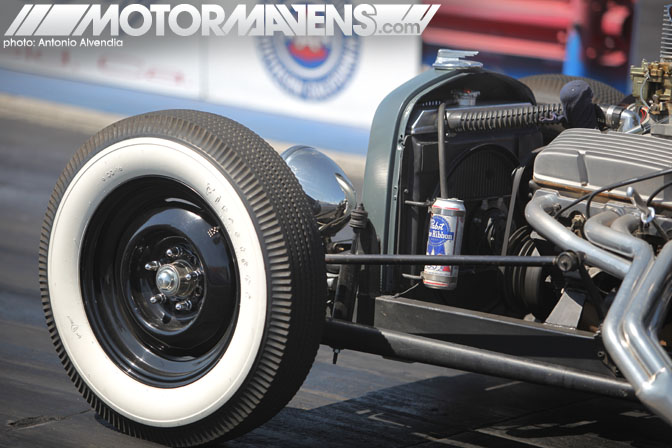 Nestled right up against the vintage Ford front grill, I noticed another modern upgrade to the car – see the aluminum radiator and heat shroud up front? I also like PBR overflow bottle… it reminds me of my friends from Seattle, who also use cans of Pabst Blue Ribbon beer for random overflow bottles and oil catchcans in the cars they build.
If you're extremely detail oriented, you'll also notice that this car has dice for valve stem caps, which is another cool detail. Looks great with the steelies and piecrust slicks.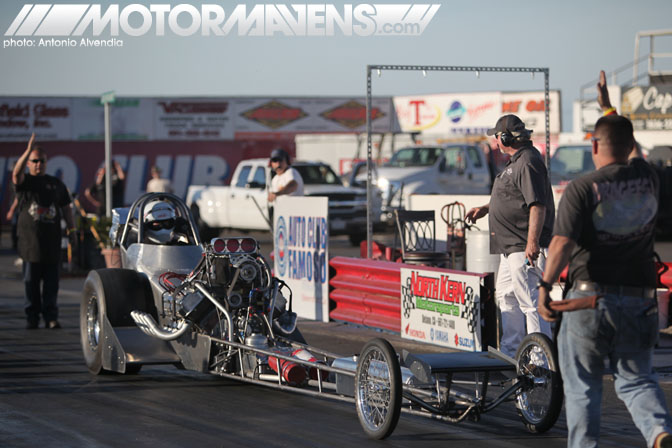 Dig this! I just can't get over how incredibly bad ass it was to see, hear, and feel cars like this digger pass by as I stood trackside. I was shooting the event with Travis Hodges, and we both kept laughing and shaking our heads as these high horsepower passed by us on their 6 and 7 second drag runs! When they passed by us, all the displaced air from the engine and the side exit headers made us feel like someone punched us in the chest. Combine that with the rich smell of fuel, and the experience was just amazing.
If you're stylish and you can appreciate retro drag cars like this, then you should show it by rocking it big on your chest – Buy a DSTROYR Milner shirt and let the whole world know you're down with the program!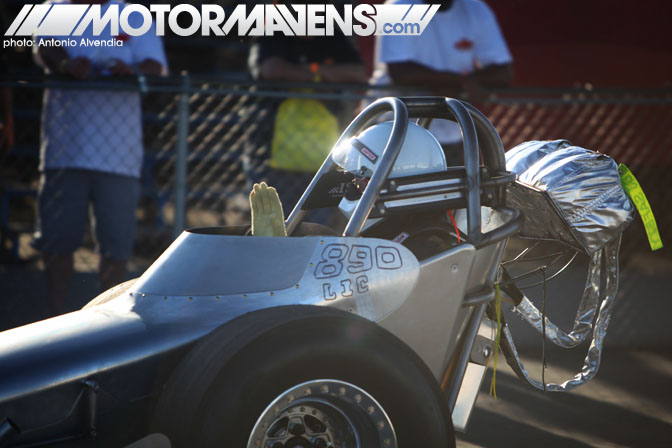 I liked observing the details on this particular digger as it headed back to the pit area… from the beadlock-style wheels to the drag chute in the rear, and the permanent-marker numbers drawn on the sheetmetal. It would have been 20x cooler if the driver was actually wearing a stylish vintage helmet though – that normal off-the-shelf white Simpson helmet just doesn't look cool enough to me. Not when you're driving an amazing piece of machinery like that! Come on man, letter the side of that car, too!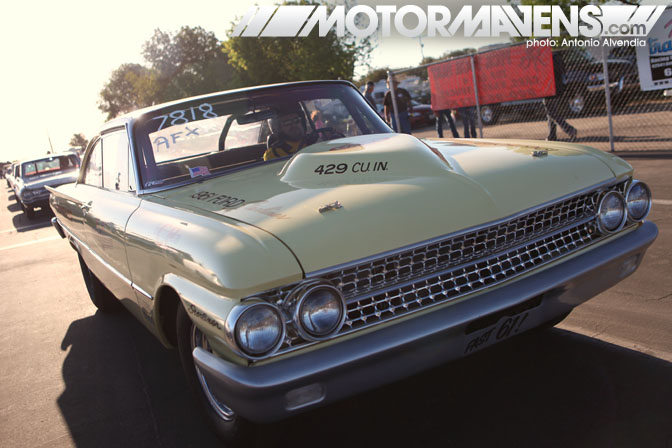 Walking around the starting grid, I noticed this ridiculously bad ass 1961 Ford Starliner. The Starliner was the sporty fastback version of the flagship Galaxie line of full size Fords. It was produced in 1960 and 1961, offering a great platform for Nascar teams to build their race cars. They were produced in limited numbers, and due to their racing applications few survivors exist today. This is one super rare Ford!
I was immediately drawn to this car because of it's light canary yellow paint and the BAD ASS lettering and typography painted onto the car. The 429 cubic inch designation painted on the hood let the ladies know what kind of power is lurking under the bulge, and I absolutely LOVE how the owner of this car painted "1961 Ford Starliner" on the hood, and "Fast 61!" on the front bumper. Dammit, this guy has got some great car style. Glancing through the windshield at the driver, he kind of reminds me of a more heavily bearded version of my boy Jon Chase, the designer behind the DSTROYR clothing line.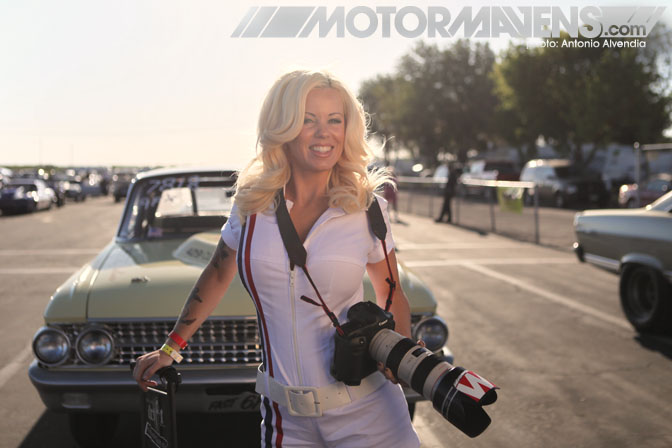 As we wandered through the grid taking photos, I somehow convinced my new friend Julie Fairlane to pull my Pelican case around for me. She looks like she fit right in, Canon SLR and all! I told her to try taking some pictures, but she politely declined because she thought the camera was too big and heavy.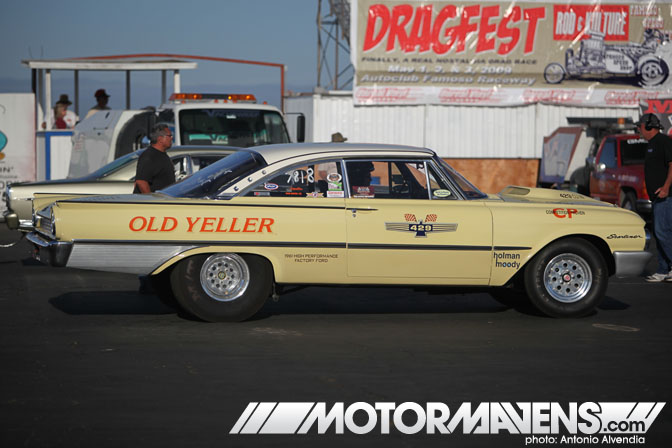 Check out the side view of the Starliner, "Old Yeller." I thought Old Yeller looked absolutely amazing! I dig the raked stance, and the super fat Mickey Thompson drag slicks in the rear. However, I must admit that the feature I like best about this incredible 1961 Ford is the awesome graphics that have been lettered on to the car!
From the "Competition Proven" logo on the front fenders to the Holman Moody logo behind the front wheels. In case you don't know who Holman Moody is, look them up online. They were one of the top builders of Nascar Fords in the 1960s and 1970s, and became popular with the Ford Galaxies they produced. Therefore, it's only fitting that this rare Starliner should have an Holman Moody logo on it.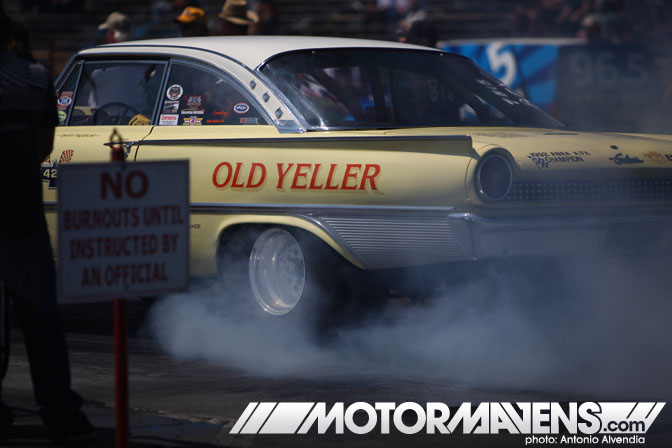 I'm not quite sure how many drivers actually paid attention to the sign posted right there, but I thought it was really cool seeing Old Yeller laying down some tiresmoke! Those taillights and rear fins look gorgeous. I don't think I have ever really heard about Ford Starliners until this weekend, but it was great to see one car in person, thanks to Old Yeller and the R&K Dragfest. Needless to say, I'm now a fan of Starliners.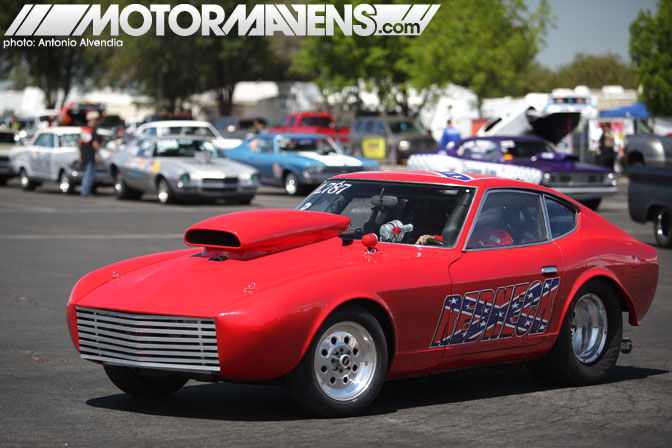 Well, not all cars were super cool and period correct. This S30 Datsun 240Z showed up, with a big ass Chevy big block hood scoop, and the confederate flag painted out within the word "redneck" on the side of the car.
It looks to me that this is one of those outcast cars… it's the type of car that won't be condoned or accepted by Datsun 240Z owners, and I don't really think that most of the people involved in nostalgia drags would be super stoked on this car either. Either way, everyone's entitled to an opinion, and everyone can do what they want with their cars.
It looks like this Z had big fiberglass fenders, and a custom fiberglass hood scoop concealing the Chevy V8 power that was under the hood. Now that I think about it, I don't even remember what kind of times this Z was running… to be honest, I was a bit more focused on the diggers, hot rods, and funny cars.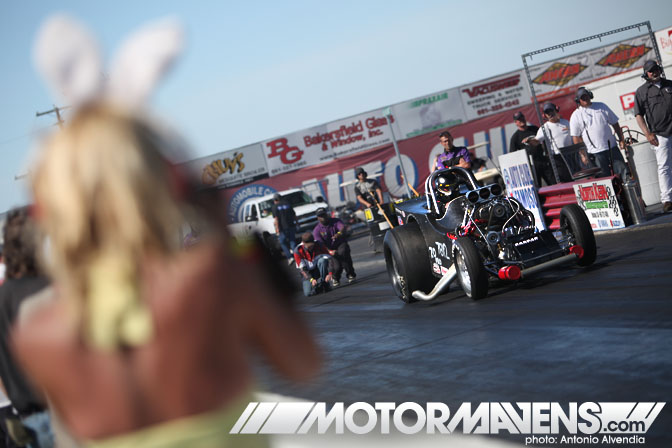 Now this is nostalgia drag racing! A big ass engine with a blower sitting up front, pushing hot exhaust fumes (and sometimes flames) out of the trademark side exit headers, with huge meaty slicks out back, and skinny tires up front!
There was a female photographer standing next to me, soaking up the sun's UV rays and the smell of the nitro fuel. She was wearing bunny ears while she was shooting, so I thought it would be cool to capture her in the foreground of the shot. There are definitely not a lot of female photographers in motorsports, so it was cool to see her out there shooting all day. That's some dedication!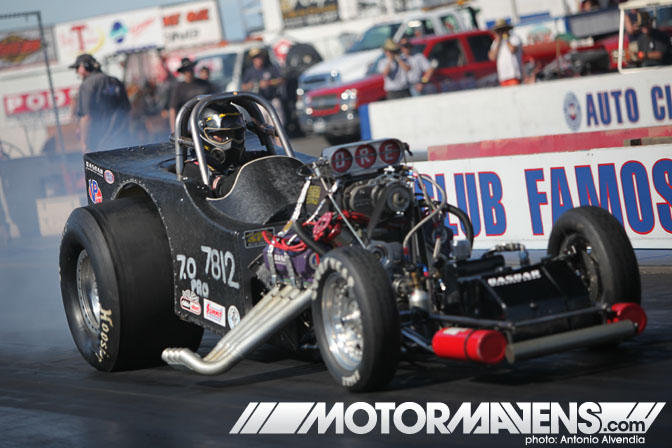 Let's come closer and focus our attention on the driver's helmet, with ventilators preventing the driver from breathing in the nitromethane fuel vapor and tiresmoke. It was this type of helmet that was our inspiration behind the MotorMavens x Dstroyr "Follow The Leader" collabo shirt. If you have style and you think this type of racing is cool, make sure to get one of these shirts while we still have them available! They're selling very quickly!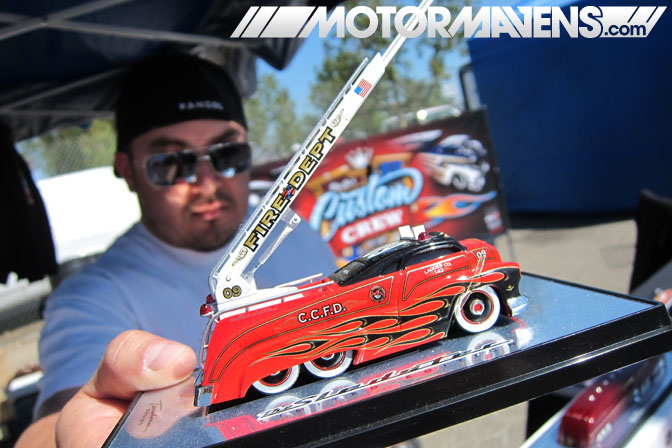 Walking through the vendor area, I heard someone shout my name from one of the booths. Turns out it was my friend Luis Tanahara, who was at the Dragfest promoting his new line of die cast cars. Luis was one of the designers behind Jada toys, and now has a new line of die cast called Custom Crew.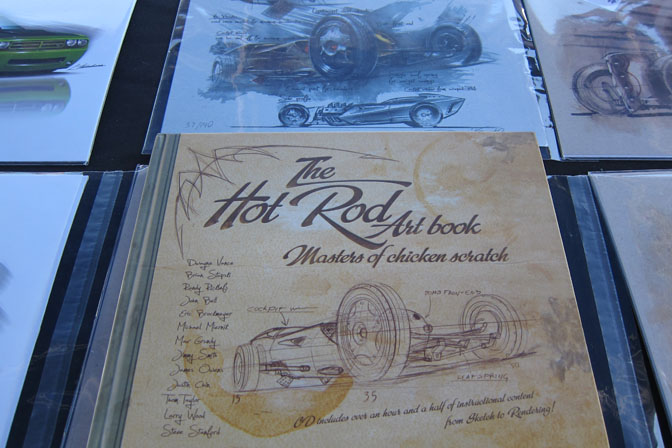 Also at Luis's booth was the limited edition hardcover, The Hot Rod Art Book: Masters of Chicken Scratch by Dwayne Vance. I met Dwayne two years ago at the 2009 Grand National Roadster show in Pomona CA. I haven't had the chance to spend a lot of time going through his book, but it looks to be a pretty high quality piece of artwork.
I was planning to speak to Dwayne about it and check it out some more during the the 2010 Grand National Roadster show, while shooting coverage for publishing on MotorMavens… but alas, that never happened. The lady who was in charge of the media passes wasn't firing on all cylinders, and forgot to leave my passes at the front desk, even though she repeatedly told me she would via email AND over the phone. That being said, I wasn't able to talk to Dwayne at GNRS 2010, and I didn't shoot photos of the show this year. Their loss.
It seems that sometimes, even the older hot rod generation can learn things from the younger internet generation. Rather than deal with ridiculous paper tickets, they should at least step into the 1980s and learn to make a will call list to leave at the ticketing booth, so all you need to do is add someone's name to an Excel spreadsheet. It's 100x more efficient, and cheaper than printing paper tickets for media too, geniuses.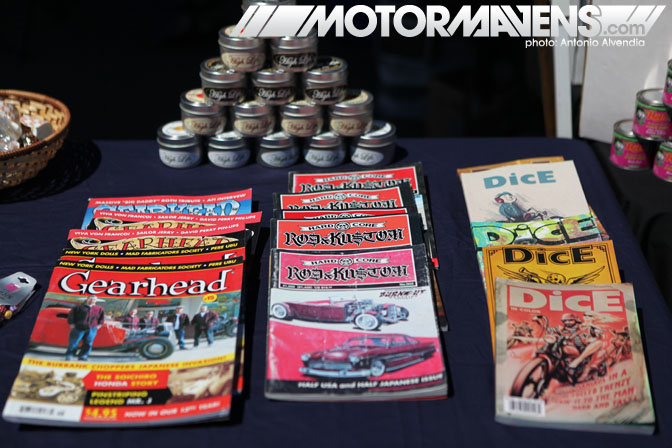 Other cool items that I saw on sale in the vendor area were these copies of independent hot rod culture magazines like Gearhead, Dice, and Hardcore Rod & Kustom, which is printed half in Japanese and half in English. Pretty cool concept!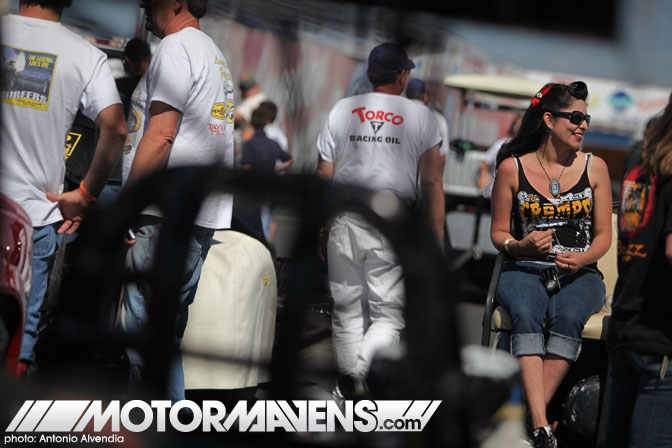 Another thing I really loved about the Rod & Kulture Dragfest is that a lot of people were wearing some vintage clothes. With some people, it was just vintage inspired t-shirts… but some people actually went all out, wearing vintage jeans, shoes, and hairdos. Pretty cool… it definitely added to the experience!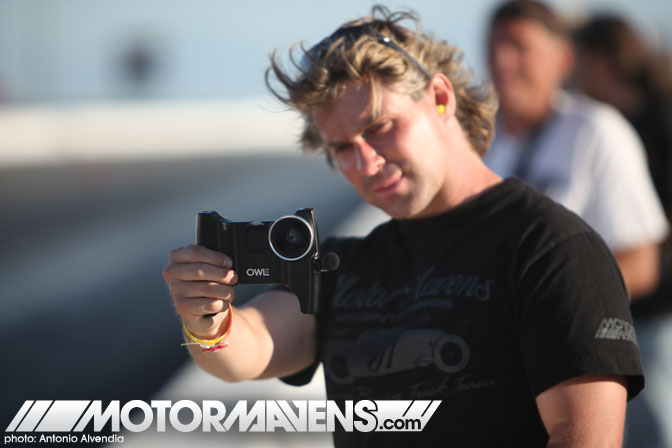 This here is one of the original founding members of the MotorMavens Movement… Travis Hodges. Travis has a background in shooting action sports and working on big professional movie and television sets. (Umm… not television sets, like the thing in your living room… I'm talking about the actual sets where they film TV shows and movies.)
I got this snapshot of Travis as he was filming a short video using a new toy that we just acquired! He's holding an Owle Bubo iPhone adapter! Owle is a company owned by hardcore motorsports enthusiasts that decided to make something non-car related with their CNC machine!
The Owle bubo unit is basically a black anodized aluminum case for the iPhone, that is threaded to accept different types of lenses. This particular setup that Travis is holding is comprised of the aluminum case, wide angle lens, and an external microphone. Very cool!!!
The ability to add a lens to the iPhone actually makes a HUGE difference in the iPhone's photo and video quality… and even the simple, inexpensive microphone that is included in the set makes a huge difference. I tried filming with AND without the microphone, and noticed a huge improvement in the sound quality once the mic was plugged in.
We'll post up some of Travis's short video clips that he filmed using the Owle very soon! Keep an eye out for it!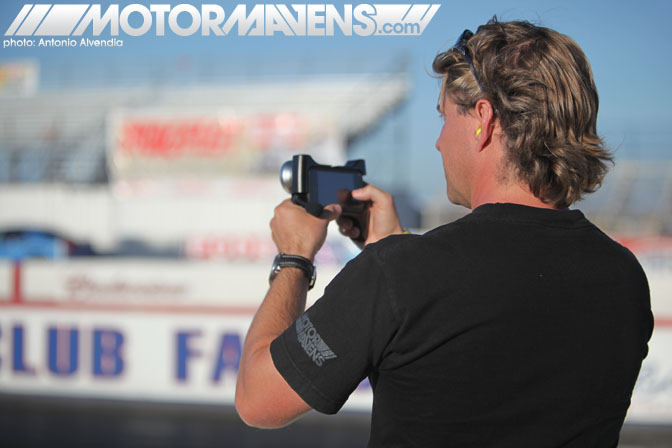 Here's another shot of Travis shooting stuff with his Owle adapter, so you can see the back side of the unit. See, it actually IS an iPhone in there! As we walked around, shooting things with the Owle + iPhone, we must have had at least TEN people stop us to say, what the hell is that?! And we even let them fit it onto their phones and try it out… so if you ever see me or Travis walking around the track with an Owle unit, hit us up! We'll gladly let you try it out!
BTW… notice the earplugs in Travis's ear? Those are an absolute NECESSITY when it comes to shooting nitromethane drag cars and funny cars! When the cars pass by you, it's so loud, it feels like your ears are going to blow out. It's pretty damn crazy… those are some of the loudest cars I've been exposed to in my life. IN MY LIFE.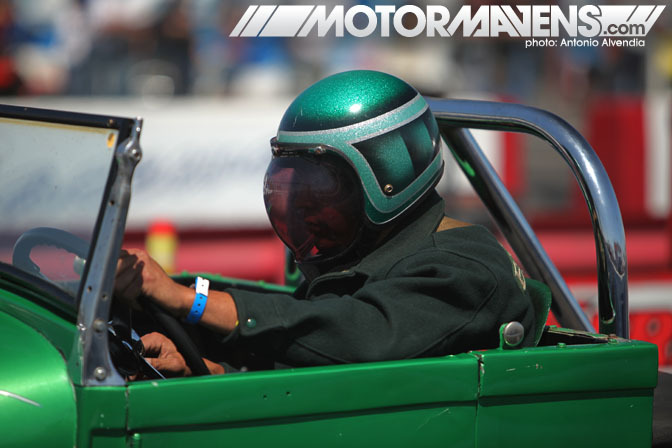 I just love all the cool and stylish DETAILS that catch my eye at these events! Check out this dragger's old school helmet. (After I published this story, Christian Mejia (one of our readers, who used to work for So Cal Speed Shop!) told me that this racer is a guy from the Emperor Car Club named Chuck. Props to the Emperor CC for having good style!) It's pretty much an open face helmet, but with a big ass bubble in front, making him look like an old school astronaut or something! Haha, I love it! I also LOVE the heavy flake and panel paint job on this guy's helmet!
I've been saying this for years now… I really hope that this AWESOME style crosses over into the Japanese car scene and/or drifting scene! How sick is the paint job on this guy's helmet?! I love it!!!
Along with old school cars and clothing, I suppose old school attitudes prevail sometimes too. I didn't go up and talk to this guy or anything, but seeing things like the confederate flag painted on a person's helmet sometimes makes me think and remember… no matter how skilled or dedicated one might have been as a racer or a photographer back in 1950s, '60s, or '70s… it must have been hard to overcome certain social boundaries if your skin wasn't the right color.
In all my travels shooting motorsports and car culture all over the world, I'm lucky that I've only really experienced racism once in my professional career… and that was in the South – Atlanta Georgia, about four years back. In these modern days and times (and especially living in California, which is a melting pot of cultures), I often forget that racism actually still exists, especially since my close group of friends is comprised of an extremely diverse ethnic mix. Anyway, let's talk about racing, not racists! Back to the cars!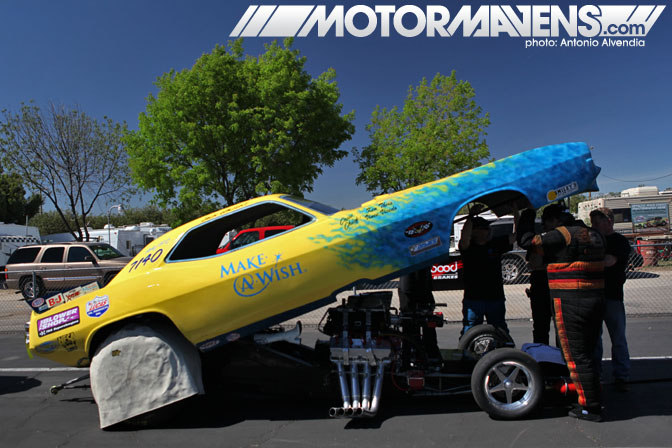 Speaking of cars, some of my absolute FAVORITE cars at the Rod&Kulture Dragfest this year were the funny cars!!! I shot quite a few photos of the funny cars, and hopefully Travis got some great video footage of them as well!
I'd post up some more funny car photos, but maybe I should just leave those pics for the next post!
:: Antonio Alvendia
240Z
,
altered
,
Antonio Alvendia
,
Bakersfield
,
carburetor
,
Centerline
,
Cragar
,
Custom Crew
,
Dice
,
Dragfest
,
dragster
,
dragstrip
,
Dwayne Vance
,
Famoso
,
Famoso Raceway
,
Ford Galaxie
,
Ford Starliner
,
Funny Car
,
Gearhead
,
Hardcore Rod & Kustom
,
Holman Moody
,
hot rod
,
Hot Rod Art Book
,
iPhone
,
Jada
,
Julie Fairlane
,
Luis Tanahara
,
Nostalgia Drags
,
Old Yeller
,
Owle
,
Owle Bubo
,
pinup girls
,
retro funny car
,
Rod&Kulture
,
Rod&Kulture Magazine
,
Top Fuel
,
Torco
,
Travis Hodges
---