---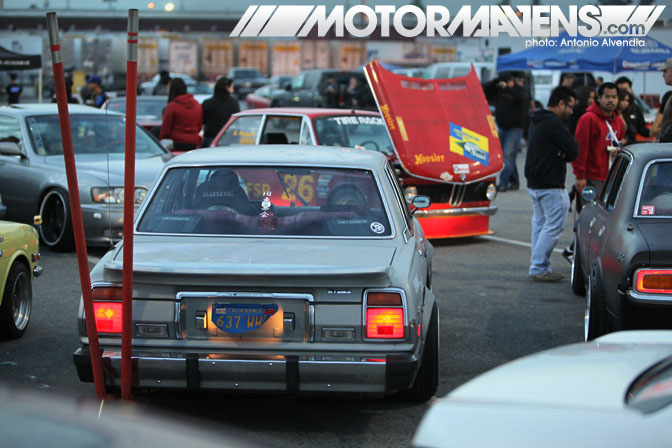 Here are some more overdue photos from
MotorMavens Mass Appeal
show... As everyone knows, our first Mass Appeal was part of the
Ken Block Gymkhana Grid Invitational
event. Unfortunately for the MotorMavens Crew, we were extremely busy and understaffed during the event - we weren't able to spend a whole lot of time on the gymkhana side, because we were busy handling things on our side of the event - the Mass Appeal! We did notice that there were lots of people walking around Irwindale, dressed head-to-toe in DC/Ken Block clothing. We were pretty surprised; we know that Ken Block's YouTube videos get millions of views, but to see all the fans rocking Block gear from top-to-bottom was pretty crazy.
Read more...
---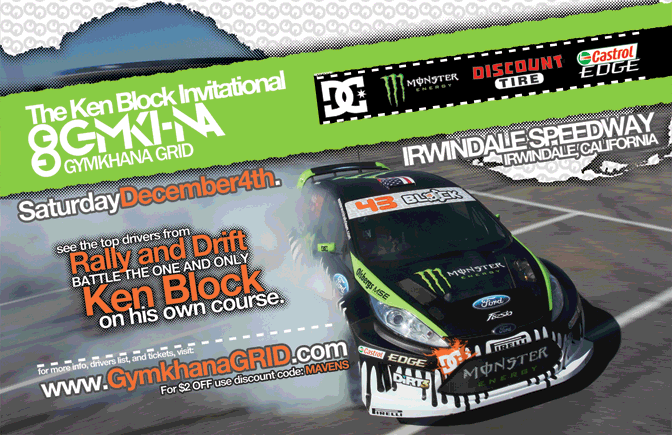 YES!!! Are you excited?! I know I'M excited!
The MotorMavens Crew is finally doing its very own car show! MotorMavens was approached by the good people that are organizing The Ken Block Invitational Gymkhana Grid event to bring the most stylish street cars and show cars to Irwindale Speedway on Saturday, December 4, 2010.
For this event, we plan to showcase the freshest cars that our friends and readers own for a massive MotorMavens streetcar party at Irwindale! Come out and chill with the MotorMavens Crew (and the MotorMavenettes), as we'll be shooting an HD video of the car show to profile all the freshest street cars at the event! We will also have all the top automotive media outlets in attendance as well, scouting the best cars for magazine features. We've even received confirmations from overseas media – I'm talking the UK, Europe, Australia and even Japan!  This is so exciting!!!
If you own a super fresh, super stylish street car and/or show car, and would like to be included as part of the show, please make sure to pre-register your car at http://www.motormavens.com/massappeal/ to receive a limited edition MotorMavens x KenBlock Gymkhana Grid shirt and other gifts from our sponsors – DC Shoes, Monster Energy Drink, Discount Tire, Castrol Edge.
The $40 Pre-Registration fee includes:
- TWO (2) tickets to watch the Ken Block Gymkhana Grid event itself (Valued at $50 ($25 x 2 tickets)
- Pre-registered car owners receive ONE (1) limited edition MotorMavens x KenBlock Gymkhana Grid tshirt. ($20 value) (more…)
---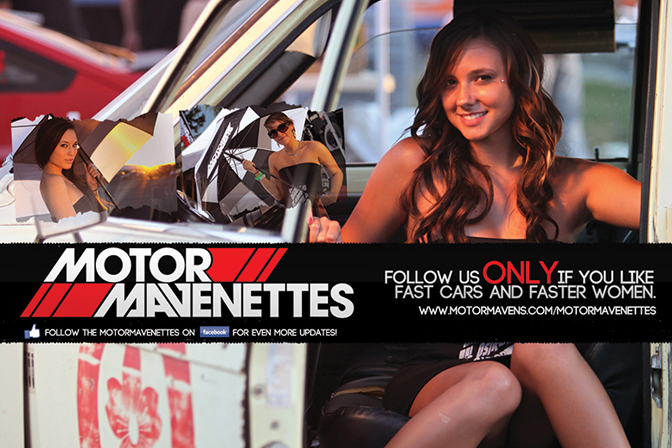 Meet Tailyr, Lauren, the other Lauren, Joanna, and Michelle… The MotorMavenettes! Like the MotorMavenettes on Facebook to check out their exclusive photos and videos ONLY found on (more…)
---