Here are some more overdue photos from MotorMavens Mass Appeal show… As everyone knows, our first Mass Appeal was part of the Ken Block Gymkhana Grid Invitational event. Unfortunately for the MotorMavens Crew, we were extremely busy and understaffed during the event – we weren't able to spend a whole lot of time on the gymkhana side, because we were busy trying to handle our Mass Appeal Car Show and unsuccessfully collect the $10,000 that event organizer Chris Willard owes us. This outstanding invoice is still unpaid, sigh.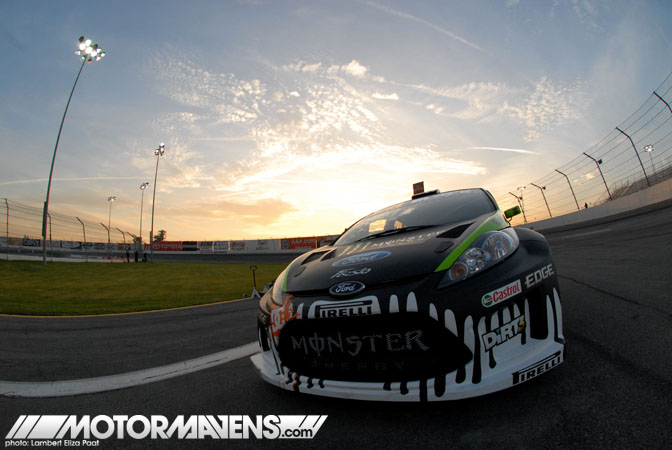 We did notice that there were lots of people walking around Irwindale, dressed head-to-toe in DC/Ken Block clothing. We were pretty surprised; we know that Ken Block's YouTube videos get millions of views, but to see all the fans rocking Block gear from top-to-bottom was pretty crazy.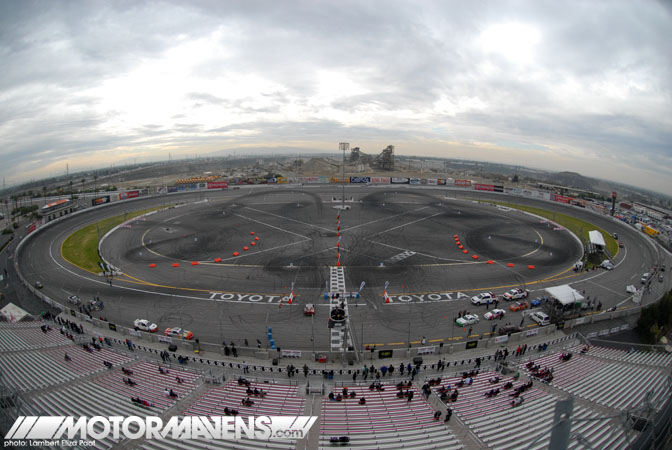 This is what Irwindale Speedway looked like on the morning of the practice day (Friday), as seen through Lambert Paat's wide angle lens. The track layout certainly looked a lot different than what you normally see at Formula Drift events, which was fun and exciting to see.
The starting line was actually up by the Irwindale grandstands, next to the Nascar start/finish line. The cars would grid up in between the Toyota logos and the checkered flag painted on the ground, and they ran mirror courses through Irwindale's infield. Pretty cool to see The House that Drifting Built used for something other than drifting and Nascar.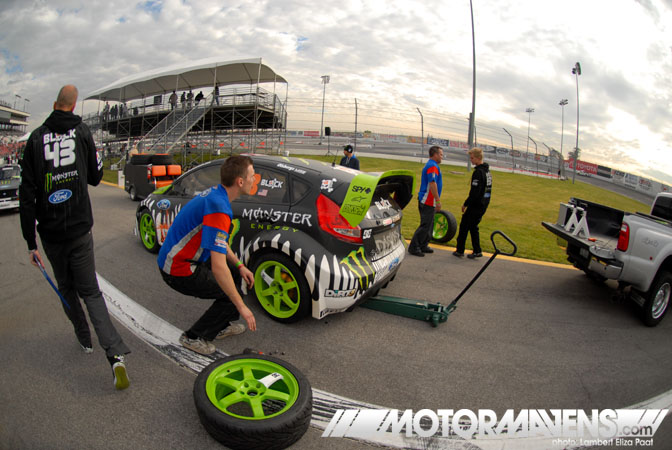 The pre-grid layout was also very different from what you would normally see at a Formula D event. Since there weren't as many cars competing, the Ken Block Invitational's pre-grid area was a bit more spacious, and the cars were arranged in reverse.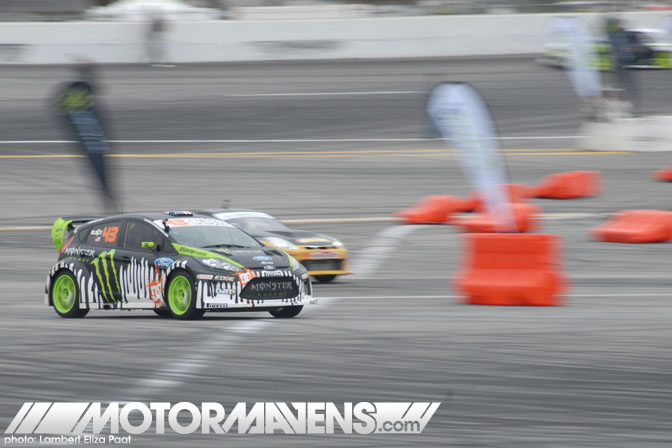 As Lambert shot this photo of the cars on course, his girlfriend said "Jeez, it looks like Ken Block's car looks way faster than the Z!" Give or take, his take off looked like 80-100mph.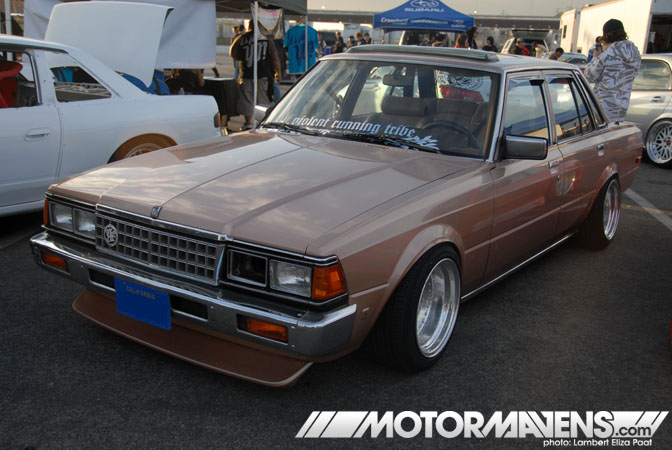 Back to the Mass Appeal Show, Violent Running Tribe's slammed and stretched Toyota Cressida attracted quite a lot of attention from people with good taste. Actually, we think that this clean, aggressive Cress should have had better placement in the show – in the Bosozoku Alley! It was tough to handle from a show organizer standpoint, because not everyone arrived at the same time. We tried to move the cars around during the show, but some of the car owners didn't want to move their cars once they were parked. =/
Either way, the popularity of old school Cressidas are spreading throughout the west coast very quickly. Who wouldn't want a Cressida that looks mean and bad ass like this?!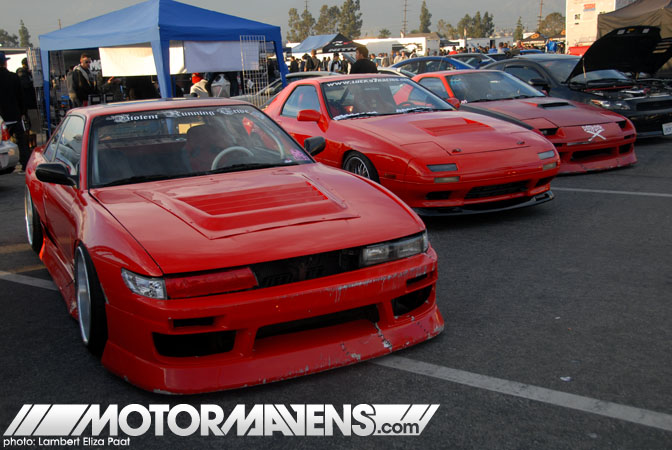 I love red cars!!! Just check out this red S13 from Violent Running Tribe. Our videographer Justin Shreeve says that this red S13 with battle damage was one of his favorite cars at Mass Appeal, because he is an S13 driver himself, and because it had ridiculously perfect stance, with wheels that became one with the fender. In Japan, they call that look tsuraichi, and it is most common on VIP cars… but to see it on a drift car like this is simply dope!
Big respect to the VRT members… the name alone makes one believe that they are a crew that drives aggressively like wild animals on the streets and tracks. Especially this S13, equipped with 18 inch SSR Viennas and BN Sports Aero kit (not sure if it's an authentic BN or not..?). You can judge for yourself if you prefer a cleaner look or appreciate the fact that it's destroyed and gets actually used.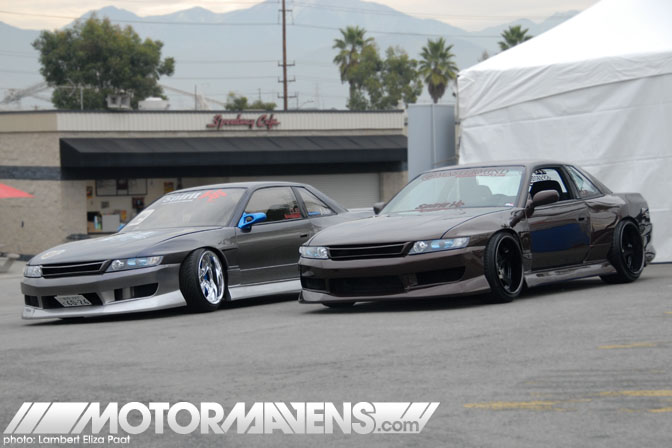 Yes sir! What you are witnessing with your own very eyes via your computer screens and cellphones is what are referred to in Japan as "Odyvias." The name is derived from a mix of a Honda Odyssey face and Nissan S13 Silvia body. Some of you readers might have seen online pics of the red Odyvia that was first created by a man named Motohiro Taniguchi, from a shop called Spirit Rei in Japan.
These two retardedly low Odyvias were brought to the show by a shop called Mastermind North America. These guys certainly captured the hearts and minds of S13 owners at the show – everyone was freaking out when they saw the cars, thinking "what the hell kind of face is that?!"
I love the stance and style of these S13s… but just wait til you hear their engines! More on these cars in the near future.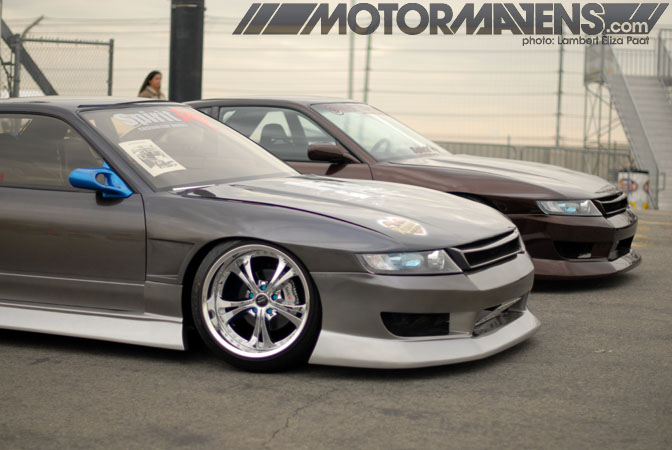 Well, let's just take another peek real quickly… here's some more front detail on the Odyssey faces, and how they were blended into the S13 chassis using the special front fenders, hood, grill, and front bumper available from Mastermind NA. I especially love how the cars are slammed, with the wheels really coming out to the fender. Outstanding job, Mastermind.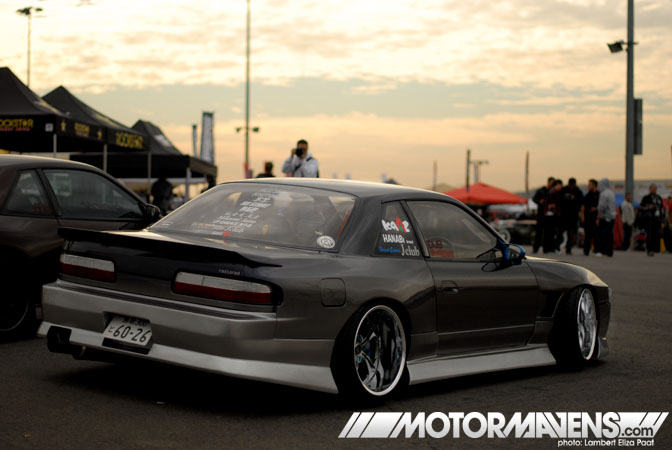 Okay, okay… one last peek. This particular Odyvia was actuallya RHD model imported from Japan!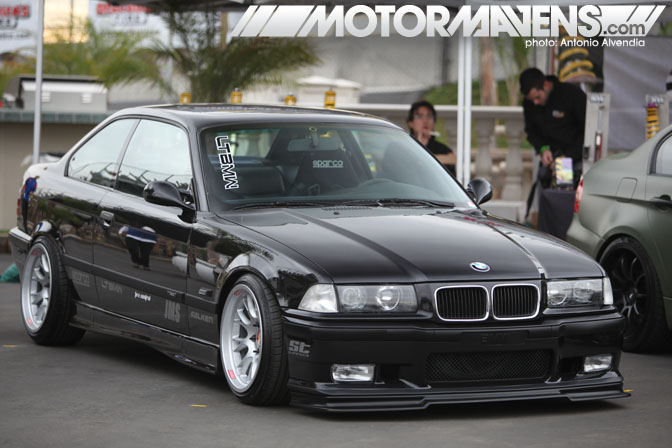 Okay, let's take a quick break from the JDM goodness, and recognize this outstanding example of an E36 M3, looking clean and aggressive on Suspension Techniques coilovers and BBS RS GT wheels! This M3 actually was a Mass Appeal Award winner… when we met the owner, he told us that his car was actually bought after it was in an accident, and he had to restore and rebuild it into what we're staring at here. The car is just so clean, with outstanding street car style, don't you think?!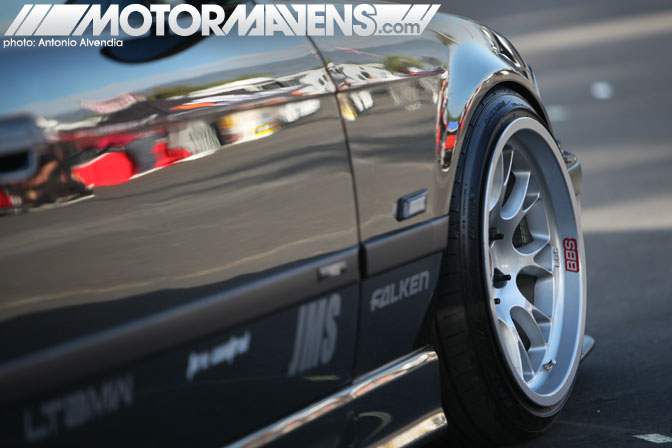 Here's a closer look at those fat lip, deep offset BBS rims. So damn awesome!!! (It reminds me of how our webmaster Andy Sapp's wheels fit on his black E46 BMW… Andy, are you getting inspired to buy an E36 now?!)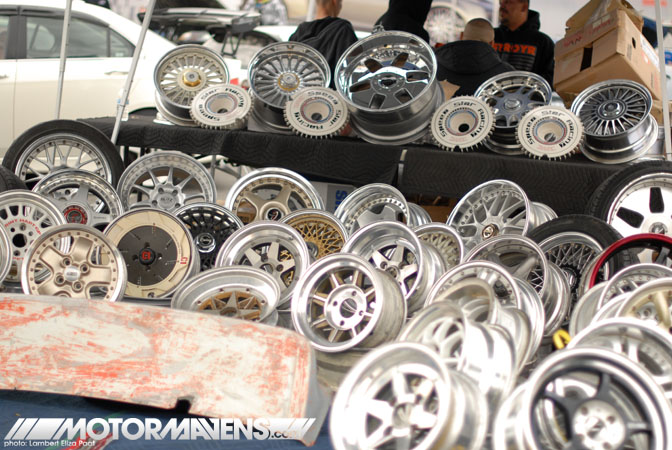 Speaking of rims, you just can't fade the guys at Infinit Wheels. Infinit is an old school car crew that just turned a little too crazy about buying wheels in Japan. Anthony and the rest of the Infinit crew have the wheel game on lock, slangin rare Japanese wheels from parking lot meets and Thai restaurants in the San Fernando Valley to noodle houses, boba tea shops and pho restaurants in the San Gabriel Valley. =D
They brought out a ton of SSRs, Hayashis, Mugens, Works, Sprint Harts, and other awesome wheels to the show… and even a TRD wing for an AE86?! In case you like a set of wheels in their inventory, but you want to widen them (rebarrel them) or refinish/restore them, they can do that too. In fact, I found a set of wheels in their display that I MUST have for my own car!
Oh, they also have a website, so you can reach them sort of easily: http://www.infinitwheels.com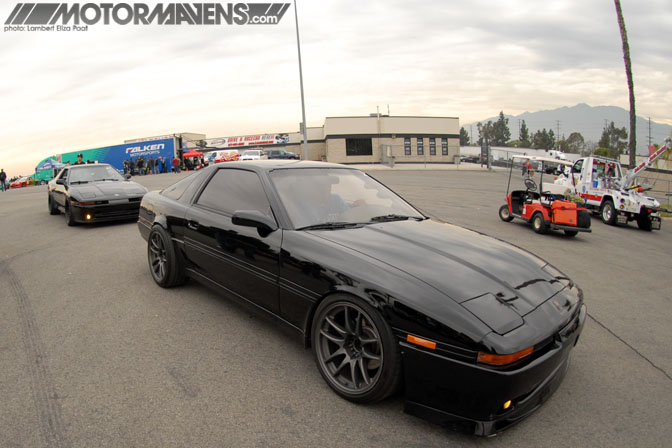 If MA70 Supras were the Gundam Wings of our age, these guys would be the bad guys – especially when they're rolling into the show hard like black x70 series brothers with similar style. I love it! We NEED to see more x70 Supras out on the streets that are as clean as these!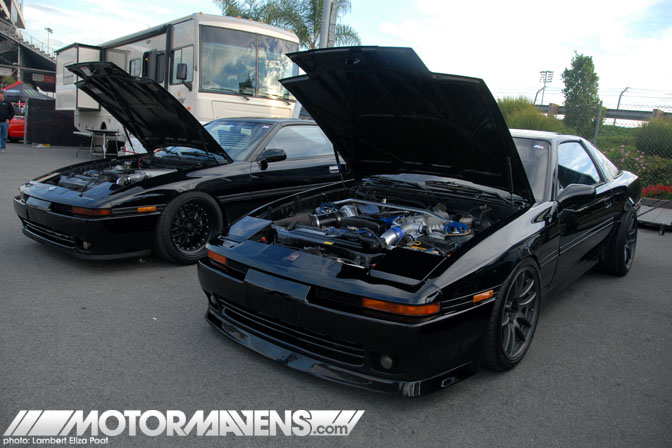 My roommate owns a clean black JZA70 Supra, and I'm a die hard Toyota guy myself, so it's no surprise that I really, really liked these bad ass x70 Supras!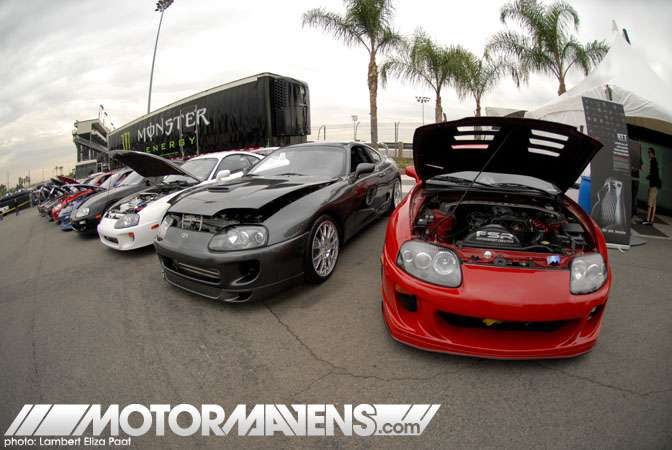 Actually, there were a LOT more Supras in the Toyota Supercar lineup that caught my eye, but I plan to do a separate shoot with them! Stay tuned to MotorMavens! We want to show some more Supra love on the site!
Daaaaaaaaamnnnn!!! I think this just might be the lowest and most aggressive Subaru WRX STi that I've seen in months! I first spotted it parked on the street, outside the Autofashion VIP Meet in San Diego just after SEMA (I'm pretty sad that more of the Autofashion VIP guys didn't make it to our show… Yes, I'm talking to you, Freddy! C'monnnnn!), and I was super glad to see it on the morning of Mass Appeal as it rolled in to the show!
This STi is SICK!!! Silver paint, slammed on white BBS mesh, with perfect stretch and camber… that Charge Speed lip also perfectly complements the car. I'll be honest when I say that I don't normally trip out when I see built up STis, but this particular one is an exception. Outstanding. We definitely had to give this car a Mass Appeal award. Love it.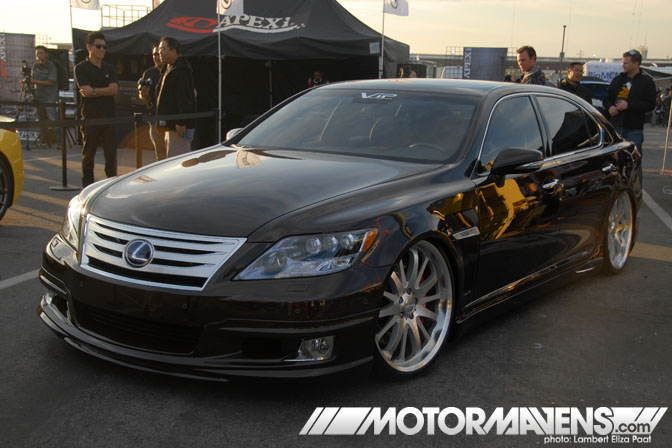 Here's the VIP Auto Salon LS600hL at sundown, with Toyota/Lexus heads Clark Ishihara and Herb Policarpio chopping it up in the background. You might have seen this car in our previous coverage of the LA Auto Show, as it was displayed front and center as the most exciting-looking modified car in the Lexus booth. To me, it's a really big deal that Lexus is acknowledging the VIP culture and working with guys who make legit cars like VIP Auto Salon.
Lambert had a quick opportunity to drive this LS around the parking lot as we were getting it parked, and being the first time he had ever driven a Lexus hybrid vehicle, he was surprised that he couldn't hear the motor when the engine was on! Haha… luxury hybrids on air suspension. It must be really fun to drive around town with a car like this.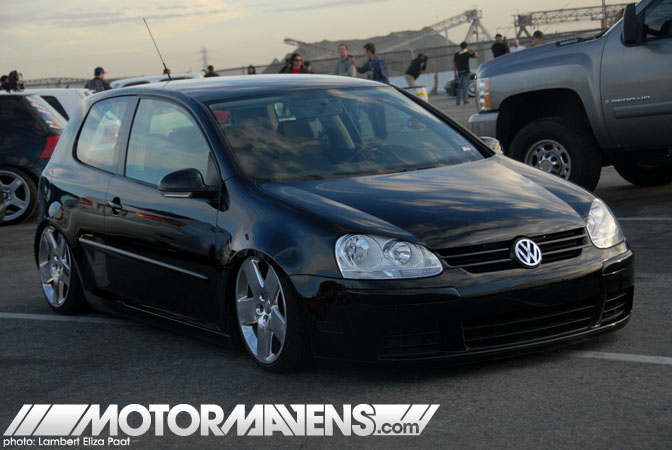 There were Volkswagen crews at Mass Appeal that were beyond dope… but we know that this is just the tip of the iceberg! Our resident EuroMaven Tamer Omran is going to be bringing in more features from the European car community. I think it's really refreshing, having a background in Japanese cars myself.
Actually, 90% of the Volkswagens I've seen recently are slammed or have Bentley or Benz wheels bolted onto them or just something that can make you stare at the car and realize the beauty of their style.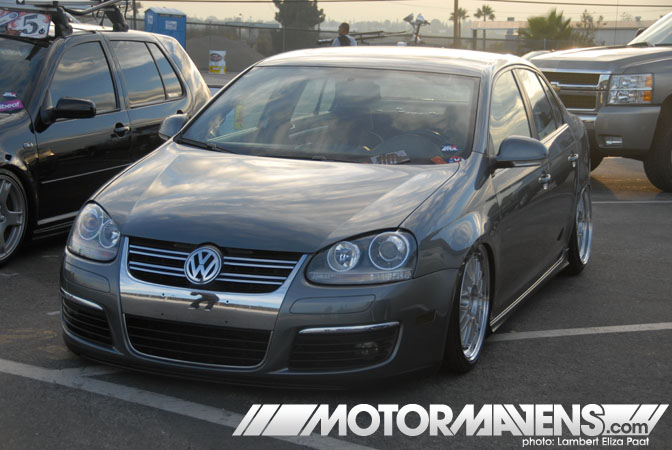 This Jetta GLI was slammed lovely, and definitely had people turning heads, because it just looked so clean. That's one of the things about the cars of Mass Appeal… the Mass Appeal show not only recognizes the fully done-up monster builds, but it also recognizes the beauty of cleanliness and simplicity – one of our favorite kinds of street car style.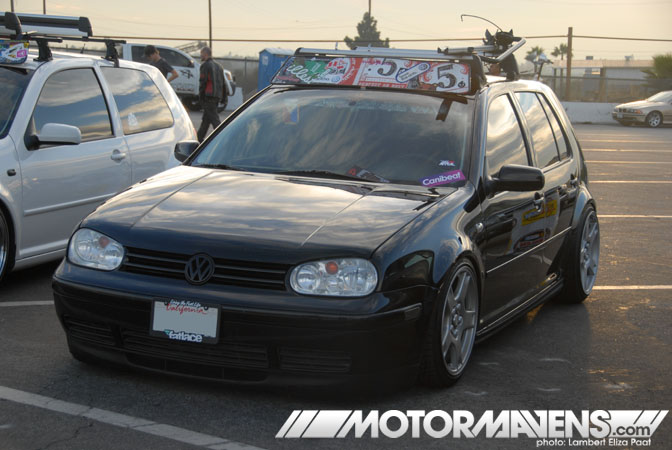 Slam, stretch, roof rack, and stickers…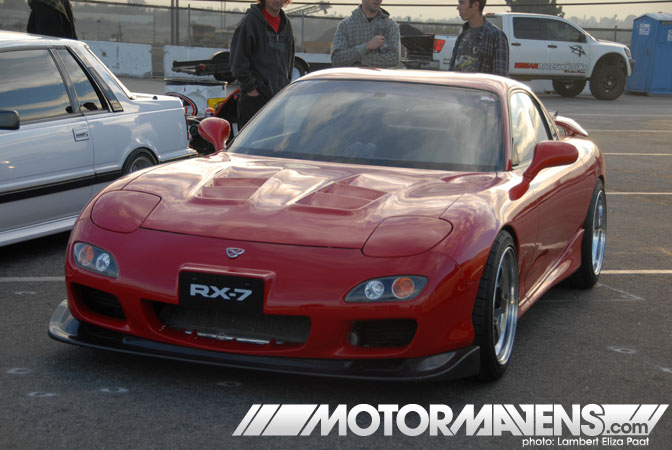 What is it about this particular FD3S that had all the Mass Appeal judges jocking? Is it because it looks like the FD in Gran Turismo 5 Prologue? Is it because it just looks clean with the Japanese kouki front bumper? I mean, sure, it's not as low as some of the RX7s we've seen out there, but this particular FD just gets a lot of love because it's so damn clean, and was built up with a stylish array of parts. Seeing a clean FD3S RX7 like this on the streets is getting more and more rare nowadays… it's nice to see some clean, simple examples of FDs out there. Sometimes you don't need the craziest aero kit or wing out there.
Oooh!!! I loved the white Nissan S12 parked next to the FD! We have to search and see if we can dig up a photo of it!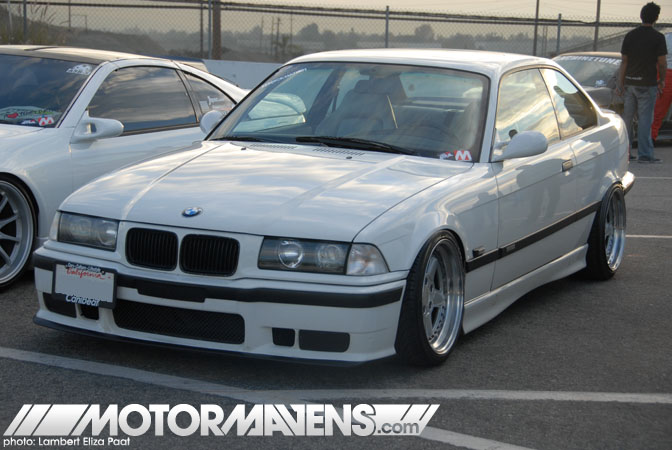 Speaking of fresh white cars, we just gotta show love to Marc Marquez's E36. Marc used to drive an E39 5-series BMW, but switched over to the E36 and equipped it with a perfect drop and some AWESOME AC Schnitzer wheels. I think AC Schnitzers just might be my favorite wheels for a BMW… and Marc's street car looks outstanding and clean with them!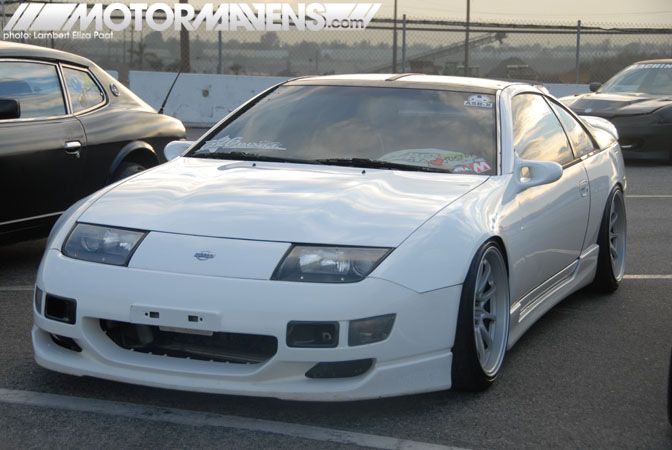 Daaaaaaaaaamnnnnnnnnnnn!!! OMGZZZZZZZZZZZZZZZZZ. Edgar Ferman's Z32 Nissan 300ZX is probably one of the best examples of a Z32 that I've ever seen in the west coast. This car is his daily driver, and he also drifts it! I just think it looks so incredibly clean, with a stylish front bumper (Anyone know? What kind of bumper is that? Aftermarket? Or the Japanese OEM kouki front?), and Volk CE28N wheels filling the fenders perfectly. Again, expect more on Edgar's 300Z soon on MotorMavens! I even have some video footage of it!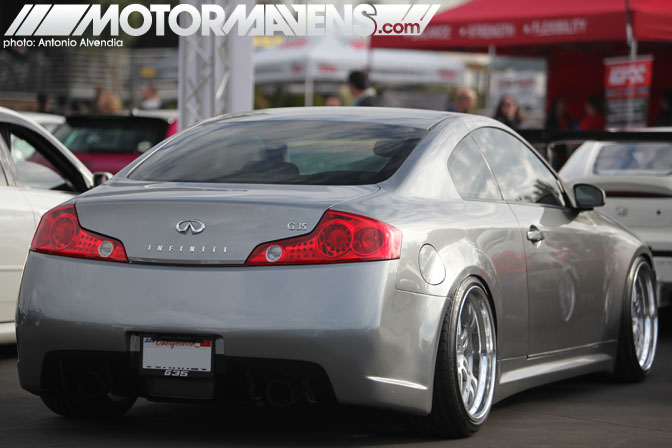 Speaking of super clean street cars, this Infiniti G35 really made me restore my interest in G35s. I first spotted this car at the Industry Swapmeet at Irwindale about a week ago… and I was jockin it! I don't normally trip out on G35s, because I know a million people with G35s (especially in this color), but this particular one stood out! It is so damn CLEAN and tastefully put together! I have more pics… will post soon!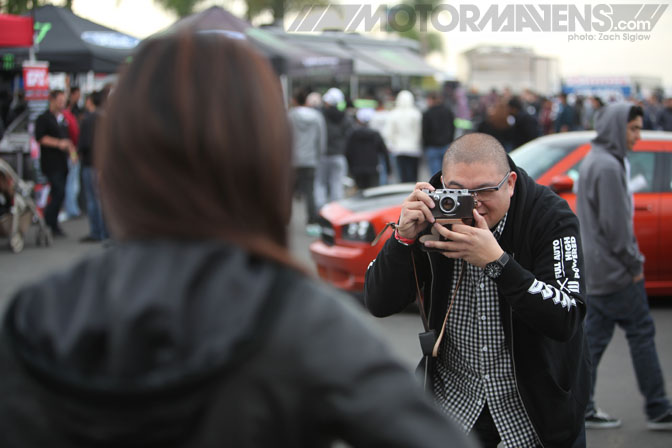 Cruising around the vendor chalet with our MotorMavenette Samantha, I ran into my old school friend Zach Siglow, who is a producer from Speed Channel. He had this old school leather-wrapped Leica film camera with him, and let me check it out. It's kinda cool to see people renewing their interest in old school cameras, in the day and age of digital SLRs and whatnot. Zach let me play around with his camera, and snapped this pic of me shooting Samantha with it! Cool, thanks for the pic, Zach!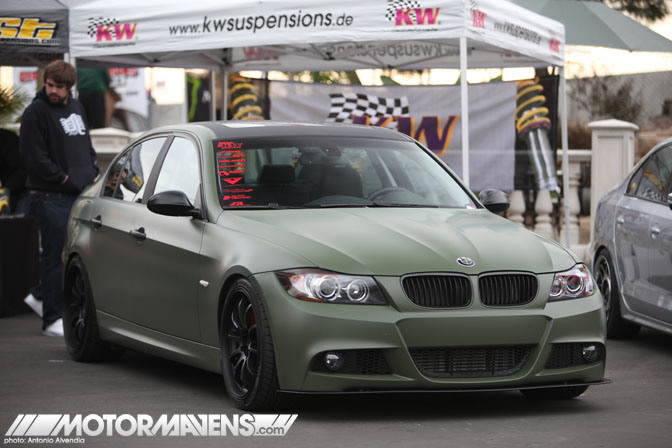 Looking very menacing and militant in the KW Suspensions booth was this flat army green BMW 335i turbo. When speaking to the owner, George Ciordas, about how brave he was to repaint his brand new BMW with flat green paint, he told me it was actually wrapped before the car went to SEMA! Can you believe that thing is a vinyl wrap?! It looks like paint! This car was done up in army green by Wraptivo, a new company from Meguiar's/3M.
I didn't expect to see militant colors like black, army green, and red on a brand new Bimmer, but I think it works. Looks pretty mean!
Speaking of black, army green, and red… (LOL!) This is our resident RotorMaven Edward Uche, walking through the Mass Appeal car show, admiring the 1JZ and 2JZ engines in the Supras as a possible engine swap for his FC3s. (LOL, Ed's gonna get pissed at me when he reads this!)
If you guys have outstanding looking rotary vehicles, you need to contact Ed to arrange features! He's rocking the new MotorMavens "Movement of the People" shirt (with matching Driftwell hat), which will be available on our online store soon. We're still working on getting the other functionality of our website back up and running from after those hackers screwed things up.
Damn! Have you ever seen an RSX that was fitted as well as this? Black TE37s and a clean aero package just make this RSX work! Love it! We need to see more cars like this on our site! Get at us!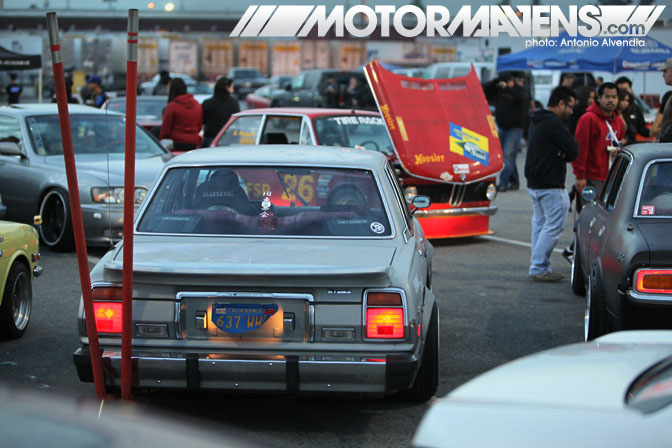 Ahh, a shot of our beloved Bosozoku Alley as the sun went down over Irwindale. The MX32 Cressida on the left with the long red takeyari exhaust belongs to a guy named Lloyd Letherman. I can't believe this guy doesn't get pulled over every 5 minutes with a crazy looking car like this, but I LOVE IT!!! That's a brave car owner. He actually drives his Cress around on city streets, and in Southern Cali, the cops will find ANY reason to pull a modified car over! This MX32 is so bad ass!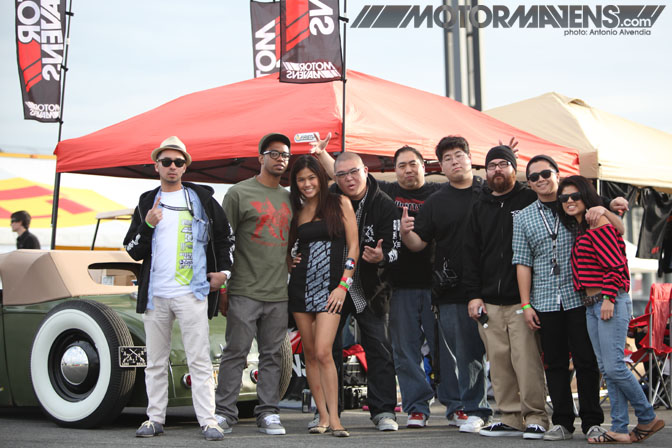 Just before we close out this installment of our coverage, here's a shot of (some of the) Southern Cali Motor Mavens Crew. From Left-to-Right, we have Tamer Omran, Edward Uche, Samantha Totem, me, Herb Policarpio, Mike Kim, Jon Chase, Lambert Paat, and Daisy Gomez. We had other MotorMavens in attendance, like Justin Shreeve, Joe Ayala, and Oliver Petalver, but we couldn't find them when we were taking this impromptu photo, because they were out on golf carts shooting an HD video of the event. It SUCKS that we couldn't get everyone together for a photo! The last time we were all together for an event (Formula D Irwindale), we completely forgot to take a group pic! We always forget!
Anyway, keep an eye out for the MotorMavens MassAppeal video from Shreeve and Joe. We can't wait to see what they came up with!
:: Antonio Alvendia
---