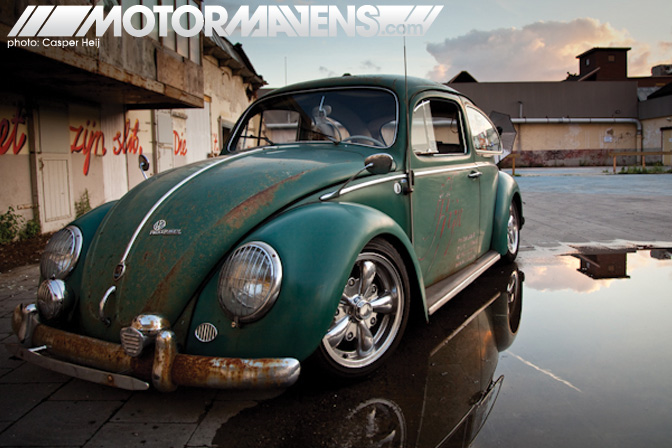 It's been a while since MotorMavens published some car features from Europe. Come join us as we dive deeper into the Euro car scene in the Netherlands! This is a 1960 Volkswagen Beetle, is there anything more classically Euro that you can think of? I think not… but don't be fooled, this Beetle is not quite stock. It's also a daily driven car. Let's have a look at the details…
Let's start with its presence. Michiel lowered the car by shortening the front axles by 4 inches and adding a lowering kit with adjustable ride height. The rear is lowered, with adjustable torsion plates added to realise this stance.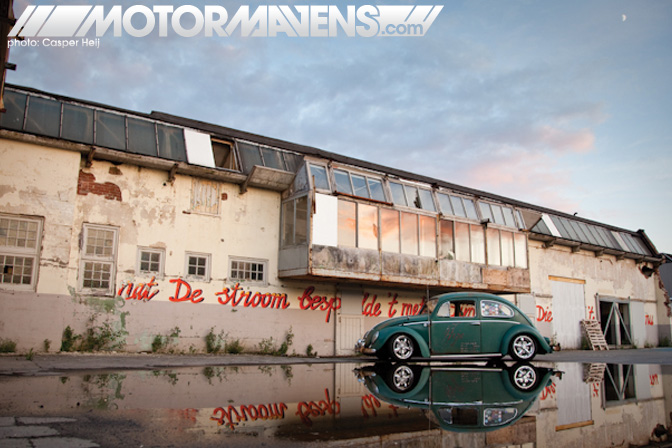 What you see here is the Beetle's daily driven stance, needed to get onto the terrain where we did this photo shoot. For car meetings and events, Michiel lowers his car even more. This is no trailer queen, as Michiel drives it as a daily in his local town; he also drives this Beetle to several events around Europe. You might have seen him at previous editions of Wörthersee or MIVW with his club.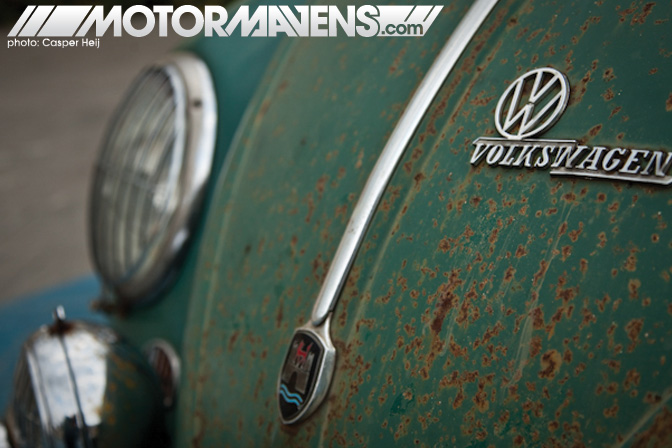 There's more to tell about the appearance of this Volkswagen. Obviously, Michiel did not keep his paint in showroom condition. He likes it looking used, so to say.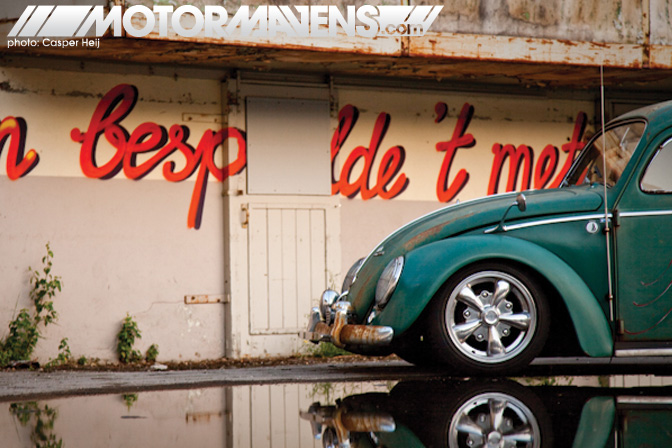 The car sits on polished Empi wheels, which contrast nicely with the worn out exterior. They're also wrapped in rubber which was originally meant for a Smart Car.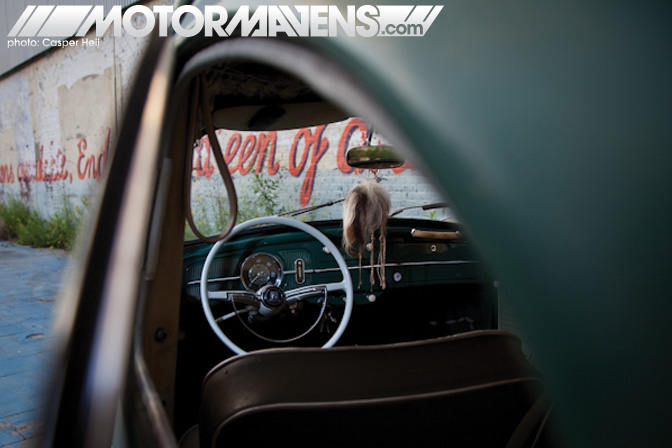 He also added popout windows at the rear.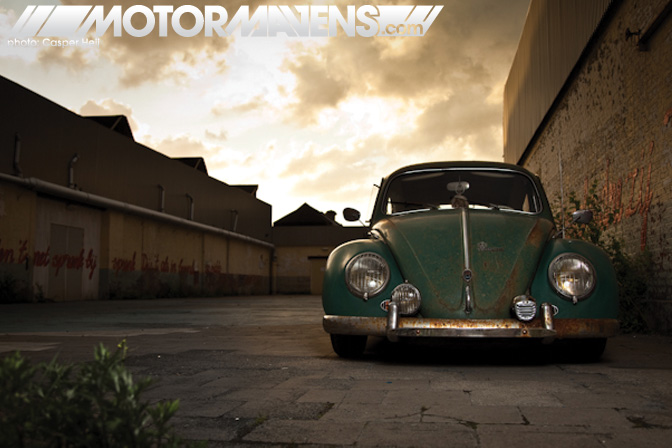 Another mod that one might notice are the Porsche 356 headlight grills, which really look good if you ask me.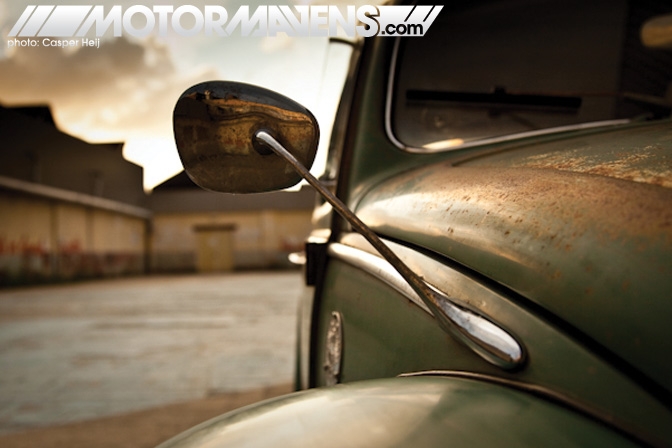 The Albertswan rearview mirrors are a very nice modification as well.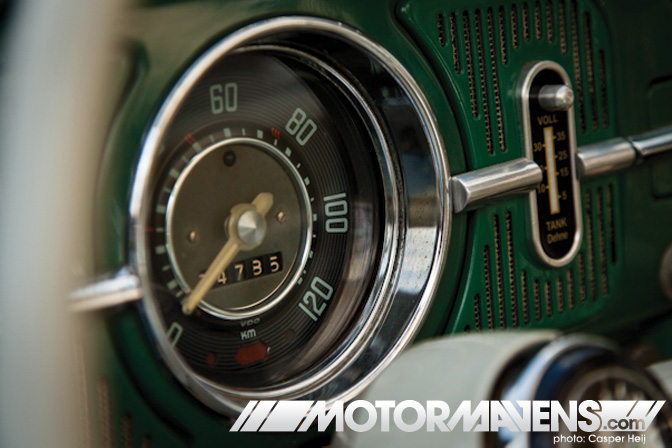 As for rat-rodding the interior to match the car's exterior look, he actually had a couple of mice living in the back of this bug, and he was very thankful for the effort they put in destroying most of the interior.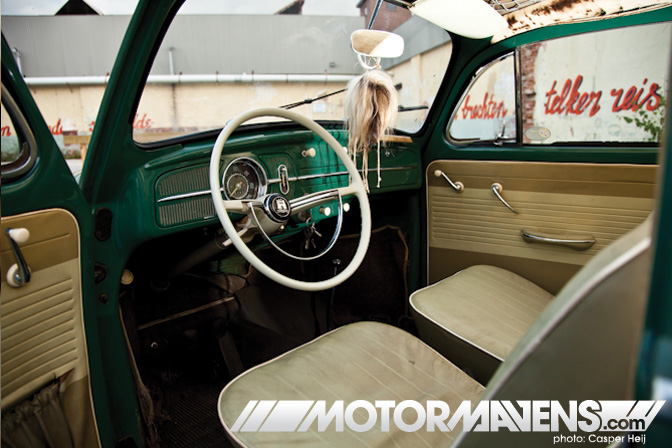 Michiel does like his music though, so he added a nice sound system, which is kept invisible to the eye to deter thieves. Oh, and do you see that little guy hanging from the rearview mirror? He seems nice, doesn't he?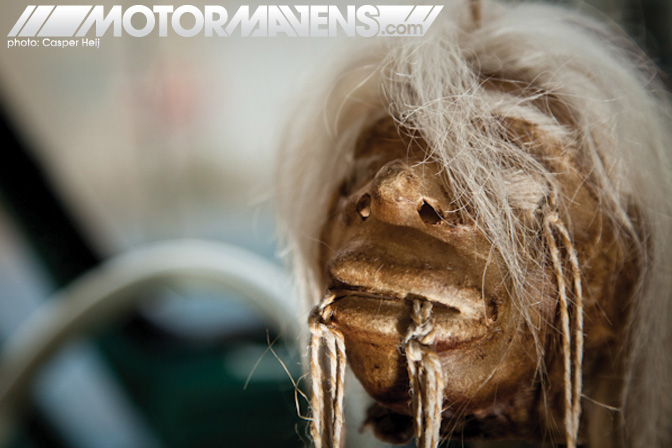 Meet Mr. Shrunkenhead. He is some kind of exotic tradition that chases bad dreams away. Michiel thought it was the perfect addition to hang from his rearview mirror. I think it's the perfect addition to make unwanted passengers crap their pants… because if the Porsche power behind the rear seats isn't working, this will probably do the trick!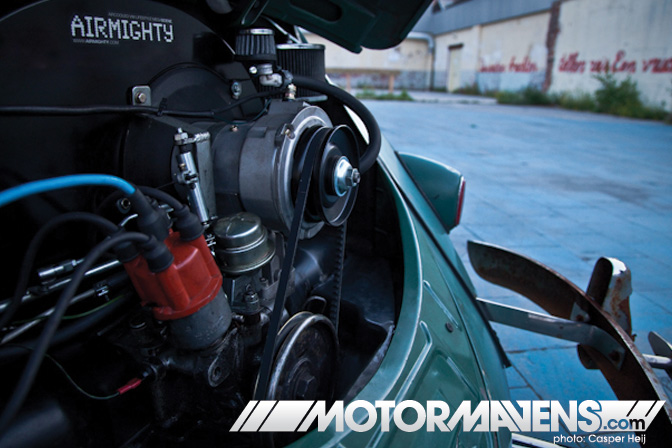 The engine is definitely something special. The regular powerplant wasn't quite to Michiel's liking, so he swapped it with a 1641cc Porsche 914 engine, which is being fed by double 34 er Solex double carburetors. The thing sounds awesome and has more speed in it than Michiel has dared to ride himself.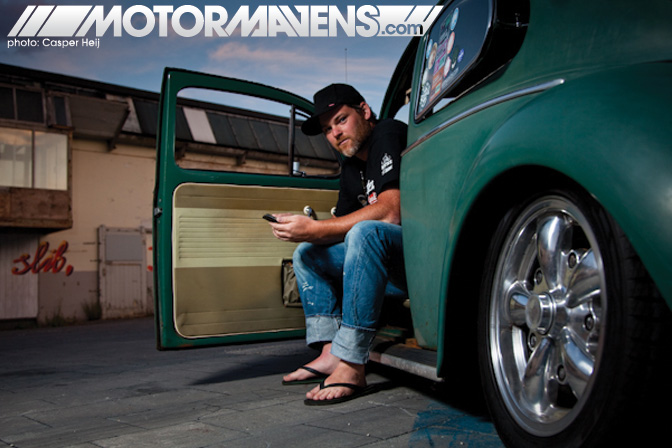 I was stunned by the incredible amount of details that Michiel added to his ride. I'm really looking forward to seeing the other Volkswagens he is now preparing!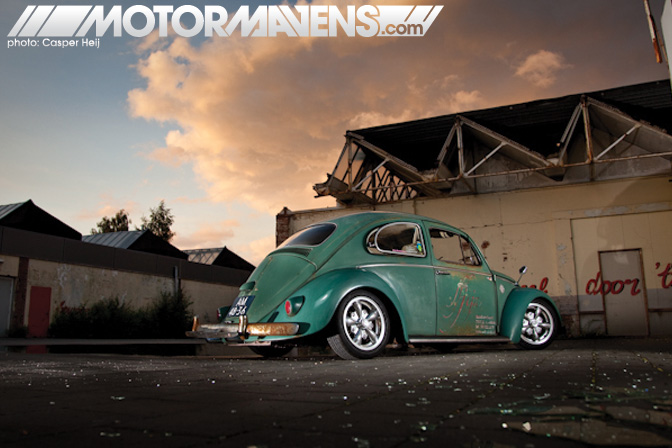 :: Casper Heij
---