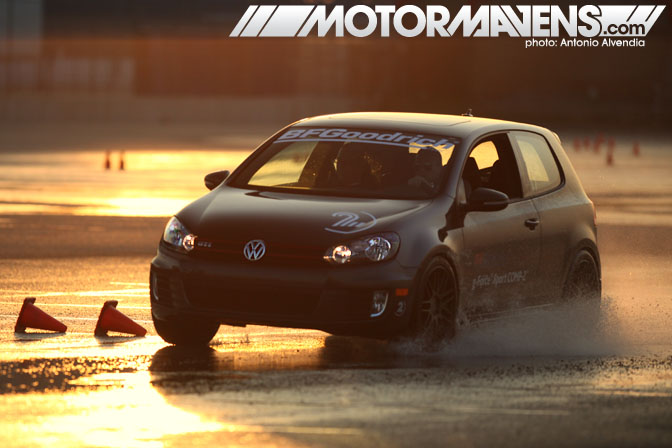 Those who have been following the @MOTORMAVENS feed on Instagram, Tumblr and Twitter probably already know that I tested out the new BF Goodrich g-Force Sport Comp-2 tire at California Speedway (Auto Club Speedway) this past week.
According to BFG, their new Comp2 tire promises drivers the ability to accelerate faster, corner harder, and brake in a shorter distance than their competitors. When asked exactly who they consider to be their competition for this class of tire, BFG pointed to Dunlop Direzza DZ101, Yokohama S-Drive, Kumho Ecsta SPT KU31, Cooper and Hankook Ventus V12 tires.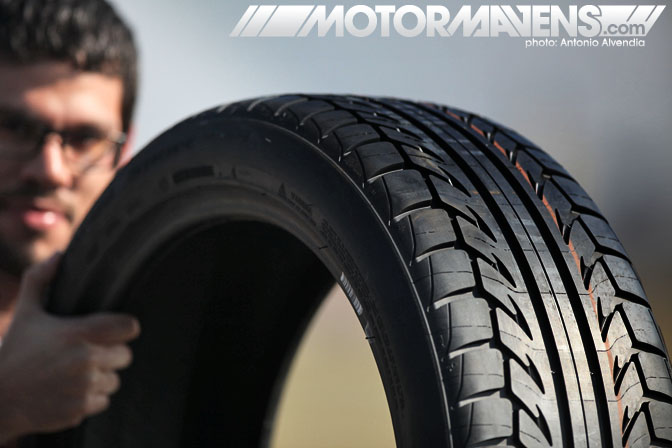 Here's a shot of BFG's new Comp2 tire, which will be available starting April, in a ton of popular sizes, ranging from 15 inches (old school car guys, they have 195/50/15 available!) to 20 inches in diameter. Click here for the full BFG Comp 2 Tire Size Chart.
For those who have been trained that the lower the treadwear number, the better/stickier the tire, check this… these new BFG Comp-2s have a UTQG (Uniform Tire Quality Grading) rating of 340/AA/A. One would think that with a 340 rating, these things should be slippery as hell… but guess what? They're not.
The tread pattern remains the same as the current BFG g-Force Sport, but it has a newly designed rubber compound (hence the name Comp-2, get it?), and BFG's PRC internal tire suspension to increase the tire's steering response, rigidity and control with the new compound.
For those wondering about internal tire suspension, don't expect to see springs, shocks, and swaybars integrated into the new tires. What BFG was referring to was their Performance Racing Core, which in essence is a bunch of layers of stiffening material built into the actual tire. This consists of a g-Control sidewall support insert, which allows more more cornering precision because it stiffens up the tire sidewall by 40 percent; it also includes the ETEC internal tire strengthening system. To be completely honest, I don't remember what ETEC stands for, because one of the journalists started talking to me during that part of the classroom session… but in essence, the Comp-2 rubber is ribbed – not just for pleasure, but to optimize contact patch and traction at speed.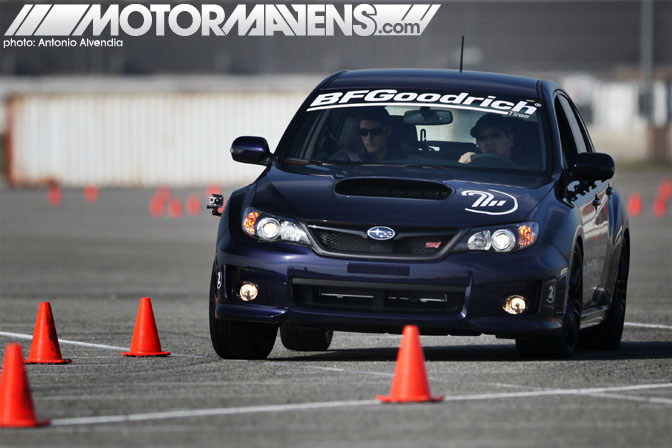 Enough product talk already! Let's get down to the FUN! In order to test out the new tire's dry handling, we drove through an autocross course quite a few times with two Subaru WRX STi Imprezas serving as our AWD test vehicles, and a pair of Dodge Challenger SRT8s serving as our RWD test boats. Pictured here is Richard Fong from DSPORT Magazine attacking the cones behind the wheel of our STi test vehicle.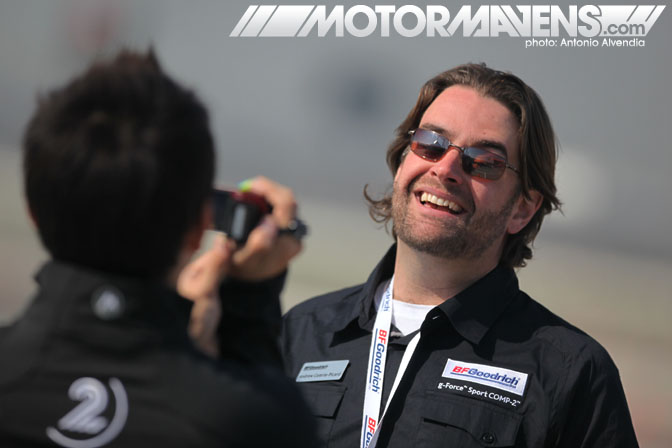 Also in attendance was ACP (Andrew Comrie Picard), who some Formula Drift enthusiasts may recognize as Samuel Hubinette's Mopar teammate in the Formula D series. Those who follow rally might also know that ACP scored Second Place driving his Team Scion Rally xD at the SnoDrift Rally in Michigan just a few days before the BFG tire testing event! In this photo, Taro Koki from GT Channel seems to be telling ACP jokes while interviewing him..? I have no idea. I guess you just need to head over to GT Channel to check out the video!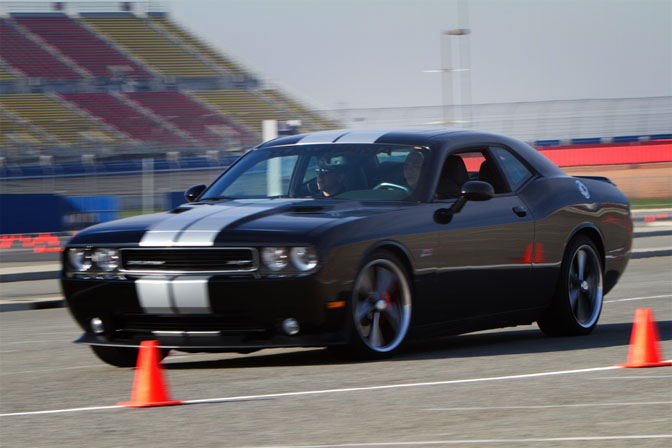 Richard Fong from DSPORT took the above photo, and was nice enough to email it to me.
In the above photo, I'm driving one of the RWD test cars, a Challenger SRT-8, which had Yokohama S-Drive tires on it. We drove two different SRT-8s; one had BFG Comp-2s on it, and one had the Yokohamas on it to show the difference in dry handling. I guess I was going too fast for the camera! Skills! hahaha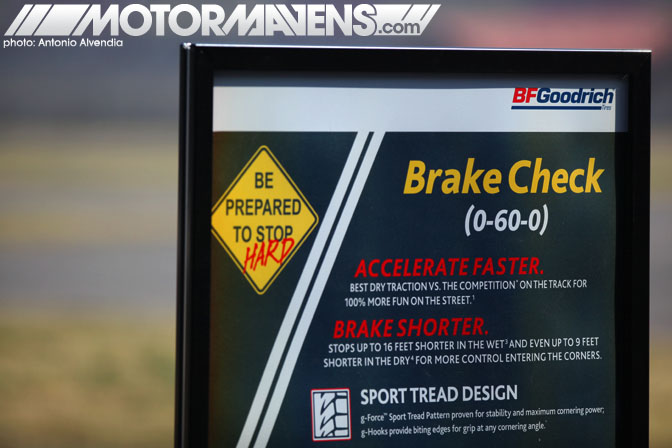 Aside from autocrossing to test out the cornering response and sidewall support, we also got a chance to test out BFG's claims that the new Comp2 tire allows drivers to "brake shorter" (aka: brake in a shorter distance) than the competition.
To test this out, they had a pair of Dodge Challenger SRT-8s on deck. We would be doing a 0-60-0 acceleration and braking test with the Challengers. One of the Challengers had Yokohama S-Drive tires, and the other one had BFG Comp2 tires mounted; both of the cars were equipped with a meter that measured the acceleration and braking distance.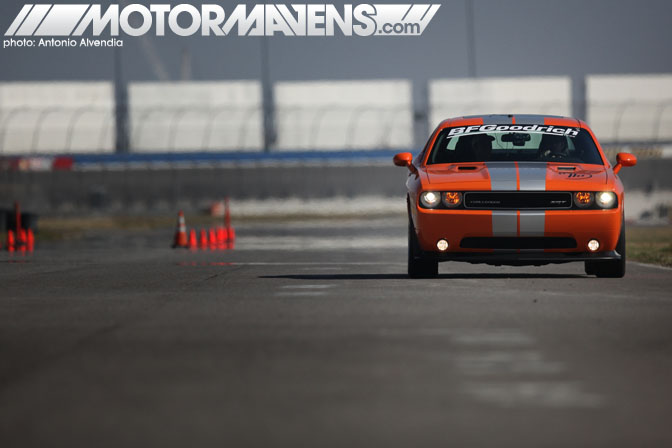 Driving the big Challengers down the strip for the 0-60-0 test was super fun! Those things have some torque!!! I just loved how the orange Challenger SRT-8 looked as it headed back into the pit area, headlights and foglights glowing menacingly.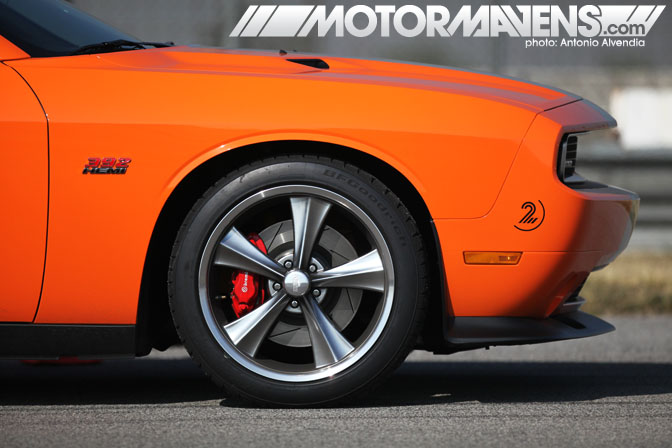 Just to make sure both cars were competing with the same equipment, I checked and saw that both vehicles were running the factory Brembo rotors and calipers. The only thing visibly different was the tires. In fact, according to Duane Thomas from BFG, the Yokohama S-Drive tires used in the test had a slightly lower profile sidewall, because the exact same size wasn't available. This means that the Yokohamas should've had a slight advantage in this test.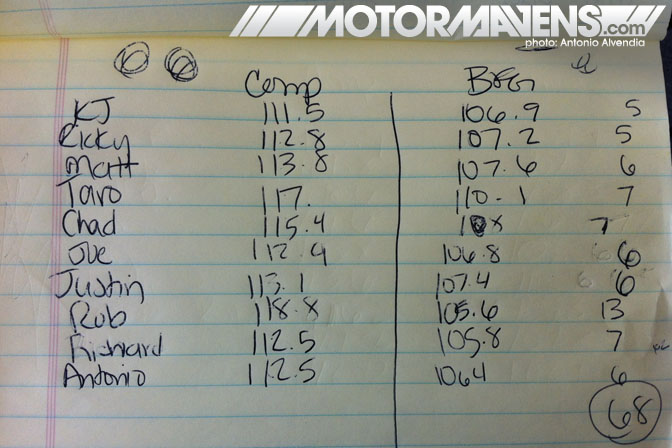 When I got my chance to personally test the tires with my own 0-60-0 accel/braking test, the Challenger with the BFG Comp-2 tires was able to stop SIX FEET shorter than the one with Yokohamas mounted. While some of the other people had slightly different results (like Rob Einaudi from CarDomain. Check out Rob's story on the event here!), most of the journalists in our group found that the car with BFG Comp2 tires was able to stop about 6-7 feet shorter than the Challenger with S-Drives.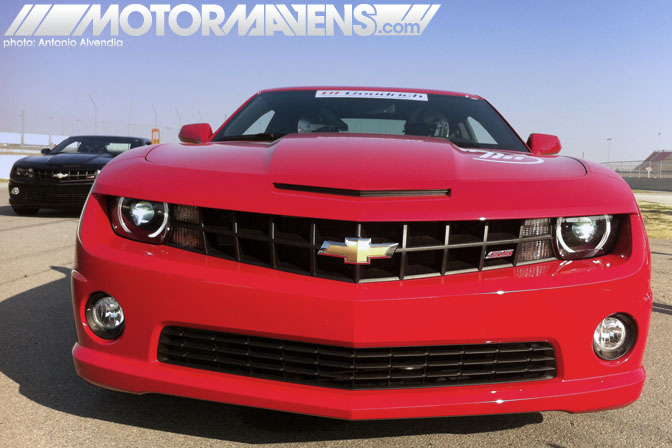 Next on the agenda was a little road racing on the California Speedway infield. I haven't driven California Speedway in quite a while, so I was pretty excited… especially since we'd get to drive the new Camaro SS! My enthusiasm for the awesome looking Camaro faded slightly, however, when I found out they had automatic transmissions. Oh well, it didn't really matter – these things are fast!
As expected, the Camaros with the BFG Comp-2 performed better than the Camaros with the selected competitive tire, which was some sort of Cooper Tire. No surprise here – the BFG Comp2-equipped Camaros felt like they had more precise steering. BFG tells us that this is attributed to the ETEC stiffening layer in the tires and the g-Control integrated sidewall support.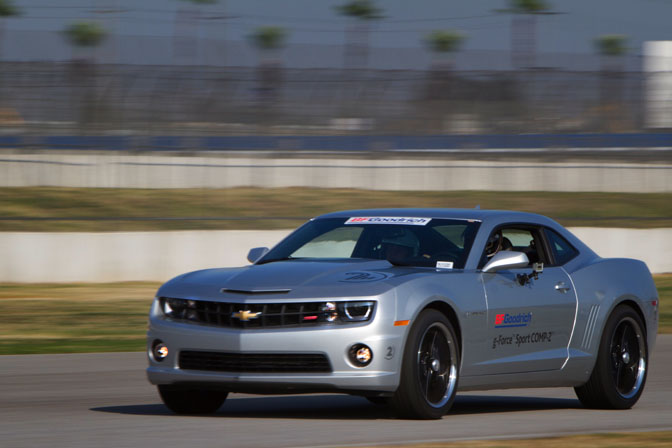 Richard Fong from DSPORT took the above photo of me driving the Camaro SS. Thanks Rich!
Here's a shot of me driving the Camaro SS on the California Speedway infield. I discovered that Camaros are kind of tough to drive if you're a tall guy with a helmet on! The car doesn't have enough head room, so you have to drive with your head to the side, like you have scoliosis or something. It's okay, it's nothing that can't be remedied with some low seat rails and a pair of Recaro seats. (I'm talking about the seat height, not scoliosis.)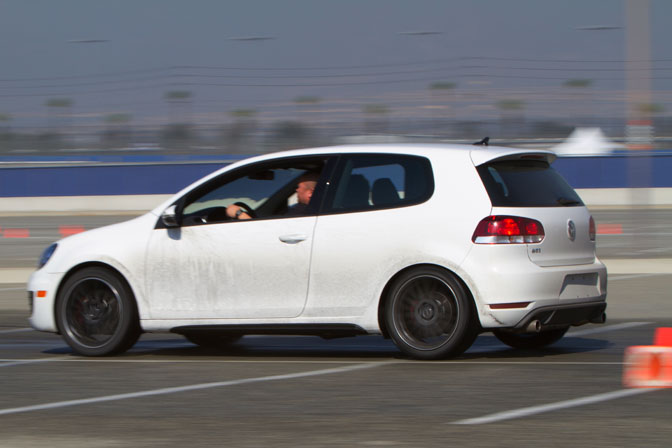 Richard Fong from DSPORT took the above photo of me driving this VW GTI. Thanks again, Rich!
Back to the autocross course, we got a chance to test out the Comp-2's wet handling, driving a pair of Volkswagen GTIs. We tested against Hankook Ventus V12 and Kumho Ecsta SPT KU31 in the wet. As expected, BFG Comp-2 came out on top, with Kumho coming in second on the wet skidpad.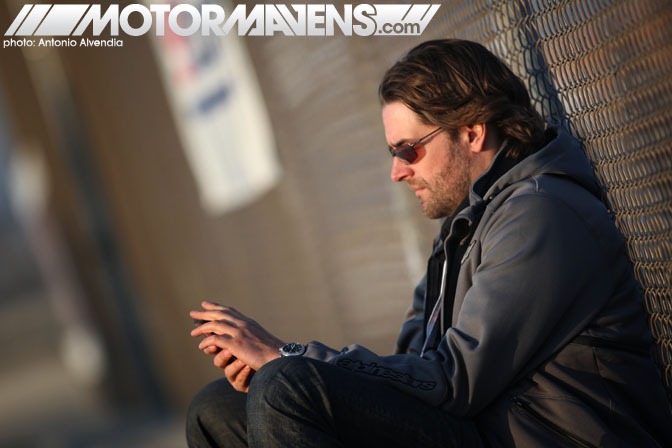 While we were autocrossing in the late afternoon, I spotted ACP watching us from a safe distance. I'm pretty sure he was checking out the live updates from the event I was posting on the @MOTORMAVENS Instagram feed.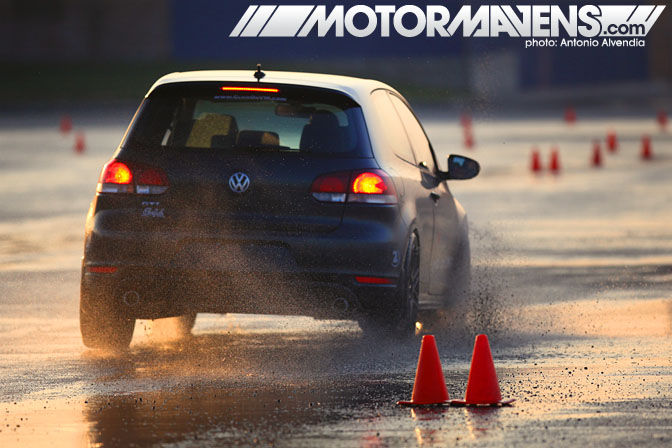 At the end of the day, we thought it would be fun to see which of the journalists were the best drivers. There were some pretty fast drivers in our group of 40 journalists – I was certainly not one of the faster ones! Are you kidding me?! Some of the guys in attendance were professional racing drivers… one of the guys raced in DTM for crying out loud!
The 40 writers in attendance were broken into four groups of ten. We had to do a tag-team relay race, where each person would run the autocross course, and then come back and tag the next person on the team to get in and drive. For each cone we hit, the entire team would be subjected to a 2 second penalty, and if we didn't stop the car completely inside the stop/start box… we would get a 5 second penalty.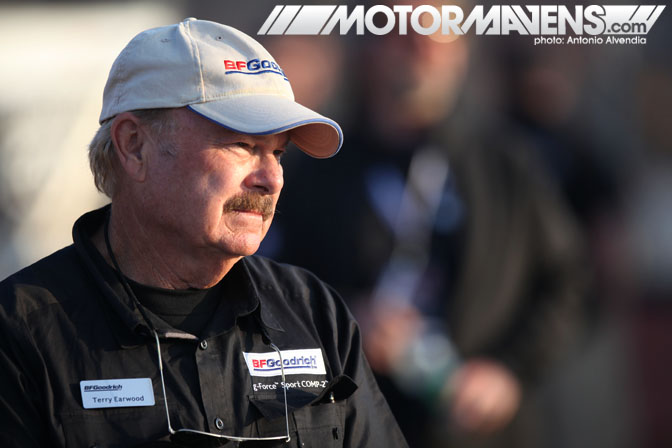 Driving instructor Terry Earwood was part of our group, and I think the entire reason our team did so well was because of Mr Earwood's strategy! For sure, it helped that we had some really fast drivers in our group… like Joe Gearin from Grassroots Motorsports (GRM specializes in autocross, so of course he was fast!) and Matt Farah from The Smoking Tire. It was my first time meeting Matt, but I had a feeling he was going to be fast… he was wearing a Gumball 3000 jacket, and all day he was telling hilarious stories of the crazy things he's done with press cars! This is a guy who's used to driving 180mph and jumping cars through the air… yup, well, you get the idea.
With these kinds of people on our team, we were bound to have a recipe for success (or disaster). OUR TEAM ACTUALLY WON THE EVENT!!! I was right… Joe and Matt definitely pulled in some of the fastest lap times of the day, but the real reason we won was because of Terry Earwood's brilliant strategy.
Each team had a driving instructor in their group, and luckily for us, Terry was sitting shotgun with all the drivers on our team. He had us line up according to height, so each driver wouldn't have to waste time adjusting the seat. All we had to do was get in the car, step on the brake, and buckle up. By the time we were buckled in, Terry already had the car in gear, and all we had to do was drive. On top of that, he was navigating for us, since we were driving the course in a backwards configuration… it was like we hadn't even driven the course before!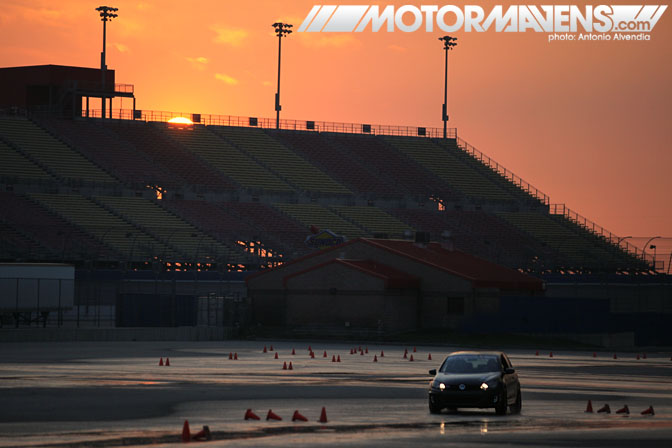 Driving the wet autocross course as the sun went down was definitely a lot of fun. It was one of the coolest driving events I've been to in quite a while – the people at Hill & Knowlton definitely did a great job of setting it up. I learned a whole lot about BFG's great new tire, and even better than that, I got a lot of fun time on the track, testing out several different types of cars!
When the new Comp2 tire comes out in April, I'd definitely consider it for daily driven and high performance duties. This just might be an ideal tire for cars used for daily driving/weekend racing duties, or for hardcore canyon runners who hit mountain roads often with their street cars!
For a full application chart, Click here for the full BFG Comp 2 Tire Size Chart.
:: Antonio Alvendia
Andrew Comrie Picard
,
Auto Club Speedway
,
best price
,
BF Goodrich
,
BFG
,
California Speedway
,
Camaro SS
,
Challenger
,
Comp 2
,
Comp2
,
direzza
,
Dodge
,
Duane Thomas
,
Dunlop
,
DZ101
,
Ecsta SPT KU31
,
ETEC
,
Fontana
,
Fontucky
,
g-Control
,
g-Force
,
GTI
,
Hankook
,
Impreza
,
internal tire suspension
,
Kumho
,
Mopar
,
Performance Racing Core
,
rally
,
S-Drive
,
Samuel Hubinette
,
Scion
,
sidewall support
,
SnoDrift
,
Sport Comp-2
,
SRT8
,
STi
,
Subaru
,
Taro Koki
,
Terry Earwood
,
tire review
,
tire test
,
Ventus V12
,
Volkswagen
,
WRX
,
xD
,
Yokohama
---