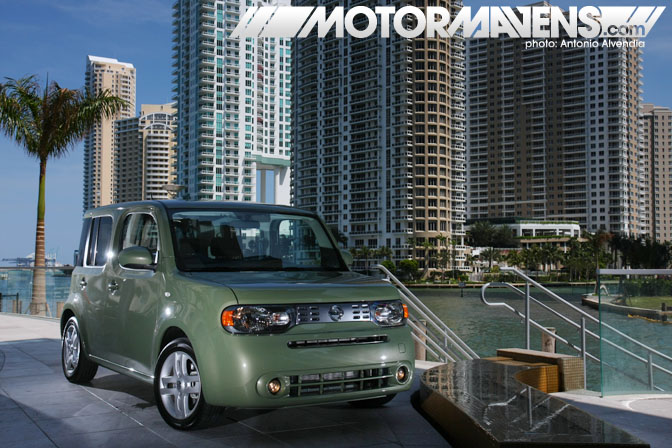 The Nissan Cube is one of the newest Japanese imports to American shores, and what better place for such a spicy import to come ashore than caliente Miami? Not too long ago, we got to spend a little time with this habanero chili pepper-colored specimen (very nice) and we're digging the flavor.
Marketed by Nissan as the "Cube Mobile Device," this new product offering from Nissan competes directly against the highly popular Scion xB and the newly introduced Kia Soul.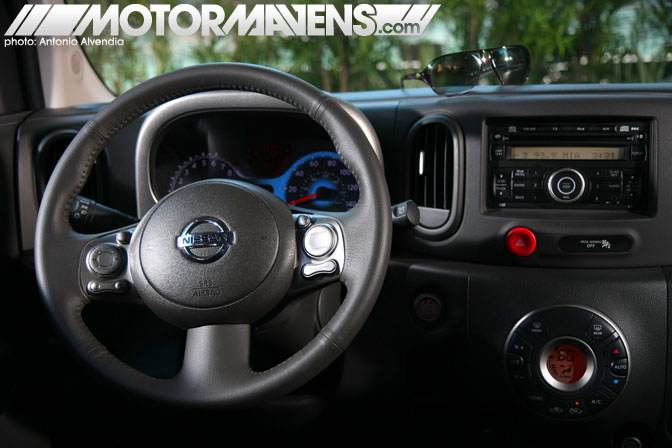 Even though the exterior of the Cube, with its assymetrical rear hatch door and neverending rear window, gives the impression that the interior setup might be two exits beyond practical, everything turned out to be very functional and well placed – while still remaining cool and fashionable. A perfect place for the perfect pair of shades. We especially liked the circular climate control design.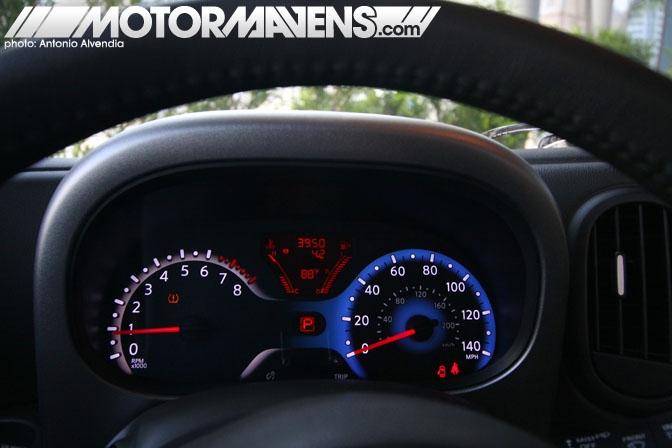 The gauge cluster itself was very interesting. The gradient white-to-blue that surrounds the tachometer and speedometer made the two stand out, especially with red gauge needles. Multicolored dash displays are definitely a plus because they're easy to read at a glance – we hate looking at monotonous "all red" or "all white" hued gauge clusters.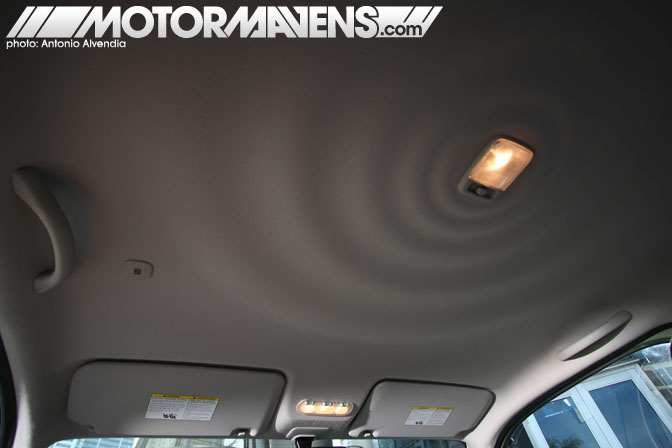 The interior is anything but "cube"-like, with many oval styling cues and rounded edges, as evidenced by the roof which gives the impression that someone dropped the interior light into a still pond.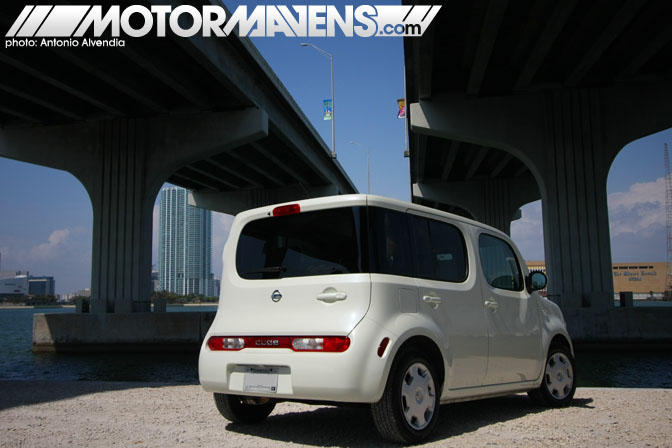 The assymetrical rear window is nothing short of panoramic and visibility is much better than expected. Factor in a hatch that opens sideways like a regular door and the super cool rear taillights; we're seriously considering getting a Cube for the Motor Mavens fleet.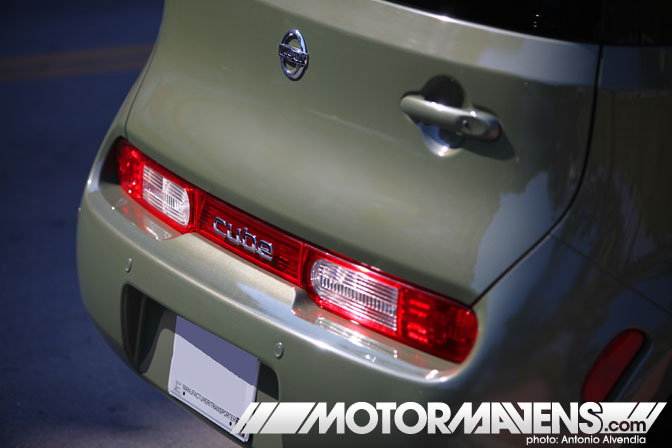 We love the futuristic look of the Cube – especially the taillights. They look sooooo cool in our opinion.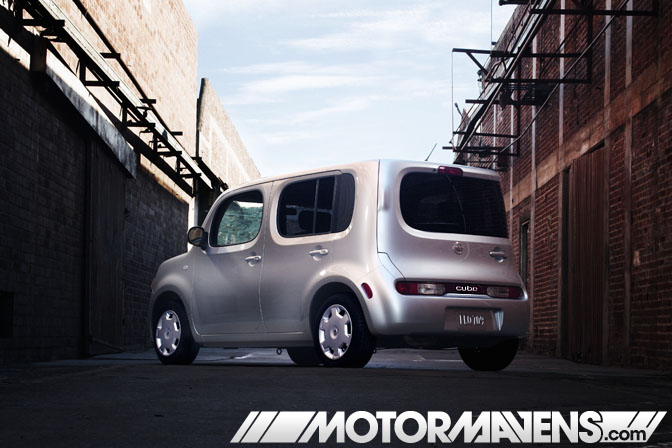 For such a small car that many would refer to as "quirky", the Cube has tons of attitude. Despite the usual associations that accompany cars in this category, it's doubtful that anyone will describe it as "girly." Many are describing it as a "bulldog in sunglasses" but we think it looks more like a little guerilla warrior. C'mon, look at that first picture next to the Miami waterfront and tell us you can't imagine the Cube as a stylish automotive depiction of Che Guevara complete with military hat and shades…wayyy cool.
Miami was incredible in the springtime; cool ocean breeze, cute Ocean Drive breezies, Nissan Cubes and Cuban food. What else could you ask for? No wonder we love Miami.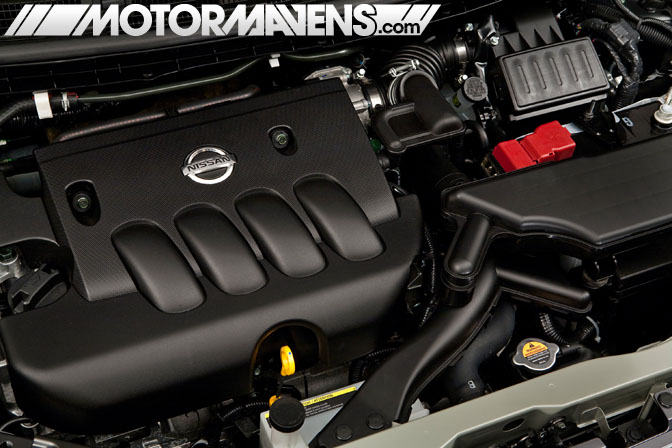 The Cube's 1.8 Liter, 4 cylinder MR18DE engine puts out 122 hp @ 5200 rpm and 127 lb-ft of torque @ 4800 rpm but…do these specs really matter? Who's gonna drag race a Cube?
We had the automatic transmission cruising the Miami streets and we got as much "Ooo" factor as any sports car. What more do you need? Well, maybe slightly better gas mileage than the listed 28 city/30 hwy ; because when a car is this small, it immediately makes us think "Versa/Fit/Prius/Smart/insertsmallhybridcarhere."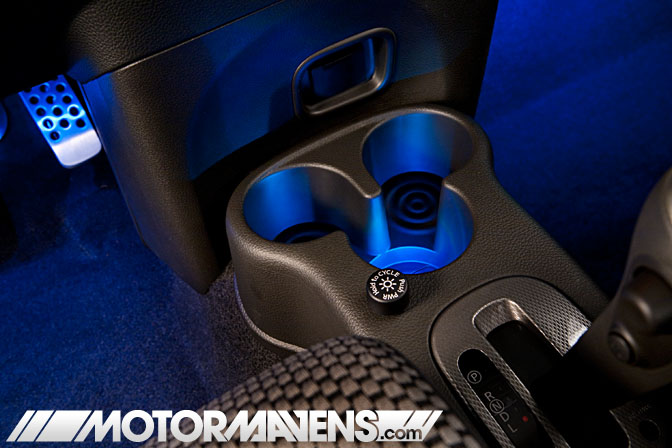 Honestly, we don't really care for the colored LED interior lighting inside cars like Nissan Cube, Scion xB, and Kia Soul. However, while we prefer the cool white LED interior lighting of a Lexus, there are plenty of people out there that really like this colored LED look.
The combination of the interior lighting, carbon fiber and chrome accents throughout the interior make for a pretty classy-looking combination, especially at the 13K-19K price point. By the way… is it just us, or does that cupholder make you think of Mickey Mouse?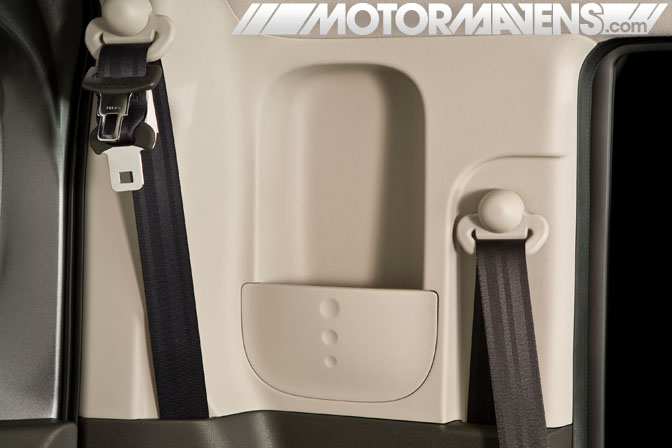 The Cube officially seats four tall adults with a surprising amount of space and, if you raise the pulldown center armrest, you can fit another person on the bench seating in the back.
There's also a few surprise storage areas, like this one (above) behind the rear passenger seats. I wonder what one would put in the compartment back there, anyway? Secret storage for your spare housekey? Cellphone? USB hard drive?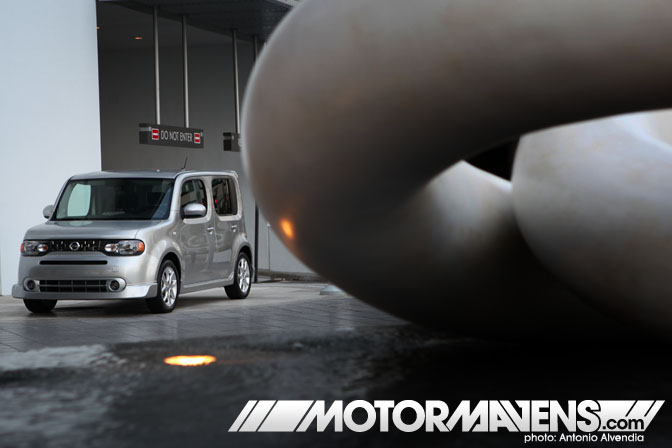 We found this special edition Cube parked right outside our hotel; the "Krom" is a factory modified version of the Cube, which is distinguishable on the exterior with its aero kit and different grill.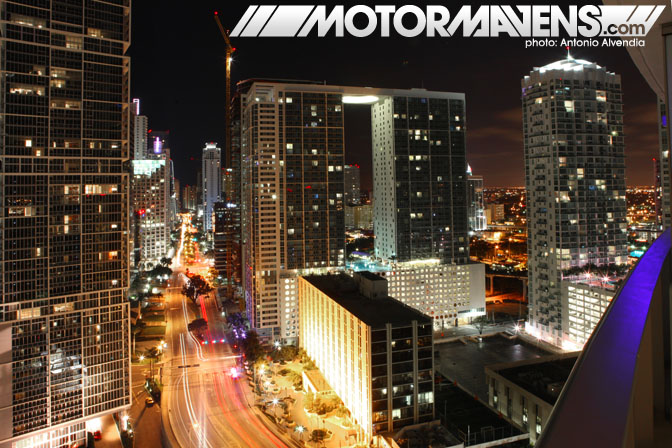 Miami was the perfect place for Nissan to get us acquainted with its Cube Mobile Device; and from our balcony at The Epic Hotel at night, the entire surrounding area  seemed to have a Cube-like theme. The architecture and rooftop pools just seemed to glow at night, making Miami look like the most exciting city in the world.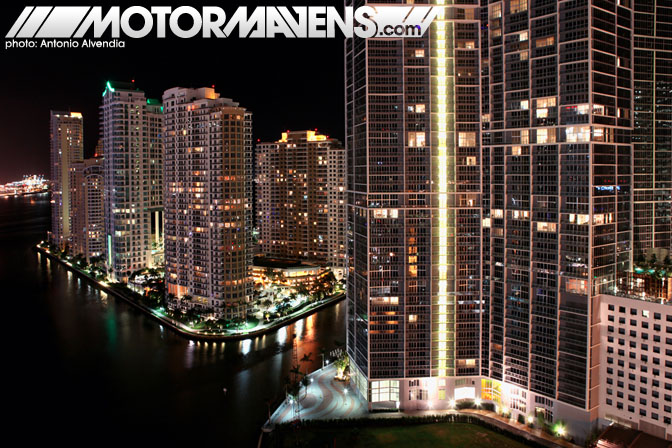 We really can't stop staring at Miami's Biscayne waterfront. Driving the Cube around Miami in the springtime, everything felt perfect. We thought, "this is exactly how all young people deserve to live" as we cruised around Ocean Drive and the surrounding areas to experience the Cube and take photos, ending our night at our own tall hotel overlooking the waterfront, where we found plenty of gorgeous young people smiling and socializing at the rooftop pool, enjoying the cool springtime breeze, drinking tall Mojitos as they grooved to Brazilian house music. Just perfect.
:: Antonio Alvendia
---