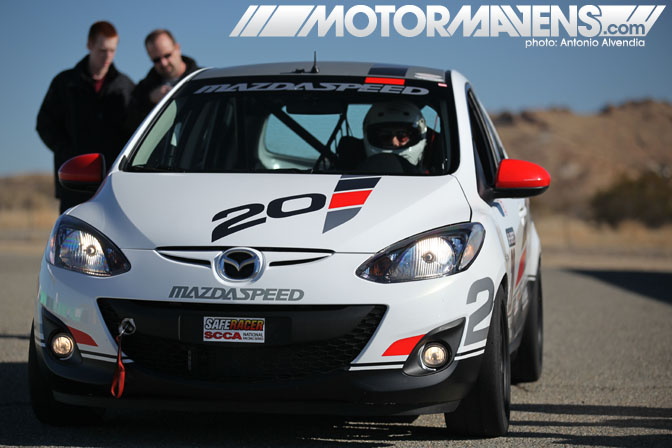 Some people get into motorsports because they think that modifying their cars with aftermarket parts will allow them to drive faster. Others prefer to invest their time and money into seat time, realizing that any car can only be driven as fast as the skill level of the driver permits. These people realize that training and practice are the real keys to winning races – not adding more horsepower or braking to a vehicle.
Enter the B-Spec Series, an SCCA sanctioned racing class that was created for compact street-stock cars that racers could drive to and from the racetrack if they wanted. The idea was to create something similar to the SCCA Spec Miata class, with rules against hardcore modifications to equalize the playing field for the vehicles. In B-Spec competition, the ability to win races really boils down to the driver's skill and preparation.
Not too long ago, I received a special invite from good friends at Mazdaspeed and Honda Performance Development. They apparently scheduled a private track day to allow certain people to track test a B-Spec Mazdaspeed 2 and an HPD-prepared Honda Fit at Willow Springs International Raceway, and as luck would have it, I was one of those people. I obviously jumped at the offer!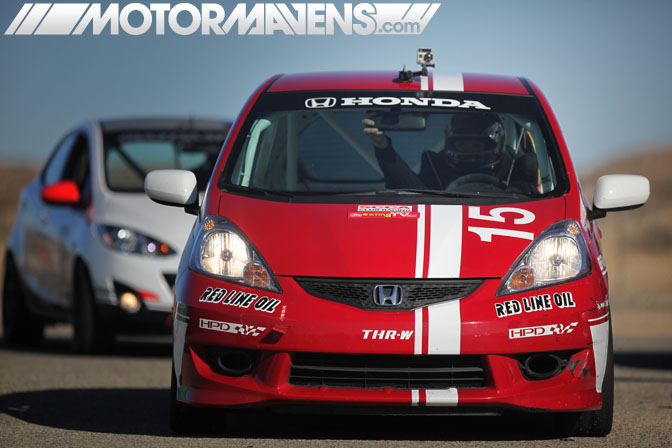 Although both the HPD Fit and the Mazdaspeed 2 were similarly prepared for racing, each car felt very different. As a person who is rather accustomed to driving underpowered cars (such as my collection of 1970s and 1980s Toyota Corollas), I felt that both the Fit and the 2 had more than adequate power for a small, relatively technical track like Streets of Willow.
Since both Honda and Mazda happened to have bone-stock versions of both cars available for test driving as well, I decided to start off my driving test with a completely stock Honda Fit.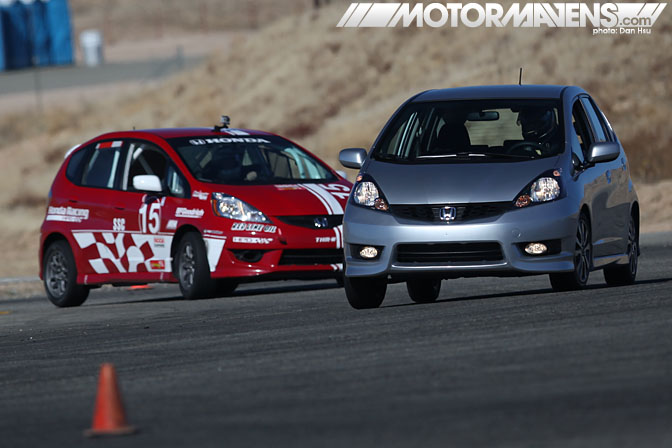 The completely stock 1.5 liter Honda Fit that I drove had 117 horsepower and a 5-speed manual transmission. The car was completely comfortable to drive. I've always liked the Honda Fit, and think it's a great car for commuting or just getting around town. Being able to test out the Fit's sporty side was pretty fun.
The silver Honda Fit I drove felt a bit faster than the bone-stock Mazda 2. It also has a nicer interior and nice ergonomics, so the Fit felt a bit easier to drive for me. For those who are unfamiliar with what I look like, I'm a big guy, so I appreciated the fact that the Fit was roomy and comfortable inside. However, when a Fit is completely stock from the factory, the car leans like crazy in the turns, and the brakes felt really mushy and soft – I wasn't sure if all Honda Fits were like this on the track, or if the brakes were just super hot from other people driving the car hard before me.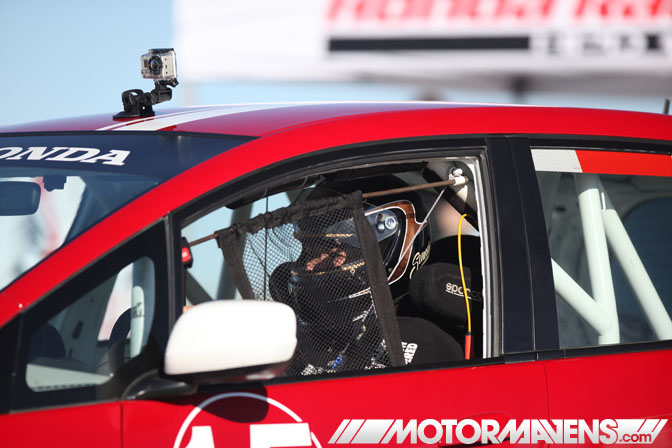 Once I maneuvered my way around the roll cage and got myself strapped in, I really enjoyed driving the race-prepared HPD Fit. The race prepared Fit was obviously much, much stiffer; body roll on this car was no longer an issue. The HPD/Bilstein suspension made the car much more nimble and responsive to steering input. It really made the car that much more fun to drive!
(Thanks to Richard Fong of DSPORT Magazine and Dan Hsu of Japanese Nostalgic Car for picking up my camera and snapping pics of me while I was driving, BTW!)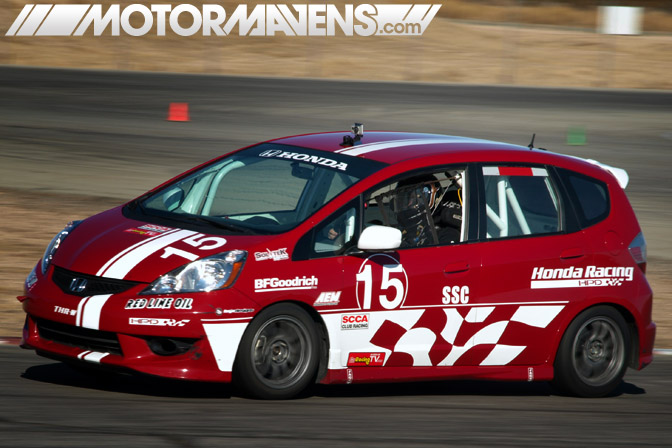 The HPD Fit was a blast to drive! It was MUCH more fun to drive than the stock Fit, which I already liked. The brakes on the HPD-prepared Fit were also noticeably better than stock, but to be honest, they didn't feel a TON better. I'm not sure what type of brake fluid or brake lines the car was using, so maybe that has something to do with it. Maybe there was just a little bit of air in the brake lines? Not sure. Either way, it's something that can be remedied very easily.
(Thanks to Terry Pham for this photo)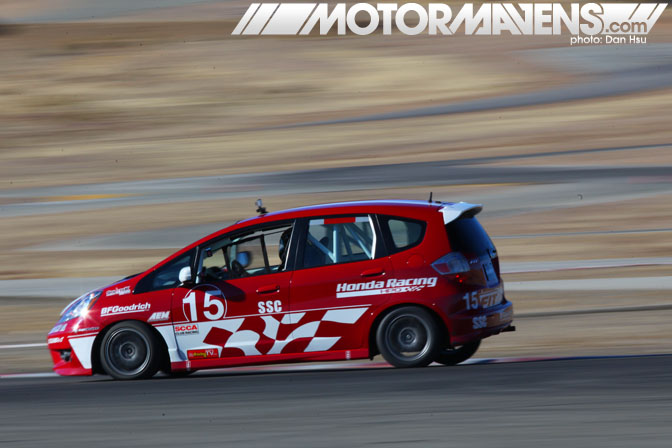 I think the Honda Fit is one good looking car, no matter if it's stock or track prepared. I love red and white on cars… I just think this particular Fit would look even more handsome with a better looking graphics package. Can you just imagine this car with a more cohesive racing livery and some white Sprint Hart CPF wheels? Awesome!
By the way, according to the SCCA B-Spec rulebook, cars in this series MUST use 15×7 wheels, and all wheels must be the same size and offset. The wheels chosen can be any offset as long as the tire tread doesn't protrude past the fender when you're looking straight down at the ground. The SCCA is obviously not down with the HellaFlush look. Haha! Either way, I think a set of white Sprint Hart CPF wheels would fit the car perfectly AND adhere to the strict SCCA rulebook.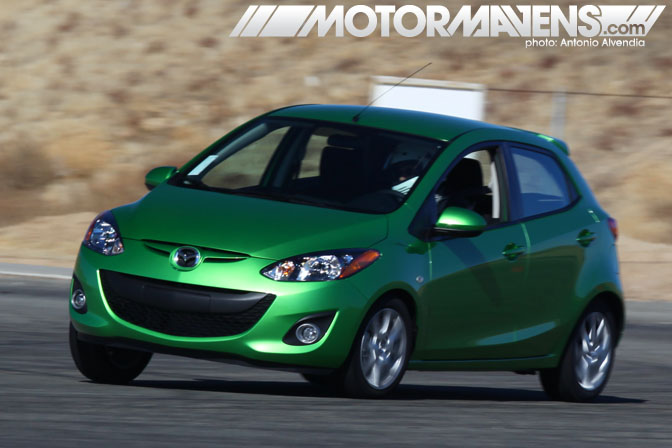 The next car I drove was the completely stock Mazda 2. Although I hated the green color of the car I tested (Forgive me for saying this, Mazda friends… but it honestly reminded me of Lil Bow Wow's Incredible Hulk-themed car in the Fast & Furious Tokyo Drift movie. Not a good look.), I actually enjoyed driving the car itself.
At only 100 horsepower, the Mazda 2 definitely felt less powerful than the Honda Fit (the Fit has 17 more horsepower), but for some reason, it felt sportier.
The Mazda 2 was much smaller than the Fit inside, and the interior seemed relatively low rent, but that can be expected – it's the least expensive car in Mazda's lineup! Who cares about interior plastic anyway… most of that crap will be stripped out in favor of a roll cage! The Mazda 2 definitely felt more nimble than the Fit. Perhaps it's because the Mazda 2 was lighter, or perhaps the differences I felt were due to the car's short wheelbase.
Probably the main thing that I remember about driving the Mazda 2 is the fact that it had OUTSTANDING brakes! When I stepped on the brake pedal, the car responded immediately – I felt as if the car had stainless steel brake lines or high performance pads, but when I got the car back to the paddock, the Mazdaspeed guys assured me that the car was bone stock. Wow. I couldn't believe it. Those brakes seemed too good for an OEM car. Good job, Mazda!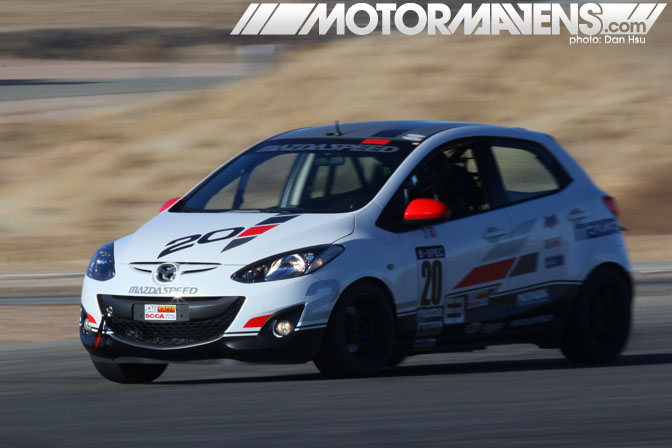 As much as I liked the stock Mazda 2, driving the Mazdaspeed version was a complete upgrade, and a lot more fun overall.
When equipped with the Mazdaspeed B-Spec Kit, the car gets upgraded with Bilstein coilover shocks and race springs, rear sway bar, stainless steel braided brake lines, Hawk DTC-60 brake pads, high performance intake filter, oil cooler kit, A/C delete kit, and a strut bearing plate. All you need to do is add the rollcage and other safety equipment, like seats, harnesses and fire extinguisher, and you're good to go!
The car that I tested was running a set of 15×7 5Zigen FN01RC wheels with 205/50/R15 BF Goodrich R1 tires. Upgrading from a street tire to a real race compound tire like the BFG R1 is like a day and night difference (on both the Fit and the Mazda 2). It's not even a fair comparison. With the Mazdaspeed suspension upgrades and the race tires, the Mazdaspeed 2 just stuck to the track like crazy! It was responsive, nimble, and certainly quick enough for a track like Streets of Willow. Most importantly, the car was FUN! After all, isn't that what racing is all about?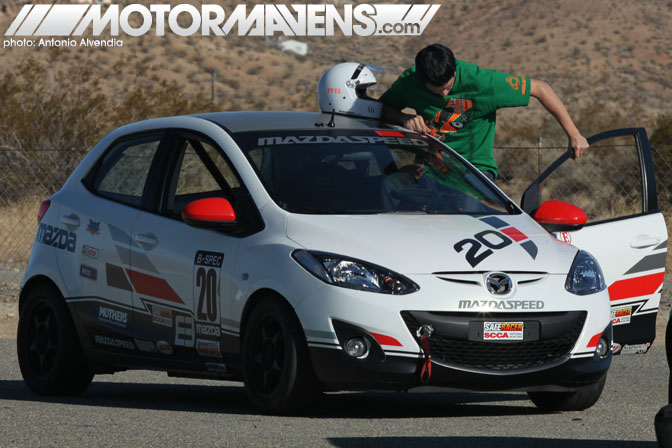 The only gripe I had about the Mazdaspeed 2 is the fact that it was even harder to squeeze into than the race-prepared Honda Fit. I understand that it's a race car, so it needs suitable side impact protection from the roll cage. However, the door bars on the Mazdaspeed 2 were so incredibly high that I felt like I should take yoga classes to prepare my body for the contortionist feat known as getting in the car.
Everyone on the paddock had a good laugh watching me struggle to get in (and out) of the Mazdaspeed 2, so I felt MUCH better when I saw my lanky friend Dan Hsu from JNC Magazine having trouble squeezing into the car as well! I'm 6 feet tall, and Dan must be 6'4″ or something… it was really tough for us tall guys to squeeze in there!
While everyone was having fun at the track, I couldn't help but notice this black Mercedes SUV with a huge camera rig on the roof! They were filming something at Big Willow!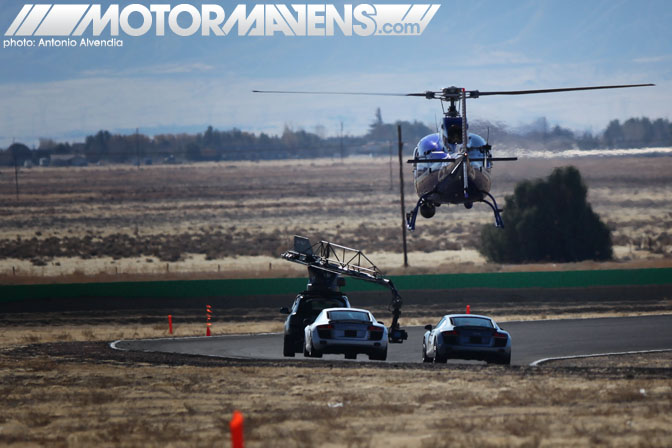 It looked as if they were filming some sort of Audi commercial or something… they had two R8s driving the track, with one of the matte black SUVs with a boom arm attached to the roof filming from a low angle in front, as a helicopter chased them down, flying super low to film a different viewpoint presumably… could this possibly be the handiwork of Jeff Zwart? I heard he films commercials in a blacked out SUV… does anyone know what they were filming over there?
Either way, I had an incredible time test driving the B-Spec offerings from both Mazda and Honda. This really does look like an interesting series for those looking to get involved with SCCA racing to improve their driving skill! Since both of these cars are pretty inexpensive (as far as new cars go), I think that B-Spec racing is going to be pretty popular – especially since people will be able to drive their cars to and from the track, with a set of race tires and a jack packed inside the car!
For more information on the B-Spec Series, click this link for the SCCA rulebook.
Alternatively, you can download/print the B-Spec rulebook in PDF format from our friends at MotorWorldHype.
:: Antonio Alvendia
Photos by Antonio Alvendia, Dan Hsu, Richard Fong, and Terry Pham
---