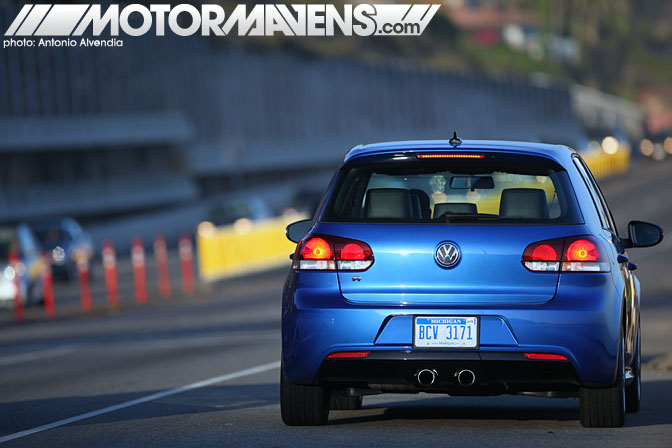 The new Volkswagen Golf R just might be the perfect daily driver – but only if you value things like nimble handling, quick acceleration, a sporty-yet-comfortable interior, a good stereo system, ice cold air conditioning, and the ability to bring friends on road trips with you. If you don't like those things, then the Golf R might not be for you. But wait – who doesn't like those things???
My first experience with the new Volkswagen Golf R certainly caught me by surprise. As a person that has been primarily focused on sporty Japanese cars all my adult life, I'll honestly admit that I've never really looked into buying a Volkswagen. As a result, I've been a bit ignorant and unfamiliar with the VW brand in the past – something that I will definitely be changing in the future!
I knew that the Golf R was Volkswagen's top contender in the sport compact segment. However, until I actually had the chance to spend an entire week with the car, I had no idea that I would like the car as much as I did! Of course, the Golf R did have some pros and cons…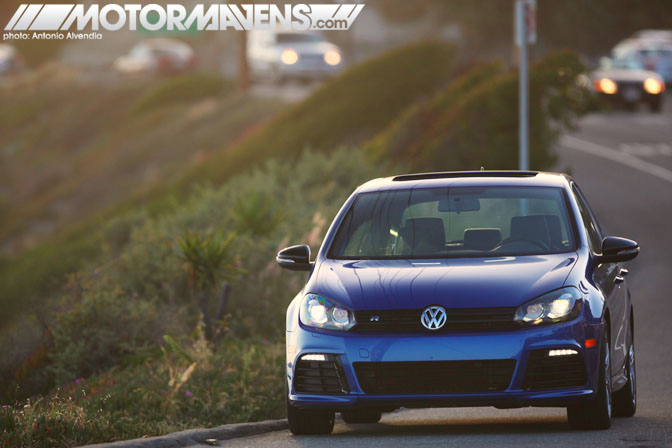 Driving the Golf R was a lot more fun that I thought it would be – it's quick, nimble, and practical. I never thought a Volkswagen Golf would suit my fast paced lifestyle so well. It turned out to be a perfect vehicle for one of my typical fun-filled weekends.
The Golf R definitely proved itself in the acceleration and handling department; it hugged curves with smoothness and precision as I flew through the twisty roads of Coldwater Canyon and Mulholland Drive, heading towards Hollywood for a Friday night out. With some attractive new friends in the passenger seats, the Golf R also proved to be perfect for cruising Sunset Blvd with the windows and sunroof open, with music bumping out of all eight Dynaudio speakers.
The very next day, the Golf also proved to be a comfortable highway cruiser, as three friends convinced me into an impromptu Vegas trip for a European car show. Since it averaged 118 degrees outside on our four hour trip to Vegas, my friends and I definitely appreciated the strength of the Golf's German air conditioning technology!
After the same-day-turnaround road trip, I still made it back to LA in time to enjoy the Pacific Coast Highway ocean breeze on Sunday afternoon, then zipped through traffic on Monday morning to begin a week packed full of meetings and photo shoots.
During the week, I packed a ton of camera gear into the car and drove it to several of my photo shoots and meetings throughout the Los Angeles area. I found the car to be perfect for zipping through LA traffic, with enough room to carry all my tripods, light stands, lens boxes, and laptop backpacks.
The Golf R turned out to be a perfect companion for every single one of the aforementioned activities!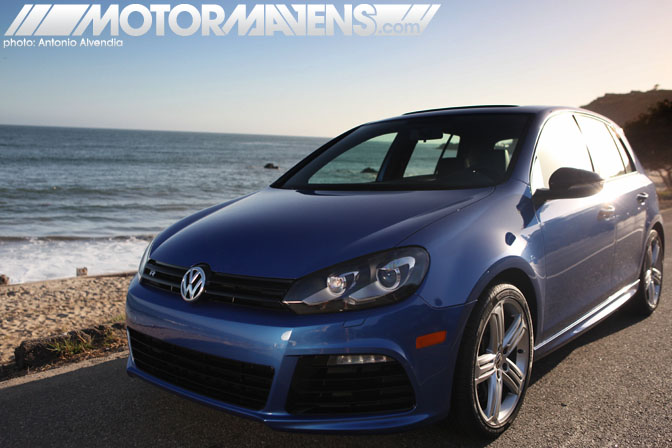 With the car parked on the side of the PCH, I took a moment to admire the front end of the Golf R, with its attractively shaped self-leveling AFS (Adaptive Front lighting System) equipped Bi-Xenon HID headlights and sporty front bumper, complete with LED daytime running lights. The car's factory headlights have an excellent light dispersion pattern and cutoff, but I was disappointed by the fact that the Golf R didn't come with fog lights from the factory – especially with the car's hefty $36,860 price tag. This is only a minor gripe though. It's clear that you get what you pay for when you buy a Golf R – in terms of performance, drivability and looks, the car is a definite winner in my book.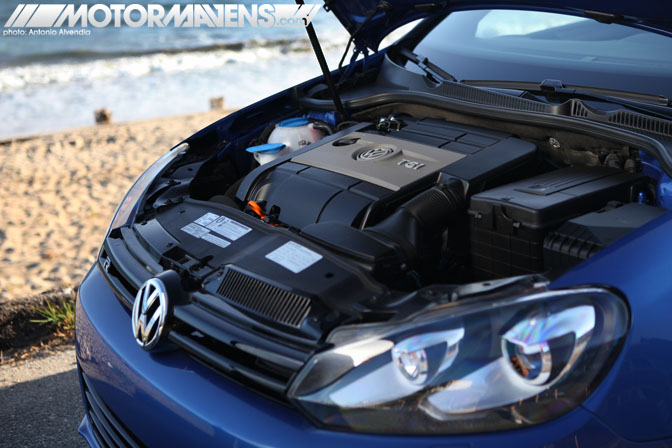 Under the hood lies the secret to the Golf R's performance – a turbocharged 2.0L 16-valve DOHC 4-cylinder TSI engine with intercooler and direct injection that puts out an impressive 256 horsepower, with 243 lbs-ft torque. It's easy to upgrade the car's power with simple electronics even without changing the car's exhaust, intercooler, and turbo. It's not entirely necessary though – the Golf R has more than enough power for its small form factor.
Combined with its 4MOTION all wheel drive system and electro-mechanical power steering, the Golf R was perfect for slicing and dicing through slower moving lanes on the twisty Topanga Canyon Road as I drove it to and from Malibu. The car always felt firmly planted as I accelerated through turns, due to the 4MOTION AWD and the Golf R's sticky Pirelli P Zero tires. With this much performance to offer, I was shocked to find out that the car still got 27 mpg highway, and 19 mpg in the city. These are definitely impressive numbers for a car with this kind of power.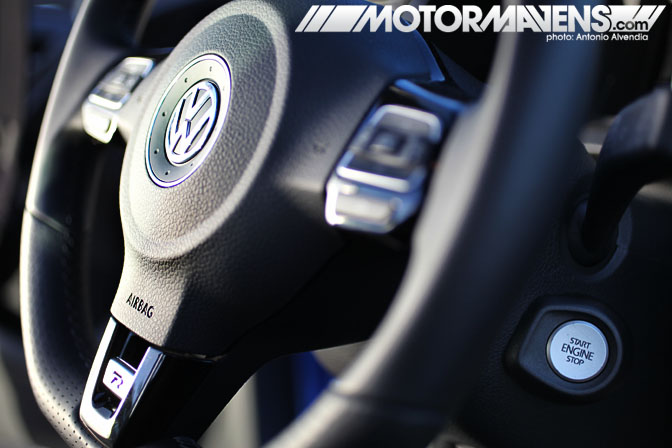 Sitting in the driver's seat, the car has really great ergonomics. From the seats, steering wheel, shifter, the Engine Start button, and even the position of window switches – everything is perfectly placed and easy to use.
It's tough to not be attracted by the sporty, air leather wrapped airbag steering wheel. It comes complete with stereo and phone controls at 3 and 9, and the Golf R emblem on the 6 o'clock spoke. I absolutely loved everything about this well designed factory steering wheel – it's tough to combine modern technological creature comforts into an airbag-equipped steering wheel that still retains a sports minded look and feel.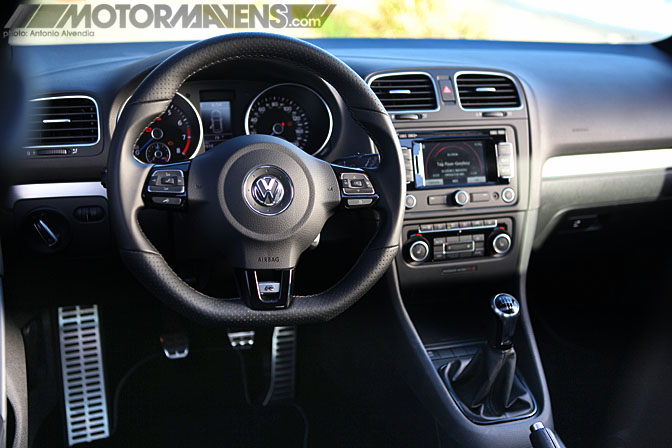 Looking past the steering wheel, I also loved the easy to read gauge cluster. Combining contrasting blue dial hands with white numbers and red indicator lights, Volkswagen's well designed tach and speedo cluster was easy to read at all times.
The Golf R also comes standard with an outstanding set of brushed aluminum sports pedals, and a hefty dead pedal to rest your left foot on. These gorgeous aluminum pedals also have black rubber grips to avoid foot slippage in the event that the driver might be wearing leather dress shoes (or high heels, for the lady VW drivers).
Underneath the pedal system is a set of really nicely done carpeted floormats with notches on floor to prevent the floormat from getting bunched up underneath the pedals. The entire cockpit feels top notch – much higher quality than I'd expect from a car with Volkswagen Golf badges. I was completely impressed by the entire experience.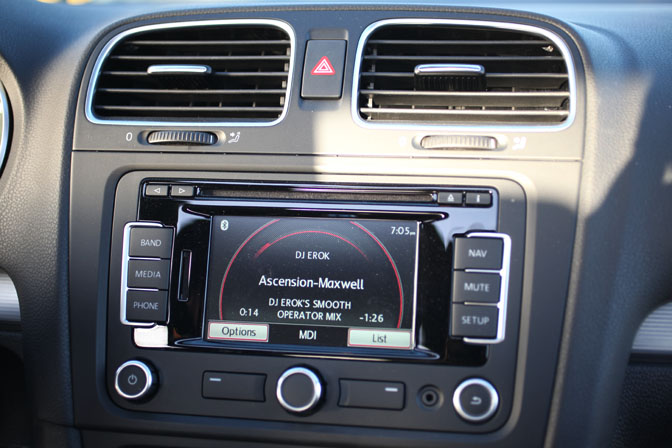 Turning attention to the center console, I absolutely loved the placement of the car's stereo/navigation head unit and Climatronic dual zone climate control switches. The Golf R's shifter and 6 speed manual transmission felt GREAT. It definitely felt like the gearbox of a sports car, which caught me by surprise me once again. I was completely impressed by all aspects of the Golf R's build quality, engineering and ergonomic design.
While I absolutely loved the interior of the Golf R, I did have some complaints about the way the clutch felt. I realize that performance minded drivers typically want a sporty clutch with aggressive friction material on the clutch disc and a stiff pressure plate to put all the power to the ground. However, I honestly felt that the clutch was a bit stiffer than it needed to be for a factory car – even if it did have to contend with 256hp and 243 lbs-ft torque. It also felt strange that the clutch maintained the same amount of pedal resistance from the top all the way down to the floor.
I'm accustomed to driving many different types of street cars and race cars. In my experiences, most cars have clutch pedals that feel a bit stiffer at the top, and get softer as you continue to push your foot down towards the floorboard. Since the Golf R's clutch had a consistently stiff pedal feel all the way down, there were times when I couldn't tell when the clutch was engaging and disengaging.
Also, the car's brakes felt a little squishy… but to be honest, it might have been that way because the car was previously loaned to several different journalists. Maybe I'll just have to drive the Golf R again at some point to see if the clutch and brake pedal feel like that on all examples of Golf R, or if it was just an isolated case of a car that has been thoroughly taxed by members of the automotive media.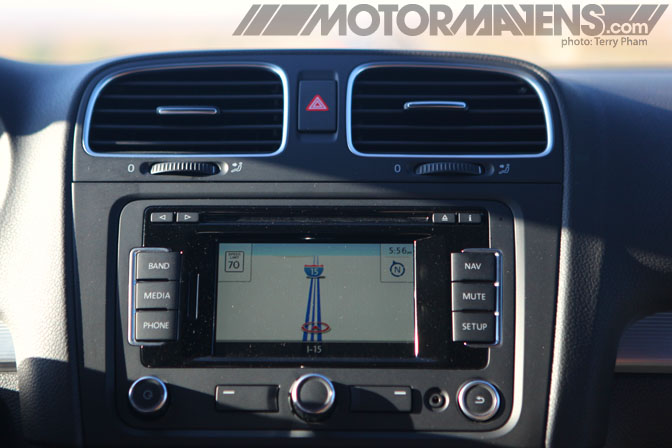 Although the car came equipped with a dash-mounted RNS 315 touchscreen navigation unit that works well, I found that it was much faster (and easier) to just use the Maps feature on my iPhone. Plus, with my iPhone tasked for nav purposes, it allowed me to constantly fiddle with the radio head unit. I typically spend a lot of time searching through my iPod's folders and playlists for different songs while I'm on a road trip.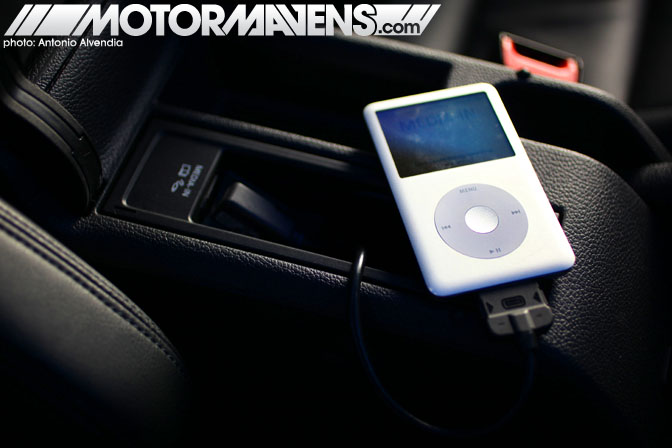 Underneath the center console armrest, there's a MDI (media device interface) input for connecting an iPod to the car, which can be controlled by the stereo controls on the dash-mounted stereo head unit or the steering wheel. Connecting an iPod in this location allows for much, much higher sound quality than connecting it to the head unit via the provided auxiliary input (headphone connector), although you can connect generic MP3 players to the car in that fashion if you don't own an iPod or iPhone.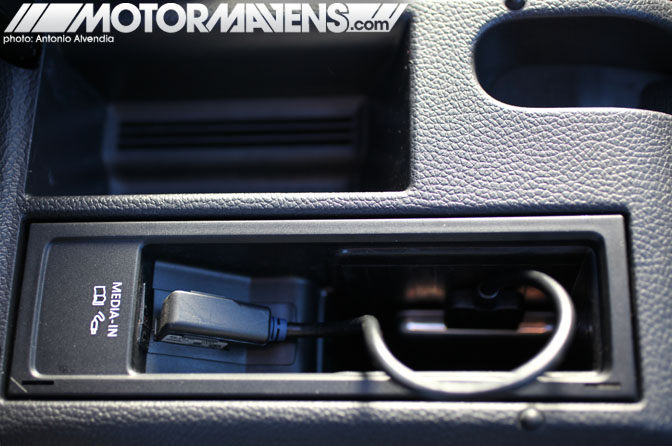 I absolutely loved the small iPod/iPhone sized pocket that was conveniently placed next to the Media-In connector. This is a perfect place to store your music library without worrying about your iPod sliding around the inside of the car while you're taking fast turns!
There's another small pocket in the center console too, in case you want to store your keys, gum, or some change next to your iPod.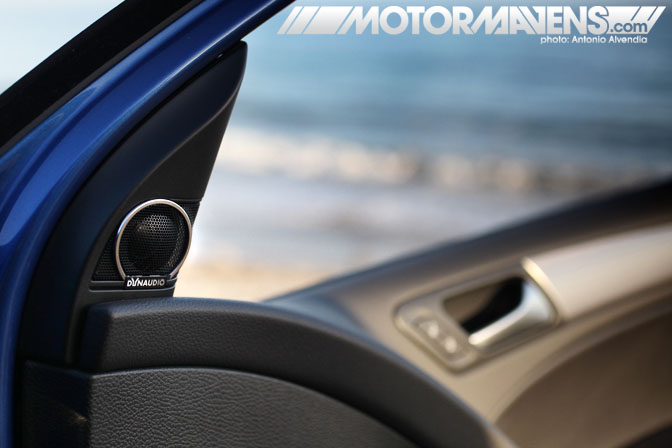 I was particularly impressed by the sound quality of the Golf R's OEM equipped Dynaudio speaker system, which came with 8 speakers in total. Perfect for blasting music on a relaxing drive on Southern California's Pacific Coast.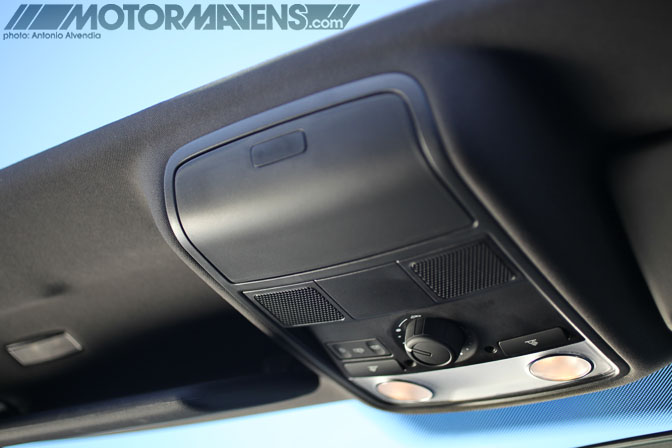 I loved the sunglasses compartment just in front of the sliding glass moonroof, but I wasn't the biggest fan of the VW sunroof switch. I think it would have been much easier to use a typical front/back/tilt sunroof switch (like Toyota, Lexus, Honda, Acura, BMW, etc) instead of VW's circular dial with different positions to click through depending on how far back you want to slide the sunroof. I'm the type of person that opens the sunroof every time I drive a car (even if I'm only driving 3 blocks), so I notice little things like sunroof switches.
This being said, it's a minor, minor gripe. The sporty interior, powur, and response of the Golf R made me forget all about the sunroof switch in no time flat.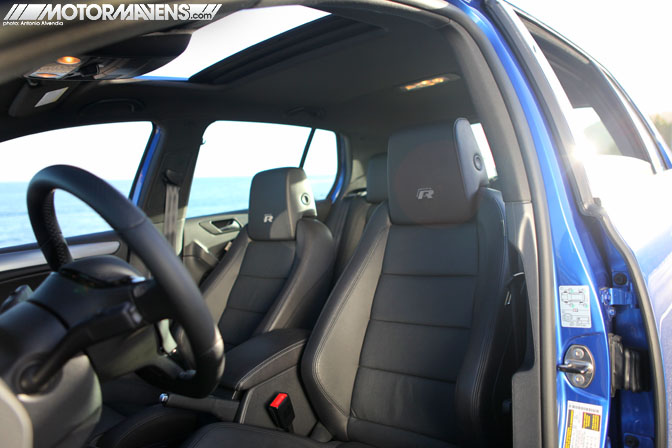 Oh, how I loved the race-inspired Top Sport front seats on the Golf R! They were comfortable on long drives, but the aggressive side bolstering hugs your body and holds you in place under high speed cornering. The sport seats are heated, with power recline, adjustable height & lumbar for passenger and driver, with leather on the seating surfaces for comfort and durability. These seats might have been my favorite feature of the interior… I liked them even more than the steering wheel.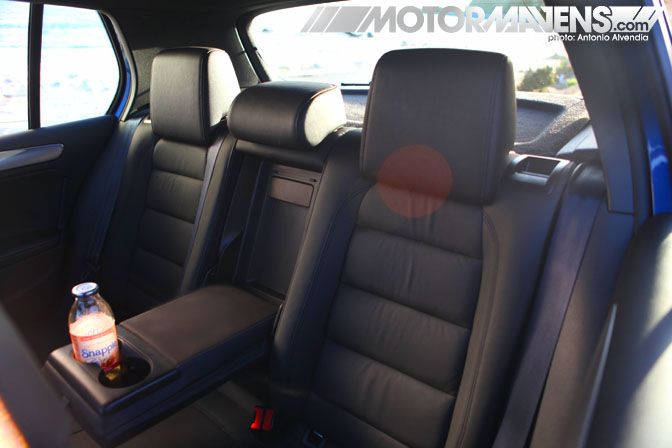 The Golf R's rear seats were surprisingly spacious as well. On my way to a midweek car meet, the car comfortably seated four fat people (with respect to my friends, maybe I should say big boned?) with plenty of legroom. We were even able to fit a small, skinny friend in the center seat… so one could say the Golf R comfortably seats 4.5 fat people, or two fat people up front, and three physically fit people in the rear (I prefer to say 4.5 fat people, though).
Lifting up the rear hatch door reveals a molded, carpeted cargo cover to conceal valuables in the trunk, with useful cargo nets attached underneath the cargo cover and to the trunk floor. There's a power outlet in trunk too! Perfect for portable power for your laptop or charging batteries or whatever. I love it.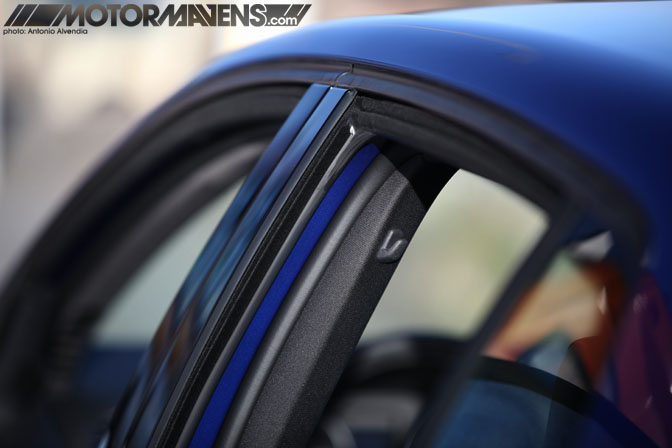 I couldn't get over all the small details in the Golf R. I loved them! On the B-pillar facing the rear passengers, Volkswagen conveniently provided a hook for hanging… ____? I love having it there, but what are you supposed to use it for? There's another hook for a coat hanger, so I'm not exactly sure what this one is for. Perhaps an air freshener? Or your lady friend's bikini? Hey, whatever works!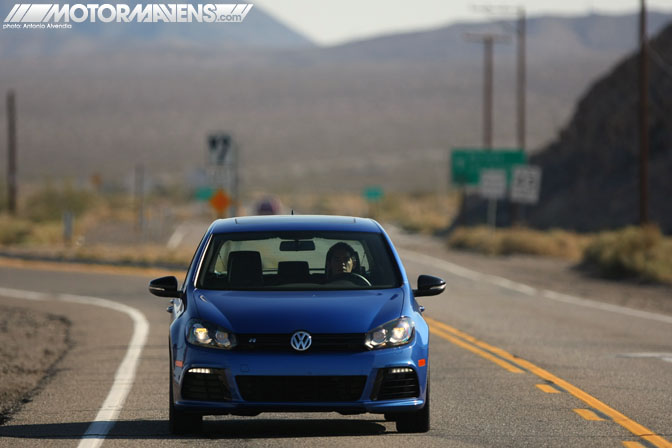 Even though the Golf R really shines in the handling department, I loved the fact that it was also very comfortable on a long drive. After talking to some friends who were going, I made a last minute decision to drive it from Los Angeles to Las Vegas for a Volkswagen car show, Wustefest. Usually, people prefer the plush, padded seats of a touring sedan on long drives. However, the sporty seats of the Golf R proved to be extremely comfortable on the long drive to Vegas, possibly because of the added lumbar and side bolster support. With the car in cruise control, it felt just as comfortable as a larger sedan, but the 2.0 liter turbocharged TSI engine provided plenty of power for passing cars when I needed to – even loaded with four passengers, camera equipment, and AC on full blast.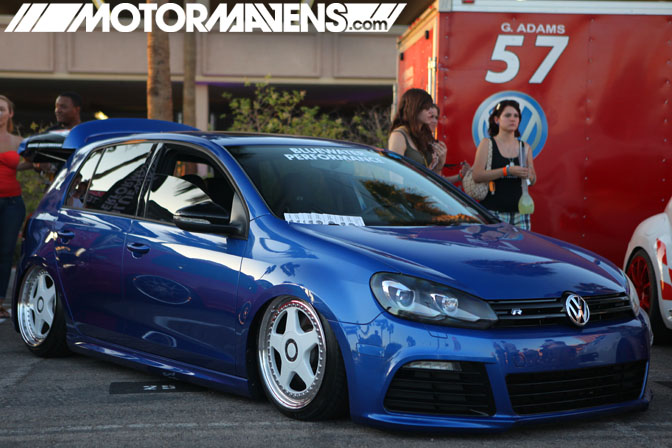 Once my friends and I arrived at Wustefest, we spotted this awesome blue Golf R. It looked nearly identical to the one I was driving all week, but it was slammed to the ground with air suspension, and it had 3 piece OZ wheels with white centers. It was awesome to see the new Golf R that I had been enjoying, but in modified form!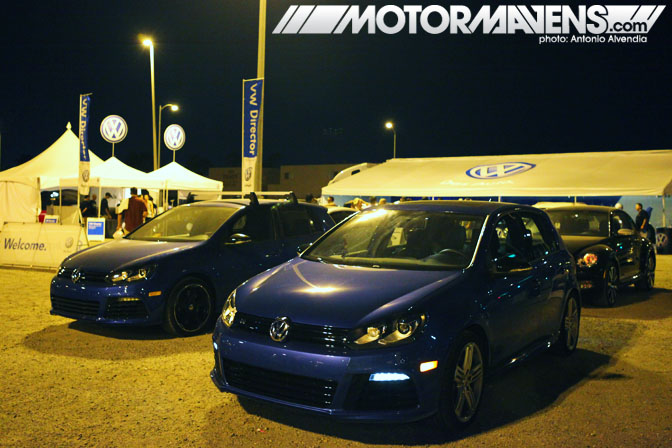 Now that the event is over, I'm going to let you in on a little secret. As I pulled up to Wustefest with Volkswagen "manufacturer license plates" on the car, I drove up to the side entrance of the show instead of the parking lot, so I could call a friend inside the show to tell him I had arrived.
Just as I was dialing his number, a security guard walked up to me, so I rolled down my window and said, "I'm sorry… I'm late as usual!" He replied, "Oh… is this a Volkswagen demo car?" Of course, I agreed because the car was in fact owned by Volkswagen, and they did lend it to me for demo purposes. Without saying another word, the guard immediately lifted the exit gate, and motioned for me to drive in to the show. YES!!! I didn't know he would even do that. "Just park it right there at the Volkswagen booth," he said. NICE!!! I just got myself a primo parking spot at Wustefest… at the Volkswagen booth! And I didn't even show up on time! 😀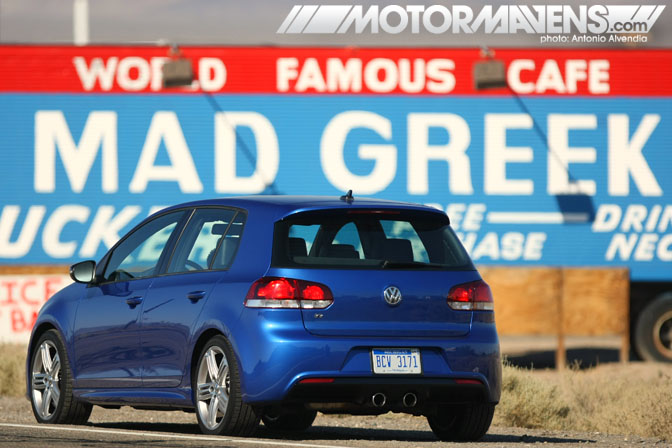 On the way back from Vegas, my friends and I stopped at the Mad Greek in Baker to get some of their famous milkshakes. With the car parked on the side of the road, I stared at the Golf R's good looking OEM split spoke wheels. The Golf R version stock wheels come in a relatively good offset, with very minor wheel gap for a stock vehicle. In terms of looks, power, responsive handling, four door comfort, ergonomics, and every day practicality… I think the Volkswagen Golf R just might be the perfect daily driver for a young person with a fast paced lifestyle.
:: Antonio Alvendia
---