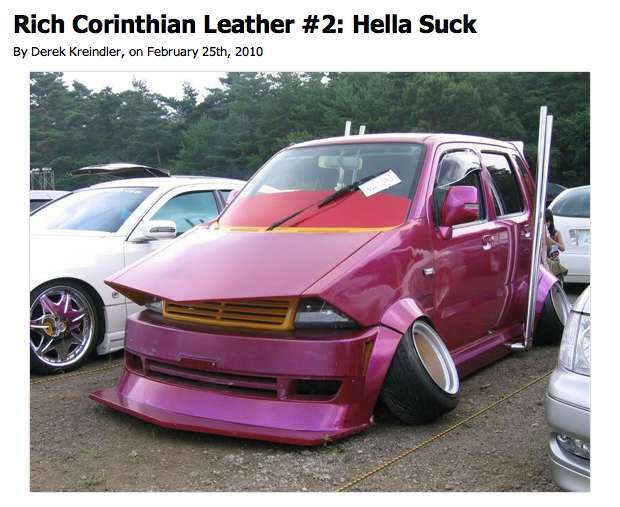 Man. I'm not quite sure what to say. I was forwarded this link from a friend of mine, who basically said, "dude, you gotta read this. This article bashes slammed cars, negative offset, and the usage of roof racks and rusted body parts. It even bashes websites that promote that style (specifically naming HellaFlush), Miata.net and other forums."
At first, I thought, "That sucks, but whatever… people talk shit on the internet all the time just to spike up their traffic or make a name for themselves." But then I re-read the email. It talks shit about Corollas?! More specifically, it refers to our beloved AE86 Corollas (other cars are on the list too) as "irredeemable garbage." Wow. That's a pretty bold statement.
For most of the people I've been hanging out with for the past 10 years, talking shit about a person's car is worse than talking shit about a person's family. In many circles, those are fighting words. While I like to think that I've grown up a bit, and I like to think it doesn't bother me when people disparage the cars I have been passionate about for the past decade… I think, perhaps, I haven't grown up. I sure haven't "grown out of it" – I haven't grown out of my passion for AE86s; for negative offset wheels; for demon camber; for low stanced cars; for stretched tires… hell no. If anything, I've become happy that people are embracing this style, and seeing people all over the world build cars of this type is only adding fuel to the fire.
Perhaps the most offensive statement made by this article is the one that belittles the young demographic of car enthusiasts. It says "Setting up a car for drifting is usually ass-backwards to what actually makes a car handle. Still, it has managed to permeate the collective consciousness of young car enthusiasts, who are unaware that buying coilovers with absurdly stiff springs doesn't actually make a car handle well, but rather masks a the deficiencies of a poorly designed car." Come on now. Young car enthusiasts are unaware of what they're doing? Last time I checked, MOST people (note that I didn't say ALL, but MOST) involved with drifting were modifying their cars with a purpose and a mission.
That's enough rambling from me… post up your comments and YOUR VIEWPOINTS/OPINIONS after you read the actual article on the original website that posted it, which is apparently titled SpeedSportLife. (Here you go, if a traffic spike is what you were looking for by posting this…)
:: Antonio Alvendia
---