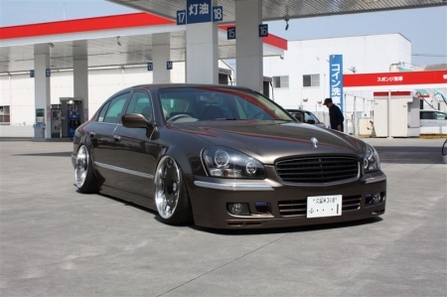 The Nissan President has long been the top-of-the-line sedan in the company's JDM lineup. In Japan, you normally see stoic black versions lurking curbside in Ginza, waiting to take CEOs home for the night. Or to restaurants where the barkeeps reserve and maintain liquor cabinets worth more than my car tagged with the exec's name. This sinister sedan, however, is clearly no honcho hauler.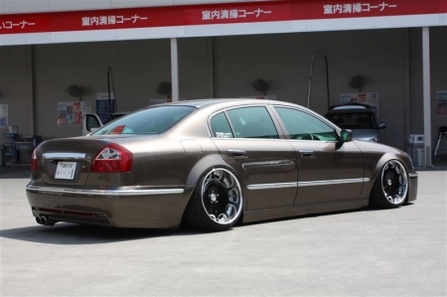 Just look at the stance on this thing. As a stretched wheelbase version of the USDM Infiniti Q45, the President is not a small car. But the flared wheel arches and rubberband tires make wide load look like… what, a skateboard? A manta ray? A four-door Ferrari Modulo Concept?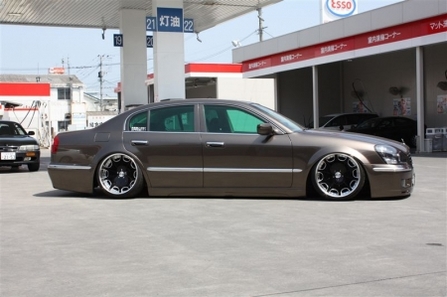 Credit for the discovery of this machine goes to GX61 Riverside's blog. It may be VIPed to the nines but it's likely still got the 4.5L VK-series V8 under the hood – not a gas sipper.
Like the Q45 it has what have to be one of the coolest headlights of all time, Nissan's six-gun projectors.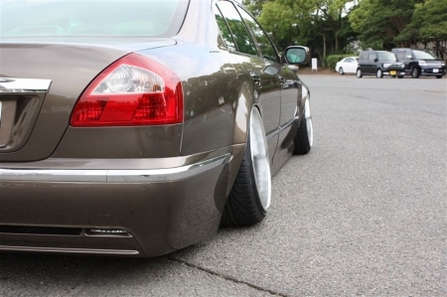 This thing must be sitting on airbags. Even on Japan's mirror-smooth roads you can't drive this low.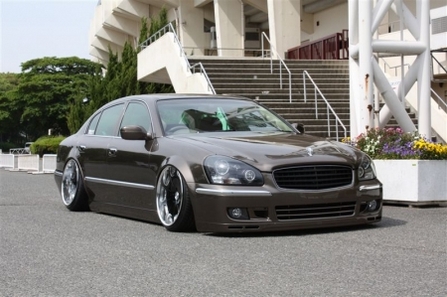 The F50 Nissan Cima on which the President is based always looked a bit conservative, but here's proof once again that the proper stance and wheel combo can turn any wallflower into a menacing road bully.
::Ben Hsu
---