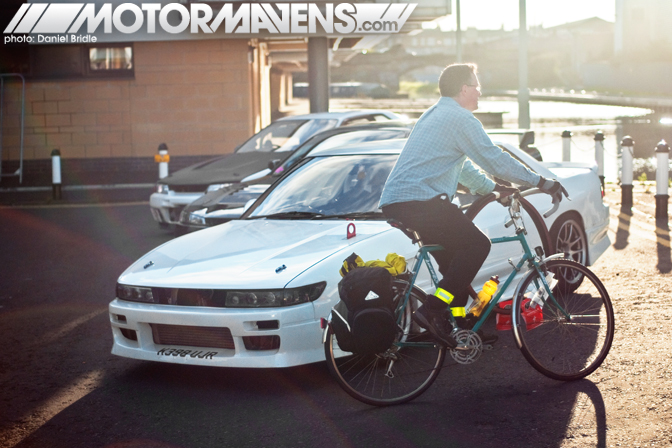 I've been traveling up and down to the city of Edinburgh in Scotland for a good few years now but, for some reason, the whole the time I've been shooting for MotorMavens, I never really thought to check out the car scene up there. In fact, I didn't really know there was much of one!
It turns out I was very wrong and there's actually a really strong scene there with a ton of fantastic modified cars. It just seems to be a little more hidden than down in England. Fortunately, a good friend of mine named Fraser Gordon was there to show me otherwise. He was coming to Edinburgh for the day from the city further west known as Glasgow, so he phoned me up and we organised to meet up with some of his friends to chill out, take some photos and see the sights of Edinburgh. It just happened to be in four sweet-looking and sounding drift cars.
Not your usual sightseeing tour then…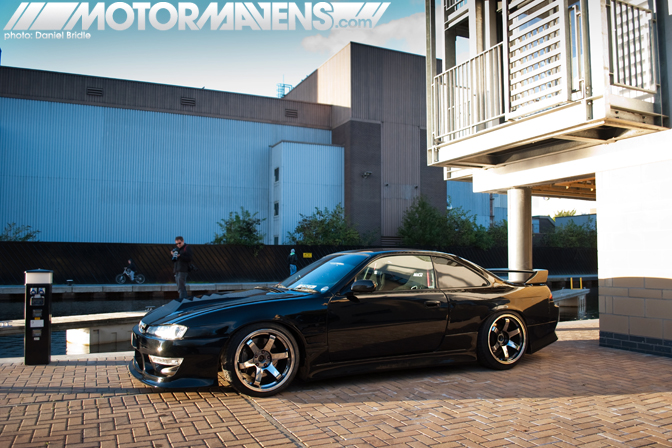 Later that sunny afternoon, Fraser and friends, Barry Stevenson, John Fallon and his girlfriend Danielle Halliday rocked up to where I was staying and picked me up. It'd been a while since I'd spent time with any drift cars off the track and there's nothing quite like the visual impact of three angry-looking, Japanese sports cars sitting there on the street burbling away. It was like a breath of fresh air for me.
We got ourselves strapped in and headed off to find some spots to shoot. It was great fun cruising around the streets of Edinburgh! I spend most of my time getting on buses and walking everywhere, so seeing the city centre by car was pretty sweet! People's reactions to the cars are always interesting, too. We had people giving us thumbs ups – some even shouting that the cars were too loud as we drove past! Haha.
Along the way we met up with another friend of Fraser – Amran Ali. Like Fraser he had also driven down from Glasgow and had just about found his way around Edinburgh without getting lost in the city's busy streets. From there, we headed to a location that was next to the Union Canal that runs from Edinburgh all the way up to Glasgow. The place had a cool but pretty weird mix of architecture – ranging from hyper-modern apartments, old bridges, canal locks, and big factory warehouses!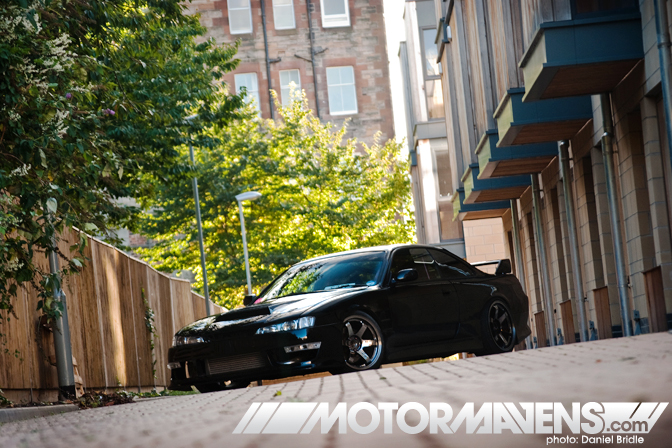 To get things back on track before this devolves into some sort of geographical travel guide, you might be wondering what happened to those drift cars that I mentioned earlier. First, let me introduce you to Fraser Gordon's Kouki Nissan Silvia S14.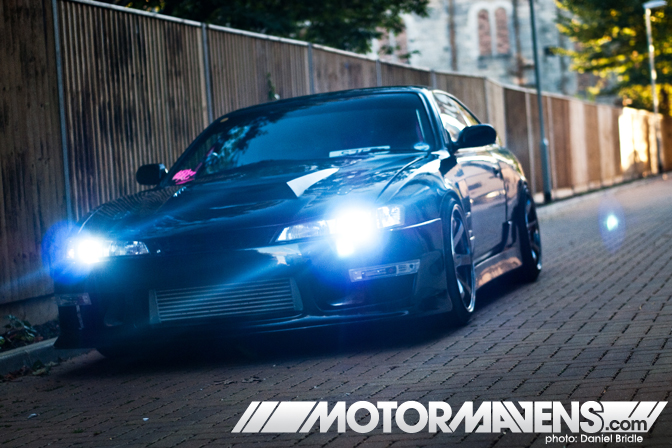 Fraser's car has changed a fair bit since I last saw it back in June. The clean style it had before has been retained, but it has also been transformed into one angry looking Silvia! The new Vertex aero kit is one of the best kits I've seen so far for a Kouki S14. I think the sharp angular lines flow really well with the rest of the car's aero parts – like the D-Max hood, Kouki S14 spoiler and tough 30mm front and 50mm rear overfenders!
Put this together with all the little finishing touches inside and out and you're left with one seriously classy drift car. However, this isn't just a car built for looks. Underneath the Vertex clad exterior lies a high performance machine. In fact, it doesn't even have the original engine. Instead, Fraser has trashed the standard SR20DET and fitted an RB25DET from a Nissan Skyline which is running a Universal Turbos Stage 3 Hybrid Turbo, custom front mount intercooler and piping, HKS Reloaded Intake, Tomei 555cc injectors, Rising Sun Performance ECU and a collection of other sweet parts that help the engine to push out a dyno-proven 404.4 bhp.
The handling and stopping power haven't been overlooked either when you factor in a full Apex suspension set up, an R33 Skyline front subframe, R32 GTR rear subframe and brake conversion, Ferarri 456 Brembo discs, Nismo Pro 2-way differential, steering angle spacers and custom-made propshaft. The list of parts goes on and on but, damn, Fraser has invested his money really well into this S14 and what he's ended up with is a beautifully set-up street car that looks DOPE and is as happy bumbling around on the streets as it is hanging it out sideways on the track.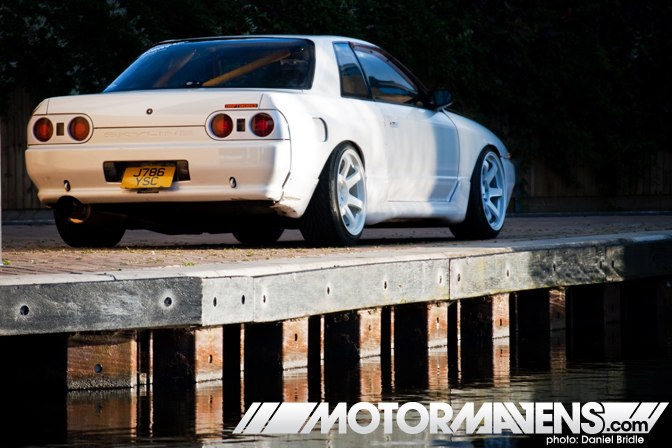 Up next is John Fallon's Nissan Skyline R32 GTS-T. John imported the car from Japan about seven months ago and it came over with a few unfortunate problems – but fortunately they were fixable so now John is the proud owner of one gorgeous Skyline.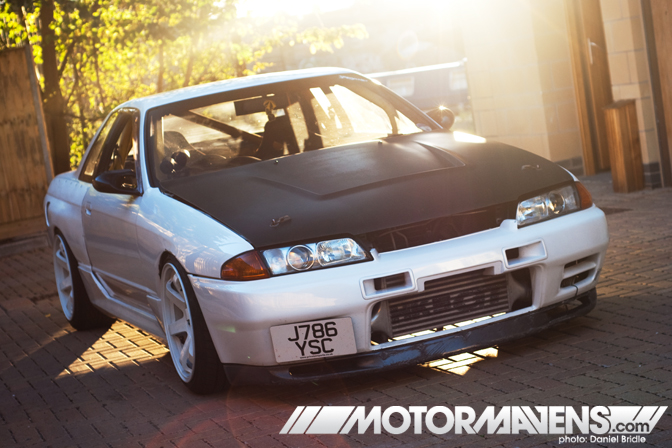 Visually, John has kept the car's styling nice and simple. A GTR front bumper, carbon vented bonnet, rear overfenders and Ganador replica wing mirrors are all that have been added to Nissan's classic design and I think it looks spot on. Like Fraser's S14, the 32 has been fitted with an RB25DET that pushes out a healthy amount of power. The car's specs might be fairly simple but it has all the right bits you need for a competent drift car.
As is the case with most drift cars, it's not quite finished yet. Since the shoot, John has already fitted a set of wider front wings and wheel spacers and, over the winter months, he plans to get the car re-mapped to fit a full Driftworks alignment kit, BN Sports roof spoiler and Vertex sideskirts.
I'm looking forward to how it's going to turn out!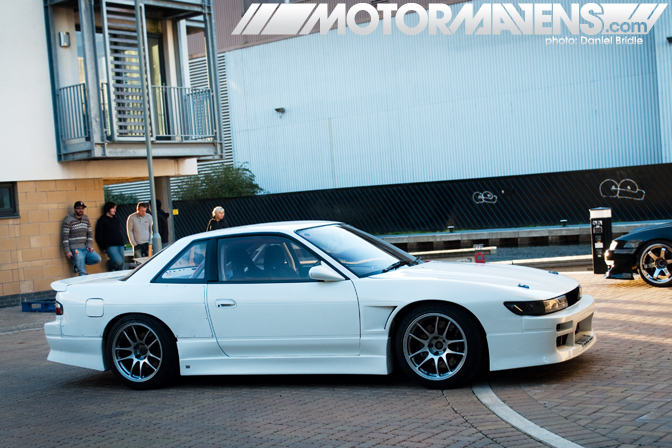 Up next is Amran Ali's super clean and super white Nissan PS13 Silvia! I'll be straight up and apologize for my lack of journalism skills here but because I was so busy taking photos I kinda forgot to ask Amran for details about his car! My bad…
All was not lost though, I contacted him awhile after the shoot and he kindly spared some of his time to give me the low down on his PS13.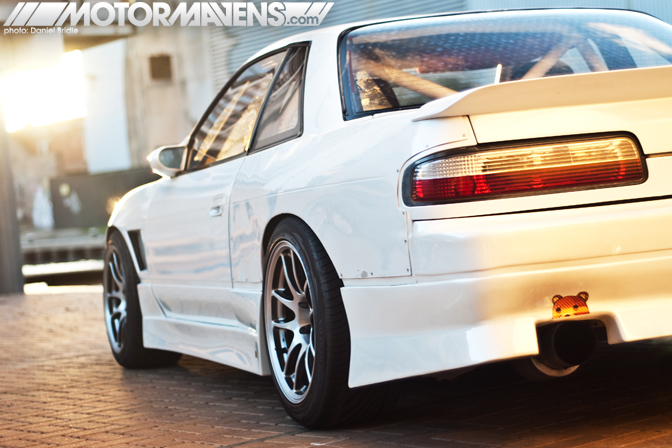 "It's the second PS13 I've owned for drifting. I originally bought it with the intention of continuing to enjoy drifting on the odd practice days and keeping it off the road the majority of the time – which is exactly what I did for about the first year of ownership. However it became apparent that there was a lack of decent circuits to drift at near Scotland (Teeside shut down) and Crail was the only location left. Eventually Crail got a bit repetitive for me and consequently I had less and less time (due to my job and studying) and inclination to go drifting. I also began to feel that the car was not being fully exploited using it just as a drift machine. It had the basic gear to be a competent grip car with the right setup and driving style."
"So, on the odd sunny weekend, I started going on long drives on challenging country roads around West Scotland and really really enjoyed it. From here I started to add and improve many components on the car to make it handle the various road surfaces with ease and to visually personalise it. Improvements were made in appearance, suspension, steering cooling, brakes, power output etc, the list goes on."
"Although the car has developed into more of a fast road/track bias setup, it's got enough lock, the two-way diff and a good geometry setup to make it great at drifting and provide a lot of grip for fast road/track use. The Driftworks CS2 coilovers had the biggest impact on the car. Loads better than the Tein Super Drifts it originally had. In terms of power it's currently putting out 325bhp and 325ft/lb. It's built to be a real-world car – not so low that it scrapes sh*t, not so powerful that it breaks bits. It's a purposeful package that I'm very happy with. "
I definitely agree with the latter part of his story. Sure it might not be the lowest Silvia on the planet, or have its tyres tucked right up in the arches with its wheel lips perfectly in line with the fender, but it's an extremely well set up car built for the goal of just sheer driving pleasure and I think Amran has also managed to find a great blend of performance and style.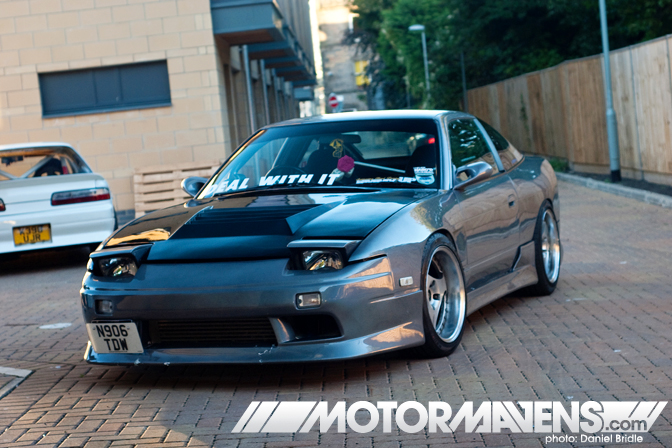 Finally, let's take a look at Barry Stevenson's Nissan RPS13 180SX!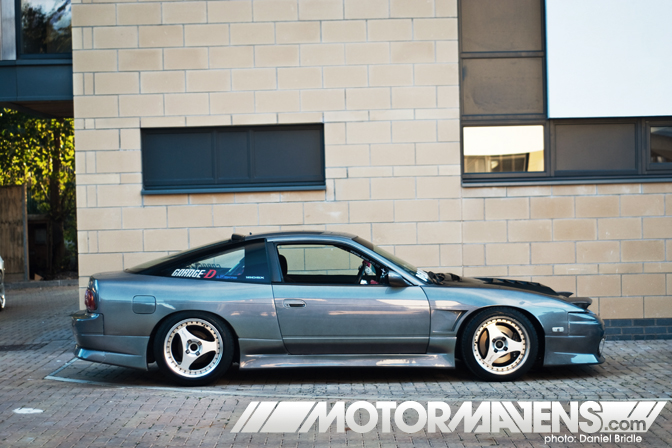 Compared to the others, Barry's 180sx has a slightly more unusual style about it. From the trippy flippy pearly flake paintwork, down to the retro Advan Racing Oni rims it sits on, this car has, in my eyes at least, some kinda 80s/90s look going on. Now, I'm not sure if that's what Barry intended, but I think it looks great!
Like John's Skyline, this 180sx has simple but effective mods. In the engine bay, the SR20DET has been fitted with a turbo from an S15 Silvia, a Japspeed equal length manifold, Blitz exhaust, GReddy intercooler, ARC intake box, Tomei 256 camshafts and a Tomei ECU. The handling and set up of the car is taken care of by Tein Circuit Master coilovers, Driftworks front arms, tension rods and tie rods, Japspeed rod ends, Miracle X brace, Cusco LSD and a full Cusco rollcage.
Barry is also planning on giving the car a little freshen up over the winter period. A new ECU, injectors and a re-map should help the car run a lot better. A new set of wheels is in the cards, too. He didn't say which wheels exactly, but they're bound to be something special! But, depending on if the right car comes his way, the 180 may go up for sale sometime next year.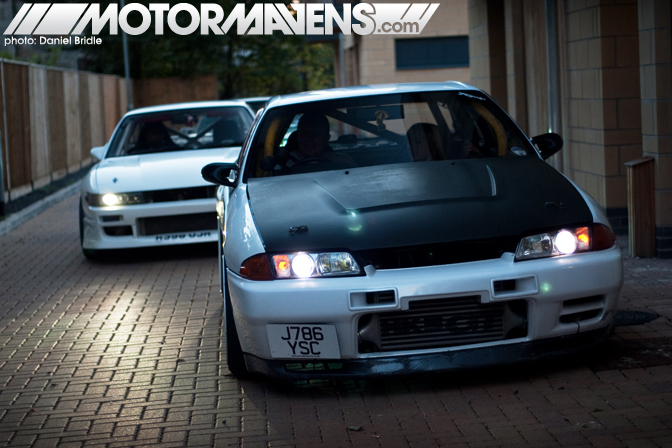 Anyway, I hope you've enjoyed this glimpse into just a tiny part of the Scottish drift/car scene. I had a great time checking these cars out and meeting their owners and it also meant I got a chance to see more of one of my favourite cities.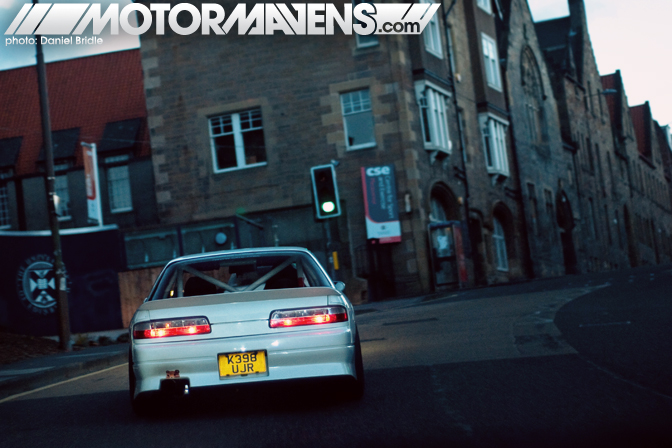 There's so many more interesting street cars left to find in Scotland, from all types of manufacturers and styles, and I hope my travels up there will lead to me shooting many more!
::Daniel Bridle
180SX
,
A'pex
,
Advan
,
Amran Ali
,
ARC
,
Barry Stevenson
,
Blitz
,
Crail
,
CS2
,
Cusco
,
D-Max
,
Daniel Bridle
,
Danielle Halliday
,
Driftworks
,
Edinburgh
,
England
,
Fraser Gordon
,
Ganador
,
Glasgow
,
GReddy
,
HKS
,
John Fallon
,
Kouki Nissan Silvia S14
,
Kouki S14 spoiler
,
Nissan Skyline
,
Nissan Skyline R32 GTS-T
,
PS13
,
R33 Skyline
,
Racing Oni
,
RB25DET
,
Rising Sun Performance
,
RPS13
,
Scotland
,
Silvia
,
SR20DET
,
Teeside
,
Tein
,
Tein Super Drifts
,
Tomei
,
Union Canal
,
Universal Turbos
,
Vertex
---