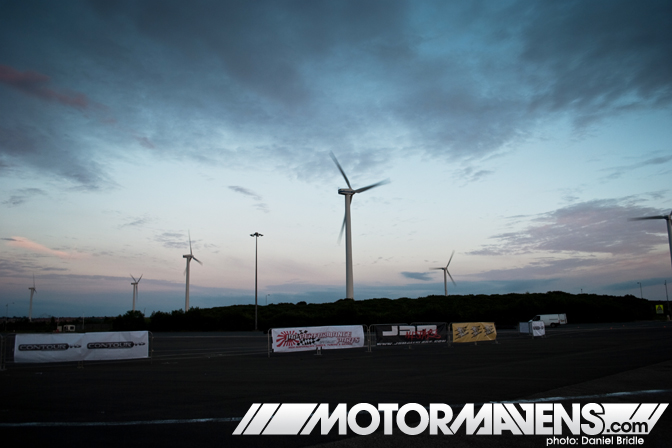 Just four days after the fantastic JDM Allstars Round 2, it was already time for me and video dude extraordinaire Josh Allen to hit the road again and head on up north to the city of Sunderland for Round 3. One long journey on probably the most boring road in the UK later and we finally arrived at our destination – The Nissan Factory.
The fact that Nissan itself was down to hold a drift event outside one of its factories was pretty cool. But the actual location to me was even cooler. Set on a section of land that usually holds hundreds and hundreds of freshly built Nissans, we were surrounded by factory buildings and trees with giant wind turbines looming over head. It's a testament to the JDM Allstars team that they can turn something as bland as a car park into an exciting place to hold their competition.
So, after finding our way to our hotel and getting a good night's sleep, it was time to head back to the track early Saturday morning and get things rolling with a chilled out day of practice.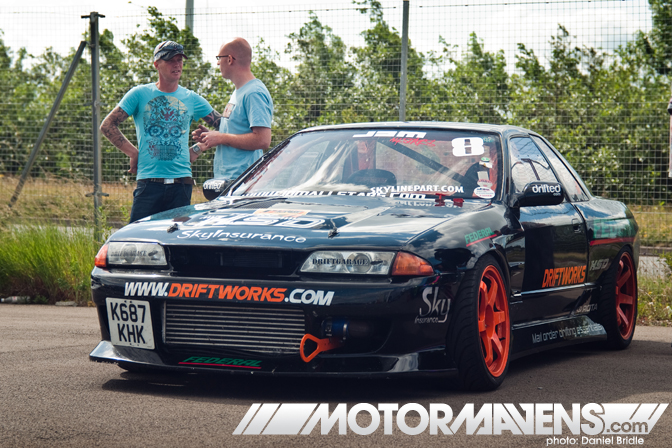 A few cars and teams rolled up shortly after we arrived. I was glad to see Bon Bon had made it in the Driftworks R32.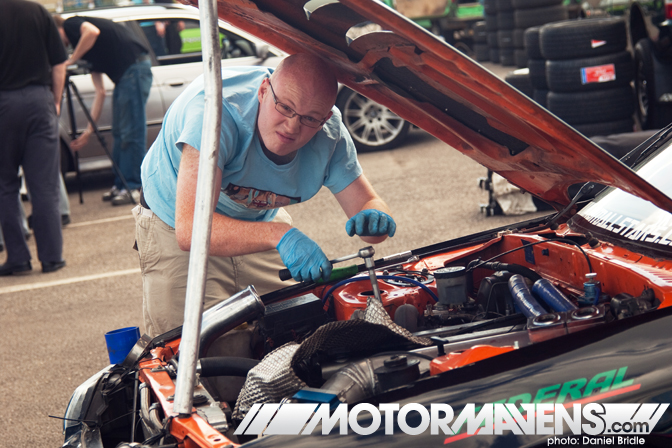 Although, once again, it needed a few fixes in the turbo department. Bon Bon seems to be getting pretty used to being under the R32 fixing stuff unfortunately…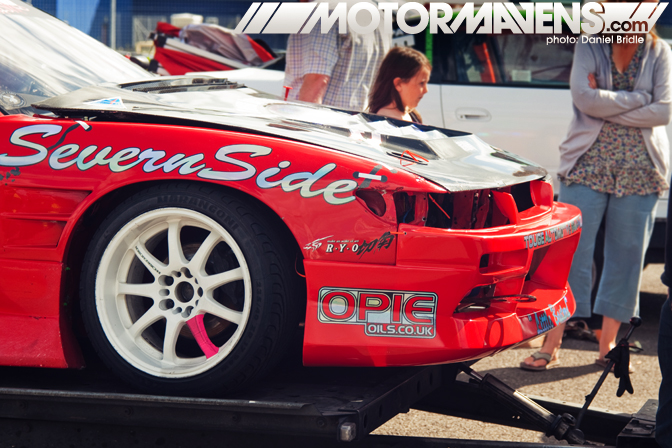 Luke Fink and the Severnside Imports team rolled in with their "Little Bastard" on the trailer sporting its new Origin Urban Line front bumper. I'm not sure if Julian Barnes (Severnside's boss) meant to order this bumper on purpose, since the rest of the kit is from the Aggressive Line, but I have to say it looks pretty sweet. I just hope they order the rest of the kit sometime!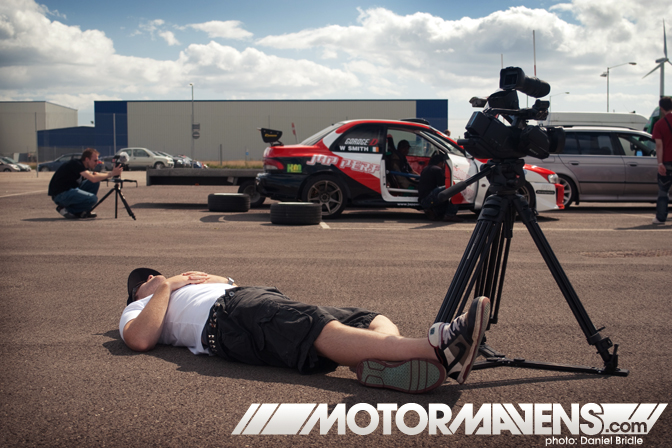 Here's Josh Allen's somewhat unorthodox approach to film making. The man's skills far surpass the need to actually look at what he's filming, so instead he uses the POWER OF HIS MIND – allowing him to kick back and soak in the sun rays… Or fame.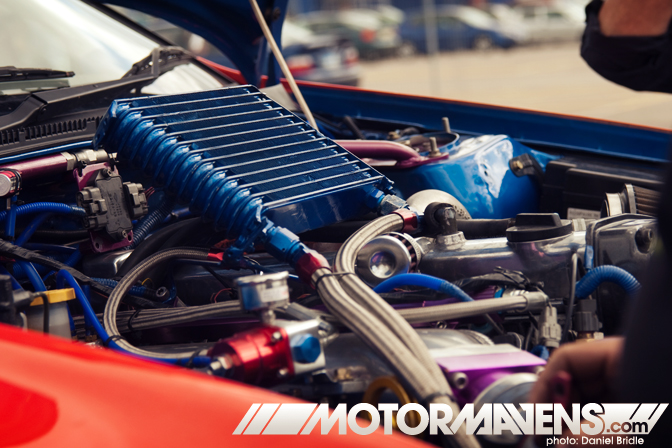 You may have noticed the 1998 Subaru Impreza Type-R in the background of the previous photo. Well it's Jap Performance Parts' latest drift car. Two years in the making and this unusual choice for a drift vehicle has finally seen the light of day. What makes it so unusual is not just because it's a Subaru but also because of its lack of Subaru's famous flat-four engine. In its place rests a 452BHP RB25 out of an R33 Nissan Skyline.
The looks might not be to all tastes but there's no denying it's a seriously cool and very well sorted build – through and through.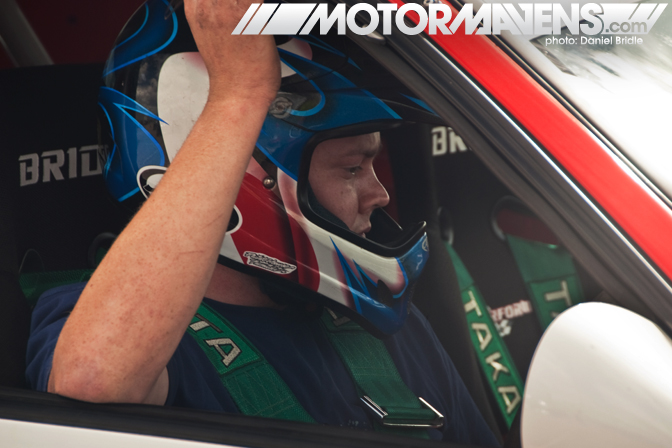 Jap Performance Parts signed Walton Smith as their driver for this season. Walton is the brother of UK drifting OG Julian Smith and also happens to work at Garage-D so he even had some involvement in the build.
I've only seen Walton drive once before at JDM Allstars Wembley back in 2009 in an under powered AE86 Corolla. I was looking forward to seeing how he'd do in a car with more power and a much better set up.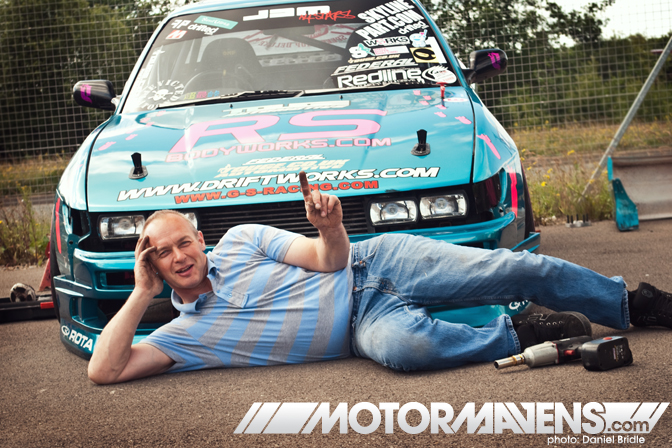 This beast of a man is Gary Chapman – Dan Chapman's father. This guy has been helping Dan at events for a long time now. Whether it's repairing the PS13 or trailering it to events, he's always been there supporting his son. I think it's awesome to see a father and son team like that!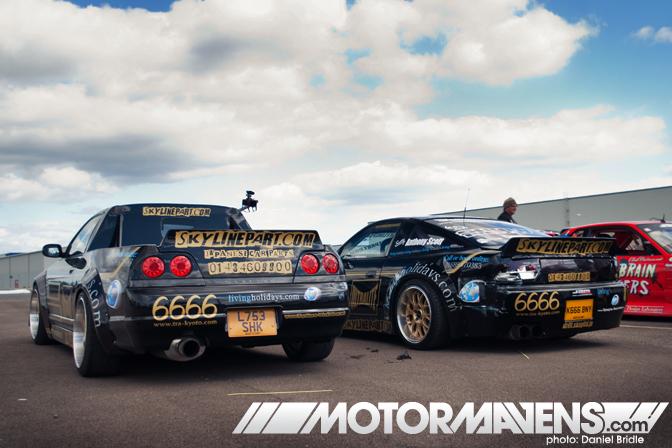 A car that was one of the topics of the weekend was Anthony Scott's latest Skylinepart project. The Rocket Bunny R33 pickup truck! It had mixed reviews but, in my opinion, it looks pretty dope – for an R33 Skyline at least. Since the event, I've heard it's now up for sale as Scotty wants to do another project! Any buyers out there?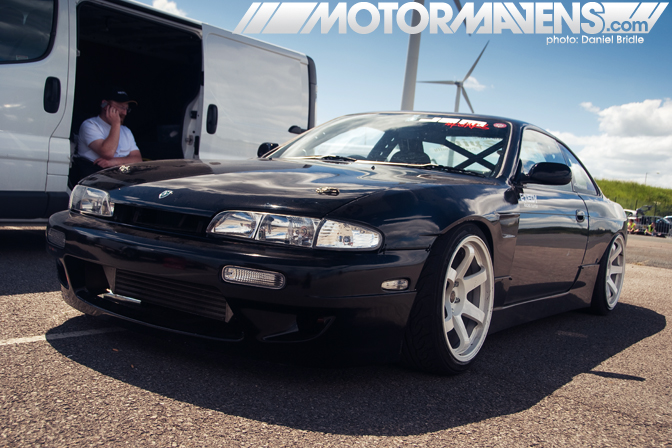 Mitto's Zenki S14 from the Neuton Tyres Drift Team was looking fresh as hell parked up in the paddock.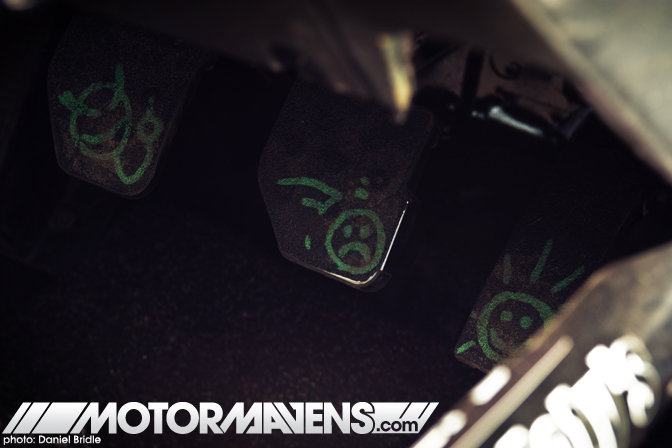 The minute details hidden in Mitto's car always make me smile and I find new things every time I look around it. I loved these little drawings on the clutch, brake and accelerator pedals!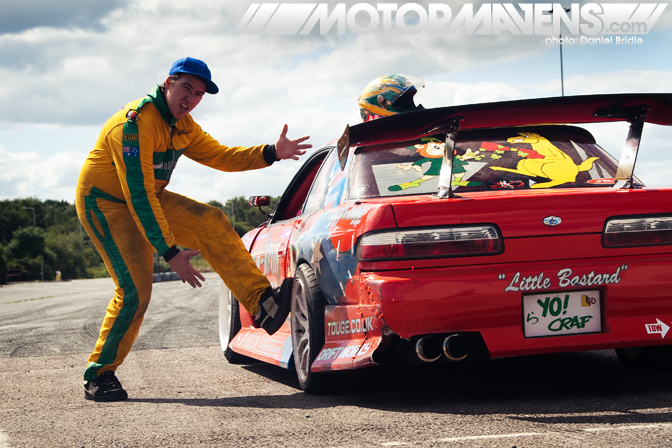 Luke Fink and Julian Barnes from Severnside asked me for some MotorMavens stickers later on during the day – one to put on the car and one to put on Luke's crash helmet. It was dope to see how down with MotorMavens the Severnside guys were. Thanks for repping our stickers!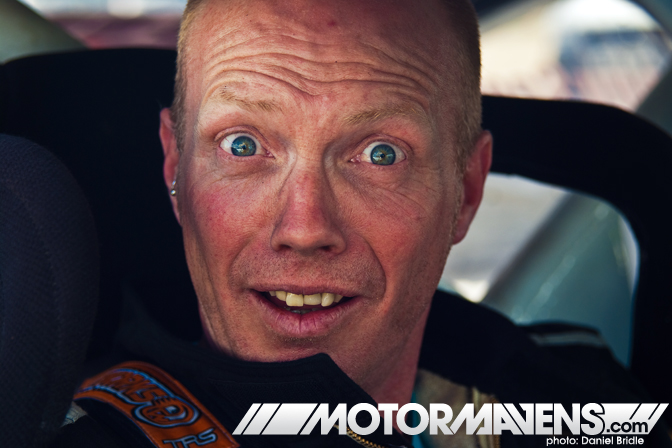 Scotty seemed pretty stoked to be driving on his home turf. I always think it helps drivers in some ways, especially with all the support from local crowds. Much like Japspeed driver Anthony Cahill at Round 1 in his hometown of Manchester.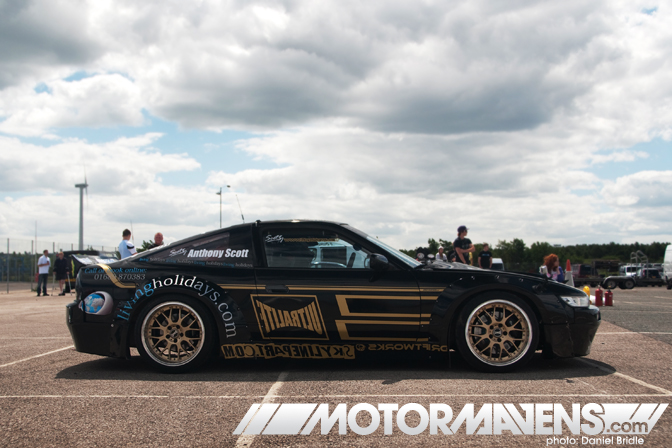 So midday finally came around and it was time to get down to driving!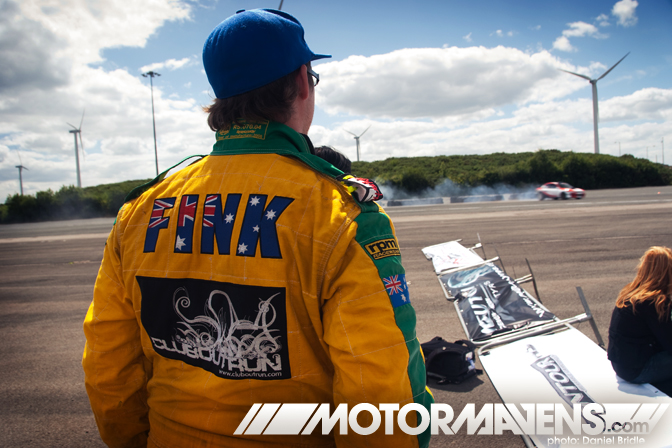 I headed down to the infield to scope out the action where Luke Fink and his lady friend Jacqueline joined me. Later on I asked Luke what he thought of the circuit. "Out of ten, I would give it a seven – it could have been faster but was hella fun. I would have liked some more concrete walls to make it feel more like a street circuit though. "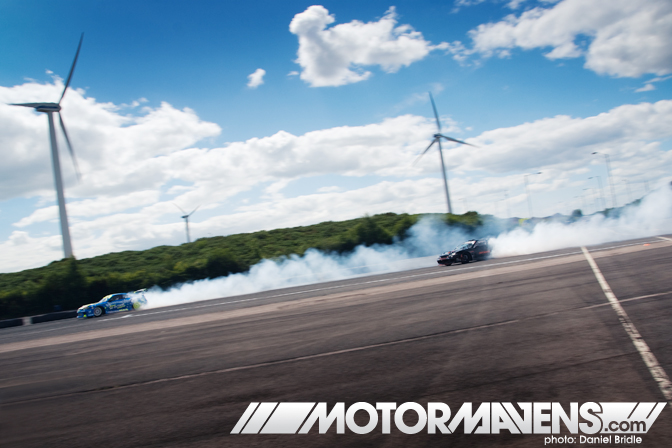 Seeing two amazing S15 Silvias laying down smoke on this track in these surroundings was awesome! The sky was constantly changing which made taking photos quite tricky, but it looked spectacular! I haven't seen skies like this in the UK for a very long time.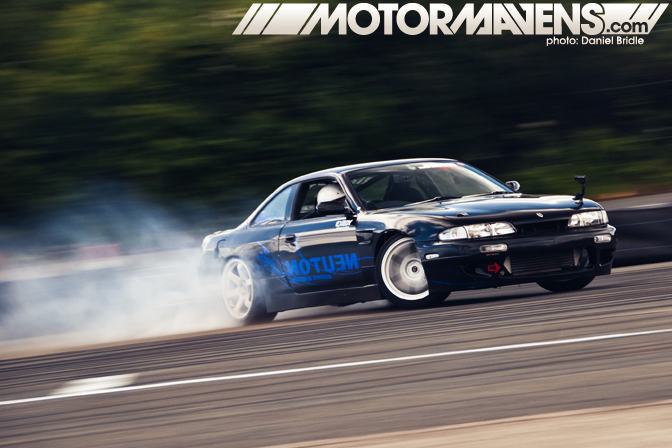 Mitto set about getting down to business with some wild entries. His driving – from the outside at least – seemed a little more focused than it was at Donington. But even with the focus, it was still good fun to watch him do crazy stuff with the S14. I still find it great that, like Japan, we're still using a lot of old 80s/90s cars in high end competitions and still developing new parts for them.
I really hope that some UK drivers get to go over to Atlanta for the RedBull World Drift Championship and see how our older chassis do against the more modern cars that run in Formula D.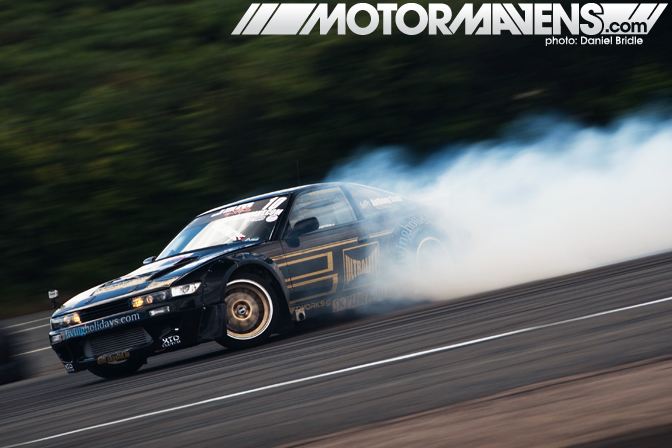 After the recent accident at Round 2, Scotty's Skylinepart/Rocket Bunny Sil80 was back in action – albeit with some broken rear lights and a few damaged panels. Scotty was putting in some great runs and he has really started to use the potential of the extra lock his car has!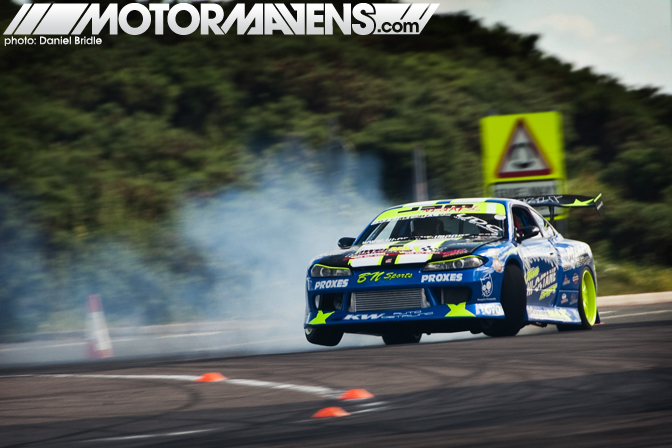 I can't get over how much presence Alan McCords Hi-Octane Imports S15 has. It looks massive! I'm sure it's mostly down to the BN Sports Blister kit, but there's something about that combined with its huge V8 that makes this S15 feel bigger than every other one I've seen. Everytime Alan entered the first corner, the car's wheels would lift up. I didn't notice many of the other cars doing this over the weekend, so I wonder why it does that…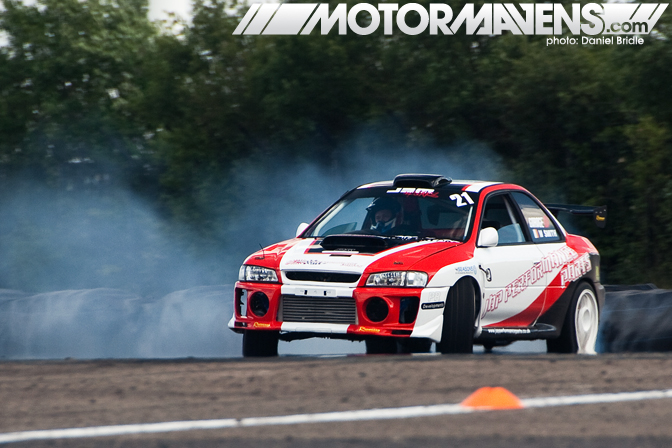 Walton Smith got to grips quickly with the Jap Performance Parts Subaru. The suspension setup seemed a little odd, as the car would dip and lean a lot up front, but I never got to find out what was going on underneath exactly. It's a pretty damn interesting car though, and I'm looking forward to learning more about it. If it wasn't for the RWD conversion and the RB25 screaming away, you'd almost think it would be more at home thundering through a forest rally stage.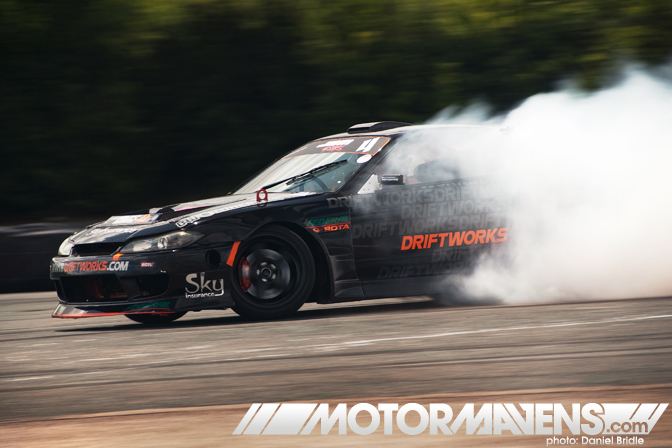 Phil Morrison seemed to be on a mission in the Driftworks S15, throwing the car around at stupid angles thanks to his Driftworks GeoMaster hub knuckles. It looks like Phil has really settled in well with the car now and he's trying more crazy stuff like Mitto and the Neuton Tyres team. This can only be a good thing in my opinion, since whenever Driftworks has stepped up its game, the rest of the UK scene has followed suit.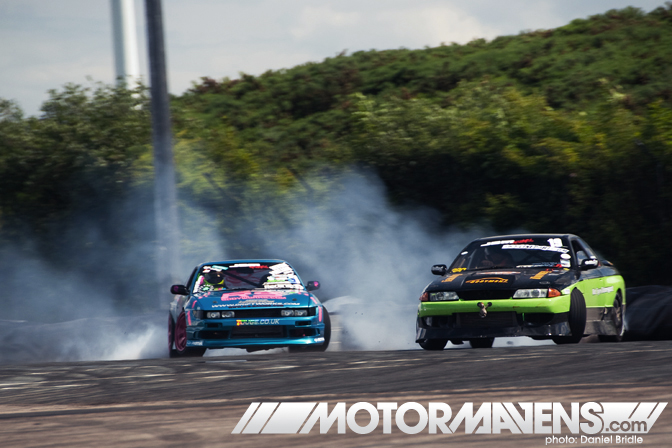 As always Dan Chapman was on it through practice in the Driftworks PS13. And so was George Tilling in the Mint Tyres R32! George really stepped his game up this weekend. He said to me a few days before the event that getting into the Top 16 at Round 2 really boosted his confidence, so he wanted to come to Sunderland and go even harder. In such an underpowered car, that was running whatever tyres he could get his hands on, George did an amazing job in the R32. I couldn't wait to see how he'd do during Sunday's qualifying.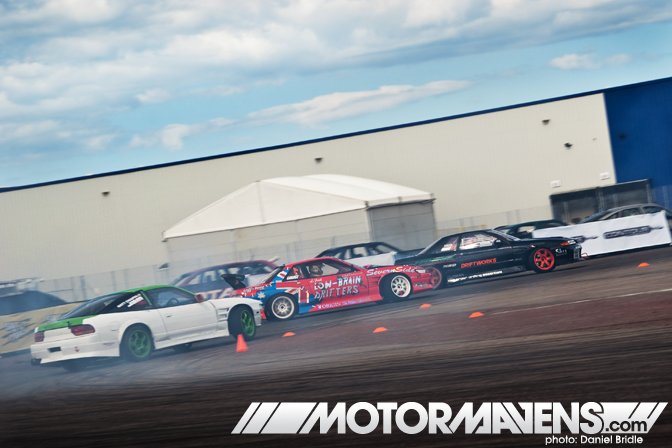 I LOVE DRIFT TRAINS! To me, watching a bunch of drift cars go out together is one of the most exciting motorsport related things I can think of! And, with any real trains missing from the last two rounds, my happiness was restored once again when I saw Matt Chiappa in his S13, Luke Fink in the Severnside PS13 and Bon Bon in the Driftworks R32 sliding their way around the track together.
After a super chilled day, practice finally came to an end and everyone packed up their gear and headed off to their hotels. No one really knew what to expect from Sunday. Would there be a big crowd? Would more drivers turn up? Either way I was looking forward to it!
Keep your eyes peeled for part 2 of JDM Allstars Round 3 soon!
::Daniel Bride
200SX
,
Alan McCord
,
Anthony Scott
,
Avon Bellamy
,
Bon Bon
,
Dan Chapman
,
Daniel Bridle
,
Driftworks
,
Garage-D
,
Gary Chapman
,
George Tilling
,
HI-Octane Imports
,
Jap Performance Parts
,
JDM Allstars
,
Josh Allen
,
JoshAllenFilms
,
Julian Barnes
,
Luke Fink
,
Matt Chiappa
,
Mitto
,
Neuton Tyres
,
Newcastle
,
Nissan
,
Nissan Factory
,
Phil Morrison
,
PS13
,
R32
,
R33
,
Rocket Bunny
,
S13
,
S14
,
S15
,
Sil80
,
Silvia
,
Skyline
,
Skylinepart
,
Sunderland
,
Walton Smith
,
Zenki
---