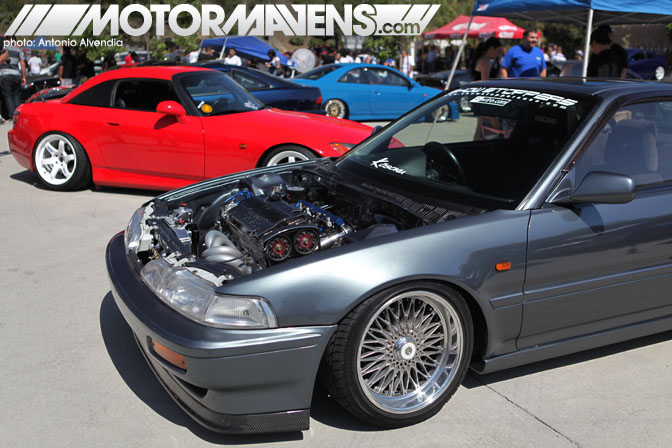 Yesterday, at NWP4Life's annual Eibach Springs Honda Meet, thousands of enthusiasts gathered to share the love of their favorite automaker. This event gets larger every year and always draws record crowds. The Eibach parking lot may only hold 600 or so cars, but the meet pretty much extends for a mile outside of it, where the cars are almost all exclusively Hondas! This is my fourth year attending this meet, and each year I am surprised by what I see. Many people choose the Eibach meet to "debut" something new on their car. I know people who have repainted their cars and changed up their entire car just for this meet. As with previous years, the cars and modifications range from clean & simple to outrageous and just downright unnecessary. By following the best cars from this meet, it is easy to spot what will be popular and "trendy" for the next couple of years.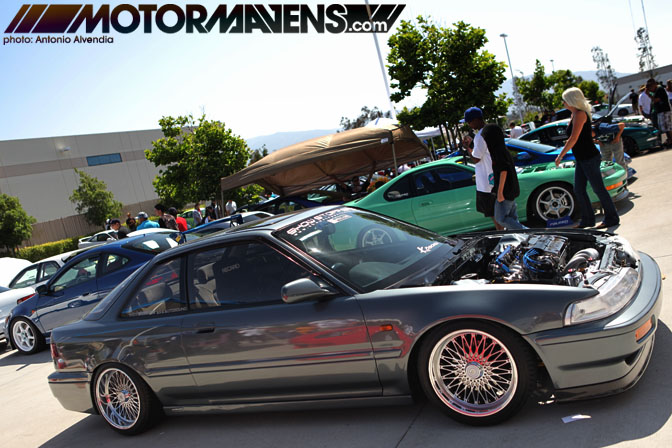 This DA Integra belongs to Ejay Adriano from Kosoku. It sits low on SSR mesh wheels and has an uncommon H23 engine swap.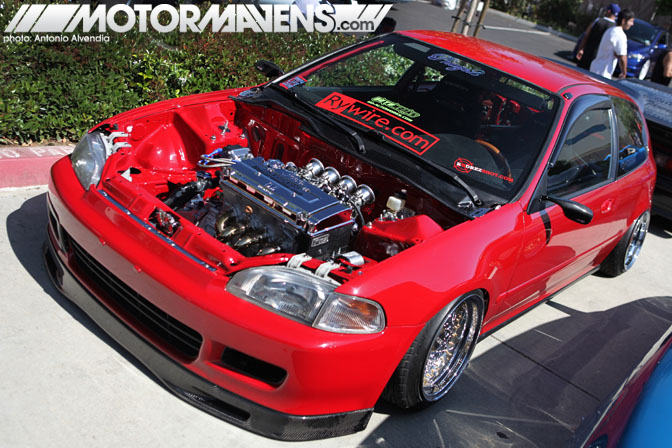 One of the major trend setters for Hondas is none other than Phaze2 Arnel's EG Civic. I saw a few other cars in the show that you could say were "heavily inspired" by this car. Thanks to his air suspension setup, Arnel was able to sport his new carbon fiber lip.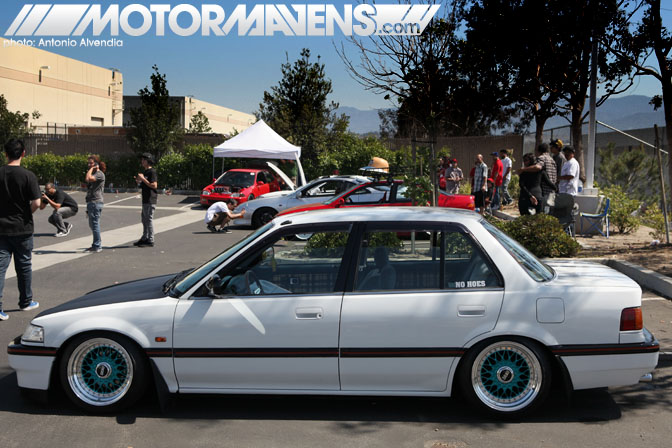 One of the most popular themes was being super dropped on BBS RS wheels. This EF Civic sedan looks really mint for its age, and the BBS RS match it perfectly. We were looking for the owner of this car, but couldn't find him. If you know the guy who owns this car, please ask him to contact us! We wanna shoot more photos of it!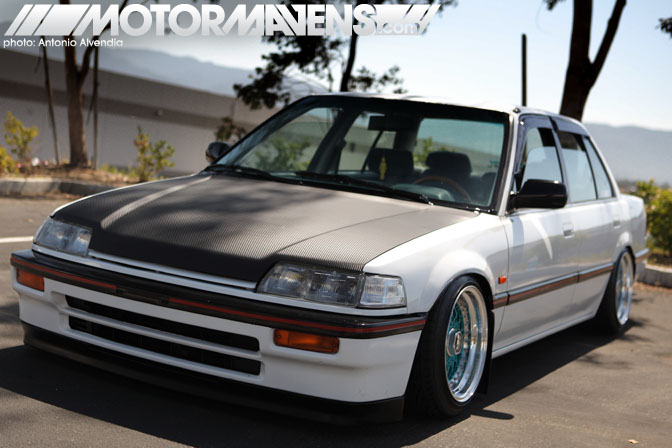 Super clean in execution, from the dry carbon fiber hood to the bumpers, moldings, and window visors to the perfect drop and tire stretch on the RS mesh rims.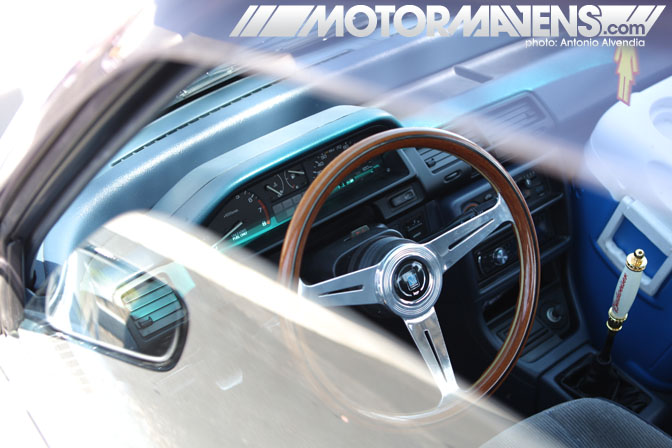 I love the Nardi 3-spoke woodgrain steering wheel inside this EF sedan. This actually reminds me that I need to get one for myself. Also notice the Budweiser tap as the shift knob, haha!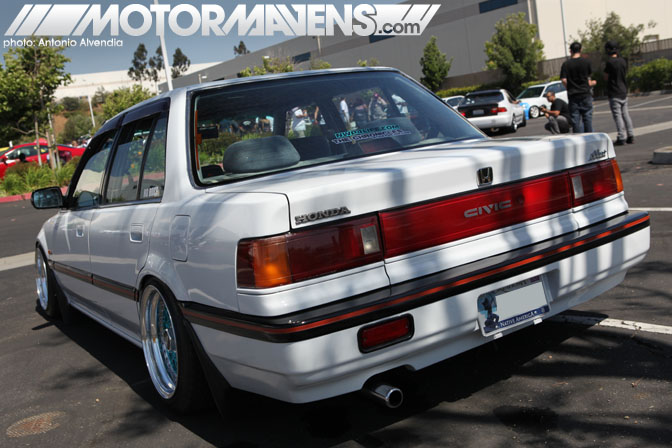 Here's the rear view. Too bad it was parked underneath a tree, since the tree's shadows made it really difficult to shoot a decent photo of this car. The license plate indicates that this car came from out of state, but I don't recognize the plate. Do you?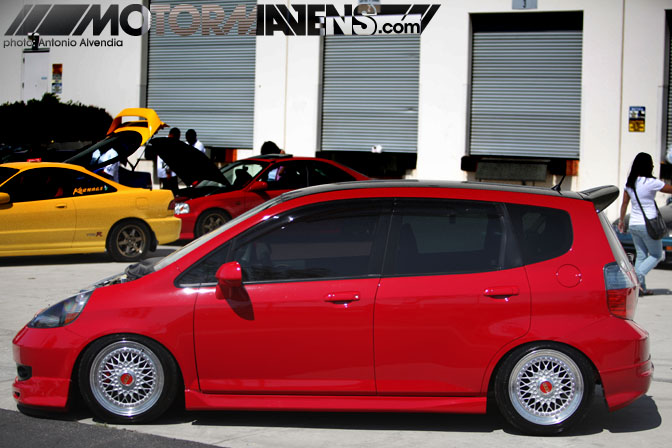 Personally, I am not a fan of these older style mesh wheels on newer, rounder cars. To me, it looks out of place… but what do you think?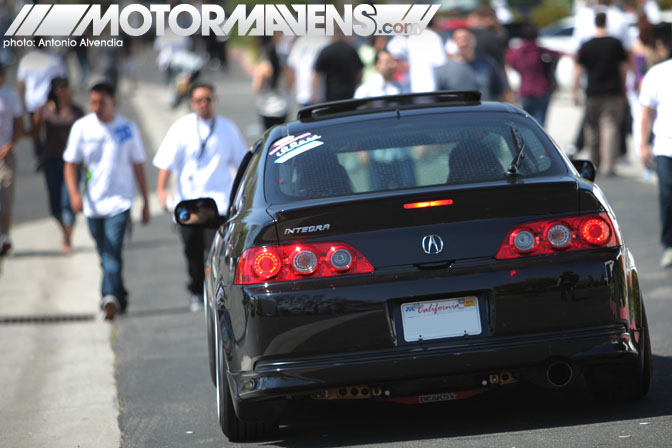 This RSX had great fitment with its Enkei RPF1 wheels, unlike a few cars out there that went way overboard and could not pull off a good look. I wish this owner would get the "H" badge for the trunk to match his Integra one.  It's probably next on his list of things to buy for the car.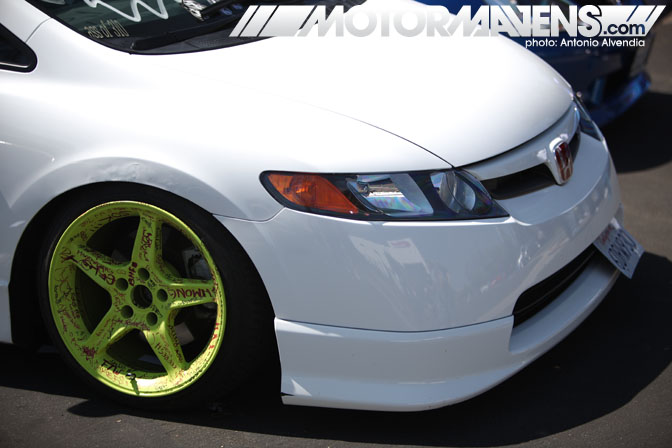 Something that has been really popular of late is customization and personalization of parts. Whether it be stickered up panels or tagged wheels like these highlighter green ones, it is a way to differentiate yourself from others. Whether it looks good or not on the other hand, is in the eye of the beholder.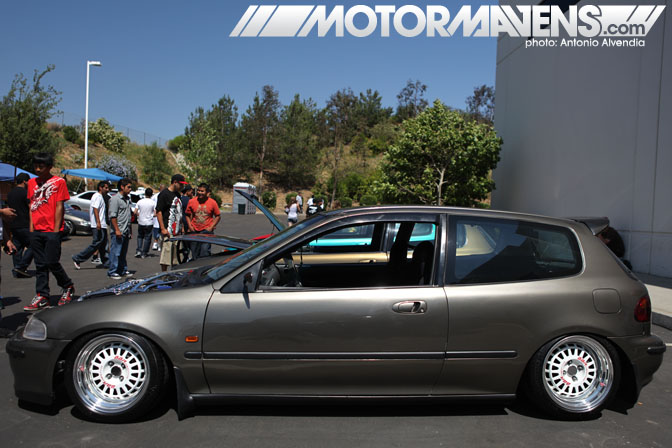 Speaking of customization, these BBR Competition wheels on this EG Civic from Stockton CA have been re-barreled to a greater diameter and width. Nowadays, re-barreling is the only option to get timeless classics like these in a good spec. Props to Chris, the owner of this EG, for driving his Civic all the way out from Stockton! It must have taken at least five or six hours to get to the Eibach meet!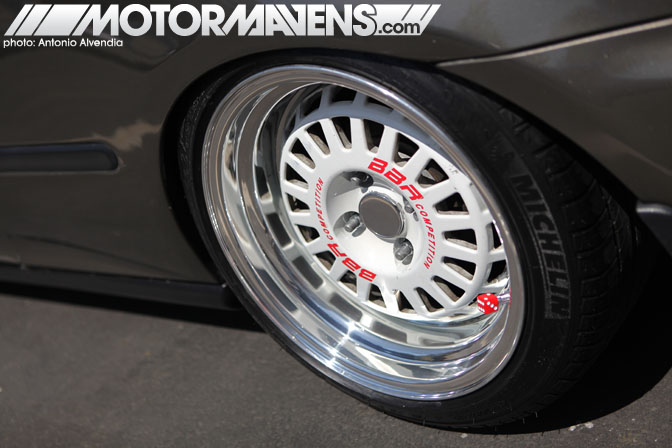 These massive stepped lips dwarf the tiny wheel faces! Who would have thought??? Stockton really has stepped up its  wheel game!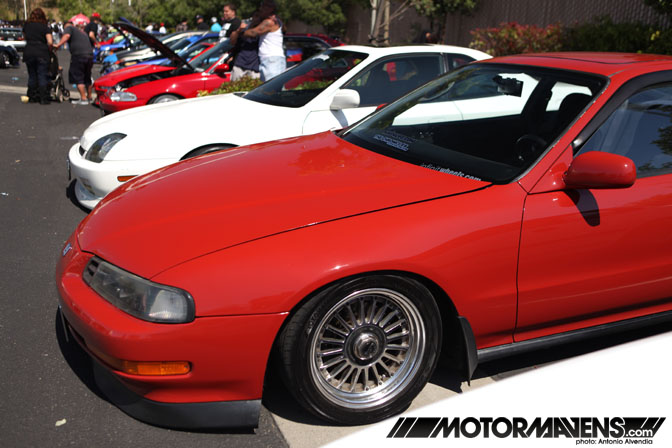 While a lot of the cars there were trendy, there were many clean and simple Hondas there too. These cars aren't outlandish and appeal to most. In my opinion, this look will never go out of style. Perfect examples are this BB4 Prelude on Work Ewing fins…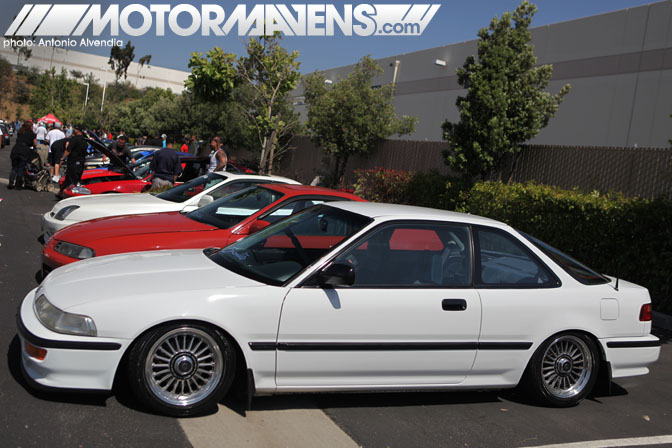 …and this DA Integra, which was also sitting clean on SSR fins!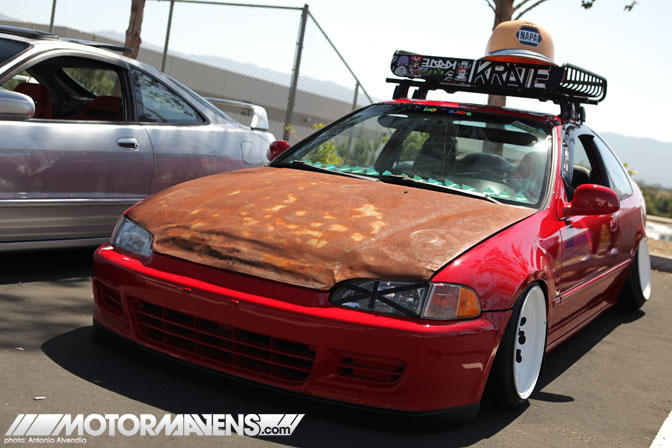 One of the most talked about cars at the meet was this red EG Civic coupe. In my personal opinion, this is the epitome of all the unfashionable automotive trends of late and the definition of excess and overboard.
All I could do when looking at this car was just gawk in amazement. This car has it all – from the rusted, dented hood and steel wheels, to the roof rack and ridiculous camber. If the front wheels were more aggressive and cambered to match the rear, I think it would flow much, much better.
However, one thing that can't be denied is just how low this thing is! Even with all that camber in the back (tire stickers still intact), the quarter panel still touches the rim. Constant metal to metal scraping can't be fun to drive on…
I had recently seen this thing in photos from Spocom in Northern California, so I was surprised that it had driven all the way down here… until I saw it loaded up onto a trailer after the meet.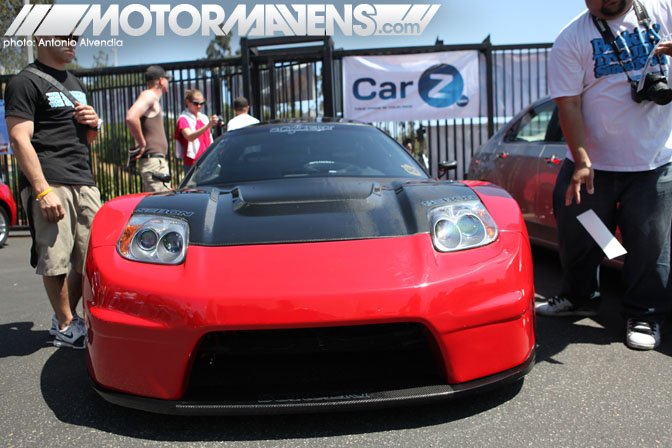 Tony Khamly from Phaze2's Acura NSX always has a big crowd around it. It's a good thing Antonio came to the meet later in the day, or he wouldn't have been able to get a good shot of it! He recently got sponsored by Seibon, so the front lip matches well with the hood.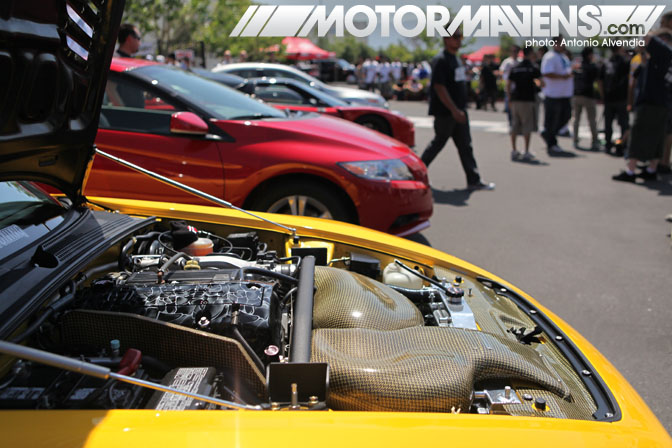 This S2000 belongs to Rodrez, the editor of Honda Tuning Magazine. I have to publicly thank him for adding 6 spots for me just a few days before the event. His engine bay sports pretty much the entire range of products from Password JDM. Anyone else notice that Honda CR-Z in the background? Pretty cool that they got one into the world's largest Honda gathering.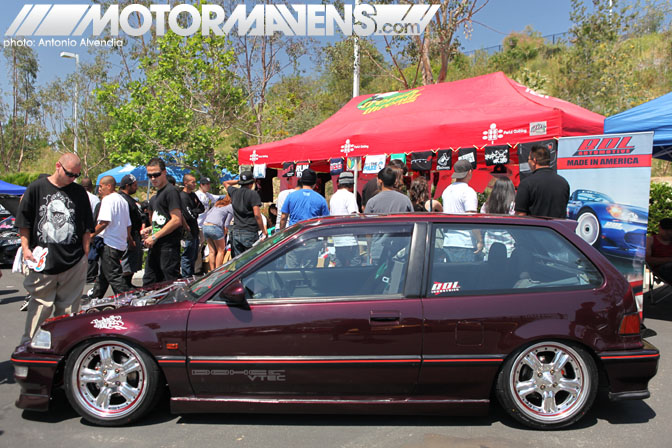 I love the spiked centercaps on this EF's SSR 265 wheels.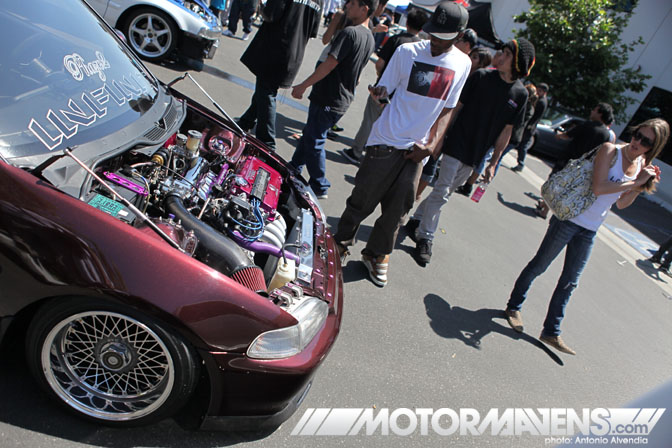 This Dr. Pepper colored EG Civic belongs to Abraham Ceja, repping Infinit Wheels. It sports a set of very aggressive SSR EXC mesh wheels. I love seeing old school aggressive wheels on Hondas!!! People nowadays are fitting these wheels on their OEM 4×100 Honda hubs by doing the 4×114.3 conversion, redrilling the wheels, or by running adapters. Finally, we can get all those old school 4×114.3 wheels out of Antonio's hands!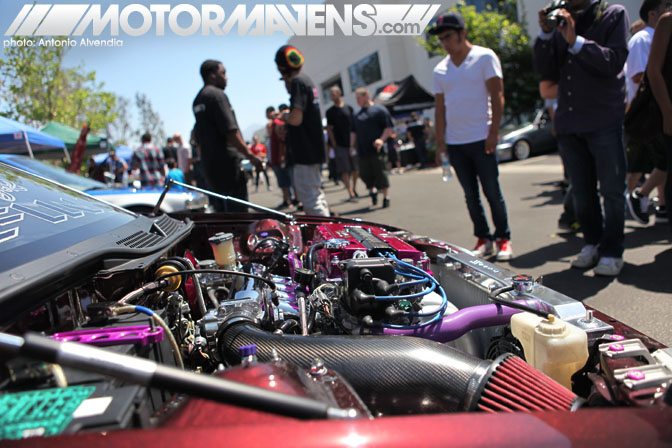 Here's a closeup of Abraham's colorful engine bay.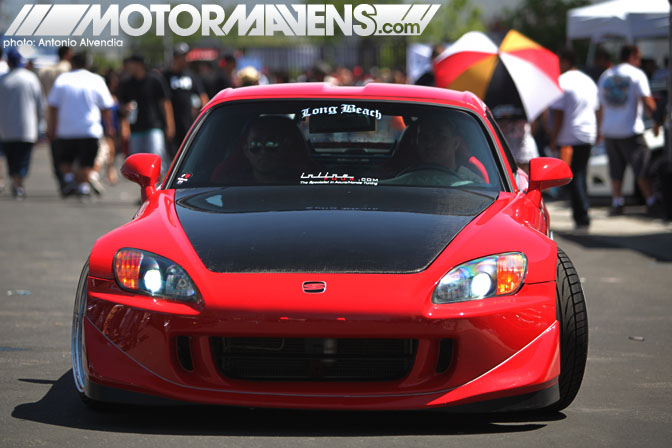 I didn't get a good look at this S2000, but it is on some aggressive CCW Classic wheels. It reminds me of my buddy TJ's old S2000, which incidentally was also at this meet.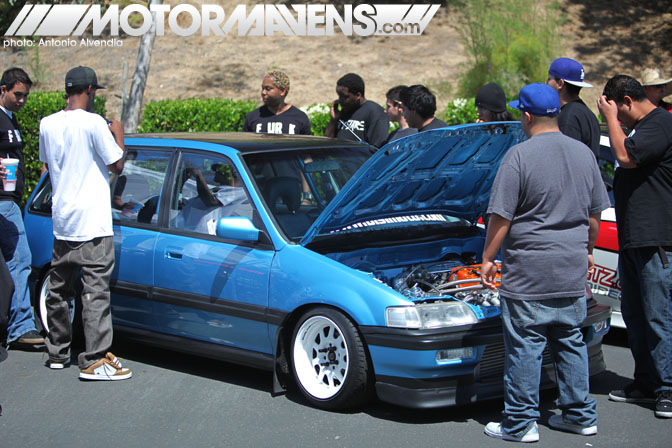 Bisimoto had a booth there, so you can be sure Bisi Ezerioha also brought along his 700 horsepower single cam Civic wagon. Hey, how about running a MotorMavens sticker on the car, Bisi!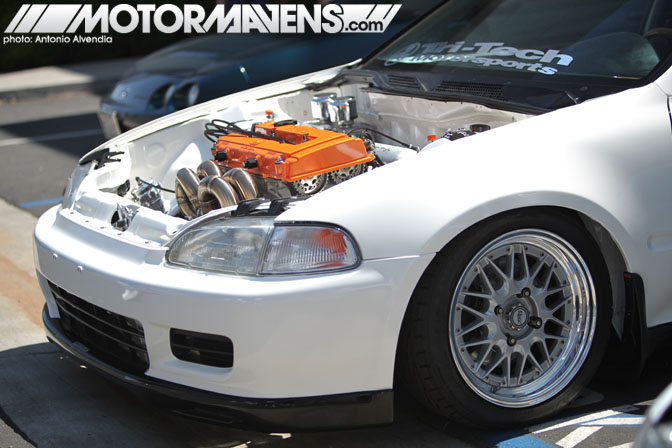 Cleanly shaved and tucked engine bays meant you could show with your hood off. Check out the super ridiculous clean engine bay and stainless steel manifold on this EG Civic, not to mention the SSR/Modex Dori Dori wheels!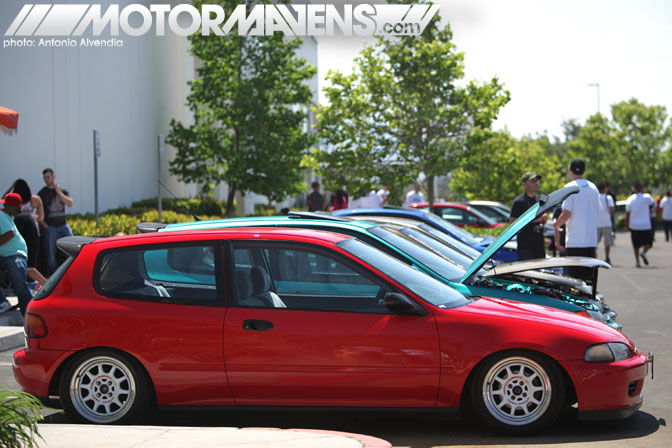 With everyone going bigger and wider, I was pleasantly surprised to still see a few cars looking classic on 14s, like this red EG Civic on Sprint Hart CP wheels.
This gorgeous original right hand drive Honda CRX belongs to Anthony from Infinit Wheels. Can you believe he is tucking 15×10 +20 Panasport 3pc wheels?
I have always wanted Leon Hardiritt Orden wheels, so I'm excited that I finally got a set on my car! I wanted to take this opportunity to mention that my car is for sale, so please click on these two links to see  more photos of my S2000 from a previous MotorMavens story and click this link to see more photos of my S2K (and other deep offset Hondas) from Nisei Showoff.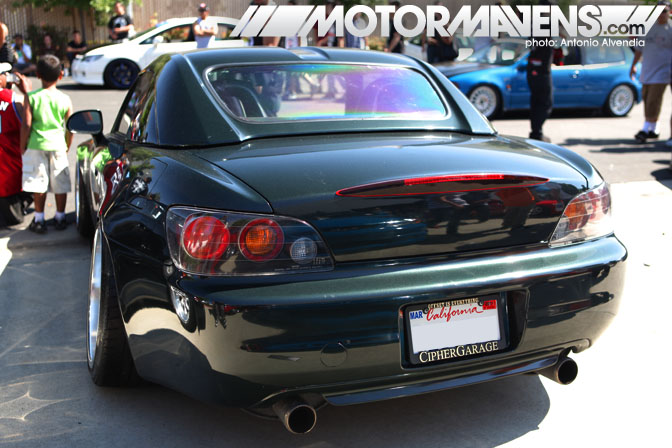 Since my car was finally rocking the Leon Hardiritt Orden wheels I've always wanted, I also had to sport the OG "Offset is Everything" license plate frames that Cipher Garage came out with back in 2006.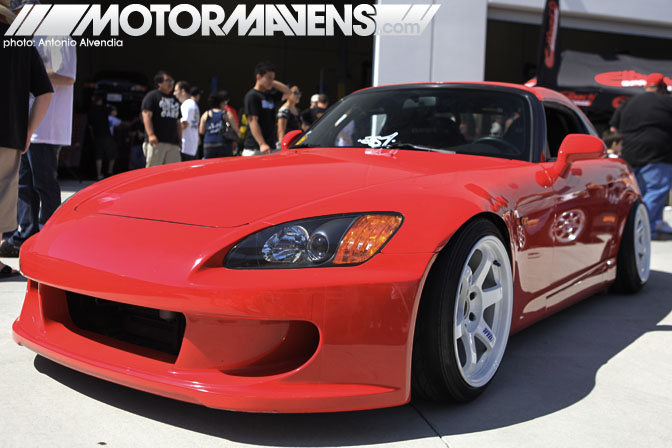 My buddy Daniel Leung was also repping the AS1 (as one) crew with his red S2000. This is one of the most aggressive wheel setups ever run on a stock bodied s2000, aside from my own. His concave-all-around Volk Racing TE37s are 17×9.5 +12 rear and 17×9 +22 front, and his fresh bright red paint job is not the factory new formula red color.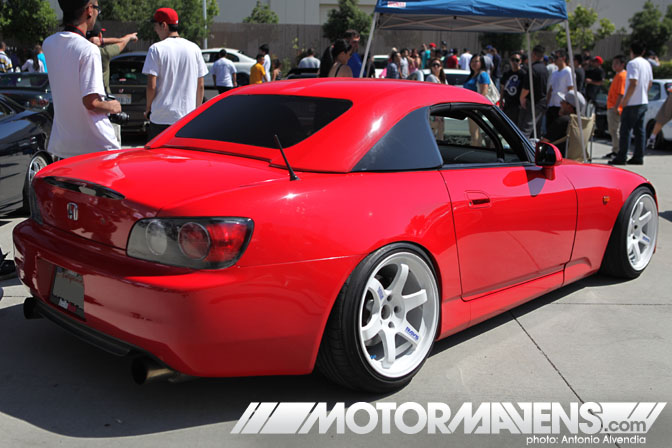 Here's what Daniel's car looks like from the rear. White concave TEs on a red car look pretty appealing, no matter what kind of car it is! Even better that they're on a super clean S2K!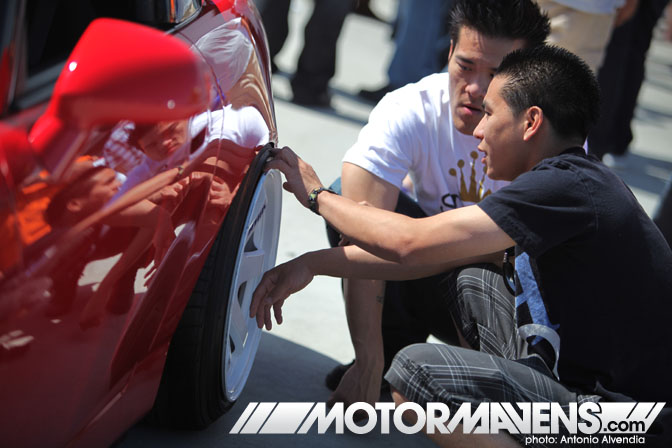 With "down to the millimeter" fitment, people always feel the need to come up and "finger" your fenders. I have had paint chipped off of my car when people have done this… I'm just sayin.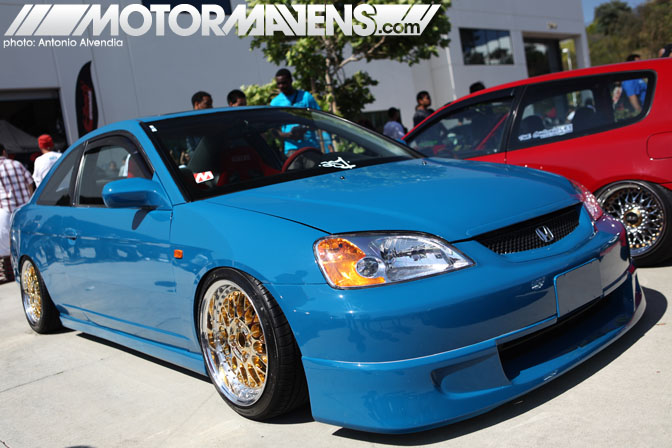 24Karl's Laguna Seca blue EM2 Civic was rocking freshly refinished Volk GTU wheels. The centers are 24k gold plated with mirror polished lips. It is really rare to see these cars so tastefully modified and set apart from the rest.
This year's meet is already being called "the best Eibach ever," just as it is every year. The turnout was simply astonishing, with so many people willing to drive out to the middle of nowhere and brave the unforgiving Corona heat. People from all over the United States came out to NWP4Life's Honda meet at Eibach to see what all the fuss was about, and I'm quite sure that most (if not all) left the event amazed and inspired. I know I did.
:: Alex Zhao
AS1
,
BB4
,
BBR Competition
,
CCW
,
Civic
,
CP
,
Dori Dori
,
EF
,
EG6
,
Eibach
,
EM2
,
Enkei
,
H23
,
Honda
,
Honda Tuning
,
Infinit Wheels
,
Integra
,
Kosoku
,
Leon Hardiritt
,
NWP4Life
,
Orden
,
Phaze2
,
Prelude
,
RPF1
,
RSX
,
S2000
,
Show Stoppers
,
Sprint Hart
,
SSR
,
SSR 265
,
TE37
,
Volk Racing
---