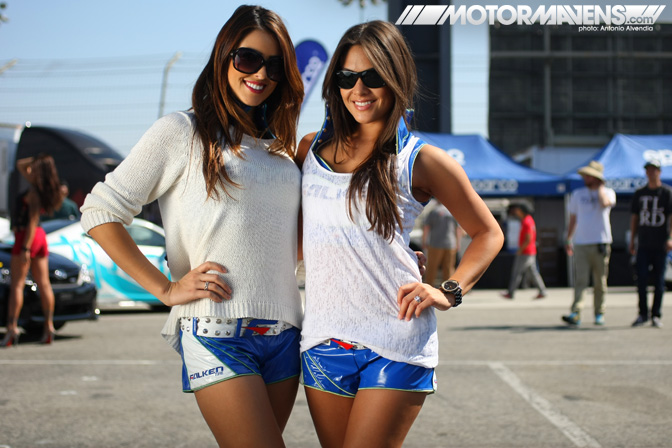 Even if they didn't attend the jam packed Formula Drift Finale at Irwindale Speedway, all drifting fans with an internet connection already know that Daigo Saito has been smashing the competition repeatedly all year, ascending the ranks of the Formula Drift Championship and ending his first year in Formula D in First Place as the Formula Drift Series Champion.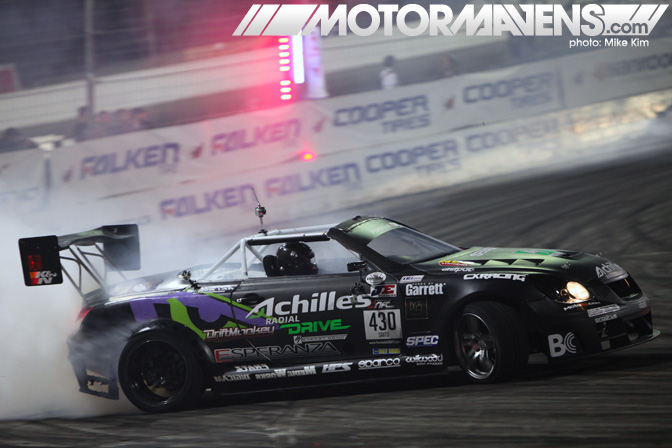 Here's a collection of some of our favorite images captured from the event!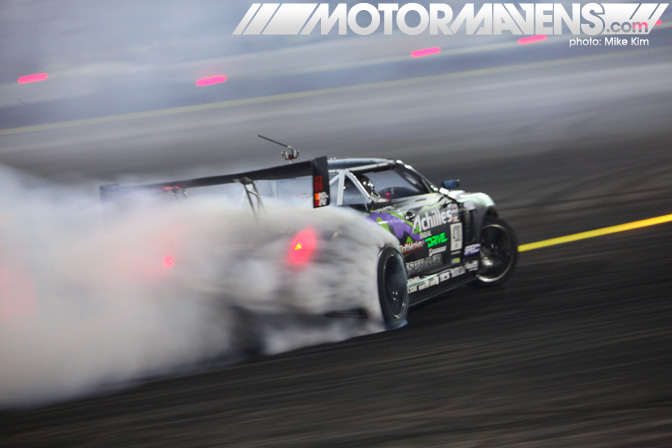 Daigo is always laying down crazy smoke trails from his fenders!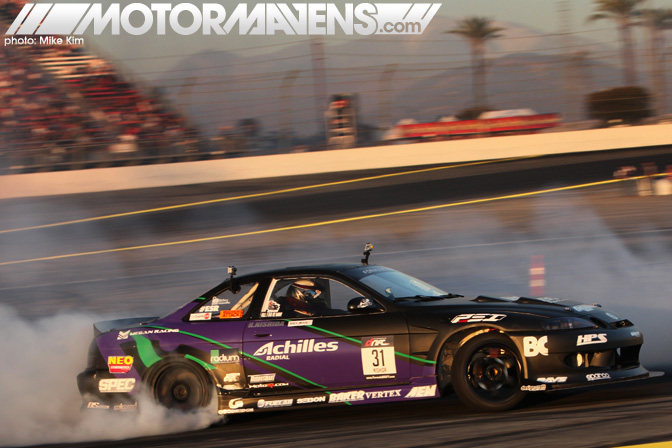 Driving his matte black Toyota Soarer/Lexus SC300, Robbie Nishida was killing it at Irwindale too! He was laying down strong runs all day long, but eventually got knocked out in The Great 8 by Ryan Tuerck.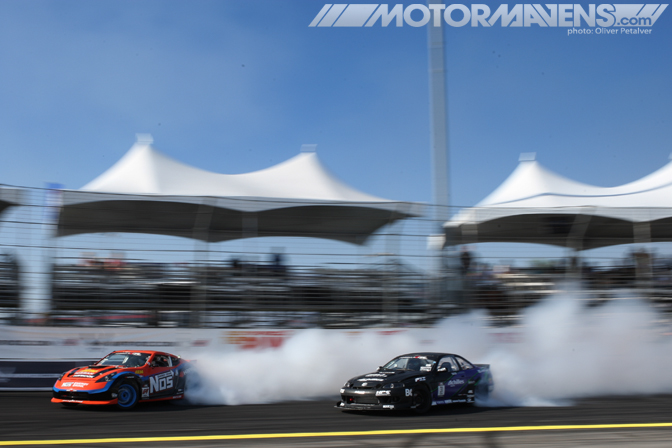 Here's a wide panned shot of Robbie chasing down Chris Forsberg in the Nissan 370Z.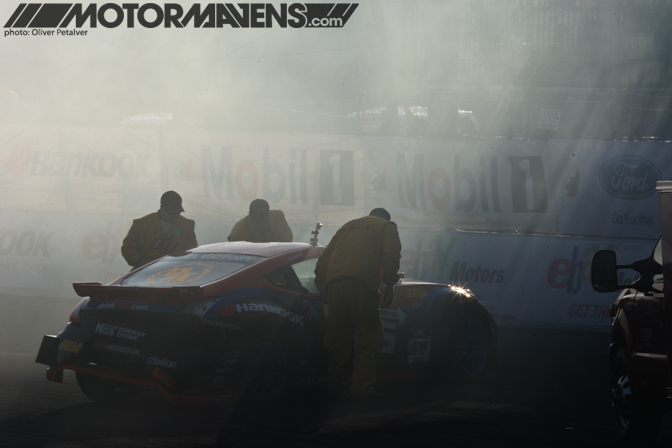 As the 2009 Formula D series champion, Forsberg was driving consistently all day, but unfortunately crashed in the Top 16 tandem competition against Conrad Grunewald.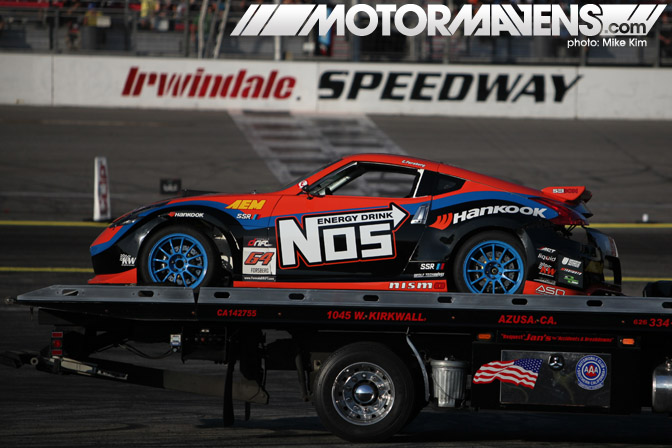 Even in its crashed state, sitting atop a flatbed tow truck, Forsberg's 370Z still looks more presentable than some of the other cars on the track. Chris has always done a good job of putting together good looking cars. It's not easy as a privateer, but it's essential if you want sponsors to take you seriously. Newer drifters seeking sponsorship should take notes from successful privateers like Chris Forsberg.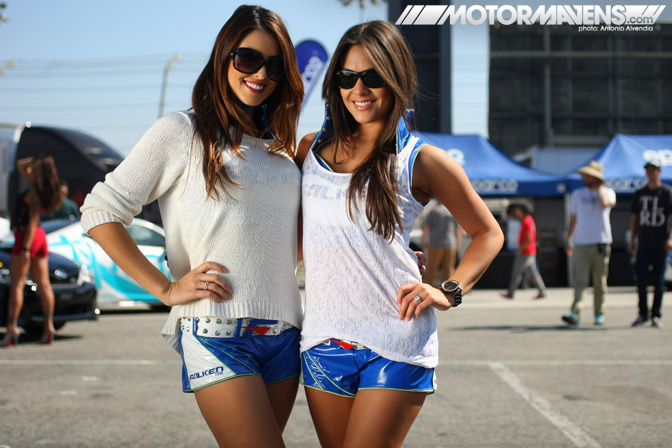 Even though they were just walking around the pit area before the event even started, Falken Tire umbrella girls Olivia Korte and Randyl Dawn always look gorgeous… even when their official umbrella girl outfits are all covered up!
They stopped by the MotorMavens booth to say hello to us, and when they left, we kept talking about how these ladies are fun, but they also keep it classy! Aspiring models, take notes! Squatting in booty shorts in front of a lowered car does NOT make you famous. Okay, well… it might. But not in a good way.
Oh, if you want a bigger photo of Olivia and Randyl, scroll all the way down to the bottom of this story.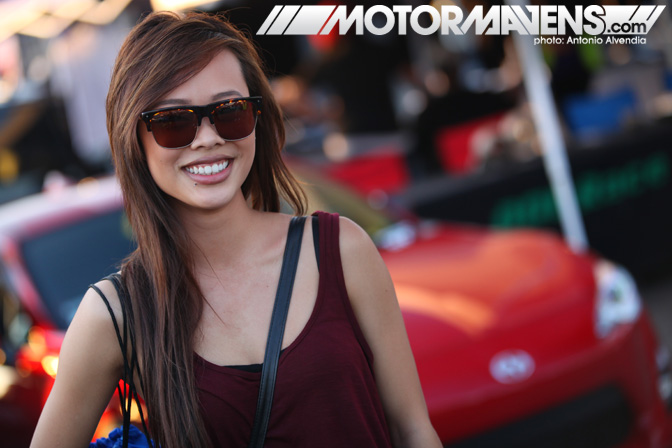 This is Vanna. She also came up to the MotorMavens booth with her girlfriends, but they really stood out cause they were asking us for 86Fest stickers! (It's usually guys who hit us up for stickers and such.) We wanted to hook them up, but Antonio accidentally left our big box of stickers in his other car – the one he didn't drive to Formula D. #FAIL.
Vanna is seen here rocking some cool vintage looking wayfarer-style glasses from our friends at 9Five Eyewear from San Diego. If you like the glasses she's wearing, they're the 9Five J's in Tortoise and you can browse their whole collection online. Only click the links if you like stylish, fashion forward sunglasses that won't break your piggybank.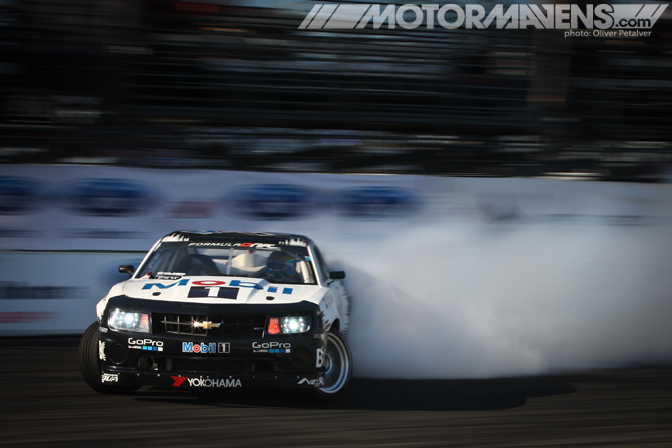 Mobil 1 Camaro driver Tyler McQuarrie knows what's up!!! He knows all the rules for making drift cars look good in photos: headlights ON, high speed, deep angle, and big smoke!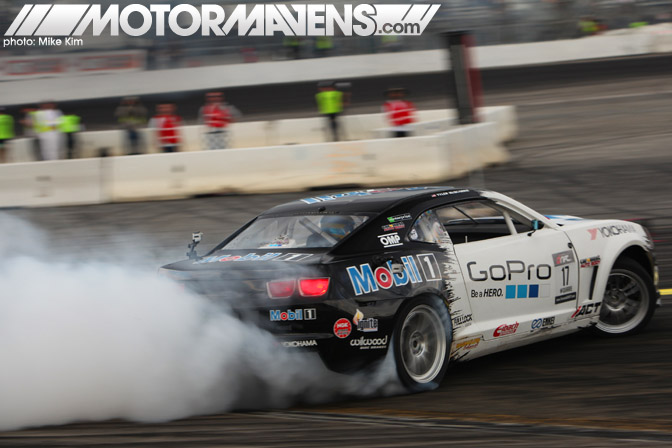 Tyler drove very well at Irwindale, beating Joon Maeng in the Top 32, and Tony Brakohiapa in the Top 16 before finally retiring in the Top 8 tandem bouts.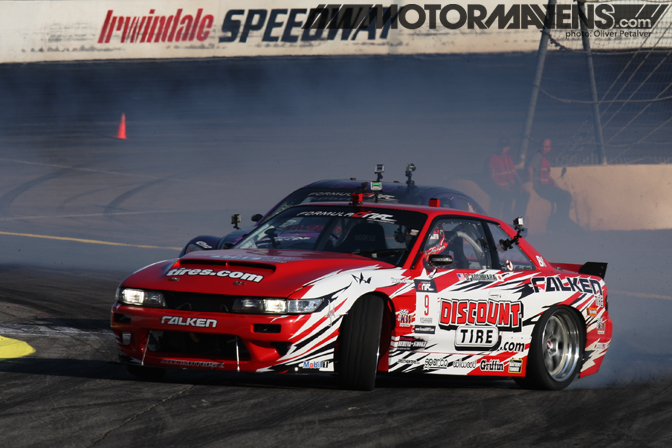 Whoa! Check out Kyle Mohan from Mazdatrix hot on Dai Yoshihara's tail as they both transition right in front of the Irwindale bleachers!!!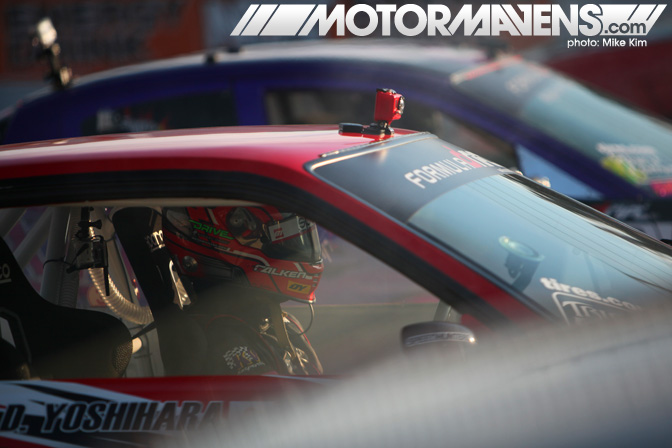 As both drivers came back into the pits after their run, all sorts of smoke was wafting out of the windows of both cars! Sitting in the driver's seat, it must be pretty damn tough to see what's ahead of you, even though you're technically looking through the side window…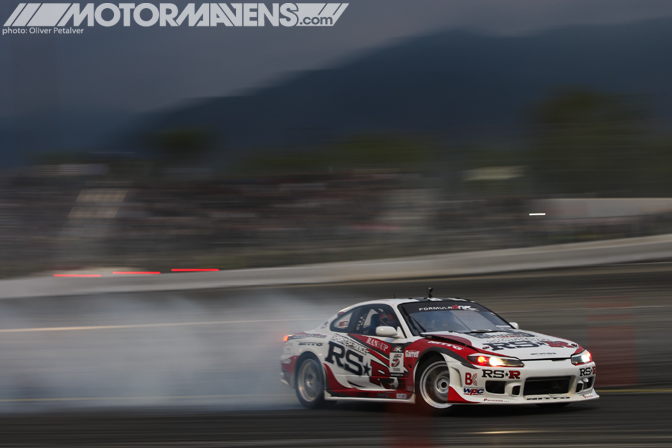 Toshiki Yoshioka always looks bad ass in the RS-R S15 Silvia!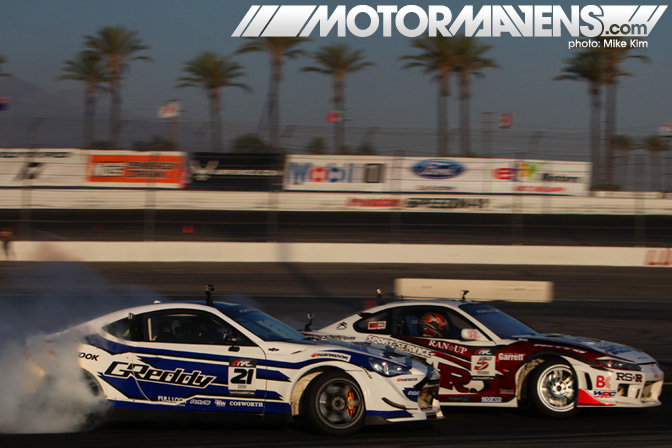 Yoshioka fought hard with Ken Gushi in the GReddy Scion FR-S in the Top 32, but eventually lost to Gushi, who advanced on to the Top 16. It was great to have both of these guys out at 86FEST the weekend before the Formula D Finale. Thanks for coming out, fellas!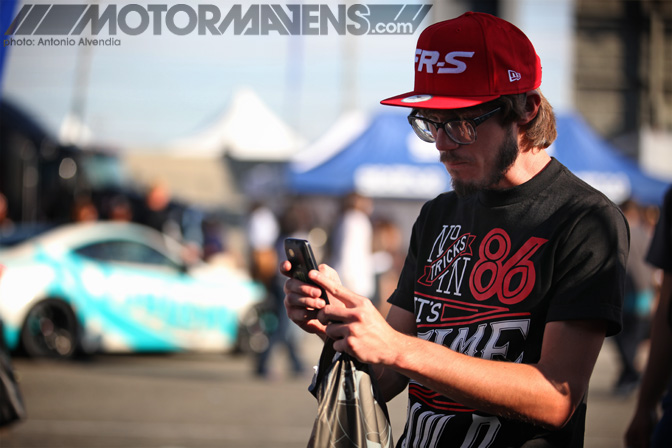 Speaking of 86Fest, it was such an awesome surprise seeing so many people wearing our new No Tricks in 86 shirt at Formula D!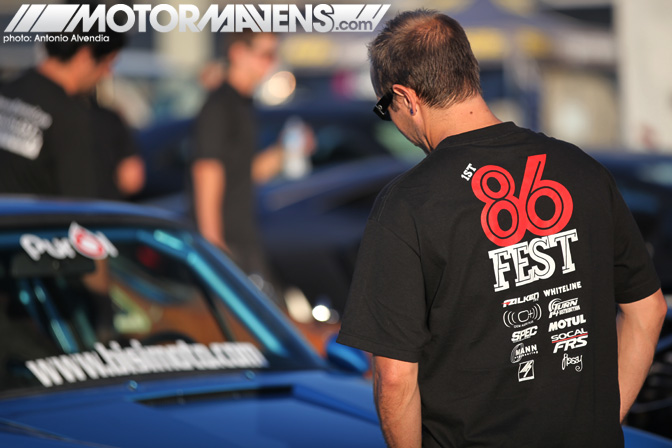 There were so many people randomly rocking both types of 86Fest shirts in the pit area…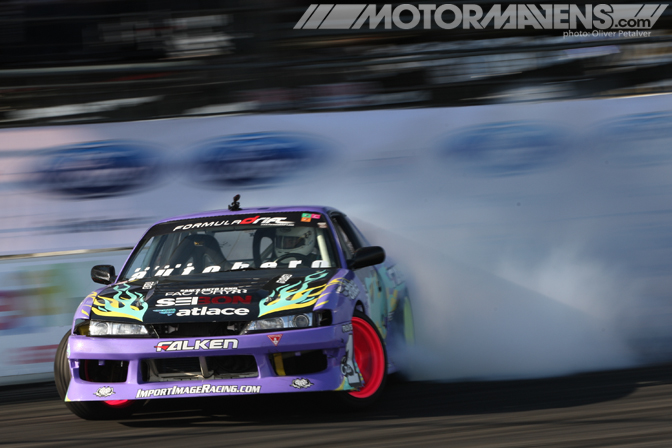 Walker Wilkerson drove well as usual, making it into the Top 32…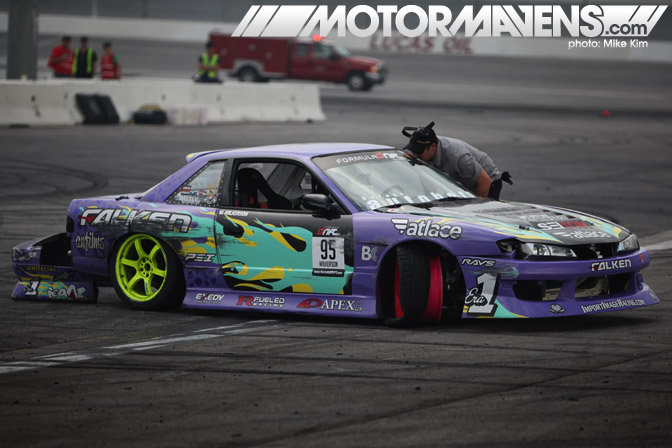 He did have an issue with a front tire dismounting from the bead though… the track official is probably telling him, "See, I don't understand why you guys try to stretch those damn tires!"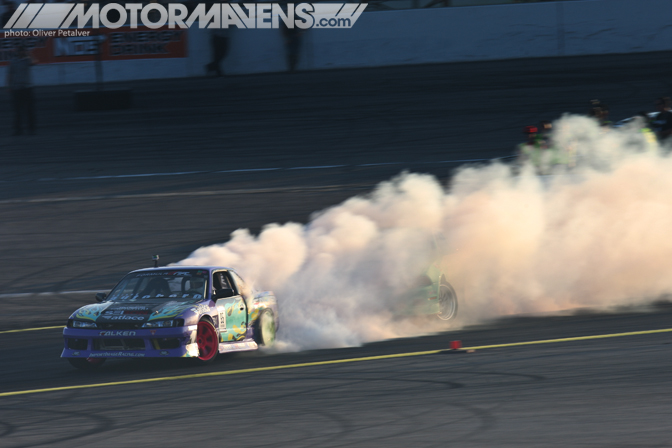 In tandem competition, Walker was pushing out big smoke from his V8 monster Silvia, but he eventually lost to Justin Pawlak (look carefully and you can see his Falken Mustang in the smoke), who advanced to the Top 16 and eventually… to Second Place overall!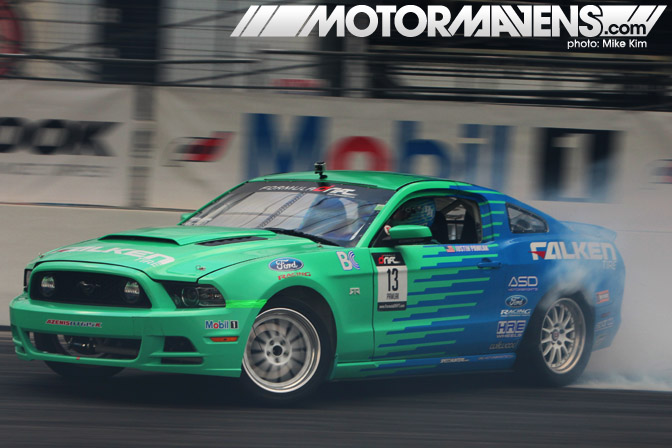 Here's Falken's top podium finisher Justin Pawlak! I heard that Justin also accumulated more points in the tires.com Triple Crown Championship than Daigo Saito and JR Gittin, so he should be getting a $10,000 check from Discount Tire. I'm sure that will be a nice little bonus that he could use towards his new red FD3S RX7 or his shop!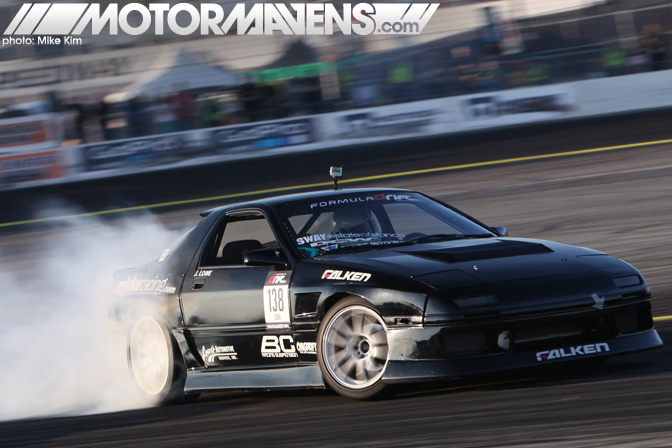 As most people already know, this is Jeremy Lowe from Florida. This clean black FC3S RX7 is definitely one of the better looking privateer cars in the series. He made it to the Top 32, but was lost to Matt Field, who had one hell of an event at Irwindale!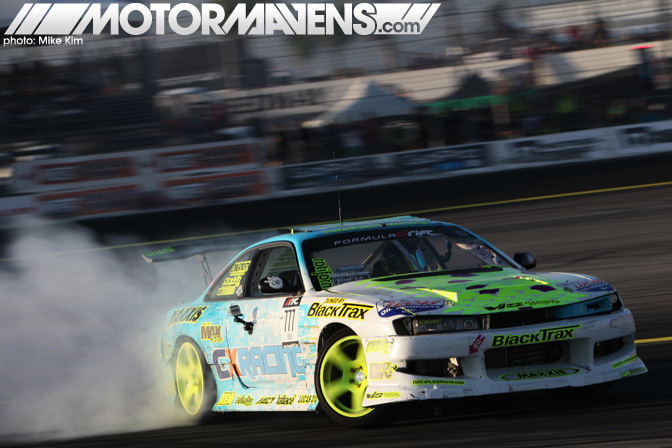 Dude. Bay Area-based driver Matt Field was straight up KILLING IT. All day long. Let me emphasize that a bit more – Matt Field was f*cking KILLING IT!!!
I've never seen Matt drive like that, but maybe I haven't been paying enough attention! He beat J.Lowe in the Top 32, rose up to the Top 16, where he beat Ken Gushi… then advanced all the way to The Great 8, where he had some incredibly EPIC tandem runs against Daigo Saito!
From where I was standing trackside, A LOT of people were going CRAZY cheering for Matt as he put everything he had on the line going against Daigo… in fact, just about everyone standing near me in the pre-grid area thought Matt won the tandem bout! However, the judges and audience called for a One More Time, and Daigo eventually beat Matt. In my opinion, this was the closest and most exciting tandem battle of the entire event!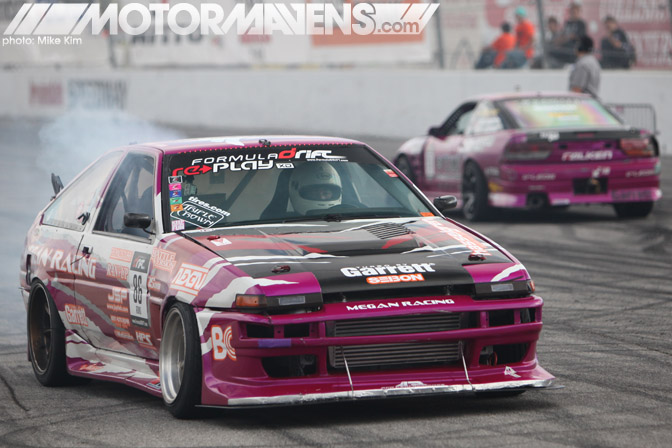 It was great to see Taka Aono driving his turbocharged 2AZ AE86 at Irwindale. He was having mechanical issues with his 2AZ engine just before the Final Fight at Irwindale. He blew the motor right before the event!!!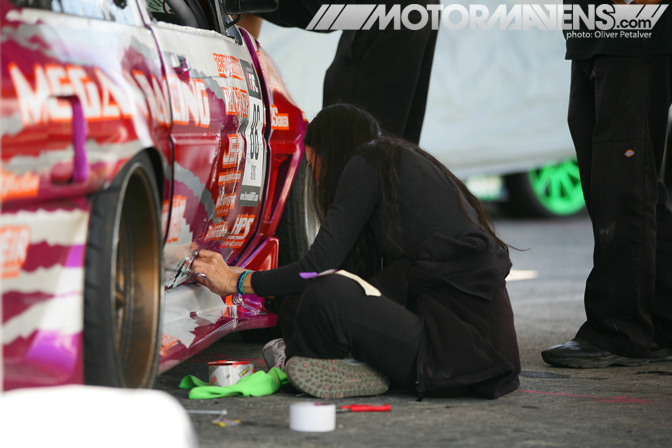 Taka had to swap the motor real quick before the Irwindale Finale, which is NOT something a privateer driver wants to be dealing with just days before they're supposed to drive a championship round in the series. Luckily for Taka, he has strong support from people in his corner, like Yoshie Shuyama, shown above.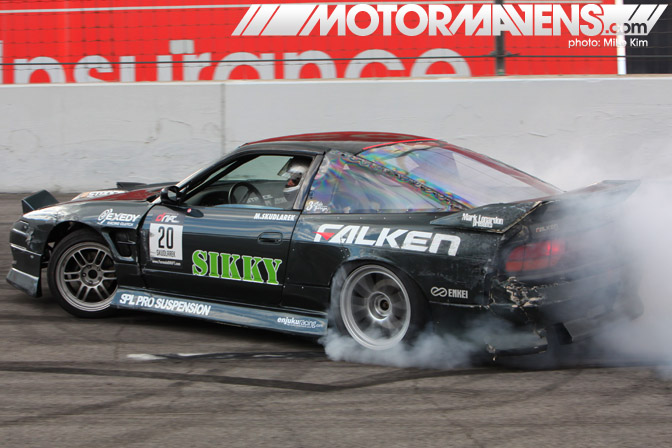 When I saw Mike Skudlarek's V8 powered RPS13 with Enkei wheels, I kept wondering when Enkei is going to release their new 5×100 wheels for my FR-S! I hope they have LOTS of 5×100 options to announce at SEMA.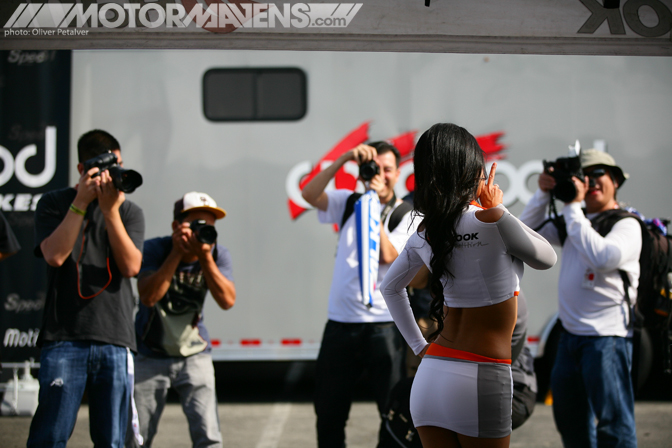 Back in the pit area, can you tell which Hankook umbrella girl this is, looking from the rear?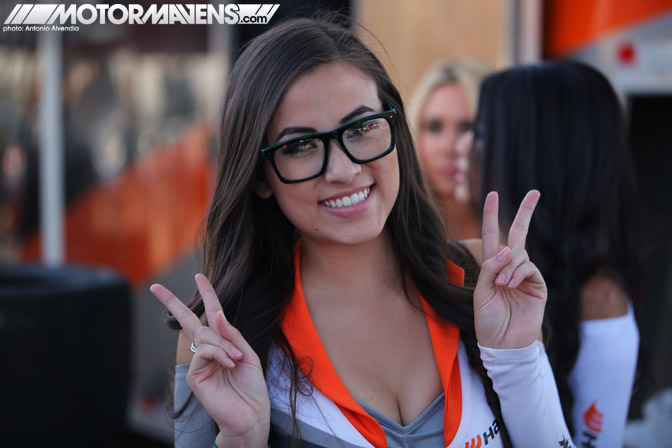 Erica Nagashima is one of our favorite Hankook umbrella girls; not only because she's a talented singer, but also because she has a great personality! She was also rockin some 9Fives! I need to get some of these glasses myself!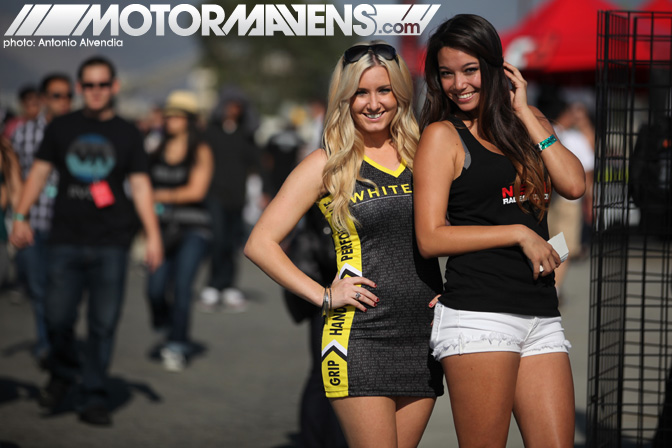 Oh hey! It's Marissa Hiroko (right), who was modeling for Fontana Nissan and Ashley who was modeling for Whiteline.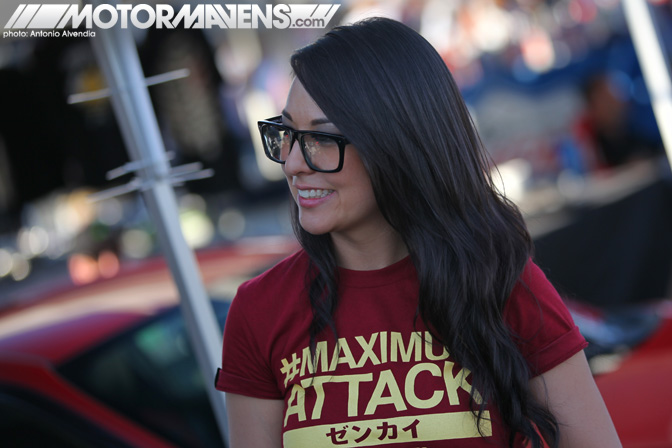 If you don't already know DJ Miki Taka, she is AWESOME. She can be frequently found in San Francisco, spinning at clubs and such, but she came to the MotorMavens booth to say hi and hang out with Antonio for a little bit. She even brought him a margarita! Damn! What's not to like about her? Cmon!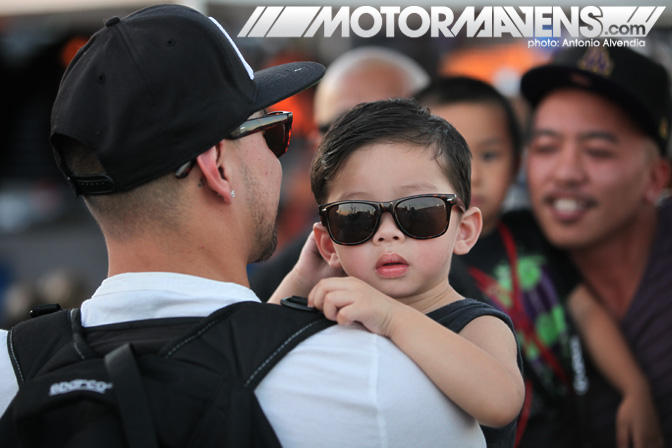 Guapo! Speaking of cool kids from the Bay Area, this here is Kaleb Wes. This little dude has a Twitter account and everything! Crazy… he was chillin out with his dad, one of our old school drifting friends, Lance Feliciano.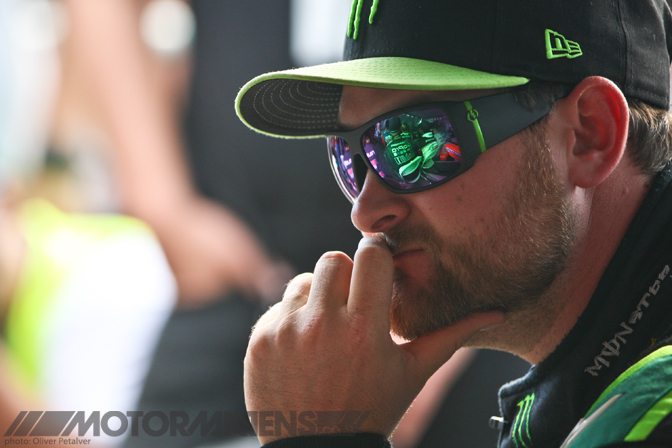 This guy needs no introduction. Vaughn Gittin Jr is one of the most recognizable drivers in all of Formula Drift. He was a force to be reckoned with all year in his Monster Mustang, but in a CRAZY stroke of chance, JR spun out in his tandem against Pat Mordaunt! CRAZYYYYYY.
No offense to Pat, but I'm pretty sure JR wasn't too stressed about trying to beat Pat's Apex'i Lexus SC430. He was probably focused all day on beating Daigo Saito and winning the 2012 Formula Drift Series Championship, but because of JR basically beating himself by spinning… that battle never happened, and JR never even got the chance to drive against his arch rivals Rhys Millen or Daigo Saito.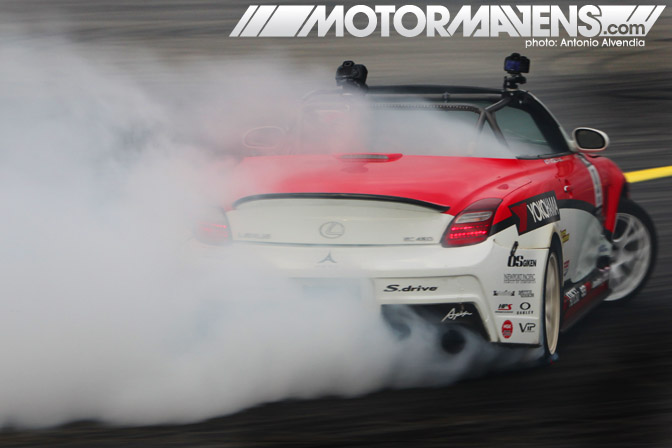 Spinning on his run was a real tough break for JR… but there were a TON of people trackside hooting and hollering and jumping for joy when Jarod DeAnda announced the news on the microphone. Obviously those people were fans of Pat Mordaunt! I know the entire Apex'i team was going bananas, and heard Pat Mordaunt's mom was jumping up and down all crazy! There were so many unexpected twists and turns at this FD event!!!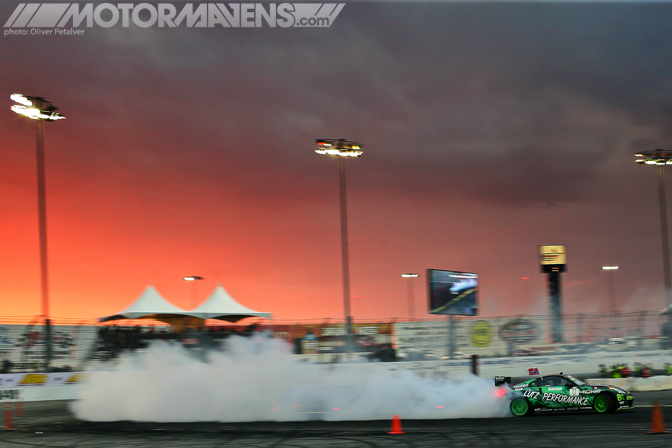 As the sun set on Irwindale, the sky looked pretty crazy, with an orange-red glow, with clouds of tire smoke rising up from the ground. This is Kenny Moen from Norway driving the Lutz Performance Z33 Nissan 350Z. Apparently, Kenny is one of the first guys to spread popularity for drifting in Norway; he also was a drifting series champion in the Norwegian/Nordic drift series in 2008, 2009, and 2010.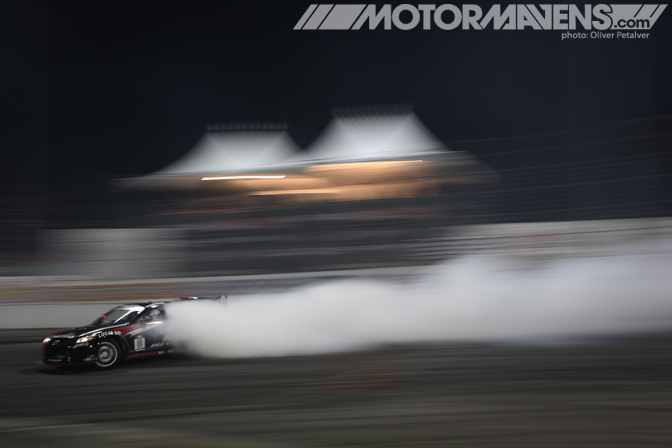 Here's a panned shot of Chelsea DeNofa in the Bergenholtz Nitto Mazda RX8. Chelsea was consistent as hell when he was driving his E36 BMW M3 in the XDC Series, so it must be inspiring to other drivers to see one of their own rising through the ranks and doing well in Formula Drift!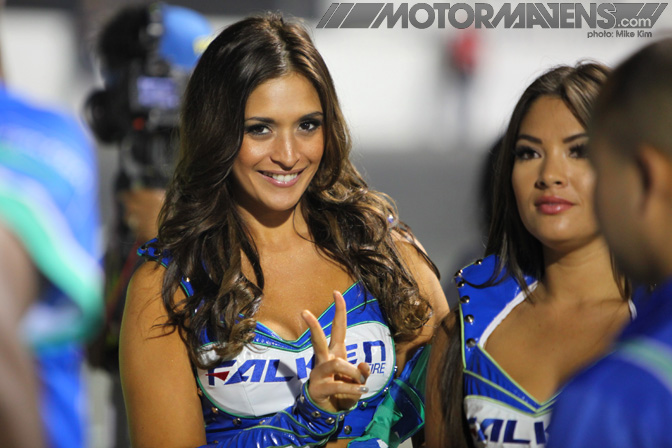 We're still shook on Melanie Tillbrook. She's been appearing as a Falken Tire umbrella girl at numerous events since 2005 or 2006, but this event was her last appearance at a Formula D event! Apparently, she'll been moving on to focus on her other career opportunities in the fitness industry and possibly some acting? She's been in a few music videos already!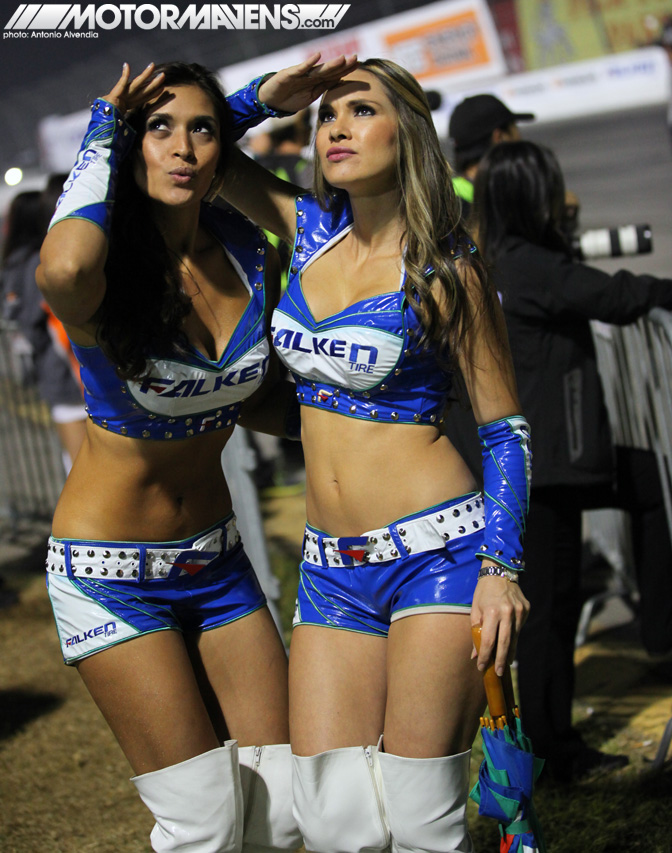 We were trying to tell Falken girls Julie Galindo and Mel to look up so the light poles on the starting grid wouldn't cast shadows on their faces, so Antonio yelled out, "Look!!! It's the Space Shuttle Endeavour!" These girls were too smart to fall for that one, though.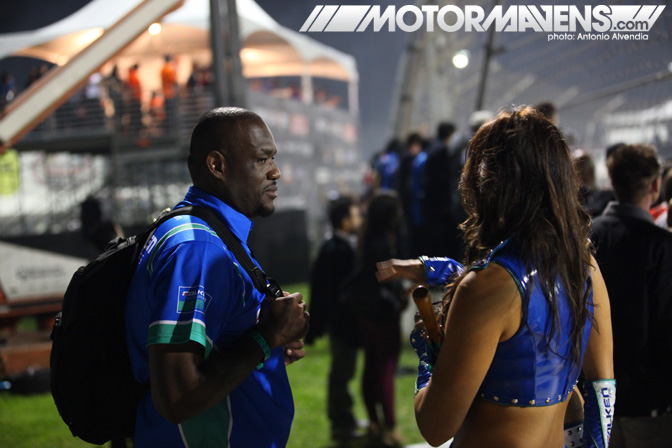 This is Jonathon Bradford, aka JBrad, Falken's Motorsports Manager. It looks as if one of the Falken girls is telling him something, and he doesn't buy her story…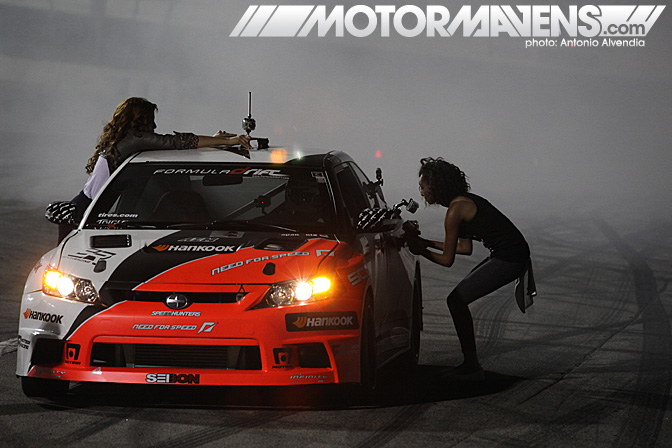 Out of all the girls walking around on the starting grid, perhaps the hardest working girls have got to be these video vixens for lack of a better term. While all the other girls get paid to hold umbrellas and smile at cameras, these chicks gotta bust their asses, running around the cars in the hot areas, mounting and dismounting POV cameras, making sure to turn them on and turn them off… while wearing some tight clothing! I sure hope these ladies get paid well, cause they were running around nonstop all day!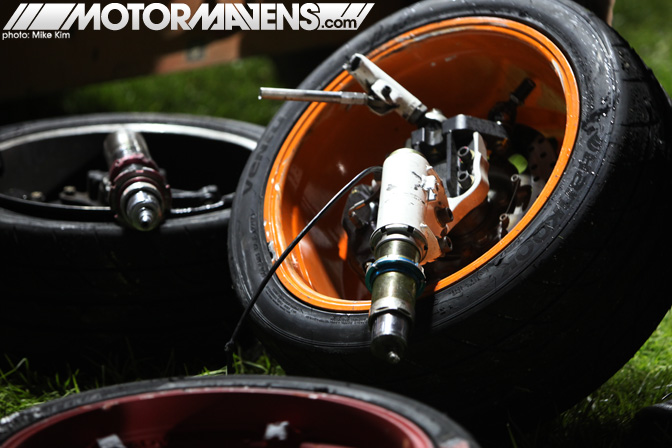 Damn! Look at the broken suspension that came off Rhys Millen's Hyundai Genesis after his crash!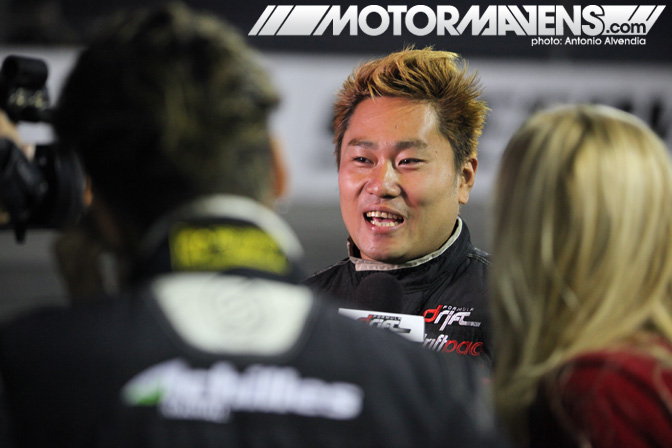 Former Falken umbrella girl Courtney Day gave up her umbrella in favor of a microphone, and was seen on the starting grid interviewing several drivers and getting them to tell her details about their experiences in the tandem battles. In a rare moment, Courtney was able to get the normally quiet and understated Daigo Saito to speak up and elaborate on his thoughts about Formula Drift and winning the championship! However, since Daigo doesn't really speak much English, he needed translation help…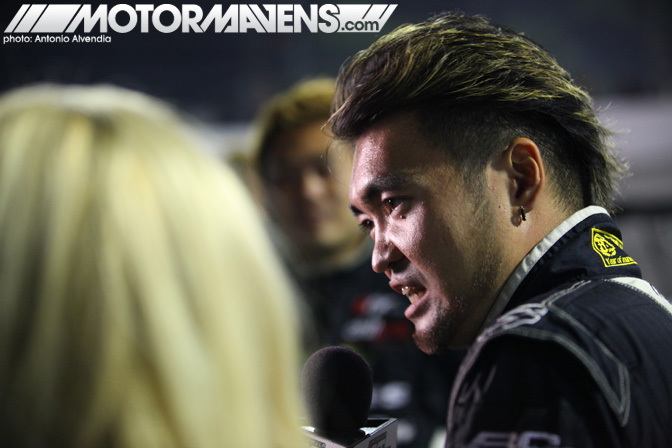 That translation help came from none other than his Achilles Tire teammate, Robbie Nishida. Robbie is a Japanese national, but he speaks perfect native Japanese, and perfect English, so he's one of the best Japanese translators I've ever seen. He can easily blend in as a native speaker, no matter if he's in California or in Japan. Kakkoiiii ne!
While Robbie and Daigo are always fun to chill with, we also like chillin with the Achilles Tire girls. That's Arley Elizabeth (left), Ashley Vee (center), and Kaylee Alana (right).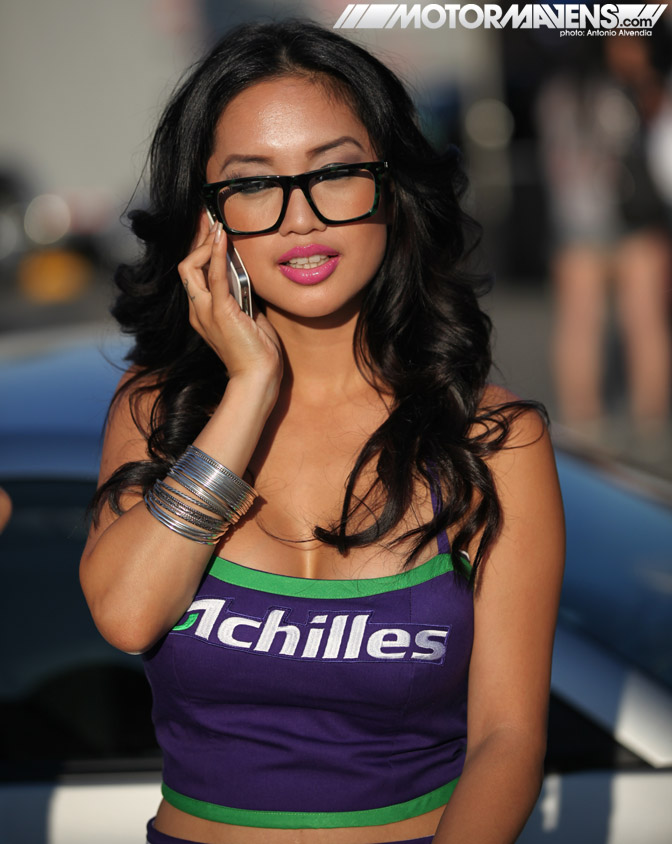 Damnnnnn. Ashley Vee's lookin GOOD in those 9Five Watson frames.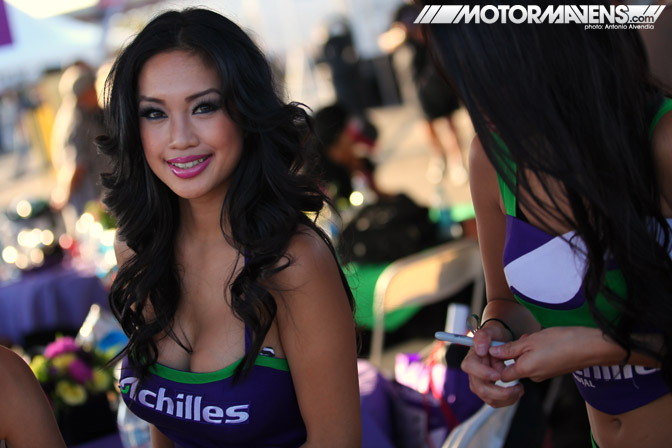 Haven't had the pleasure of hanging out with the other Achilles girls yet, but Ashley is fun to chill with. Especially when we're in the vicinity of iPhone cameras, Instagram, and Peruvian food!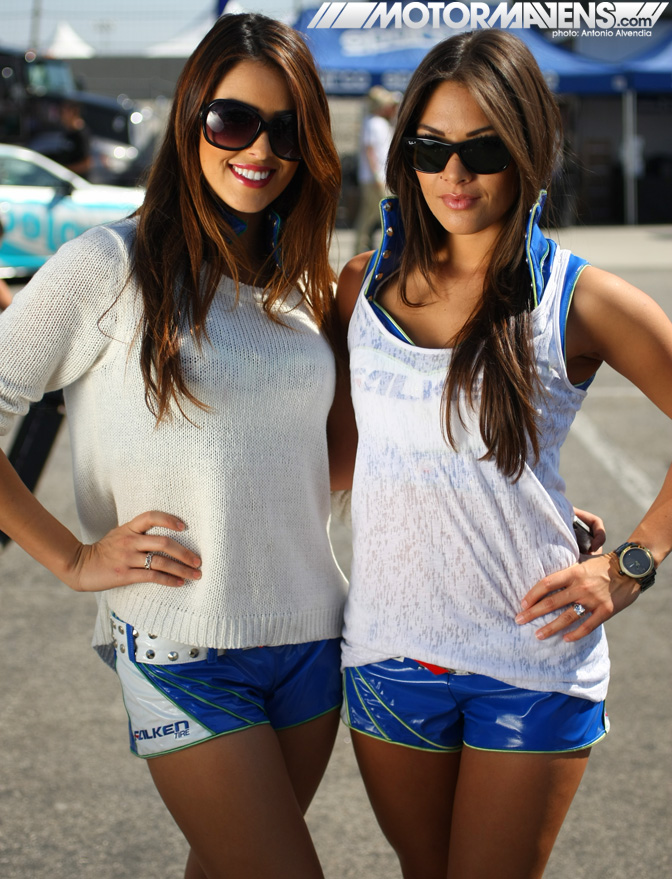 To close out our huge photo gallery from the Formula D Finale, here's the big photo of Olivia and Randyl! Apparently Irwindale was Olivia's last event with Falken too. I'd say I can't wait to see everyone again next year in Long Beach, but I know we'll see everyone at SEMA!
:: Mike Kim
2AZ
,
350Z
,
370Z
,
Achilles
,
AE86
,
Arley Elizabeth
,
Ashley Vee
,
BC Racing
,
Bergenholtz Racing
,
Camaro
,
Chelsea Denofa
,
Chris Forsberg
,
Dai Yoshihara
,
Daigo Saito
,
Daijiro Yoshihara
,
DJ Miki Taka
,
Falken Tire
,
FC3S
,
Formula D
,
Formula Drift
,
Formula Drift Championship
,
FRS
,
Irwindale
,
Irwindale Speedway
,
Jeremy Lowe
,
Julie Galindo
,
Justin Pawlak
,
Kaylee Alana
,
Ken Gushi
,
Lexus
,
Lutz Performance
,
Melanie Tillbrook
,
Mike Kim
,
Miki Taka
,
Mobil1
,
Nissan
,
Oliver Petalver
,
Olivia Korte
,
Randyl Dawn
,
Robbie Nishida
,
RX7
,
S15
,
SC300
,
SC430
,
Scion
,
Silvia
,
Soarer
,
Taka Aono
,
toshiki yoshioka
,
Toyota
,
Tyler McQuarrie
,
umbrella girls
,
Vaughn Gittin Jr
,
Walker Wilkerson
,
Yoshioka
,
Z33
---