If you've read the previous story I published about the 2010 Bimmerfest at Pasadena's Rose Bowl, then you already know that this event was HUGE. I mean, I knew the Bimmerfest was a pretty big event… but I just don't think I was mentally prepared for how huge this event actually was. There were so many BMWs from so many states, it was really hard to concentrate on all the details of all the cars at the event!
While some of the showgoers tended to stick to the newer BMWs at the show, I definitely spent more time admiring the older, classic BMWs… after all, I live in Southern California – this means I can't even drive a mile without seeing at least five newer BMWs.
I realize that not all of our readers are as enthralled with old cars as I am, so I'll start off with an image of an E39 BMW M5, which is having its thunder stolen by these two young ladies, whose names I forgot… (but for those who want to do some Facebook stalking… I do remember that the blonde one was from Orange County, but was planning to move to Hollywood; the brunette one was from the Inland Empire.
Okay, enough with the new cars and the young women they attract… on to the older whips!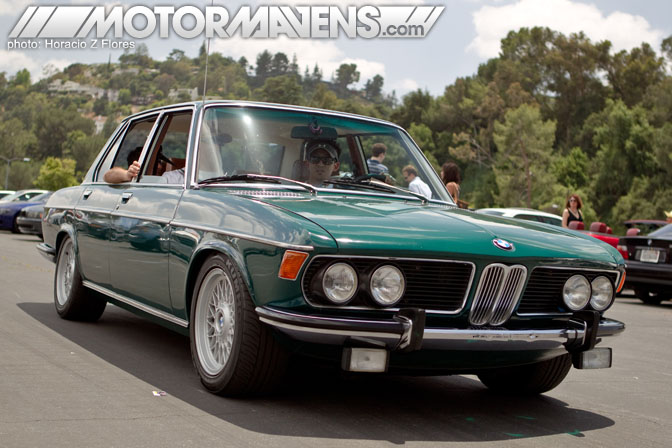 As I walked through the parking lot, I carspotted this clean looking BMW Bavaria, which was sitting on a set of sunken-in OEM mesh wheels. Just imagine what this car might look like on some super wide BBS mesh?! Amazing. It's not often you see these rolling around town; BMW was so proud of this car when it came out, they actually named it after the birthplace of BMW!
Speaking of rare BMWs, here's an incredibly rare BMW 3.0CSL coupe. There were only a total of 765 3.0 CSLs ever made, the rarest production years being 1974 and 1975 (there were only 40 cars produced in 1974, and 17 cars produced in 1975). This particular example had gorgeous orange paint and original pinstripes to match the super clean factory chrome pieces. What an incredibly rare piece of history!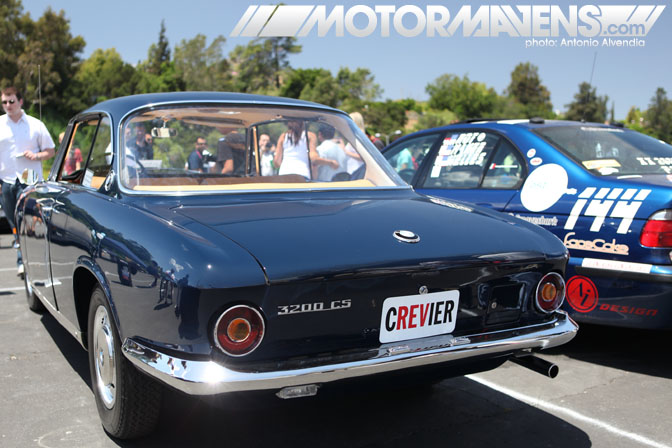 Now here's a classic, elegant BMW with incredibly sexy bodylines. This is a rare BMW 3200 CS is actually owned by Don Crevier, owner of Crevier BMW, one of the biggest BMW dealers in the western United States. The sexy body styling can be directly attributed to body sculpting by Italian automotive design company Gruppo Bertone.
Bertone has also styled cars from several other manufacturers, including Abarth, Alfa Romeo, Ferrari, Fiat, Lancia, Lamborghini, Mercedes Benz, and Volvo. I loved seeing this brand new condition 3200 CS because it gave me an idea as to how luxurious, sporty, and elegant this car must have looked when it was first released in 1961!Can you just imagine cruising the coast of Monaco in one of these gorgeous cars? Simply amazing would be a hell of an understatement.
Just look at the soft tan leather inside the car; it's perfectly accented with black piping, which matches the black carpet, black dashboard, and black steering wheel. I love the cleanliness and elegance of this car's interior; combined with the strong contrasting colors and the rich looking wood surrounding the dial gauges on the dashboard, it just exudes beauty and class.
Taking a departure from cleanliness and elegance, we now turn our attention to a Bimmer that looks mean and aggressive! This E30 BMW certainly looks good with its perfect drop, combined with cool details like the front chin spoiler, front bumper, and the big air intake funnel that sits in the driver side headlight port, which formerly housed one of the E30's high beam headlamps.
Here's an E30 from Eurostop USA, featuring a wider-than-normal widebody aero kit for the E30. This particular car has the intake scoops replacing the highbeams also, but the normal headlights have projector lamps in it.
Perhaps the most obviously good looking E30 in the entire show (to me, at least) was this silver E30 M3 right here, sitting on 3piece Hartge wheels.
This gorgeous E30 M3 was definitely a showstopper. There were always people around it, so it was pretty difficult to get a clean shot of the car! It has been featured in some sort of magazine before (I think it was European Car? Eurotuner? Something like that), and with good reason. This car is gorgeous, but not overdone. I would love to shoot a full feature on it for MotorMavens, but I was unable to find the owner!
This car would have to be one of the best looking stock-bodied E21 3 series BMWs I've ever seen in my entire life. It's simply unfair to compare this OEM-bodied street car to the BMW Motorsport E21 race car that I saw in the basement floor of the BMW Welt Museum in Munich Germany, so race cars aside, I'll have to say this is the best E21 I've ever seen.
It's getting more and more difficult to find E21s driving out there in the world. Most of the time when you do see an E21, it looks old and beat up… but not this car. This particular E21 has impeccable paint and interior, great stance, and extremely tasteful modifications, like the rear trunk lip, front air dam, classic Hartge 3pc wheels and Hartge pinstriping running along the side of the car. DAMN! If I collected BMWs, I'd absolutely NEED a car just like this in my collection. Outstanding.
Let's take a closer look at the rear of this gorgeous Hartge E21 Bimmer. I love the perfectly applied pinstriping – it's difficult to do, as the pinstriping runs over the gas door and the keylock cylinder on the door. In fact, in order to do it right, the key cylinder would need to be removed from the door while the pinstriping was being applied. This is so damn classy, it makes other E21s crumble into dust. I love the understated exhaust too!
This gunmetal E30 M3 belongs to a guy named Mariano. I only know this because I actually met him at a gas station in Pasadena one weekend morning. I was heading to Little Tokyo to meet up with a friend, when I stopped at a gas station, and Mariano pulled into the gas station with a couple friends following. They had an entire crew of Bimmers that just got finished running the 110 freeway from Pasadena to Downtown LA, and were filling up so they could run it again. Hell yeah! Truth be told, I drive the old 110 freeway several times a week… whenever I can. I just love that twisty stretch of Southern California road! Hmm… maybe we should do a more in-depth look at this particular M3?
Some of the E30 M3s had some pretty crazy looking rear flaps on their trunk wings. This was the most aggressive rear flap I could find, which had a way bigger vertical flap than the others… pretty crazy! It's not really my style (I prefer the smaller rear flaps), but I suppose exaggerated rear flaps like this one create a whole lot of downforce. I guess the only question I have is… do these E30s really NEED that much downforce in the back?
Since we're on the topic of want vs need, I thought I'd post this photo of Maureen Chen here. After I met her at Bimmerfest, I just realized that my friend Dan did a shoot with her that was supposed to appear on the Speedhunters site when I was still creating content for it… but because of the super long contract and model release she was asked to sign, she opted out of having the photos appear on the site. Too bad for the site. She looked good in the photos.
Probably the very first car that I tripped out on at this year's Bimmerfest was this one. When I saw it from the front, I thought, "man, what a clean orange 2002!" However, when I got closer, I thought, "what the hell? Is that a 2002? I've never even seen anything like that! It looks like a 2002 and a Toyota Tercel had a baby!" Instantly, I fell in love with the rarity and quirkiness of this amazing looking Bimmer! This here is an 1802 BMW Touring! Yes, this is an old school version of a 2002 wagon!
Look at those AWESOME wheels! I'm not sure if those are OEM or not, but they look like old Campagnolo wheels from Italy… many different wheelmakers have been influenced by the original Campagnolo design (including Japanese wheel brands like TRD, Tosco, and Mugen). So awesome.
Here's a shot of the GORGEOUS rear end of this 1802 BMW Touring. From the back, it kind of looks like a Mazda RX2, or a round-taillight BMW version of my orange Toyota TE27 Corolla. I'm sure hardcore BMW owners would probably be pissed off to hear me make such references, but this shape was very popular in the 1960s and 1970s, so it's possible that the Japanese marques could have taken a liking to the overall shape of the BMW Touring…?
The Mazda RX2 and Toyota TE27 were coupes though… however, if you look closely at this 1802 Touring, you'll see that it's actually a hatchback (hence the name Touring), so the entire rear panel (including the window) lifts up! SO AWESOME!!! This gorgeous car deserves to be in a museum. In fact, I didn't see any of these in the BMW Welt Museum in Munich! Maybe they need to get one? Either way, it's just outstanding that such a car exists in the wild and is able to run freely on the coastal roads of Southern California.
I think I'll end this update with a close up look at the taillight and emblems. Again, SO AWESOME. I've never seen a car like this in my life. I feel privileged to have seen it in person at the 2010 Bimmerfest.  To whoever owns this gorgeous and rare jewel, THANK YOU for sharing it with us!
:: Antonio Alvendia
---