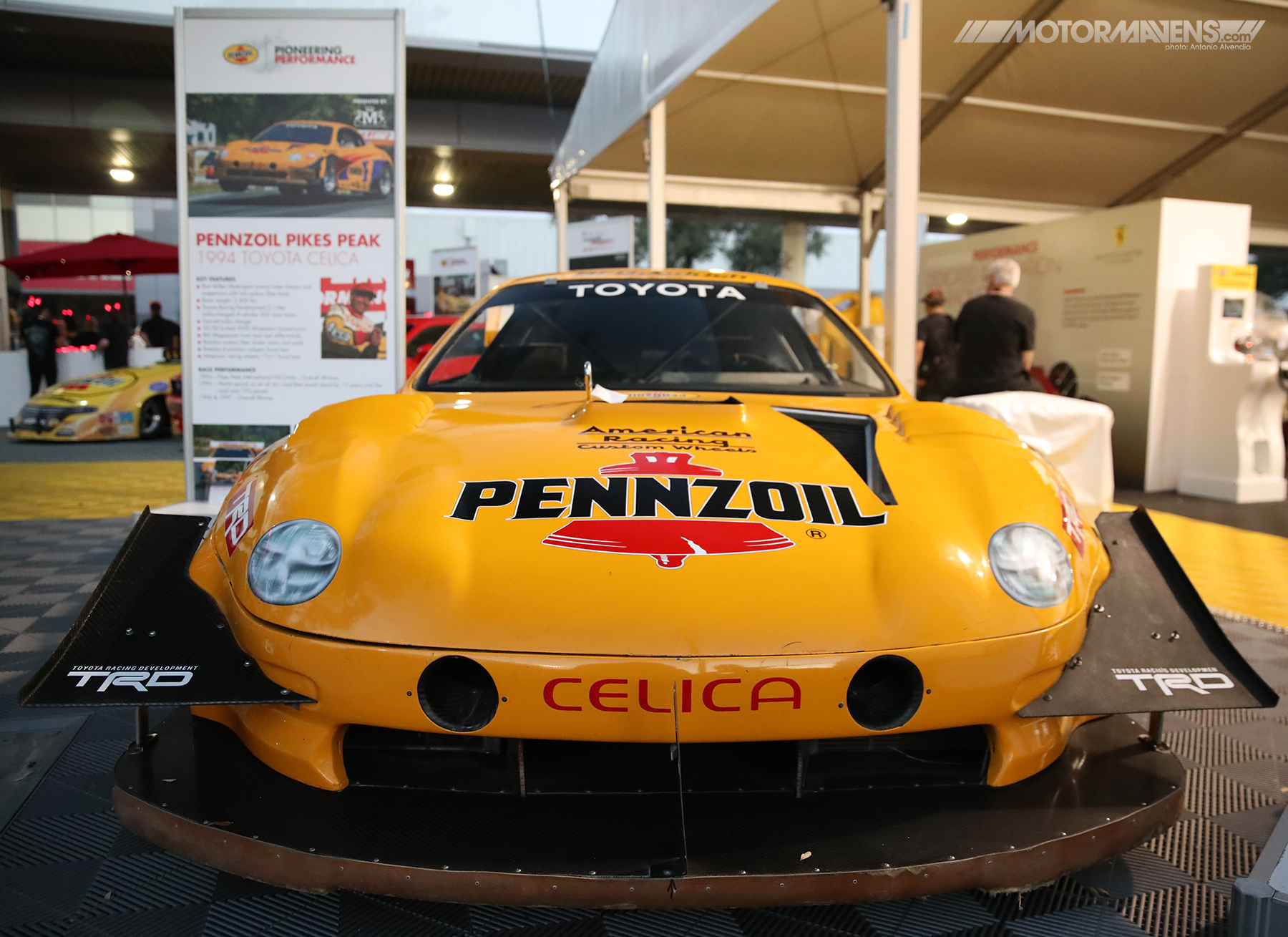 Every year, the entire automotive industry heads to the SEMA Show in Las Vegas, which is pretty much a who's who of the entire industry – from big automakers, aftermarket car parts manufacturers, tire companies, oil companies, and more.
If you're already following @MOTORMAVENS on Instagram, you've most likely already seen glimpses into some of the cars we've been encountering, but here's a closer look at some of our favorite builds that we spotted at SEMA 2017: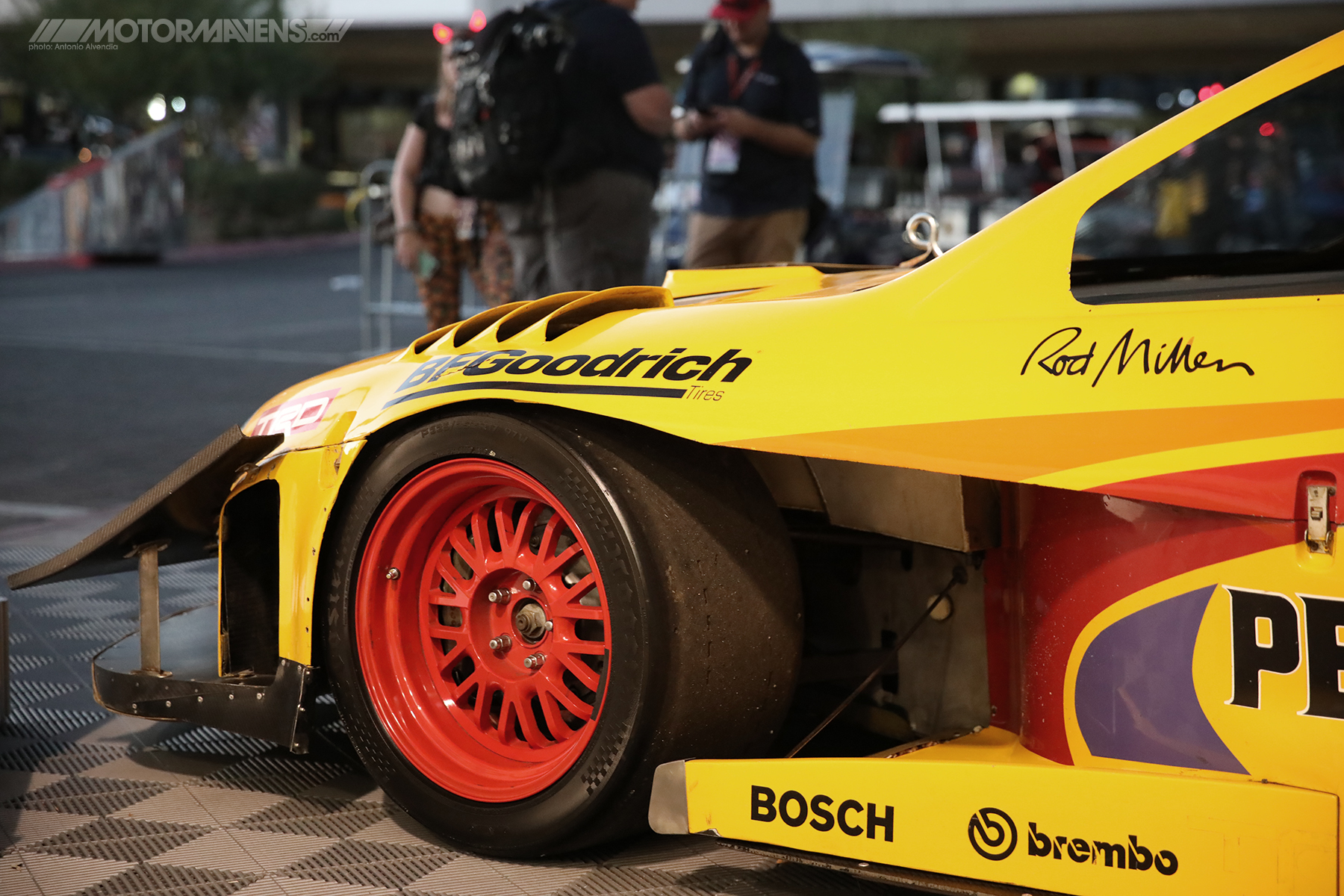 Let's begin with the historic Pike's Peak Hillclimb Celica built and driven by the legendary Rod Millen. This amazing piece of history hardly ever comes out to events – we were honestly surprised to see it at SEMA! This legendary ST205 Celica broke the record at the annual Pike's Peak Race to the Clouds in Colorado, and held it for several years. In fact, in the early 2000s, we picked up the Hot Wheels die cast version of this same car and had Rod Millen sign it. Seeing this car in person is like seeing the car on your bedroom poster as a child in real life for the first time. So yes, we were pretty damn excited to see it at SEMA this year!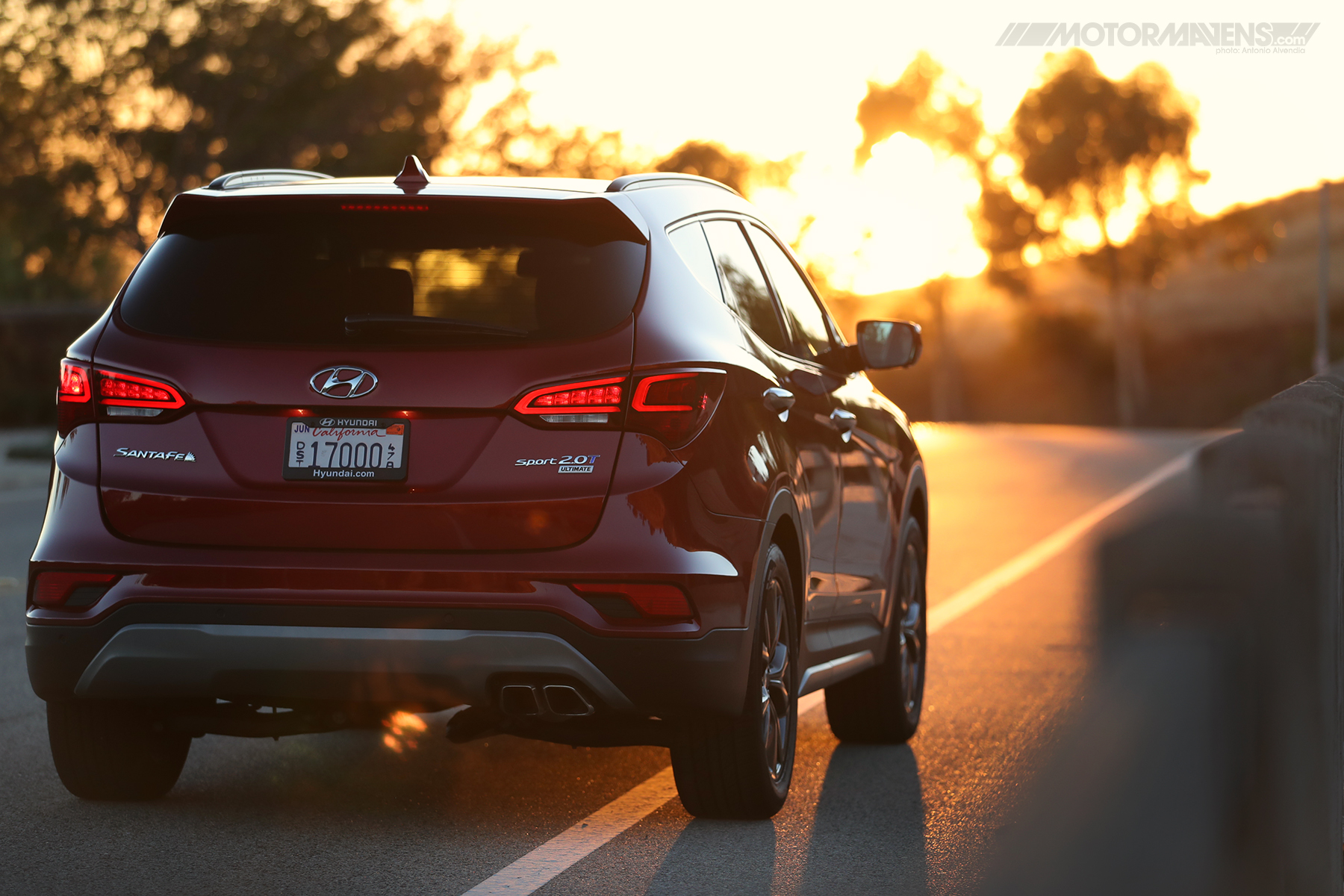 Since we knew we'd need to bring a ton of camera equipment to SEMA, we thought we'd borrow a vehicle from a car manufacturer instead of driving our Lexus GS daily driven vehicle to Vegas. The GS is a great car for a long drive, but just didn't have the combination of interior cargo volume and gas efficiency we were looking for.
We chose a Hyundai Santa Fe Sport 2.0 Turbo Ultimate for the job. Since it's equipped with a turbocharger, it has better acceleration (in Sport mode) than our daily driver does, but it is still extremely fuel efficient due to the 2.0 liter engine! In fact, this particular vehicle gets 28mpg on the highway, when you're not standing on the gas pedal (like we were) on the way to Vegas. We were impressed though – when using Sport mode and downshifting with the automatic gear lever, this thing accelerates quite well on the freeway, even at high speeds. We were also pleasantly surprised that the Santa Fe Sport had great high speed handling characteristics, when negotiating some of those sweeping turns on the 15 freeway on the way to Las Vegas.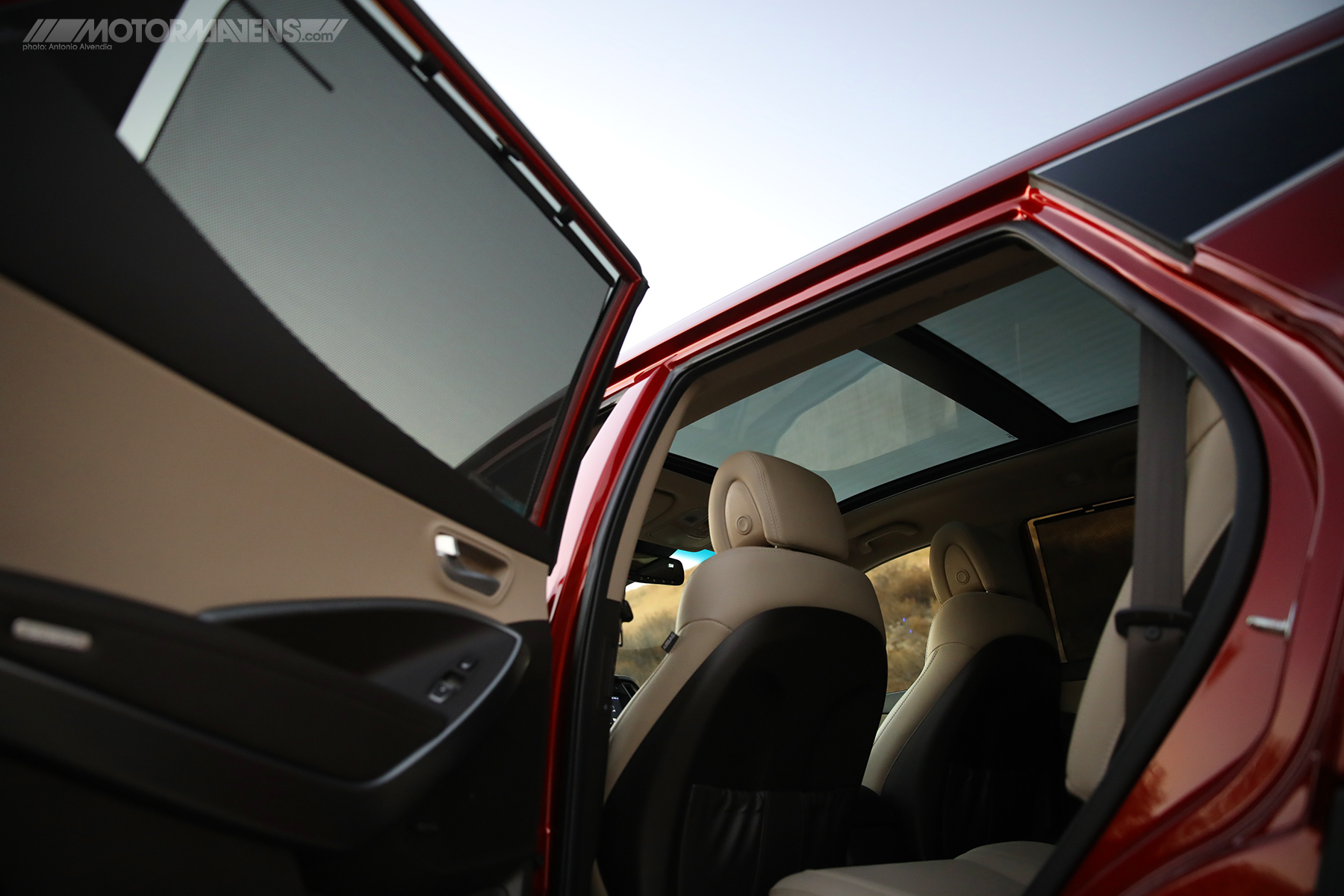 The interior of the Santa Fe Sport certainly has more than enough cargo room for our clothes, camera gear, shoes, business cards, and the like… but to be honest, the feature that we like most about the vehicle is this humongous panoramic glass moonroof which spans nearly the entire roof of the Santa Fe Sport. It just gives the vehicle an open, airy feeling, which is pretty refreshing, especially when the driver is 6′-1″ in height!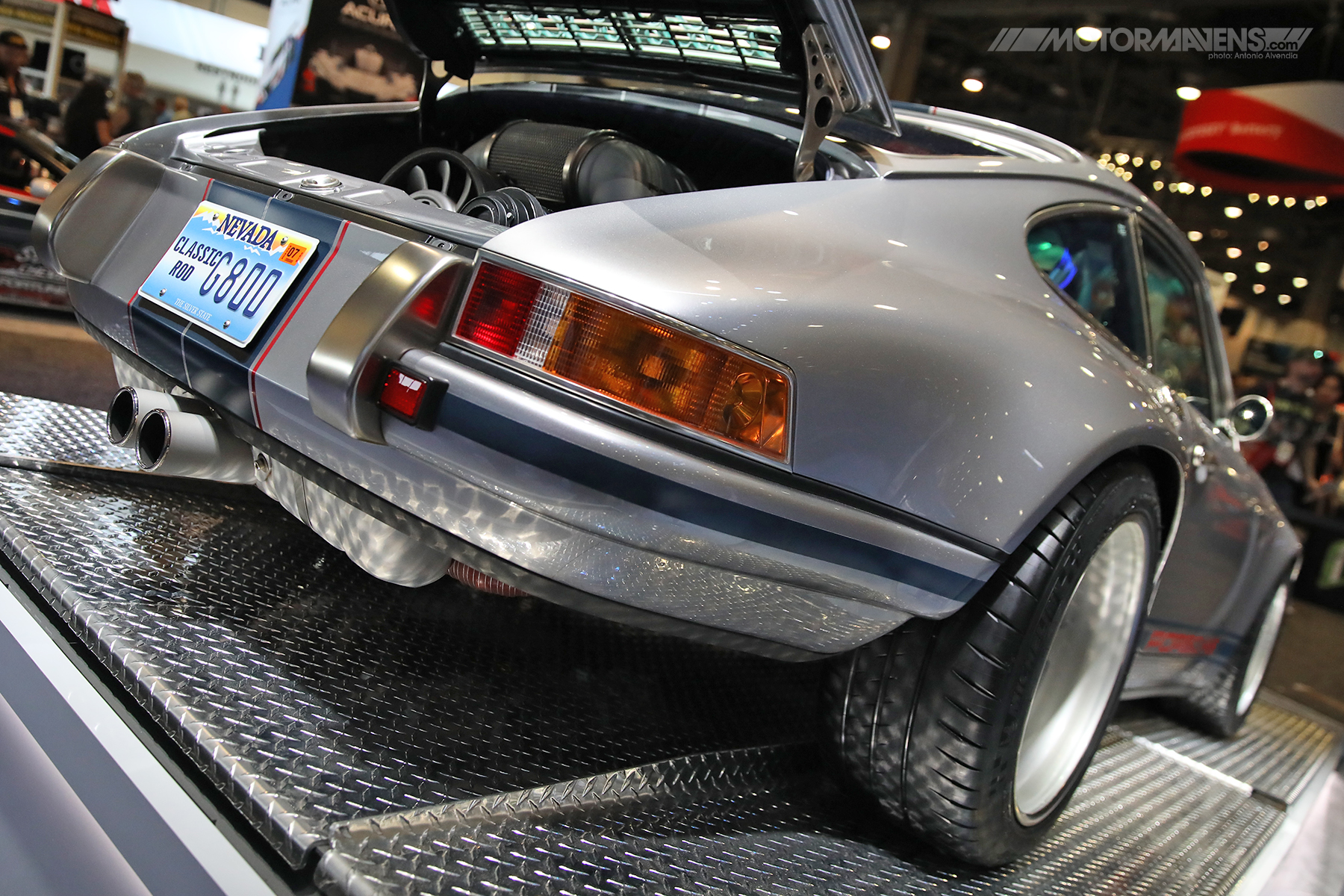 Singer Vehicle Design from Sun Valley CA always knocks out amazing Porsche 911 builds. Some people say that Singer is the best Porsche builder in the world, because every single bit of the vehicle is bespoke, redone and reimagined. While the overall styling of each Singer 911 might look similar, with 964 suspension and underpinnings underneath their gorgeous carbon fiber 1970s style backdated body panels, each vehicle is handbuilt to order from the specs and styling of each individual owner.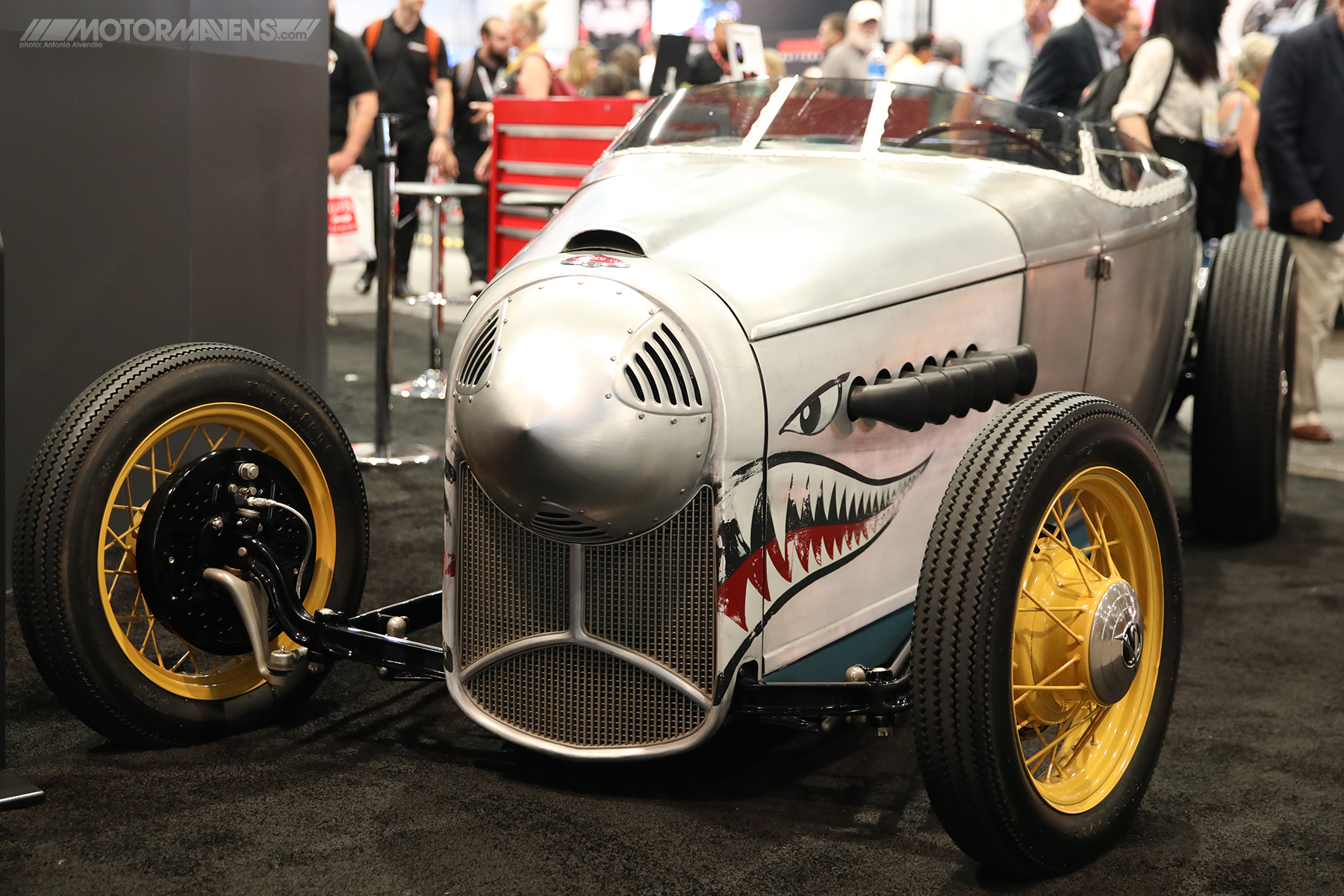 This hot rod with the signature World War II Flying Tigers shark nose really caught our attention – which is EXTREMELY difficult when you think about how many amazing builds are in the halls of SEMA. This vehicle was built by car designer Chip Foose, which surprised us, because we normally aren't drawn to the vehicles he builds. No offense to Chip, as his build quality is always amazing – however most of his classic rods have an "old guy style" in our opinion, meaning you would typically imagine an old guy driving them, wearing a button up short sleeve shirt with miniature prints of classic cars and palm trees, a pair of light colored cargo shorts, a USS Enterprise cargo hat, and white New Balance sneakers with long white socks. You know what we're talking about – the old guys that hang out at In n Out waxing their cars.
Anyway, this particular build was nothing like that. Sure, it was a hot rod, but it looked raw and mean! The raw aluminum panels and the actual nose of the vehicle look incredible! The powder coated yellow classic wire wheels and vintage tires were a perfect touch. Young car builders can learn a lot by studying the way Chip built this vehicle.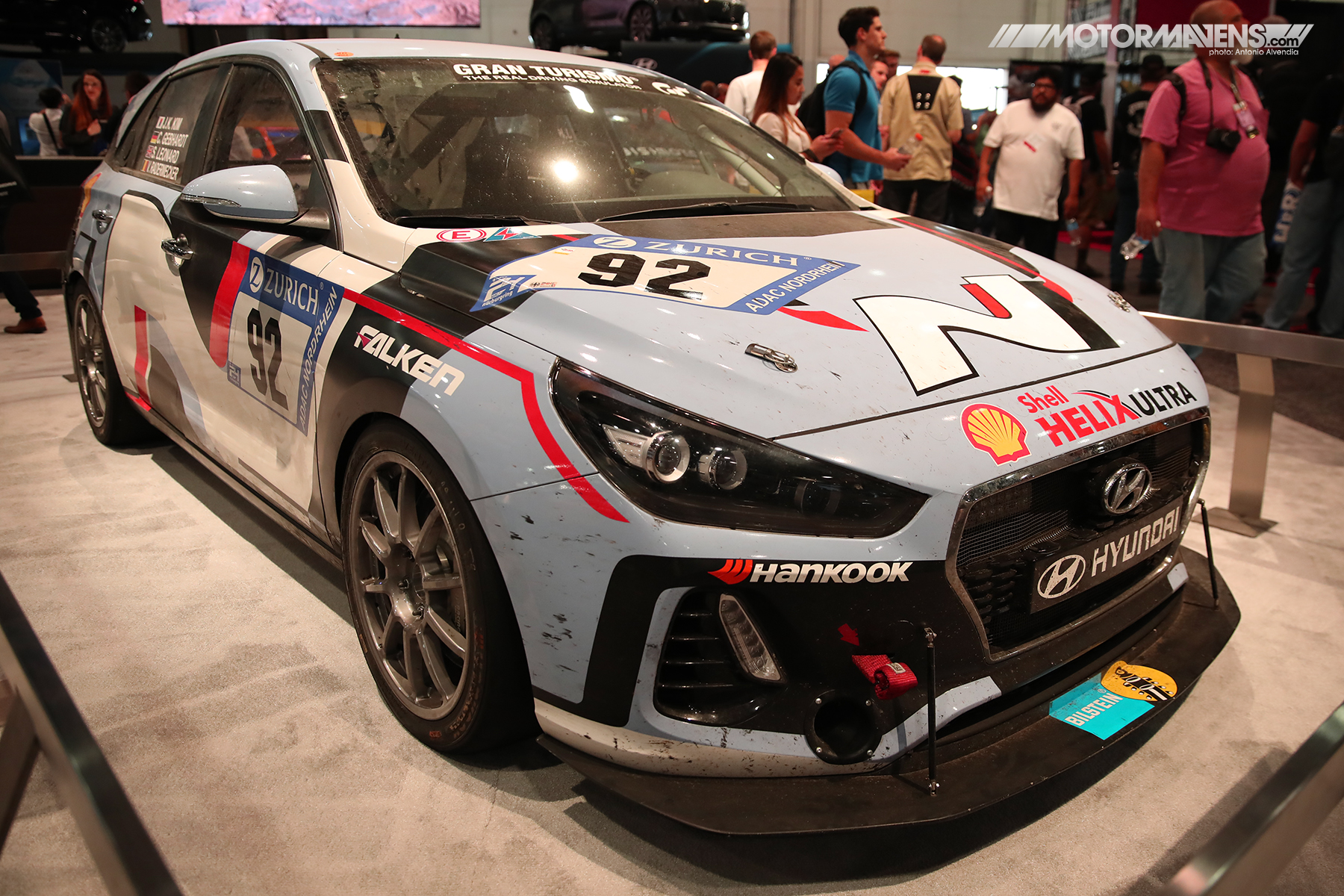 We were surprised to see this race version of Hyundai's 5-door i30N "hot hatch" at SEMA in full race trim – in fact, the car shown here was transported straight from Germany, where it completed a full campaign in the grueling Nurburgring 24H race! Many cars start the race, but they have mechanical failures or they crash after running nonstop at Nurburgring's Nordschleife course. Apparently, this I30N made it all the way through without trouble, and with minimal mods! It has a full race cage and an OMP racing bucket seat, upgraded coilover suspension and big brakes, but aside from that and wheels and tires, the car is pretty much stock. It's shown here, authentic with the dust and road grime it accumulated from running the 24H race. Pretty cool looking!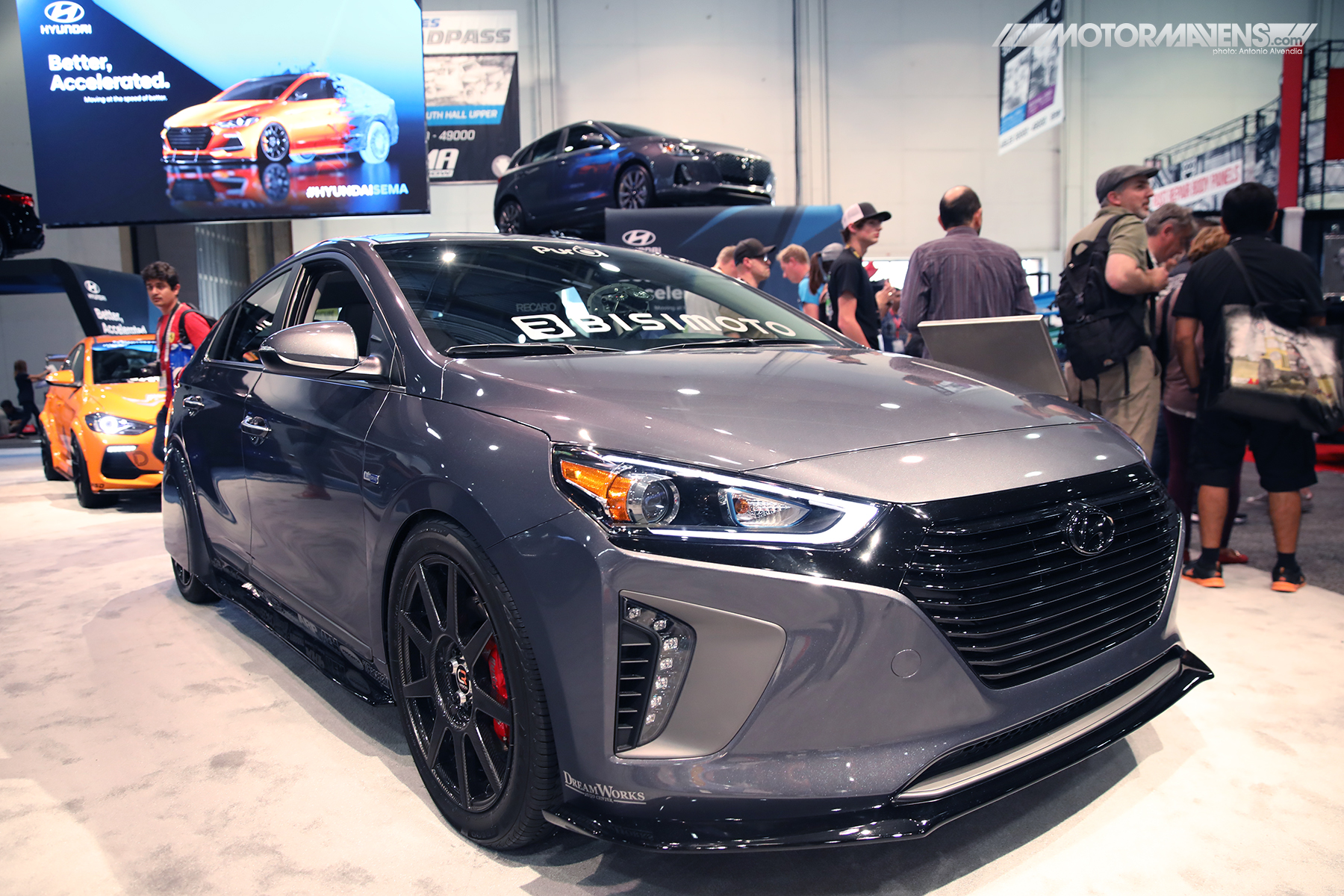 Bisimoto is a renown engineer, drag racer and car builder known for putting together several high horsepower builds over the years. However, this year, he tells us he wanted to take his build in the other direction – this time, he didn't chase maximum horsepower, but maximum MPG! He was able to get this Hyundai Ioniq to achieve 83 MPG with the aftermarket mods that he developed, which include aero components, lightweight carbon fiber wheels, rear wheel aero covers, and some electronics mods. He plans to make these parts available to all owners of the Ioniq! We'll be publishing a YouTube video soon, where Bisi explains everything he did to maximize the efficiency out of this Ioniq.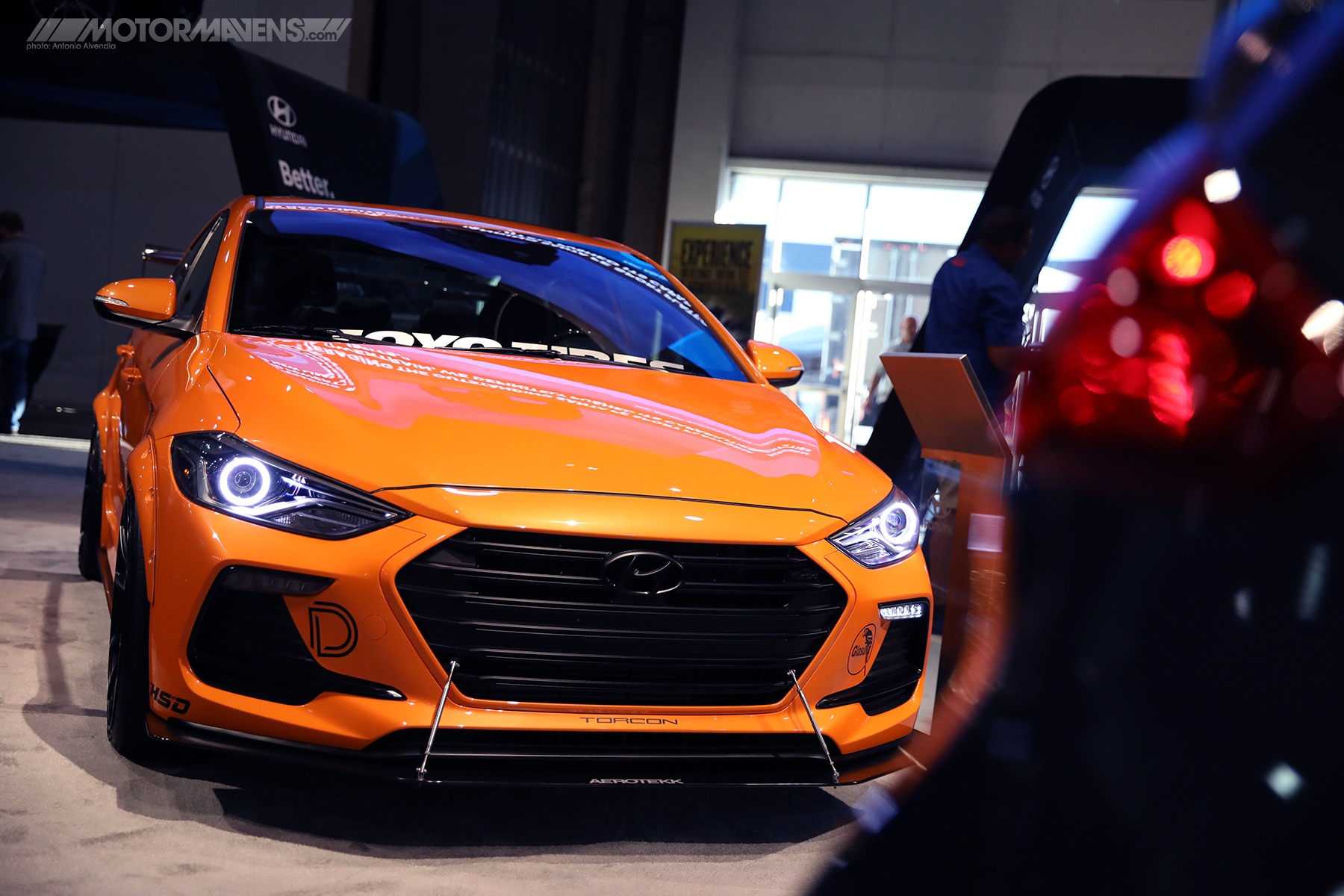 Here's an example of the new Elantra GT, which was painted in bright orange, with SSR wheels and 240Z style bolt-on fender flares, and HSD suspension. We wish we could build one of these cars into our own style. We're sure we could make it look pretty damn cool.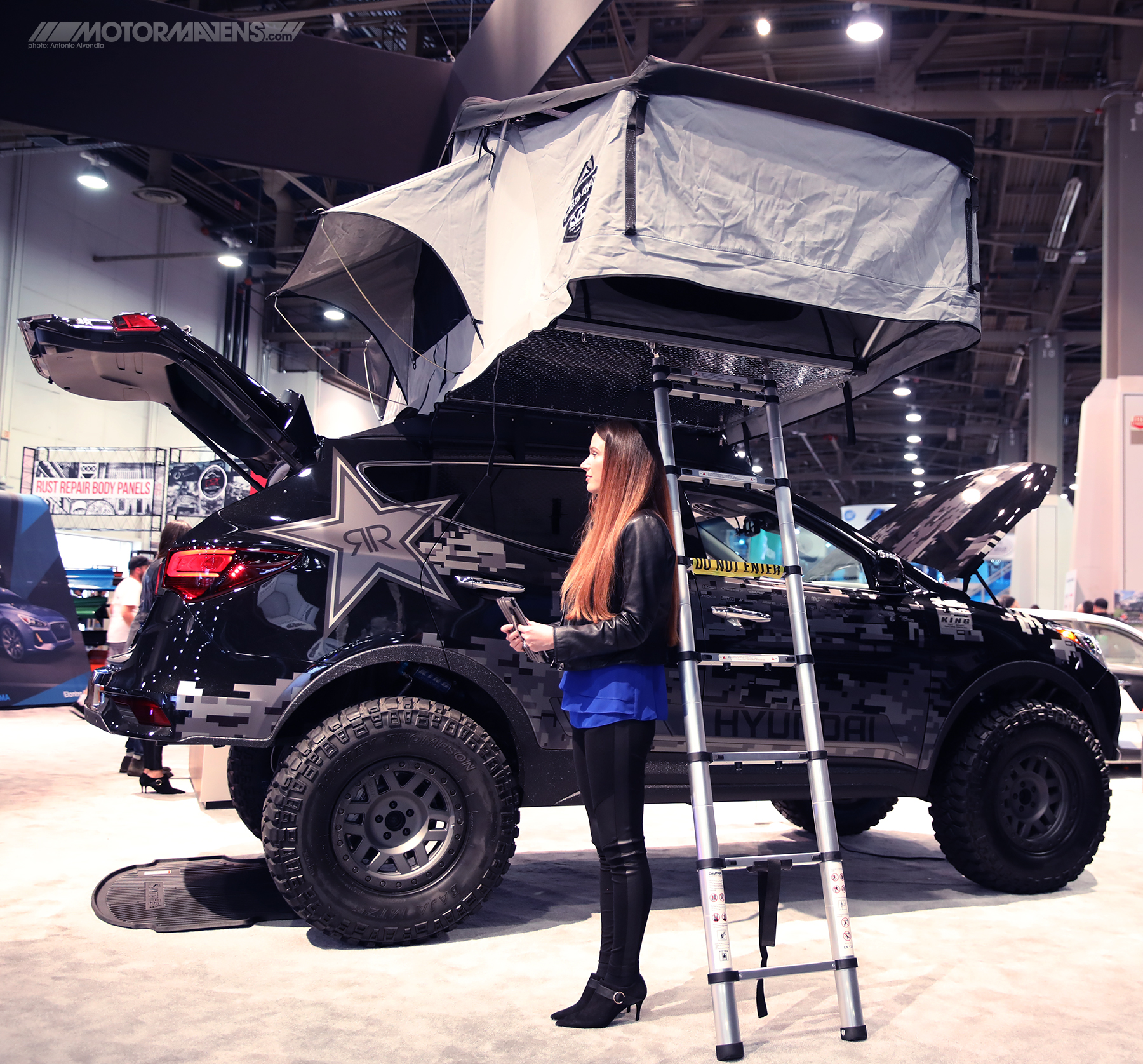 When we saw this modified Santa Fe Sport, we couldn't believe that this was the SAME kind of car that we drove to SEMA! This thing was outfitted for off road adventures, with beadlock wheels and knobby tires, a roof rack with rooftop tent, and a ton of LED lights up front. It had two Kicker subwoofers and a Nitrous kit in the back too, where the under-floor storage compartment would normally be. We loved the way this build turned out, but why on Earth would one need a nitrous oxide system in an off road vehicle like this? We think it would make more sense to put an air compressor or a water cooler or a propane grill back there or something. Ain't nobody trying to boost going up or down rocky terrain. C'mon son.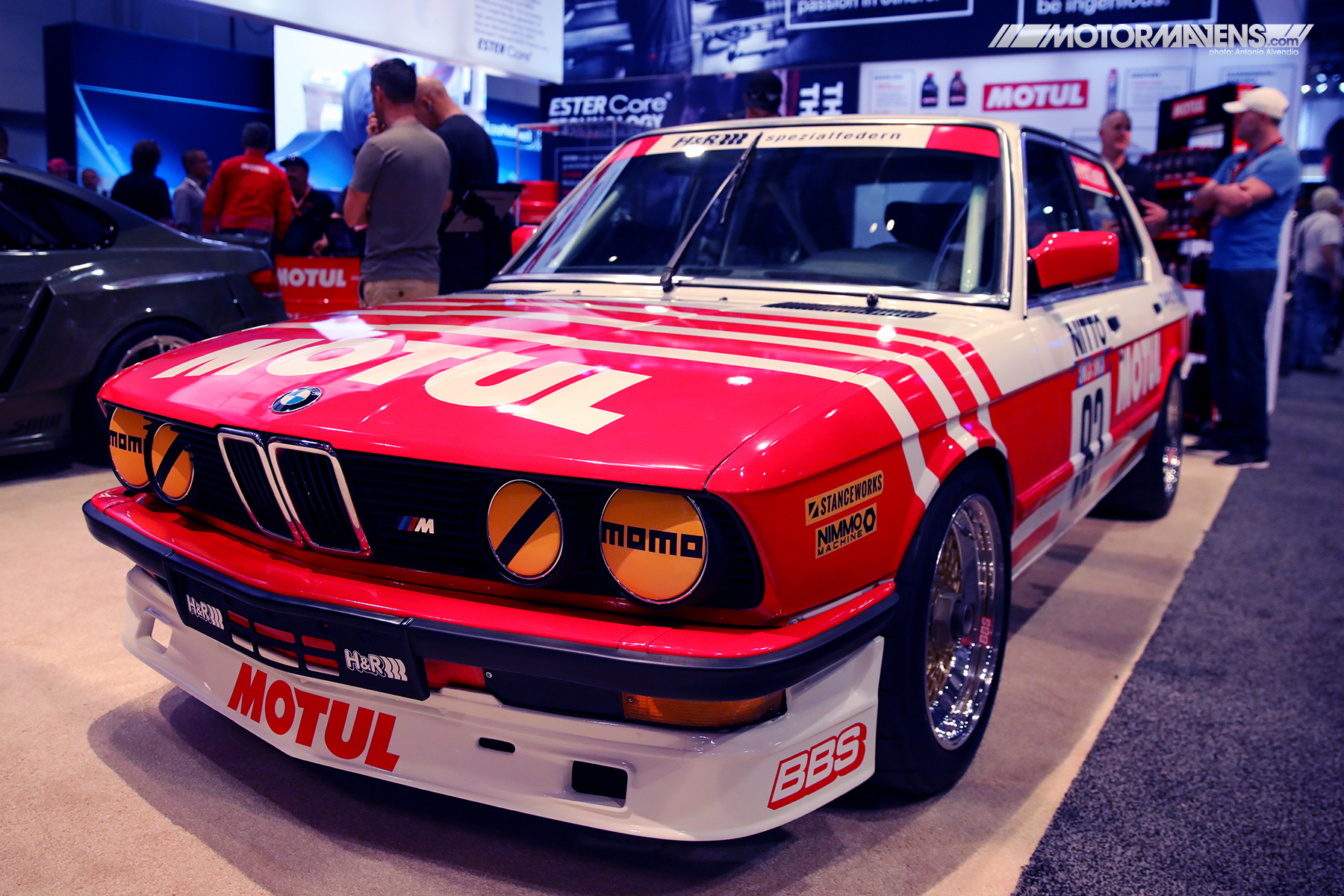 As we walked towards the Motul booth, we saw the new E28 BMW refresh, from Mike of Stanceworks. As if his old livery wasn't cool enough, he re-wrapped his E28 track car with this awesome vintage Motul livery, and we absolutely LOVE it. So sick.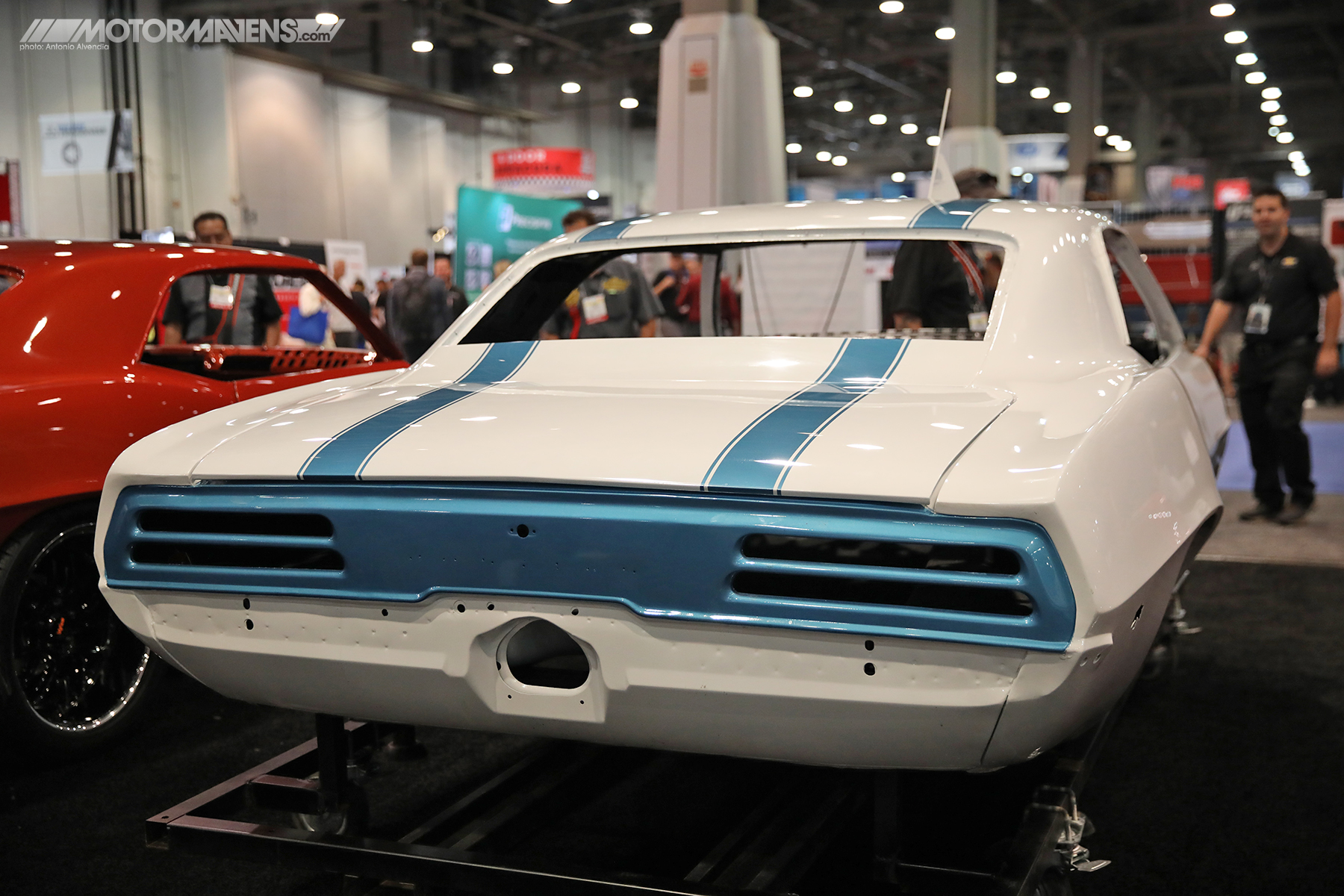 At first, we didn't understand what this booth was advertising, but when we stopped to ASK, we were amazed!!! Apparently, there's a company who sells new remanufactured 1969 Camaro bodies!!! So instead of finding a rusty shell somewhere, and then trying to rebuild and restore a car from the 1960s, you could just buy a brand new body from these guys, and attach the suspension, engine, and interior of your choice! AMAZING. We'd absolutely LOVE to build one of these.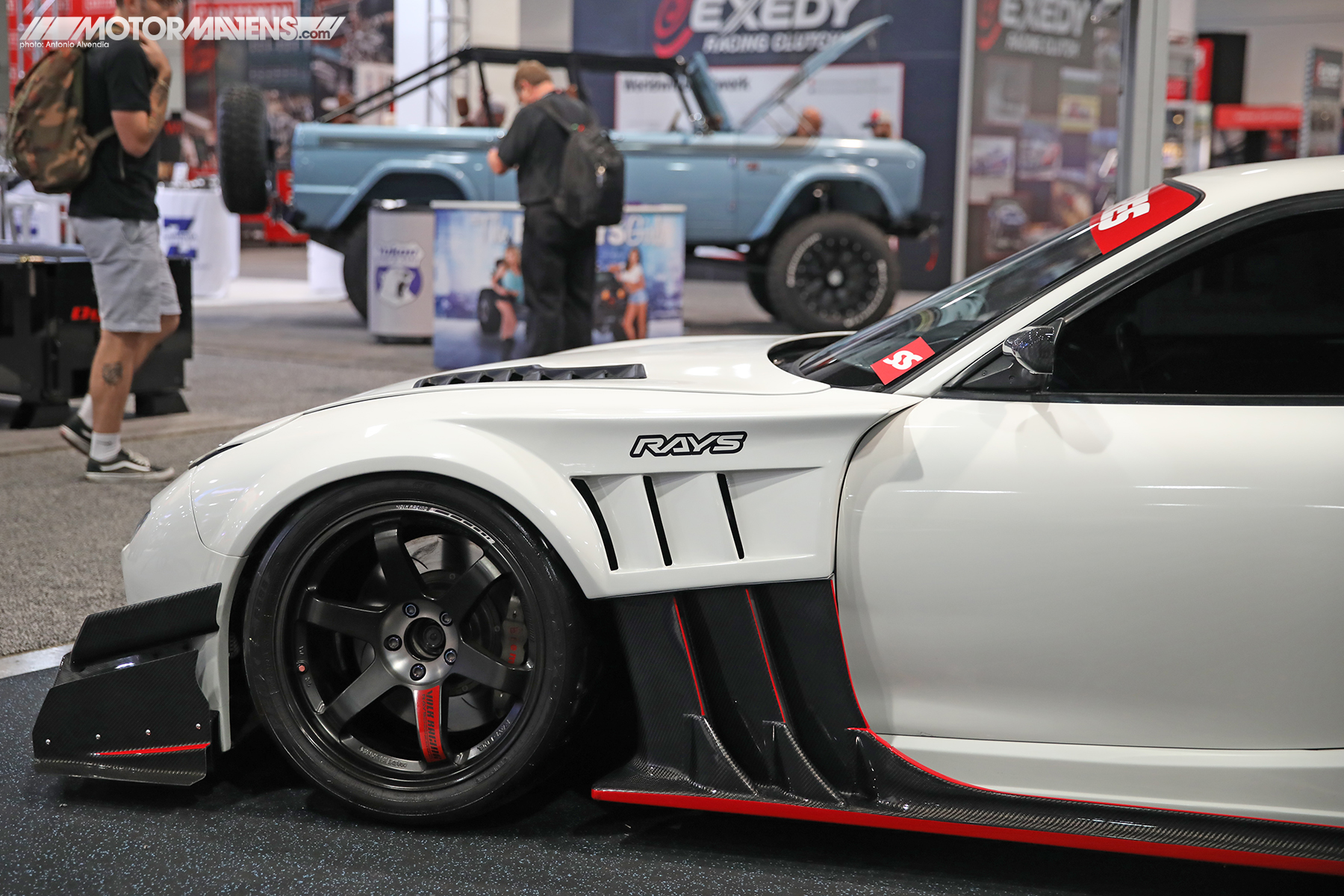 We were pleasantly surprised to see A LOT of FD3S Mazda RX7 builds at the show this year. This wide body aero version from Termnl7 looked pretty damn amazing. We'll have more photos of this car coming up soon on our Instagram!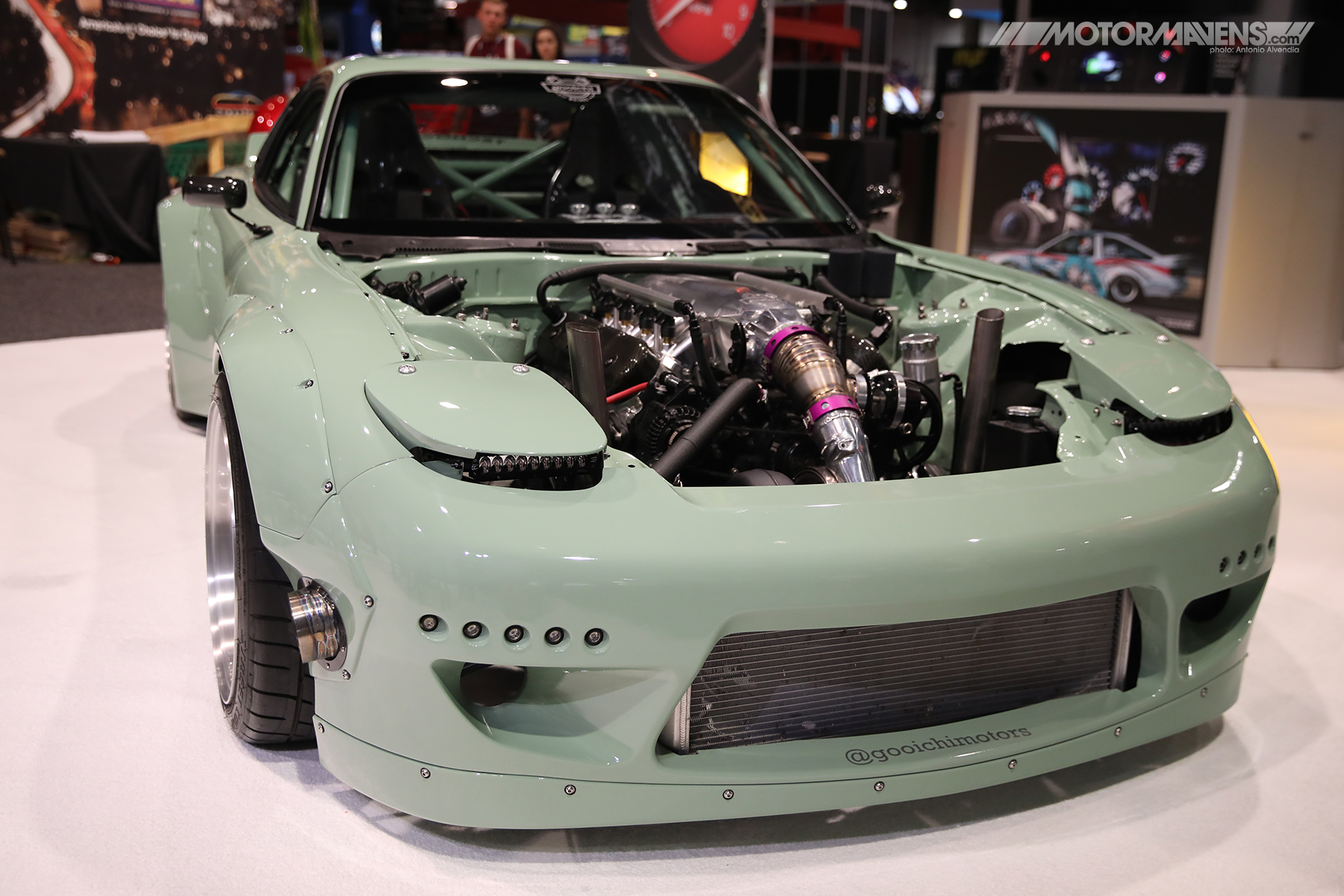 This amazingly clean FD3S RX7 with Rocket Bunny wide body can be found in the Autometer booth. This thing has a crazy looking LS swap!!! We'll also be showing more of this car via social media.
We have HUNDREDS of other cars to show… but now it's time to get back to the show to talk to more companies and check out more cars! Stay tuned to @MOTORMAVENS on Instagram for more photos and clips on our IG stories!
:: Antonio Alvendia
---