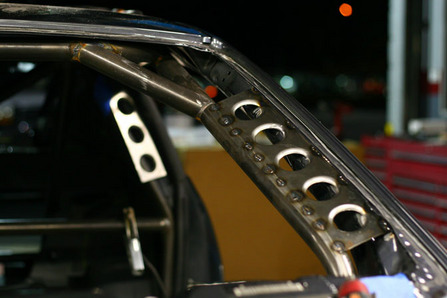 This just in! You heard it FIRST from MotorMavens.com!!! Some of our readers may remember Luke Loneberger's Chevy LS1 turbo-engined S14 from our All Star Bash and Megan Racing Competition stories. Well, apparently we were just given the green light to release the big news that we've been keeping under our hats for the past couple months! Los Gatos, California based Luke Loneberger will be building Conrad Grunewald's new competition car for the 2010 Formula Drift season – a brand new Chevrolet Camaro SS, with Hankook as the tire sponsor.
Apparently all of Conrad's work as a driving instructor at Skip Barber Racing School and his unmistakable presence when driving the Tanaka Racing Corvette in Formula D last year has finally paid off. Let's also not forget – Conrad isn't a stranger to the Formula D podium! We have photos to prove it!
Thanks to Andrew and Conrad from CG Racing, we're able to present you with these sneak peek photos! Above, you can see the roll cage being welded up!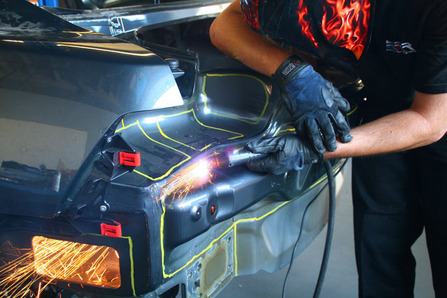 Luke and the Blu808 fabrications team will be extremely busy working on the car in the next few months, but we've been told it should be done in time for SEMA.
Here's the awesome REAR view of the car! We LOVE it!!! It looks so mean and aggressive – the livery works surprisingly well on the retro shape of the Camaro, and hopefully the rear deck wing and rear bumper diffuser look just as good in real life as they do in the photo.
We think that Conrad and his Camaro SS will inject some new excitement that we haven't seen before in Formula D competition. The rivalry between Camaro and Mustang owners is very strong… maybe we'll see some new enthusiasm for drifting with some of these Camaro owners joining the ranks of the drifting spectators, getting involved and causing some ruckus for the Mustang owners? This is going to be pretty interesting!
Read the official press release from Conrad Grunewald and CG Racing below…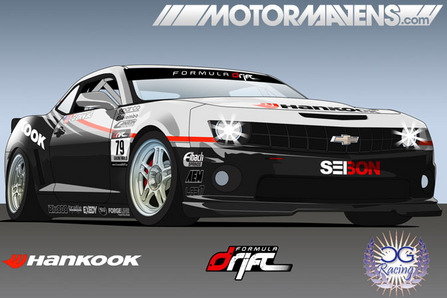 Custom 2010 Camaro Constructed for Competition in 2010 Formula DRIFT Championship
LOS GATOS, CA – BR Racing by Luke Lonberger in partnership with Conrad Grunewald Racing reveal they are in the process of building a 2010 Camaro SS in preparation for the 2010 Formula DRIFT Championship competition.
"I am very excited to be able to drive such an iconic American muscle car in the Formula DRIFT Championship," said Conrad Grunewald, driver and owner of Conrad Grunewald Racing. "Our main goal is to have the Camaro ready for the 2009 SEMA show but our preseason testing should start immediately after the show. I have a great amount of confidence that BR Racing and Luke Lonberger can build this Camaro into a highly competitive car and I look forward to getting back out on the track."
Hankook Tire Corporation will provide tire sponsorship for the 2010 Formula DRIFT season. Grunewald announced the Camaro will use Hankook Ventus R-S3 tires on custom Forgeline aluminum 3-piece wheels. The car is to be controlled by Eibach's Multi-Pro-R2 two-way adjustable dampers and coilovers. A GM Performance LS-A supercharged 6.2 liter V8 controlled by the AEM Universal EMS and expected to make over 600 RWHP will power the Camaro. All body work will be constructed with carbon fiber from Seibon Carbon.
The car will also be on display the 2009 SEMA Show at Las Vegas Convention Center, Nov. 3 to Nov. 6, 2009. The Camaro build can be followed at www.conradgrunewald.com.
Entering its sixth season, Formula DRIFT is recognized as the North American professional drifting championship. Established on the streets of Japan, drifting has evolved into a worldwide competitive sport that challenges each driver's driving ability and vehicle control. Formula DRIFT provides a forum for professional drifters to compete in 7 events nationwide for the coveted Formula DRIFT Championship crown. As the first official series in North America, Formula DRIFT has taken competitive motorsports to the extreme attracting fans and car enthusiasts from all walks of life and establishes itself as the global focal point for the Sport.
###

::Antonio Alvendia, MotorMavens.com
---