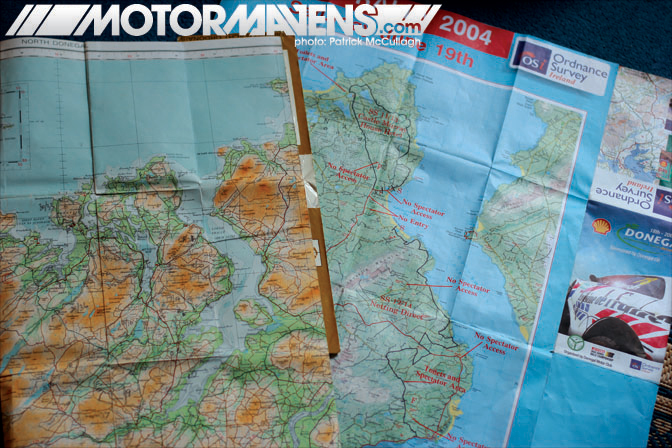 Here on MotorMavens, you guys often get to see cars and events through the lenses of our photographers. The cars are the stars. However, this time, I think I would like to show you more of the location where much of this motorsports history happens. This time I would like to feature a place, or maybe show you features of a place, that has its own race pedigree.
Ireland has many good points and many bad points. Over the past few years, the one thing that stands out as a major flaw of this fine island is its inability to provide its islanders with a weather system that 1) they can predict successfully and 2) actually obeys the seasons. When it's summer, let it be sunny and warm and, when it's winter, let it be dark and cold. Here in Ireland, you can never plan for any outdoor activity with any sense of certainty. This is the country that can have any season on any given day of the year and, my friends, that is only a slight exaggeration on my part. However, there is a huge plus to living here, from a "driver's" point-of-view. There is an abundance of mesmerizing roads that snake, dip and jump their way through the lush green countryside. So, I thought you MotorMavens readers might like to come see Ireland through the eyes of a rally enthusiast.
County Donegal is the scene of arguably the best rally of the Irish Tarmac Rally Championship (ITRC). The rally itself has been running since 1972 and has attracted top professional rally teams and drivers such as the Rothmans Rally Team in the 80s and more recently Citroen Sport when Sebastian Loeb was the overall winner of the rally in 2007. Colin McRae also competed on the rally in a MG Metro 6R4. I was lucky enough to witness both Seb and Colin myself and it was a sight to behold!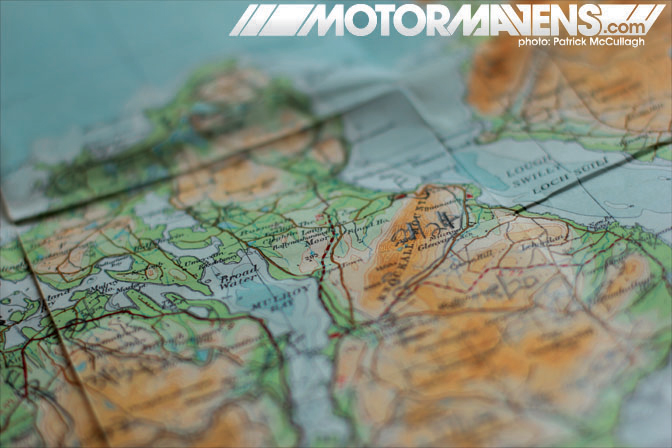 My friends, Wayne and Paul ( and I) hatched a plan to take in the Donegal scenery by driving along two of Donegal's most infamous stages. The puzzle was which ones to choose?!
Donegal is a large county in northwestern Ireland and is home to some of the finest "twisty bits". With such epic stages as Atlantic Drive, Glen and Kindrum Lake to choose from, it was going to be a difficult decision for us. After a short search (you don't have to venture too far in my house to find a rally map), I stumbled across the 2004 Donegal International Rally spectator map! Then my father appeared with what can only be described as a genuine article of retro memorabilia – an Ordnance Survey map dating  back to 1978. My father used to co-drive in a MkII Escort and this was the very map he had used all those years ago – it still had all the stages marked out in pencil!!!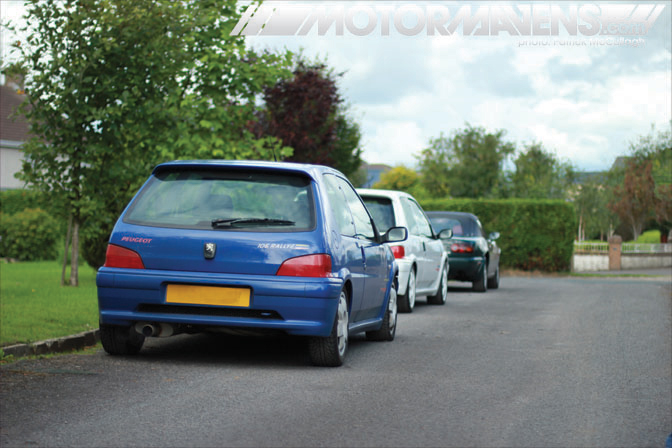 After listening to old rally stories, Dad recommended Fanad Head and Knockalla, both of which are situated on the Fanad Peninsula north of Letterkenny. Two daunting tests that in the past had claimed former ITRC champions such as Bertie Fisher, Austin McHale and Andrew Nesbitt. With that information ringing in our ears, we three brave (or foolish – depending on your perspective) drivers set off that Sunday morning for Donegal!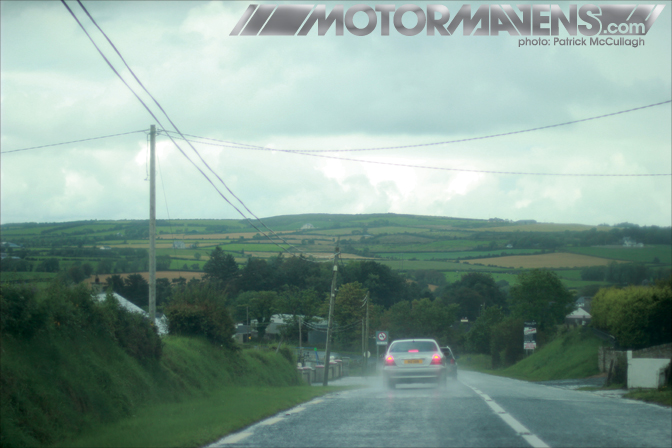 As we entered County Donegal, that all too familiar sigh and look of resignation came over me. Dark, grey, dreary skies with rain beating down against the black stuff…"Ah Ireland, why do you do this to me?!" was all I could think.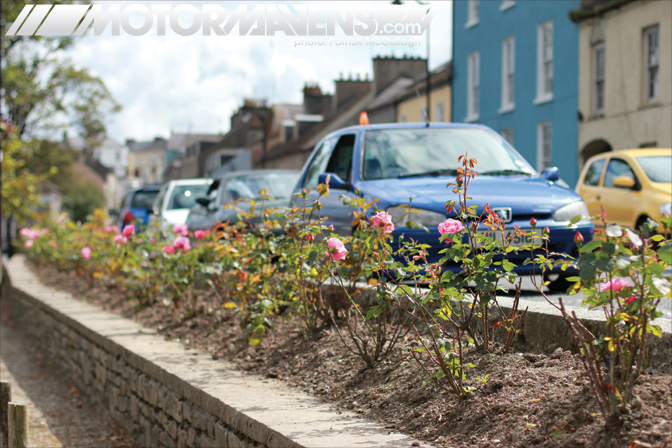 See what I am saying?? Twenty minutes further north and we stopped in the picturesque village of Ramelton. The sun was beating down on us and hopes were high for a spectacular day roaming the Donegal countryside…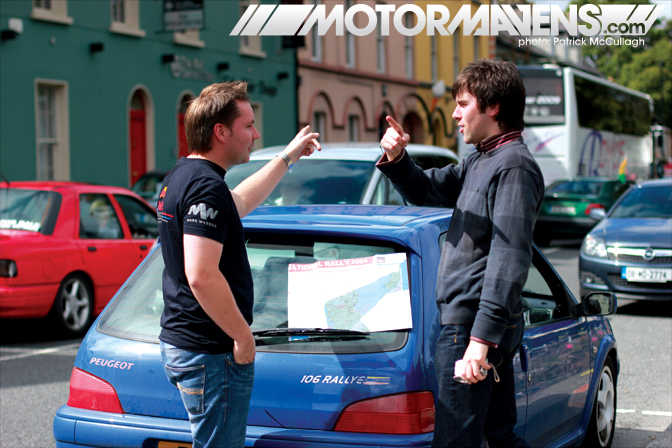 …but not before Wayne and Paul argued about the direction we should go!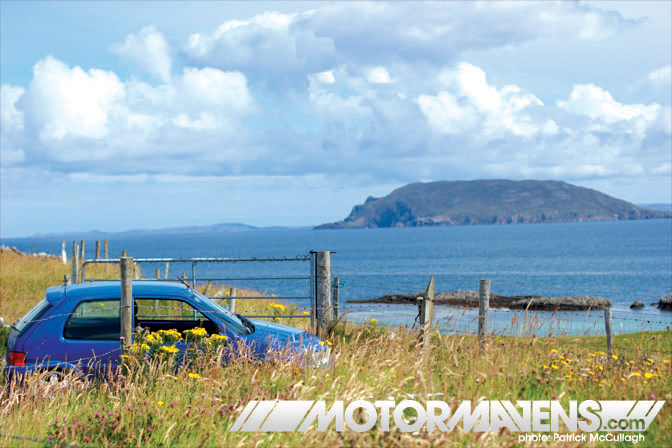 Here's the Fanad stage, which begins down in the quaint village of Portsalon. The first two miles are just amazing – you can really see how good pace-notes will let you hook up all the corners to set that all important fastest time! This part of the world is so beautiful that after those initial miles we had to stop to take in these glorious vistas.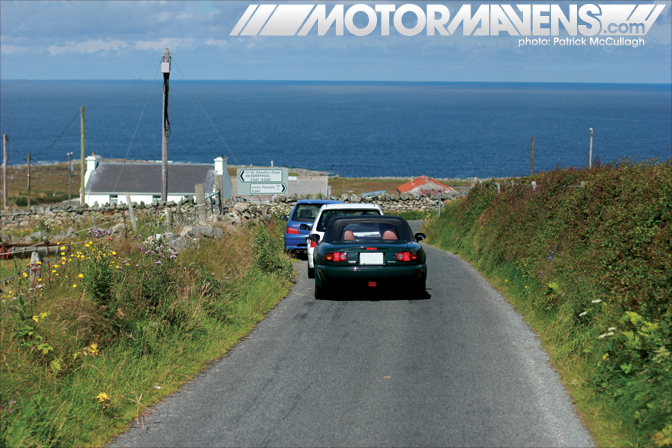 The tarmac here is very abrasive and, when dry, very grippy. With the changes in direction and high speed, I can just imagine how "tired" a set of soft-compound competition tires would feel after a stage . The problem with a trip like this is that you want to get back into the hot seat. When driving down to the T-junction, I was imagining racing down towards it, and the co-driver shouting "…200 into Square Left!", trying to watch that I didn't lock up my front wheels and career into one of those dry stone walls!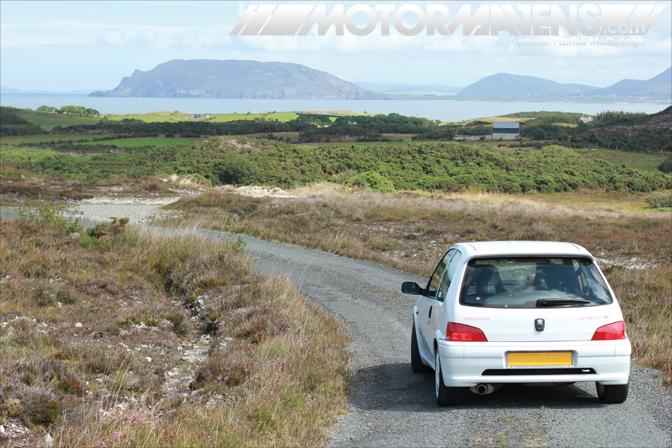 After the stage runs parallel to the coast, it heads back inland and up into the hills again with the stage getting tighter. This section would be extremely difficult as there was a lot of loose gravel on the braking points and in the middle of each corner. I was having bother at 35 and 40mph, never mind attacking it properly in a rally car.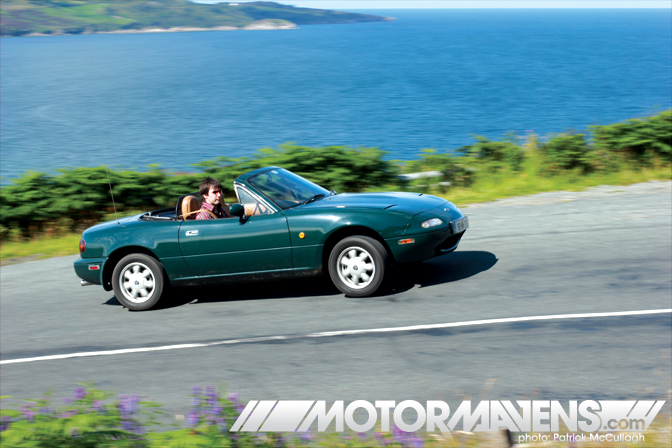 If the Fanad stage is a classic stage, I really don't know how to describe the Knockalla test. The start of the stage is one of the most famous pieces of tarmacked road in Ireland, and possibly Europe, to rally spectators at least. The stage snakes its way up the steep ascent and has two hairpins for the driver to negotiate before the final climb to the top. Then there's the descent down towards the inland section of the stage which is a series of heart-stopping dips and blind crests dominated by a view of the Atlantic Ocean on your left which is enough to make anyone gulp.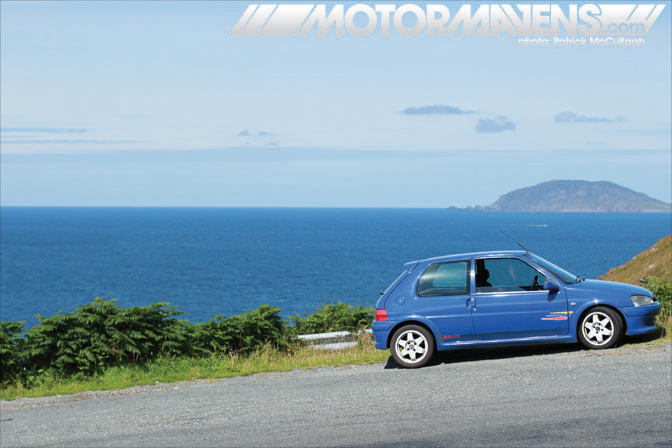 As I was out taking photographs of my little 106 and the surrounding coastal scenery; I happened to notice my car starting to roll down the hill!!! I can run fast but I can honestly say I have never run as fast as I did when I saw my car trying to depart the scene on its own. I had heard the handbrake creaking but they all do that right? WRONG!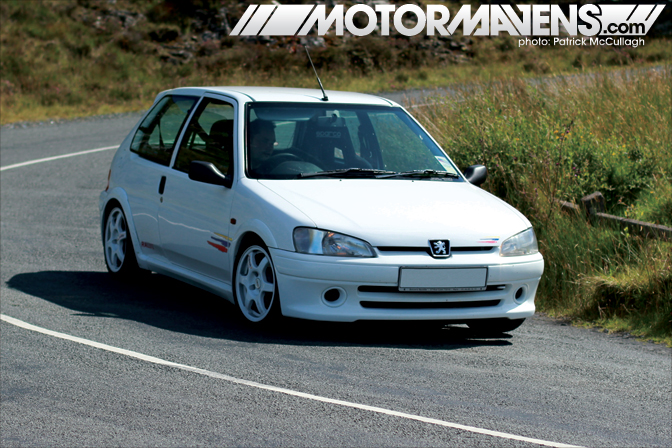 Wayne enjoyed the run up the hill so much that he came back down and tried it for a second time!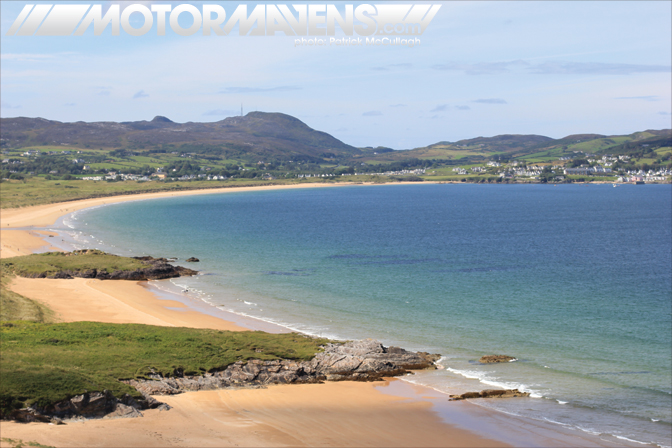 The breathtaking view of Ballymastocker Bay from the mid-point of the ascent. To the right you can see the village of Portsalon were the Fanad stage had started showing that both the start lines were literally within a few miles of one another. Views like this are easily missed when you're in full concentration mode, listening to your co-driver warn you of what dangers lie ahead.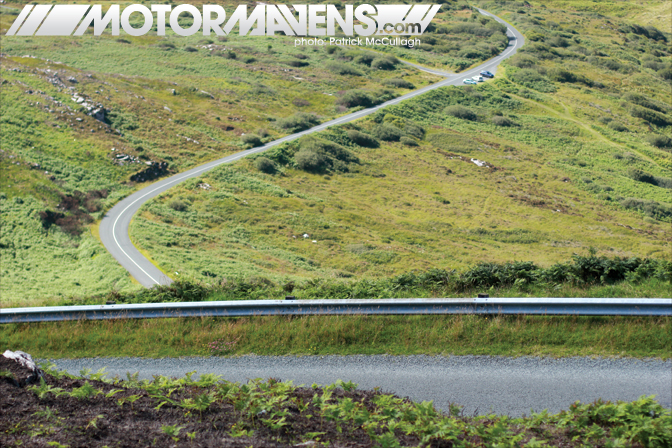 The rate of the ascent is quite daunting. Here you can see two sections of the same road and only the two hairpin corners are not visible in this photo, again giving you an idea of how steep it is.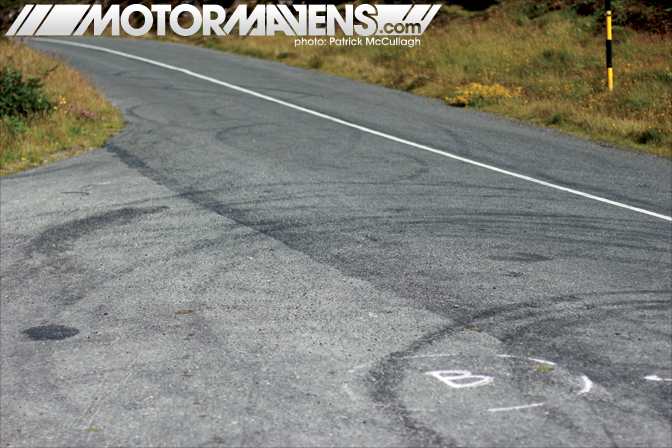 I can assure you these tire marks were not made by us, but in Donegal it is rare that you can go a mile along any given road without seeing donuts or burnout marks in the road. Donegal is renowned for having a lot of AE86s, so I am sure Antonio would definitely feel at home here.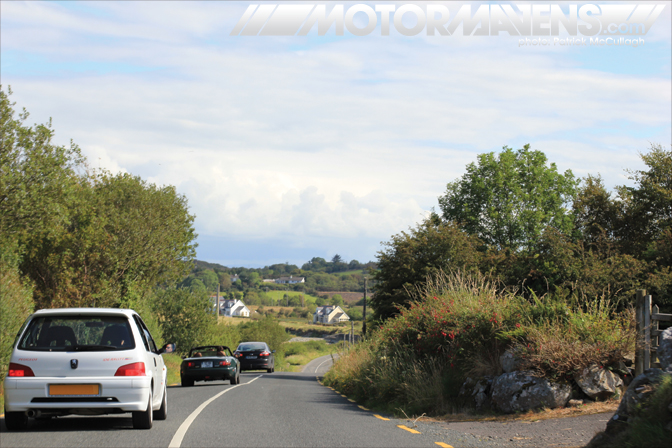 The start of the Knockalla stage is also the main road down the coast to Rathmullan and often we got stuck behind "Sunday drivers" which killed our fun a little.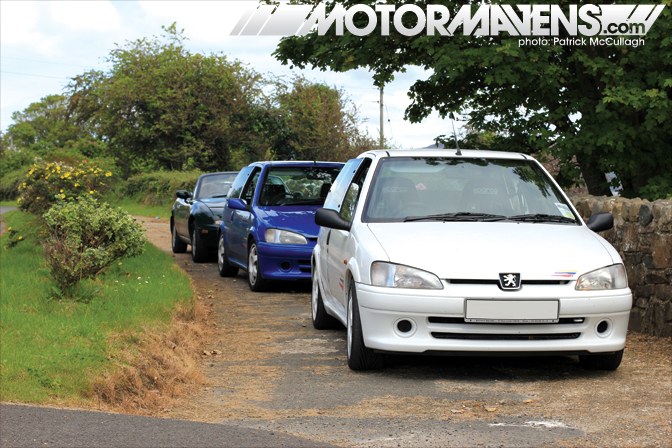 With the cars suitably splattered with dead flies and insects from an "enthusiastic" drive around the Fanad Peninsula, we all agreed that we would be back to take in yet more classic stages like Atlantic Drive and Kindrum Lake. So there you have it – a small insight into just two classic stages on the Donegal International Rally on an amazing Sunday afternoon. I look forward to our next meeting Donegal!!!
:: Patrick McCullagh
106
,
Andrew Nesbitt
,
atlantic drive
,
Austin McHale
,
Ballymastocker Bay
,
Citroen Sport
,
Colin McRae
,
donegal
,
Escort
,
eunos
,
Europe
,
fanad
,
Ford
,
glen
,
ireland
,
kindrum
,
knockalla
,
lake
,
Letterkenny
,
Mazda
,
Miata
,
MKII
,
MotorMavens
,
mx5
,
Patrick McCullagh
,
Peugeot
,
Portsalon
,
rally
,
rallye
,
Ramelton
,
Rathmullan
,
Roadtrip
,
Rothmans
,
scenery
,
Sebastian Loeb
,
Sunny
---