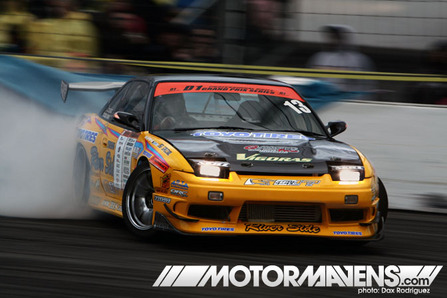 "Evvvvverybody's talking bout the good old days, the good old days…" With the next round of the D1 Grand Prix USA series coming up this weekend in New Jersey, I can't help but think back to "the good old days" of D1 events in the USA. It was just so exciting back then. It was so exciting to watch the D1 drivers from Japan drifting with their high end competition cars; and you got to hear the awesome mixture of turbo sounds and screeching tires. D1 was not plagued with the V8 blaaaaap blaaaaaaaaaaaaaaaaaap blap blaaaaaap that is now becoming the norm in American drifting events.
Even though Formula D was still strong even back then, what the D1 events brought to its American fans was a taste of Japanese drifting culture… it was so exciting. I really hope the new people who throw D1 events in the USA can build the series back to its former glory. It just used to be so epic.
Just look at this photo of Atsushi Kuroi from Osaka based drift team Tinker… his car is so bad ass! As is he! I miss the old days.
:: Motor Mavens
---