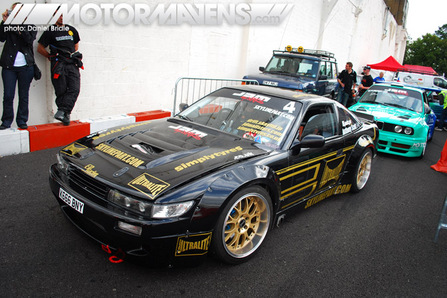 Here are some more photos from the JDM Allstars event at Wembley. The skies over London were bright and clear for a moment… I was feeling a bit burnt and tired from standing out on track for hours the day before, so I took some time to relax around the paddock area catching up with some friends, drivers and setting up my camera before heading over to the drivers briefing tent to see what the day had in store. I soon learned that the morning session was dedicated to qualifying for the Top 32 battles.
The qualifying would be run using the new Super Lap format. With the Super Lap, drivers are given just one single run to lay down their best score, no warm up laps, or anything. The judges were also wanting to see the drivers give it their all and get their cars as close as they could to the wall. A lot of pressure, but it was definitely gonna be exciting!
Unfortunatly just before the Top 32 started my camera died on me, so you'll have to excuse the lack of Top 32 shots. But I hope you guys enjoy the photos I did manage to capture. I'll start with one of Anthony Scott's Rocket Bunny Sileighty flying past me and the wall. This has got to be one of the most well known drift cars in Europe by now, and you can see why. It just stands out so much among the other cars.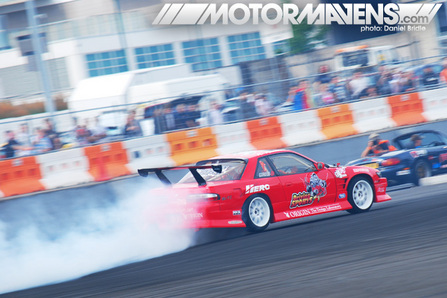 I forgot to mention in my previous features that on the transition into the final corner there's a barely noticeable bump in the track. Well, it is until you drive over it! Here's Kiyoshi Kawabata getting some air in his Driving Sports PS13.
Remember what I said about it being a bright and clear day? Well, it was… until Team Driftworks started ripping up the track. Bon Bon in his R32 Skyline gave me a huge lungful of smoke as he did a rolling burnout past the wall. All the Driftworks cars run Federal tyre's and the smoke they create is amazing. You can barely see the track, let alone take a photo of anything!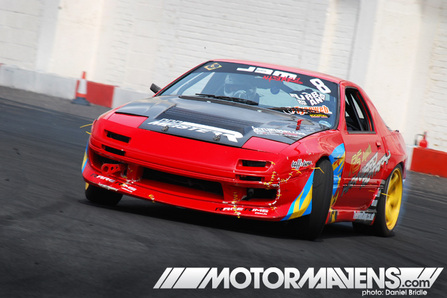 I've got a soft spot for FC's and especially the sound they make. Jon "Beezy" Bartholomew's RX-7 is no exception. The bridge ported rotary sounds awesome!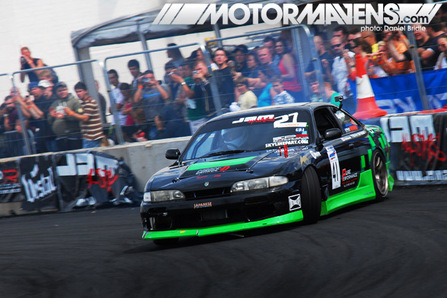 One of the drivers of the day for me was Brad McQueen in his low powered S14 Silvia. His driving  got better and better over the weekend, and some mad wall scrapes really got the crowd going. Unfortunatly in the Top 32 he was put up against Mark Luney in the much more powerful and quicker SVA Imports 350Z. Brad put up a fierce fight, even ripping off his bumper on the wall on one run. But Luney managed to pull a big enough gap to gain the advantage.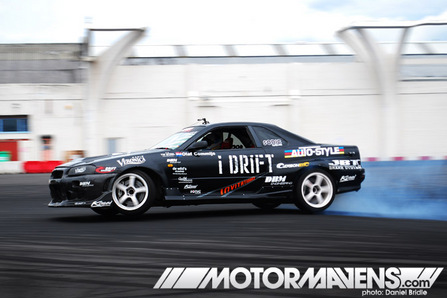 In the UK, it's a bit rare to see an R34 drifting, let alone flying! The jump proved a challenge for alot of drivers, but it made for some truly heroic entries into the last corner if you got it right.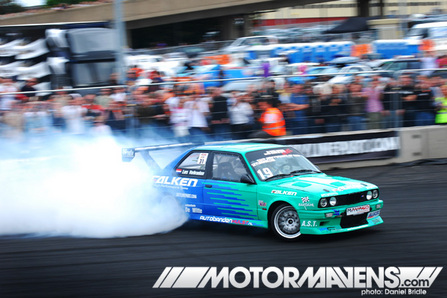 I was lucky enough to get a cool shooting spot on top of a cherry picker in the middle of the track. It was only then I realised how big the crowds had gotten. People were everywhere, even sitting on top of trucks and lining the walkways leading up to Wembley Stadium all watching and probably being deafened by the brutal V8 from Lars Verbraeken's Falken E30 BMW.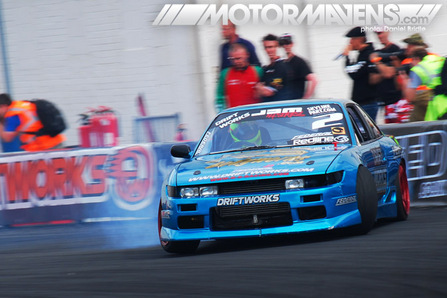 Finally it wouldn't be possible to end without a photo of Round 3 winner Dan Chapman! Dan drove amazing all weekend in his Driftworks PS13 Silvia, and The final between Paul Vlasblom and Dan was one of the most tense battles I've ever watched! It was almost too close too call and went to a sudden death where Dan managed to gain a slight advantage giving him the win. A well deserved win and a great ending to what was one of the best drift events I've ever been to.
I hope you've enjoyed the JDM Allstars coverage on Motor Mavens! Thanks for reading!
::Daniel Bridle
---