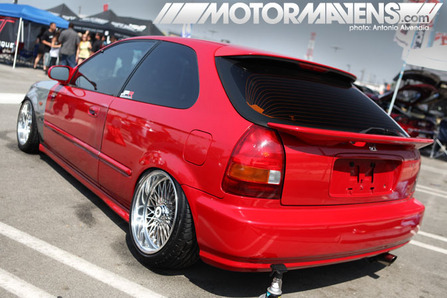 Sorry today's update took so long… the site had some software issues, so thanks for being patient with us as we deal with these growing pains! Before I transfer my Nisei Showoff photos to one of my terabyte hard drives for archival, I thought I'd just put a few more photos up on the site. This sparkling red EK Civic belongs to Danny Truong from Infinit Wheels.
This EK sits super dumped on SSR Takechi Project Supermesh wheels; 16×7.5 +6 up front and 16×8.5 +6 in the rear, wrapped in 195/45/R16 Achilles tires. LOL yes, I said "Achilles." Believe me, I was scratching my head on that one too. I've never heard of Achilles Tires before either. In fact, I think I might have laughed when I was talking to Danny on the phone and he told me the brand of tires he had. He laughed about it too, and said he had a very limited budget for tires before Nisei, and that's what he could afford, haha. Aside from his low drop and wheel lips popping out from the Achilles tires (I'm still laughing about it), I liked Danny's OEM EK4 SIR midwing and JDM taillights – very nice.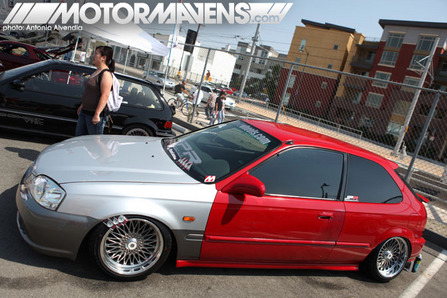 Doesn't this remind you of Ultraman's red and silver outfit? This shot shows off Danny's impressive wheel fitment. I know that some people hate on FF cars with negative camber and this much offset, but I'm just impressed at how much LIP Danny was able to get on his car, and how much he was able to slam the thing. This is the type of stance you would expect on a a VIP Toyota Previa or Infiniti Q45… I've never seen this type of thing on an EK Civic before Danny's!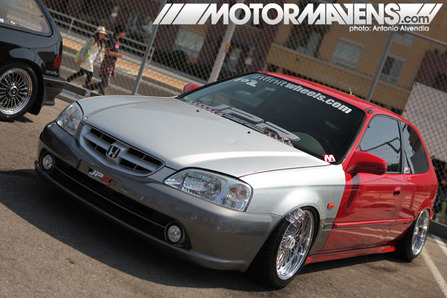 Check out the foglights, front bumper, and the grill… those aren't normal. Danny swapped out his entire front end for one from a Honda Orthia station wagon from Japan. This was another thing I've never seen before on a Honda – pretty cool that he's thinking of new things to do to Hondas, because I thought everyone had already done everything you could think of!
If you like this look, you can contact Danny about getting some wheels and stance (and even an Orthia front end) for your Honda. Just hit him up at Infinitwheels.com.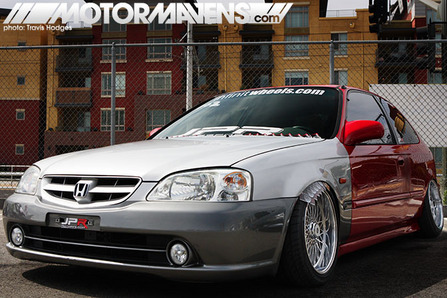 No, it doesn't have air suspension. But it sits like it does!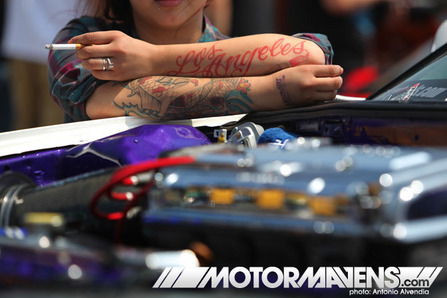 Reppin Los Angeles… is the Phaze 2 crew, bringin it hard with some of the sickest Hondas at the show. Phaze 2 is all about slammed cars with aggressive offset and stretched tires, and they all seem to have contrasting color engine bays with super clean wire tucks. They floss it hard too – they all rocked their cars hoodless, so other crews would realize just how much effort they would need to put in to get to the Phaze 2 level.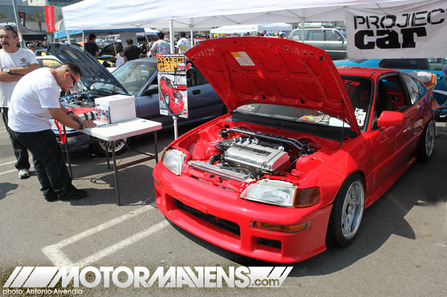 One thing that I thought was pretty cool was the fact that Project Car Magazine and Super Street had a little competition to see who could build the best (or most popular) Honda and display it at Nisei. Gary Narusawa, the editor of Project Car Magazine, stunned everyone by bringing out his Honda CRX with 16×7.5 and 16×8 SSR EXC Neo wheels. Now, if you have ever lived in the San Gabriel Valley, you'll know that these were pretty much THE wheels to have if you lived in SGV in the 1990s.
I spoke to Super Street veteran Jonathan Wong about the CRX, and he told me the story of how much effort went into putting together this super clean set of Neo wheels. Apparently, Gary actually bought these Neo wheels for his S13, back when RRR (Japanese used parts shop) in Gardena was still open. For those who aren't familiar with RRR, it was basically like the US arm of Up Garage, but it closed down because the US guys were too cheap, or they didn't know about the shop because they didn't have a website like MotorMavens to advertise on at the time, hehe.
So apparently, these Neos were actually sold as having a 240SX offset (well, they were 4×114.3 and aggressive for back then, but they certainly wouldn't be most aggressive wheels for an S13 by today's standards), but after Gary sold his S13, he kept the wheels and changed the 4×114.3 faces to 4×100 faces so they would fit his CRX.
Where the heck would you find a set of 4×100 Neo faces, you might ask? I mean, these wheels are pretty rare, so they're not exactly available off the shelf. Apparently, Gary found out that Elton from Raceline had a few sets of Neos, so he basically had to buy TWO SETS of Honda bolt pattern SSR Neos from Elton in order to make these work.
Wait… two sets? JDM Wong explains that Gary is very, very particular with his wheels. He wanted Neos with super clean faces, and complete hardware – centercaps and the whole nine. However, he couldn't achieve this without buying TWO sets of wheels. Now that's dedication.
I really love the fact that he did that, because that's something I would do. I'm like that with SSR MarkIII wheels and RS Watanabes. I've owned soooooo many different sets of RS Watanabe wheels in my life, I've lost count. At one point, I had every size and offset of 14 inch Wats that RS Watanabe factory made.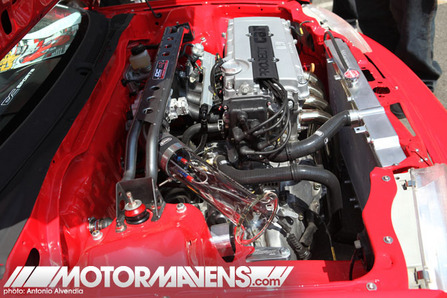 I admittedly don't know much about Hondas… but from what Jonny Wong tells me, what we're looking at is a CTR B16B motor, with an air intake that looks like it was made from some weed paraphernalia.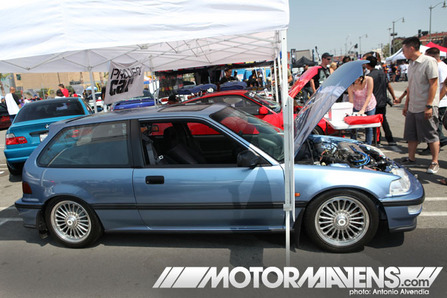 Now here's the Super Street entry into the "Project Car vs Super Street" Honda competition.
As the last remaining original Super Street staffer and now editor-in-chief of the mag, Jonathan Wong represented his Super Street Magazine and Team Macross 7 roots well by wearing his period correct 1990s era Macross 7 team t-shirt and bringing out his "SGV Special" light metallic blue EF Civic hatchback.
I think his car is pretty cool, because it was built with a period correct "late 1990s San Gabriel Valley look," except Jonny added the JDM bumpers and Mugen valve cover, which isn't something you would find easily on cars back then. I just dig how (albeit 15 years later) he built the car he would have always wanted to rock when he was in high school.
If I remember correctly, this car was originally white, but Jonny painted it Suzuka Blue (from a Honda S2000) because it reminded him of Junior Asprer's OG street Civic from Team Redline back in the day – for those who don't know about import drag racing roots, Junior's Civic was one of the fastest cars at the street races in the mid 1990s. If you guys are interested in this sort of thing, maybe I could call Junior and show some more light on this scene?
Jonny's super clean EF sits on a set of SSR/Racing Hart Superfins, which again, were some of the most popular wheels for SGV area people back then. This is truly a period correct car! However, Jonathan admits that he added some more modern touches that a 1990s SGV Civic probably wouldn't have had back then – like a complete JDM EF9 front end, with OEM Civic SIR sidemarkers.
I think it's really cool that the Editor in Chief of Super Street Magazine works in the automotive aftermarket industry and can get hookups on pretty much any parts he wants, but he didn't go the typical "magazine editor route" and make his EF into one of those magazine whore cars with a stack of free BS parts bolted up. I mean, some editors of automotive media outlets don't even own modified cars! Can you believe that? I appreciate the fact that Jonathan's car was built with precision, pickiness and dedication, going the extra mile to make stuff period correct. I share those types of automotive values too, so I totally get it.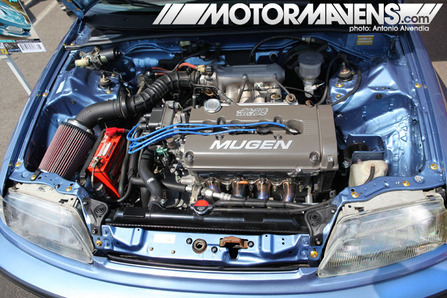 Clean engine bay. What we're looking at here is a B16 with all stock internals from an EG6 1993 SIR 2 with factory LSD. Some of the bolt ons include a DC sports header and a Hasport adapter which allows Jonathan to use a hydraulic transmission instead of the cable transmission that the EF Civic normally comes with.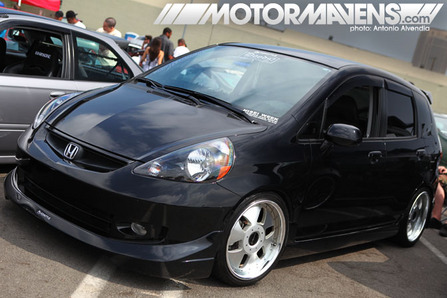 This Honda Fit didn't have extreme/crazy wheel fitment compared to some of the other cars at Nisei, but I thought it looked pretty damn good. This would be a great commuter car!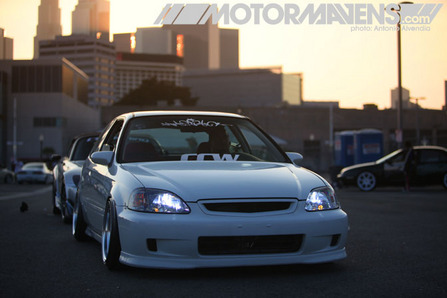 As the sun set on the Nisei Showoff, I took this last snap of this Hasback EK Civic exiting the parking lot. This year's Nisei Showoff really piqued my interest in Hondas. These guys were stepping it up in the offset game for sure. Much respect, guys! I can't wait to see all the newer and crazier stanced Hondas popping up all over the place.
If you have a car with great stance and feel like it should be on Motor Mavens, then please drop us an email and send photos to motormavens(at)gmail.com so we can talk!
::Antonio Alvendia
2009 Nisei Showoff
,
Achilles Tires (LOL)
,
Antonio Alvendia
,
EF9
,
EG6
,
EG6 SiR 2
,
EK9
,
Elton Lo
,
EXC
,
Gary Narusawa
,
Hasback
,
Honda
,
Honda Fit
,
Import Showoff
,
jdm
,
Jonathan Wong
,
Junior Asprer
,
LS VTEC
,
Neo
,
Nisei Showoff
,
offset
,
Orthia
,
Phaze 2
,
Project Car Magazine
,
Raceline
,
RRR
,
SGV
,
SSR
,
Super Street Magazine
,
Superfins
,
Supermesh
,
Suzuka Blue
,
Takechi Project
,
Team Macross 7
,
Team Redline
---