When I think of Mooneyes and their Annual Christmas Party at Irwindale, I normally think of hot rods – rat rods, traditionals, kustoms, roadsters… things of that sort. However, as I was trudging along the Irwindale Speedway parking lot with soaking wet jeans (and even worse… wet socks. Grossss!) from the torrential downpour that Mother Nature subjected us to… I noticed this small grouping of Volkswagens, and immediately began making my way toward them.
These Vee Dubs had their own sense of style. The color and rust spots on this blue Deluxe VW bus reminded me of the Volkswagen Single Cab from Miami that we featured just a few months ago when we started this site. I'm admittedly not a maven of VW knowledge, but I do have a strong opinion on what I think is stylish and what's not.
I noticed the bumpers on this particular Deluxe bus have a nice contrasting paint color, and if you notice, there's one single foglight on the front bumper. Interesting, hmmm. Even though the paint schemes had similar colors, the turn signals and body trim were different than the Single Cab from Miami. I noticed that this particular bus also had some headlight grilles, which add to the look.
I gotta cringe when I see all that rust up top though. I understand that it's cool to display rust and patina on an old nowadays, but damn. Letting big rusty areas like that get exposed to that much rain can't be too healthy for a car. Help old cars in their fight against cancer! Keep them out of the rain! Oh well, the owner of this bus apparently isn't afraid to drive his vehicle!
One of the coolest things about the bus, in my opinion, was the fact that it had a matching VW bus cart, fashioned from an old Radio Flyer wagon. How cool is that!? I was jocking this for sure.
I was not jocking the low budget pin-up chick that was hanging out near the bus, who made me roll my eyes when she said, "just make sure that thing doesn't get run over by a car!" when I positioned it for this photo. _____, please. I'm not stupid. I know how to treat cool pieces of car memorabilia. Especially when it belongs to someone else. That chick needs to download Soul by the Pound so she can get some Common Sense.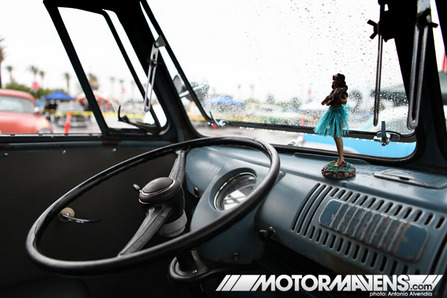 Inside the bus, I looked around and thought, "man… this has got to be super fun to drive around on the streets!" Can you imagine the possibilities of having a two piece flip up windshield like this one? I could be shooting photos out the front of the car as I sit shotgun! Coooooool! Or even cooler, I could be shooting rubber bands at people with this rubber band gattling gun!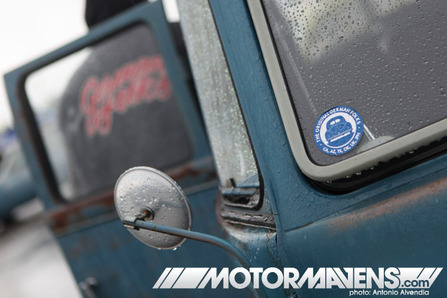 The small window sticker on the bus denotes the name of the crew… The Original German Folks, with chapters in Cali, AZ, Texas, Oklahoma, the UK, and Japan. Cooool.
I thought the roof rack and side ladder were pretty cool accessories. I especially liked the old school hardware that attached the roof rack to the roof of this bus! Very cool.
OMG though, that's a lot of rust!
Here's another gorgeous German Folkswagen. This VW Beetle is actually for sale. I thought it looked great because of its super clean paint job; I love the color on this thing too! The taillights and license plate light look like some sort of aftermarket pieces (I don't know the brand though, sorry…), and the add-on bars on the bumper look pretty interesting too.
Another thing I noticed (how could I not notice it, c'mon!) was the massive rear camber on the Bug. Just imagine if those wheels were wider, and the tires were stretched out all crazy. I wonder if it would look cool or not. I'm thinking, YES.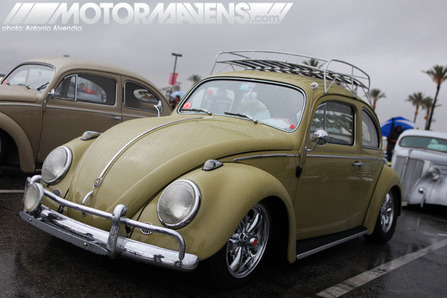 This thing is pretty damn low. And I absolutely love the color. Combined with the super clean chrome, it reminds me of a 1972 TE27 I once owned. Such a gorgeous color combo in my opinion.
It's also super low! Very cool. Notice there are some sort of flat bumper extensions on the normally rounded bumper. And a single foglight up front. Cool details on this thing.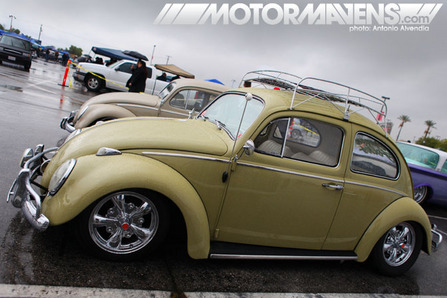 Oh wait, did I mention that this Beetle is low?! I love lowered cars. They're a pain in the ass to drive at times, but they're sooooo worth it. This Bug has style!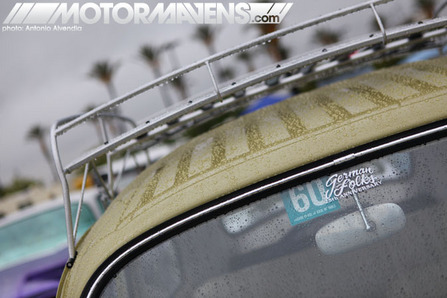 From far away, I thought this number up by the rear view mirror was an older Japanese sha-ken sticker. For those who aren't familiar with the term, it's basically like the Japanese equivalent of the registration sticker on your license plate… but in Japan, the required placement is front and center on your windshield. They have since done away with this type of shaken sticker; the new one is much, much smaller and less obtrusive. (Also, less cool.)
I don't know why I rambled on about that anyway, because this isn't a shaken sticker. It says "Please Place at edge of table." haha it's from a restaurant!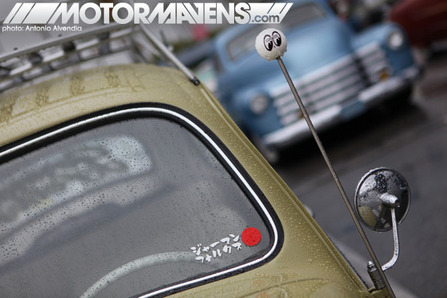 However, maybe a shaken sticker might make sense… because there is a Japanese sticker on the windshield anyway! This is the official sticker of the Japanese chapter of the German Folks Car Club. That's pretty cool!
I hope that eventually, we will VW fans from all over the world visiting and leaving comments on the site! Please email this link to your friends, German Folks and VW owners!
:: Antonio Alvendia
---