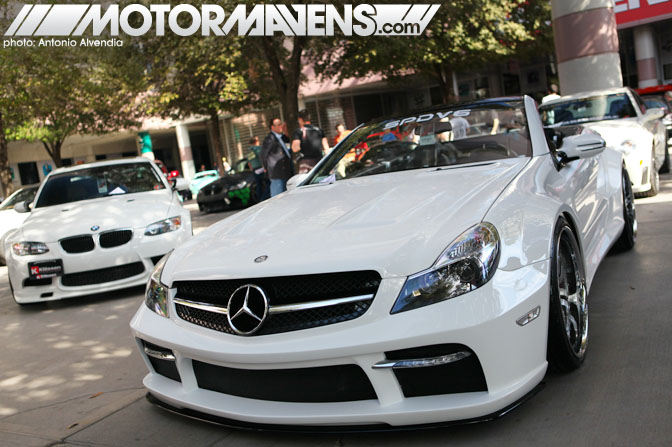 SEMA Show is here! Here at the Las Vegas Convention Center, there are still quite a few vendors and car builders doing last minute prep work at their respective booths. As I walked amidst the hustle and bustle of the 2011 SEMA Show, I've been "live blogging" by posting photos of cars that caught my eye! Follow @MOTORMAVENS on Instagram, Twitter, Tumblr, and Facebook so you can see our favorite cars only moments after we spot them ourselves!
Of course, EVERYONE has been hypebeasting about the newly built Porsches by Rauh Welt Begriff. As excited as I am to see RWB Porsches in the USA for the first time, people-in-the-know have already been following the builds online… so I decided not to lead off with those photos for our SEMA coverage. We'll be posting more about Rauh Welt soon enough… but since everyone knows what the RWB Porsches look like, let's have a look at some of the other stylish cars at this year's SEMA!
Up above, I couldn't take my eyes off this clean white Mercedes Benz SL65 AMG! Dammit, this thing is gorgeous! I or one of the other MotorMavens Crew members will definitely post more photos of the car soon.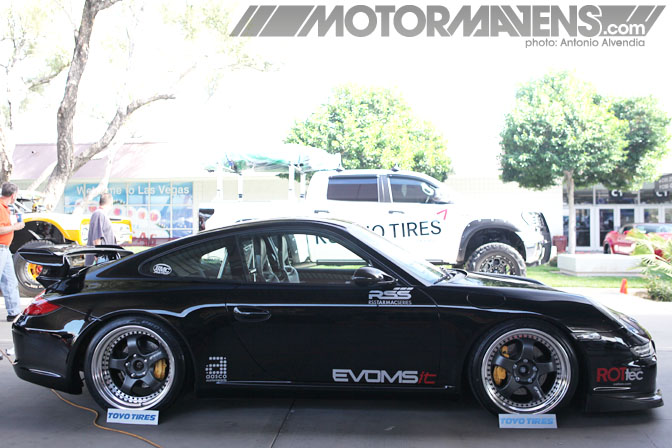 While it hasn't been getting the type of hype that the Rauh Welt cars have been receiving, I just had to stop to admire this breathtakingly gorgeous Porsche 996 from Evolution Motorsports in Tempe Arizona. Sitting on Work Meister S1 wheels, and clean, simple bodywork, this black beauty looks like a perfect street car.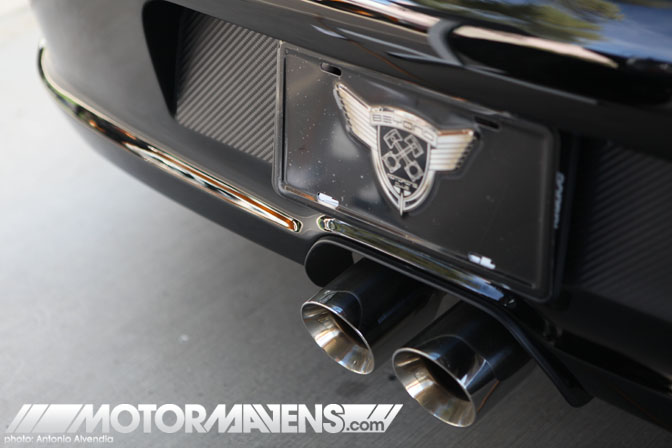 Check out the exhaust too… I just love beveled dual tip exhausts. So clean and classy!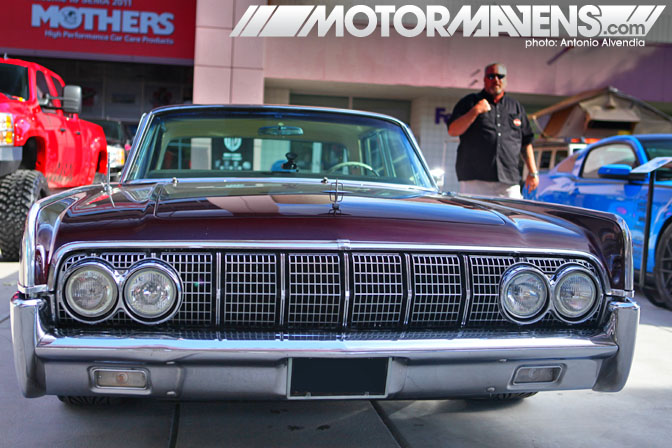 I'm not sure the year of this particular car, but I just love the clean, classic bodylines of a 1964-1965 Lincoln Continental. It's definitely on my want list, for my ideal dream garage!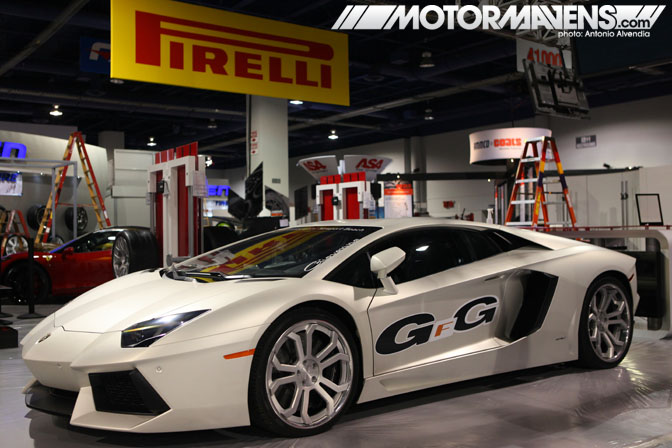 Walking through the South Hall last night, I spotted this new Lamborghini LP700-4 Aventador at the Pirelli booth. It looks aggressive and mean! Last night was the first time I've ever seen an Aventador up close…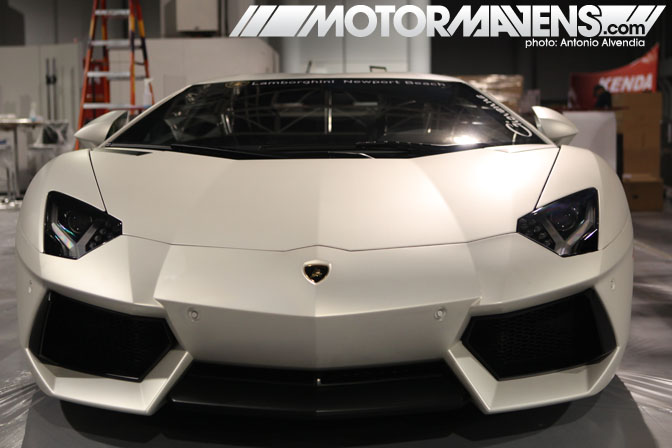 Check out the front end- this thing definitely looks like a space ship!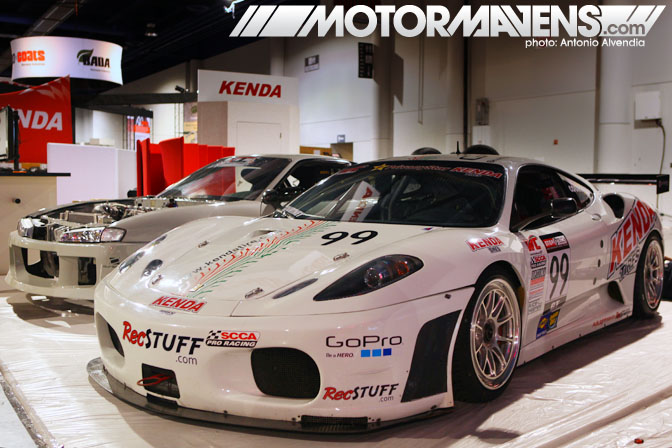 I was pretty surprised at the contrast of cars in the Kenda Tire booth. They had an SCCA Ferrari F430 race car parked right next to a super clean V8 powered kouki S14. The security guys were kicking everyone out of the exhibit halls, so I wasn't able to see the S14 up close, but it looked like a ridiculously clean build.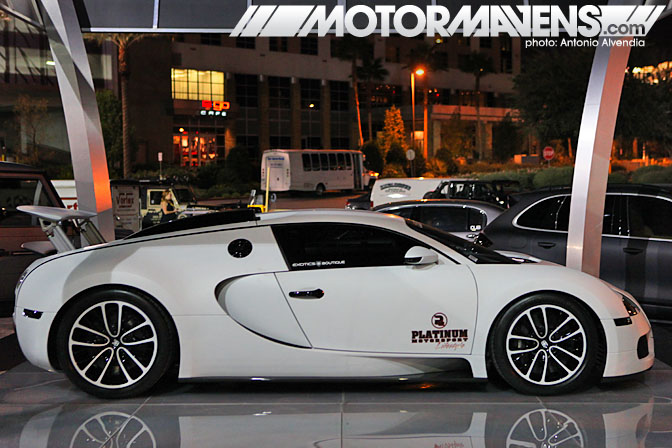 SEMA veterans know that the best place to valet your car is at the Renaissance Hotel. It's only steps away from the Las Vegas Convention Center's South Hall, which is where all the wheel and tire manufacturers have their booths. As I walked back to the Renaissance to pick up my car, my eyes were drawn to this white Bugatti Veyron in the Platinum Motorsport booth. There are so many damn Platinum cars at SEMA, they created their own #PML hashtag, with stickers posted on the windshields of all the cars. While I don't know the owners of Platinum personally, I'm friends with one of their attractive young employees named Beverly, so I gotta show support for the Platinum crew!
These photos should whet your appetite for more of our upcoming SEMA posts, so I think it's time for me to leave the media center and shoot more photos of cars! More photos coming VERY soon! Make sure to FOLLOW @MOTORMAVENS on Instagram, Twitter, Tumblr, and Facebook – we'll be posting tons of car photos, and behind the scenes happenings from SEMA and its afterparties, so follow along with us in real time!
Time for me to shoot more photos!
:: Antonio Alvendia
---