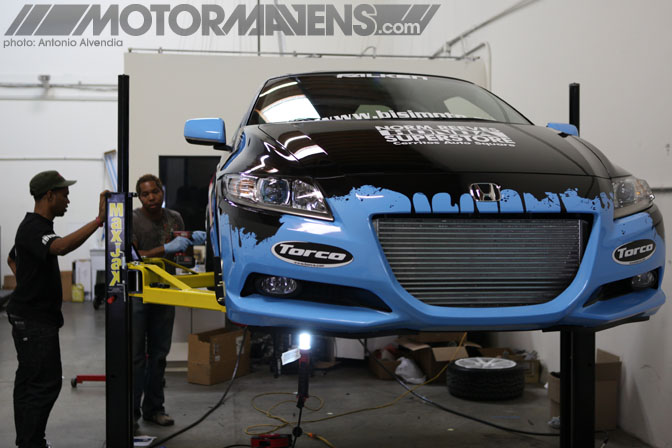 No one with any passing knowledge of the automotive industry is unaware of the upcoming release of the new Honda CR-Z – and most are very excited about the prospect. If you're a Honda tuner, the word excited is probably far too "whatevs" to describe your emotional state – especially if you're particularly fond of that wonder car that Honda released in the mid-1980s. If you're Bisi Ezerioha, you've already gotten beyond all of that. If you're Bisi, you've already built a version of the car that exceeds the power output of Porsche's 911 GT3 Hybrid – awesome.
As the owner of Bisimoto Engineering, and somewhat of a legend in the Honda community, Bisi is an overachiever when it comes to wringing every last ounce of power from any of the projects he accepts – often with ground-breaking results. MotorMavens crew members Antonio Alvendia, Herb Policarpio and I took a visit to his facility to see his latest masterpiece. We arrived just in time to see him adding the finishing touches to his Norm Reeves Honda purchased, 2011 Honda CR-Z.
As he went about his work, he took the time to explain his vision for this build which was to benchmark the CR-Z hybrid versus the newly released Porsche 911 GT3 hybrid which boasts a hefty 480hp at the crank and to do so while retaining the drivability, reliability, and eco-friendly nature of the original. In his own words: ìto really show them what Bisimoto Engineering could do.î In a matter of six weeks, not only had Bisi met his goal, he had exceeded the Porsche's horsepower numbers by 53 horses and developed 22 new aftermarket performance parts for the CR-Z. Did I mention he was an overachiever?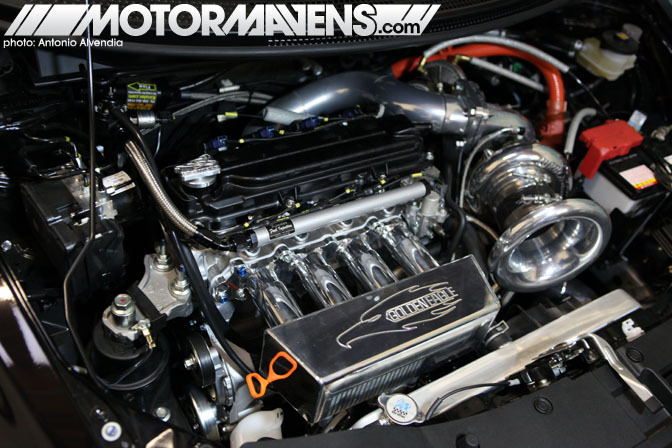 Beneath the hood lies Bisi's innovative hybrid masterpiece – the Bisimoto custom built 1.5L LEA1 engine, which includes a fully redone Bisimoto bottom end and valvetrain, turbo kit, level 2.4 camshaft, and custom 70mm throttle body. No wonder Bisi considers his CRZ to be a Porsche GT3 hunter.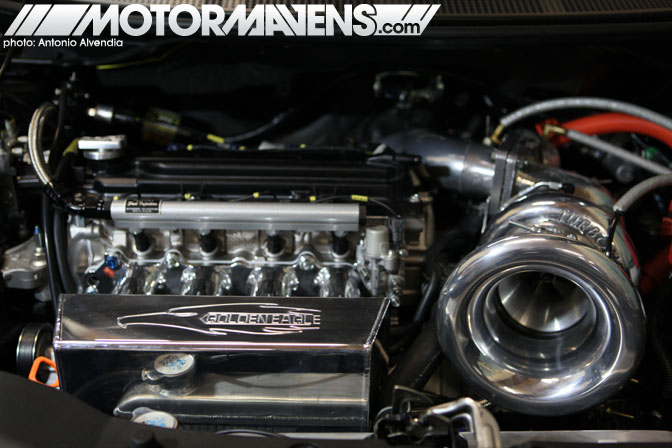 Golden Eagle Intake manifold & sleeved block, Kinsler fuel rail, filter and injectors handle sufficient fuel delivery.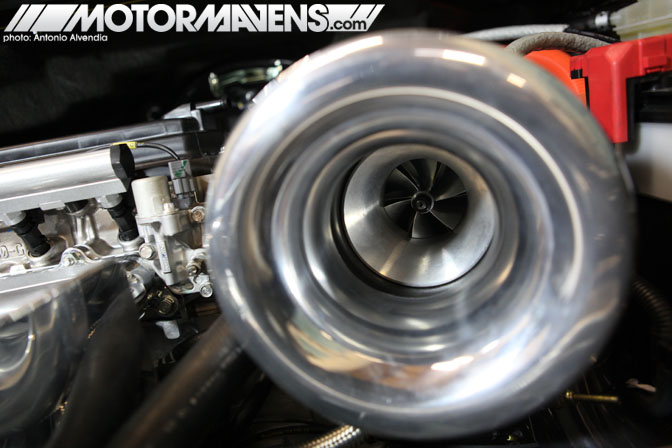 Alas, the most impressive component of the engine bay… the 64mm Turbonetics billet turbocharger.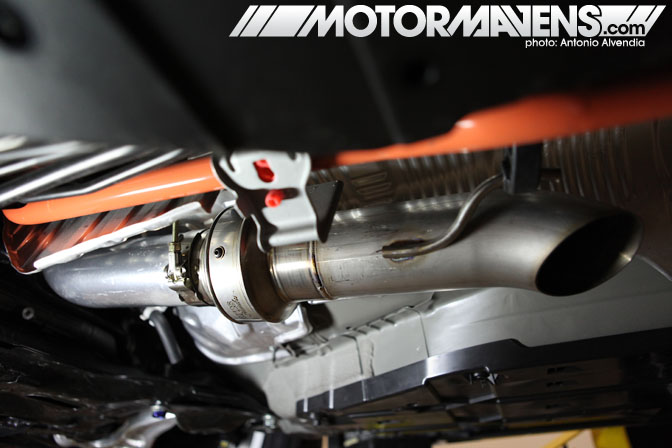 The down-pipe style Burns 3″ stainless exhaust setup creates an impressive and loud tone, although it's still not as loud as the BMI racing drift 4 rotor RX8 though. Yikes!!!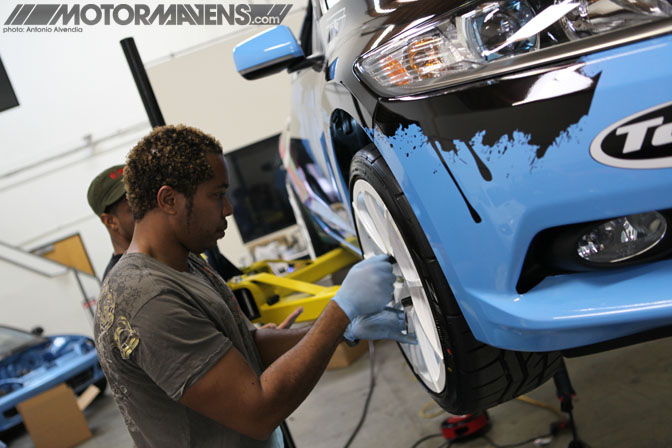 Aside from being a highly experienced engine builder, he also tackles lighter duties as shown here, bolting on wheels.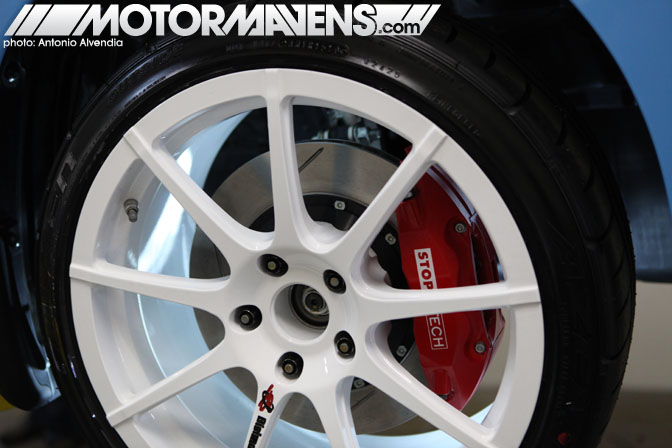 Bisimoto-Savini 18×9 wheels all around with +29 front and +27 rear. 225/40/18 Falken RT615K tire.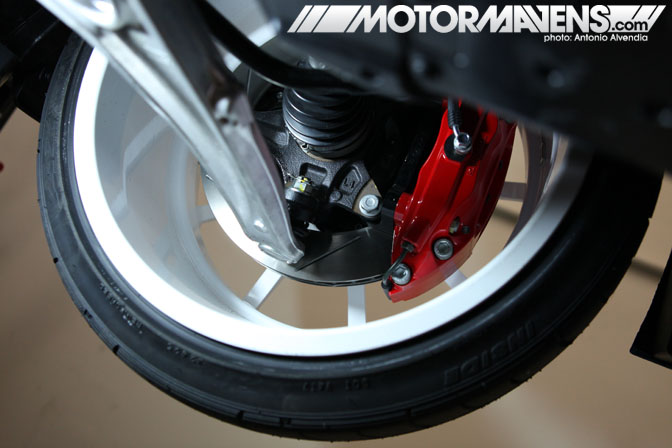 Important factors for performance such as braking are handled via Stoptech brakes.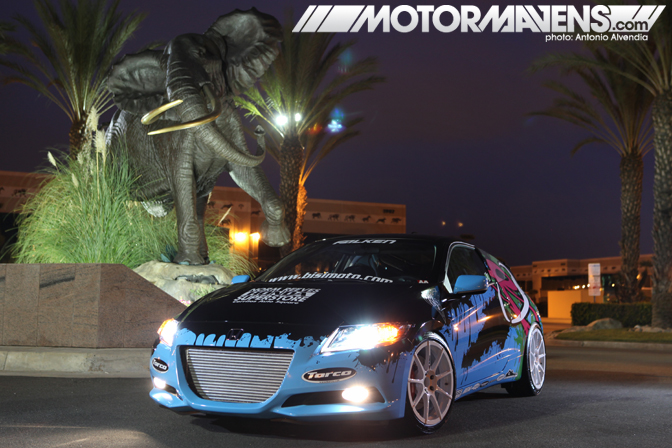 What I found appealing when looking at the CR-Z, was the modified OEM front bumper which is setup to handle the enormous Griffin radiator. That's cool… Literally.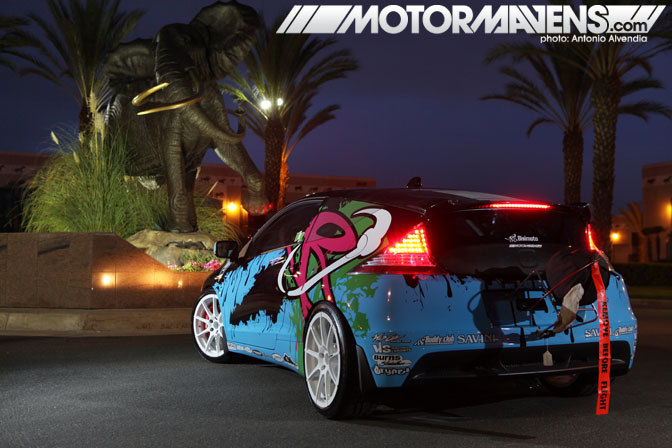 Gatorwrap laminated body wrap; Type 2 graphics, Bisimoto-VIS custom carbon fiber hatch and wing add flair per Bisi's personal style.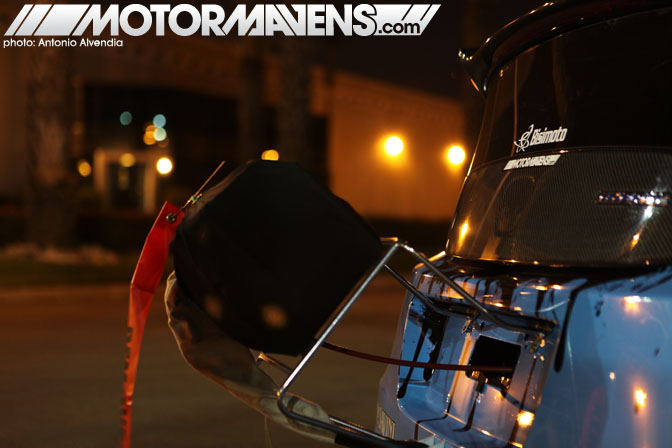 This Bisimoto custom parachute makes the CR-Z slow down after guaranteed record setting passes.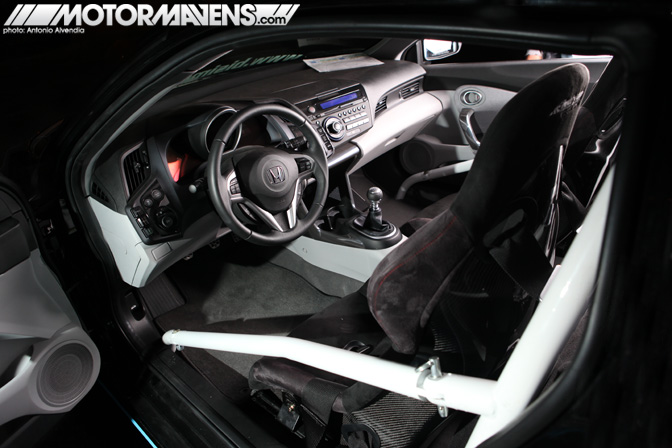 This last shot shows you the clean OEM interior which had its fair share of weight reduction in the back. I not only enjoyed the fresh new car smell during the shoot but also the nice Buddy Club racing bucket seats which will secure Bisi as he takes flight. The Bisimoto spec Steen 6-point roll cage will definitely ensure safety as well. Overall, the day was awesome and the time spent learning more about this project allowed me to realize something quite clear about Bisi's approach to building: His knowledge truly creates power.
:: Edward Uche
Comments Closed