Not too long ago, I scheduled a rendezvous with Mike Paganik, who is the owner of this pristine 1996 240sx in Tempe, Arizona. Mike, who happens to be a friend who I have known since the 9th grade, tells me he's getting a new car, and I'm thinking "Great… Another one?" This guy has more vehicles then a dealership's used car lot, so out of curiosity, I ask him what the car is and the obvious question of "Can I drive it?" He answered "It's an S14" and the obvious answer of "You definitely can not drive it."
With that established, I became turned off by the whole subject and quickly began talking about something else. After seeing my interest in the matter drifting away, Mike pleaded with me to take some photos of his newly acquired vehicle. So with a bored look on my face (and with a tricky, devilish demeanor) I began fiddling with my Google G1 phone, and I rolled my eyes and asked him, "Whatever, so where's the car?" Noticing he wasn't amused with my joke, I tell him to show me the car and I'll make my decision based off what I see. Mike agreed to this, and led me to the garage, took the car cover off and…'OMG. I. RUINED. MY. PANTS!' After a quick clean up and a change of under garments I agree to take some snaps of the car that weekend in Tempe, AZ.
Fast forward to the day of the shoot. After being jocked harder than Jay-Z as we drove the S14 through the streets of Tempe, we finally made it to our photoshoot location. Rolling into the parking lot, we damn near had to hand out neck braces for all the people craning their heads checkin the fitment! With that being said,  it really made it hard for me to shoot, with everyone from soccer moms to park rangers coming up to ask questions about the car. After dropping some knowledge on our audience, the photo session was in full effect!
Super deep dish fitment is achieved with Work VS-KF 18×9.5 (-10) in the front and 18×11 (-5) out back!  The Works are wrapped in Dunlop Direzza rubber 225/40/18 for the front and 255/35/18 for the rear.
This S14's stance is made possible by the good people at Apex' i with their ExV N1 coilovers. The Apex'i ExV N1s deliver a stance so good it makes you wanna smack yo mama!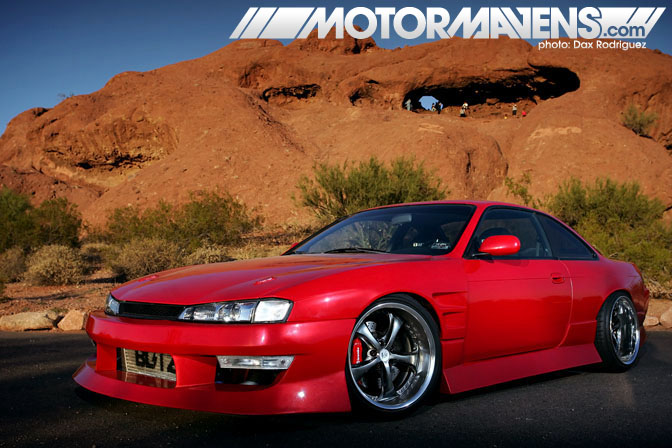 An evil grimace is obtained with an Origin Lab 'Aggressive'  body kit. Front fenders measure in at 30mm over stock, while 50mm molded rear fenders out back give this S14 more curves than America's Next Top Model! Going fast is easy in this S14, but when it's time to stop this beast, a Brembo Gran Turismo big brake kit makes it even easier!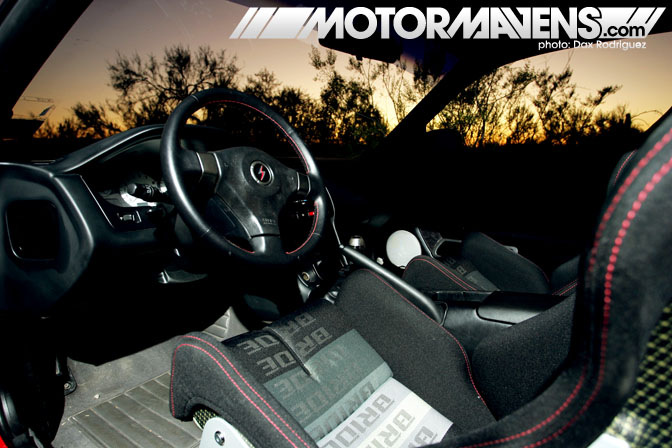 This S14's interior is en fuego! A Japanese market S15 Silvia steering wheel keeps the driver's hands busy, and Bride Gaias Low-Max reclining buckets in carbon kevlar keep the driver and passenger snug while hitting the turns. Pioneer Avic D3 coupled with Infinity Kappa component speakers keeps the music in check and also assists with navigation, in case Mike gets lost.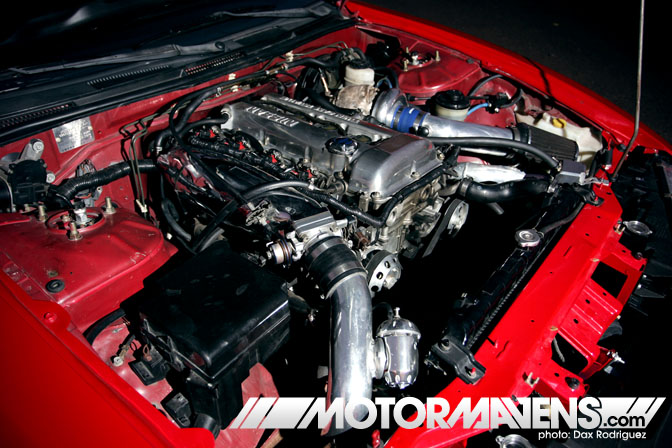 Like most US 240s, this S14's original engine was swapped in favor of a SR20DET motorset. However, unlike most other SR20DET swapped 240s, this S14 has incredibly cold AC! That's a must for street driving in Arizona!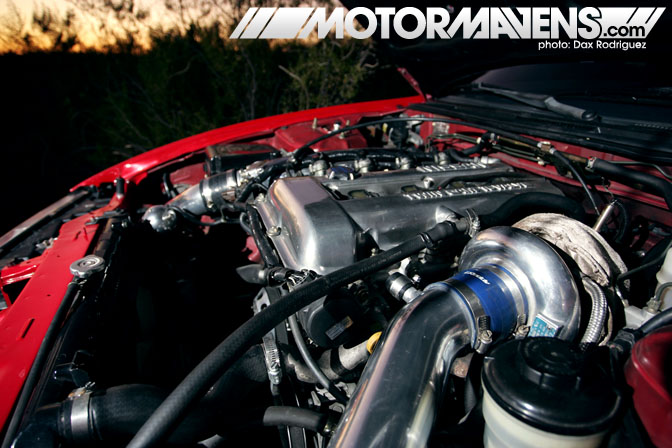 The GReddy TD06 25g turbo matched with a GReddy SUS exhaust manifold force feeds fresh air and makes sure this SR20 won't be going hungry anytime soon!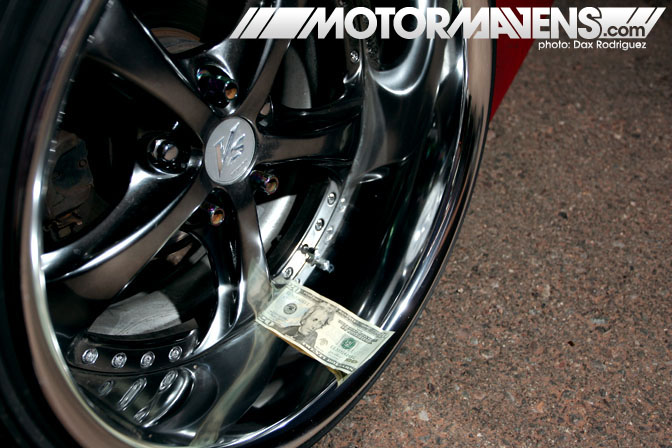 The cliché "Dollar bill in wheel lip" shot.    C.R.E.A.M!
Shortly following my photoshoot with Mike's S14, I recieved a phone call saying he just sold his wheels and had some new goodies on the way.  Expect to see greatness out of this S14, as it will be wearing some fresh new kicks courtesy of Mackin Industries. A set of Gram Light 57 Pros in RMC finish with Ti lips are on deck, along with a new V8 powerplant for all those domestic lovers out there!
:: Dax Rodriguez
---