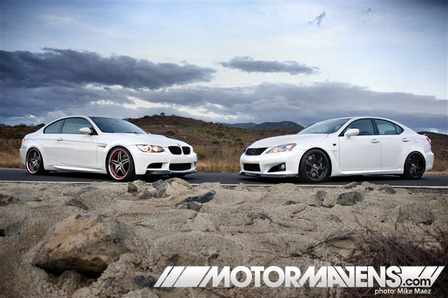 The BMW E92 M3 and the Lexus IS-F are both shining examples of sports-minded luxury cars. They both project an image of luxury and refinement, combined with engine response and handling suitable for the racetrack.
Not too long ago, I did a shoot with an E92 M3 and an IS-F that were both outfitted with a plethora of aftermarket parts from a luxury sports brand called Vorsteiner. When I was first introduced to the team over at Vorsteiner, it was to photograph their Porsche V-GT project for Modified Luxury and Exotics Magazine back in 2007.
Since then, Vorsteiner has continued its expansion and risen to new heights – they have not only expanded upon their Porsche lineup but they have also capitalized on the original Euro market that brought them to the forefront of US-based aero parts manufacturers for European cars.  With the addition of new performance offerings like their titanium exhaust and signature wheel lineup, Vorsteiner also decided to team up with MotorworldHype to promote their new Ventross line of parts, which is currently exclusive to the Lexus IS-F and the Nissan GTR.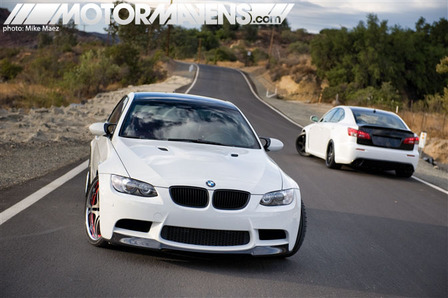 Let's take a look at the M3's VRS Aero carbon front lip spoiler. According to the Vorsteiner rep I spoke to, their carbon parts utilize a Carbon Fiber Honeycomb Matrix (CFHM) structure, which gives their parts greater stiffness, strength & durability compared to traditional hand laid carbon fiber and fiberglass materials.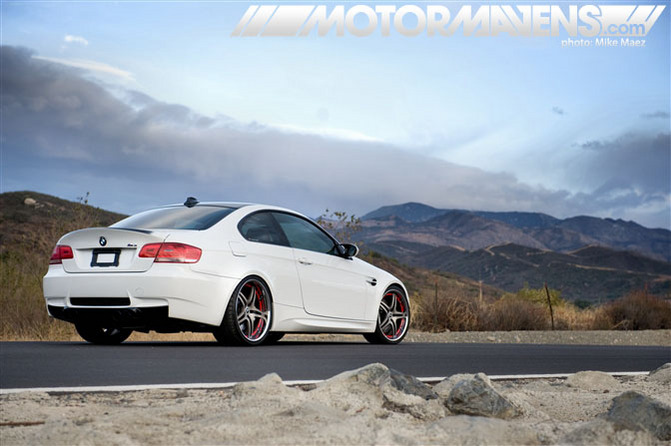 As if a brand new white E92 M3 from the dealer didn't look sexy enough! This particular shot shows off the stylish VRS Aero Rear Diffuser underneath the bumper, and the clean and subtle VRS Aero Boot Lid (that's trunk lid to those who don't try to use Euro terminology when they're speaking) set this M3 apart from the masses.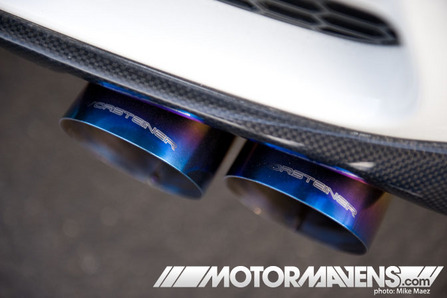 The M3's full titanium cat back performance system has peak horsepower gains of 14hp with peak torque gains of 13 foot pounds.  Titanium 90mm tips with an optional Blue Torched Finish were also installed, and offer a weight savings of 17 lbs vs. 55 lbs for the factory stainless unit.  Vorsteiner also includes limited production computer serial number stamping is also provided for authenticity. Fancy!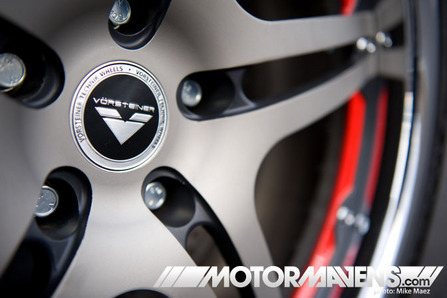 Even though this particular M3's 3-Piece forged V-302 model wheels aren't exceptionally fat lipped, they are available in widths from 8"–13″ and are made using the highest quality T6-6061 aircraft aluminum.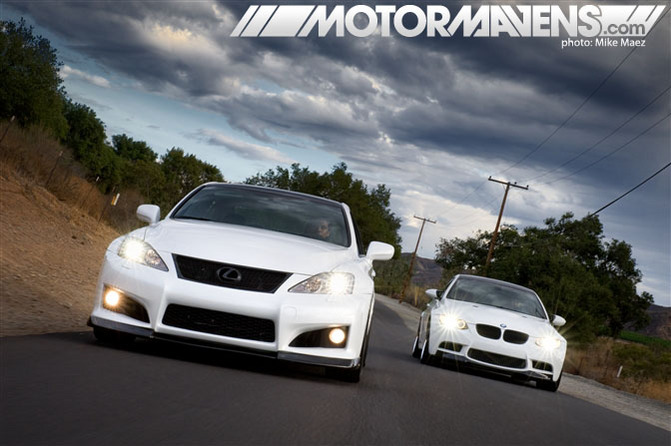 Which one would you choose? This IS-F or the M3?
Focusing our attention on MotorworldHype's Ventross IS-F GT, the Vorsteiner team developed vacuum bagged dry carbon fiber components for the IS-F GT that increased aerodynamic efficiency by adding a front bumper splitter, rear diffuser cap, and a boot-lid aero trunk.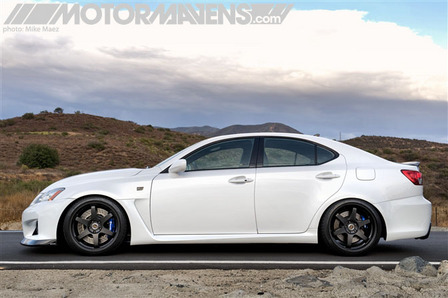 To further improve the IS-F's sport-tuned handling on and off the track, TEIN developed a special suspension package to achieve a stiffer chassis and also to allow for driver adjustability.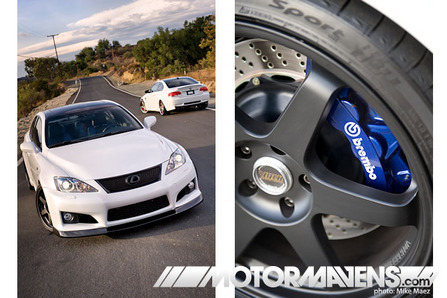 A reduction in rotational mass is always good! On the IS-F, this is achieved with 19 inch Volk Racing TE 37 wheels with 19×8.5 F / 19×9.5 R wrapped Michelin Pilot Sport 2 Tires 235/35 F and 265/30 R. Don't forget the big Brembo calipers and cross drilled rotors sitting behind the TEs!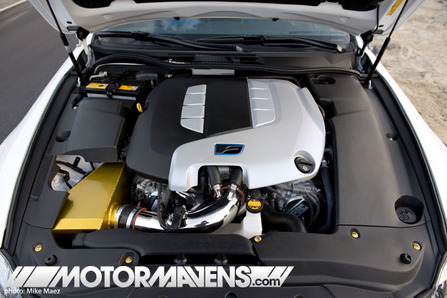 The IS-F GT 's engine compartment may be mostly covered up in black plastic, but there are small hints to the car's performance enhancements – namely the Borla exhaust sitting out back, and a free flowing aluminum air intake chamber with a larger diameter stainless inlet tube by Gallery.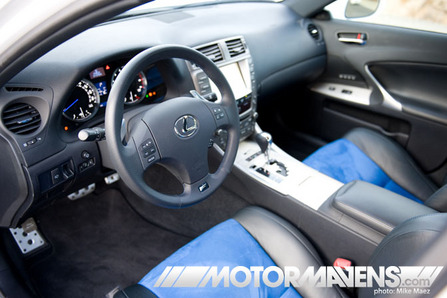 The IS-F interior has been given a light face lift, under the direction of MotorworldHype founder, RJ DeVera. The front and rear seats were redone with blue suede alcantara which attracts attention at car shows, and helps the driver and passengers stick to their seats during spirited drives.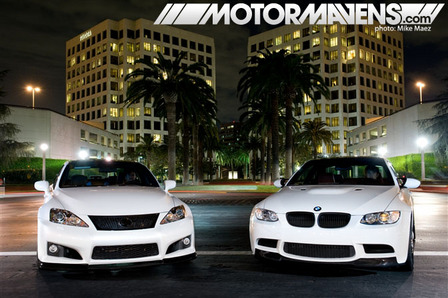 With Vorsteiner, Ventross, and the MotorworldHype team combining to offer a subtle yet effective combination of tasteful aesthetic enhancements and light performance modifications, both the M3 and IS-F are brilliant examples of a refined upgrades for the sophisticated driving enthusiast.
The only question that remains is, which one of these cars would you choose? Vorsteiner E92 M3 or Ventross IS-F?
:: Mike Maez
---