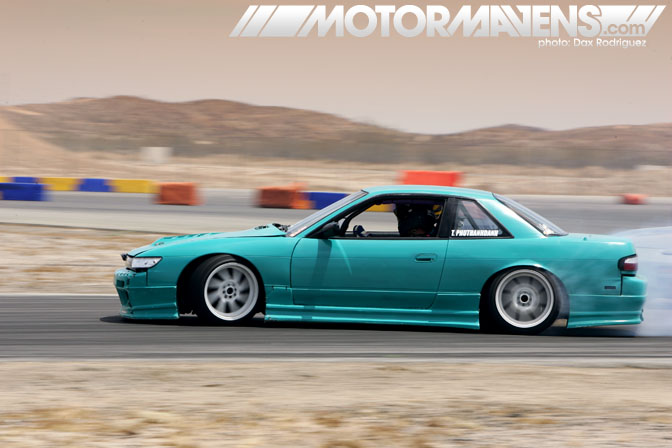 It has been over one week since the epic All Star Bash drifting festival took over the Mojave Desert, but that isn't stopping Motor Mavens from continuing the coverage. We had to take a very brief hiatus from updates this weekend, as some of our crew roadtripped to Chicago for D1 while others had to divert our concentration for a moment to finish other client projects that help us pay our monthly bills. This being said, we'd just like to make sure you know that even though it happened a little over a week ago, All Star Bash is not old to us.
All Star Bash is still very vivid and exciting in our minds, and we don't plan on pushing off our grassroots drifting photos to publish coverage from other big events that took place this week. We know other sites have already moved on, but we don't care. We're still all about the ASB. Drifting is where we live. It's in our hearts and on our minds, and it doesn't just stop when events are over. Even though the MotorMavens site is new, the members of our crew have been down with drifting since day one. It's like that… and that's the way it is. We show love to grassroots drifters, and grassroots drifters show love to us. This being said, we are proud to continue our coverage of the Ziptied/JustDrift All Star Bash, as we bring you the long overdue, eagerly anticipated… Part FOUR!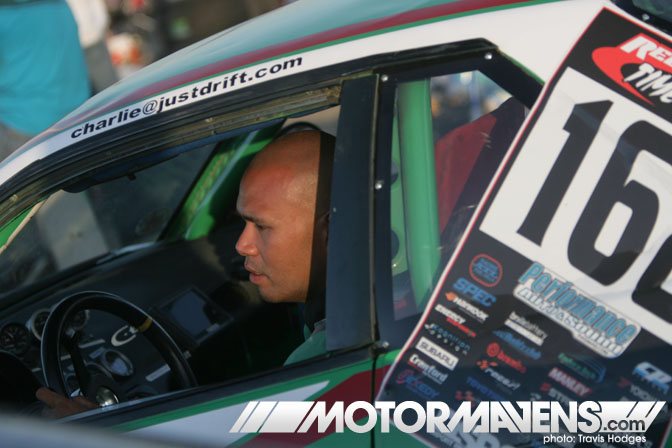 Before we get too deep into our photos of tire shredding drift cars, we just want to send a shout out to one of the guys who makes this all possible. This is Charlie Ongsingco from JustDrift. Does anyone remember Charlie from back in the days? As one of the OG Drift Day drivers from the Irwindale parking lot events, Charlie also became one of the first members of the infamous Irwindale 'Wall Club' when he crashed his gorgeous black PS13 Silvia back in 2003. Anyone remember that? Trivia question… do you guys remember which event the crash took place at? Here's a hint: D1 Driver Search or the inaugural D1 Grand Prix at Irwindale… what's your guess?
If you need to contact Charlie to sign up for the next ASB event, or to get involved as a sponsor, his  email address is right there on his car. Hit him up!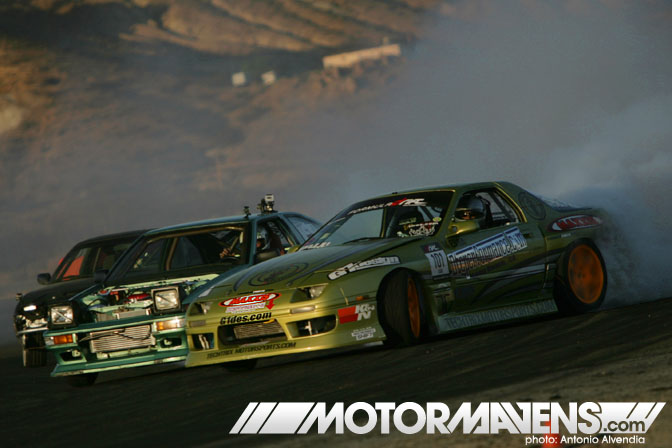 Here's one more reason we love All Star Bash! Team tandem drifting!!! This particular photo shows three cars running together, but up at Horse Thief, we've spotted as many as eight cars running in line… maybe more! Super dope.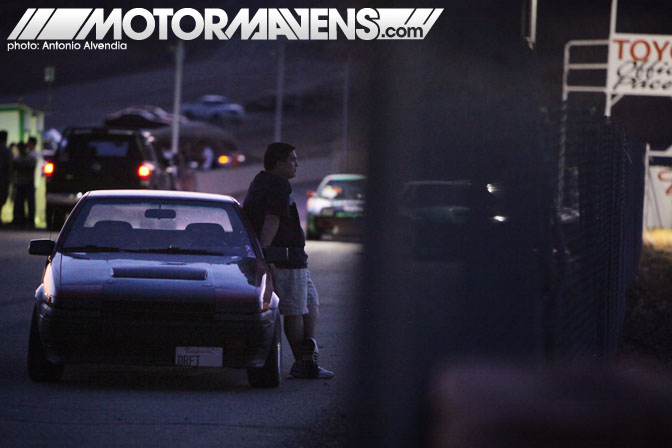 The driver of this AE86 came all the way down from Sacramento to have fun tearing it up with the 240 guys. He was killing it all day long, making smoke with his bone stock bluetop 16valve 4AGE engine! RESPECT!!!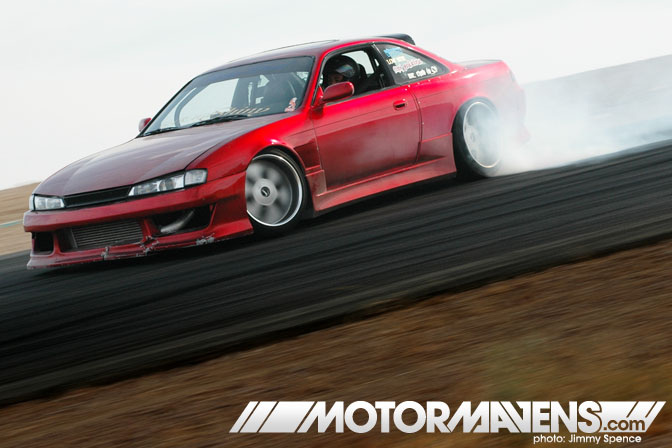 Haha, I think certain people have been waiting for this one for a minute! This is Chob Corvera from Risky Devil, speeding downhill on Horse Thief Mile in his sick kouki S14! Props to our Risky homies for bringing their cars all the way out from the city of wind. These guys were cool as hell to hang out with!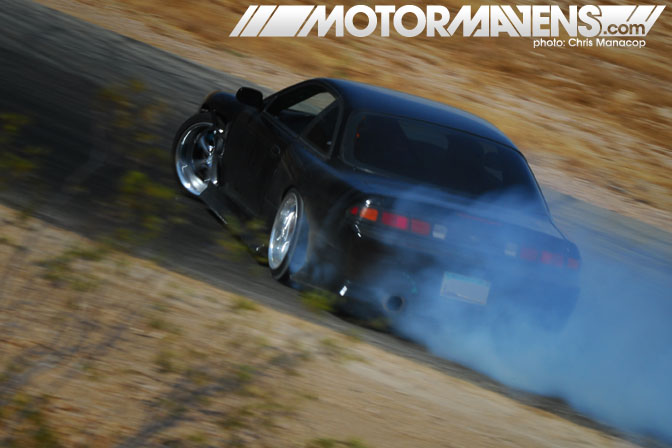 Forrest Wang's black kouki S14 street car was definitely an attention getter, always spewing big smoke and pushing around the track with massive angle! Super dope.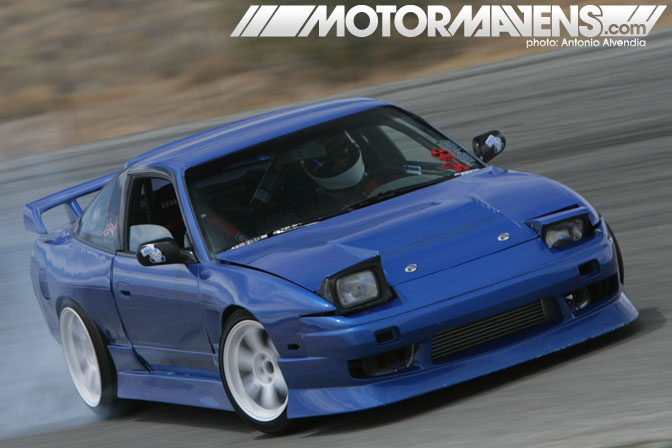 Jack the Raper… err… Ripper definitely had us jockin his Blue Dolphin RPS13 with big white TE37 wheels! Unfortunately, Jack didn't get to drive the entire event because he blew his SR20DET on Saturday. No shirt, no SR, no service! Sucks… but we know this car will be back out on track with a newer, fully built SR in no time flat.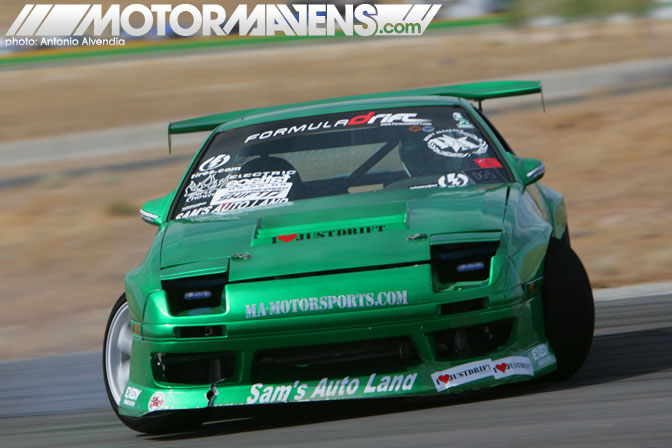 From this angle, JTP's FC3S RX7 looks as if it has those aero mirrors with turn signals on them, but those are actually MotorMavens stickers on there! Thanks for showing love back, Justin! JTP's FC makes me want an FC pretty bad. What do you guys think… should we make a MotorMavens FC3S project car?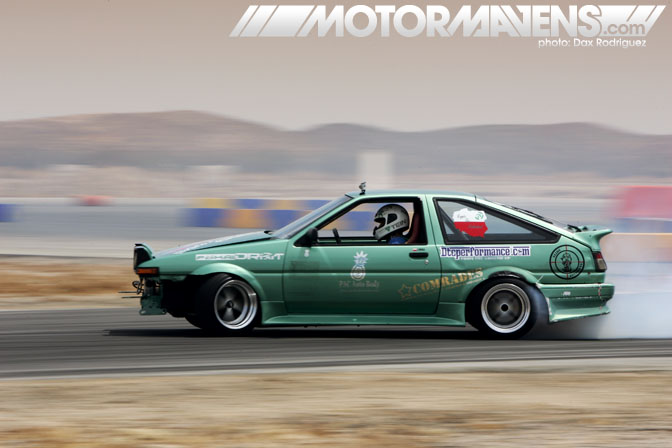 Here's 'Spectacula' Luke Pakula spinning those rear Works hard as he accelerates onto the straightaway on the Streets of Willow course. See the map of Poland on the left quarter window? Luke's repping his native country pretty hard. Next time you see Luke at the track, tell him some Polish jokes, he loves those.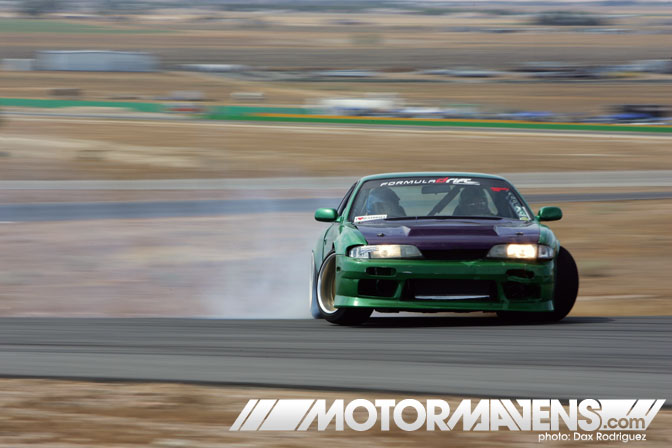 Here's Matt Powers, getting mad angle on the Streets infield! Deep offset wheels and zenki headlights = love!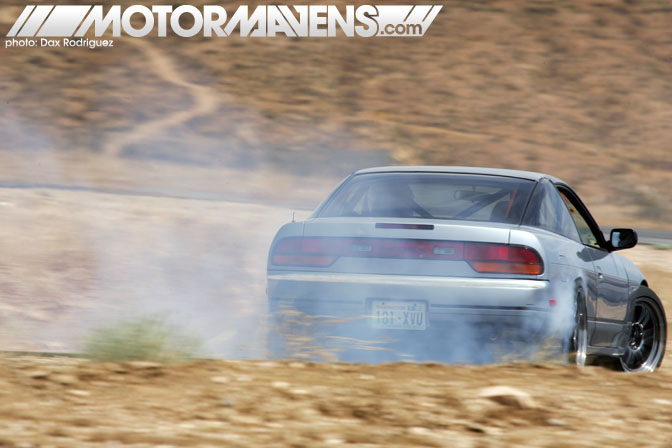 This RPS13 hatchback looked super clean with its SBC finish Enkei RPF1 wheels! Sometimes an aero kit isn't necessary and a clean OEM body is preferable! Dope car.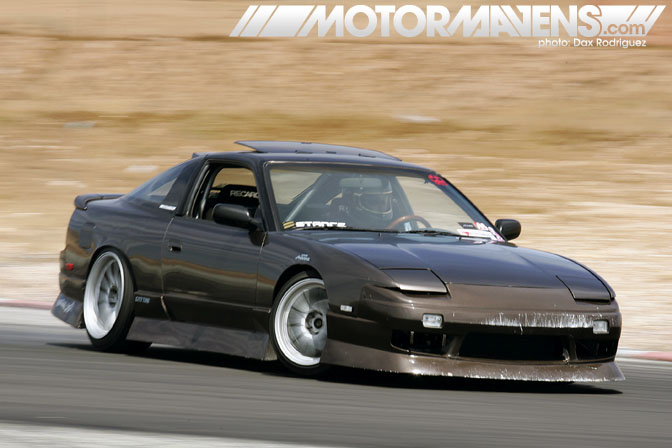 Logan Yoshida works for Work Wheels, yet he rocks CE28Ns on his RPS13! What's up with that, Logan! Hopefully Work will kick him down more than just a paycheck soon, so that his awesome looking dookie brown S13 hatch can rock some Work wheels in the near future! Which wheels do you guys think would look best? We just love the OEM steel fender style on Logan's car! Don't you guys think it would look dope on some Work XD9s?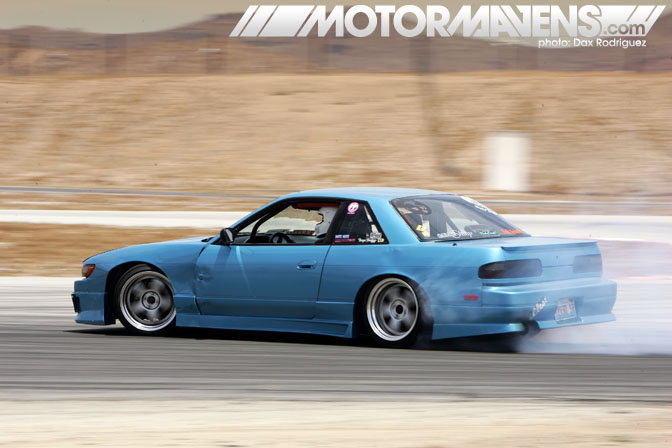 Here's a rare photo of Alex Roto's blue S13 from the Risky Devil crew! Alex developed rod knock early on during the event unfortunately, taking down two of Risky's finest S13s that weekend. (The other S13 I'm referring to is Josh M's brown RPS13 RHD, which unfortunately suffered from a mean and painful overheating session as it sat idling without the electric fans on. Damn it!!! Josh's car was so dope too! Sucks he wasn't able to drive his car at ASB.)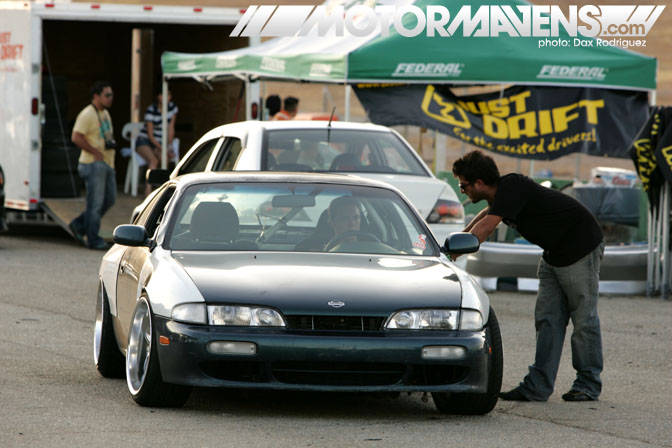 Nate from SD had some super sick Work wheels on his zenki S14! I think it's safe to say this car is going to look like Matt Powers, part 2! I asked Matt if this car was built from his spare parts, but he just laughed and said no… but he did admit that Nate's S14 has his (Matt's) old green trunk lid because Matt took Nate's OEM trunk and painted it purple! Even though the car isn't painted though, it looks pretty damn good to me! Don't you guys think so?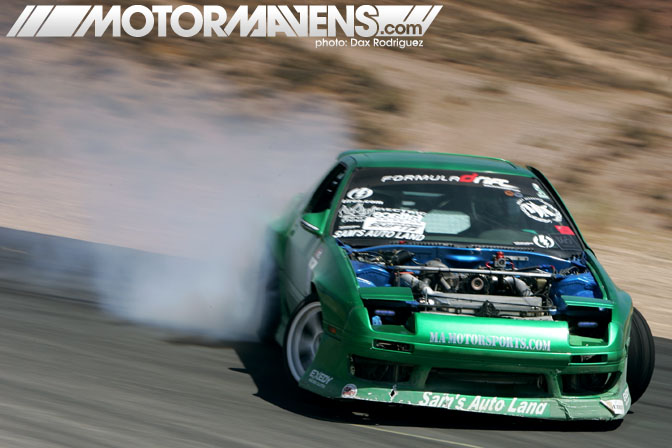 Here's a photo of JTP building smoke at Willow as we sweated and got sunburnt shooting trackside… Justin's car is so outstandingly aggressive looking!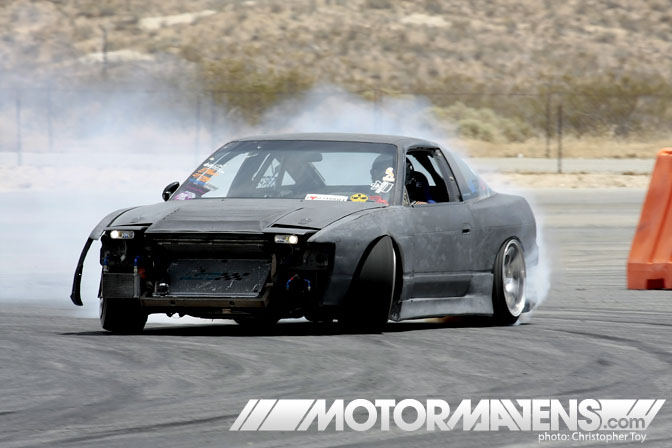 Not too sure who owns this primered RPS13, but the wheels and V-mount setup make it look good!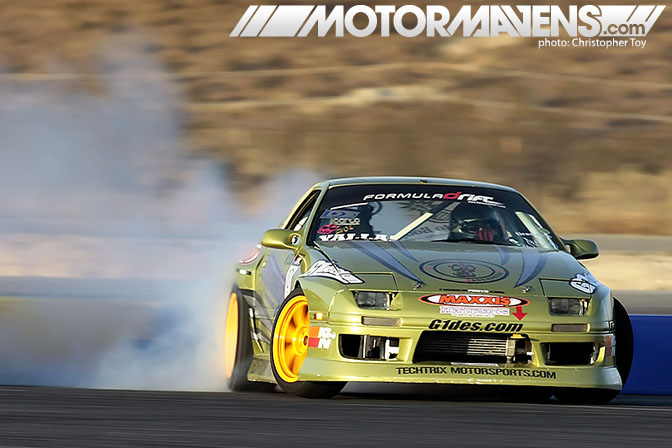 Mike Essa was simply killing it all weekend. We are normally purists and love seeing 13B turbo motors in FC3S RX7s, but when Mike drives his FC, he makes the V8 look and sound so righteous. We're kind of conflicted about it here.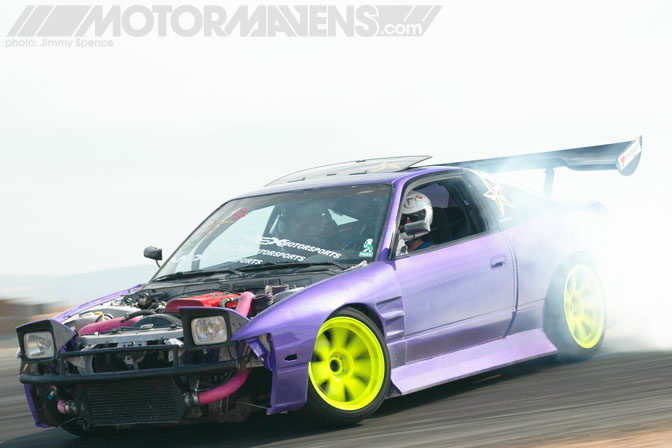 This purple Vex Motorsports RPS13 hatchback looked super dope with the neon yellow highlighter wheels! Just imagine how hard it would look if it had a Koguchi wing or something like that…!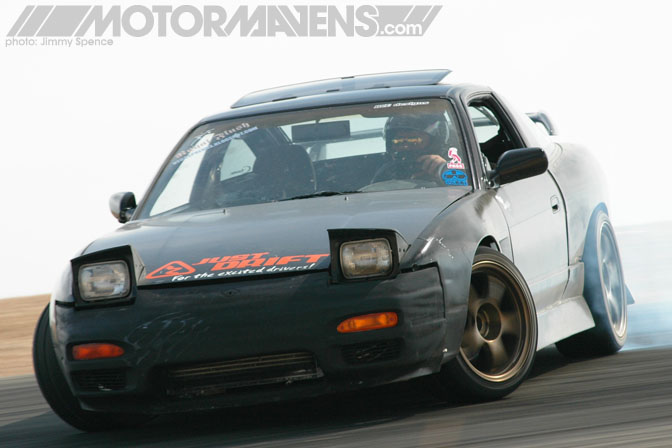 This S13 with FN01RC wheels may not have been as pretty as some of the other fully kitted up cars, but it sure was ripping it out on track, and that's what matters!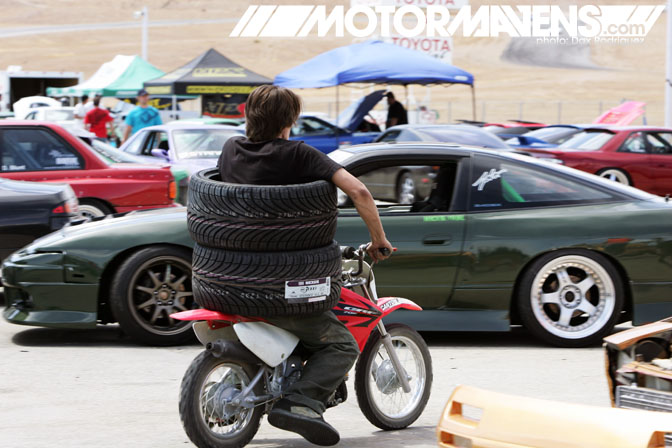 Here's Forrest Wang, riding his moped to take his new tires to the City Tire Online booth for mounting. Pretty interesting way to transport tires, haha!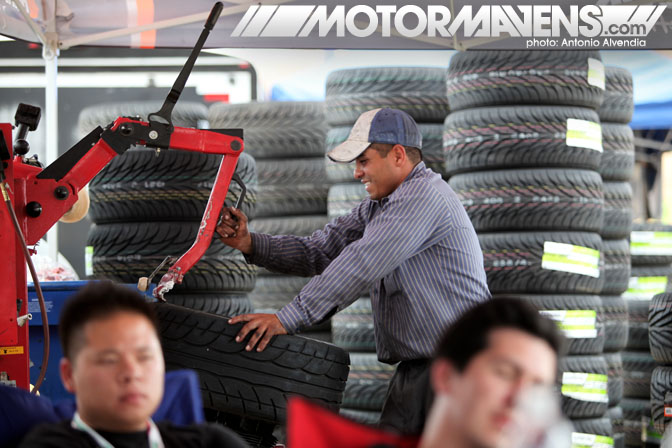 Speaking of CTO… we gotta give props to City Tire Online for constantly being there for the grassroots drifting community! These guys are awesome! They always bring a TON of tires out to All Star Bash events. According to CTO owner, John Shin, 75% of the tires they bring out are pre-purchased on the City Tire Online website before the actual event day. They mount and balance the tires at the track for only $10, which is super cheap considering they need to haul out all the tires, a tire mounting guy, and the mounting machine and a compressor to the track every single time there's an event! Much love to City Tire Online for their support of ASB and grassroots drifting! Support those who support the community!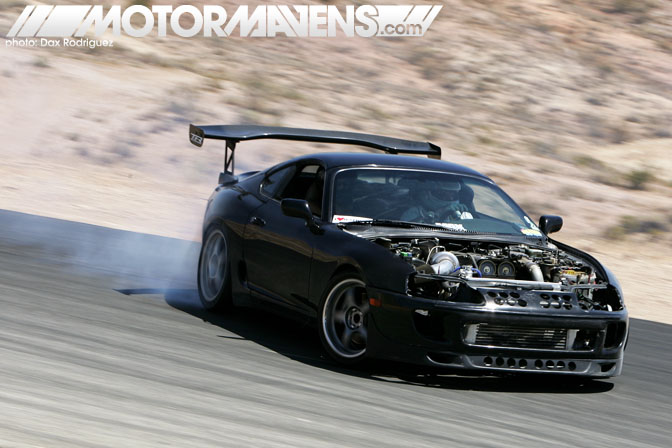 I think it's so cool to see a JZA80 Supra out at the track drifting! It's a very rare sight, wouldn't you agree?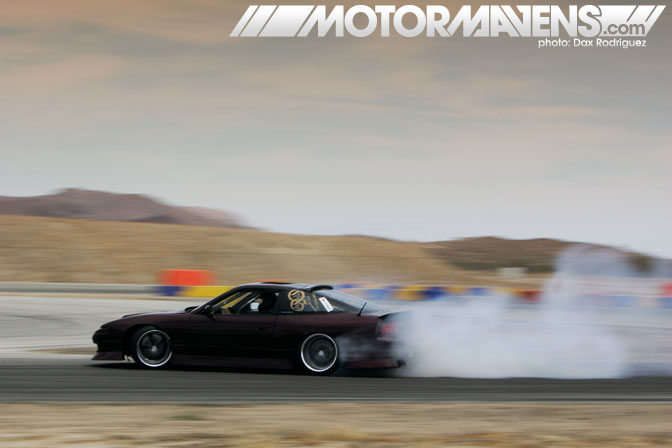 Here's Kris from South Dakota at the Streets, with massive smoke rolling off his fenders at speed… awesome car! Stay tuned to Motor Mavens for more photos of Kris's car!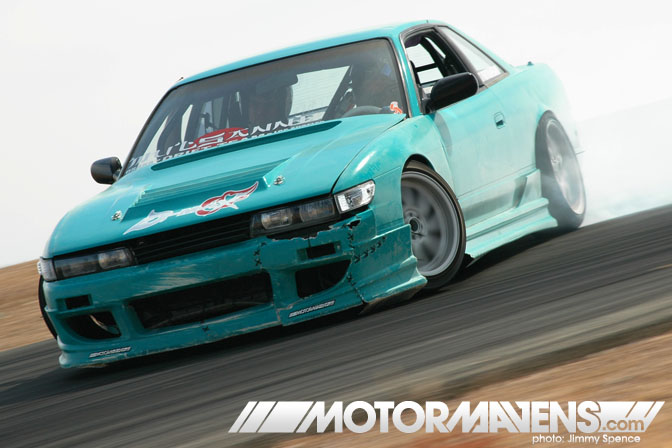 Here's Teddy P from Team Mulsanne, going big on the Horse Thief Mile downhill! Teddy says he doesn't like putting stickers on the actual body of his car, but he was down to put two MotorMavens stickers on his front bumper because he believes in the site and loves what we're doing. Thanks a lot for your support, Teddy! We love what you're doing too! We appreciate it! We need to visit you at work sometime soon so we can get some crepes BTW!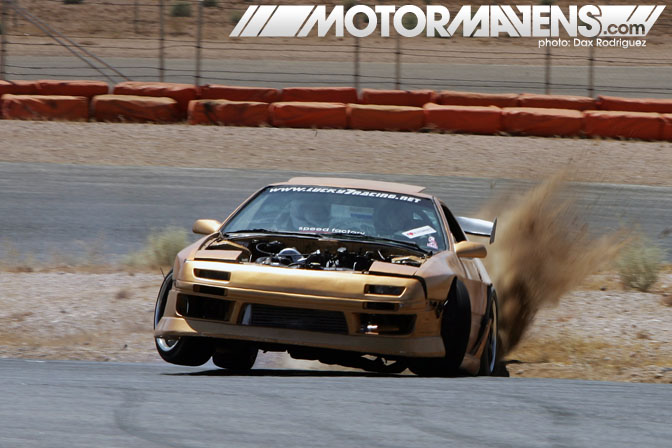 Here's a mean dirt drop from this gold FC3S RX7! Hell yeah!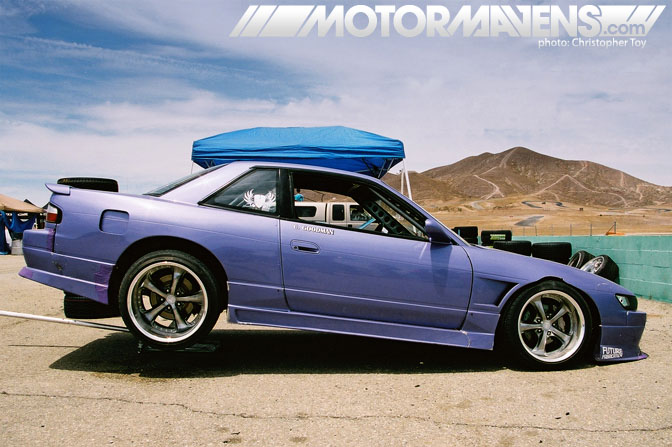 Check out Chase Goodman's purple metallic S13 Silvia, rolling hard on Work wheels! Hey what happened to the front fenders there… I wonder if they were cut just for wheel clearance? Or did the fenders just crack, and he cut them out some more?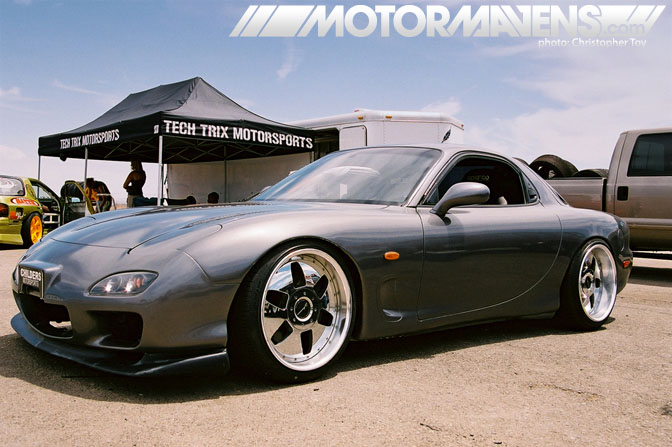 FD3S RX7s are so damn incredibly sexy, it doesn't even matter that the car's right hand drive; it looks good either way! Who's down with these wheels on the car? We're kind of partial to the rear size and stance, what do you think?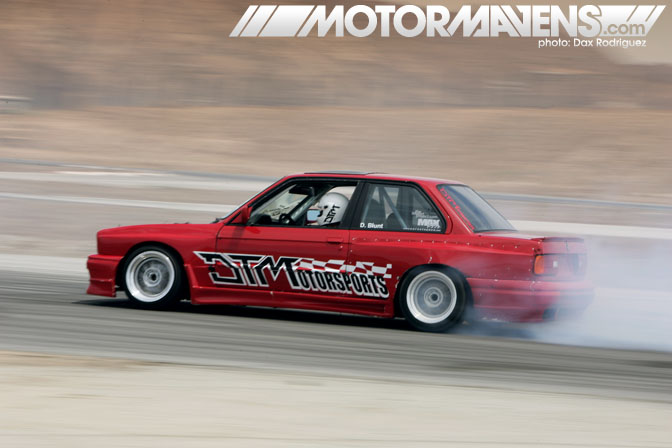 Dave Blunt was throwing his repainted red "Dirty Thirties" E30 BMW around the track… you gotta see the wheels, they look PERFECT on this car! More on Dave's E30 later!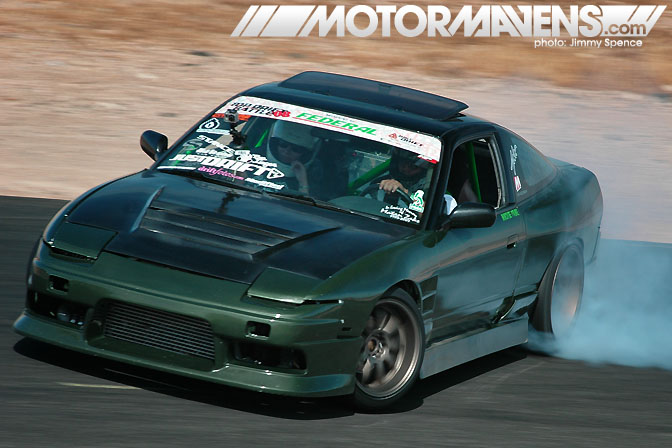 We'll close out this update with Mickie Frial's super dope green RPS13, which looks outstandingly sick with big smoke rolling off tires!!! Gotta dig those bronze Work XD9 wheels too! Hey! Just noticed the Motor Mavens sticker, Mickie! Thanks for supporting the cause!
That's it for now… do you guys still want to see more ASB photos? Or you sick of it already?
:: Antonio Alvendia
More ALL STAR BASH WEEKEND photos on MotorMavens!
---