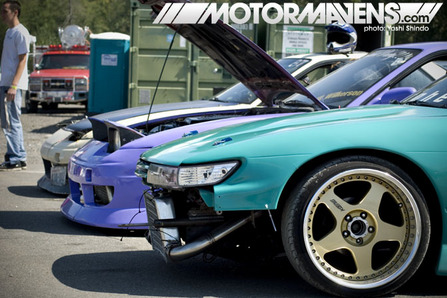 When everyone leaves after Formula D in Seattle every year, many people seem to forget about Pacific Northwest drifting. Thanks to Kelly and Eddi from Evergreen Drift, the local drivers from Washington, Oregon, and Canada are able to come back to the very same track where Formula D is held at – Evergreen Speedway in Monroe Washington. This past weekend, some of the same drivers that competed in the Evergreen Pro AM came back out and tackled the 3/8s bank with all they had for Round 3 of the Evergreen Drift Championship.
The picture above shows Team Instant Party with Roland Gallagher's, Walker Wilkerson's, and Gleb Antonov's (borrowed car) S13s waiting for their track time.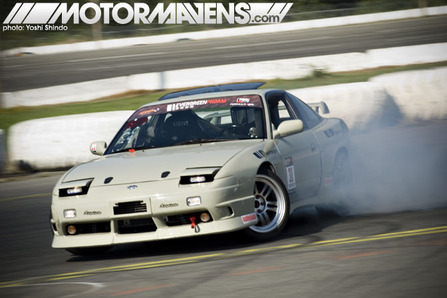 I've got to hand it to Nikolay Konstantinov and his RB-powered RPS13; he was very consistent out there. Not to mention, his car looks awesome with the Japanese OEM aero kit and Enkei wheels that he uses for track. (But still, I'm a bigger fan of his Mag Blue Volk Racing TE37s.)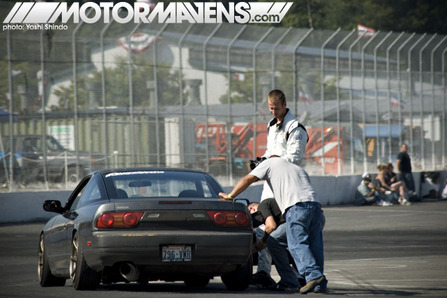 Rob Primo's tire de-laminated on the 3/8s bank (the smaller bank) causing him and his RPS13 to "board slide" the top of the bank. Luckily though, he didn't crash, so he and his right hand drive RPS13 180SX emerged unscathed. Watch out for his incredible looking S14 sometime in the near future!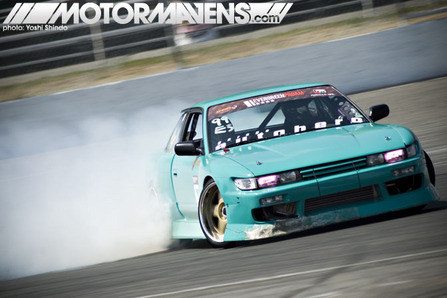 Garage Autohero's driver Roland Gallagher coming into the power alley, instantly starting the party with big wheels, low down aero, and some serious tire smoke. Roland placed 2nd at this event – congratulations!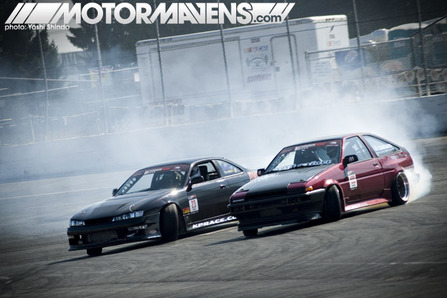 Here's Victor Moore's S14 from KP Race going up against the turbo AE86 being driven by Trent Stromkins of Drift Safari, having an incredibly close battle. Both drivers gave a great show!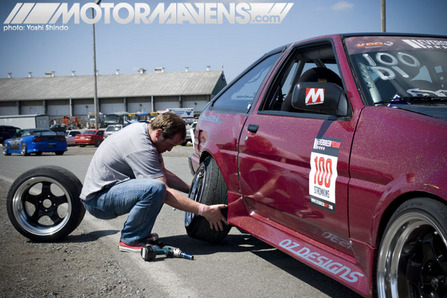 Walking back to the infield, I saw Trent Stromkins pull back into the pits to swap his tires. His AE86 is equipped with an SR20DET and rolling on some Work Meister S1s. I am still amazed at how fast he and his crew put this car together. Nice sticker on the side mirror, Trent!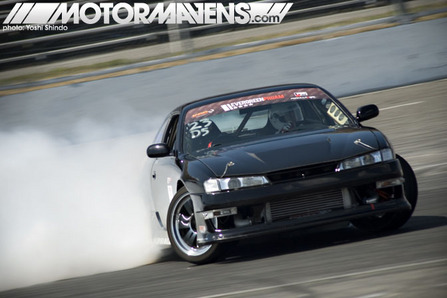 Here's Victor Moore, driving his KP Race S14 to win the Evergreen Drift Championship Round 3. Congratulations Victor!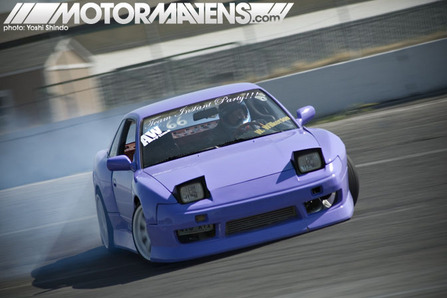 Here's Walker Wilkerson's purple S13 with super low front bumper from Team Instant Party on the 3/8s bank. When he first told me he was going to paint his car purple, I kinda thought "uhhhh… okay…" but now that it's done, I think it looks awesome! Paint that rear deck, Walker!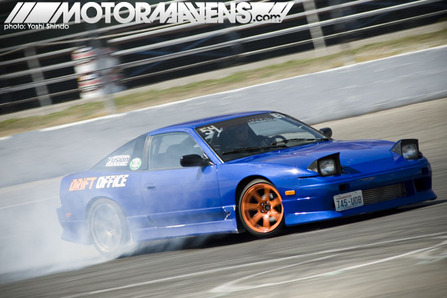 Here's one of our favorite FC3S truck owners, Earl Smith (aka Angry Earl) driving Drift office's RPS13. Props to Drift Office for giving Earl a car to drive!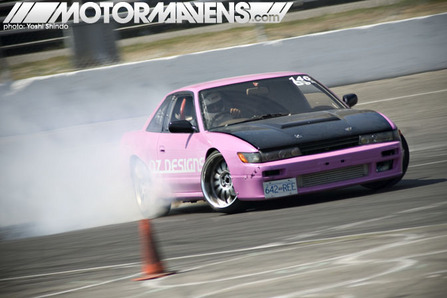 This pink right hand drive S13 Silvia from Vancouver came to the event to get some serious angle and build smoke. I'm not too sure who the driver is, because I don't remember seeing this car before or meeting the driver.
This white 1985 AE86 coupe came all the way from Oregon to drift with us at Evergreen! I'm not sure who the driver is, but it looked really good at the track!
If you're in the Northwest area, please make sure to come to Evergreen Speedway from 6pm-10pm on Friday, August 21st for the next Evergreen Drift event! We'll be shooting video at that event.
Also, make sure to check out the Evergreen Drift Team Drift event that's happening at the Evergreen State Fairgrounds (same place as Evergreen Speedway) on September 4th. We'll be there for sure, to capture the battles between Drift Safari and Team Instant Party and KP Race and the other crews that come out!
:: Yoshi Shindo
---