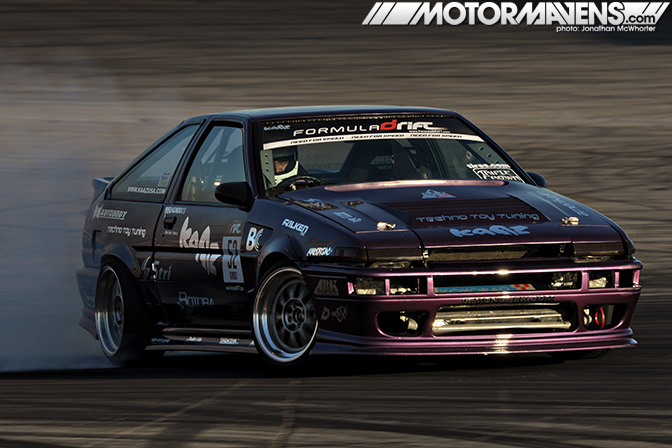 25 hours and 2,200 miles later, I am still awake and in California for Formula Drift at Irwindale Speedway -the final installment for the 2010 Formula D season.  I woke up at 5am EST to head to the airport in Atlanta, Georgia for my flight out to LA earlier today – Friday, the 8th of October.  Right now it is nearing 3am on the 9th; I just might be tired. It's all for a good cause, though.  The weather is fantastic this weekend, and the drifting is even better.  Everyone came out to play, and I'm sure it's going to be quite the battle to win the championship.
This post is definitely going to be a short one but it will not lack in content.  Below you'll find some selected images from the day of qualifying just to whet your appetite for the main event.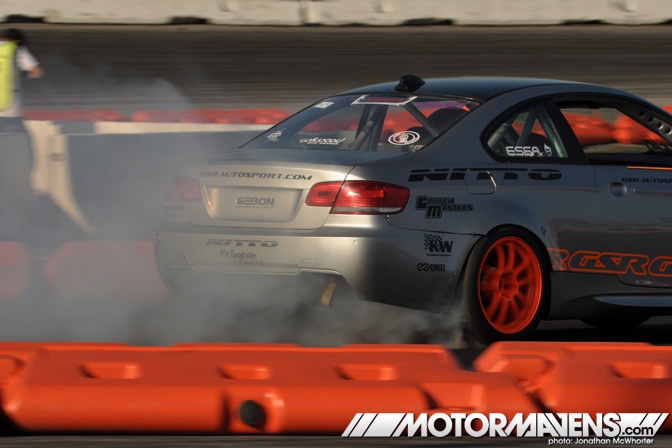 Up above is a shot of Mike Essa's GSR Autoworks E92 BMW 3-series. Mike was having car problems on the banking… unfortunately, his awesome M5-powered Bimmer wasn't set up correctly for Irwindale's oval course. When speaking to Mike earlier this evening, he admitted that he had a hard time with the oval, and his car was real slippery in the infield. These issues really hurt Mike's score in this event, and it was really disappointing. Mike and his GSR Autoworks BMW had a really stellar first season together. (Let's not forget that 4th Place finish at Formula D Atlanta!) It's a pity that those issues came to hurt Mike at the season finale, as he wasn't able to make it to the big show on Saturday.
Mike ensured us that he'd be out in the pits with his Bimmer all day on Saturday though, repping his sponsors and meeting all the drifting fans in attendance. Make sure to stop by and say hello to him!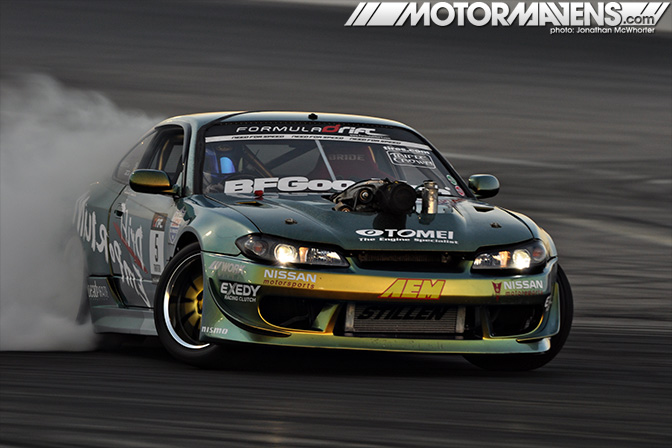 Speaking of my hometown of Atlanta, this here is Michihiro Takatori driving the Drift Emporium S15 Nissan Silvia. His car looks and sounds so cool when he's driving. It's easy to spot him when he's driving. Just look for the S15 with all the big smoke! Crazy!
Fredric Aasbo has got to be one of the MotorMavens Crew's favorite rookies of 2010. The Norwegian JZA80 Supra driver impressed the crowd once again with ridiculous angle and big smoke! I wish more people drove like Aasbo. His competition doesn't share that wish.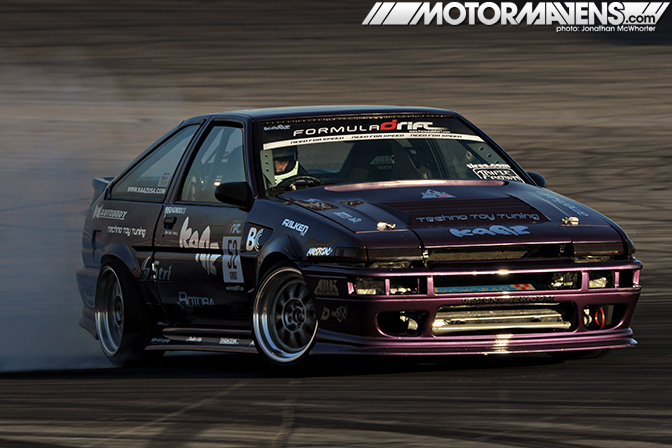 Ooooooooh! This is the Kaaz USA AE86 Sprinter Trueno! This car is being driven by Yasu Kondo, a driver from Japan. While we were driving around the pits in the MotorMavens official golf cart, we met the President of Kaaz USA, Ray Nakadate. Ray told us that the prices of Kaaz LSDs went up recently, but that's because the yen conversion rate is so bad between the USA and Japan right now. Still, it won't stop the hardcore car owners from getting their hands on a top end clutch- type limited slip differential like the ones Kaaz produces.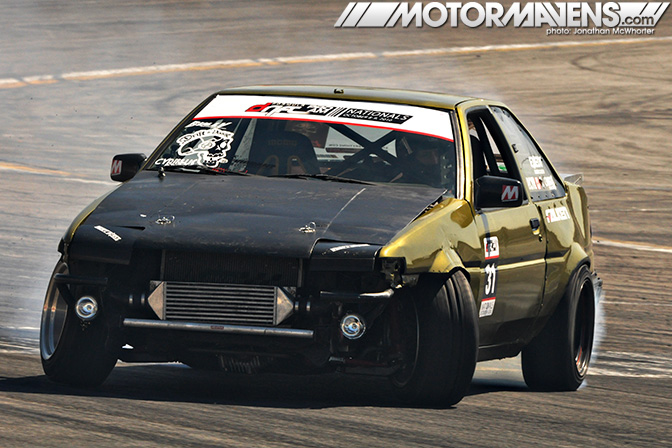 Speaking of AE86s, the DMCC field-killing hachiroku driver Pat Cyr was impressing people as usual with his aggressive driving style. This was Pat's first time driving at Irwindale, so all the fans and media folks alike were super happy to see his car running the oval! Make sure to stay tuned to MotorMavens for some great video content from our Toronto-based MotorMavens video shooter, Dan Cyr!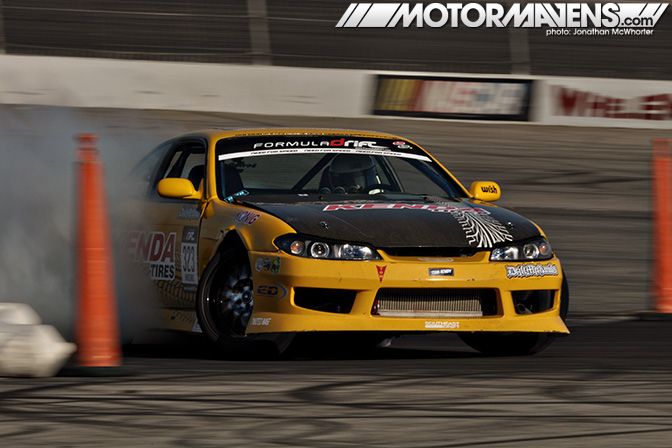 I gotta give it up for Drift Mechaniks driver and Atlanta native Dennis Mertzanis, driving the Kenda Tires Nissan S14. Dennis has really been rising through the ranks this year, and representing himself and his sponsors very well. He basically put Kenda Tires on the map, and I'm glad to see a guy from my hometown doing so well in the big leagues. Go Dennis!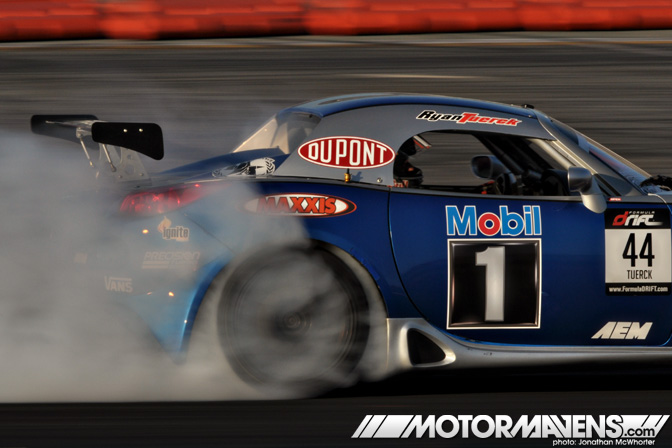 Speaking of hometown heroes, Ryan "Hampshaa" Tuerck represents the east coast like crazy. His whole entire team is East Coast-based, and his team manager Gary Gardella likes it that way. We'll be seeing a whole lot more of Ryan and Gary in future MotorMavens posts. We're planning to have them do a guest blog on our website, so keep an eye out for that soon.
The MotorMavens booth will be located directly across from Gardella Racing/Mobil 1/Ryan Tuerck's race trailer and pit area… right behind 0-60 Magazine, and next to Pacific Rim! Come say hello! We'd love to meet everyone!
:: Jonathan McWhorter
---