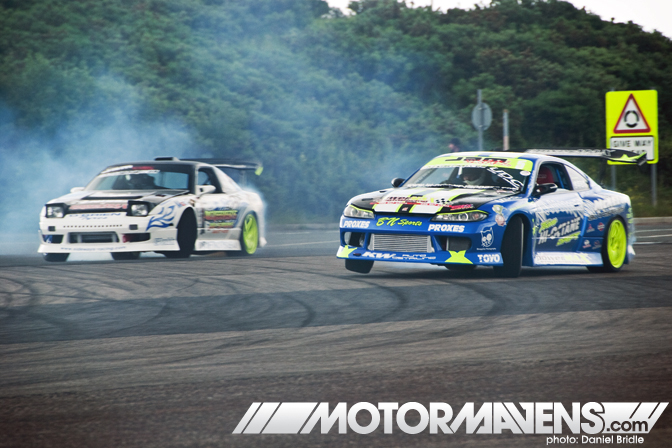 Sunday morning came quickly and, even though I hate waking up early, the pre-drift event excitement on my mind was enough to make me drag myself out of bed. I arrived at the track and headed over to the new paddock where everyone was setting up. The weather had taken a turn for the worse compared to the previous day's roasting hot sun. The wind had picked up a lot. So much, in fact, that it was blowing tents into the air and whatever else wasn't nailed to the ground. A quick glance up at the sky confirmed that the weather wouldn't be getting any better…But I wasn't about to go home because of a little bad weather and neither was anyone else! Bad weather is what we do best here in the UK so, either way, we were gonna make this an awesome event!
Despite the stormy looking clouds and wind everyone seemed to be  in a pretty good mood.
We had a little incident when I was speaking to Paz and a few of the other Driftworks guys. The wind had somehow made its way inside the Driftworks van and blown over one of Phil Morrison's massive 18 x 12J Rota GTR-Ds – which landed on the tool box and managed to knock it out of the van, only to smash onto the ground. The sheer randomness of it made everyone burst out laughing.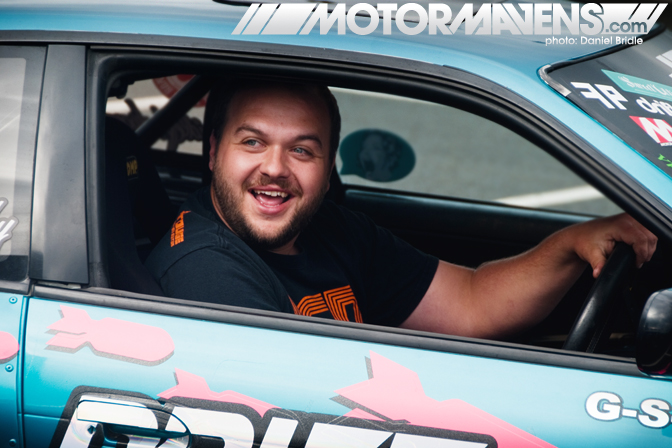 Including Dan Chapman, who found it all highly amusing as he rocked up to the paddock. Dubbing it (or maybe he meant us) as "today's number one fail." He then drove off giggling to himself. We love you too Dan.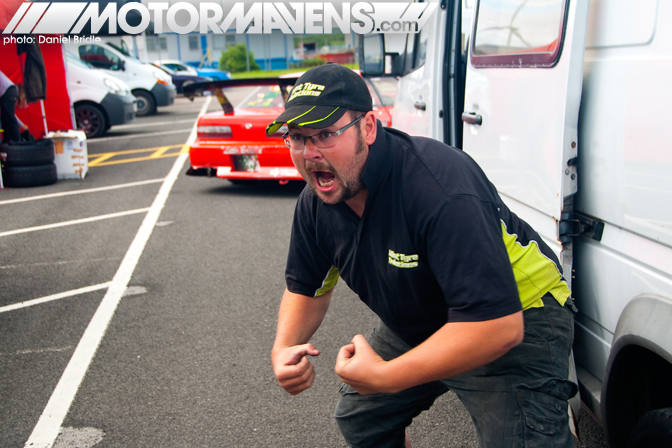 Allow me to finally introduce you to George Tilling. The man who drives the Mint Tyres R32 Skyline that I've spoken about a few times before in previous features. Here he is getting his war face on before qualifying. When asked how things were looking for him today he replied with a resounding "RAAAWRGH." Which, I think, roughly translates from the Wookiee language as  "I'm feeling confident but I could do with some tyres."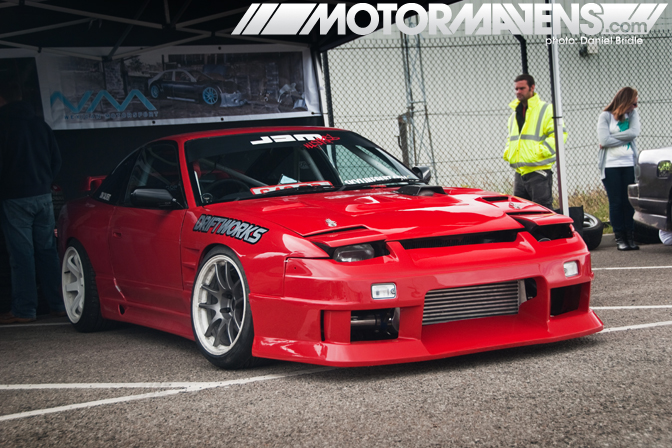 I had to rub my eyes and do a double take to make sure I wasn't seeing things when Jon Calvert from the Neuton Tyres/Mei No Mai drift team rolled up in his 180sx. I'm sure you remember, if you read my Round 2 coverage, that Jon had a nasty collision with the wall at Donington – completely writing the car off. As close as it may be to the original car, this is actually a totally new shell. After a huge effort from all the team, and the guys at MashaMoto, they re-built the car in just four days. Madness!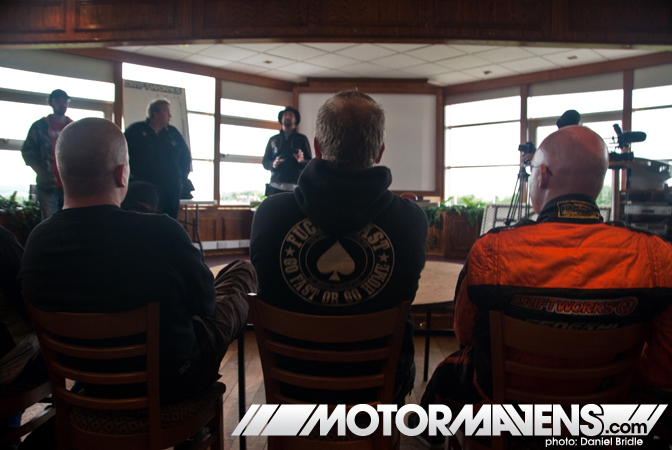 Soon enough, everyone was called up for the drivers briefing. Judges (Andy Jaenen and Chris "Paz" Perry) went over what they wanted to see the competitors do.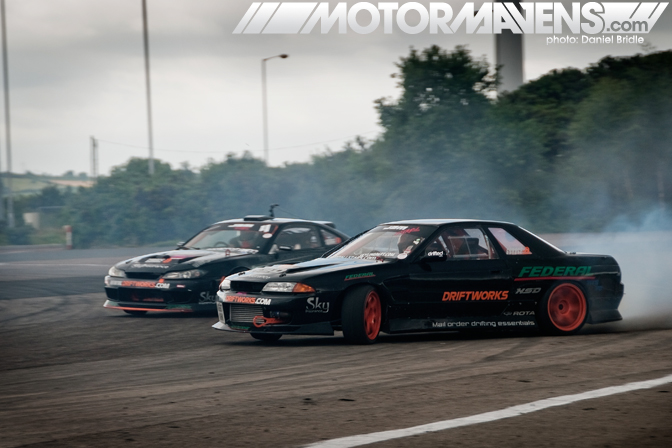 With their goals now set, the drivers set about working on their lines and techniques through practice. Straight away Driftworks' Bon Bon and Phil Morrison looked on the money as they ran the circuit together. For me, practice is where you see some of the best action. People are a little more relaxed and try new things or just go out to have fun. In my eyes, this is what the true "soul" of drifting is.
That said, and even though I personally don't have much interest in who wins or not, nothing beats the thrill of seeing two drivers battle their way up the Top 16  and on to the Final.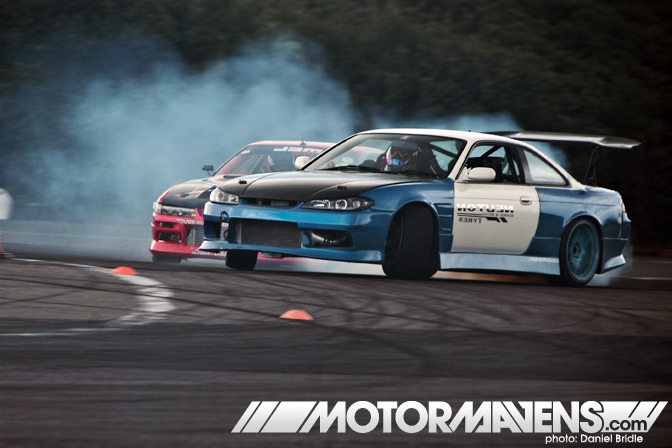 I was so happy to see Martin Ffrench out on the track again in a Silvia chassis! Ffrenchy has been a favourite driver of mine for a few years now but I haven't seen him drive since JDM Allstars Wembley in 2009. He's always been a highly aggressive but precise driver so he fits in well with the Neuton Tyres/Mei No Mai team he has joined for 2010.
When I first saw the Nissan S14 Strawberry he was driving I thought it was the old yellow one he used back in 2008. But it turns out this one belonged to a friend of Ffrenchy's and he was borrowing it for the weekend. It just happened to be a different but very similar looking car – albeit with an RB25DET powerplant instead of an SR20DET. The car had a few power issues the previous day, but it was looking and sounding like most of them had been sorted and Ffrenchy was driving great.
In case you were wondering why I just mentioned fruit in a sentence about cars, in Japanese "Ichigo" means strawberry. In Japanese, the number Ichi means one and Go means 5. Put them together and you get ichigo…1-5…15. So, an S14 Silvia with a later generation S15 front-end fitted is often referred to as a Strawberry face! It used to be a pretty common conversion a while back in the UK but I haven't seen many for a while.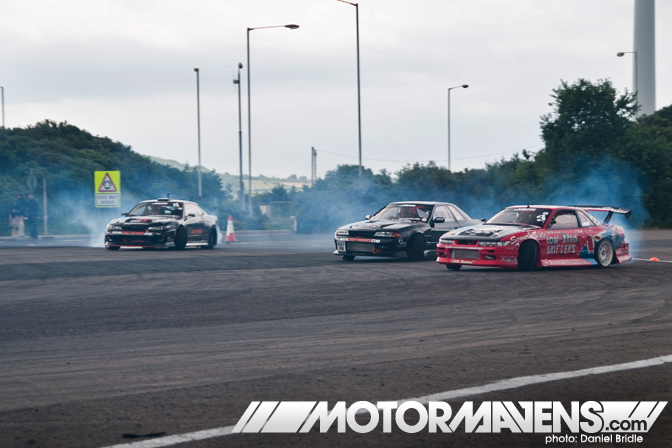 Luke Fink, Bon Bon and Phil Morrison headed onto the track three up, with Luke and Bon driving on each others' doors around most of the track and Phil gradually catching up to them as they hit the main straight. All that was visible was plumes of smoke. A loud thud was heard and then silence…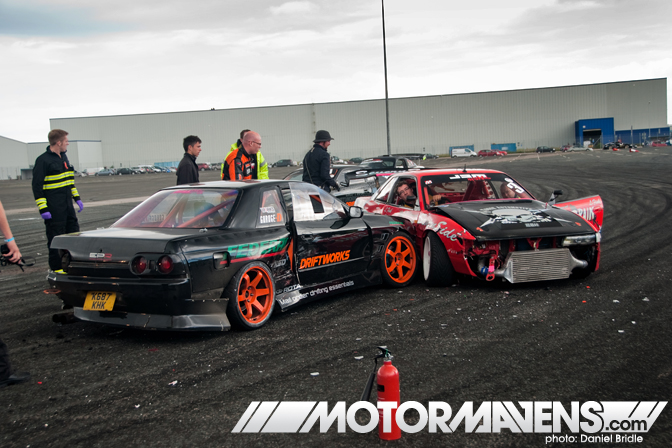 The worst had happened. Fink had lost control and spun as he passed the tyre wall. Bon collided with his side and, unable to see through the thick smoke, Phil came storming through and smashed into both cars. Bon Bon's R32 looked to be in a very bad way, with a ton of damage on both sides of the vehicle. The Severnside Imports PS13 seemed surprisingly unscathed in comparison.
Phil's S15 didn't look too bad visually but something definitely serious had happened to most of the rear end components. Unable to drive, it had to be towed away. I wasn't sure what the Driftworks guys planned to do but it didn't sound like they were about to give up and go home.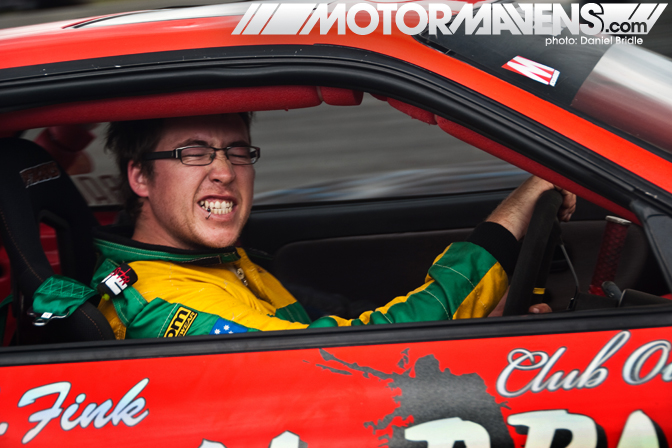 The most important thing though was that everyone got out unharmed. It shows how well roll cages, door bars and good bucket seats with harnesses can help save a driver's life.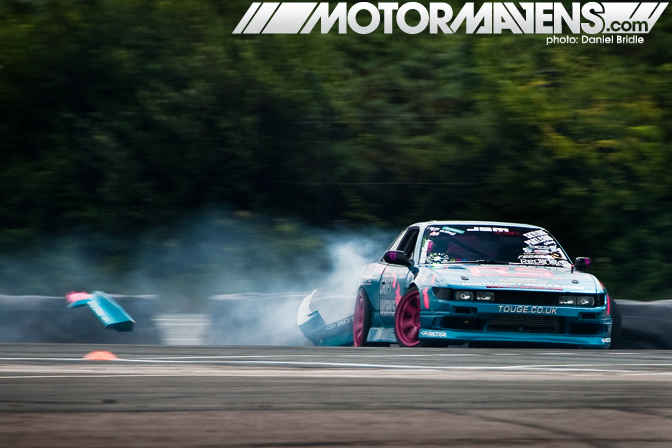 After clearing up the remains of the three car pile up, a second practice session commenced. Dan Chapman seemed to be having a few clutch issues in the Driftworks PS13. His Origin aero seemed to be having a few problems staying attached to the car also!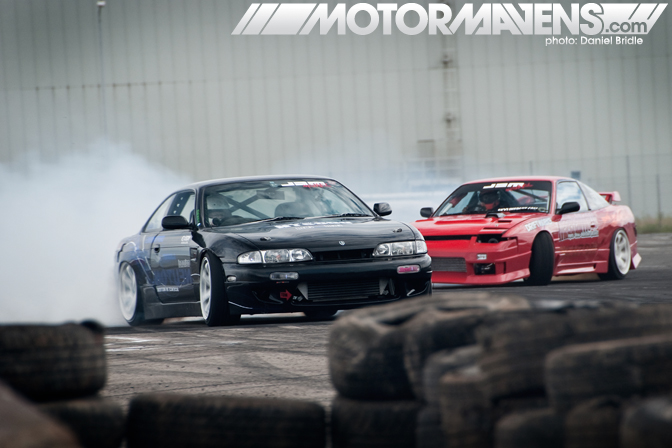 Missing out on the first practice session, Mitto and Jon Calvert from the Neuton Tyres/Mei No Mai team were eager to set about tearing up the track with their "go hard or go home" driving style. Calvert seemed right at home in the freshly built 180sx – driving it with the same level of aggression that we saw from him at Donington.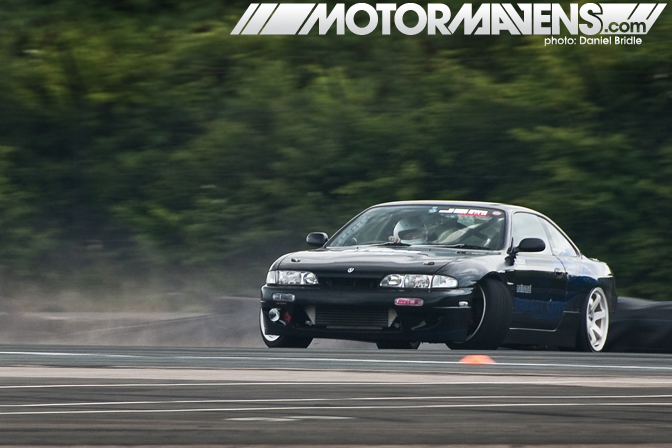 Mitto matched Calvert's aggression with some extreme rear end first entries!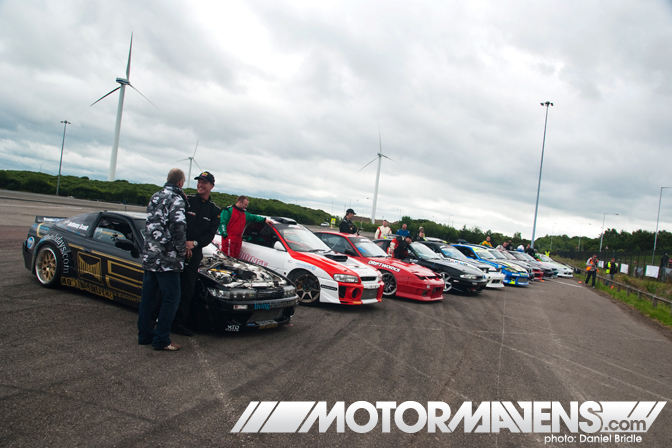 Fast forward to later on in the afternoon and it was time to wrap up the practice and qualifying and get on with the competition!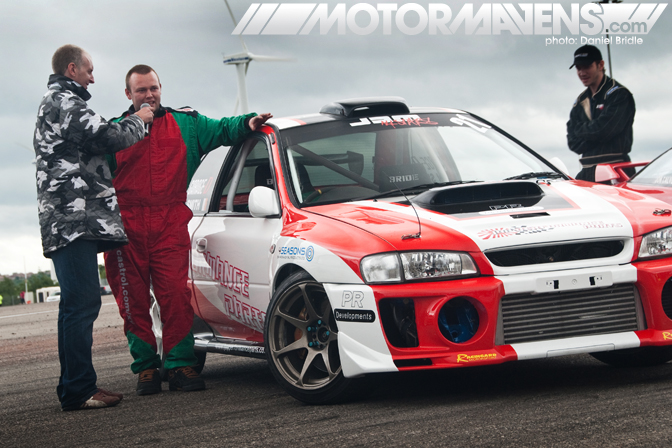 The opening ceremony saw the drivers get interviewed in front of the crowd – which was now the largest I had ever seen at a JDM Allstars event. Walton Smith seemed like he had gotten the hang of driving the new Jap Performance Parts Subaru and looked pretty confident as he prepared for the battle ahead.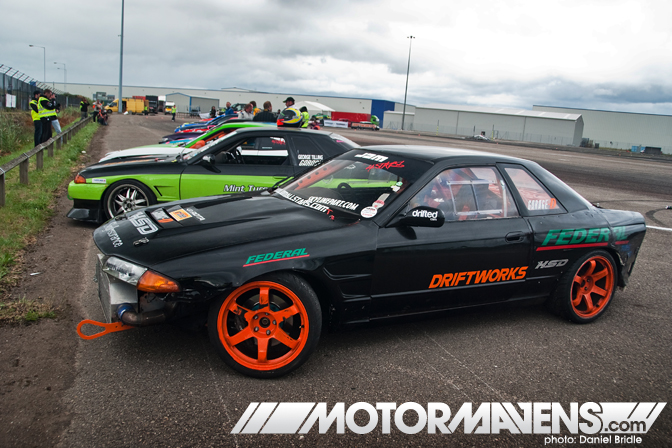 Somehow the Driftworks crew had managed to pull the bodywork on the Skyline,  so it was less bent, and cobbled together parts from Phil's S15 to get the car running again. The car looked to be in a sorry state (even missing most of the rear end panels!). But, despite the damage – Bon managed to qualify 1st!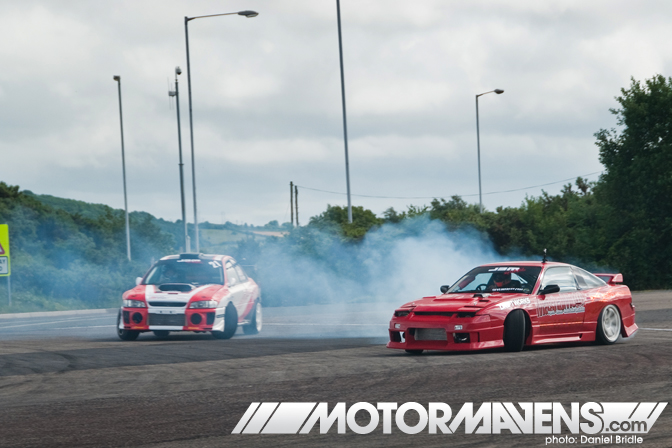 With the ceremony finished it was time to get on with the action. First off in the battle of the new builds was Jon Calvert up against Walton Smith. Walton did a great job in the Subaru but it wasn't enough to fight off the full on attack from Calvert in his 180sx!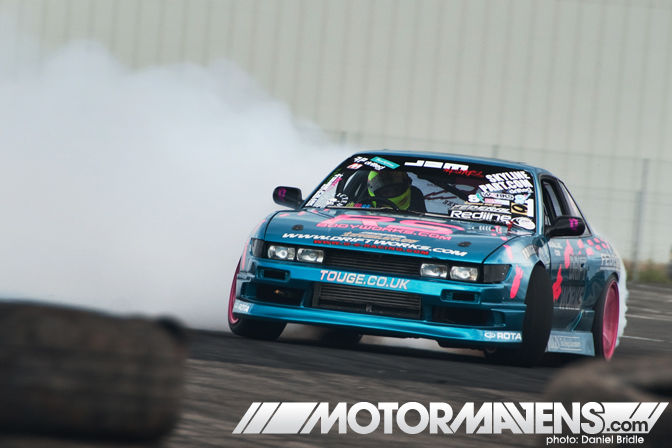 Dan Chapman got the win in his battle against Anthony Scott, even with a failing clutch, thanks to pulling a big gap in both runs. Dan has always been one of the fastest drivers out there – most likely due to his years of racing experience. So, even when things are going wrong, he manages to find the quickest way through the course.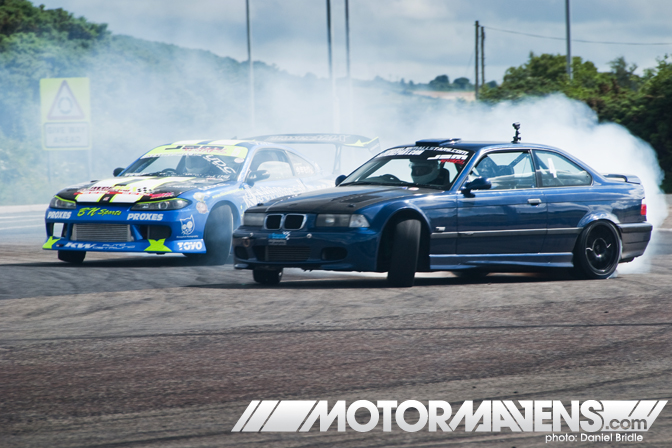 Steve Wills in the M3 Turbo met Alan McCord and his Hi-Octane Imports S15 once again. Fortunately, this time around, they weren't  spinning straight toward us photographers! Steve was having some differential problems though and couldn't keep up the pace against Alan's S15.
I have to give a big thumbs up to Alan for his effort – it's noticeable how much better he's getting at every round and, with such a powerful car, it can't be an easy job.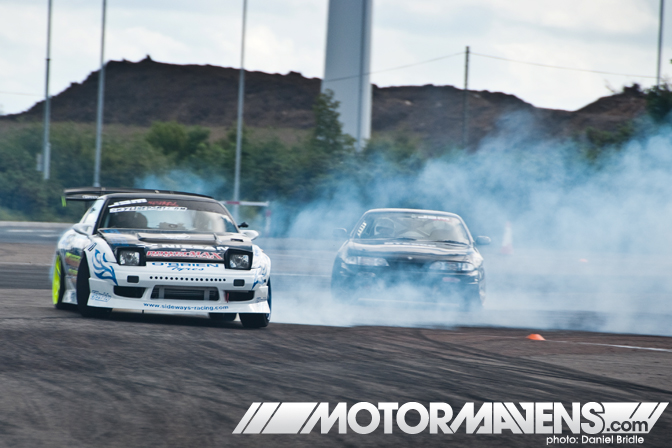 One of my favourite battles in the early stages was between Mitto and the 14 year old Duane McKeever. Both runs were too close to call so they went to a OMT where Duane took the advantage due to his extra speed. I can foresee Duane becoming unbelievably good in the next few years if he sticks at it. If he's already beating drifting veterans now, imagine what he'll be capable of by 2011! Imagine how supernaturally good he'll be by the time he's actually old enough to get a drivers' license!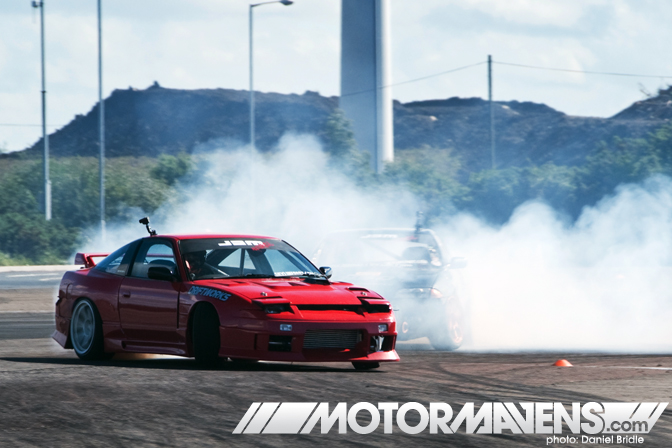 Things started to get intense as we headed into the Top 8!  Jon Calvert went up against Bon Bon in the battered Driftworks R32 Skyline. Both gave it everything they had, with Bon Bon even breaking the power steering on one run. Their battle went OMT and, with Bon struggling to control the R32, he spun out as Calvert reigned down on him in the Neuton Tyres/Mei No Mai 180sx.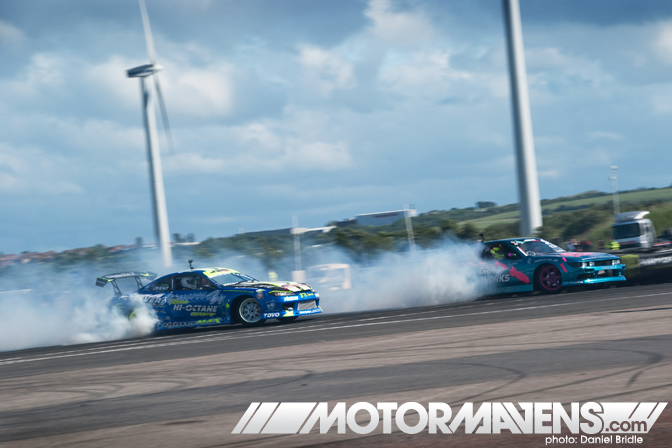 The grounds were filled with the sounds of a guttural supercharged LS2 V8 and a raspy SR20 as Dan Chapman defeated Alan McCord in a super close battle.
The mad Irishman Martin Ffrench had a fierce battle against Duane McKeever, who was once again showing he has what it takes to compete with the best. Their battle went OMT and, with Duane's car beginning to overheat, Ffrenchy managed to sneak that extra advantage in.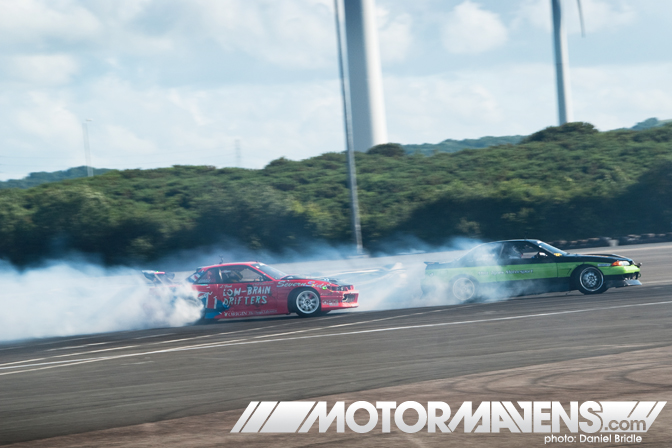 George Tilling did a fantastic job of battling Luke Fink in the Mint Tyres R32. Now, as I've mentioned before, George's car is seriously underpowered compared to the rest of the field – but I also found out it was running lower boost than standard for some reason!? Taking that into consideration, is it possible it's not putting out much over 200BHP? Despite all of that, George did seriously well to make it to the Top 8 – but Fink was hungry to win and had that extra edge on most of the other  judged aspects.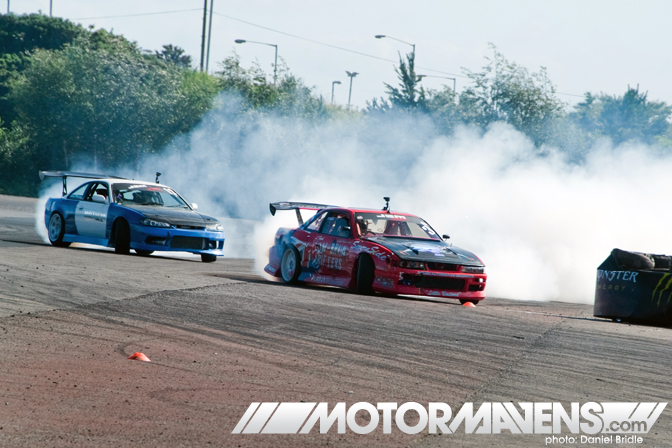 The semi-finals kicked off with Luke Fink up against Martin Ffrench. I'm not sure what happened but Ffrenchy took a rather weird line, almost creating his own track! Fink was slap bang on the line and ended up heading to the final.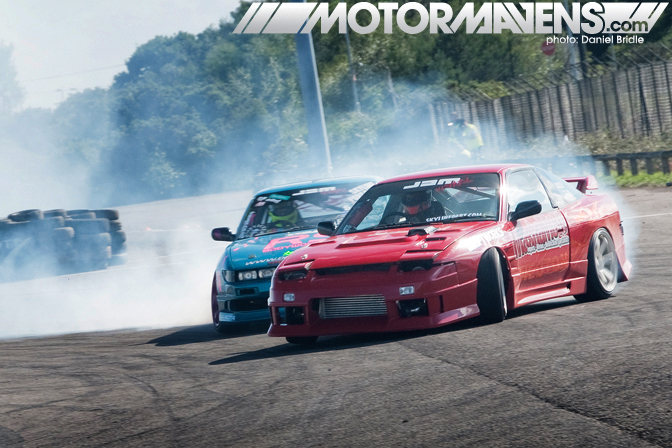 The closest battle of the day in my eyes was between Jon Calvert and Dan Chapman. It was so close at points that when I returned home to go through my photos there were only one or two shots of the battle. I must have been so transfixed by what I was watching that I forgot to take more pictures!
It was looking like Dan may have had it in the bag halfway through the second run, putting his PS13 right on Calvert's door. But, as they exited the hairpin, Dan unusually straightened up which meant Calvert was going through to the final!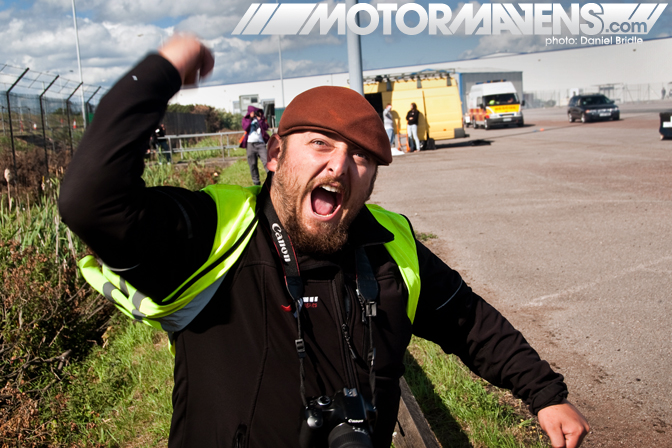 Which sent Faruk M Kugay, co-founder and creative director of WorksMag, into a bit of impromptu celebration. You see Faruk had spent the past week with the guys from Neuton Tyres down at MashaMoto helping re-build Calvert's 180 – as well as documenting the entire build. So, with that much involvement, you can see how he might have become a little attached, and thus, pretty stoked to see him get into the final! As you can see, he had also forgotten to take any pictures at this point haha!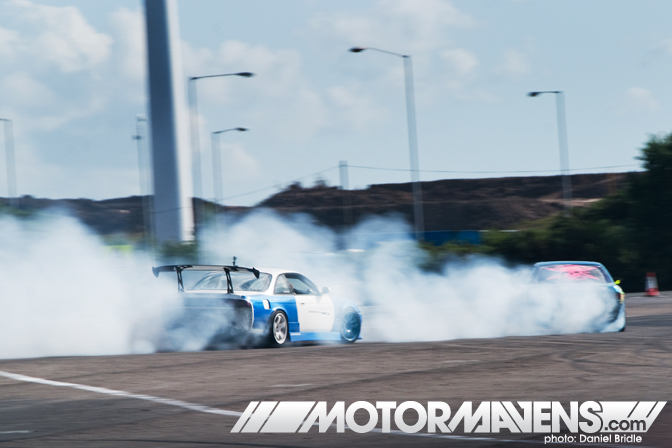 So, before what was shaping up to be an amazing final, we had the battle for 3rd place between Martin Ffrench and Dan Chapman. Ffrenchy tried his best but Chapman seemed to have him outclassed on speed and angle – giving him the win and his poor clutch a rest.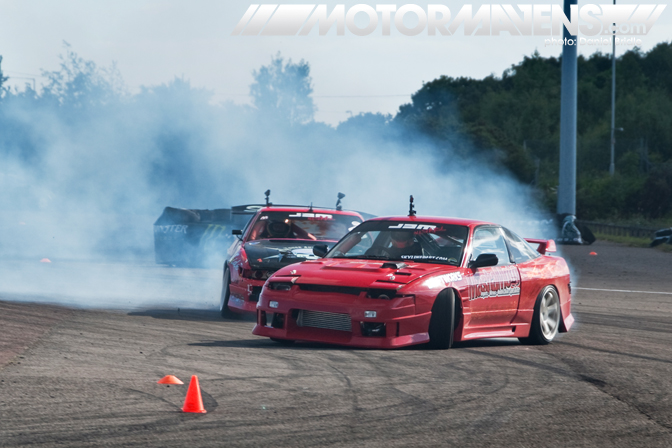 And the final began… Both Calvert and Fink gave it their all and, in my eyes, I honestly couldn't decide who had won. They both did an incredible job but in the end the judges decided that Luke Fink deserved the win!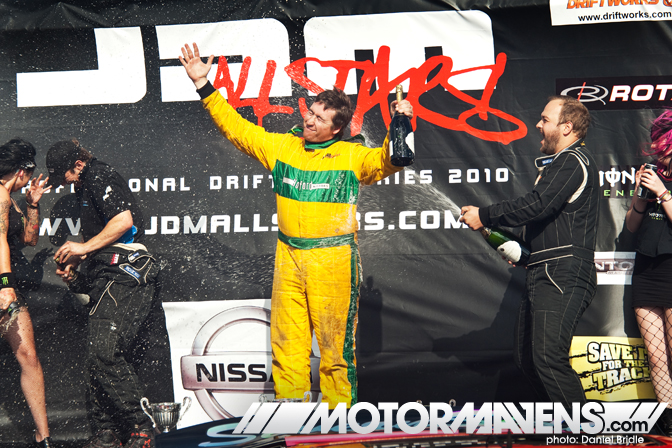 It was heartwarming to see Luke take the 1st place spot after all the trouble he had coming over here and with the few small, but annoying, issues with his car. All the hard work from Luke and the guys at Severnside Imports had finally paid off. I also realised that this was the first time someone who wasn't European had won a JDM Allstars event!
For now though, it's time for everyone to recuperate and re-build in preparation for Round 4 on the 28th/29th of August. That will be JDM's trademark event – Wembley Street Drift. If there's one event to go to in Europe this year, it'll be that one. It's going to be something special for sure.
::Daniel Bridle
180SX
,
1JZ
,
2JZ
,
Alan McCord
,
Avon Bellamy
,
BMW M3 Turbo
,
Bon Bon
,
ContourHD
,
Dan Chapman
,
Daniel Bridle
,
Driftworks
,
Duane Mckeever
,
Faruk M Kugay
,
George Tilling
,
Impreza
,
Jap Performance Parts
,
JDM Allstars
,
Jon Calvert
,
Kouki
,
Luke Fink
,
Martin Ffrench
,
MashaMoto
,
Mitto
,
Monster Energy Drink
,
Neuton Tyres
,
Nissan
,
Nissan Factory
,
Origin Lab
,
Paz
,
Phil Morrison
,
PS13
,
RB25
,
Rota
,
S13
,
S14.5
,
S15
,
Silvia
,
SR20
,
Steve Wills
,
Subaru
,
Sunderland
,
Toyota
,
Zenki
---