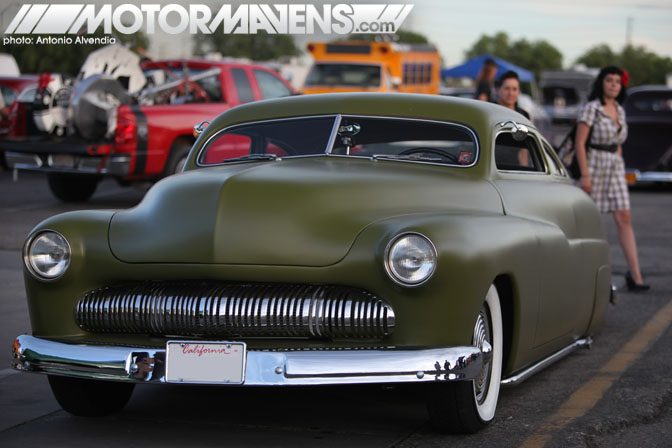 One of my favorite Southern California-based automotive events to attend every year is definitely the Mooneyes Christmas Party at Irwindale. Most of the people in my demographic only think of drifting when they hear about Irwindale Speedway, but in fact, the track is a pretty versatile venue that attracts all sorts of automotive walks of life.
Last weekend, the MotorMavens Crew traveled to Irwindale to hold our first-ever MotorMavens Mass Appeal Car Show and the Ken Block Gymkhana Grid Invitational. During Mass Appeal and the Ken Block Invitational, Irwindale was filled with a mixture of professional drivers, action sports athletes, and owners of modified streetcars. This weekend's festivities at Mooneyes were very different. Several of the people in attendance at Mooneyes were of roughly the same age as most of the drifting/gymkhana fans, but the cars, culture, and people that the Mooneyes Christmas Party attracted definitely were of a different style altogether.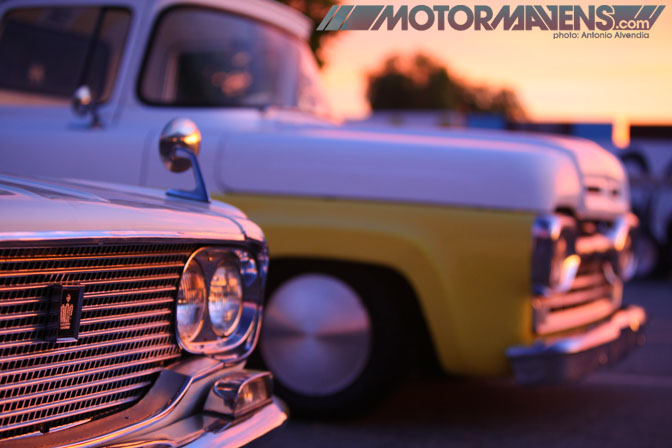 I'll be the first to admit that I don't know as much about traditional hot rods and lead sleds as I'd like to, so I'll keep my captions very short, so I don't embarrass myself too much!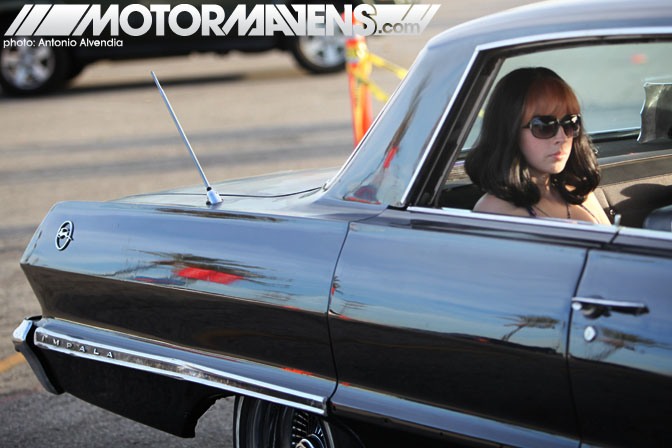 I arrived at the event late in the afternoon, because I had to deal with my one of my cars – I spent the morning trying to find a place to store one of my projects. What a hassle! Just as I stepped out of the car, I noticed this Chevrolet Impala hardtop cruising out of the parking lot, with someone's girlfriend sitting in the back seat.
Cruisin down the street in my six fo'… It's kind of rare to see an Impala done up without all the candy flake lowrider paint, so I thought this car was pretty cool. Gotta love the body lines on the Impala, but I'm not sure what year this is…? 1964?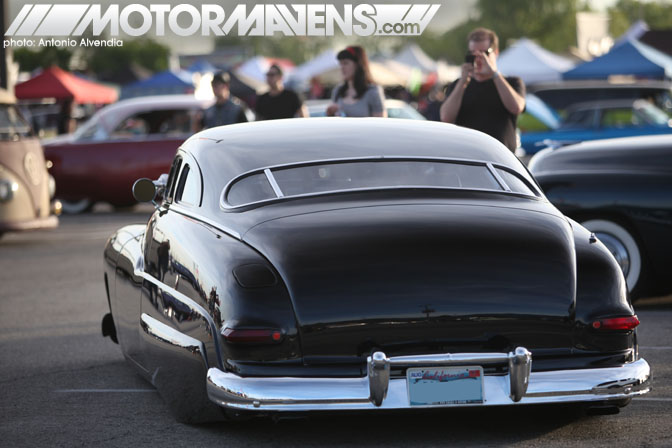 Chopped and dropped! Check out the clean black paint job on this 1949 Mercury. Even if you're not necessarily into these types of cars, you gotta give respect to the craftsmanship that went into the chop top, paint and body! These Merc guys are usually pretty serious about having perfect paint, and this particular example looked like it was coated in some high end, shiny black gloss.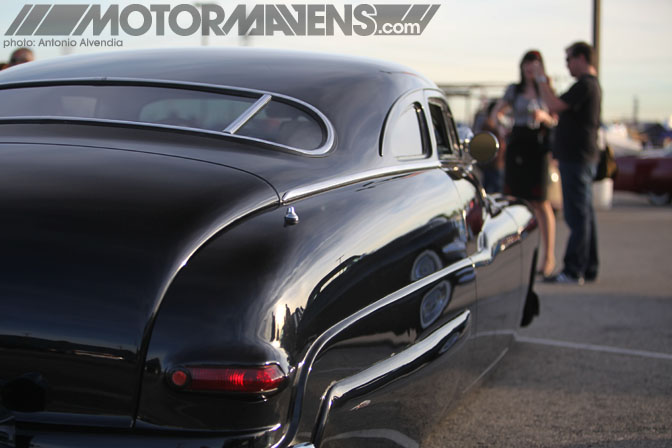 Look at the smooth body lines on this car! I think I would have a heart attack driving this anywhere, because it must be super tough to keep clean. I'm pretty particular about where I park my cars now (I always try to avoid places where the car could get nicked, scratched, or water spots from sprinklers), so I couldn't even imagine the responsibilities of owning a car like this Merc, which probably needs even more special treatment and care!
Here's the front of the Merc. SUPER CLEAN, right?!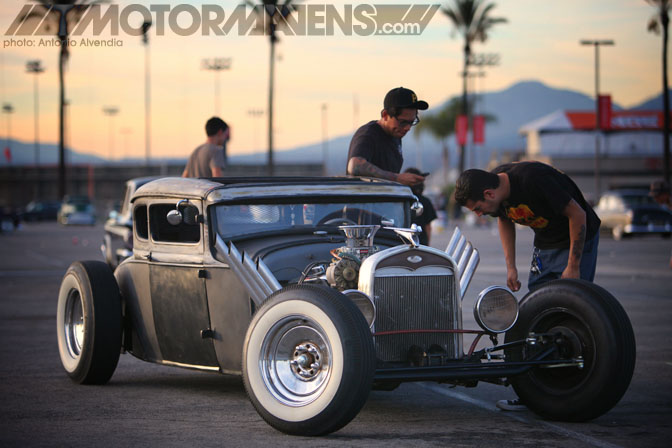 I loved the way this chop top hot rod looked! From the grill ornament, the headlights, the carburetor funnels sticking out the top, the slash-cut exhaust headers, and the top mounted mirrors on the doors. I'll just be honest and say I wish it had better wheels. The whitewall tires look awesome, but I'm just not a fan of multiple-PCD holes on wheels, because it looks like Swiss cheese to me. Maybe hot rod guys might disagree with me, but I think this particular car would look PERFECT with some widened steel wheels… or even Halibrand or Torque Thrust-type wheels.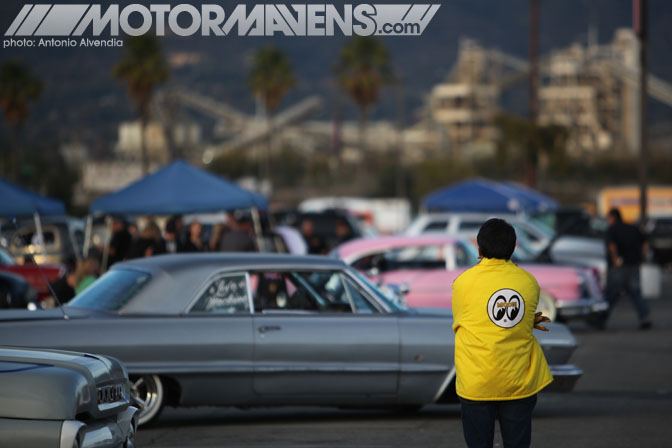 As everyone was hustling around the show, trying to get photos of the different cars and/or pin up girls, I noticed one of the Japanese Mooneyes staff guys just standing around, taking in the scenery for a moment. Sometimes, having a quiet moment to think and/or watch people is the best part of a car show.
Everyone who knows me understands that I normally only like lowered cars, but I thought it was pretty cool to see this raised drag car at the event. I don't even know exactly what kind of car it is… (Nova?) but I dig the painted/lettered logos on the sides of the car. I also think it's cool that back in the day, people used to think of names for their cars, like, "Psycotic Reaction" here, even though the word psychotic was misspelled. hehe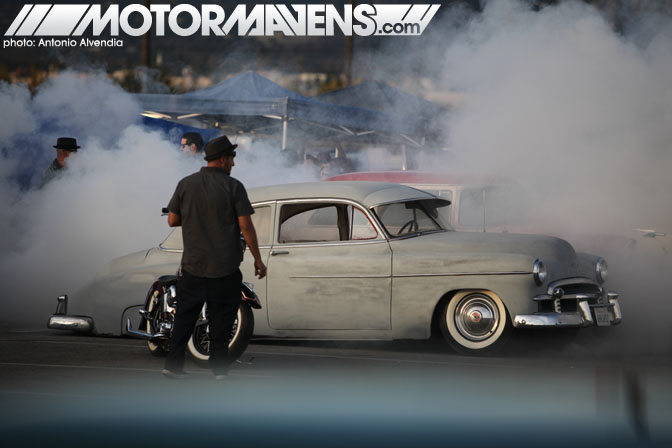 Somewhere in the parking lot, some guys thought it would be a good idea to do some burnouts and stuff… it probably wasn't the safest thing to do with all those people standing around, but hey… I see crazier things going on at drift events, and at least it made for a nice photo.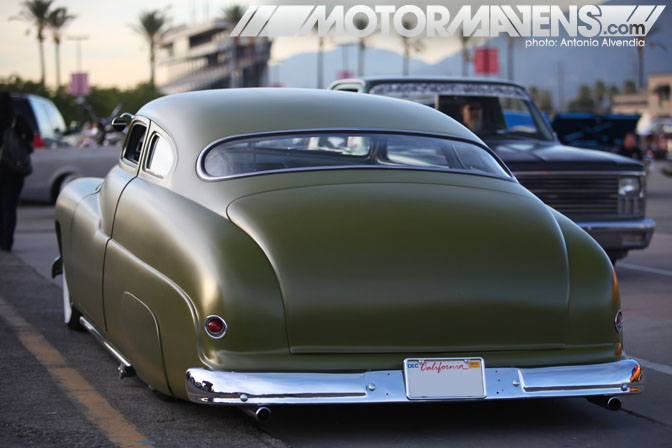 I've been liking satin olive green paint a lot lately… and the finish on this old school Merc definitely reinforced my thoughts on the color! I think it looks bad ass – especially since the body of the car is so clean. That's what really makes the satin paint job "shine" in my opinion.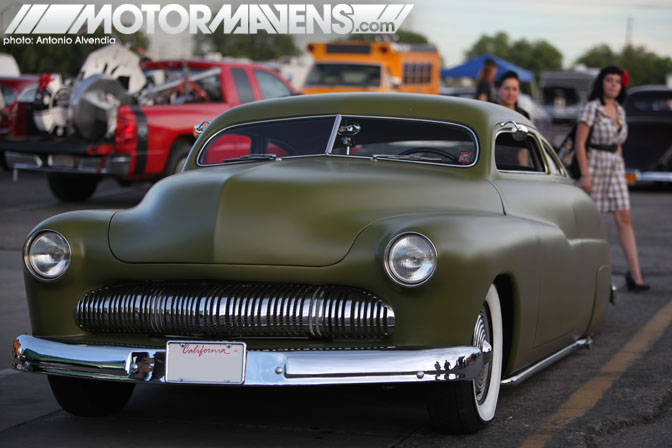 Here's the front of the Merc. Can you just imagine driving one of these around town in the 1950s?! Especially if it looked just like this?! Bad ass for sure!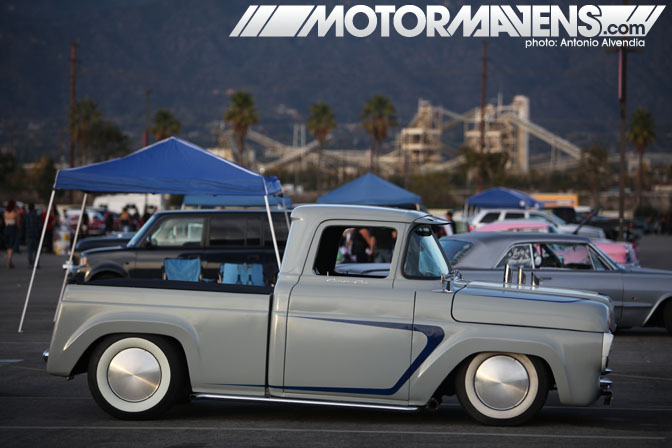 I'm not sure if this is a Ford or Chevy truck (and I didn't walk close enough to inspect it), but I thought the subtle stripe on the side of the body gave it a really cool, sporty/vintage feel. The Mooneyes moon discs and whitewalls looked pretty cool on it as well… as did the front windshield visor. I dig the slate gray paint color too. Very nice overall!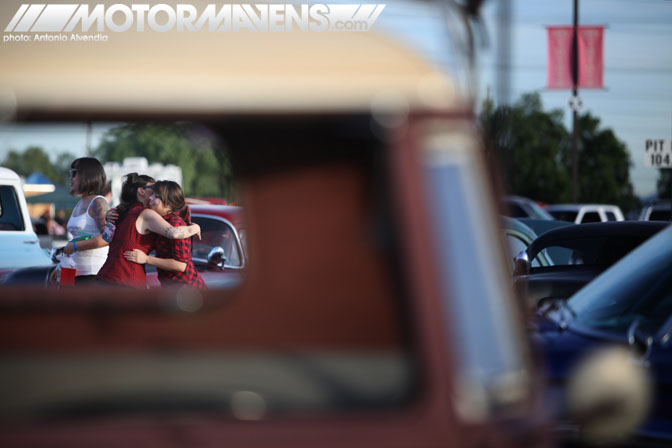 Another thing I liked about the Mooneyes Christmas Party is the fact that it seemed to be really fun for both men and women. There were a lot of women walking around the event, taking photos of the cars and buying merchandise… in fact, there it seemed to me like there were A LOT more normal women (not models) walking around this event than you would find at a Japanese car event. I think that many of the Japanese car events seem to be tailored mostly to guys, whereas Mooneyes had a lot of interesting things for women too. That's always a good thing!
I have A LOT more photos from the event, but I think I'll just end this update here… stay tuned for more Mooneyes on MotorMavens later tonight!
:: Antonio Alvendia
---