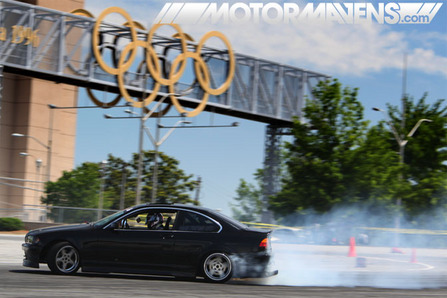 The home of Coca-Cola, Delta Airlines, and the 1996 Olympic Games also houses one of the healthiest and strongest drift communities in the country. Every month, Southeast Drift extends its Southern hospitality and hosts grassroots practice events in the heart of the city. These events are always packed with drivers and spectators from the area. With a large number of pro-level drivers in the region, Southeast Drift events have fostered an environment for some of the best tandem drifting in the South. Their "Triple Threat II" event took place on the Sunday after Formula Drift Round 2. Several FD drivers showed up to hang out, and some even put on their helmets and drove with the best drifters in the Southern States, making things that much more exciting!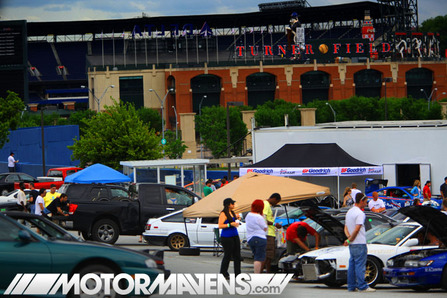 The Atlanta Braves' stadium lurks just past the pit area. Turner Field's Blue Lot has been the focal point of grassroots drifting in Atlanta since 2004. Several sanctioning bodies have hosted drift events here in the past, but Southeast Drift is currently the organization most involved in keeping the local scene thriving. If you search the satellite view on Google Maps, you can see the remnants of Atlanta drifting from space.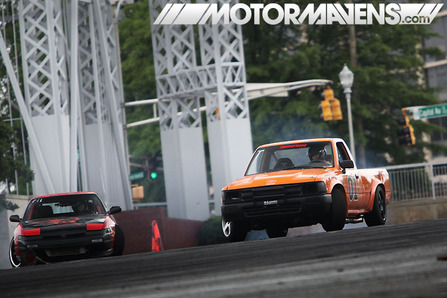 Here's Turbo Dave rounding the first clip in his turbocharged small-block Toyota Tacoma. A lot of work has gone into this truck, including a T67-equipped 302 cubic inch Fox-body Mustang engine. The General Lee livery adds some Southern flavor to the whole ensemble. In case you don't remember… 'Hazzard County' is in Georgia!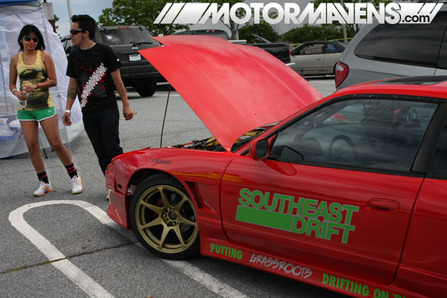 These two seem to be enjoying the freshly painted S13 belonging to Sammy Sritongkham (say that three times quickly!) from Tiger Racing. His shop specializes in SR20 build-ups and swaps. Sammy has been involved with drifting in Atlanta since it's beginning. Sammy is known for his incredible entry speeds and intense door-to-door tandem. He is always an exciting driver to watch because of his unforgiving, aggressive driving style.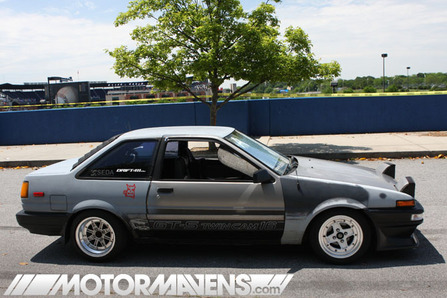 "Huy Style's" AE86 coupe is a staple at Southeast Drift events. Huy makes drifting look easy in this car, and always looks awesome sporting his SSR MK2 and MK3 wheels.
The 15×8.5 SSR Mark 3 wheels on the rear of his AE86 were a new addition to Huy's car at the time this photo was shot. He noticed a Club4AG ForSale posting from Formula D driver Hiro Sumida, who was using these SSRs on his AE86. Huy bought these "perfectly sized" wheels immediately, and mounted tires to them just before the Turner event. This car is cool because it has never been about fancy paint or rare bodykits. Huy is just a dedicated driver that drifts for the love of the sport.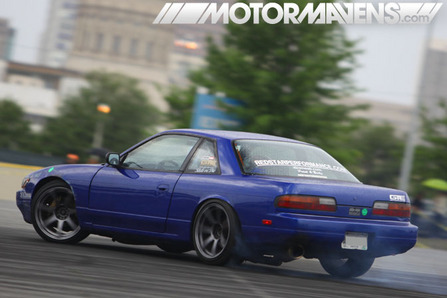 Erin Sanford's LS1 powered S13 is always a crowd favorite. Consistent and precise, Erin is another pro-level driver to keep an eye on. He is currently building a new chassis that will prove to be equally as exciting as this blue S13.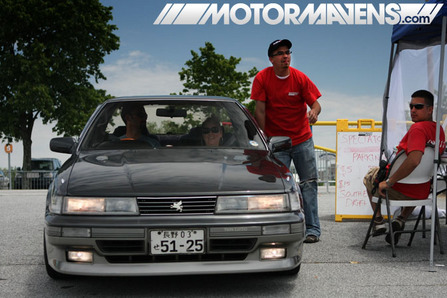 Here we see Chad Copeland pulling up in his super-clean JZZ20 Soarer MKII. This car is obviously an extremely sight in the South, so it's very exciting for us to watch on the days that Chad decides to take his car out to the local drifting events!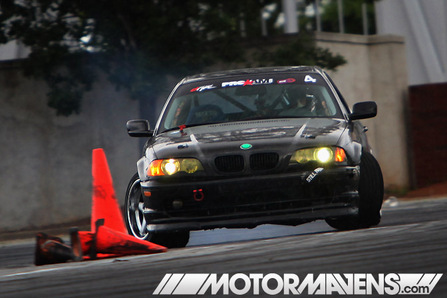 Nothing says Atlanta Drifting like Andy Sapp's E46 BMW screaming around Turner Field. This was one of only a few runs Andy completed before he was forced to retire the car again due to frustrating ECU problems.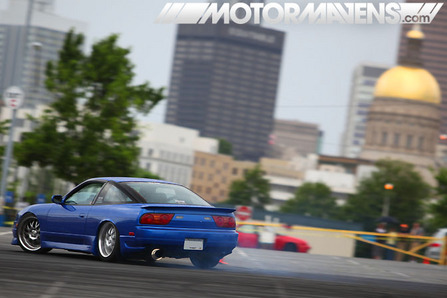 Cody Wellons of S3 Magazine tears through the sweeper in his newly acquired RPS13. The gold-capped capitol of Atlanta overlooks with approval as he sets up for transition back down the hill.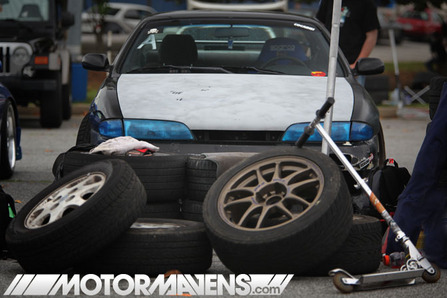 The blue headlights of Byron Hill's S14 peek over a stack of tires and wheels in the pit area. This car has undergone a long transformation into a battle-hardened drift machine.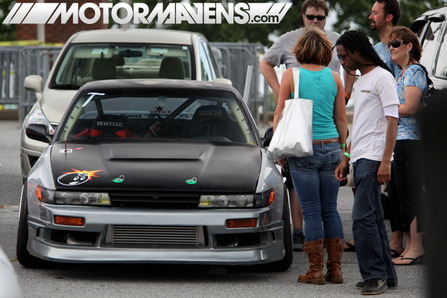 Tyler Clayton's freshly rebuilt S13 just oozes style. The stance on this car is sick! Tyler always has widest wheels and the best stickers. (He needs a MotorMavens sticker to make his car look even cooler though!)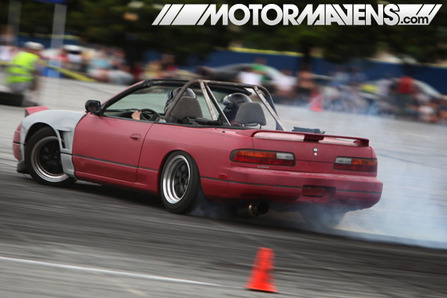 The guys in this S13 vert must be having some fun with the top down! Lots of visibility when drifting = even more fun!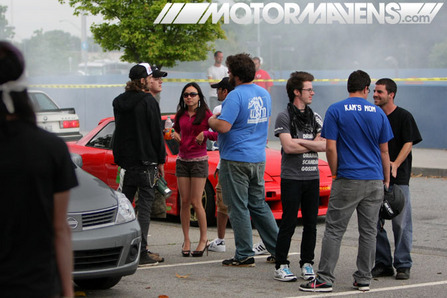 Here's Atlanta's own DriftMechaniks crew keeping things trill in the pre-staging area. Looks like the start of another Gossip Girl marathon..?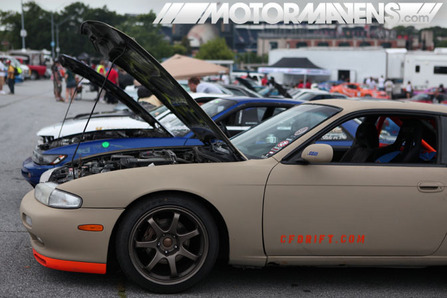 Several drivers from St. Louis, Missouri made the trek down south, including Dan Sommer and the rest of the Control Freaks crew. It's cool when drivers from other states come all the way to Turner Field to drift with the Atlanta locals!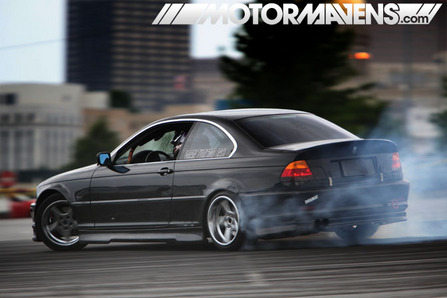 If you are ever in the Atlanta-area, be sure to check out Southeastdrift.com for a schedule of upcoming events. If you like drifting as much as we do, these events will make you feel right at home, just like Georgia's comfort food – biscuits, sweet tea, and Southern fried chicken.
::Lieze Truter
---