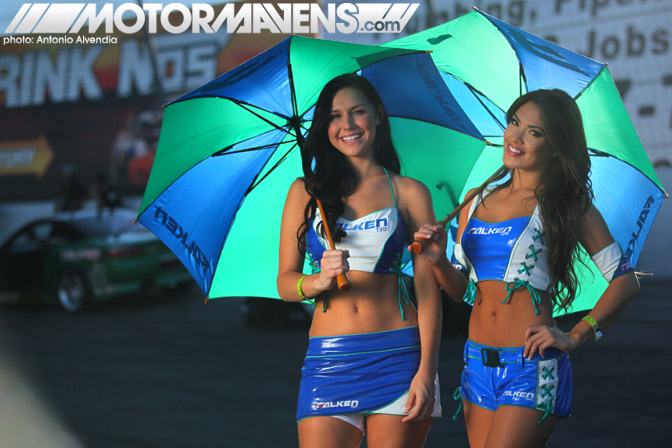 It's hard to believe that the 2011 Formula Drift Championship season has already concluded for the year – the series went from start to finish in just six months! Thanks to Facebook, Twitter, and the Drift Stream, everyone already knows that Discount Tire V8 S13 driver Daijiro Yoshihara was "Triple Crowned" as the 2011 Formula D Series Champion, marking the first time that a Japanese driver won a Formula D series championship. Even more relevant is the fact that this win marks the first time the popular Nissan S13 chassis has been used to win a Formula D championship season! S13 owners should rejoice – the iconic ichi-san is apparently still competitive against the newer technology drift cars.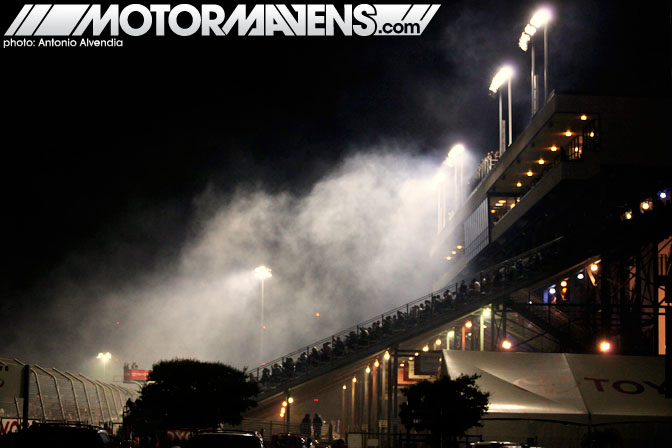 For the season finale at Irwindale Speedway, Northern California based Tyler McQuarrie beat the competition to win First Place at the event in his Falken Tire V8 350Z, standing atop the podium with Rhys Millen (Second Place) and Chris Forsberg (Third place).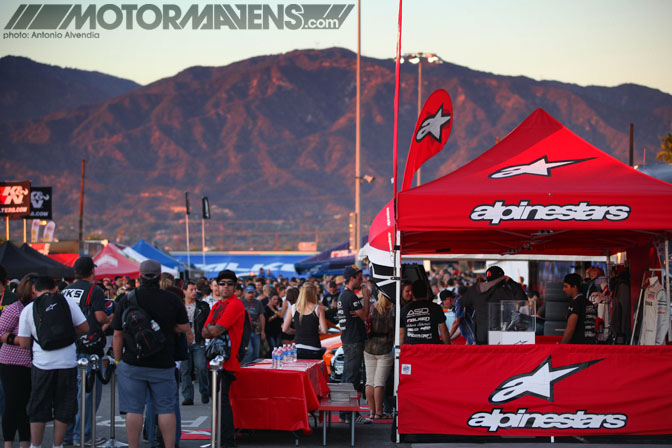 So much has happened over the course of the hectic six month season, and the Formula Drift series is growing in such leaps and bounds, it's almost as if the series is completely unaffected by the economic problems that seem to be plaguing the rest of the world. Just look at all the people walking around in the vendor area. This is what the scene looked like even when there were tons of people in the grandstands! The pit area got even busier than this, but at that point, I couldn't even shoot photos – we were just busy trying to maneuver our golf cart through the crowd without bumping into anyone! It was like rush hour traffic.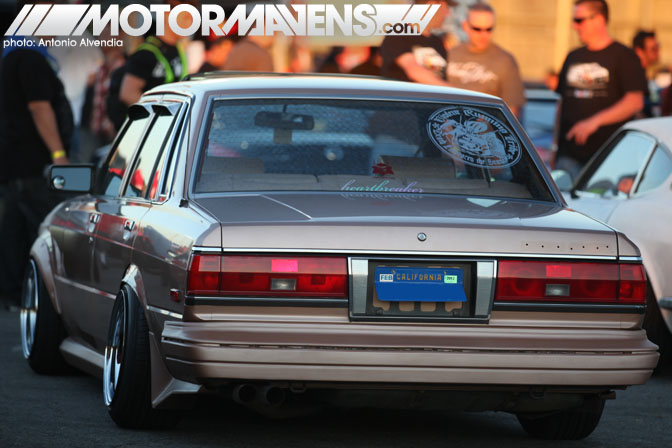 There were lots of cars gathered around in the car show area, but again, there were so many people walking through the aisles that it took forever to even get one shot of a car! There were TONS of awesome looking cars at the show, but this one is definitely one of our favorites – a street scraping Toyota Cressida owned by Jameson of Violent Running Tribe. More on this car later.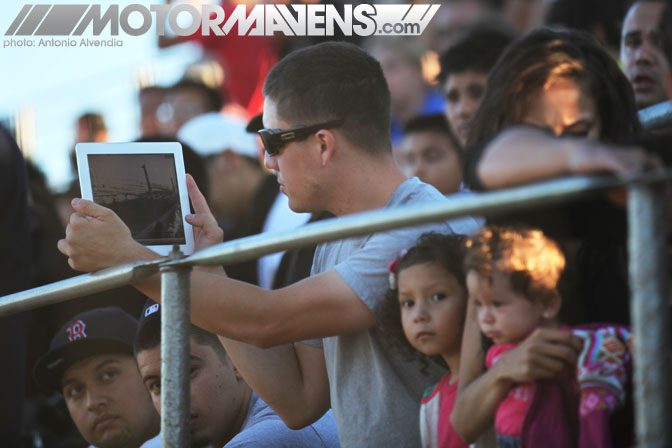 Of course there were lots of people walking around the track with digital cameras (and even a few film cameras), but I thought it was pretty interesting to see this guy filming video of the start with his iPad 2. This was at the new bleacher section that Irwindale Speedway added for the event, which was situated right next to the start line. Irwindale Speedway's Doug Stokes told me that they requested help from Dwight Tanaka from the Long Beach Grand Prix Association to get the new bleachers set up. Wow, actually ADDING more seats to the already-huge Irwindale Speedway, just for Formula Drift? Drifting in the United States is REALLY getting huge.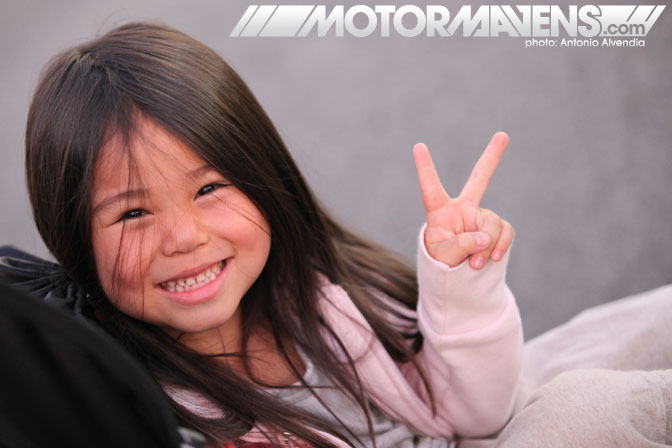 It's always great to see all different ages at professional drifting events, from old to young. This is my friend Kiyo Enari's daughter. She's so cute! If you don't know Kiyo, he's the man behind Carbonetic and Takumi Project… and real old schoolers will know him from his days at Alta Wheel Shop in San Gabriel!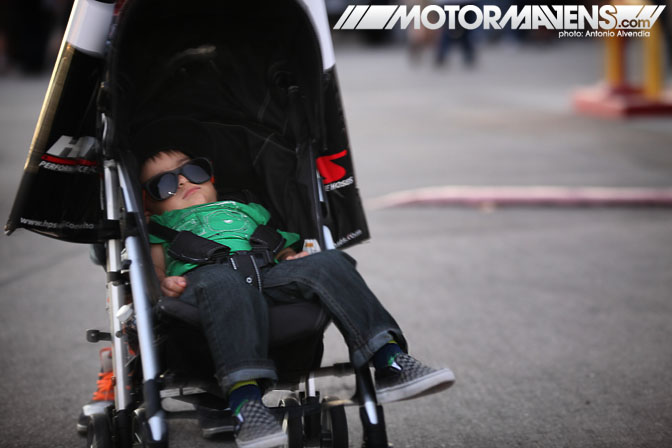 Not all kids were smiling and holding up peace signs. This little guy looked like he partied a little too hard the night before. I thought it was hilarious to see him passed out in the stroller with his sunglasses all crooked! He's even rocking fresh checkerboard Vans and raw denim… this little dude's got style! Haha!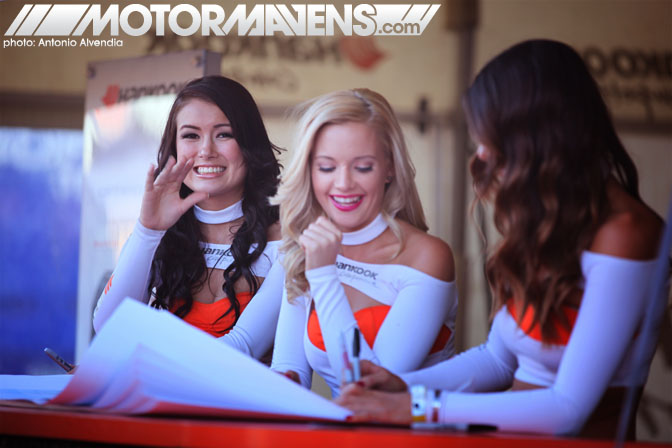 Aside from all the tire shredding and fresh cars at Formula D events, race queens/umbrella girls are definitely a popular attraction at the track. These are some of the Hankook Tire girls. Everyone in the MotorMavens Crew loves Nicole Marie Reckers (left) because she's a sweet and genuine person. We've all had the pleasure of hanging out with her at several events, so she always smiles and waves when she sees cameras with a red-and-white M sticker on the lens hood!
Meanwhile, Lisa Lee Marie (middle) and Lindsey Harrod (right) were cracking up at some of the corny pickup lines that guys were dropping on them while getting their posters signed. Guys, you don't need crazy pickup lines to talk to these honeydips! These ladies are always super friendly, with great personalities… just be yourself and say hello when you see them at events!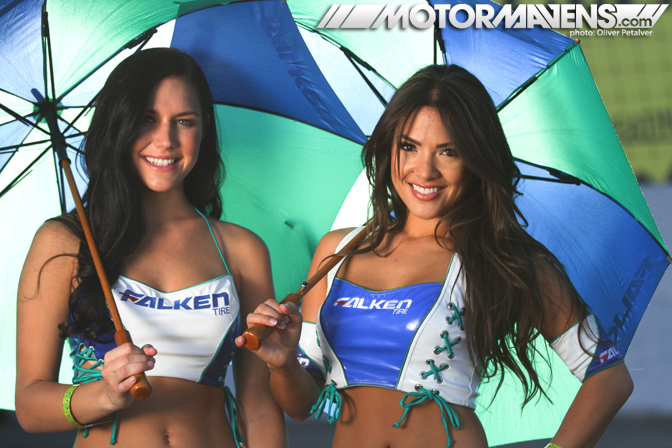 Speaking of friendly with a great personality, Falken umbrella girl Randyl Dawn (right) is one of those girls that makes you shake your head, because she is pretty much what most guys consider to be the perfect package. Yeah, yeah, yeah… she's gorgeous… but what really makes her attractive is her personality because she remains super cool and sincere, despite all the attention she gets from events and magazines. Randyl introduced us to the newest girl in the Falken lineup, Jael (left). The season finale at Irwindale was actually her first event!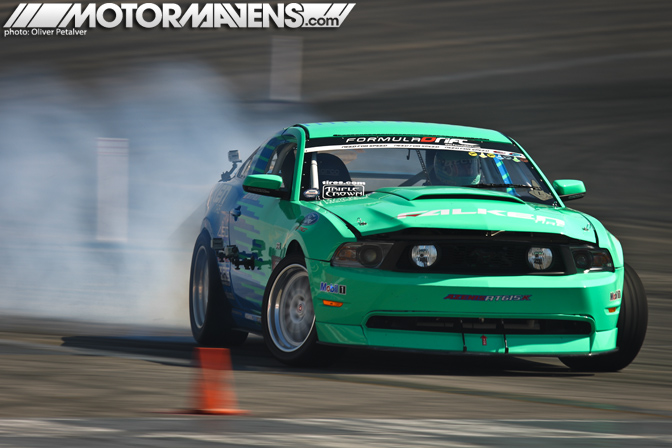 Falken is really doing well this year, with drivers from their team taking the top two spots in the points standings. Everyone's favorite Southern Cali FC3S RX7 driver, Justin Pawlak has been killing it all year behind the wheel of his Falken Mustang! JTP came just behind Dai in the final points standings – he was less than 6 points away from Dai, so he easily could have won the championship as well!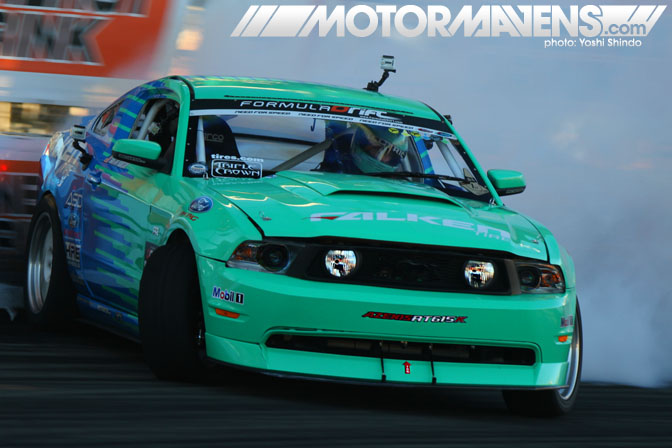 Super aggressive all the time, JTP was pushing out big smoke and riding the wall pretty damn high at Irwindale. No wonder all the fans love him! JTP is the man.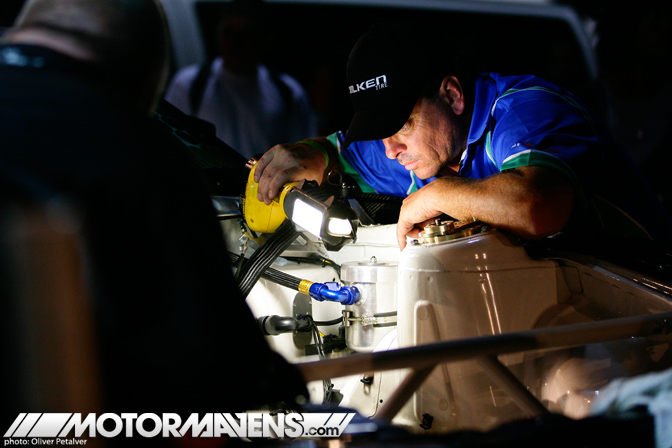 Unfortunately, Falken's other Mustang driver, Vaughn Gittin Jr, didn't fare as well at the season finale. JR is known for being over-the-top and standing on his throttle all the time. Unfortunately, he had engine problems during practice, and the engine had to come out of the car completely!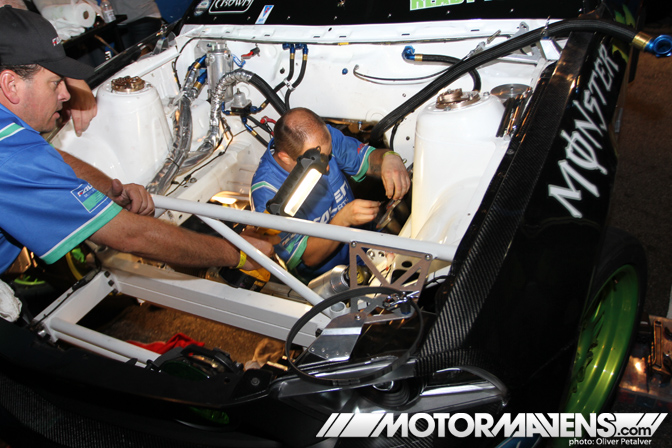 As one of the most high profile sponsored drivers in the series, JR has a whole team of devoted mechanics to support his drifting efforts. It's great to see that these guys are so devoted, because as you can see here, these guys really get into it when they're working on his Mustang.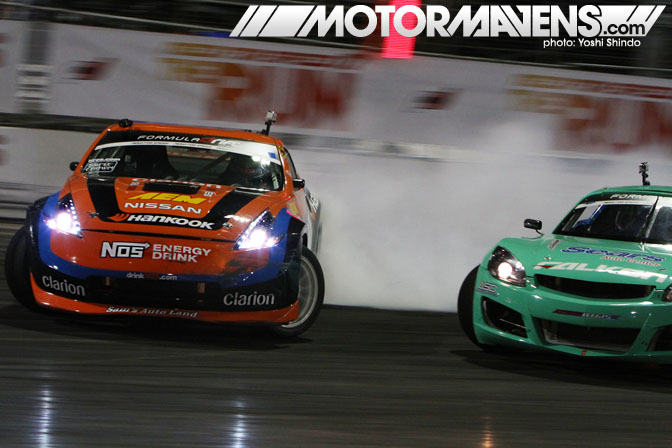 JR obviously isn't the only Drift Alliance member with big sponsors. Chris Forsberg has been doing really big things as a privateer, signing with a ton of big sponsors – he even has a big poster of his car drifting on the side of Irwindale Speedway! Here's a cool shot from Yoshi Shindo, of Forsberg's Nissan 370Z battling it out with Darren McNamara's Saturn Sky. Forsberg was also a top contender for the season championship – he was only 20 points away from Dai at the end of the season.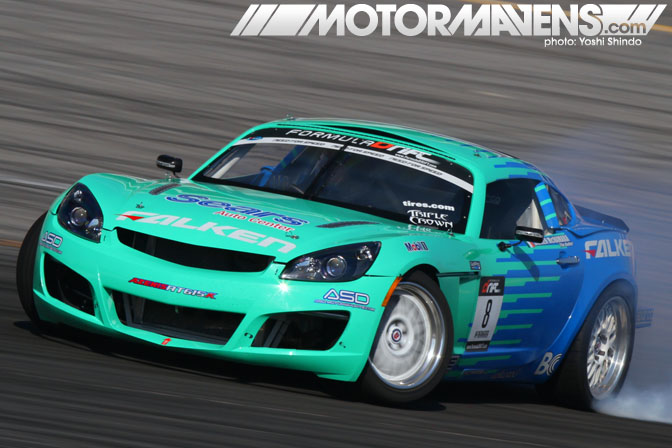 Darren McNamara has been pulling in outstanding results all season, and his Saturn Sky is looking better and better. MotorMavens sharpshooter Yoshi Shindo got this nice capture of DMac e-braking in mid-drift.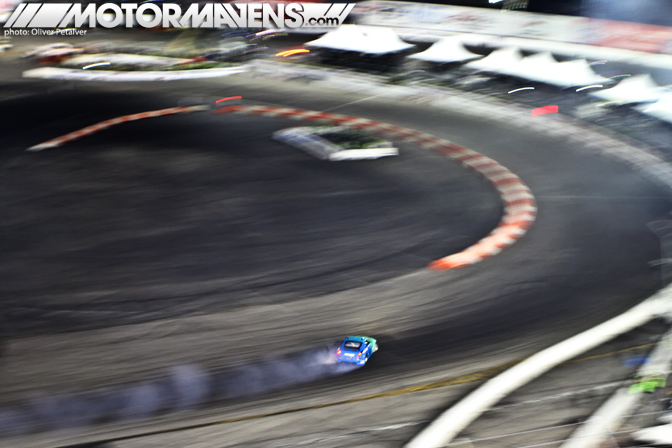 From high above the track, our own photo ninja Oliver Petalver decided to change things up a bit, and captured this slow panned shot of Tyler McQuarrie negotiating the Irwindale oval.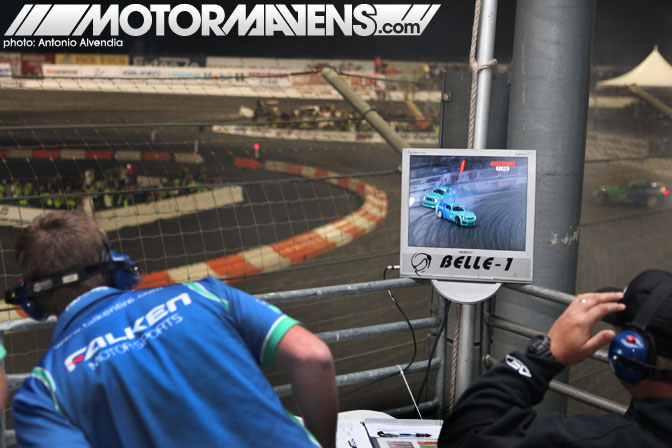 When teammates have to battle each other, it isn't always pretty. When DMac and JTP squared up for their tandem fight, JTP ended up hitting the wall, causing a huge uproar from team members watching the close up action from the Belle-1 monitors up above in the spotter's station.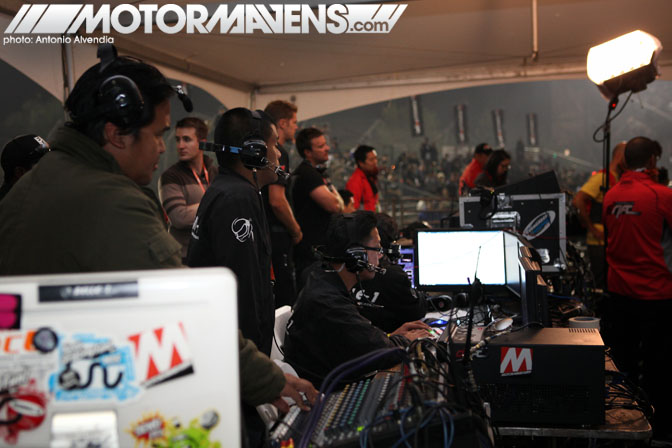 Right next to the spotter's station, is the Belle-1 Control Tower. This is where a lot of the behind-the-scenes action takes place – this is the central command center that controls the entire Formula Drift event! Many people might not know who these guys are because they're always extremely busy and engaged in running the event from start to finish. The Belle-1 crew runs the live video feed, the Formula D jumbotrons, scoreboards, and all audio for the event, synchronizing the entire event with perfect timing. These guys have to synchronize all communications for the event, from the judges, start line, safety crew, announcer (whatup J-Rod!), and on top of that… they need to play good music to keep people grooving in their seats in between rounds! See the guy on the left? That's Fred David, he is the man behind the scenes that's playing all the hard hitting hip hop beats that make people move while they're at events!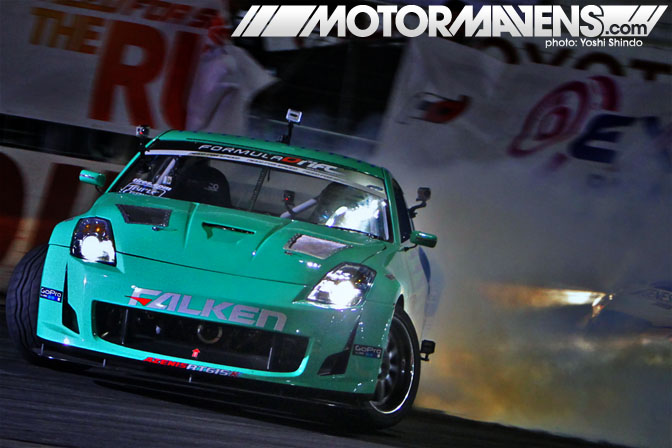 As everyone who follows Formula D on Facebook already knows… Tyler McQuarrie won top honors at the season finale, driving his Falken Tire V8 350Z… for the last time? The rumor mill has it that Tyler's contract with Falken was not extended for next year… but he won First Place at Irwindale!!! It looks to me like another team needs to jump on the opportunity to sign this guy, because he has ridiculous amounts of talent behind the wheel. It doesn't even matter if it's drifting or road racing, Tyler is an outstanding driver period. He's a pretty nice guy, too!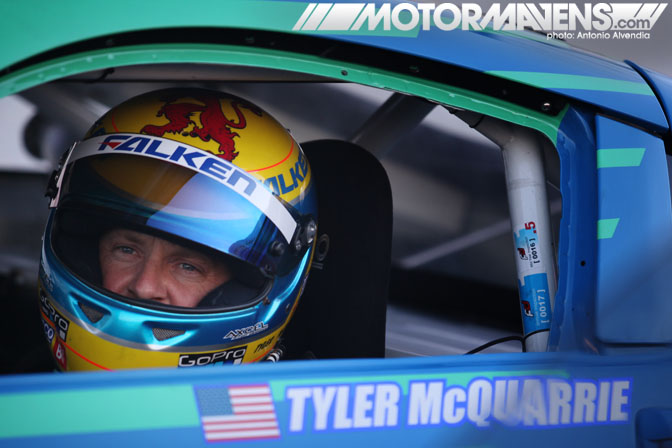 At the Pre-Grid, Tyler was strapped into his V8 powered Z33, watching the action on the track with his helmet on, focusing his mind and preparing for the win.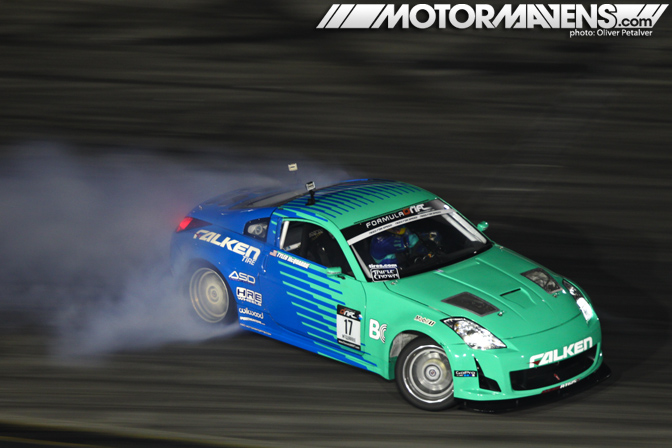 Here's some bird's eye view shots of Tyler ripping up the course, courtesy of our boy Oliver Petalver, who was perched high above the track for these photos!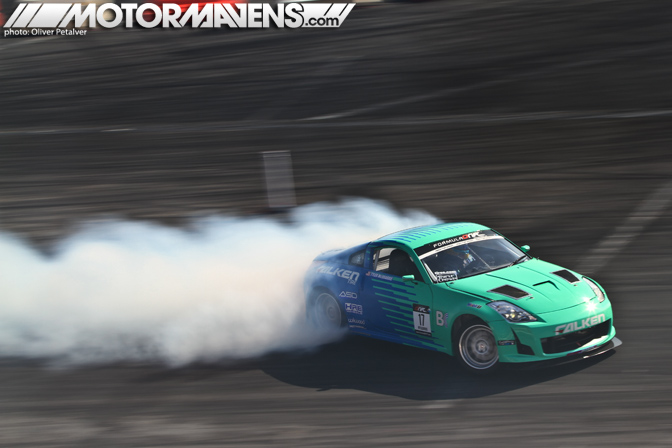 Big smoke, high speed, a high degree of angle, and consistency. That's how you win events.
Wait, did I mention SPEED? Just making sure.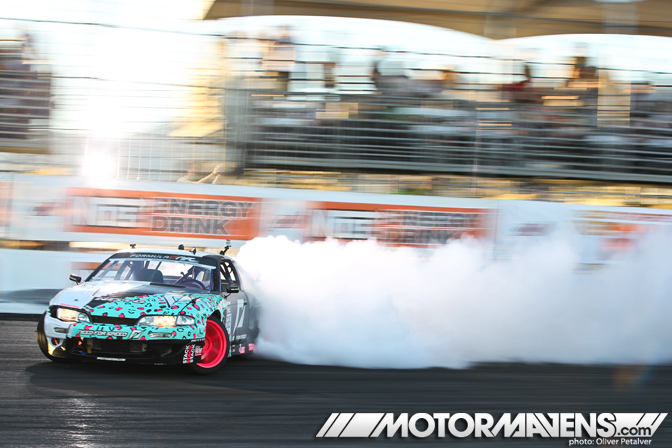 Matt Powers definitely has a need for speed. He ended the season in Sixth Place in overall points. For some reason, seeing the wild graphics on his car always makes me think of Arizona green tea.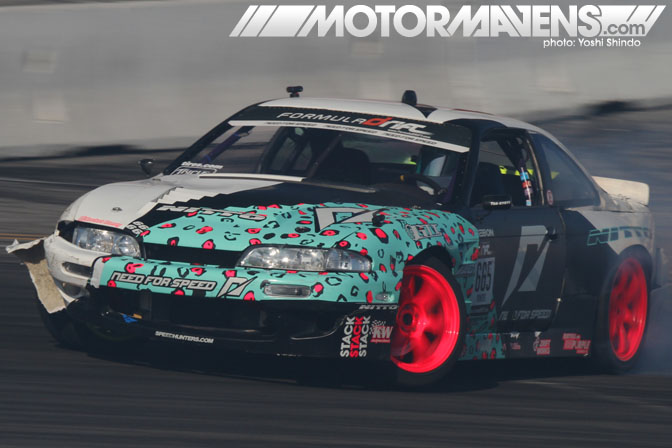 If you can see past the wild and complicated graphics on the car, you will see that Powers's zenki S14 sports an authentic Tra-Kyoto 6666 Rocket Bunny aero kit, which is now available in the United States through our friends at Touge Factory in Chicago. If you need one of these aero kits, call up Touge Factory and tell them MotorMavens sent you!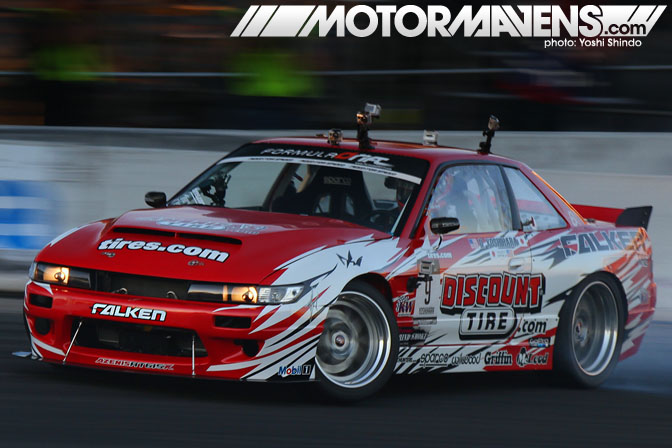 Also rocking Rocket Bunny aero (the S13 Silvia version, obviously) is Daijiro Yoshihara, the 2011 Formula D Champion. Personally, I think it's so awesome that Dai won the championship, because it's something he has been working towards since the very beginning of the Formula Drift series in 2004.
Even though V8s have overcome Formula Drift because of their torque and power, Dai creates hope for S13 owners, proving that the "old and outdated" S13 chassis can still WIN in professional drifting competition. Although Dai is certainly an amazing driver, I think much of this success comes from the way his team works together to support him at the track.
CONGRATULATIONS to Dai and his entire team – Scott Dodgion from SPD Metalworks, Mike Kojima from MotoIQ, Chris Marion from KW Suspensions, and all the support staff and tire changers at Falken Tire!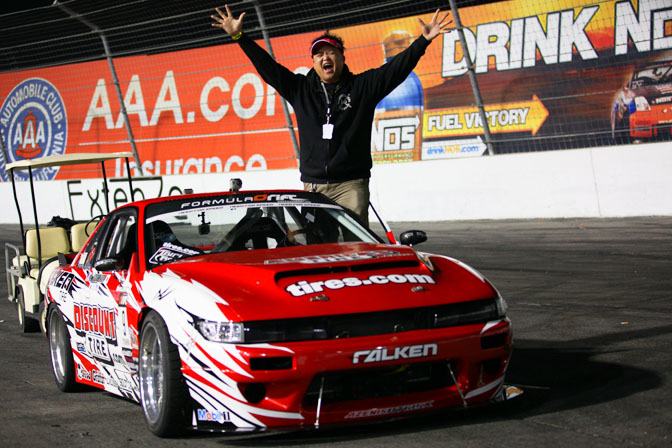 As his good friends, we always make fun of Dai's efforts to "protect his good hair" by wearing a visor instead of a hat to promote his sponsors. Well, as a joke, Discount Tire made a "Daijiro Yoshihara Visor" with fake hair sticking out of the top, to simulate Dai's hair. Everyone was passing it around at the Pre-Grid, and taking pics with it, so after J-Rod announced that Dai won the series championship, I decided it would be a good idea to put on Dai's special visor and see what it would be feel like to be Dai for a moment! Haha!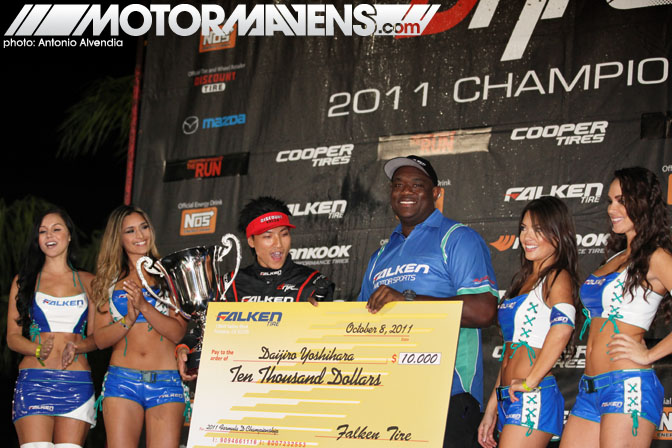 Up at the podium ceremony, Falken's Motorsports Manager, JBrad presented Dai with a check for $10K! It would be so cool to have something like that hanging up on your wall!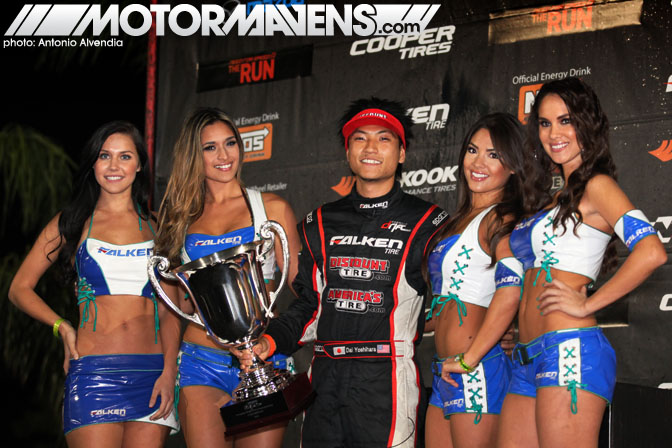 As the series champion, Dai was presented with a huge metal trophy (normal event winners get smaller carbon fiber ones)… that thing was so big that he had a hard time keeping it lifted up in the air!
Oh, and say hi to the Falken girls… (L-R) Jael, Melanie Tillbrook, Randyl Dawn, and Julie Galindo!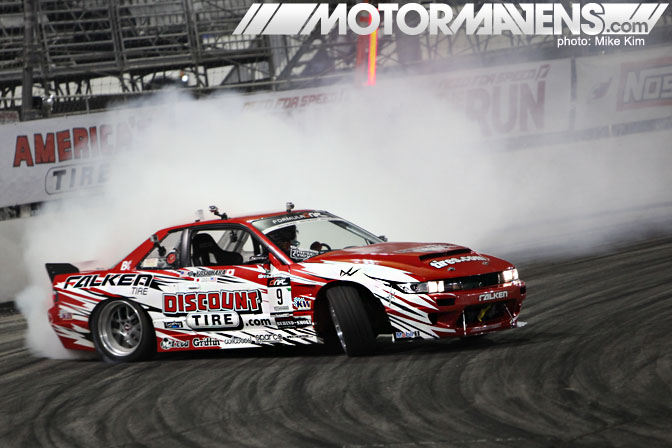 We'll close out this installment of Irwindale coverage with one last photo of Dai's S13 on the oval… look out for a lot MORE photos of all the other drivers in our next Formula D story!
:: Antonio Alvendia
Photos by Mike Kim, Oliver Petalver, and Yoshi Shindo
---