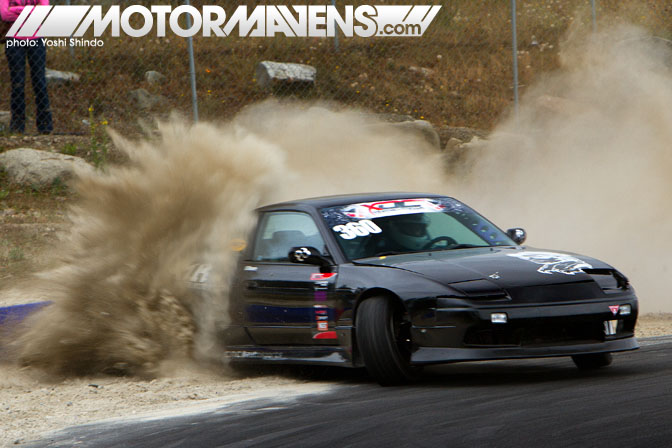 August 13th marked the coming of one of the most anticipated events of the year in the Northwest. Xtreme Drift Circuit was coming to Pacific Grand Prix! This was a chance for the locals to put on a great show with the already talented list of drivers that follow the series.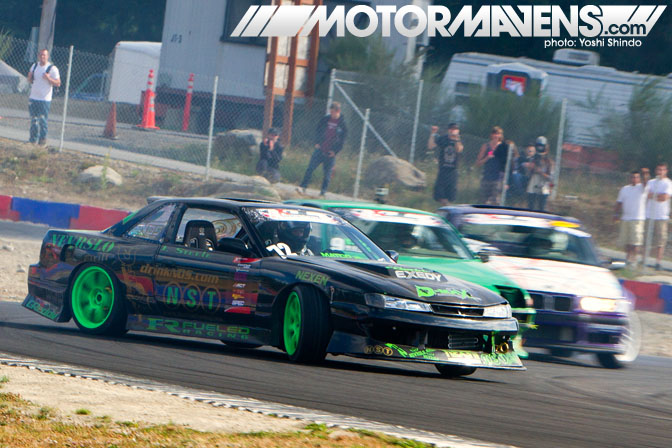 XDC is known for their raw and mixed make series – making it an interesting change from the more serious Formula Drift. If there ever was an equivalent to the MSC drift competitions that are held in Japan, XDC would be it.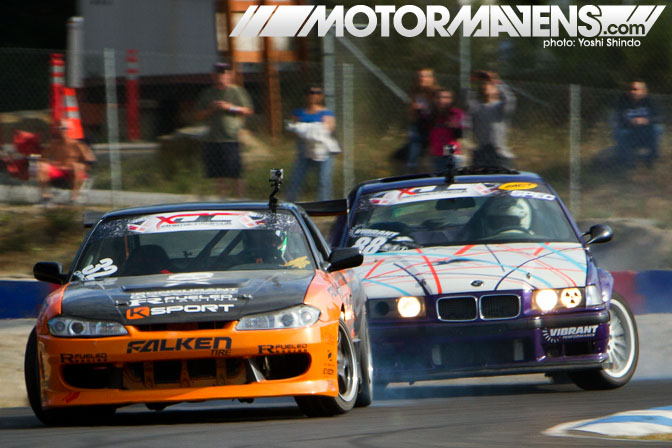 I used to joke that the Northwest was the Alaska of drifting because it seemed like the big events and series organizers overlooked this part of the United States. Left to our own devices, we developed out own style and community; growing together and growing the sport within Washington in particular.
When the Seattle stop for Formula Drift was announced for the first time a few years ago, I was ecstatic. With the success of that event I think we showed that there was an interest and an untapped potential in our neck of the woods. Since then we have had a Pro-Am series spawn a growing list of professionals and local heroes. Having XDC coming to PGP means that this area is a viable place for drifting to continue to grow.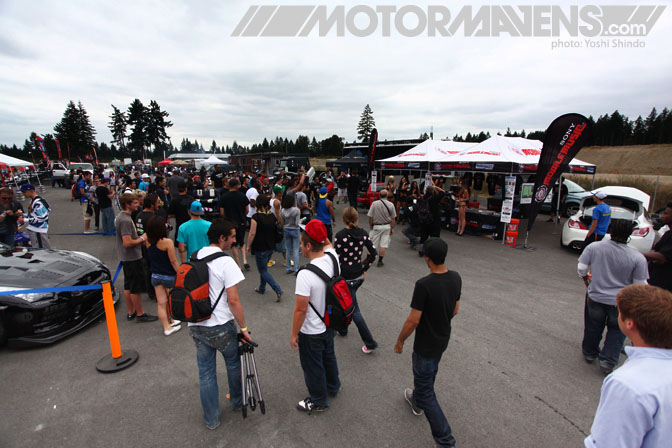 When I heard that XDC was coming to PGP, my first thought was "awesome!" Then the logistical questions came up – what turns would be judged, where would the spectators be located, and what would the vendor situation look like. Luckily everything worked out smoothly and the logistics were handled competently; the whole XDC crew was amazing to work with – as well as super laid back. If felt like one of our regular events on steroids! I was particularly excited to meet Matt Petty who is part of the Clubloose organization, and has been involved in East Coast drifting for years.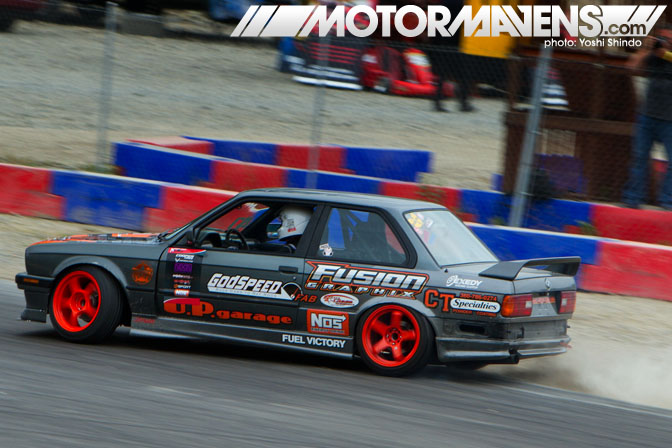 Erich Hagen was running well all day in his Nissan CA18DET swapped BMW E30, and was able to qualify 15th of the almost 30 cars that were signed up for the competition.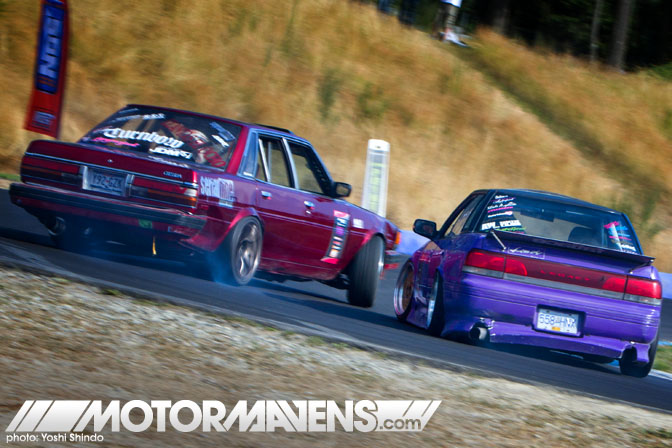 Robert Tunbow in his Toyota Cressida and Logan Noel in the Drift Union Subaru Legacy were matched very well – though Logan pulled through, eventually getting fourth overall. Logan is no stranger to PGP – he's drifted here a few times and he even won the Team Tandem event last year with the rest of his Drift Union mates.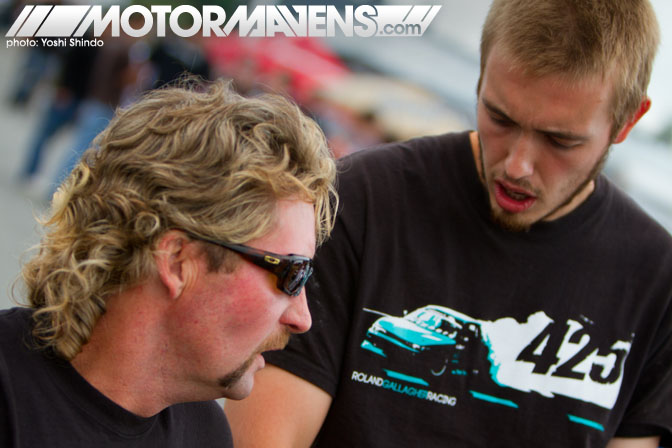 Roland Gallagher and his dad George Gallagher are a great father and son team working together for Roland to keep competing as a privateer in FD. Whenever you see Roland at an event, you can be sure that His dad is there as well. George's hair was previously mentioned by Matt Powers in his drivers blog but now you can see the Business in the front/Party in the back style that he rocks daily in all its glory. Looking good George!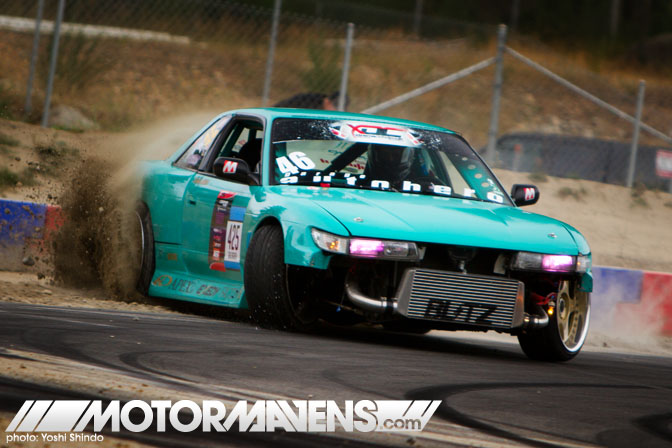 The PGP staff were not thrilled with all the dirt drops – it tears up the turf. But as much as the drivers tried to keep it cool, sometimes things happen when trying to go all out at a competition. Roland tapped the dirt and made a little cloud behind him; not all tire smoke….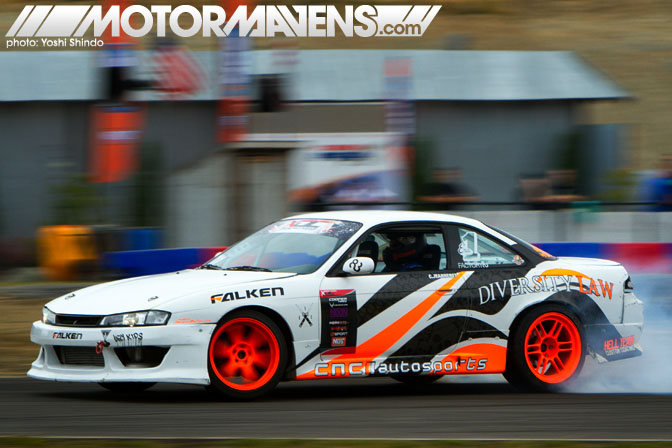 Chris Jeaneret was out in the CNC Motorsports S14 240SX with a new livery since the last time I saw the car. Looking good! Chris was able to qualify 8th for top 16.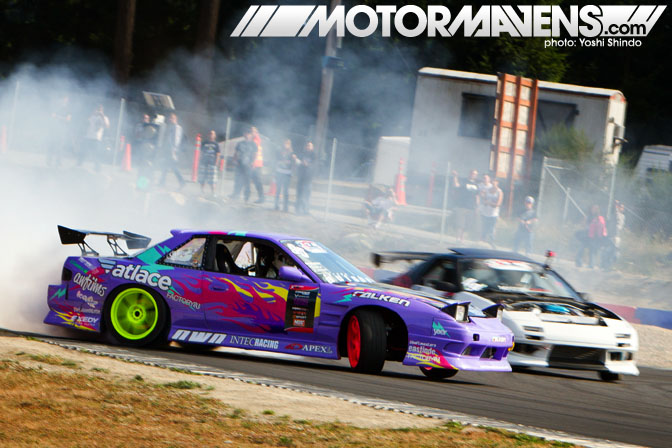 Walker Wilkerson and Kory Keezer were neck and neck. So much so that they even went OMT (one more time)! Giving credit where it's due, Kory was driving very well in the Nissan SR20DET swapped RX-7 FC against the possible FD rookie of the year, Walker. Walker did come away with the win and, even though Kory lost, he seemed very happy with how he was driving knowing that it could have gone either way.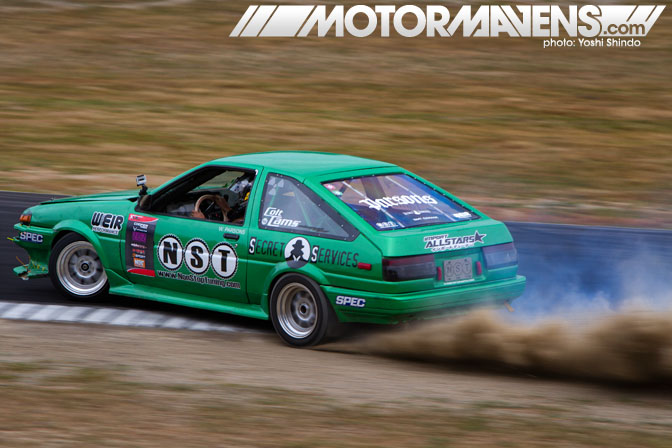 Being the lone Toyota Corolla AE86 in the field, Will Parsons held his own, qualifying fourth overall. I love to see Corollas still used in competition – it takes a devoted person to stick with this chassis. Props Will!
One of my favorite cars of the whole event was Josh Steele's S13 240SX with an S14 Kouki front. Great looking and still competitive!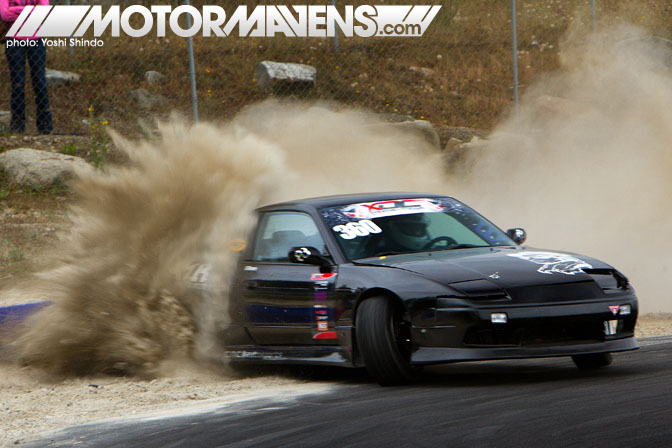 Victor Moore was having a good day and, despite various car issues over the months, his S13 240SX held up quite well for the entire event. Here he went off the deep end, dirt dropping like a mad man! He was knocked out by eventual winner Nate Hamilton.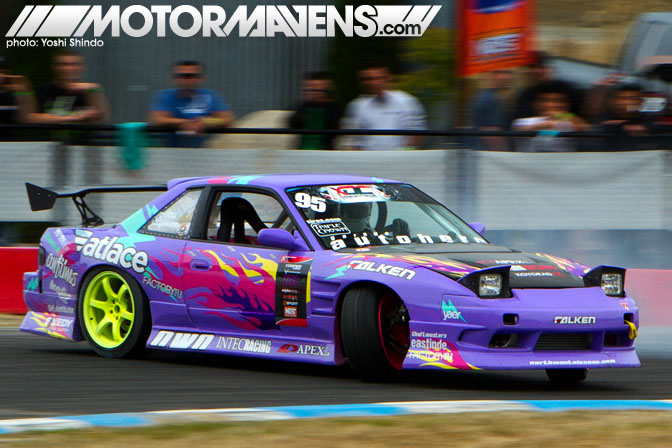 Walker was killing it all weekend; practicing his reverse entries into turn one. Unfortunately in the last run of the day against Nate Hamilton, Walker's differential went out. He had changed it just before the event specifically for PGP. He used something more suited for the shorter style track – but that's racing!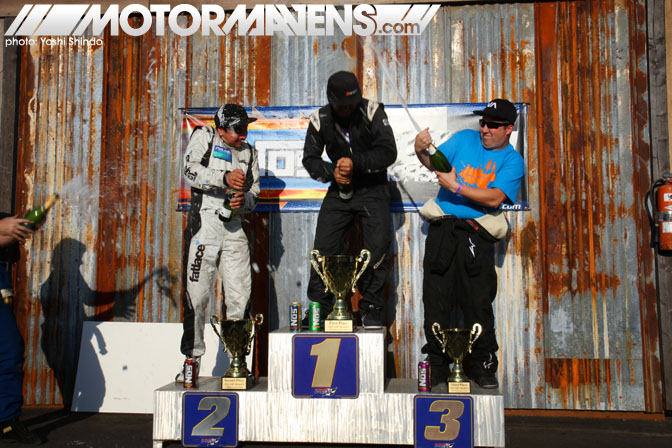 Congratulations to Nate Hamilton for pulling out the win at PGP! He was laying it down against some local PGP veterans! Walker got second place and another local, Mike Phillips, got third place. Good job everyone who was driving and thanks for putting on one hell of a show!
Thanks to XDC for deciding to have one of their events here in the great Northwest and much thanks to PGP for allowing a competitive series to hold an event there – definitely a breath of fresh air to have a Series event at a track other than Evergreen Speedway. Come back again!
::Lucas Perez
Photos by Yoshi Shindo
AE86
,
ca18det
,
Corolla
,
Cressida
,
Erich Hagen
,
FD
,
Formula D
,
Formula Drift
,
George Gallagher
,
homepage
,
Josh Steele
,
Kory Keezer
,
Legacy
,
Lucas Perez
,
Mike Phillips
,
NATE HAMILTON
,
Nissan
,
Pacific Grand Prix
,
PGP
,
Roland Gallagher
,
S13
,
S14
,
SR20DET
,
Subaru
,
Toyota
,
Victor Moore
,
Walker Wilkerson
,
Will Parsons
,
XDC
,
Xtreme Drift Circuit
,
Yoshi Shindo
---