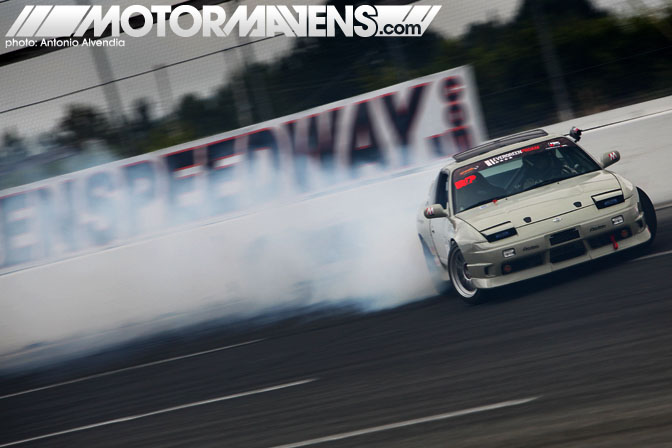 I remember four years ago when Formula Drift first came to Evergreen Speedway in Monroe, Washington. It was like we had won the lottery because, for the previous years, the closest FD ever came was California. If you have ever attended the Seattle FD event, you know how nuts it can get. I have heard that the crowd is among the loudest (if not the loudest) of all the stops on the tour. I'd like to attribute that to the large group of local drifters who sat right under the Judges booth that first year and got the crowd pumped up – even doing the wave! The next year they gave us cow bells – Big Mistake.
What I am getting at is simply that Formula D is a big thing here in the North West. This year FD has formally made the event a two day spectacle where you can come on Friday and witness the practice and qualifying. But, really, we've been going to the track on Friday to watch these pros rip it up on our home track for about three years now. Did they start the Friday thing this year because of us? Probably not, but it's awesome for the fans to get the full picture of the field of drivers that so desperately want to make it in the big Saturday show.
Now, for the first time since Seattle has been a stop on the pro drift series, we have our home team: Nikolay Konstantinov, Ian Fournier, Victor Moore and last, but certainly not least, Roland Gallagher. Four local guys we can cheer on and share in their glory and accomplishments. It's hard to believe these guys are stepping up to a national stage – ready to make their dreams come true and, whatever the outcome, the NW is proud of them.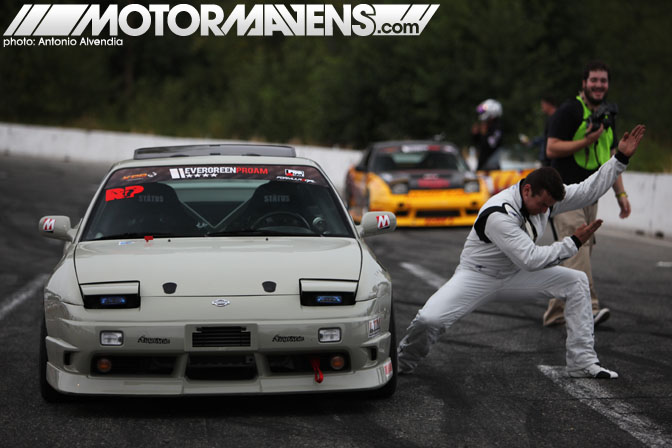 I've known Nikolay Konstantinov for about seven years now. We met through a group of old Corolla buddies. Of course, he was the only one with an S13 in the crew – and he was also the only one I knew with an SR20 at that time. That S13 was actually Nikolay's first car. In fact, that car he had back then is the same car he now uses in competition! Of course, back then it was white with red center GAB wheels which was my most favorite iteration of his car until this new one. His S13 is practically a part of him and when he rode the wall at the Irwindale Pro-Am Finals last November, I can only imagine what went through his mind after just completing the build on it.
When you ask Nikolay what his goal is, his response is always, "to go all the way." That pretty much sums it up. He is not satisfied with just getting a license – he wants to win and continue driving for as long as he can. To help him get there, Doug and Erik from U.P. Garage (located in Tacoma, Wa) have been working with him. With their help, he has been able to flog his beautiful Kouki OEM styled car, knowing his support is in place.
The RB25DET is fitted with RB26 twin turbos and is pushing over 460HP and 430LB/FT of torque at 8K RPM! When it's not on the track, it's stunting on beautiful 17×9.5 +15 front and 18×10.5 rear mag blue TE37s. Look out for Nikolay today and in the future – he'll be the classy RPS13 among a sea of bright colors and fiberglass. Also, word on the street is that he is actually driving his competition S13 to the track! An FD car that's also street registered – I absolutely love it!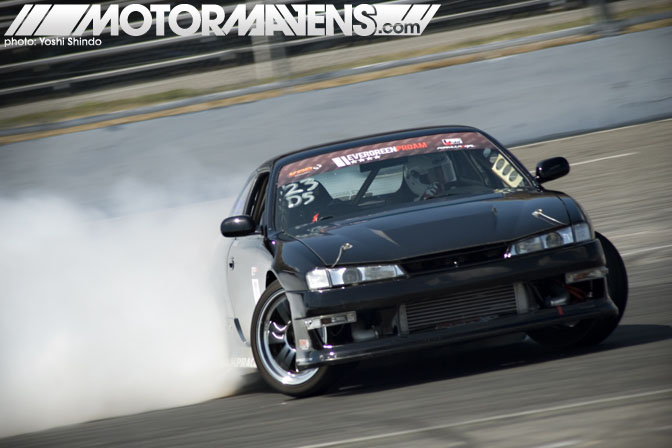 We call Victor Moore "Tiger" because of his physical resemblance to the golfer and his uncanny consistency; but not for the reasons Tiger Woods has been so popular lately haha! I don't know if it bothers Victor that we call him that at times, but he has never said anything about it – being gracious and polite as always. A true competitor, Victor is often found with his headphones on, listening to something to get his game in check – or it could be because he just loves music. Whatever it is – it works. For the last few years, Victor has been the driver to beat at the local Evergreen Drift competitions. The only times he's ever really been beaten at Evergreen were when he beat himself. Now, he's competing at the track he knows like the back of his hand – and, with the skill and support of KPR Engineering, he has a great shot at showing the rest of the country what we already know.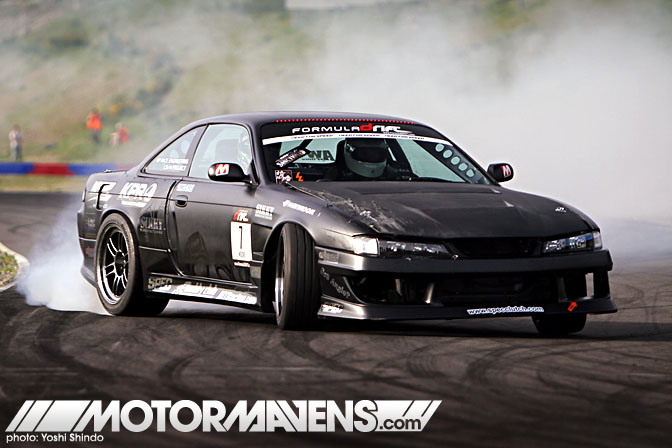 Victor has been drifting since 2003 but he didn't get real serious until 05. Like most young men who want to drift, he acquired an S13 – but it wasn't until his second car that he became more memorable. It was a green coupe with Panasport G7 wheels.
After drifting for awhile his friend, Chis Jeanneret, who is head tech and crew chief for KPR, called him and asked if he wanted to drive for KPR Engineering in 2009. This monster S14 is equipped with an LS engine using an install kit from Sikky. It pushes 400HP and torque through the wheels, spinning those 18×9.5 +15 and 18×10.5 +15 Enki RPF1s with ease. Aside from the Buddy Club coil-overs, most of the suspension and fabrication work was all done in-house by KRP themselves.
Victor was the first ever champion of the Evergreen Drift series in 2008 and he hasn't stopped. He placed second at the Evergreen Pro-Am last year during Seattle FD. After getting his Pro License in November at the Pro-Am Finals at Irwindale, he participated in FD Long Beach, but due to some car trouble he was unable to continue driving. This time around should be much better. He has been testing his car and making it bulletproof since then; bringing it to tracks like PGP. I'm excited to see Victor out there holding his own against the best FD has to offer!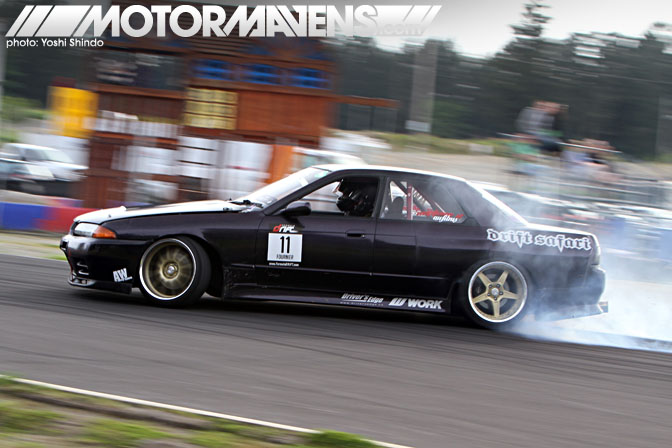 Ian Fournier is a force to be reckoned with. With a smooth style that makes the smoke that comes from his rear tires look effortless, he is ready to take on the pro stage for the second time. For the first round of FD Long Beach, he narrowly missed qualifying. Hopefully next year he will be familiar enough with that track to put on a great show. For now, however, he is back at Evergreen – ready to serve up some Canadian style drifting.
He started drifting only four short years ago in an AE86, but like so many things that we love, it was stolen. Ian at the time worked for a place called The Skyline Shop – so, after his corolla was stolen, he moved into position to be sponsored by the shop and of course drive an R32 Skyline four door. Before Ian made it to the states, he and fellow drifter, Drift Safari teammate Trent Stromkins (who is also his crew chief), organized drift events in Canada under the name Cellblock D – providing a venue for the locals on a small oval track with a minor infield. Trying to branch out however, Ian made his way to Evergreen Speedway – which I'd like to think he considers home now.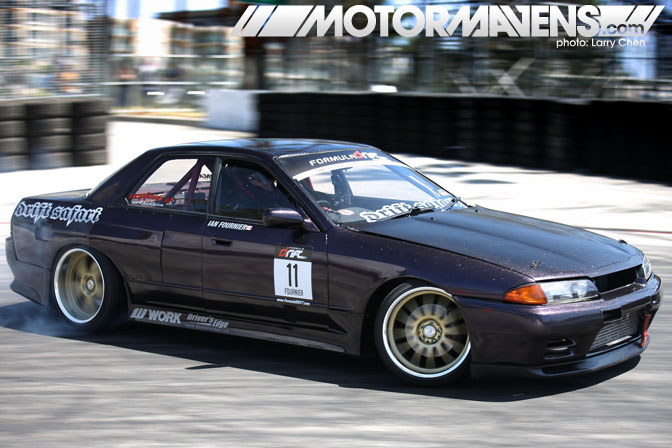 His R32 is fitted with an RB25DET from the newer R33 that is also pushing over 400HP. This seems like the number to shoot for (if not more) to compete. Holding up the car is a set of Stance GR+ coilovers. I'd love a set for my own R32. I bother Ian all the time with R32 questions. I'm glad he is such a nice guy and hasn't told me to shut up yet. His off track and on track wheels are the same – so he's always stylin'. The fronts are 18×9.5 -5 Work O2C wheels and the rears are 18×10 -9 Work ASX wheels. I asked him why he had two different pairs of wheels and he said it was because one of the pairs is discontinued so he looked for another style of wheels to match as close as possible to the others. Works for me! I didn't even know they were different until he said something!
Being a pro wasn't something that he set out to do, but it was more the result of the evolution of his skill and his love for drifting. Coming from the skate and BMX background, drifting was the next logical step in the evolution of his counter culture attitude which was initially embodied by his love of boards and bikes. Being the only Canadian in the bunch, he has a whole lot of people behind him, as well as a lot here in Washington. With the help of Fatlace, Work Wheels, and Drivers Edge, I hope to see Ian rise to the top.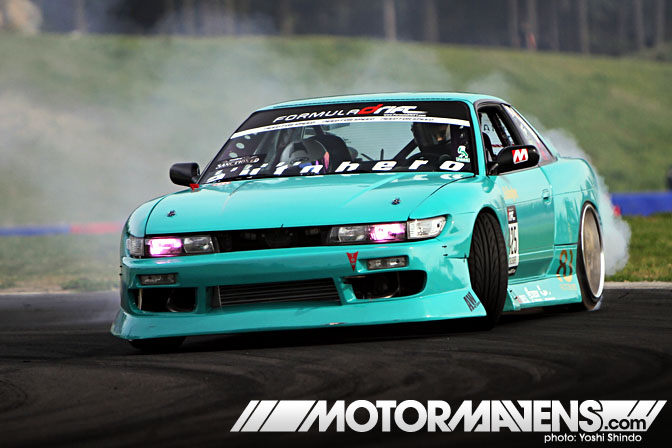 Roland Gallagher has got passion like no one I've seen, and with the support of his family and friends this may be one of his most memorable events to date. Last November, for the Pro-Am finals, Roland tagged the wall with the rear of his car, causing his front to veer right back into it as well. With a large amount of help from the NW people at the event, there was enough time to get the car in semi-working order. It was a little too late though, as he didn't qualify. All was not lost however. His attempt and drive to get back out there was not unnoticed. He was given a license despite the trouble he had. Since then he had a goal to go to every FD event for the 2010 season. He made it to the first two, but the third at New Jersey was skipped in favor of getting his Teal S13 coupe dialed in for Seattle and then for the rest of the events. Getting scores at the first two FD events has already set him in place to retain his license for next year as well.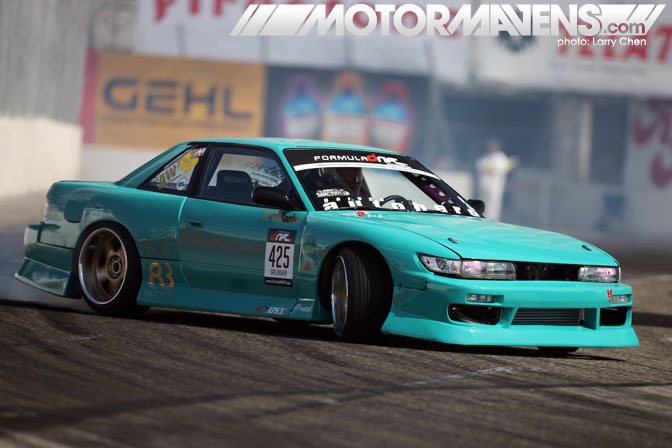 There aren't many SR20 powered cars left in FD now, but Roland is keeping it gangster and staying with it. There are plans for more power but for now he will work with what he knows works for Evergreen Speedway.
Ray Stonehocker is the man behind Garage Autohero and he chose to sponsor Roland because of his dedication and because Roland's lack of resources were impeding his progress. Now, with Ray setting him up to succeed, we have seen Roland accomplish the first stage of his dream – becoming a Professional Drifter. You can get the full rundown of Roland's car from its feature here on MotorMavens.
To say that I am excited about this weekend is an understatement. Lots of us in the NW have made friends with people associated with Formula D, and look forward to hanging with them when they visit. With our very own home town heroes competing at the professional level, we have a home team to root for and share in whatever happens. Good luck out there guys!!
Also one last note; Come visit us at the Garage Autohero/Motormavens booth and say hi! I will be there blowing my vuvuzela!! We have a special collab shirt just for the NW for sale as well. Cool people, cool gear; get some!
::Lucas Perez
---