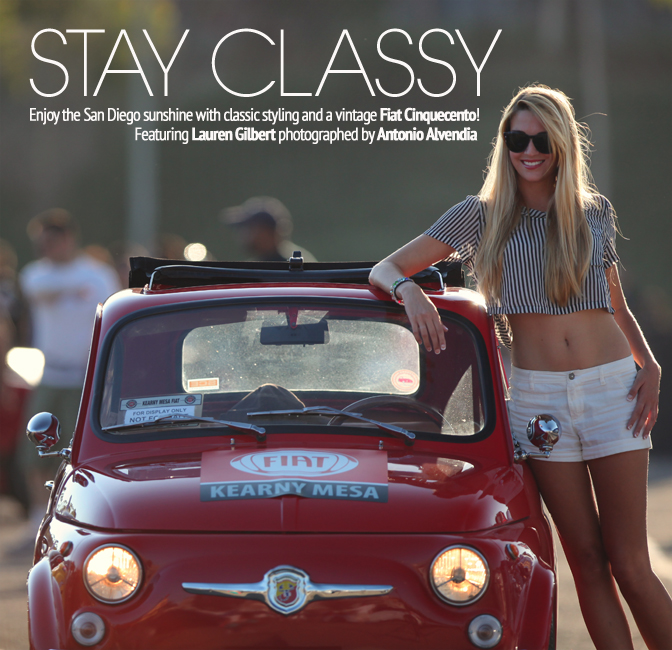 While we were in San Diego checking out the Socal Euro Gathering with our friends from the Purist Group, we stumbled upon this shiny red Fiat 500 with Abarth badges on it. The car was parked alongside several newer Fiat 500 models on display from Kearny Mesa Fiat. I just couldn't resist the classic styling of the original Cinquecento that made Fiat famous all over Europe, so I had to take a closer look!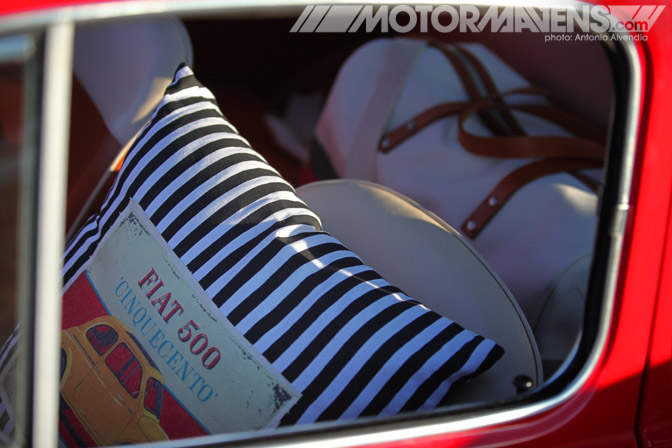 As I walked towards the car, I immediately noticed this cool Fiat 500 'Cinquecento' striped pillow sitting inside the car. What an awesome accessory for the vehicle. I dig it. According to the young lady I spoke to from Kearny Mesa Fiat, a lady just walked into the dealership with the pillow and asked if someone wanted to buy it for five dollars. Shortly thereafter, a deal was made, and this cool pillow made its way into Kearny Mesa Fiat's collection. Hell, at only $5 bucks I'd buy it too!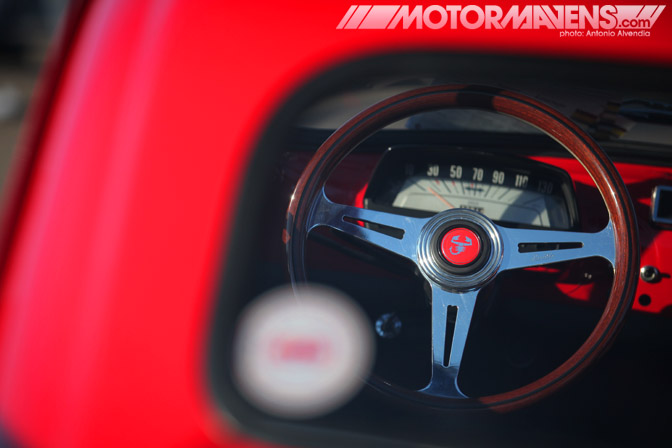 In front of the car's classic gauge cluster sits a wooden Nardi Classic 360 steering wheel with chrome spokes and a red horn button with the famous Abarth scorpion on it. Steering wheel collectors with a trained eye will notice that the horn button is actually a Momo horn button that was made to fit into the Nardi wheel.
If it were an original Nardi horn button, the domed portion in the middle would be larger, and the surround would be chrome metal instead of black plastic. Also, the horn button would fit directly onto the wheel – this Momo horn button was affixed onto the steering wheel's trim ring, which pops onto the small hex screws via two small rubber gaskets on the backside of the trim ring. I didn't notice this small detail until I was reviewing my photos after the show. I wish I checked to see if the horn worked! A minor detail, but I obsess over minor details like this!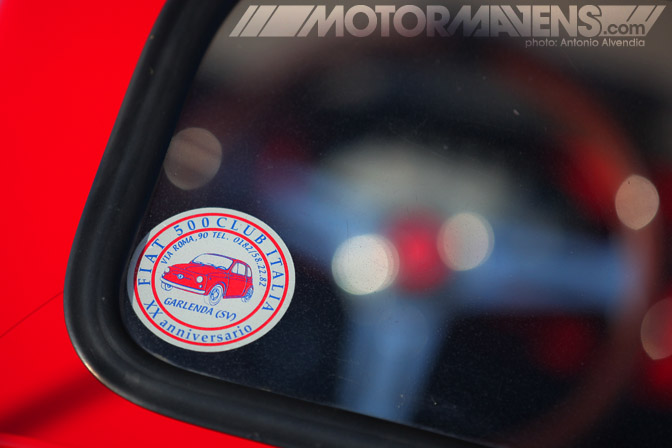 On the Fiat 500's rear window, I noticed this very cool anniversary sticker from the Fiat 500 Club Italia. Sooooo cool! The car in the decal is even red!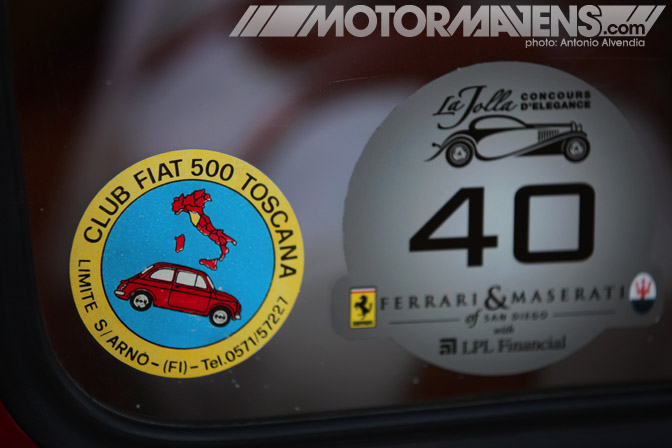 I also loved the Italian Club Fiat 500 Toscana sticker on the side window. When it comes to classic cars, rare stickers from overseas car clubs like these add flavor and awesome authenticity to the car. While many car builders just concentrate their efforts on obtaining rare racing parts or restoration parts, I tend to obsess over cool automotive memorabilia such as this. I have TONS of this stuff for my cars – stickers and memorabilia that I've collected from my travels all over the world.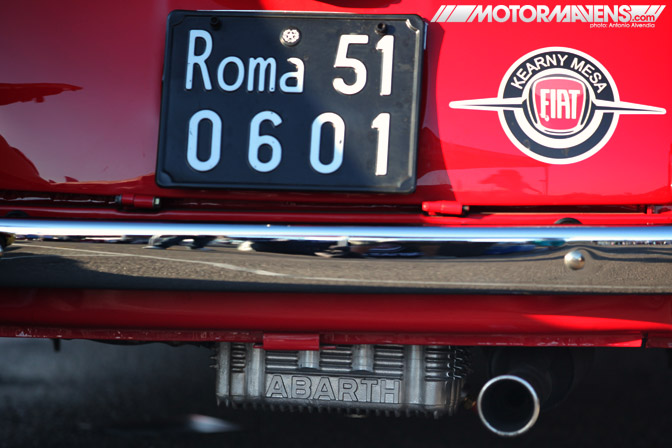 While I was examining the awesome black and white Rome Italy license plate above the rear bumper, I noticed what looks to be an Abarth oil pan with heatsinks built into it. It's an extremely cool detail! It makes me wonder what other mods the engine might have…?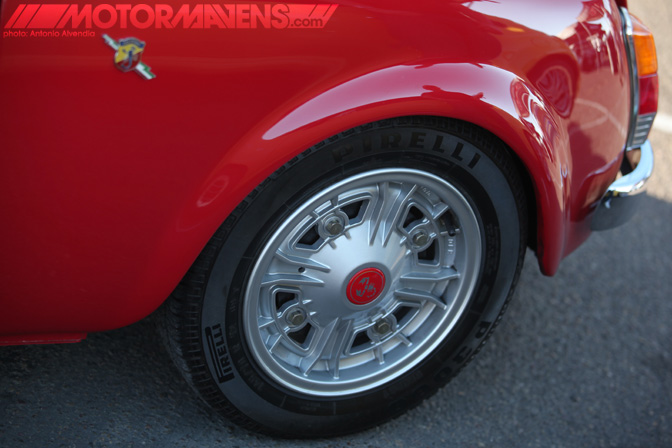 True to the pure Italian spirit of the car, this Fiat 500 was lowered on some awesome looking racing wheels with Abarth centercaps on them. I'm not a Fiat expert, but if these aren't Abarth wheels, then these look as if they were manufactured by the Italian wheel brand Campagnolo, which is famous for producing lightweight sports wheels and bicycle components. The wheels are even wrapped in Pirelli rubber, which suits the Italian theme of the car perfectly! It just wouldn't be as cool if it had tires from a Japanese or American company.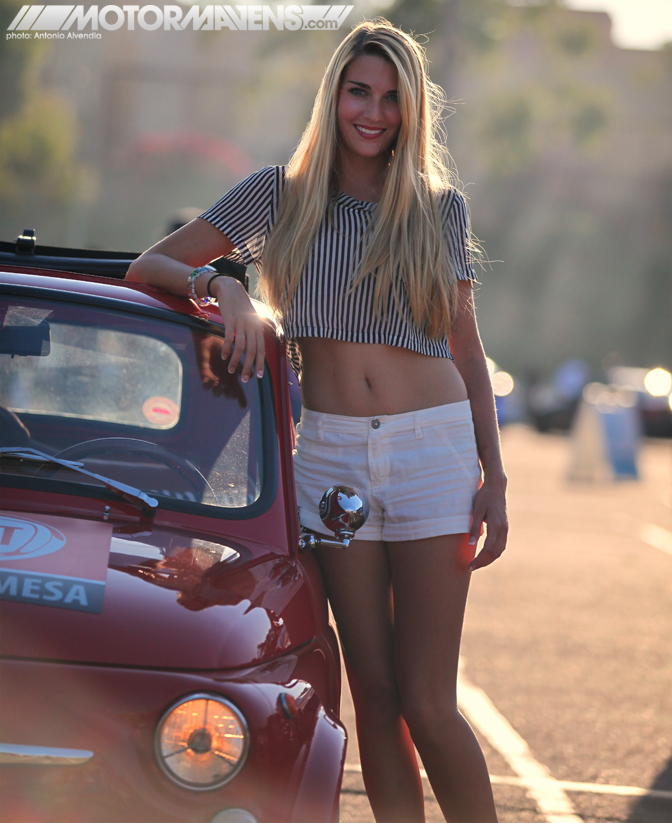 As I made my way around the car, snapping photos of the details, I noticed this beautiful tall blonde walking in my direction with her friends. I immediately stopped them, and asked if she'd be willing to stop and take a quick photo with the car, because her outfit matched the car perfectly! (I'm referring to her red heels and striped shirt, which looked perfect with the Fiat pillow. And because she was tall, slender, and pretty, obviously!)
Well, my 'quick photo' with Lauren here turned into a 20-30 minute photo session, because I needed to have the car moved into the aisle with its headlights on, and I needed to recruit a random assistant from the crowd to help me shoot into the strong backlit sunlight!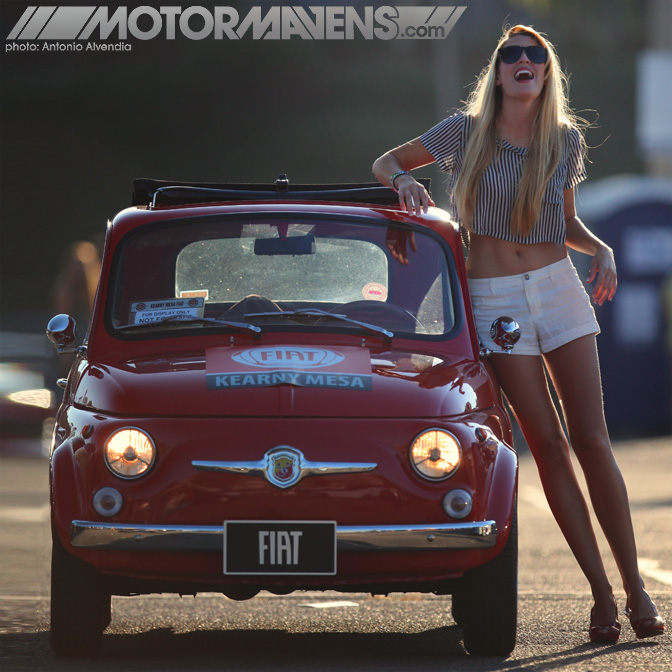 This was Lauren's reaction (above) when I asked for her phone number. Ouch. Haha!
Big thanks to my random photo assistant (forgot his name, sorry) and to Lauren and her friends for being patient while I was shooting! Also thanks to Kearny Mesa Fiat for moving the car into the aisle for me! Thank you! Stay Classy, San Diego!
:: Antonio Alvendia
PS: I'd love to do a fashion shoot with this car sometime… maybe we should incorporate more of these types of photos into our normal mix!
---