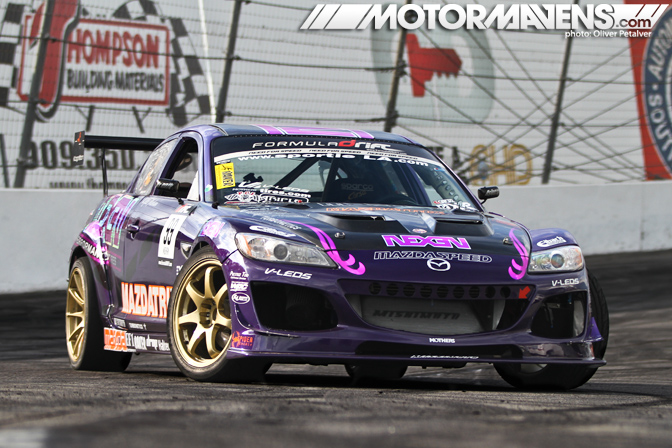 I'm Kyle Mohan, and I drive the Nexen Tires/Mazdatrix RX8 in the Formula Drift Championship. It's hard to believe that 2011 was already the fifth season for Kyle Mohan Racing (KMR) in Formula Drift. We started with an FC3S RX-7 that I built from the ground up with my dad in his driveway, and now we have our team, a title sponsor, and our first Top ten finish in the Formula Drift Championship!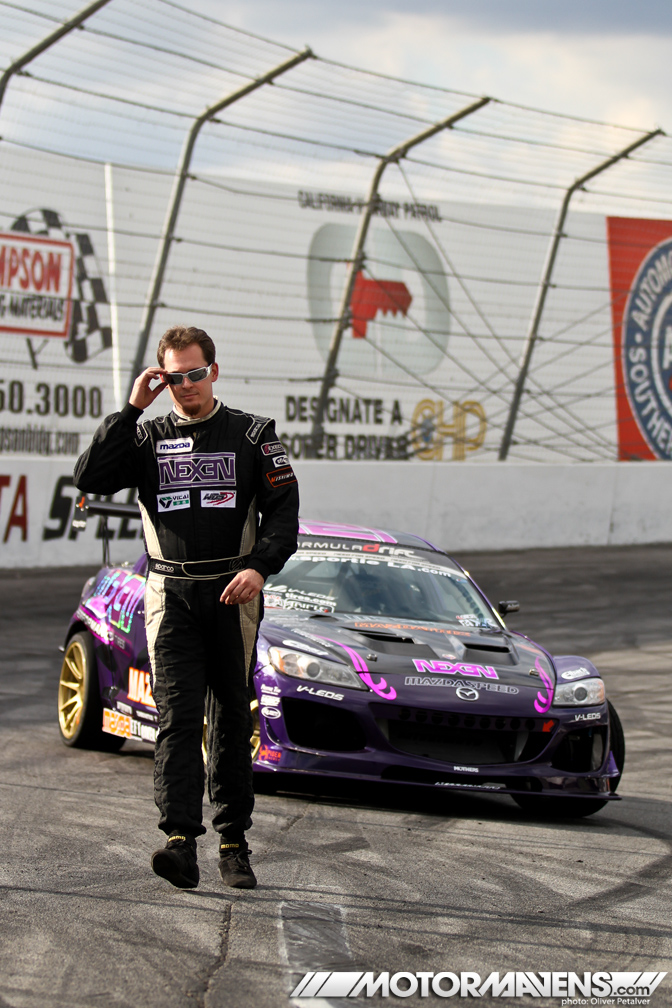 It's been a very fun year for us! We achieved our best championship result in Formula Drift and won the Team Drift competition at the Long Beach Grand Prix, but we've also had a lot of setbacks. We had several on-track collisions (both in competition and in practice) this year, including a very big crash in Vegas.  It always felt like we were behind, trying to repair damage instead of making improvements to the car. However, I guess that's just part of pushing the limits; it paid off with some really strong runs in Long Beach and Seattle.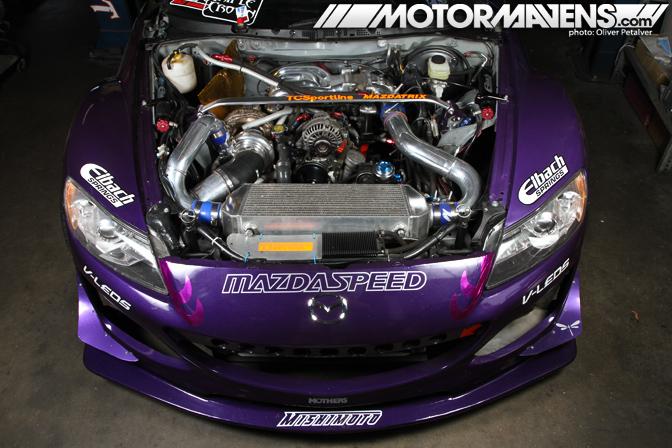 The motor was built by Mazdatrix, their drifting street-port 13B is specifically built for the needs of professional drifting. The engine was balanced, blue printed and side cut to handle high boost and high rpm. Mazdatrix milled the entire block, and replaced the OEM tension bolts with oversized hardened studs, which limits the block from expanding under extreme conditions. Internally, we are running mostly WPC treated factory parts aside from Iannetti ceramic apex seals. One very important part of a rotary build is knowing the proper specs for the setup you're running. I set up the motor with Mazdatrix, and my good friend Nelson does all my tuning. As a result, the engine always runs flawlessly.  The oil system has been ported and had the pressure increased for optimum performance. We also modified the block's cooling system and water passages to handle more heat during back-to-back tandem drift runs. This is the same block we have been running in the RX8 for almost 2 seasons now! Obviously we do regular maintenance, but you never see us doing engine work at the track!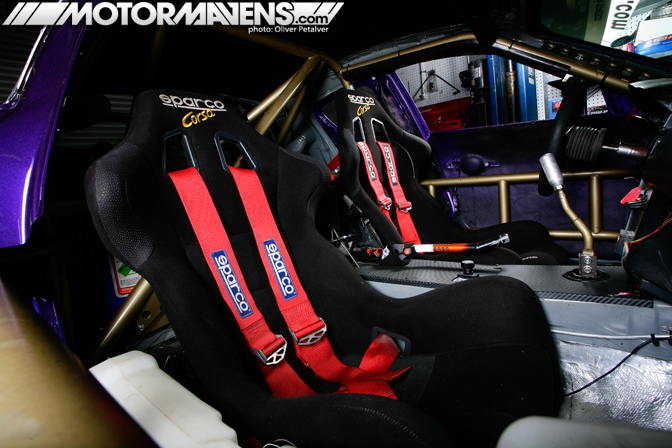 The Mazda RX8 is spacious and roomy compared to most drift cars! We gutted it to achieve our weight goals for Formula Drift competition. Sparco seats and seat belts and custom-built roll cage (made by long-time friend, FC3S drifter Henry Shelley) kept me safe during the 103-MPH tire barrier kiss in the Vegas round. The factory dash was stripped to the frame and retrofitted with carbon fiber/kevlar parts. I fabricated some other light-weight custom parts  such as an e-brake handle, seat mounts, and shift knob. I made them not only to save weight but also to make me as comfortable as possible in the driver seat. Literally everything was built around me.
We spent a lot of time saving weight on the car; the weight savings were amazing compared to anything we had before. Carbon roof, hood, trunk and doors were all done by AIT Racing. We wanted to lighten up the dash, but there weren't really any lightweight dash parts available, so I decided to make a few myself. I'm not a composites master at all, so after some trial and error, I ended up making the final gauge mount, cover and airbag cover out of carbon kevlar. It was the crew's idea to overlay the Kyle Mohan Racing print on it – we're definitely always trying to add personal touches to my cars.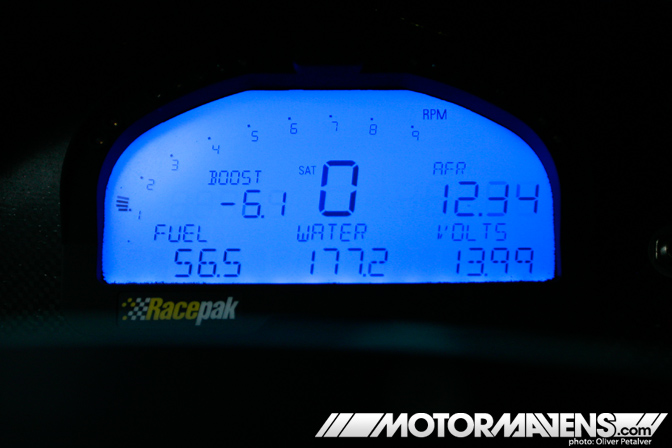 It doesn't matter how good the car feels on track without the data to back it up. There is always more to be found in the performance, setup, and handling of any race car. The Racepak dash lets us see the data behind our runs and learn exactly what the Nexen/Mazdatrix RX-8 is doing on each track day. Between the Haltech P1000 engine management and Racepak dash (which are linked together), we can see all the needed parameters of the car's performance on track.  Whether it's looking for the edge over other competitors or doing diagnostic work, it makes life a lot better.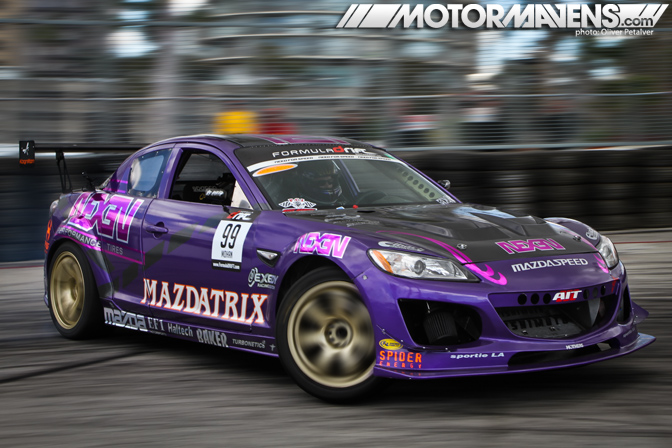 I was born and raised in Long Beach, CA. I've been to every Long Beach Grand Prix (LBGP) since I was born (thanks to my dad, Joe), so it has been great that Formula Drift hosts its opening round in my hometown. With all the friends and family in town and at the event, it definitely puts the pressure on! But I love the track and crowd. I forget about all the pressure once I'm in the car strapped down; I just drive as hard as I can! The track is unique since it's a street course that's built for the LBGP. Personally, it's one of my favorites. It's very technical and if you make a mistake anywhere, the walls will let you know all about it!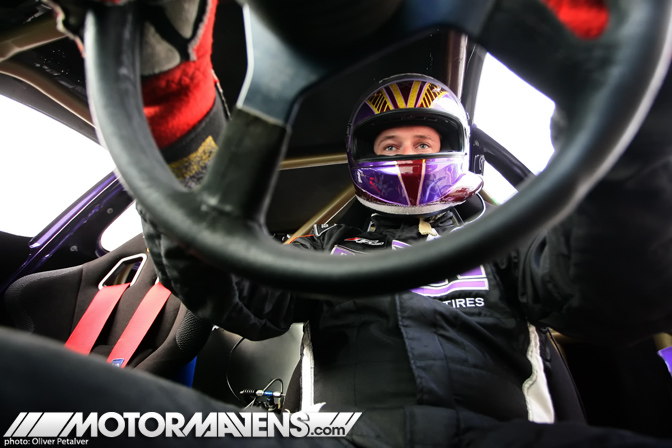 Getting strapped in the car and ready to do a run is almost calming. There isn't a lot of excitement, I just look down the track and visualize how I want the run to go. I will have a last second chat on the radio with my spotter or crew chief or we will review some of the suspension changes we've made and what I should expect. Since everything we do comes down to getting behind the wheel for just that one moment – one lap – I try to be really calm and focus on the run.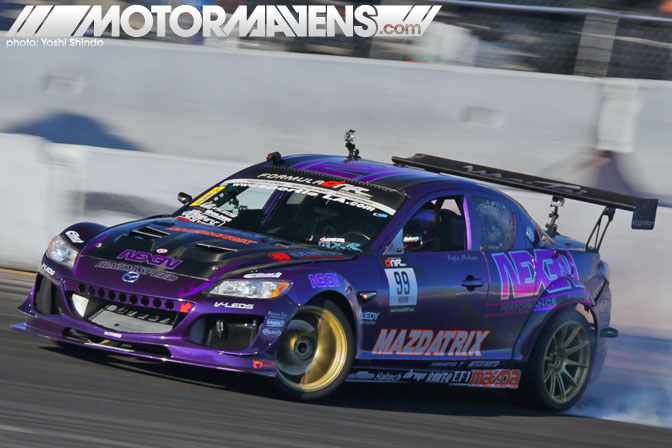 I've always done really well driving the inner bank at Irwindale. I don't know why but I never really have to warm up to it, I can just go and drag the bumper right away. I've always drifted there so it's almost like a home track. The Mazda RX8 has great chassis balance right from the factory, but my crew has been nailing it all year on the setup. That just gives me more confidence to go and hang it out there and put on a good show for all of the fans that show up at Irwindale. That track is truly a crazy ride.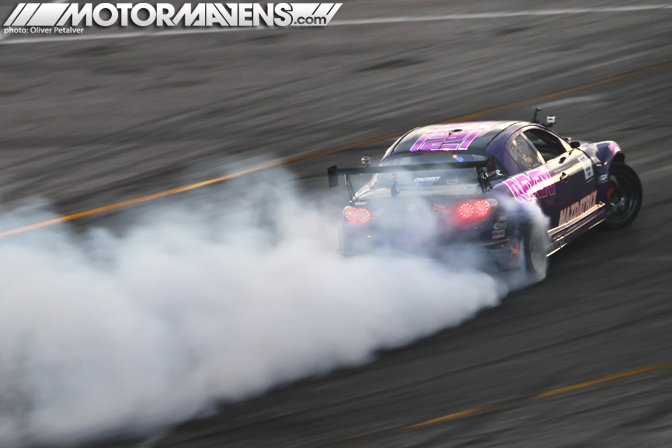 Las Vegas is the only round battled at night, which is fun but problematic. It is a difficult track because the temperatures fluctuate drastically. During the day, it's blazing hot and the track soaks up the heat so when night comes we have to adjust different setups on the car. It kinda reminds me of a fast Long Beach so I've always liked it.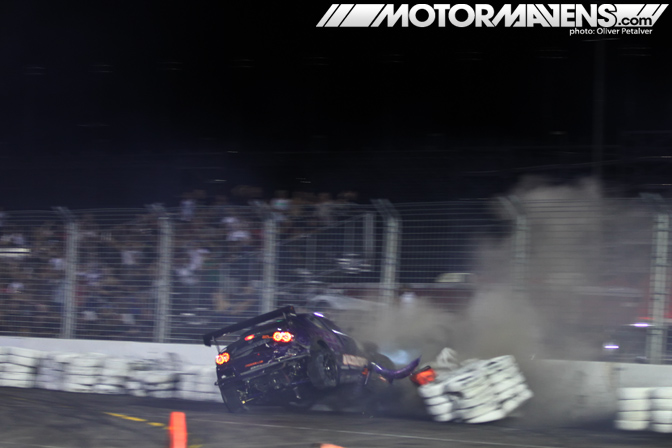 I never thought I would be in one of those crashes. When we built the car, we tried to build everything really safe. When I hit the wall, it definitely knocked the wind out of me! I was happy to have walked away unharmed, but was still quite dazed. The incident has crossed my mind since then, but when I'm in the car and on the starting line, I forget all about it.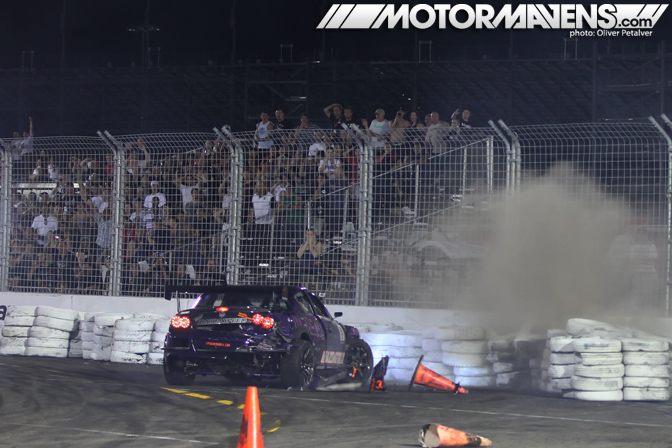 To be completely honest, the crash hurt a lot! That was the biggest crash I've ever had! I thought for a moment when I was in the air that the car was going to flip over, but then it landed right-side-up on the ground and that hurt too. My spotter, Efrain – who is also my manager – asked me before I got out of the car if I felt okay, and if I did, I should wave to the crowd. I felt good enough to wave but as the evening went on, I progressively felt worse and decided to go to the hospital to get checked out. The doctors said everything was okay and they let me go after a couple of hours, and after about a week most of the soreness was gone.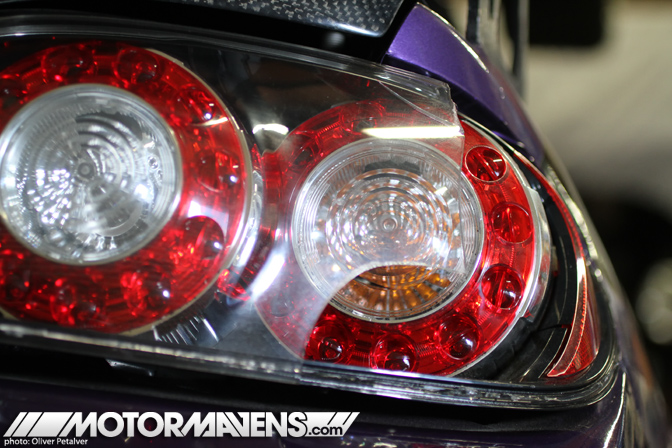 I like to give the crowd a show and qualify big. A big part of drifting is rubbing the walls and taillights are collateral damage. Sometimes a lucky fan will get a piece and if they're in the right place, I'd be happy to sign it.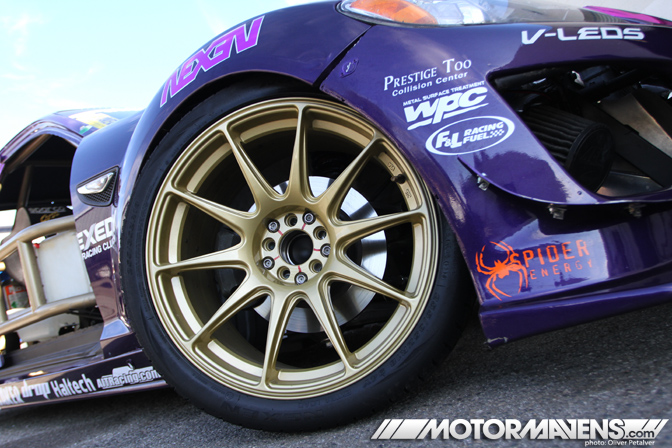 Up front, I usually run 18×8.5 XXR 522 or 527 wheels , wrapped with 245/40/R18 Nexen N9000 tires, which are Nexen's top of the line performance tire. I love the grip they give me up front. We run a 245 or 255 to maximize steering angle and help keep the car balanced. In the rear, we are running Nexen N6000 performance tires. Currently, a 265/35/R18 N6000 gives us the smoke, consistency, and traction we are looking for in competition.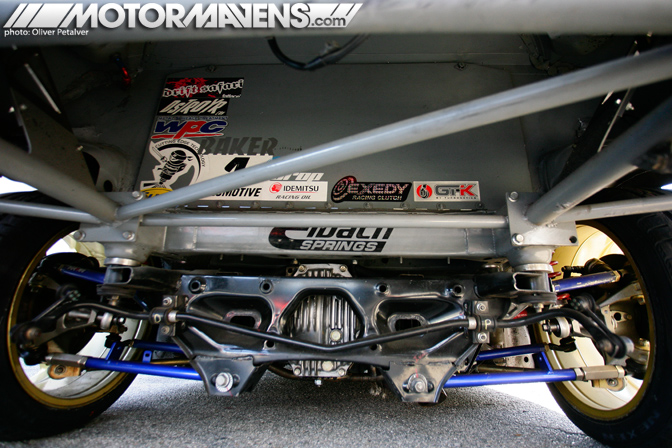 The Mazda RX8 rear suspension is very adjustable.  Aftermarket arms give us a massive amount of room to play with. As drifting has evolved, alignments have become extremely important in the car's performance and handling; it's important to have the right setup at each track. We are still running a lot of stock parts in our car, such as the factory differential, axles, and brakes, although all have been modified in some way to suit the needs of drifting.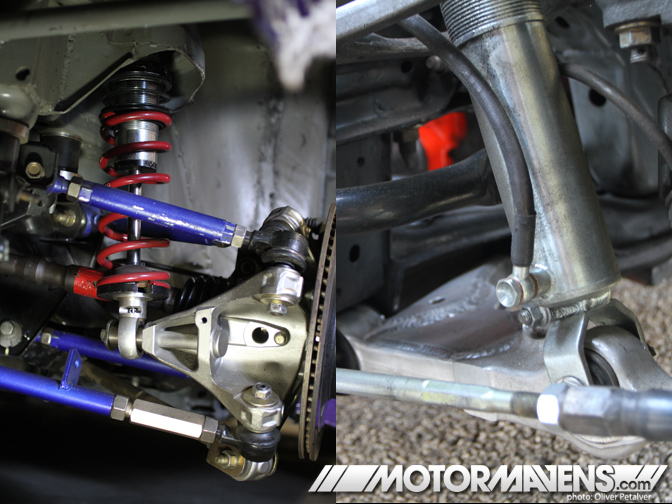 This year we really moved up into a nice coilover setup–the new Eibach Pro2 coilover kit with remote reservoirs that are double adjustable. The first time I drove on these was Long Beach and I was blown away. It was amazing how much better the car felt with high quality suspension. Suddenly, I could feel the car in a whole new way, and on top of that, the adjustments were much more noticeable then anything I had used before. Now I feel we can really dial in the RX8 for any condition. On top of providing us with a great product, Eibach has been at the track with us this year helping us make the most out of our new shocks.
In the front, we've done a lot to maximize the steering angle and performance on the RX-8. We relocated the steering rack and made custom KMR lower control arms that allow for more wheel clearance and have installed spherical bearings to eliminate bind.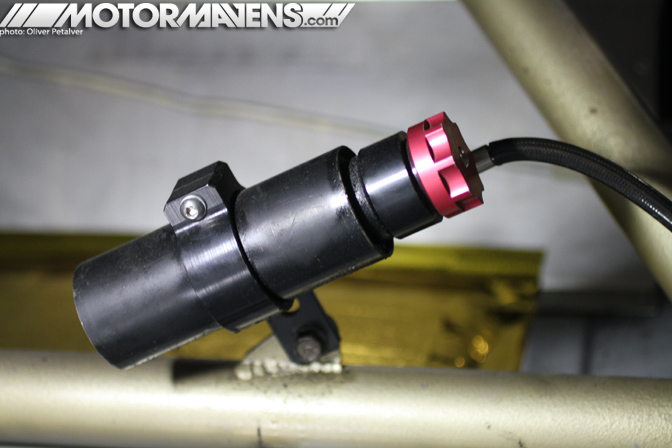 Proper suspension tuning is becoming more and more important. A few years ago, I rarely made a change after qualifying; now we have qualifying setups and tandem setups. Compression and rebound adjustments really help with fine-tuning and finding the right setup more quickly.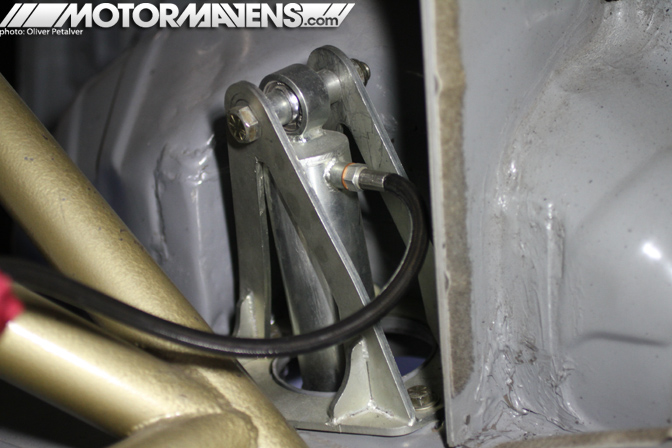 When we started with the RX8 in 2009, there really wasn't any support or developed parts for the car available.  A lot of the parts we are currently using are either collaborations with our partners or are custom KMR parts. The rear strut mounts are a design we have worked on with Eibach. Originally the piece was designed for a Mazda MX5 and after a little grinding, we had an RX8 shock mount. Eibach is currently working on a piece that's very similar for the street RX8 performance kits.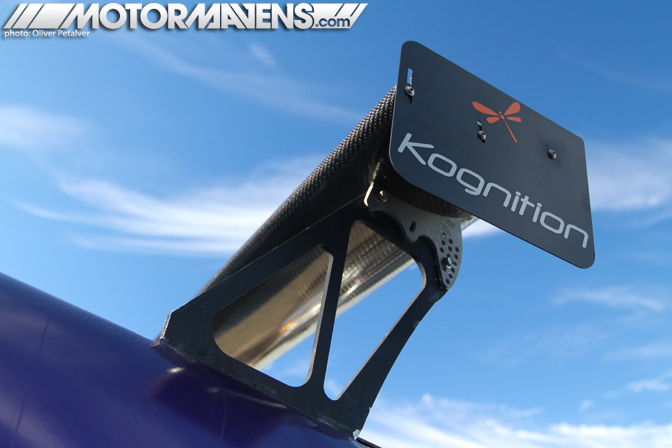 The rear wing comes from Kognition. I made the connection with Kognition when I was running in Redline Time Attack last year. You can find their wings on tons of time attack and road race cars. Kognition is a great company with outstanding products and craftsmanship. The wings are so nice and well put together and I feel bad when we damage one and need to get another one! I think people really underestimate what a wing can do on a drift car, especially a functional one. Sprint cars and dirt cars all use aero aids to help them, and I believe they help in drifting as well. The Kognition wing is very finely tunable and I can really feel the differences at different tracks. We actually have 2 different wings and 6 end plates.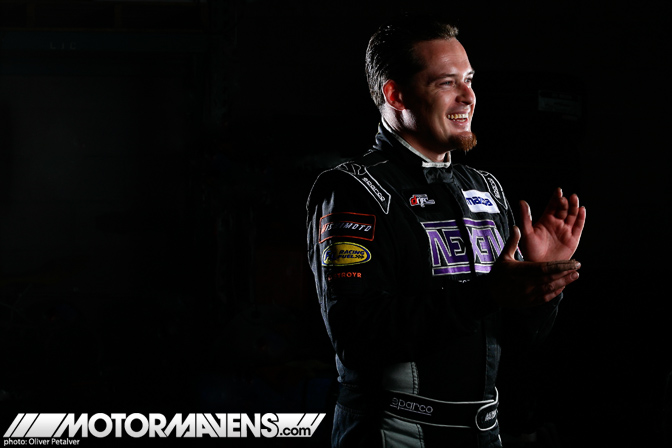 I still have my day job at Mazdatrix in Signal Hill, California – ten minutes from downtown Long Beach. Every day, I am putting together rotary engines for our customers from around the country. Sometimes it's a simple carbureted 13B with a street port for a first-gen RX7, or it can be something as wild as the turbocharged 20B 3-rotor that is in the Bergenholtz Racing Mazda RX8.
Mazdatrix has been in business since 1981. Not only are they known as legends in Mazda rotary engine building and tuning, but the company is one of the largest mail-order houses for Mazda rotary parts in the world, shipping parts daily around the globe. The company's founder, Dave Lemon, has competed in IMSA, Trans-Am, SCCA, NASA, and Redline Time Attack in Mazda RX7s and RX8s. We're always pushing what is possible with rotary engines, always looking for more power and more reliability.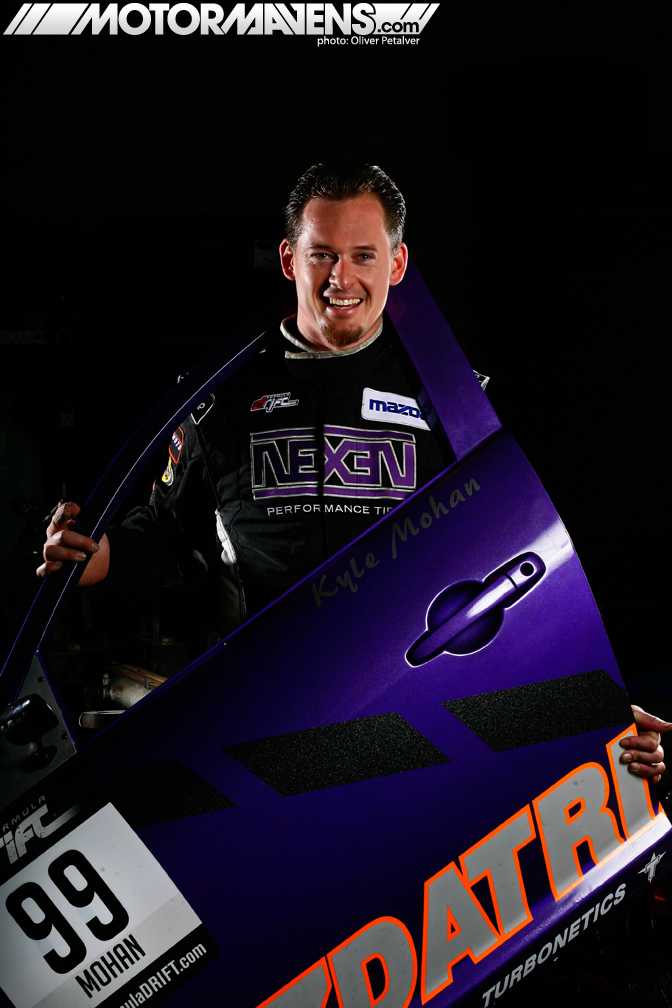 For fashion, I don't rock a clock, I rock a carbon-fiber door! LOL! For the 2012 Formula DRIFT season, fans can expect more noise, more smoke, and better results! We pushed the envelope quite a bit with our RX8 this year, but we have a whole lot of improvements planned for next year. We also have a substantial amount of re-engineering to do. The car is currently on the lift and the guys are pulling it apart. What you won't see from us is a V8. Nothing against V8s, but WE ARE STAYING ROTARY and we want to continue to not only be the best Mazda in Formula Drift, but we want to prove that we can stay with the V8 cars with only a 1.3 liter engine. Our car and Rhys Millen's Hyundai Genesis were the only non-V8 cars in the Formula D Top-10 in 2011, but I'd like to be at least in the Top-5 for 2012.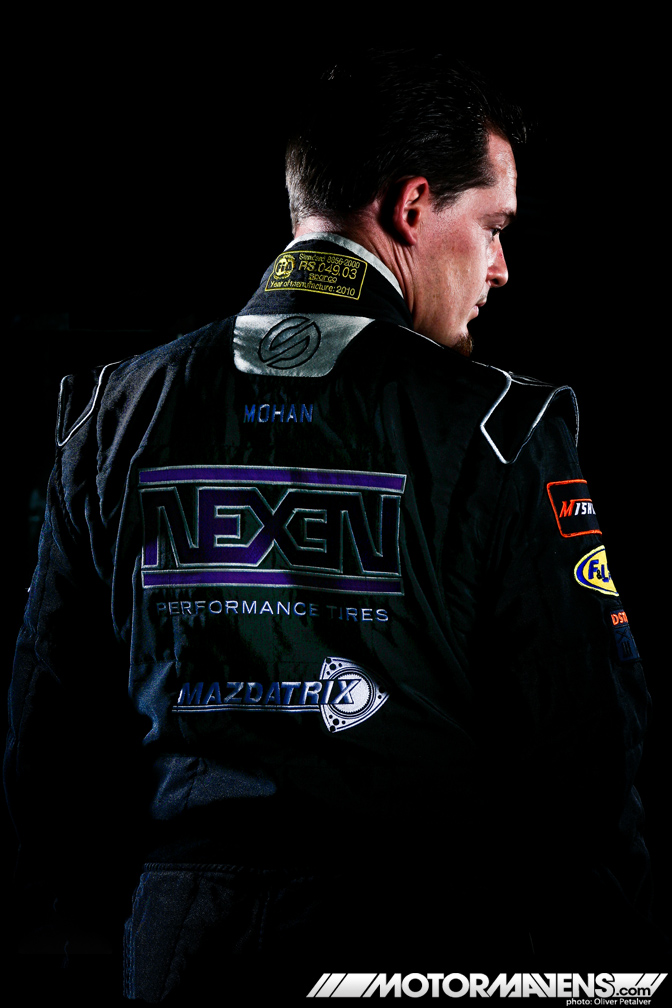 In closing, I'd just like to say that KMR wouldn't be possible without the support of my awesome family. My mom and dad have been supportive the whole time, and even my grandma – who may be the oldest person to attend a Formula Drift event and might be my biggest fan. I'd like to thank Mike, John, and everyone else at Nexen Tires that believed in us; all of the guys at the shop – Kenny, TJ, Royce, Justin, Rudy, Smokey, Calvin, John, and Mark – who make the car perfect after I break stuff and bash in the body panels; Dave Lemon at Mazdatrix has been a huge help and a big supporter to KMR since we built the first RX7 for Formula Drift five years ago. I can't forget my tuner Nelson, and of course, my girlfriend Adrienne for putting up with all this!
We have a great list of sponsors – Nexen Tires, Mazdatrix, Mazda USA and Mazdaspeed,  Exedy Clutches, Eibach Springs, Mishimoto, Turbonetics, AIT Racing, XXR, Haltech, Idemitsu, Gatorz Eyewear, TCSportline, F&L Racing Fuel, Baker, DSTROYR, Drop Engineering, EF1 Motorsports, Spider Energy, and Kognition. Buy their stuff!
AIT Racing
,
Baker
,
drift
,
Drop Engineering
,
DSTROYR
,
EF1 Motorsports
,
Eibach Pro2 Coil Over Kit
,
Eibach Springs
,
Exedy Clutches
,
F&L Racing Fuel
,
Formula D
,
Formula Drift
,
Gatorz Eyewear
,
Haltech
,
Idemitsu
,
KMR
,
Kognition
,
Kyle Mohan
,
Kyle Mohan Racing
,
Mazda USA
,
Mazdaspeed
,
Mazdatrix
,
Mishimoto
,
MotorMavens
,
Nexen Tires
,
Oliver Petalver
,
Sparco
,
TCSportline
,
Turbonetics
,
XXR
,
Yoshi Shindo
---