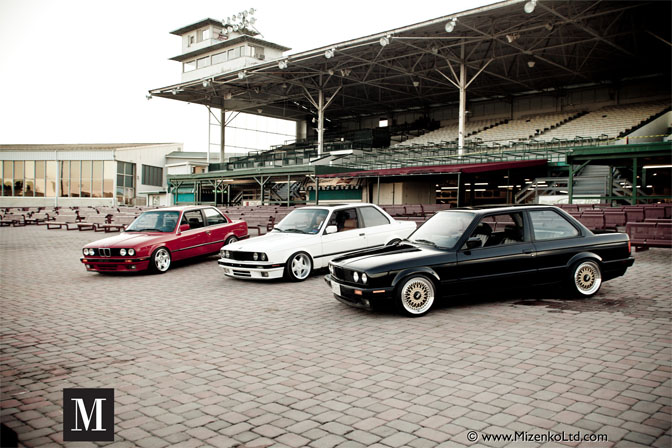 Recently my buddy Dave Mucci made the trip from Chicago to Ocean City, MD, all for the love of automobiles! I figured it'd be pretty whack of me to write an article about H20 International since I've yet to go myself, so I asked the man, the myth, my buddy Mooch, to provide some guest commentary. Some of you may be familiar with Dave's work in 0-60 Magazine, doing detailed engine illustrations. The kid is one hell of an artist, but he isn't a writer by trade and I'm not much of a grammatical genius so bear with us. Hopefully you will be too engaged with the dope photos to give a crap. For the photography, Dave enlisted the help of Patrick Mizenko who took tons of killer photos, only a sliver of which you'll see here, the rest you can check out at Patrick's site. Thanks again to you both!!!
Enough rambling, on to the story!!
Joe crawled out from underneath my car and gave me the "all set." We had just got done replacing the axle on my '89 BMW 325is – one of the last check marks on the list before the long journey. Some new fluids, gaskets, and a late night car wash under the street lights and I was good to go. For 297k miles, this old bat still purrs like she's got her V-card. I was hoping to level it out at 300,000 on the way home, but by my quick art-school-education calculations, I had a feeling I would come up short. My first leg was a spirited after work jaunt out of Chicago, 5 hrs east to Dayton. There I met up with a few friends – Erik, Kelly, and Adam. It was 1am and we had an 11 hour drive the next day, so everyone was asleep. Erik spared no time in taking me for a quick tour of Adam's garage. Just outside the door sat a dropped, two-toned MK3 Jetta. In the far corner – a silver, supercharged, E36 M3, hammered to the ground, rated at around 500hp. Either of these cars would have fit the bill nicely at H20 International – a primarily VW/Audi show, known to attract many a BMW as well. However, the horse they would be riding in on sat in between the two. She was a glittering gold '87 Benz S Class, dropped on 20" chrome Dayton wires, equipped with red leather interior, an autographed Nardi steering wheel, DVD player, 30 song PA system and a fog machine. Cue the weekend.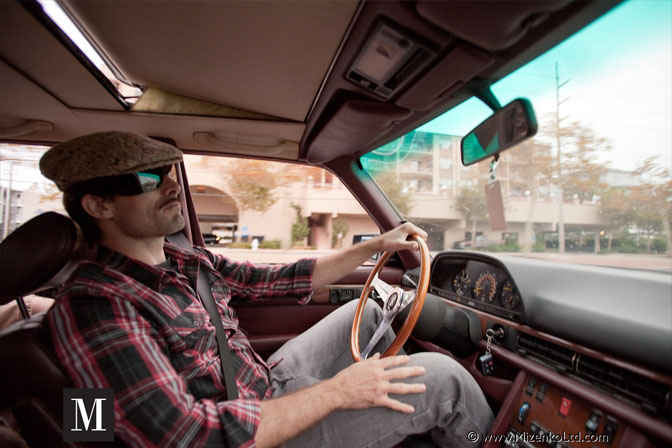 Did I mention I would not be in this car, but behind it, by myself, staring at my radio delete plate for 11 more hours. Thank god for the twisty hills of Pennsylvania. Fast-forward 11 hours later, and we finally found ourselves crossing over the Ocean City Bridge. The sight of that strip during H20 weekend was a spectacle to be seen. Ocean City was over run – infested. Think zombie movie, but replace the zombies with slammed, roaring, tire burning Volkswagens and Audis. Every morning we got up, threw on a hot cup of coffee, and strolled out on to the balcony to hark an ear to the endless growl of VR6's and R32's. The strip was lined with onlookers, squatted in lawn chairs and on the curbs, demanding smoke for their approval. Every parking lot was a car show, for miles up and down the strip. After our first day in Ocean City, I had already considered the experience worth the 32 hours of driving. I hadn't even been to the show yet. I had heard many say it before – "If you go to only one show this year, make it H20." They were right.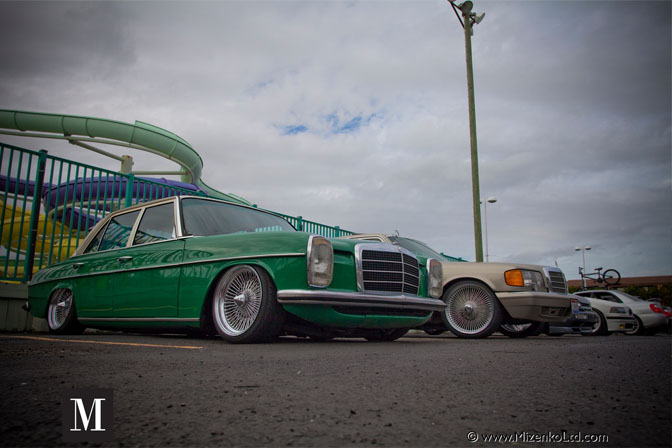 I had the chance to put a lot of faces and personalities to screen names that weekend. Towards the end of the show on Sunday we all lingered around the 8380 Laboratories booth. Ethan Krieger, one of the masterminds behind the enthusiast apparel company, had his glossy black E30 parked next to the booth. Patrick Mizenko, one of the guys I was staying with, had also brought his along. After some short brain storming, we found an open gate on the side of the stadium behind the car show. Patrick, our on site photographer, deemed it an ideal photo shoot opportunity, so in we went.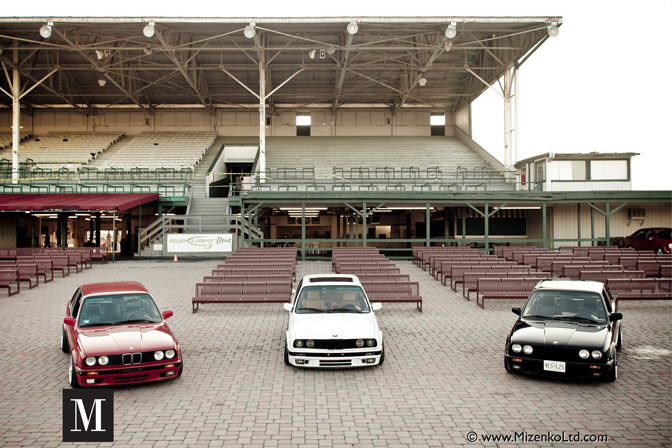 The rest of us sat back and let the man go to work. In the meantime, Ethan attempted to coerce me into thinking that the glossy black abyss that was his paint, was in fact, all factory, 100% O.G.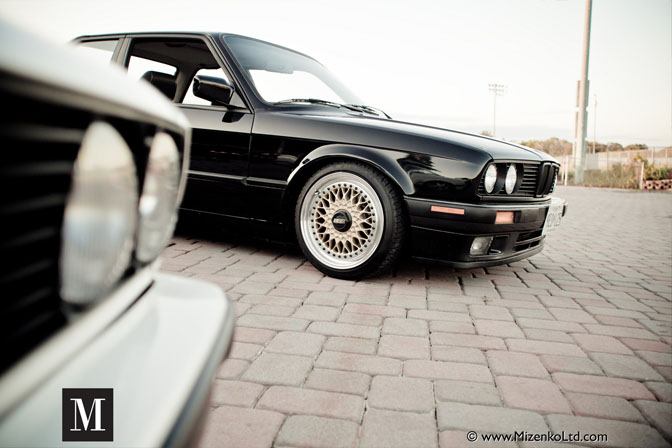 It was my first H20i. I had owned only Volkswagens for the past 7 years. I even used to live on the east coast. Yet there was always something keeping me from making the trek. Only now, did I finally make the trip – now that I live in the Midwest and no longer own any Volkswagens. I really can't complain though. There were enthusiasts who showed up from other countries. And I don't mean Canada.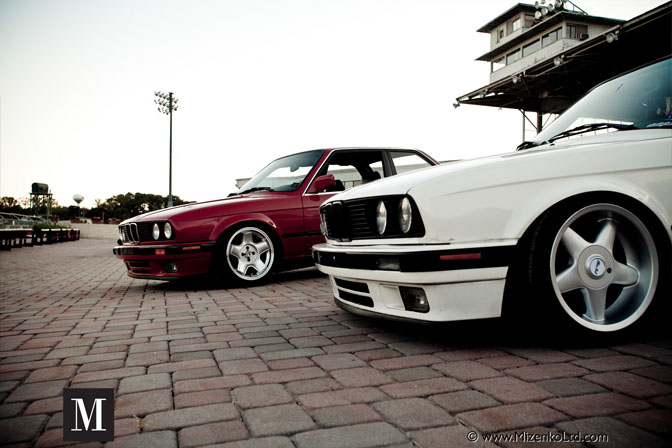 It's safe to say I'll be making the pilgrimage to Ocean City from now on, regardless of what I'm driving or where I'm living. In my "professional" opinion, I recommend you should as well.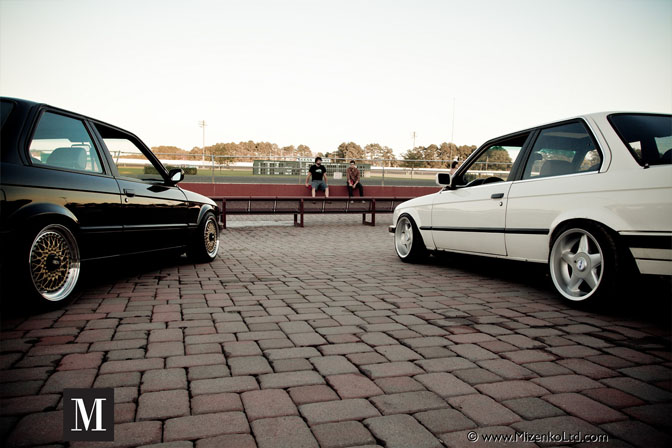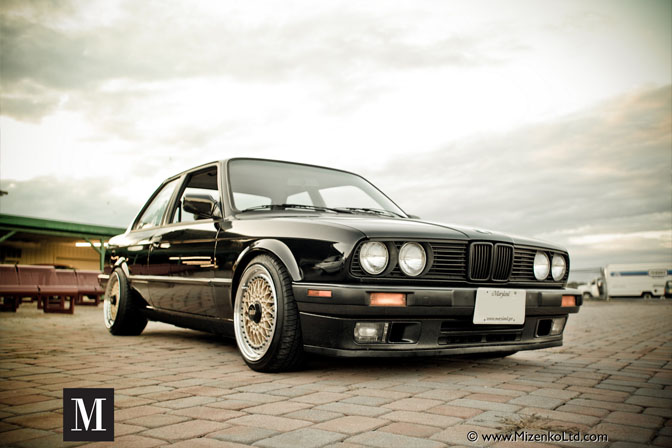 Ethan Krieger's Black E30 325i: BBS RS wheels, Front – 16×8.5 et11 205/40 Rear – 16×9.5 et9 215/40. FK/Koni coilovers.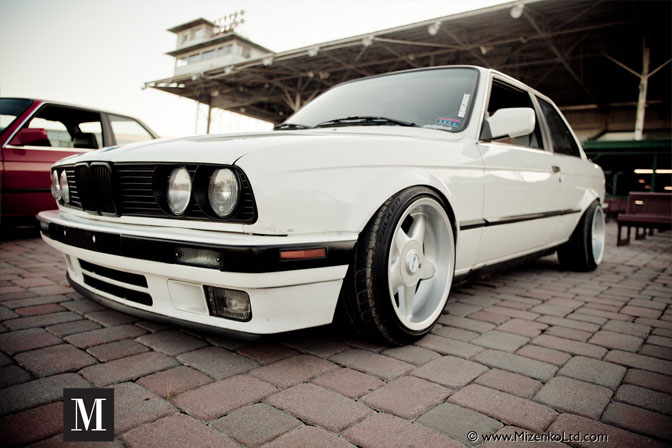 Patrick Mizenko's White E30 –S50 swap: Powertech Type D wheels Front – 16×9 et 0 Rear – 16×9 et –20 Air ride with KW Variant 1 coilovers.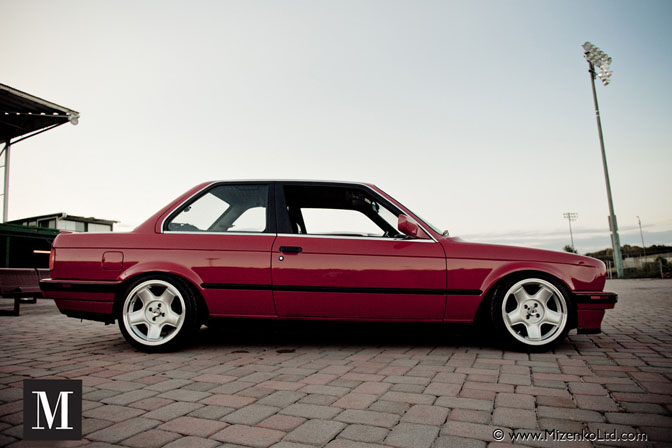 David Mucci's Red E30 325is: Schmidt Modern Line wheels Front – 16×9 et 4.5 Rear – 16×9 et –5.
:: Pat Daly
Patrick Mizenko's photography.
---