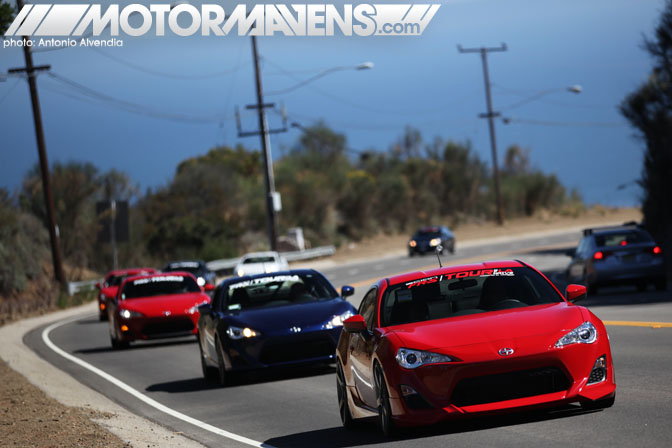 With all the attention the new Scion FR-S and Toyota GT86 have been receiving, people have been scouring the internet for photos and information on the exciting new front engine, rear wheel drive sports car platform that has been taking the world by storm. Scion dealers around the nation have been participating in Scion "First 86" unveilings, but the good folks at Longo Toyota/Scion have decided to be proactive in connecting with the newly developing Scion FRS owners community.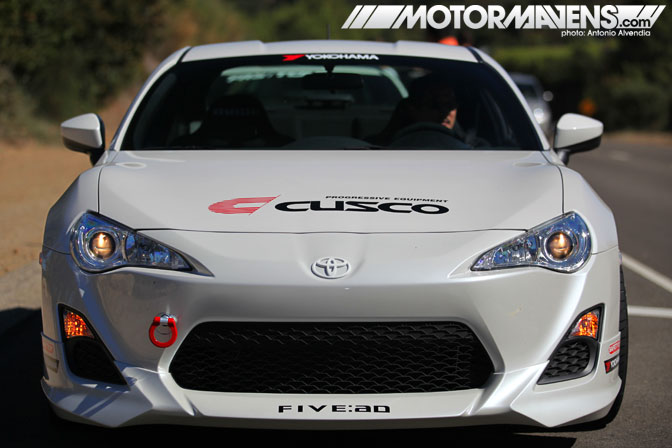 While other dealers concentrate on trying to move units, Scion salesman Jeffrey Chang and Longo Scion decided to sponsor the very first Scion FR-S Tour of LA driving event! Lots of great looking cars were in attendance, but I just couldn't take my eyes off the newly built Cusco Scion FRS, which was already outfitted with Toyota emblems, and the full line of Cusco suspension and accessories.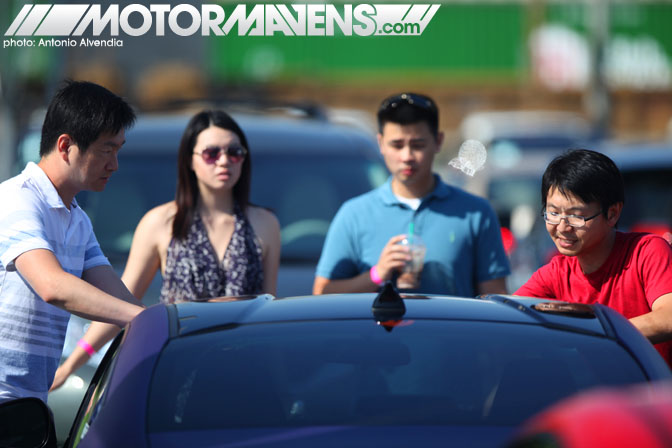 Everyone met up at Longo Scion around 8:30am to start the FRS cruise. As soon as I arrived there, I saw veteran AE86 canyon runner Sean Lee (left) putting on his Scion FRS Tour of LA Drive windshield banner with help from his friend Walter Chen from Megan Racing.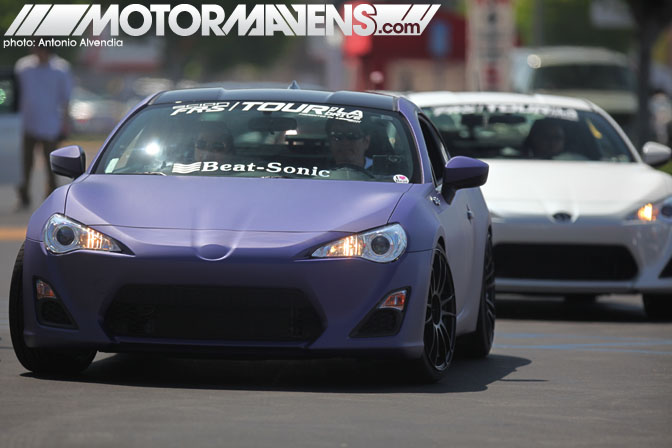 Sean and his wife drove Sean's new FRS canyon car, which was already fully wrapped in a purple hued carbon fiber skin. Sean is friends with the owner of Seibon Carbon, so I wonder what type of carbon fiber goods we'll see on his FRS in the near future?
Some people might be wondering about the purple carbon fiber wrap, so let me clear up any and all misconceptions. This car was NOT built as a carshow vehicle in the hopes of winning a trophy at Hot Import Nights. Sean is a hardcore canyon runner with many purpose built cars in his garage – things like an AE86 coupe, E30 M3, Porsche 911 GT2, and Porsche 911 GT3RS to name a few. You can be damn sure that this FRS will see a lot of action on mountain roads after midnight. After all, isn't that how the legend of the original AE86 developed?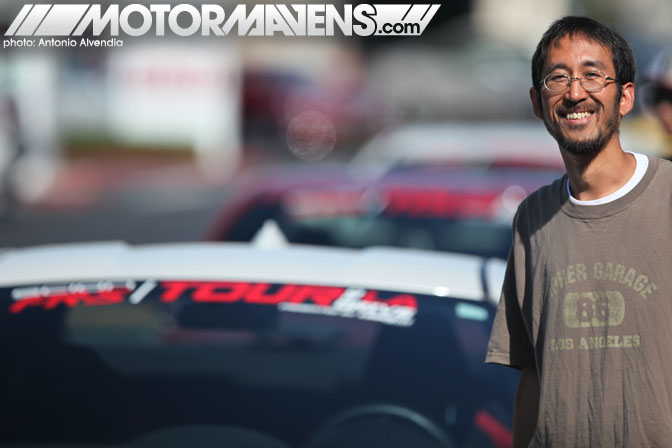 It was awesome to see my old school friend Chris "Krammito" Bautista at the event rocking an old school Cipher Garage 86 shirt! This shirt must be ten years old or something! I think I first produced those shirts in 2002 or 2003, before the first D1 Grand Prix ever came to the United States, and before Formula Drift was conceptualized.
Yes, Cipher Garage is old school. Yes, Cipher Garage is all about stylish AE86s with top notch authentic parts and deep offset wheels. Yes, Cipher Garage has been dedicated to Living the 86 Life for the past 18 years, and will continue to do so for the rest of our lives. And the old school Toyota heads know!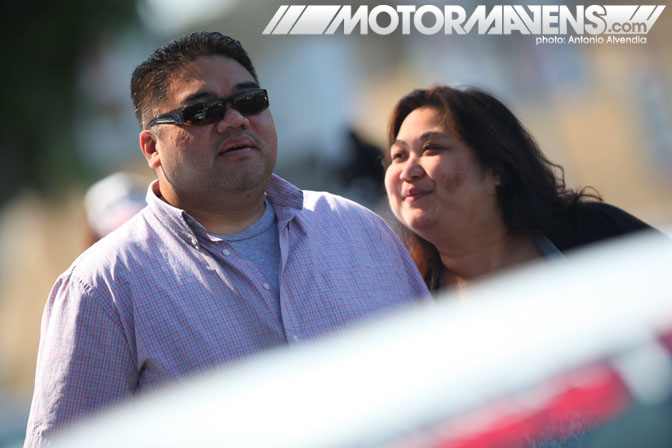 Speaking of old school heads, it was great to see my longtime friend Gaylord Garcia from the SF Bay Area in attendance. Since Moto Miwa from Club4AG was busy with organizing and staffing the event itself, he let Gaylord drive his Scion FR-S on the Tour of LA. I've known Gaylord ever since I was still living in the Bay Area. In fact, I think I met him even before I got my first AE86!
We used to go to San Francisco Region SCCA Autocross events with all our old school Toyotas; we had huge AE86 meets even back in the 1990s at places like Macy's at Serramonte Mall and Ling Nam Noodle House in Daly City. It was like a huge pestibal of pilipinos there! Can you imagine all those Filipinos in one place, trying to sell each other used Corolla parts?! It was hilarious because everyone was always trying to lowball one another! After the meets, we would drive our AE86s as fast as we could through the freeways around San Francisco, and then through Highway 1 from Pacifica to Half Moon Bay. I'm pretty sure we've all gotten tickets on Highway 1… but those were some good times.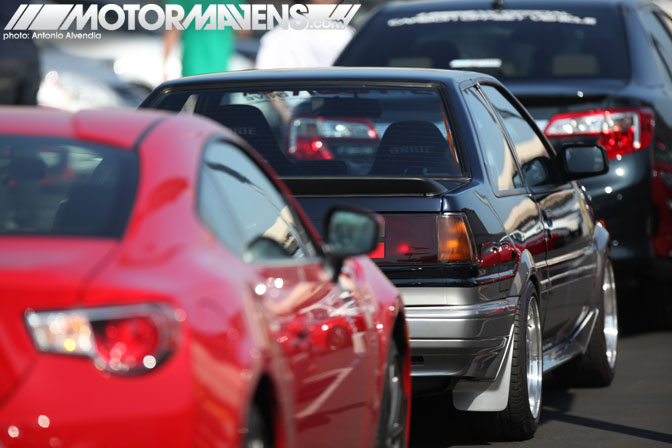 Of course there were a ton of mostly stock FRS in attendance, so when Oliver from Infinit Wheels rolled up in his AE86 Levin, everyone took notice. His paint looks so good that his car was chosen as the AE86 on display at the Scion FRS reveal at Milk Studios in Hollywood! Damn!!!!!!! LUCKY!!!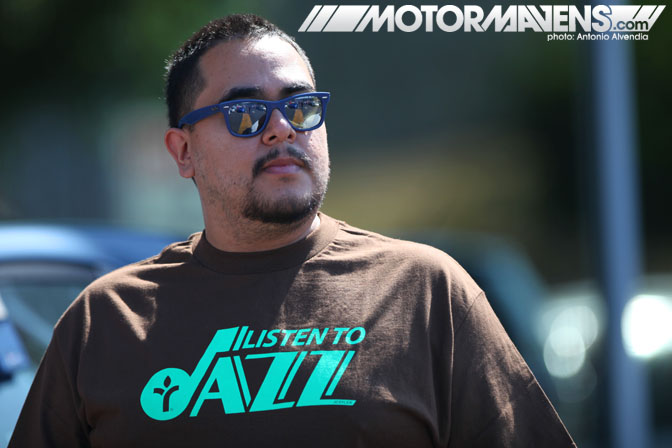 This guy! Chunks right here is an OG AE86 head as well. I met him back when he was working at Longo Toyota! He had a two-tone gray AE86 coupe, and has owned some pretty incredible wheels over the years… deep wheels like Hayashi Street and SSR Starsharks!
Sadly, he sold much of his collection because he had to fund another project… his baby boy, Roberto Ayrton Holguin. Apparently Chunks' kid was named after Ayrton Senna… which is great, because the name Ayrton fits his Spanish last name a lot better than a Japanese racing driver's name would. What if Chunks named his kid Roberto Keiichi Holguin? That wouldn't even sound right!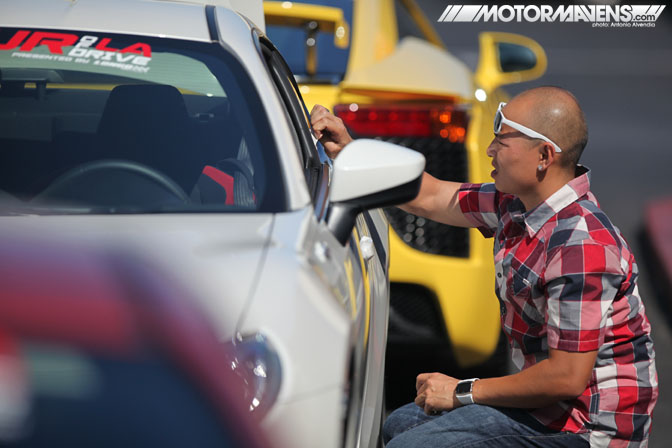 Contrary to what you might think at first, Young Tea is not a tapioca milk drink. He's in charge of sales at FiveAD, and is the man to speak to if you need a 5Axis aero kit or wing (or wheels) for your Scion FRS! Holler at him and tell him that MotorMavens sent you!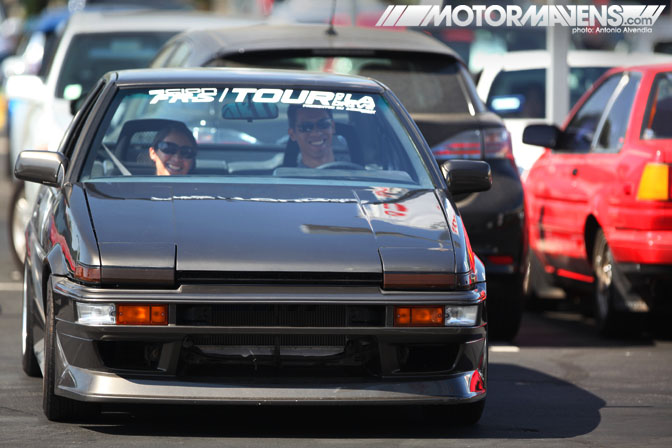 I couldn't stop looking at the anthracite brown paint on this 1985 AE86 hatchback, which had Run Free bumpers and kouki exterior conversion. It's the same hue as the rare anthracite color found on rare editions of Toyota's mighty JZA80 Supra. Imagine having both cars matching in your garage?! Damn.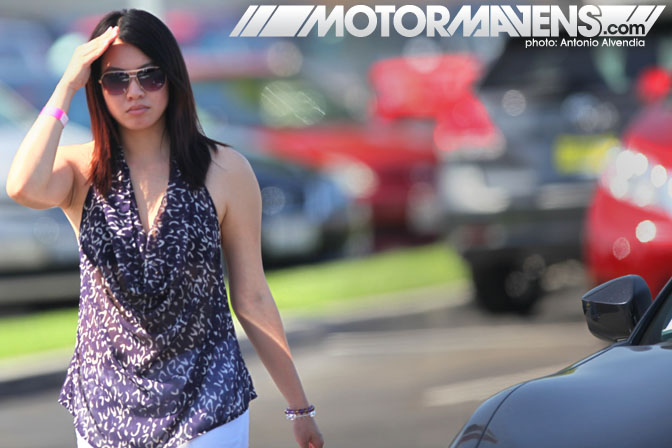 This is Stephanie. She owns a Toyota Matrix and a Specialized bicycle. I met her at The Boiling Crab – she kept looking in my direction, and even made the first move to start a conversation with me and gave me her phone number. I thought she was trying to hit on me at first, but her true intentions surfaced shortly thereafter… she said she was just hungry, so she kept looking at my plate of fried oysters. (I bet that's what you tell ALL the guys, Stephanie!) Anyway, it has been well over a year since she was staring at my oysters, so seeing her at Longo was a nice surprise!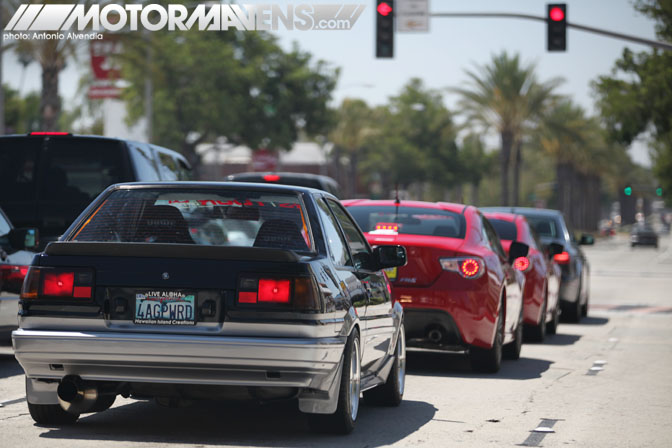 The Scion FRS Tour of LA attracted a TON of attention from other drivers and people walking on the sidewalk! From Longo Scion, we all caravaned to Santa Anita Racetrack, then rolled through Pasadena for a spirited drive on the 110 freeway to Downtown LA, and eventually to the new Toyota Automotive Museum in Torrance CA for lunch and a brief tour of the facility.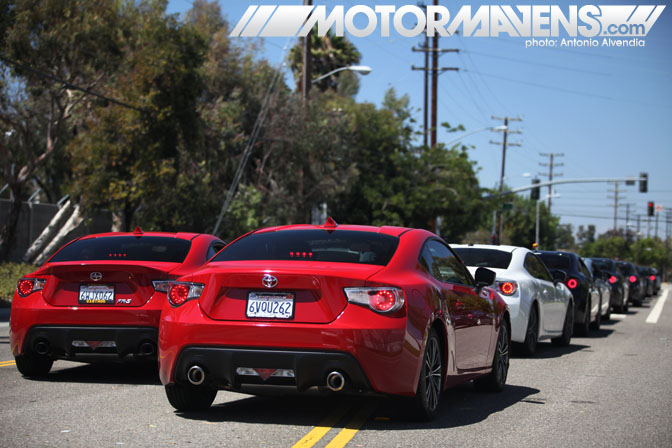 Once we arrived in Torrance, there were TONS of FRS everywhere. It was like we were staging an event called OccupyTorrance. There were so many cars that we occupied all the lanes in the directions we were headed, much to the annoyance of other drivers.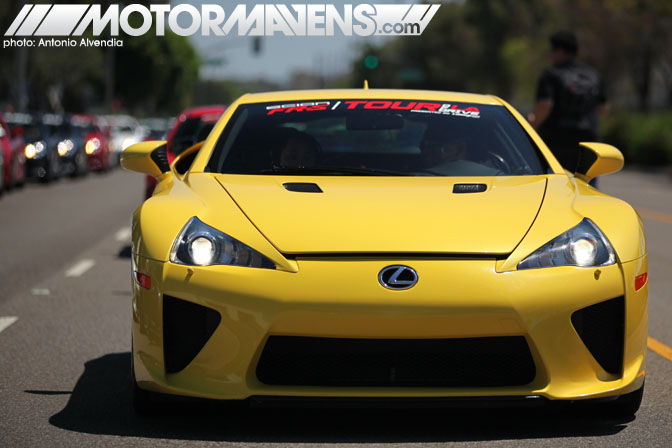 The procession of Scions was led by Ryan Bacsafra, driving a new yellow Lexus LF-A on loan to him for the day from Lexus corporate. Lucky guy!!!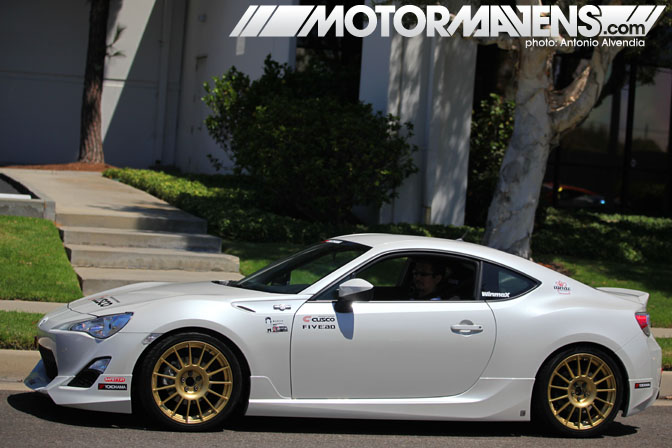 Even with the LFA in the lead, I couldn't stop looking at the AWESOME looking FRS built by Kenji from Cusco. Kenji used to be the head guy at Toyota Racing Development back in the day. In fact, he spearheaded TRD's Kazuma line of performance parts, which was named after his son.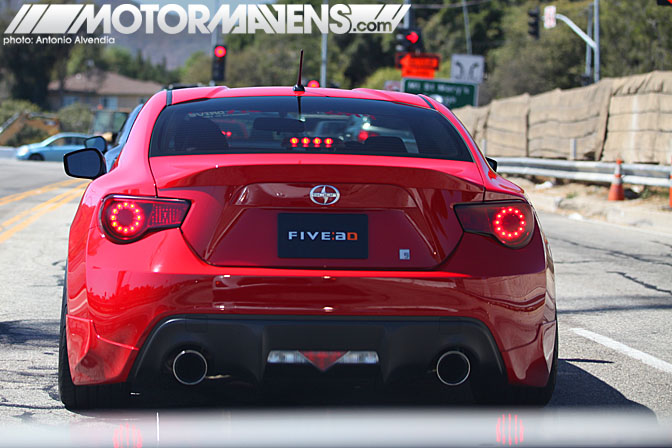 Another incredible looking FRS in attendance, everyone was admiring the FiveAD (or 5Axis) aero kitted Scion FRS driven by FiveAD's own Troy Sumitomo. Notice anything different about Troy's FRS, aside from the aero kit? His taillights have been tinted completely red!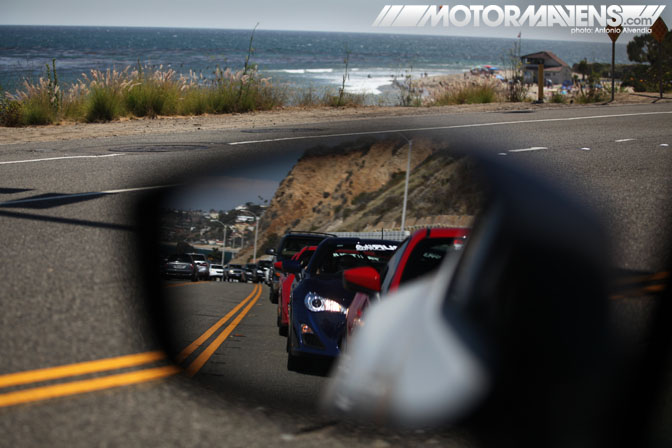 As we creeped through PCH traffic headed to Malibu, I kept looking in my mirror in amazement… there were front engine rear wheel drive Scions everywhere!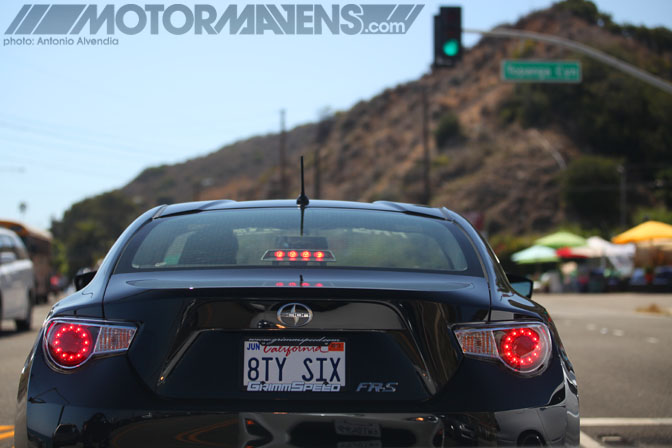 Even though there was a lot of traffic on the drive to Malibu, the cool breeze, and nice views of the ocean and chicks in bikinis crossing the street made for a fun experience! What? Come on, I know everyone was looking at them. Even the guys who brought their girlfriends and wives. I just tell it like it is.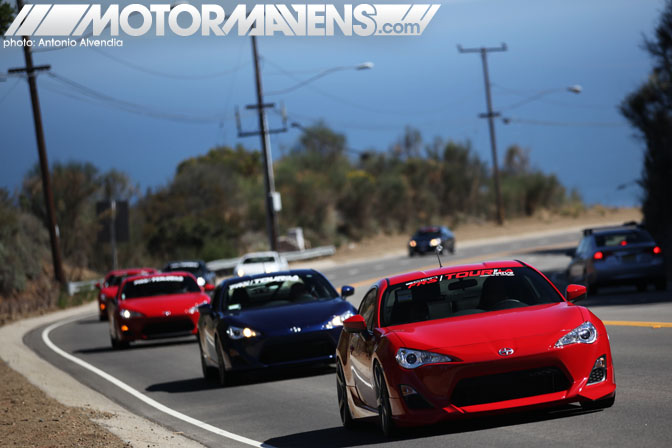 Finally out of Malibu traffic, our FRS lineup attacked the winding mountain roads toward Mulholland… until the cops found out about our huge Scion FRS procession! We took it easy at that point, since none of these guys were trying to get speeding tickets. Check out the front of Troy's FiveAxis FRS! Looks awesome.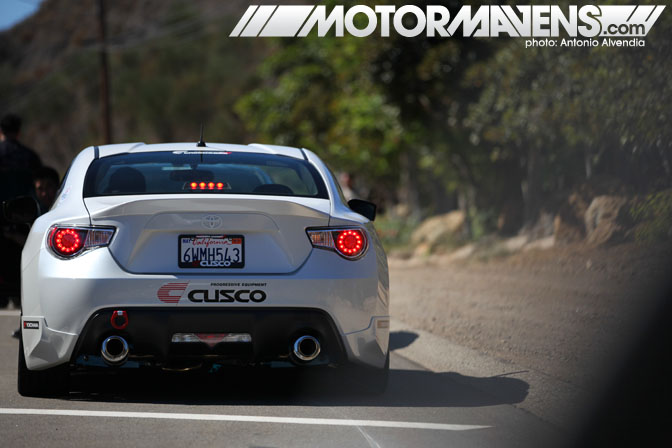 Once we stopped on the mountainside, I admired the Cusco FRS some more. It was equipped with a FiveAD aero kit as well, which made it look nice and aggressive with the nice accessory touches like the metal towhooks on the car. All in all, the first Scion FRS Tour of LA was super fun, and a huge success. I know the next event will be even better!
MotorMavens FRS project car owner Mike Kim posted more photos from the FRS Tour of LA on MotorMavens.net. If YOU took photos at yesterday's event, we encourage you to post up YOUR photos on MotorMavens.net also! We'll link to your images and promote them through the MotorMavens social media streams!
Thanks to Jeff Chang at Longo Scion, Moto at Club4AG, and Rex Torres from Edmunds for organizing this great event!
:: Antonio Alvendia
ADD YOUR PHOTOS to the MotorMavens Photo Gallery from the Scion FRS Tour of LA!
More Scion FRS on MotorMavens
Scion FRS Driving Impression (Review) by an AE86 Owner: Antonio Alvendia of Cipher Garage
5Axis
,
AE86
,
anthracite paint
,
BRZ
,
Chris Bautista
,
Cipher Garage
,
Club4AG
,
Cusco
,
Cusco Scion FRS
,
Cusco Suspension
,
First 86
,
FiveAD
,
FiveAxis
,
FR-S
,
FRS
,
FRS cruise
,
FT86
,
Gaylord Garcia
,
GT86
,
Jeffrey Chang
,
JZA80
,
Kazuma
,
Krammito
,
Lexus
,
LF-A
,
LFA
,
Live The 86 Life
,
Longo Scion
,
Longo Toyota
,
Megan Racing
,
Moto Miwa
,
Run Free
,
Scion
,
scion dealer
,
Scion FRS
,
Scion FRS Tour
,
Scion FRS Tour of LA
,
Sean Lee
,
Seibon carbon
,
Subaru
,
Supra
,
Tour of LA
,
Tour Of LA Drive
,
Toyota Automotive Museum
,
Toyota Racing Development
,
Troy Sumitomo
,
Walter Chen
,
Young Tea
---