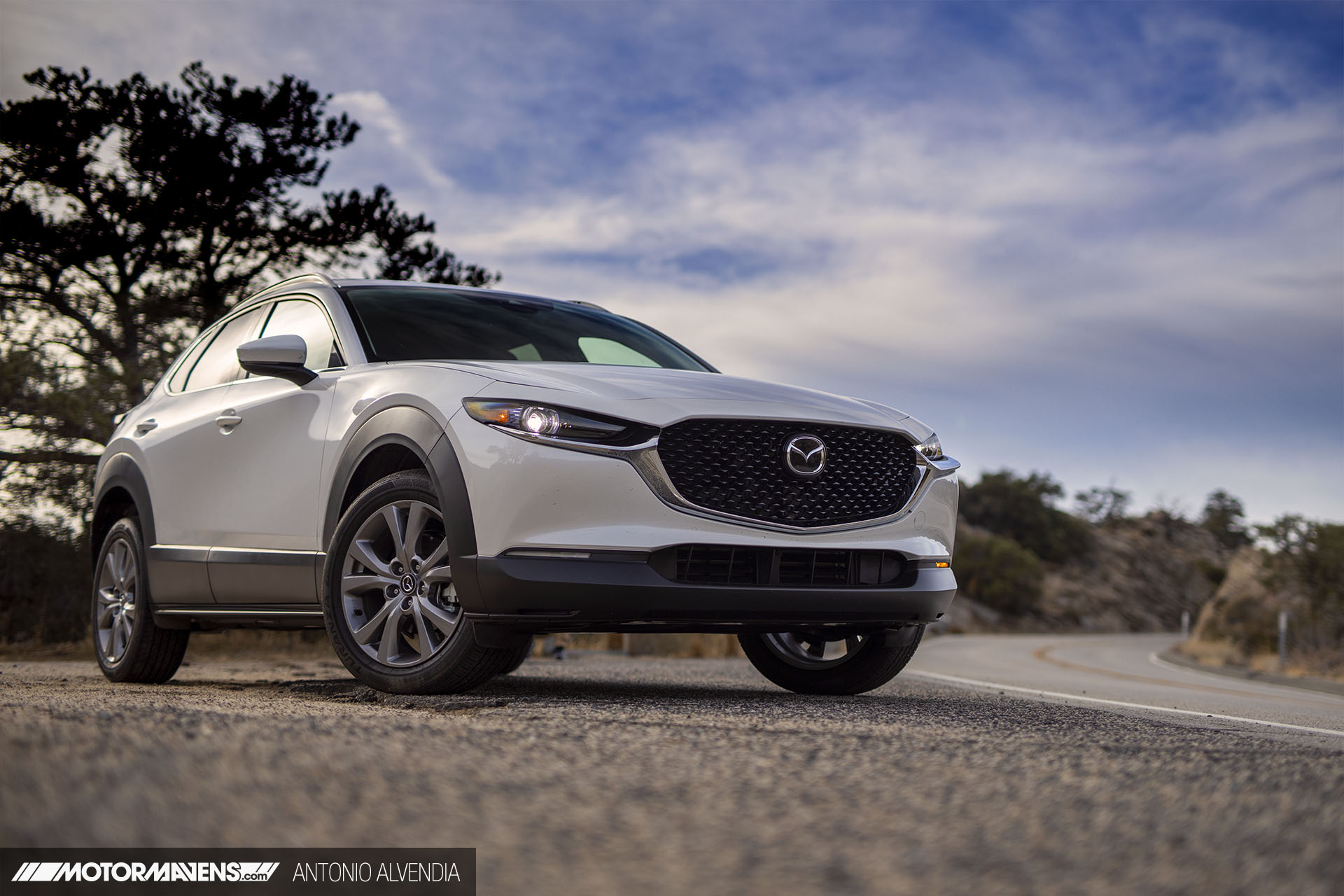 As our readers already know, it's no secret that every member of the MotorMavens team is deeply passionate about driving and modifying sporty cars. This being said, when I was invited to test drive the brand new Mazda CX-30, the newest subcompact CUV in Mazda's product offering, I was honestly a bit skeptical. That is, until I actually drove it.
Can you blame me for my skepticism though? Many automakers aim at producing fun, sporty CUVs in hopes of appealing to younger buyers, but most of them miss the mark. Many CUVs on the market might be practical and satisfactory for daily commute duties, but most of them don't appeal to a younger buyers, who skew towards used sports compact cars.
The 2020 Mazda CX-30 just might change that.
According to Mazda, the new CX-30 is a CUV with the same sports car soul that made the brand legendary on the racetrack. Wait a minute, how could a CUV feel even close to the nimbleness of an RX7 or Miata in the corners?! I decided to drive the CX-30 through some of Southern California's best mountain roads to find out.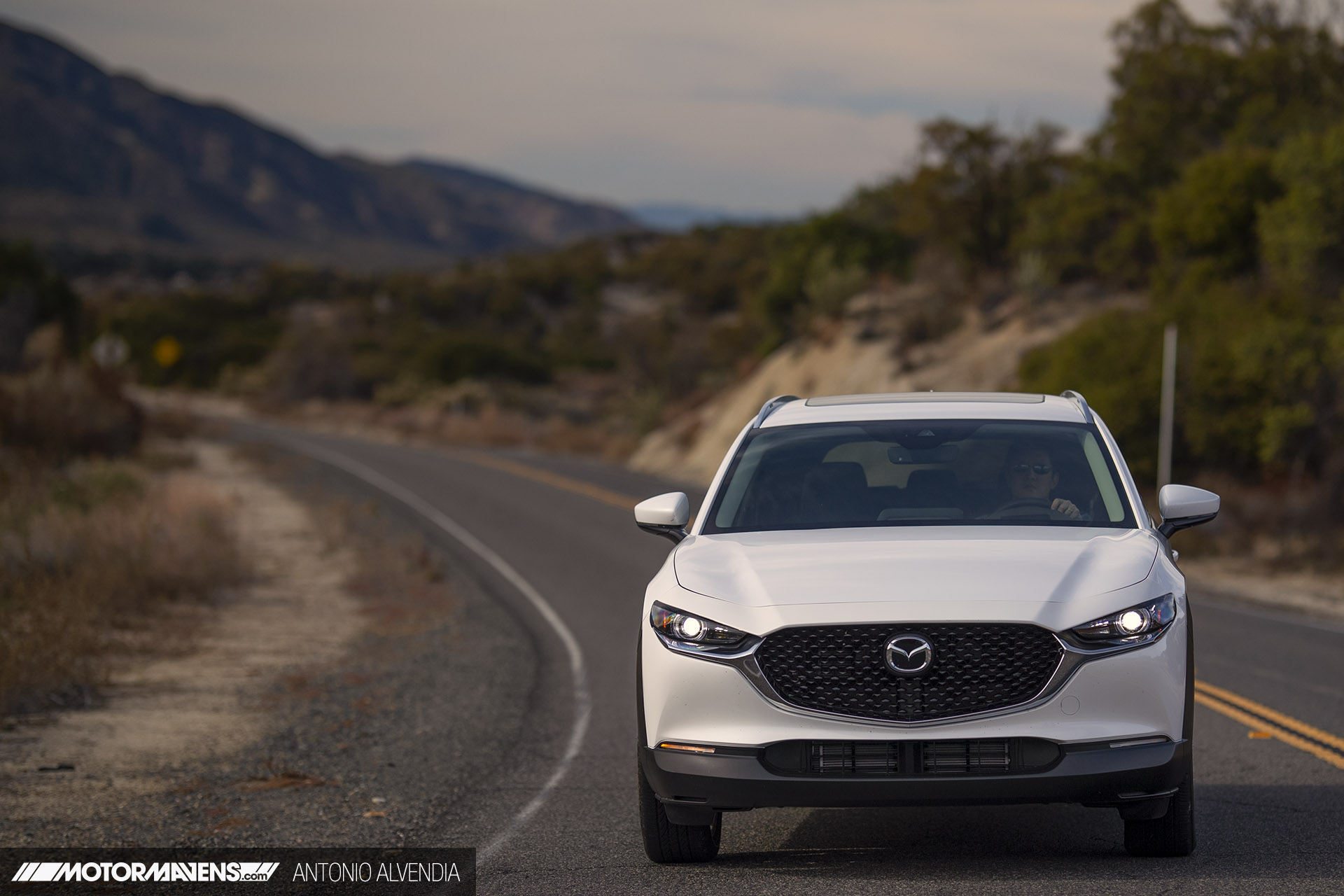 For the test drive, I teamed up with my longtime friend, Ben Hsu of Japanese Classic Car and Autoblog. Just like Ben, I have driven many sporty cars in my life (actually, I used to own a white FC3S RX7 and really miss that car), so the idea of a CUV being sporty seemed foreign to me… until I drove the Mazda CX-30.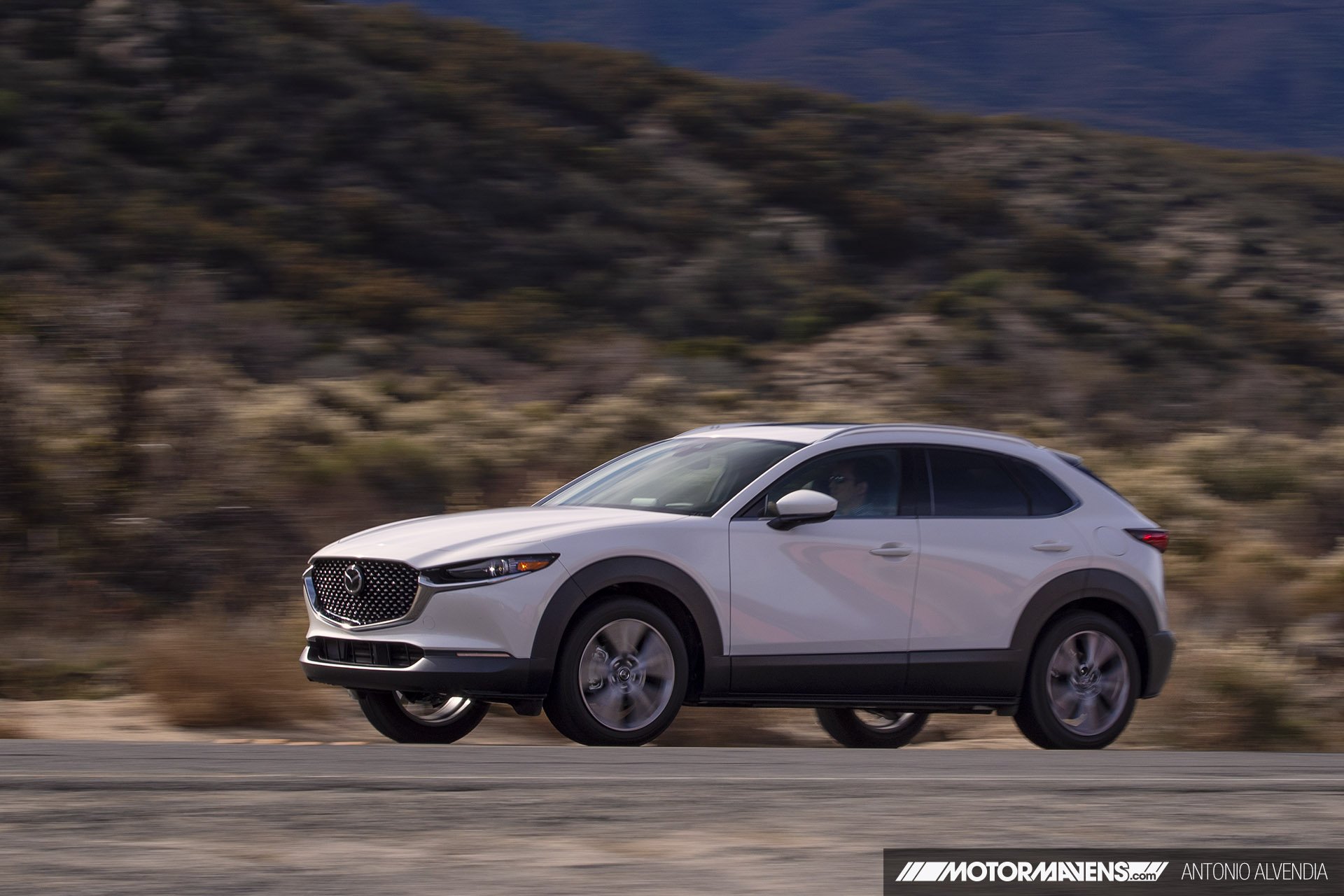 The CX-30 produces 186 hp at 6,000 rpm, which doesn't sound like a lot, but it also has 186 pound-feet of torque. Whether it's accelerating onto the freeway or charging up a mountain road, the Skyactiv-G 2.5-liter inline-four in the CX-30 isn't going to snap your head back, but it has more than enough get-up-and-go for most people.
While the CX-30 might not be your vehicle of choice for a drag race, it certainly doesn't feel slow on the street – especially if you're willing to engage sport mode and wind up the motor.
I'm perfectly comfortable driving momentum cars like the Toyota 86 or Mazda Miata at high rpm, so I was happy to let the Skyactiv-G engine sing as I accelerated my way through the twisty backroads just outside of San Diego.
Thanks to the responsive Skyactiv-Drive six-speed automatic transmission and manual shifting options via the center shifter (or paddle shifters in the CX-30 Premium), the engine feels like it has more power than it actually does.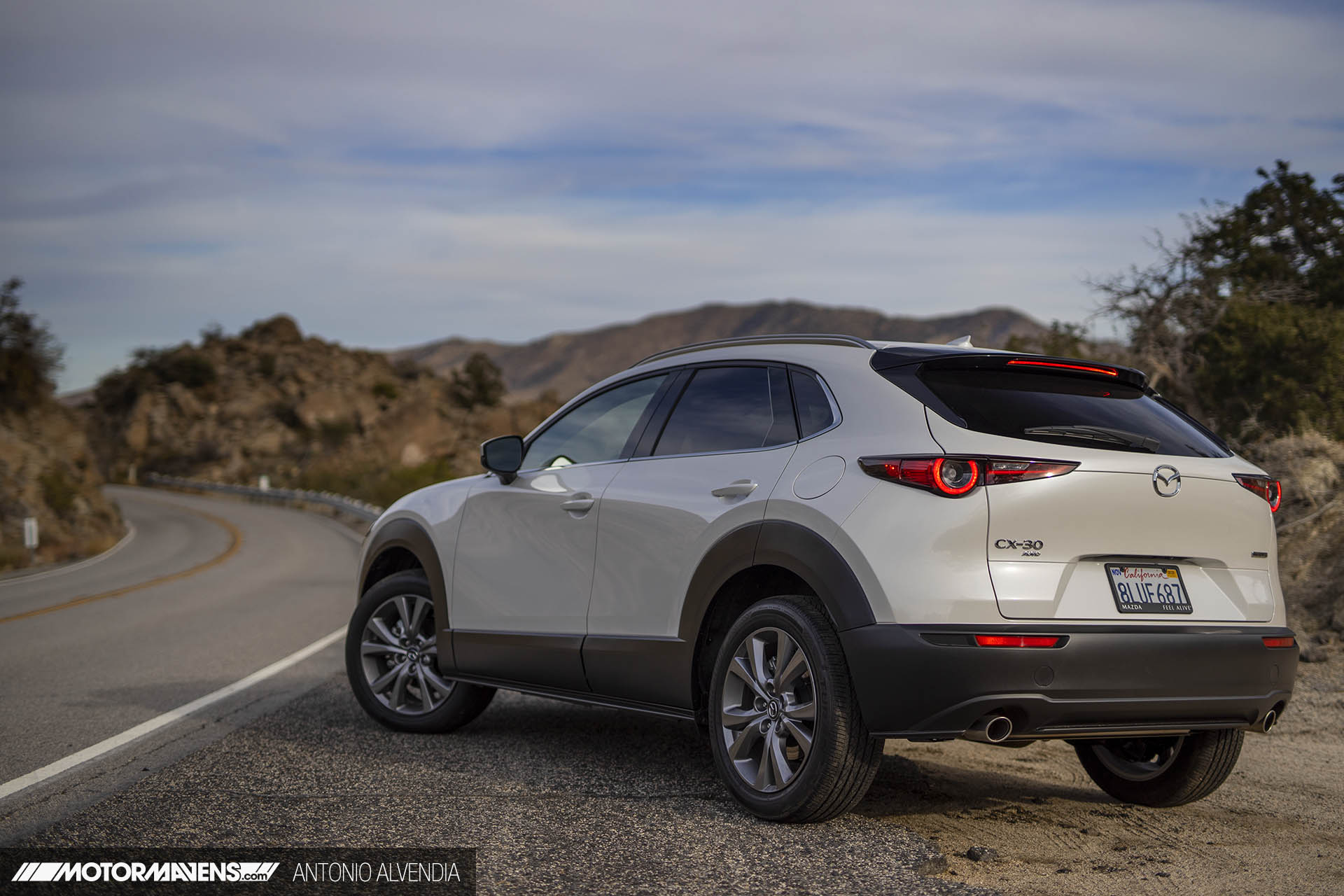 The CX30's Skyactiv-Drive transmission is the key to providing the driver with a good compromise between responsive acceleration in Sport Mode and good fuel economy for normal street driving.
Mazda offers the 2020 CX30 in four different packages; a front wheel drive base model that starts at $21,900 and feature packed Select, Preferred, and Premium versions that incrementally raise the MSRP to $28,200 for FWD models. The i-Activ all wheel drive only costs $1400 more on all trim levels.
The front wheel drive version of the CX30 gets 25 mpg city and 33 on the highway. The i-Activ all wheel drive versions are rated at 24 mpg city and 31 highway, and Mazda also offers the CX30 in a Premium i-Activ AWD trim, which uses engine cylinder deactivation to improve the fuel efficiency of the AWD Premium model to match the FWD versions at 25 mpg city and 33 highway.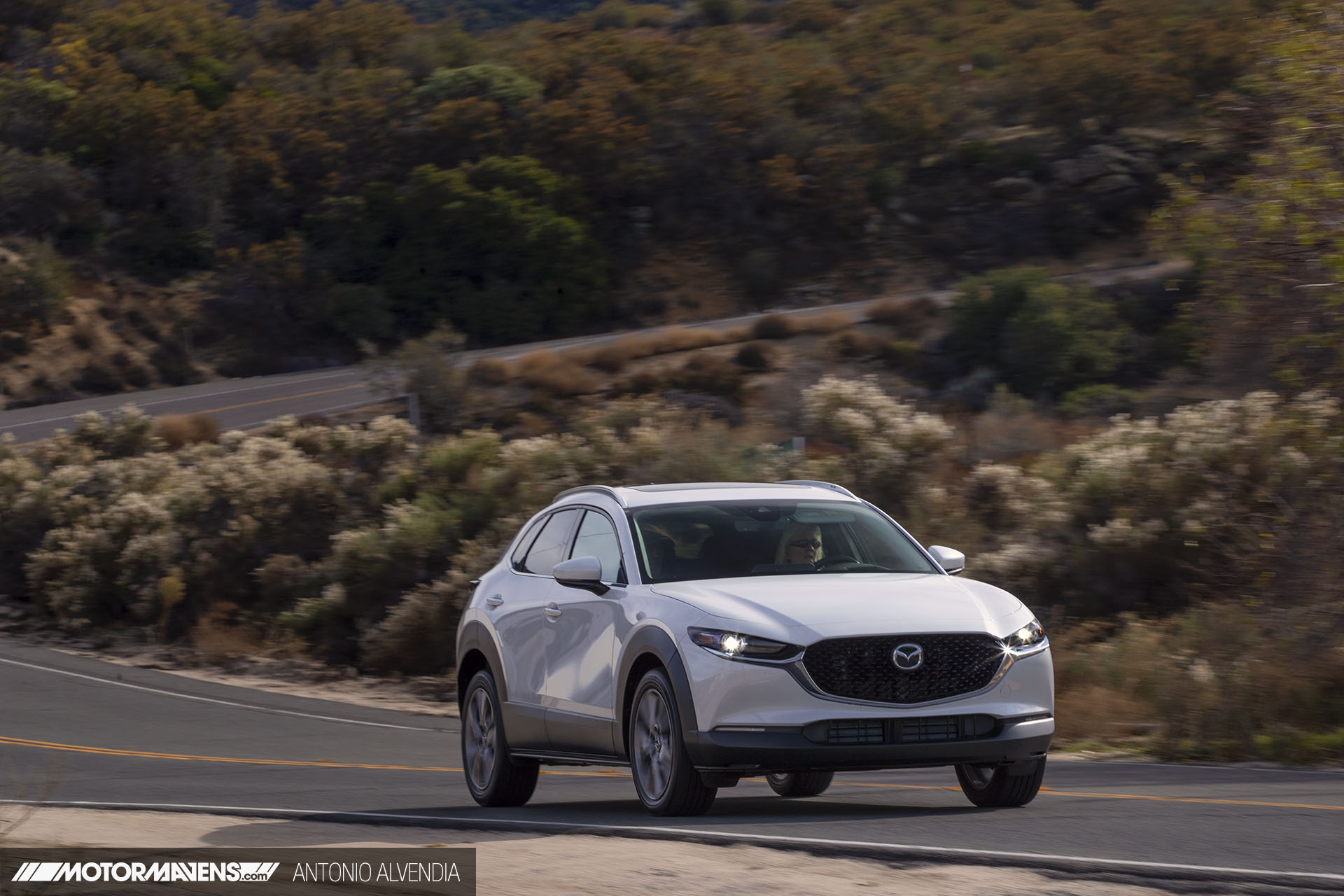 While bombing up and down twisty canyons and winding back roads for an entire day, my driving partner and I were both incredibly impressed at the CX30's high speed handling.
The steering is responsive and precise, and I was impressed by the fact that the car feels firmly planted while attacking corners at high speed, even though the Bridgestone all-season tires that come as original equipment on the CX30 aren't particularly sticky.
This is because Mazda designed the suspension of the CX30 so that it would handle well even with a quiet tire with soft sidewall and high tread wear rating. You won't need UHP summer tires to have fun with the CX30 in the canyons.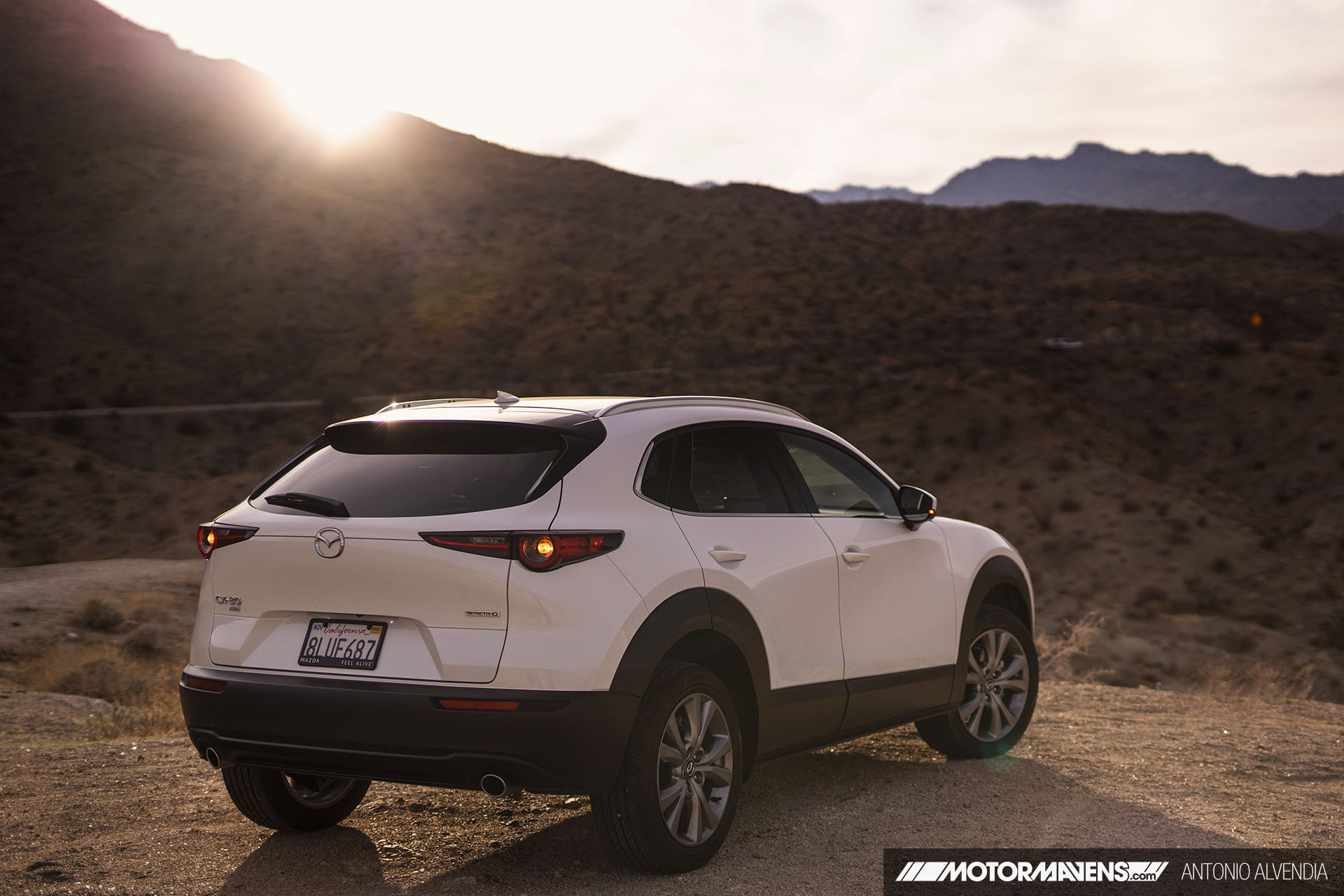 According to Mazda R&D's Vehicle Dynamics Manager Dave Coleman (some of our readers might recognize the name from the now defunct Sport Compact Car Magazine), the reason the CX30 handles so well is because Mazda engineering placed the vehicle's pitch center just behind the driver, so the car's weight transfer is less perceptible to the driver.
In layman's terms, Mazda has balanced the vehicle's center of gravity so that drivers won't really feel the weight transfer leaning left and right, front and back – especially compared to the other CUVs in the same class.
Since the vehicle has better balance than normal CUVs, less seat bolstering is needed to make the driver feel confident when attacking corners. Thanks to Mazda's engineering team, you really don't need to install that Sparco full bucket race seat to feel planted in the CX30.
Mazda went to great lengths to develop a brake pedal that feels different than normal cars. The new brake pedal feel requires the driver to exert a higher amount of effort with short stroke to stop the car. Mazda says the new brake feeling allows the driver to use the stronger calf muscle to modulate the brake pressure instead of the weak shin muscle, which can get tired easily in traffic or on winding roads.
This new brake feeling is something that I'm not used to, and I didn't like at first. In fact, I'm still not sure I like it. My initial reaction was that the brakes needed to be bled, because I didn't think I'd have to step on the brakes so hard. I'm sure once you get used to it, it's no big deal… but I thought I'd point it out because it took a little time to grow accustomed to.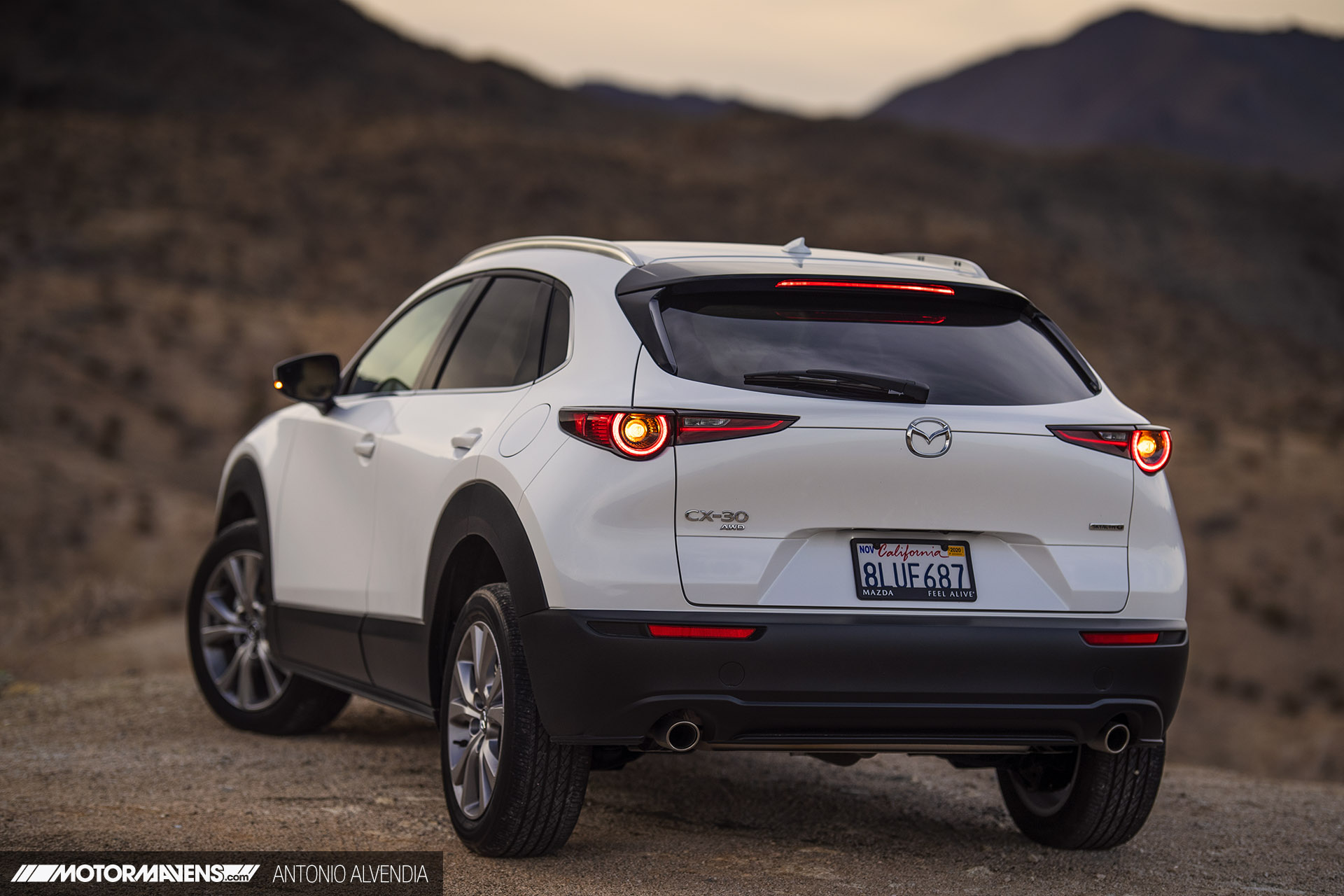 Mazda says that they have designed the CX-30 specifically for "young people who are approaching significant life transitions."
Reading between the lines, this makes me think the CX-30 is perfect for a person who loves driving track days and drifting, but would have a difficult time commuting to their corporate office job in Downtown LA or Hollywood because a lowered, wide-body vehicle with a GT wing and an aero kit won't clear the speed bumps in the office parking structure.
It also sounds like the CX-30 might be ideal for a young couple who just received news that they have a baby on the way, and might have trouble fitting the baby's car seat into a two door sports car with a tiny back seat or nonexistent one.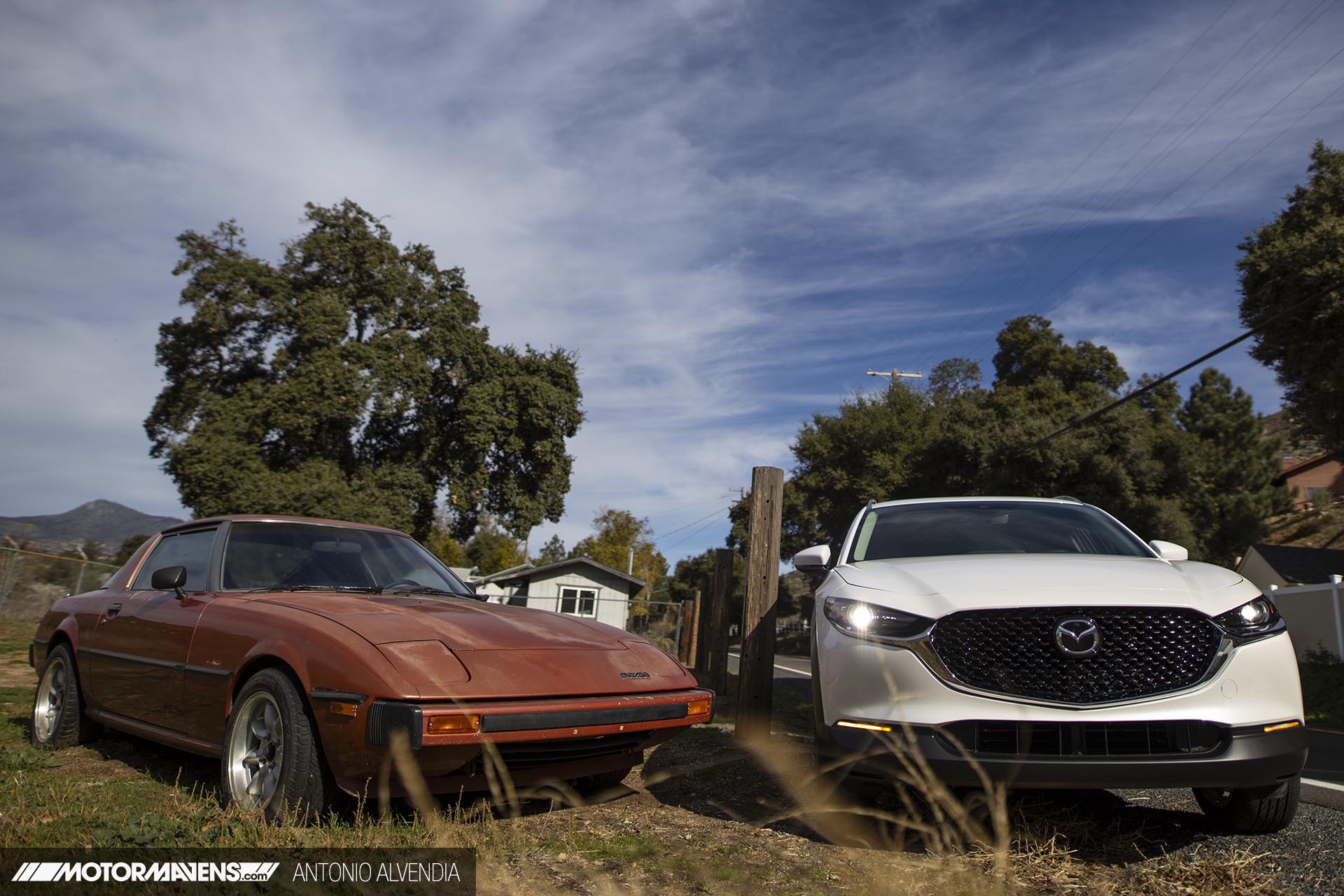 Normally, when young people come to the startling realization that they might need to purchase a CUV as a daily driver, they become sad because they still identify with sporty cars, like this first generation Mazda RX7 we spotted parked in a field, with 15″ Panasport wheels and mild suspension upgrades.
Most young families associate vans and station wagons with their own parents, and feel like they're too young and too cool to identify with professional soccer-moms sporting Animal Cracker crumbs all over their back seats and empty juice boxes stashed in the door pockets of their minivans.
This is where the CX-30 shines – it's a sporty CUV that feels upscale inside like a Porsche Macan, but at a mere fraction of the Macan's price.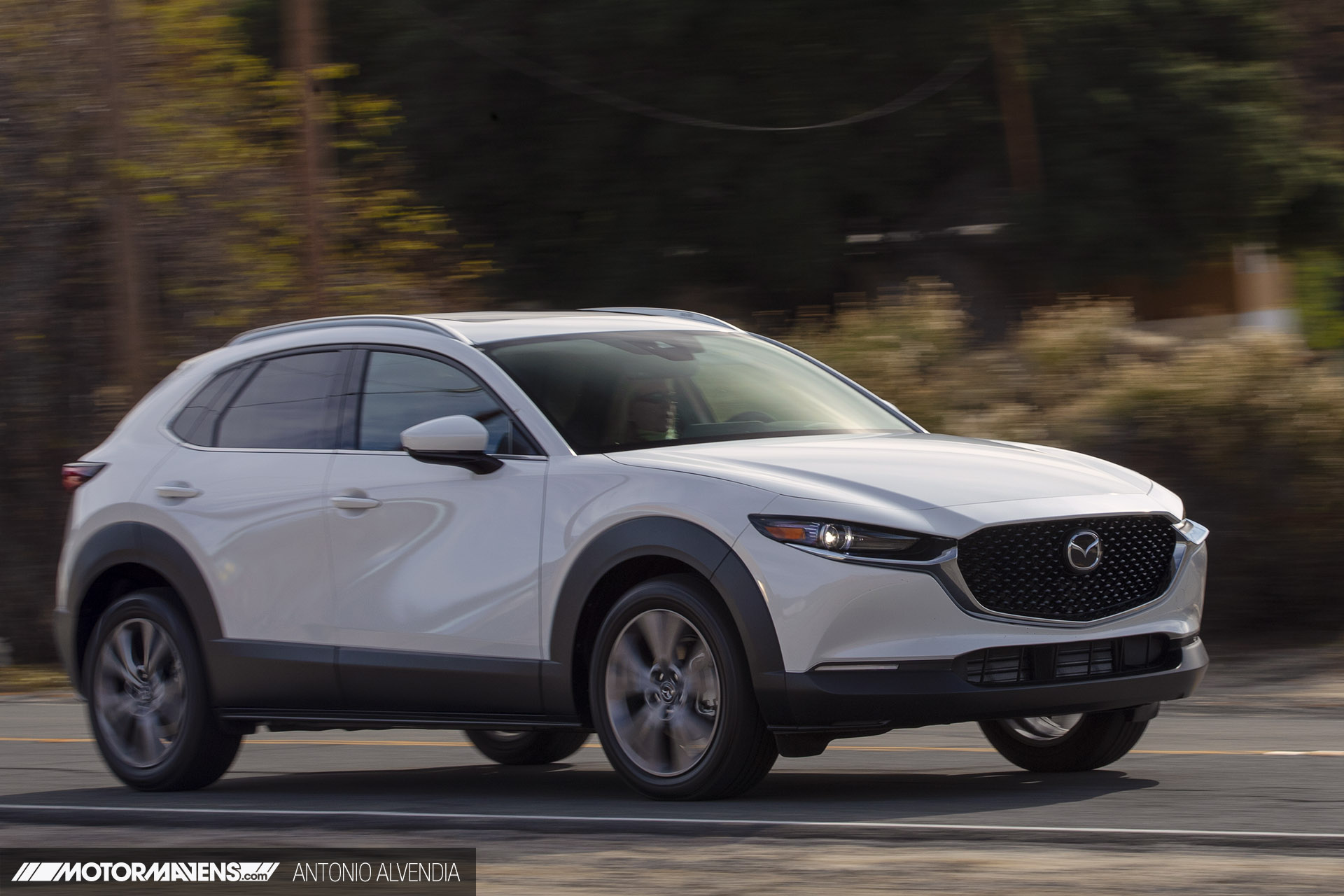 The CX-30 has enough ground clearance and practicality to make young people look like responsible adults, but it still has a sporty driving feel like the RX-7s and Miatas that made Mazda popular in the first place.
With the CX-30, it's completely feasible for young parents to drop their child off at daycare, then have a spirited canyon drive to work with their favorite hip hop or electronic music playlist at full blast.
Isn't that what everyone wants? I know that's what I would do if I had a child.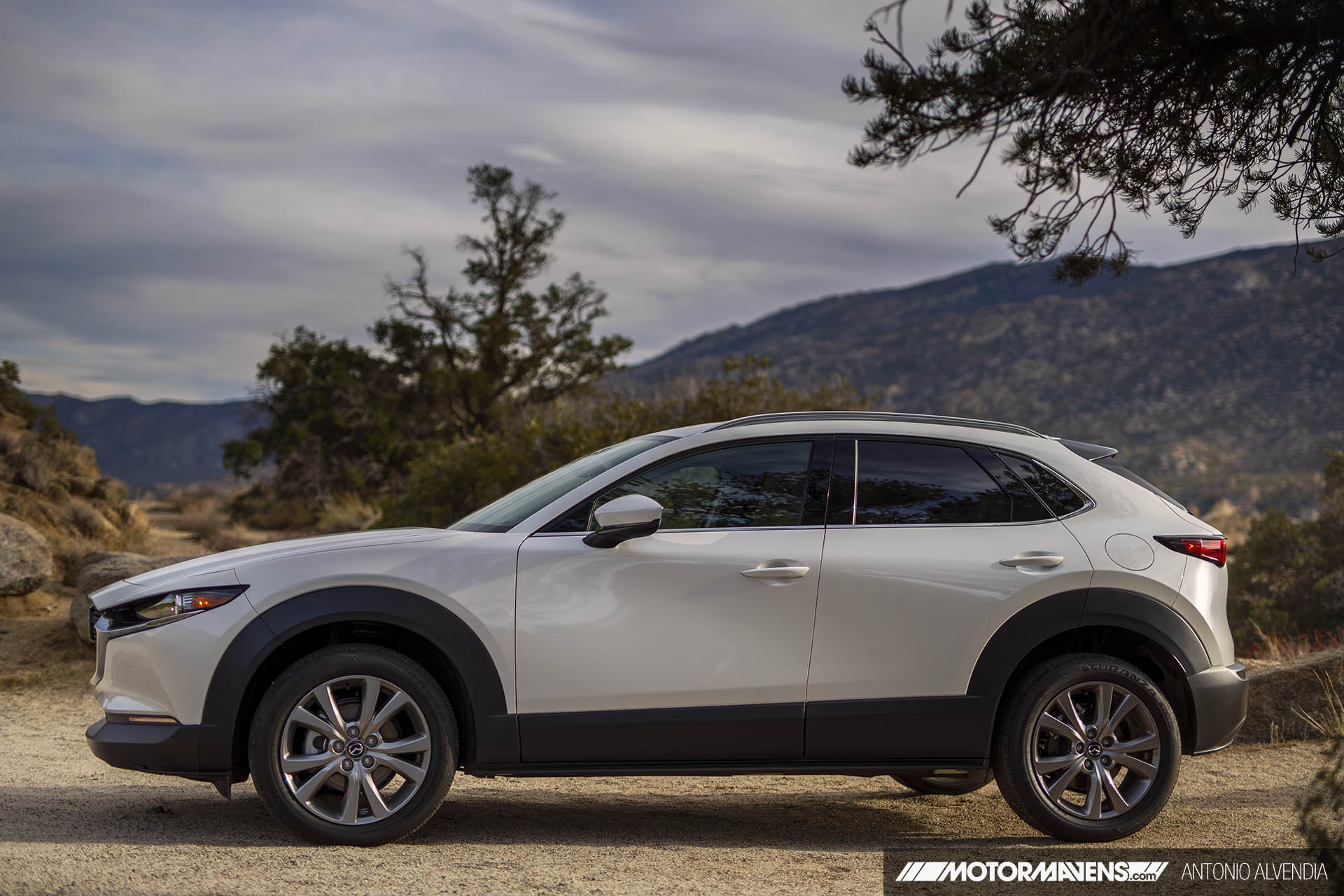 Since we're on the topic, the CX-30 has an impressive sound system, especially the Preferred and Premium models. The Bose Audio upgrade in the top two models are totally worth it for those who want to liven up dreary rush hour traffic by feeling the bass in their seats while bopping their heads to Anderson Paak's newest single.
Speaking of bass, Mazda carefully engineered the speakers in the CX-30 so you can blast your favorite playlists without the rattling your door panels and windows. This is accomplished by moving the bass driving speakers from the typical speaker location in the doors, and actually mounting it to the cowl (body) of the vehicle. The midwoofer sits right in front of the door, allowing CX-30 drivers to blast bass heavy music without the annoying door rattling.
This also led to improving overall vehicle NVH (Noise, Vibration, and Harshness), due to better door sealing.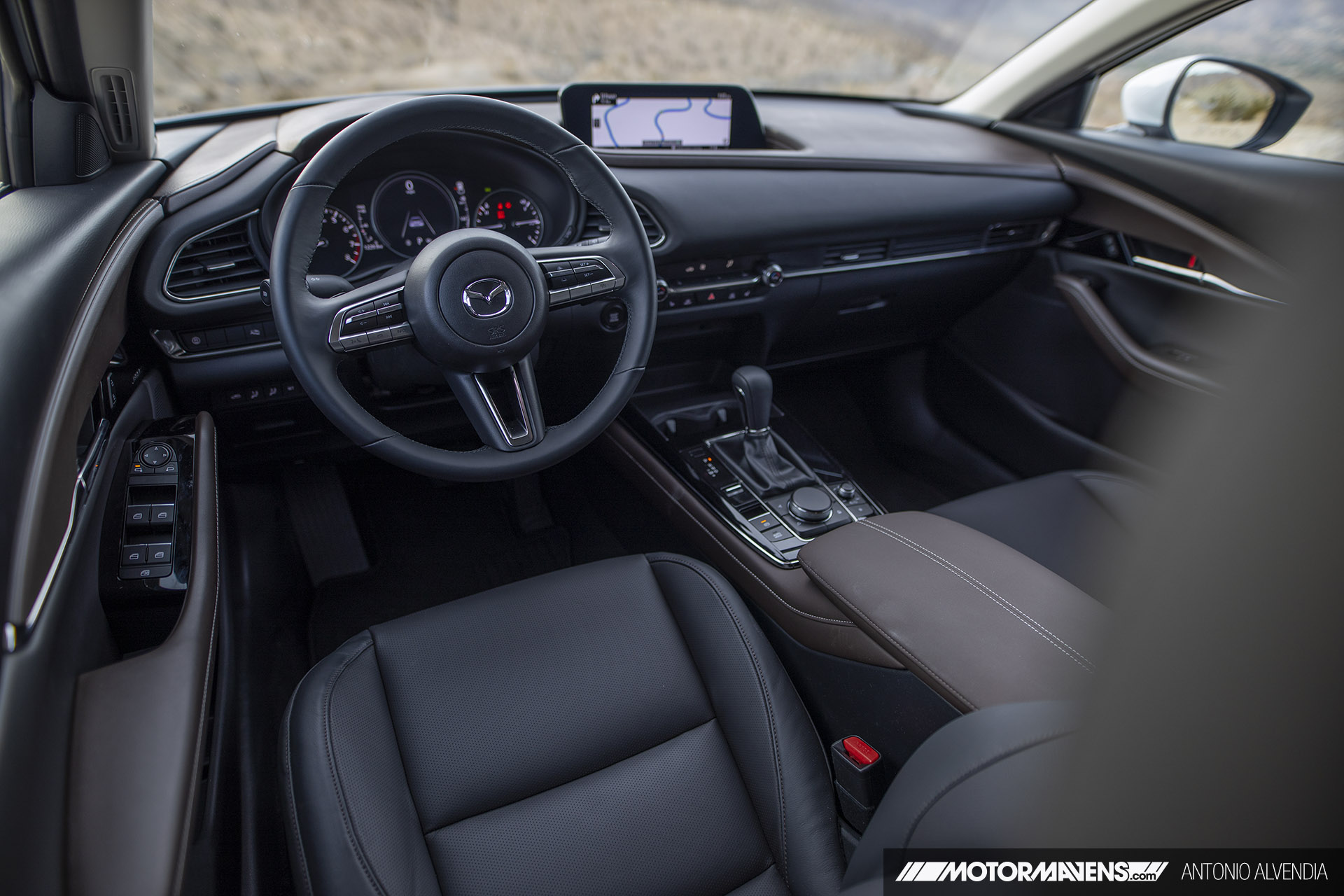 Inside the vehicle, it's apparent that Mazda went to great lengths to fine tune the interior to cater to the driver, and I think potential buyers will really appreciate that.
The base model CX-30 comes with cloth seats, and the Select and Preferred packages come with leatherette. The Premium package CX-30, however, has full leather seats. The interior comes in a number of stylish colors, but my favorite has got to be the mixture of black and brown in the Premium edition I drove because the colors look so upscale together.
The steering wheel is thick with anatomic grip for your thumbs like you would typically expect from a sports car. The wheel is wrapped in premium leather and so is the shift knob, giving the driver a really great, luxurious feel.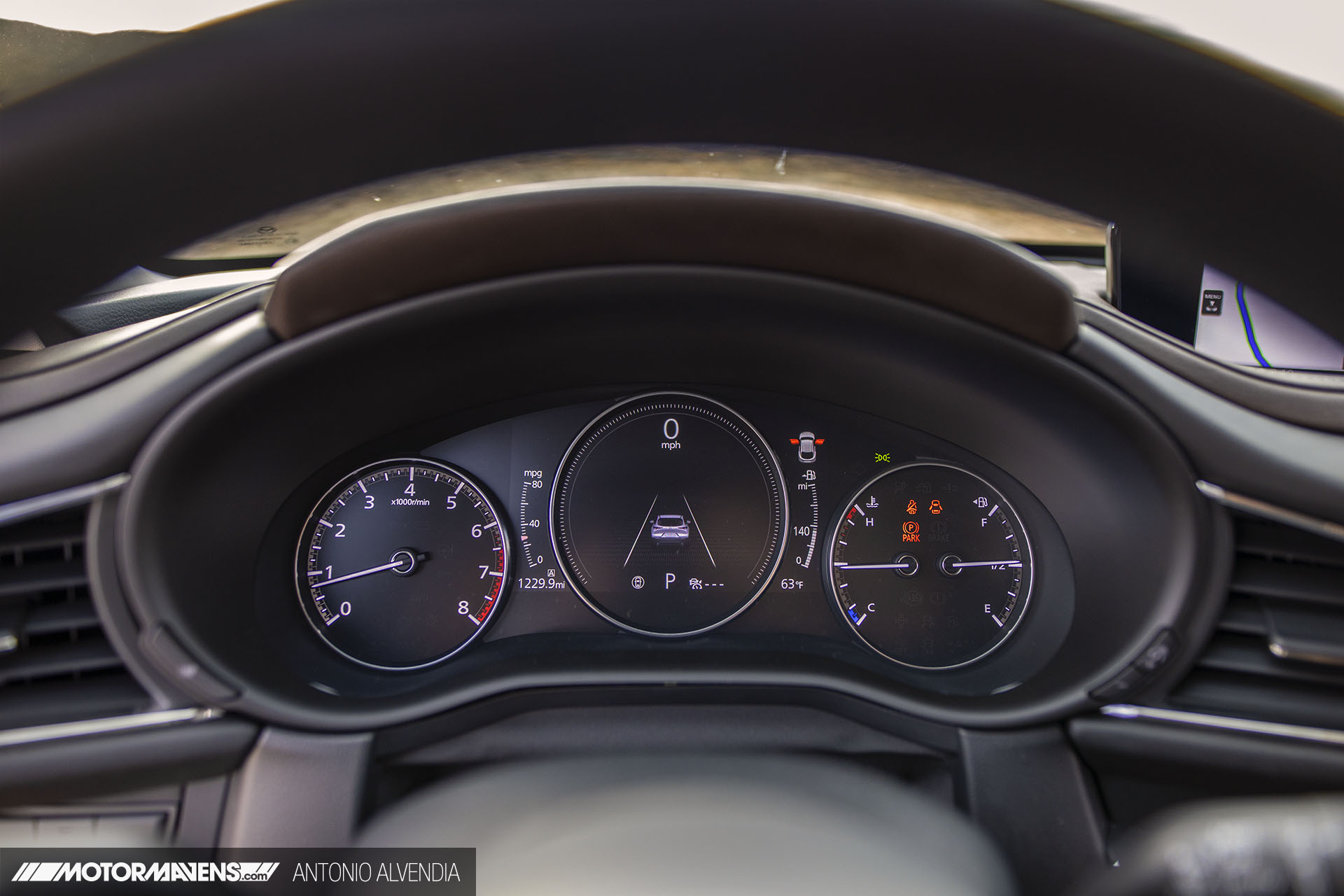 The seven inch digital gauge cluster looks really nice, with nice fonts paired with easy to read colors and backlighting. Mazda recessed it deep into the dash to place it further from the driver's eyes, minimizing visual distraction while driving.
The Premium trim level of the CX-30 even has an active head-up display projected onto the front windshield to display vitals.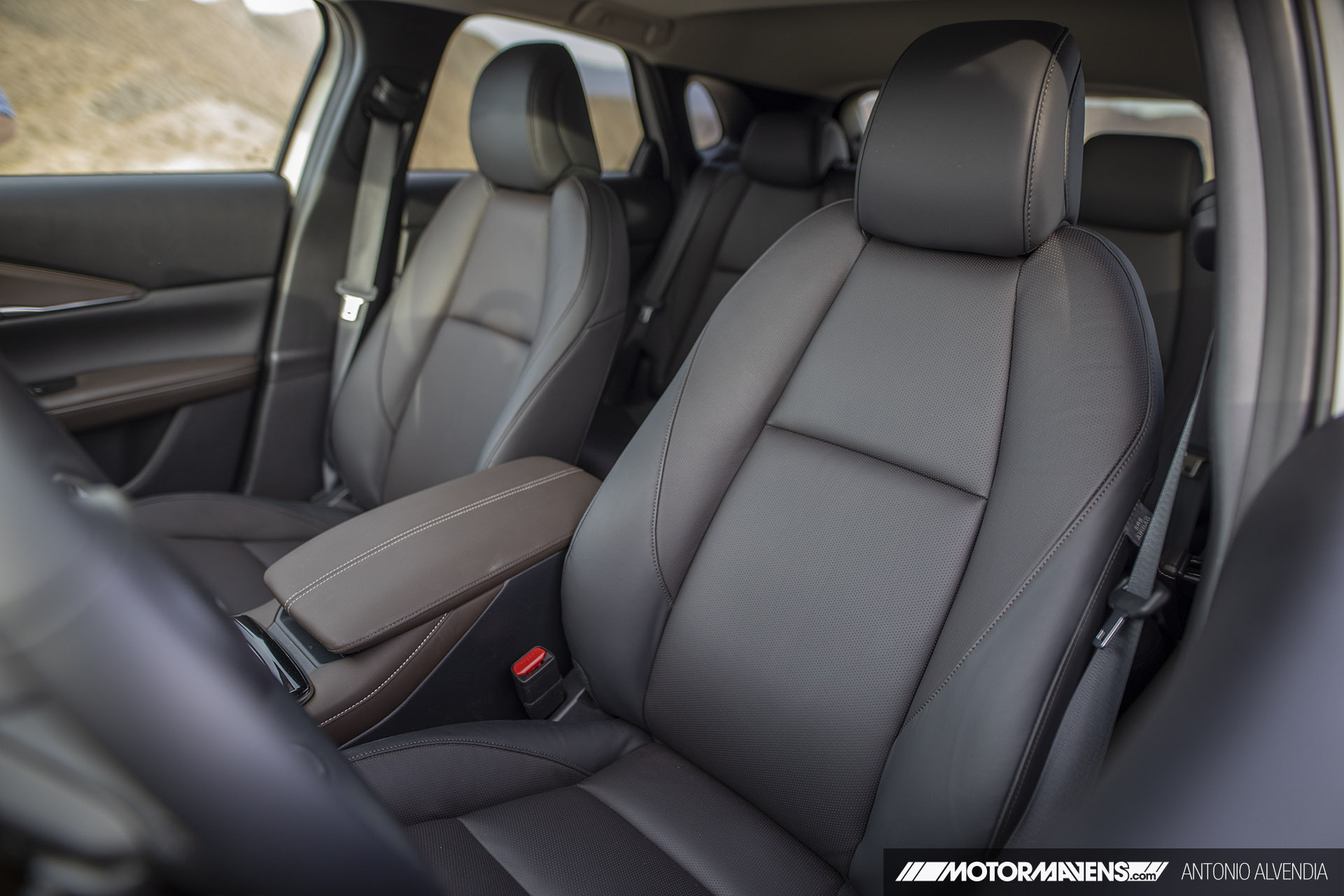 The front seats come in leather on the CX-30 Premium, and they are also heated the Preferred and above trim levels. The seats are comfortable, and according to Mazda, have been designed so that the driver sits slightly more upright for better posture and feel when driving, which also leads to reduced driver fatigue.
This makes sense, especially to anyone who has experience sitting in a racing seat. Obviously the CX-30 has nicely padded seats, so they are clearly a lot more comfortable than a racing seat, while still providing great driver balance without the need for high side bolsters.
The center armrest has also been designed for ease of use. Instead of just lifting up the center console lid like in normal cars, the CX-30 uses an ergonomic sliding lid to minimize arm motion for driver comfort. If you need to find something under the center console armrest, you just slide the lid back before lifting. This allows for easy access without moving your arm and shoulder in an uncomfortable way.
Mazda studies show that operating a touch-screen while driving can be distracting to drivers because it makes you take your eyes off the road. To solve this problem, the CX-30 uses tactile push-knobs that are are designed to be operated by feel, minimizing distraction from driving.
I honestly didn't spend very much time setting up the display options or customizing radio presets, but I'll have to take a closer look at this when I have more time to spend in a CX-30.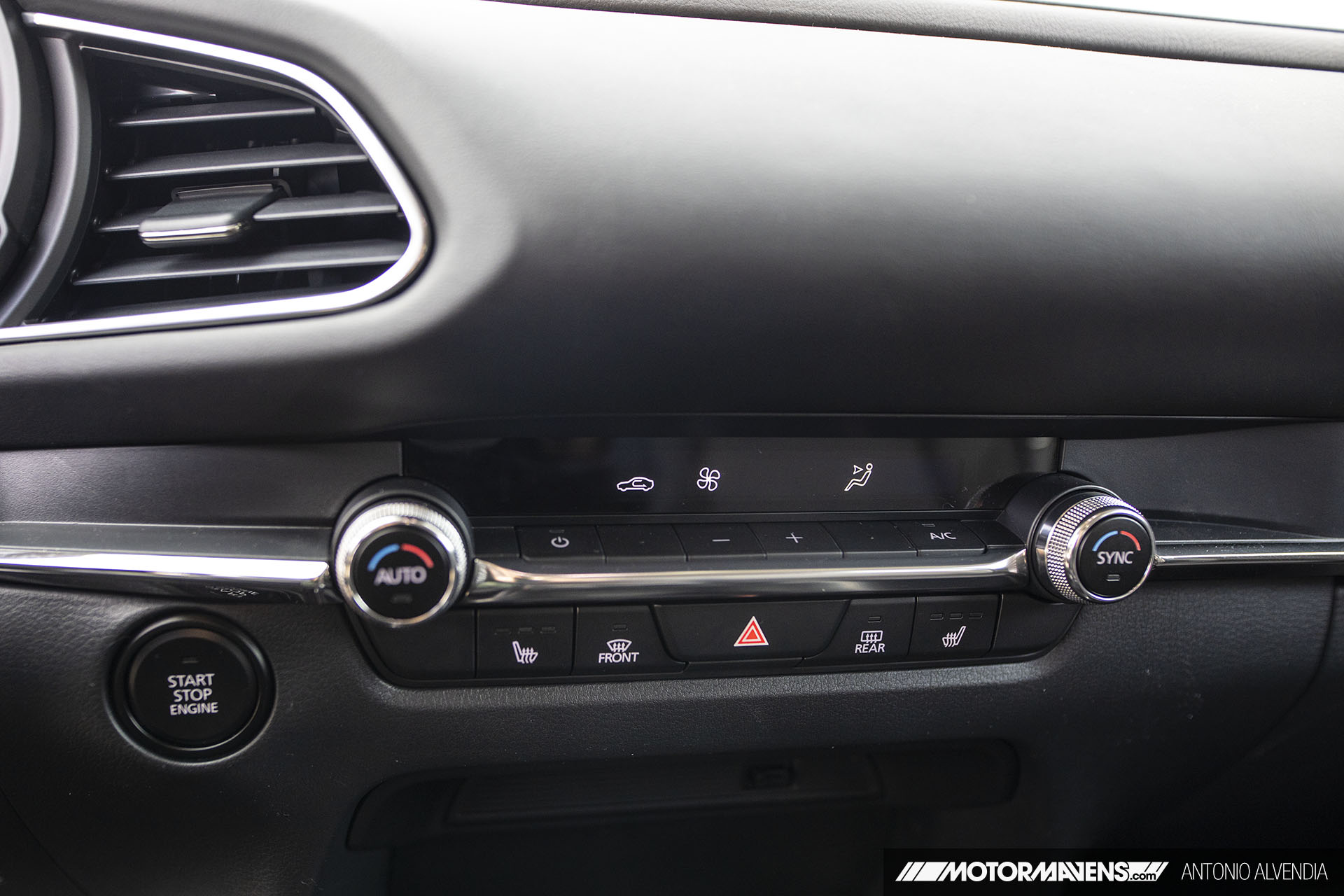 The climate control switches are well designed and easy to reach, so it will be easy to fine tune your cabin temperature even while driving in traffic.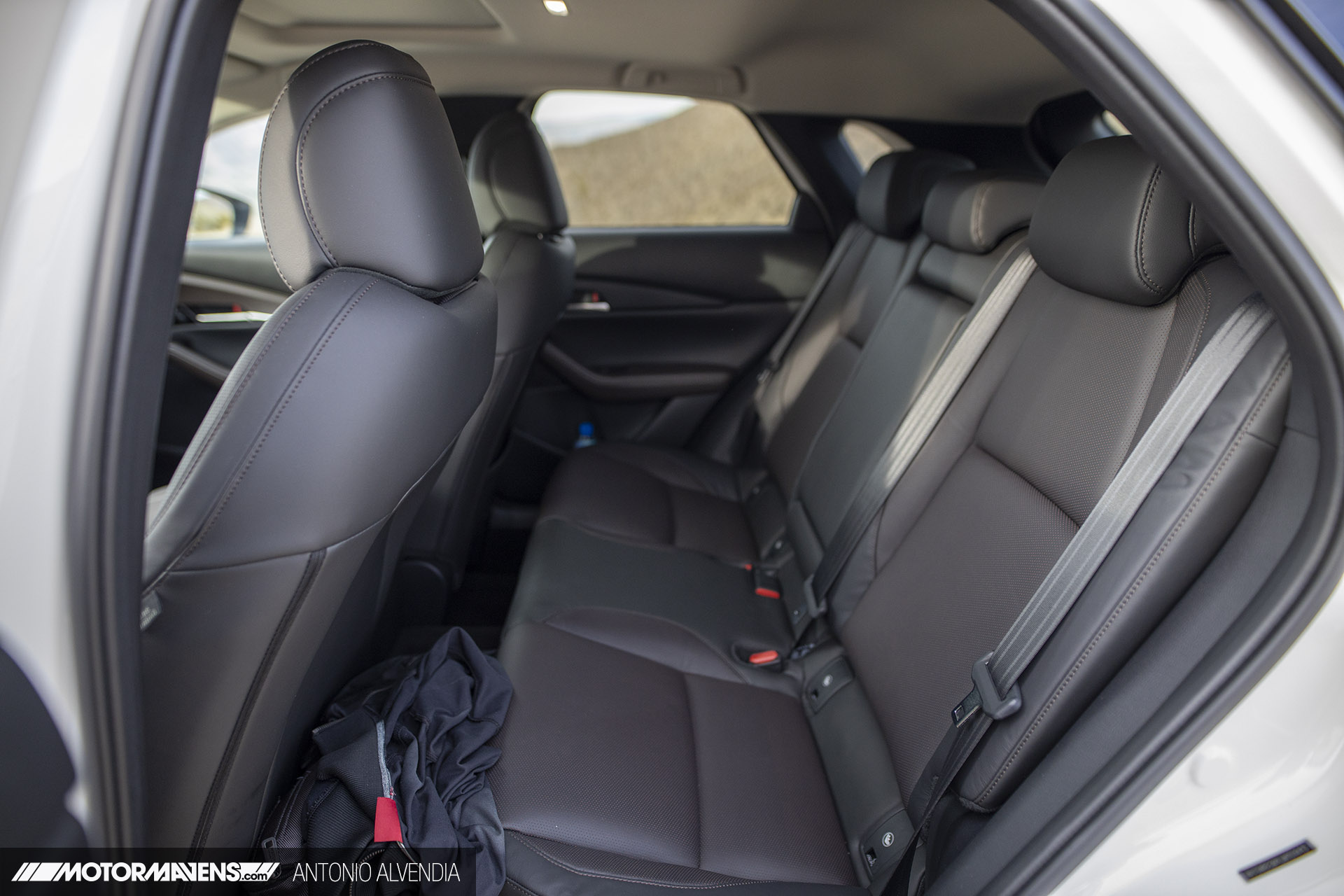 With the driver seats all the way back to accommodate a six foot tall driver, the folding rear seats don't have a huge amount of legroom for six-foot tall rear passengers, but should be just fine for children, child seats, and petite adults.
This photo shows a laptop backpack and a jacket stuffed in the footwell for size reference.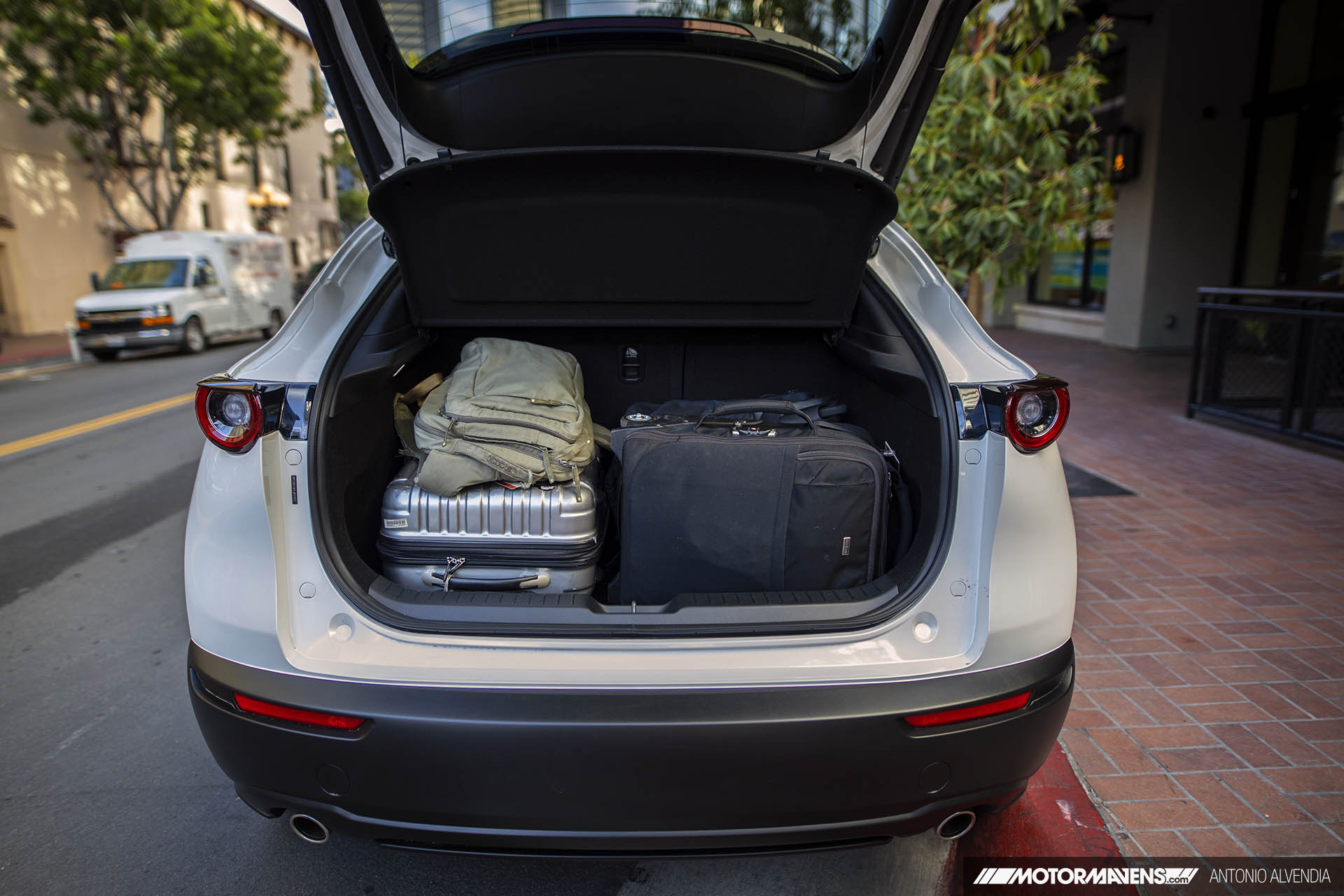 To show the cargo capacity in the trunk, I figured an image of the trunk packed with luggage would be more helpful than the typical manufacturer-provided photos you'd find online on every other website out there.
My co-driver Ben and I loaded up the trunk with a Samsonite 24″ roller luggage, my Incase laptop backpack, my Thinktank Photo International Airport V3 rolling camera bag, and another carry-on sized rolling luggage. There's still plenty of room in the trunk – we could definitely fit two more bags in there if we loaded the bags more carefully. In the event that one needs to fit larger bags, the back seats fold down with a 60/40 split.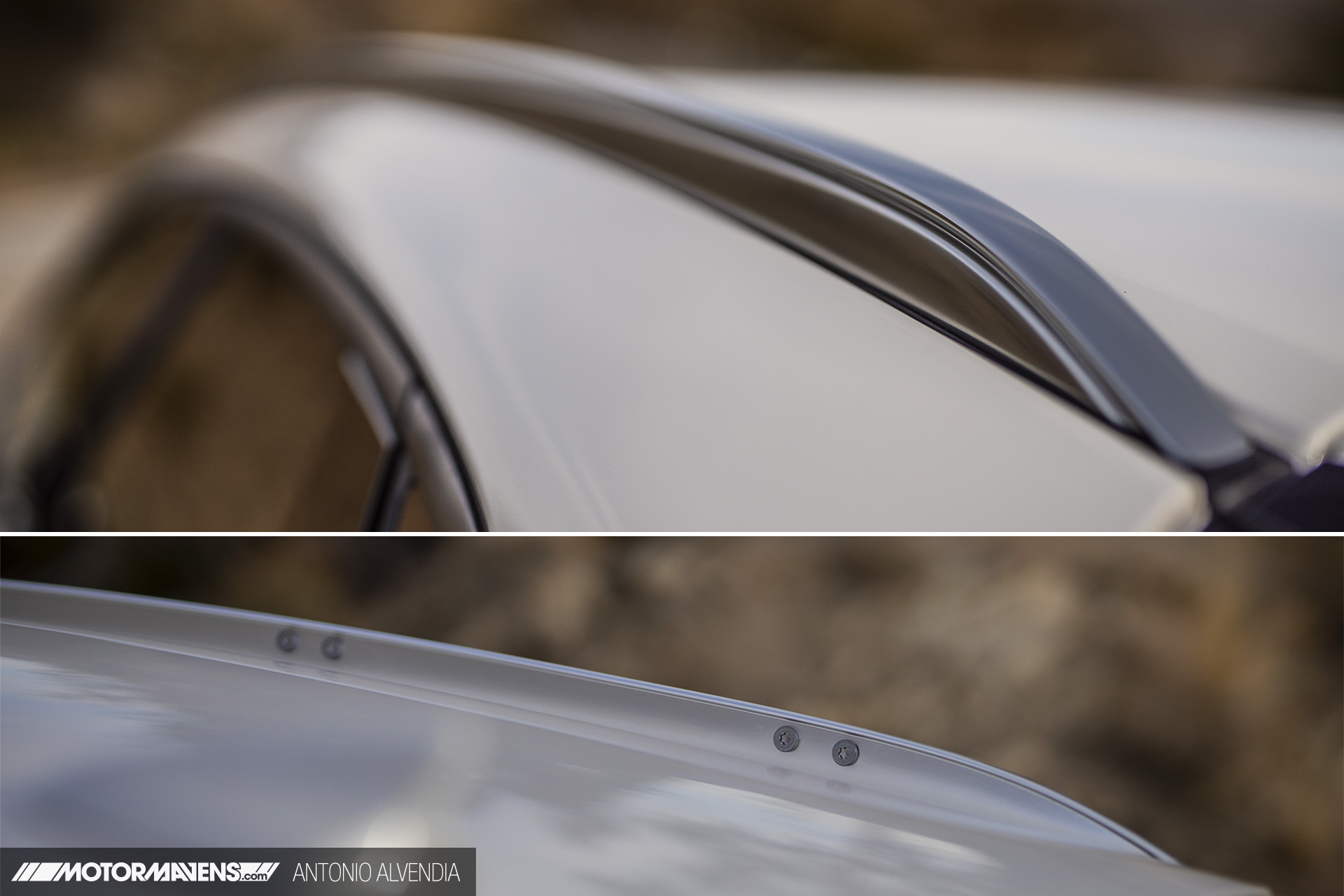 If the interior cargo capacity isn't enough, I noticed that the roof rails on the CX-30 Premium I tested had the ability to mount crossbars for a roof-mount storage box, bike rack, ski rack, whatever.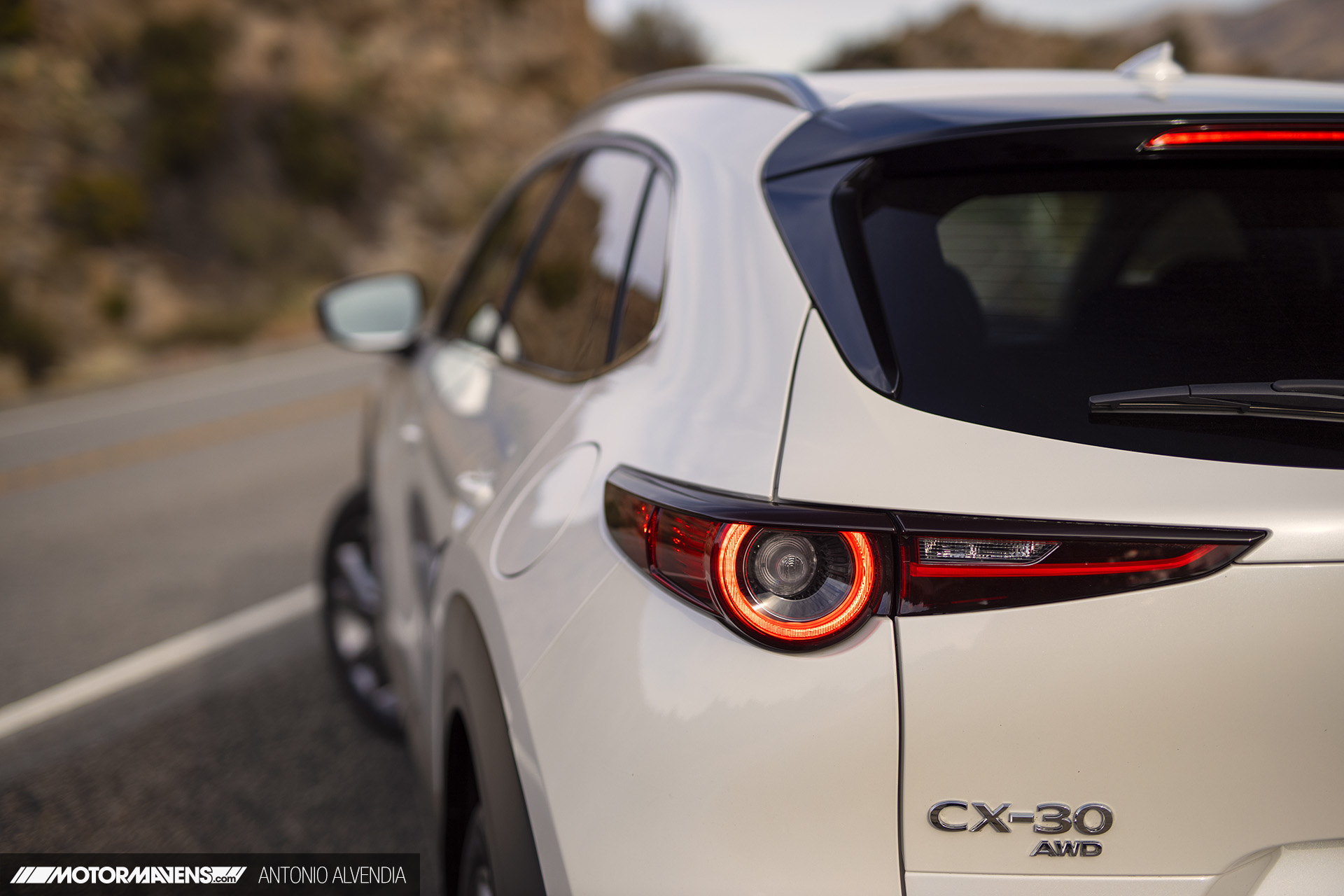 While we're addressing the exterior of the vehicle, can we talk about how good those LED tail lights look?!
At our hotel, I parked the CX-30 right behind a Jaguar E-Pace CUV, and at that moment, I noticed how similar the sleek lines of both tail lights looked. Mazda's exterior designers certainly did a phenomenal job penning these tails – they make the CX-30 look like it comes with a higher end price tag.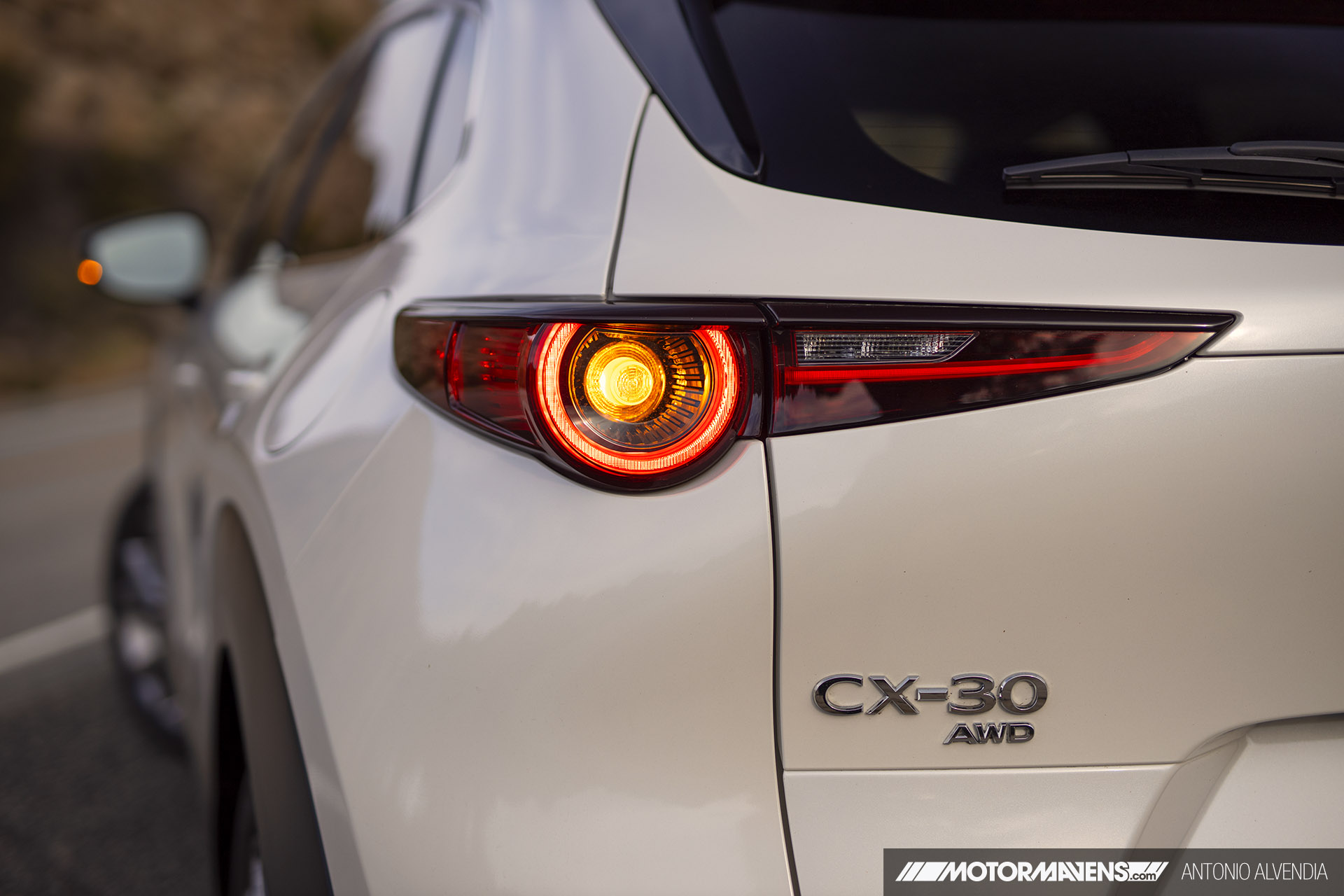 With the hazard lights or turn signals on, the corner of the door mirrors and the center section of the tail light illuminate, reminding me of the afterburners of an F-14 Tomcat. Or maybe I've just been watching too many Top Gun preview videos on my Facebook news feed.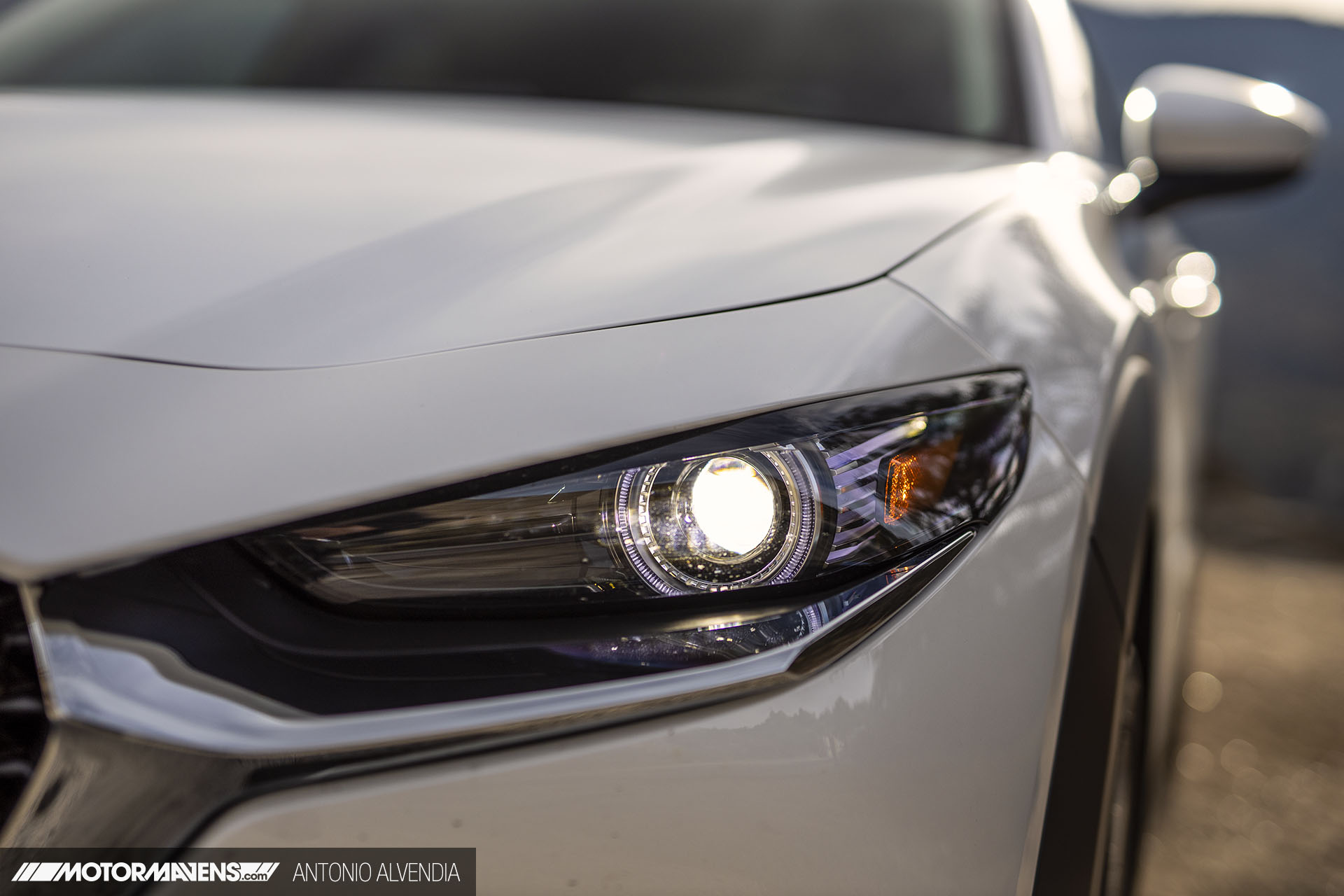 The angular headlights look amazing too, with LED projectors in the center, and an angel eye ring surround that reminds me of the E39 M5. Beautiful.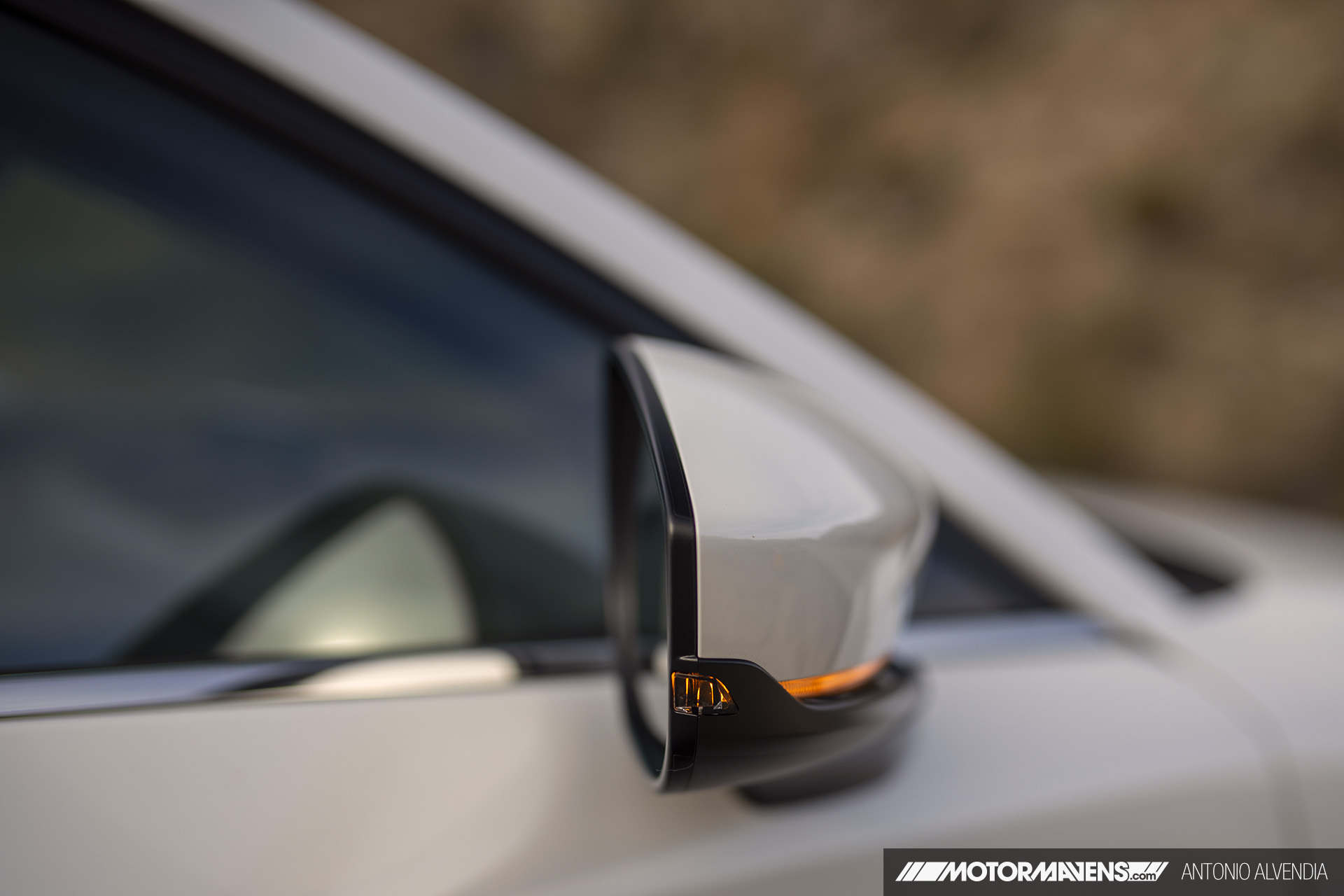 As mentioned previously, the corner of the folding door mirrors lights up when the hazard lights or turn signals are on, but the CX-30 also has a pencil thin turn signal lamp that illuminates as part of the sleek body-colored mirror.
The aesthetic look of a vehicle's mirrors is a really big deal to me – they really change the way a vehicle looks on the outside. There's a reason why I and other sport compact car enthusiasts like me are happy to pay anywhere between $350-800 for cool looking aero mirrors for our cars… and the Mazda CX-30 comes with these cool looking two-tone aero mirrors with integrated lights as standard equipment! Love it.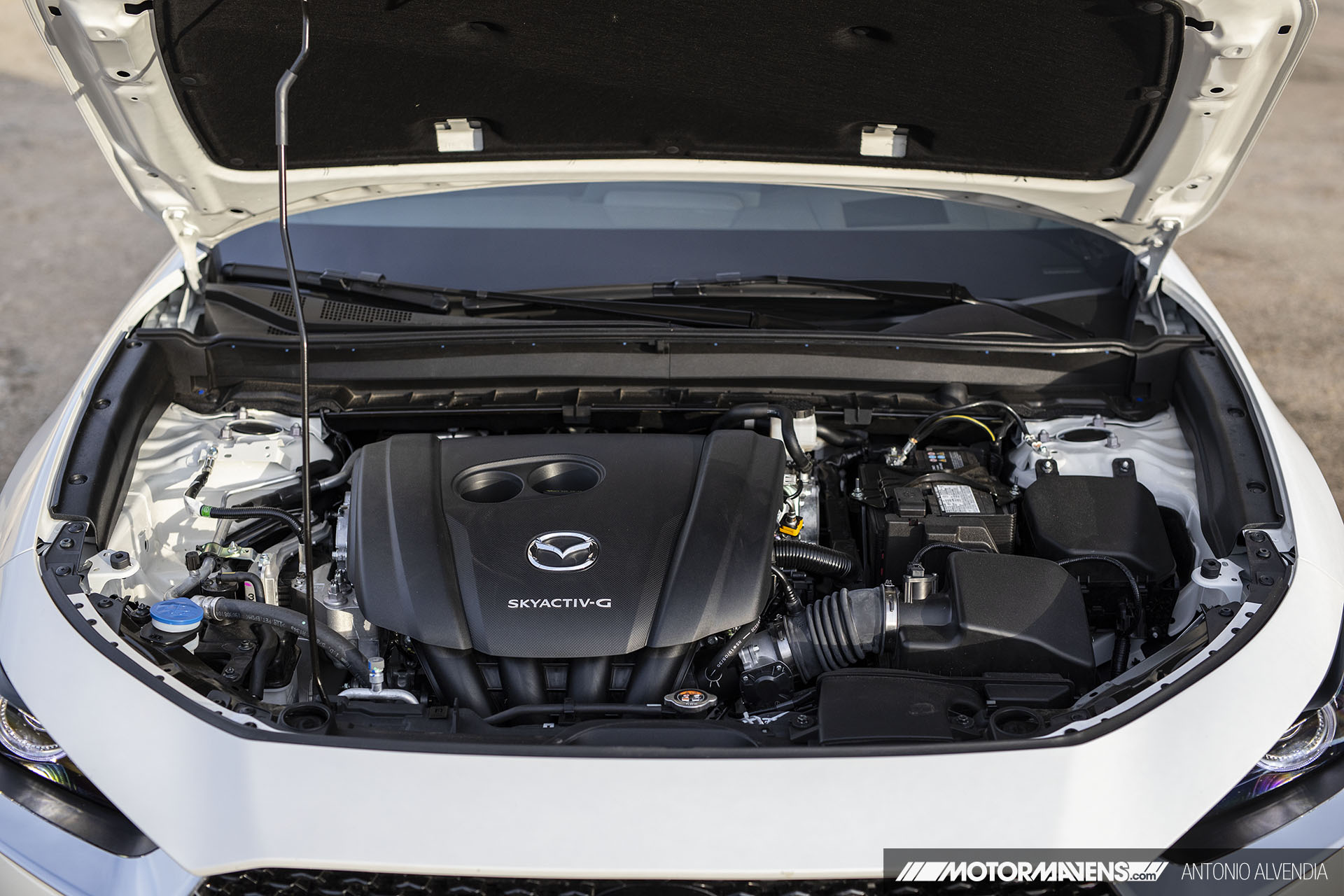 Here's a peek under the hood. The CX-30 comes with a Skyactiv-G 2.5-liter four cylinder that seems similar to the engine in the base model CX-5 at first glance.
Just in case you were wondering how similar the CX-30 and CX-5 might be, let's just say the CX-5 is bigger in terms of interior volume and costs a couple thousand dollars more, but it doesn't provide the sporty handling dynamics of the CX-30.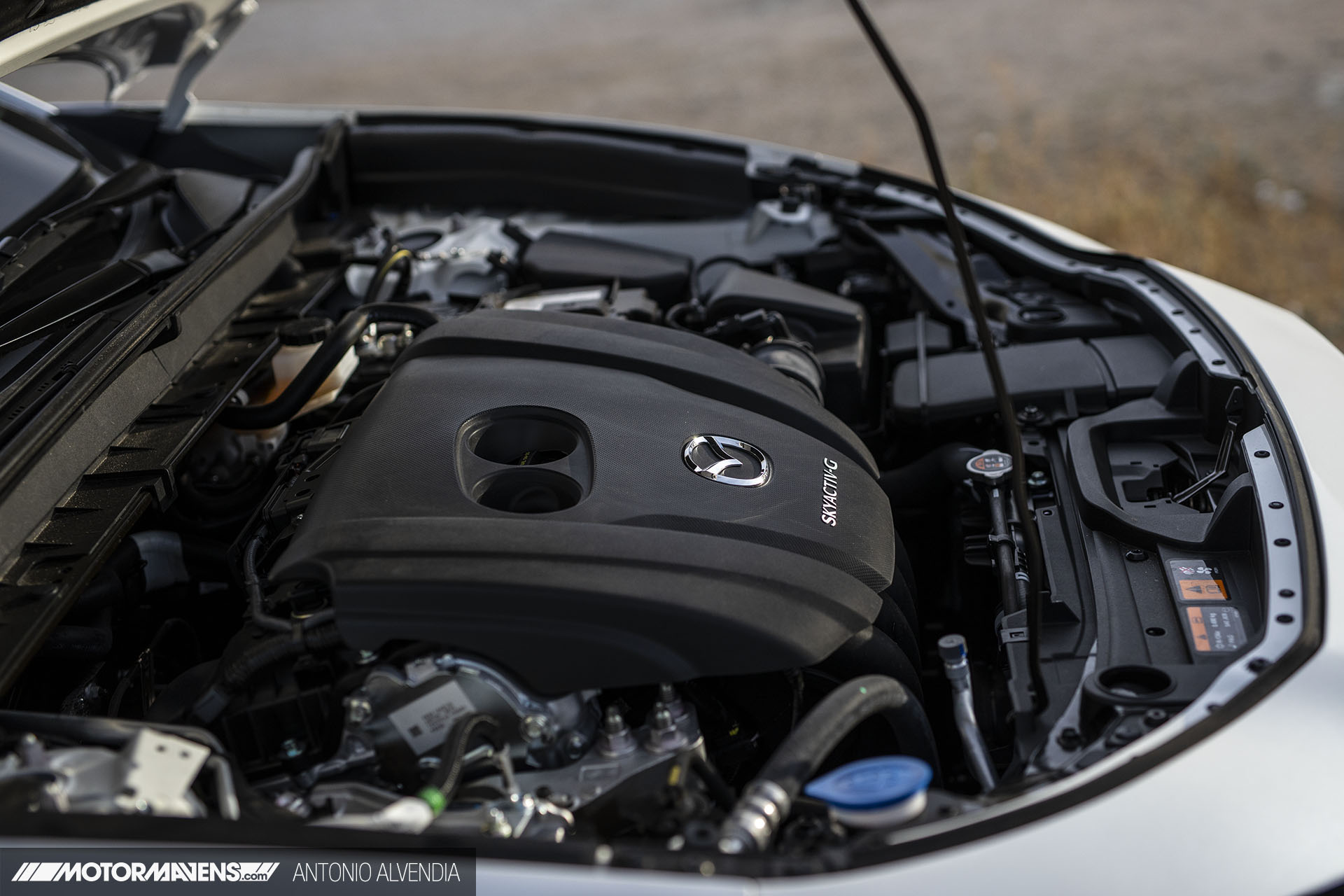 Again, this engine doesn't tout big numbers, but it felt more than adequate for daily driving… and while the engine didn't feel torquey like a V8 or turbocharged motor, it certainly didn't feel sluggish when I was charging uphill in Sport Mode.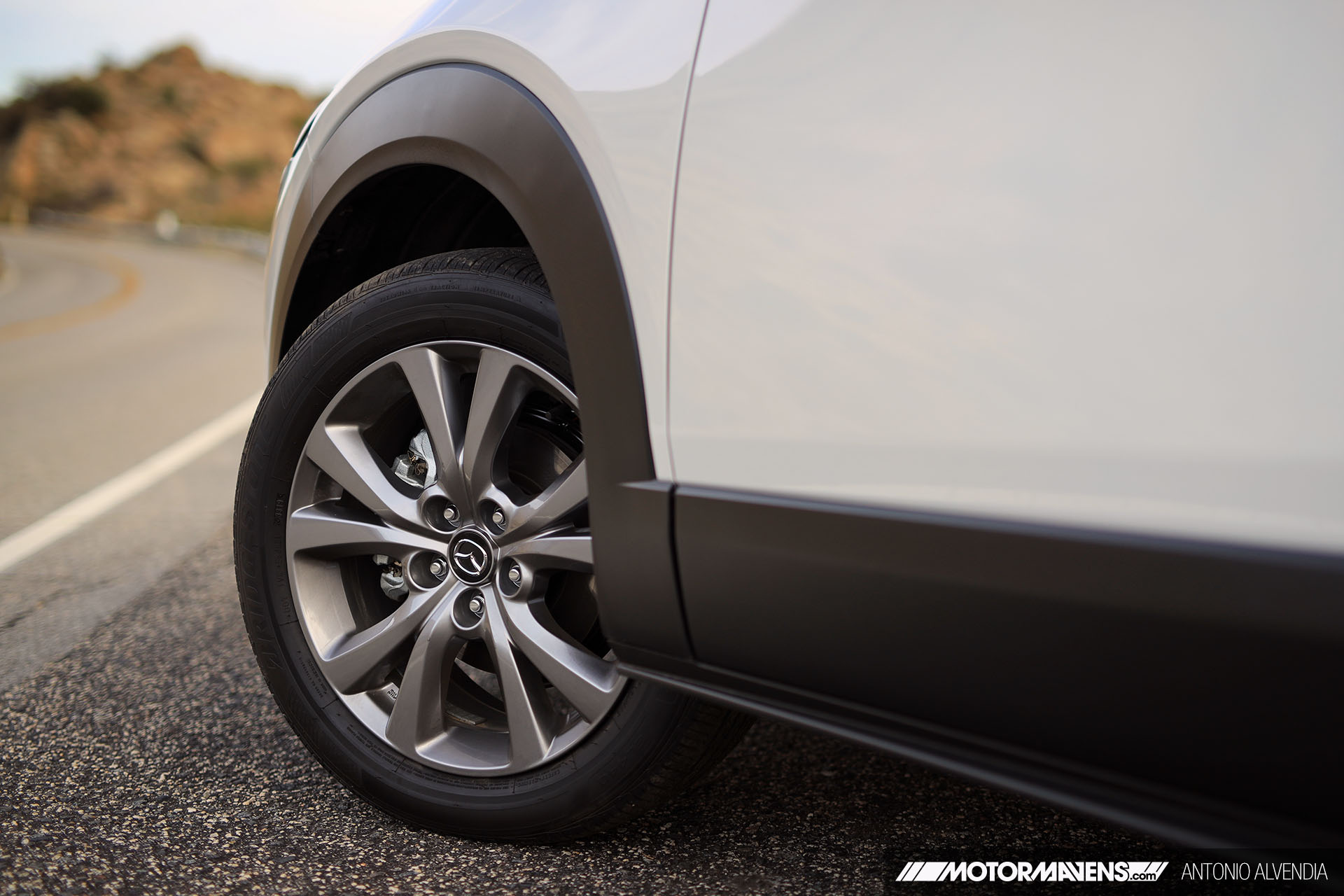 The Premium, Preferred, and Select package CX-30s come with 18 inch alloy wheels with 215/55/R18 Bridgestone all season tires, but the base model comes with 16 inch wheels wrapped in 215/65/R16s.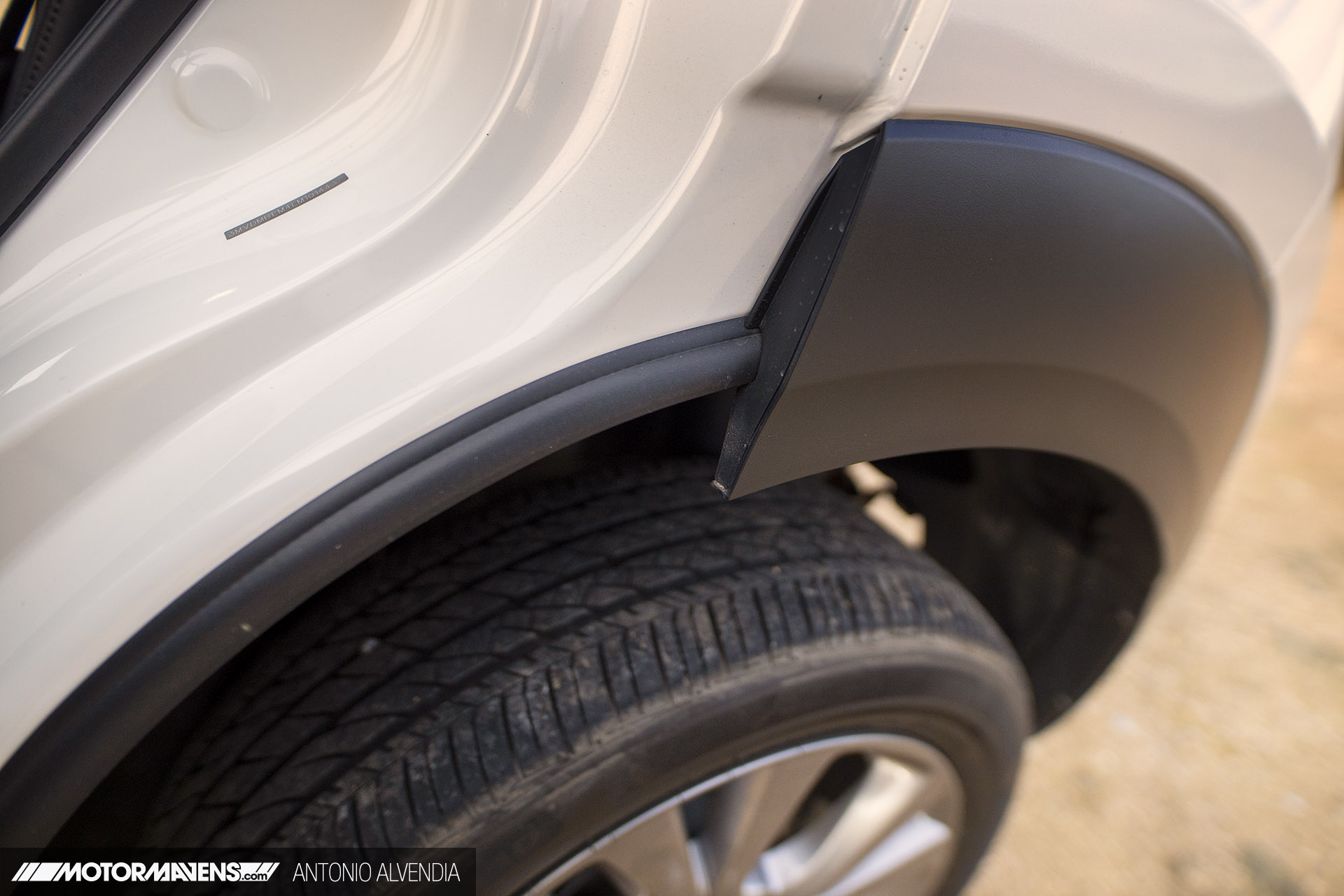 Here's one aspect of the CX-30 that I found puzzling. When the rear door is ajar, you can see that the black plastic fender flare actually hangs over the fenderwell like a black plastic icicle. It made me wonder why Mazda would design this feature as part of their vehicle.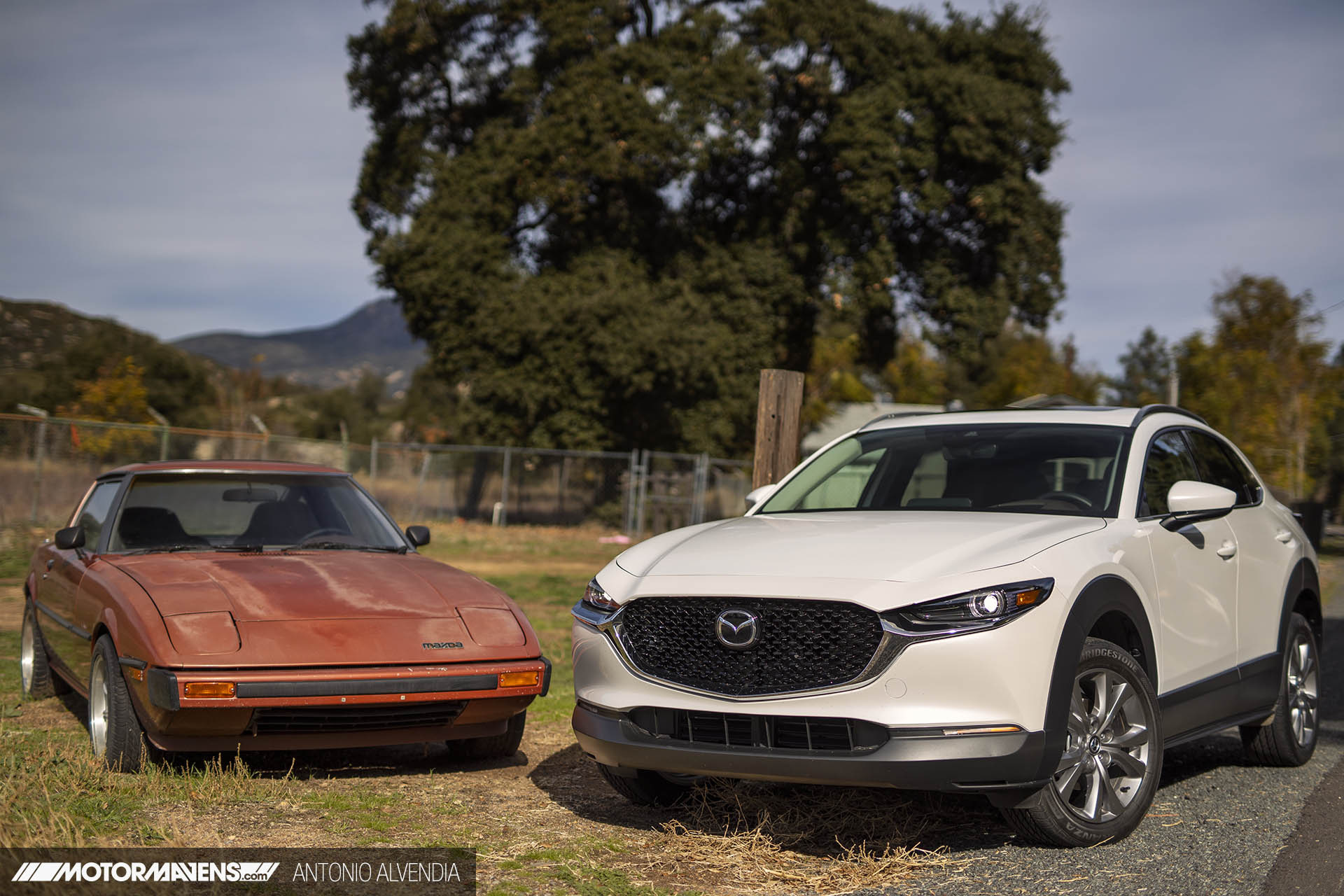 I think that people who understand the sporty heritage that older Mazdas like this first generation SA22C/FB3S RX7 have built will understand how the CX-30 fits into Mazda's lineup, and how it might fit into the daily lives of young adults or anyone looking for a practical around-town car that handles well.
Overall, the 2020 Mazda CX-30's design team achieved what it set out to do – produce an affordably priced, handsome looking CUV that feels more like a sport compact car than a practical grocery getter.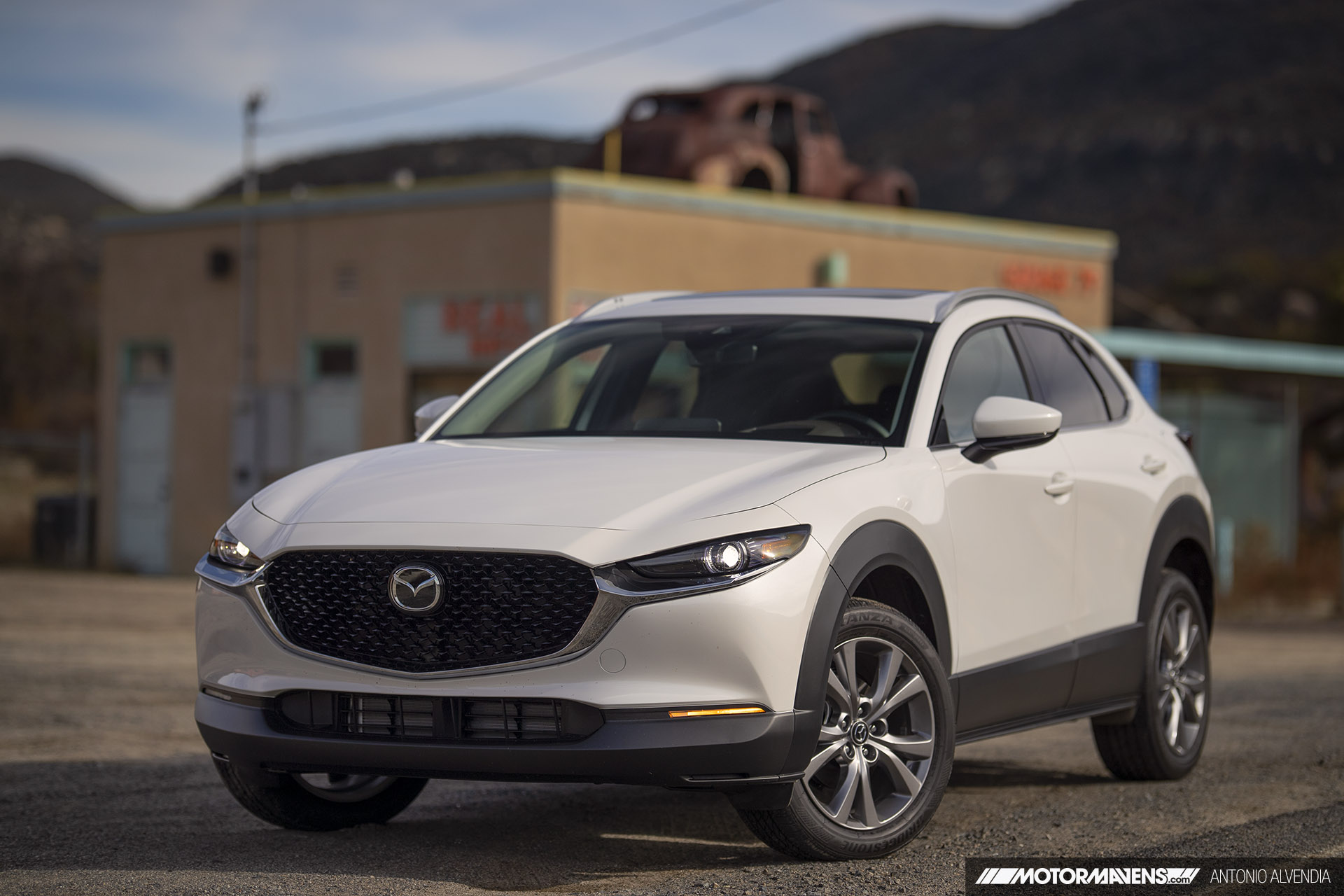 The CX-30 seems perfect for a city dweller who has to navigate through the steep driveways of parking structures and treacherous speed bumps.
Since I live in Los Angeles, and frequently drive all over Southern California for meetings and photo shoots, I can imagine how useful the CX-30's high speed handling might be for dicing through lanes on the winding stretch of the 110 freeway from Pasadena to Downtown LA.
The CX-30's responsive steering and braking also seem perfect for dodging all the crazy people in Hollywood darting into the middle of traffic on their electric Bird scooters.
The quiet, insulated interior seems perfect for a busy professionals (like me) who are always on a conference call while driving through bustling city traffic.
The twelve-speaker Bose premium audio system also seems perfect for blasting music with the sunroof and all the windows open on sunny days driving up Pacific Coast Highway to Malibu.
At a starting price of only $21,900 for the FWD version or $23,300 for the i-Activ AWD version, the 2020 CX-30 sounds as if it might be perfect for a lot of people… like maybe you? Don't take my word for it though. These cars are hitting dealer lots this week, so go ahead and schedule a test drive… and make sure to put it in Sport Mode before hitting the freeway onramp.
:: Antonio Alvendia
Instagram: @AntonioSureshot • @MOTORMAVENS
www.antoniosureshot.com
MotorMavens on Facebook
MotorMavens on YouTube

BONUS PHOTOS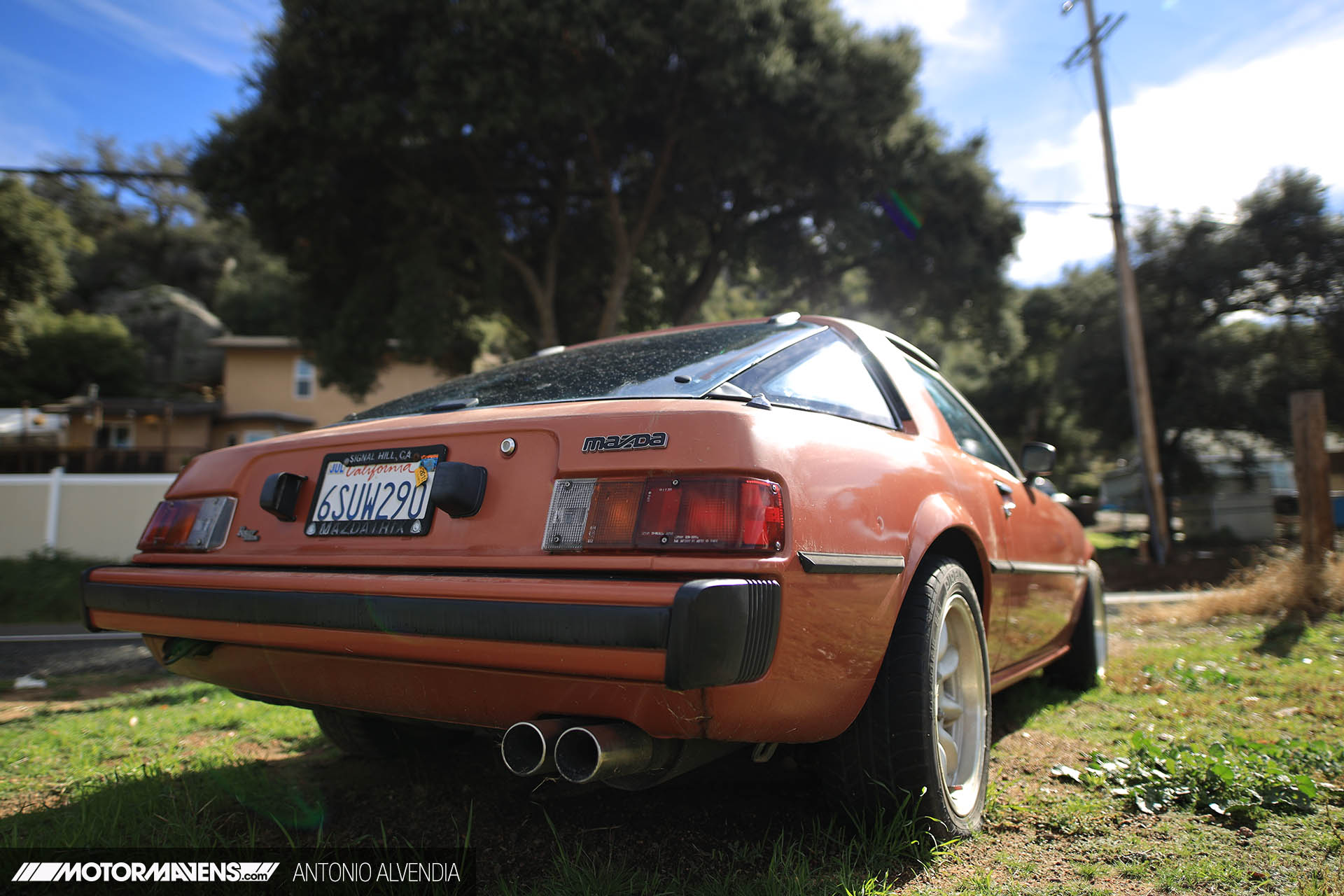 I know my teaser photos with the first gen RX7 made you curious, so here are a few more. The car had a Mazdatrix license plate frame, so you know the owner is a rotary enthusiast. This FB also has a dual pipe exhaust, but I'm not exactly sure about the brand. Experienced OGs will tell you it probably isn't HKS, as you can tell by the shape of the inner wall of the exhaust tips. Can anyone guess?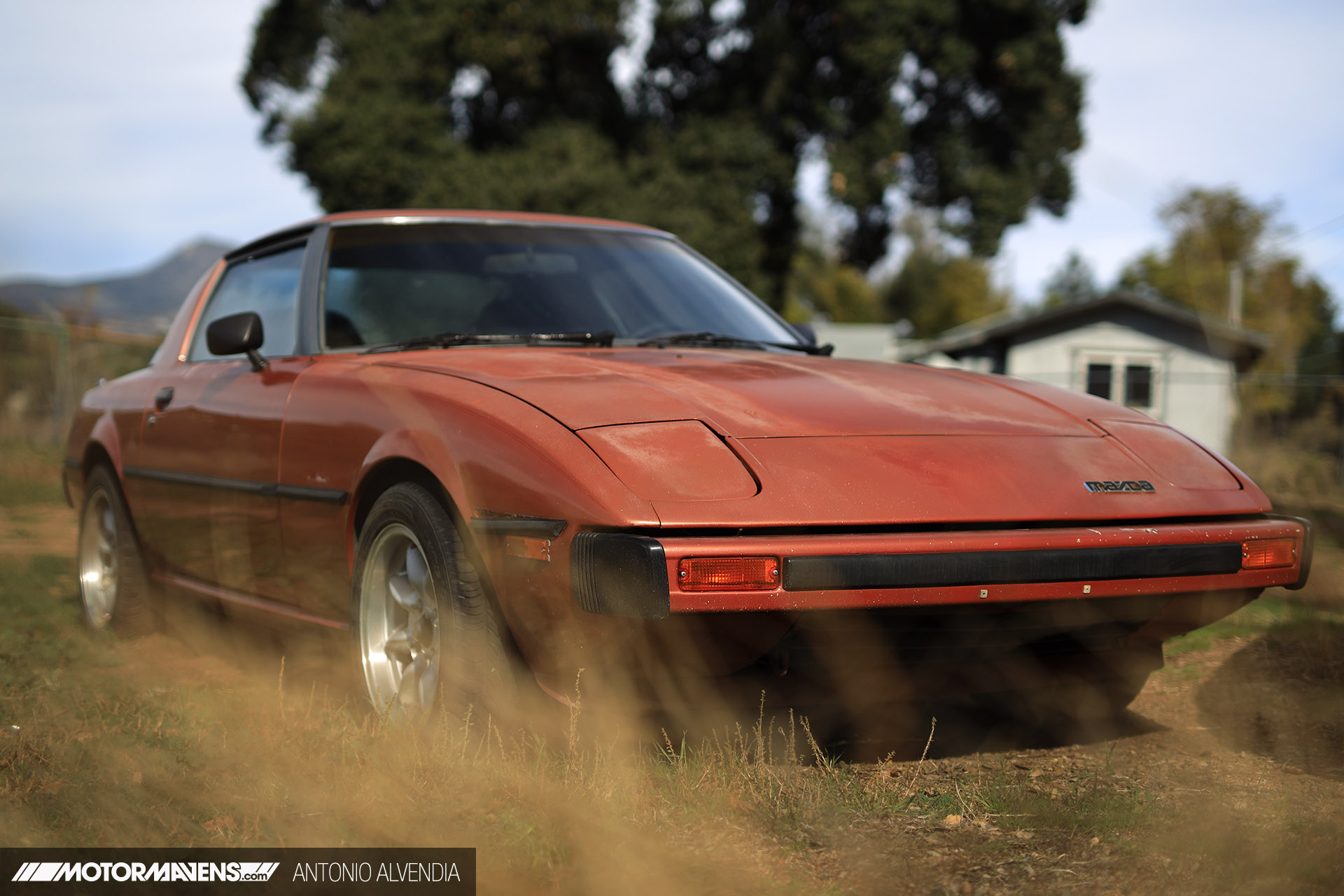 This RX7 looks like it still had original paint, with a sun-oxidized hood and roof. It sits on a mild drop; it probably just has aftermarket springs and shocks, with a set of 15 inch Panasports bolted up. Can you guess the size? Do you think these Panas are 15×7 or 15×6.5 wide?
---