---
---
---
---
---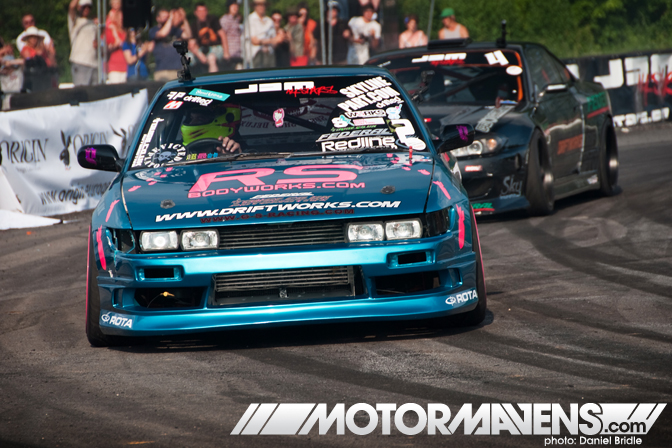 When I first heard that
JDM Allstars
was coming to
Donington Park
for Round 2 of the championship, I was a little confused as to where the event would be held. Would it be on the actual race circuit? Since it's currently under reconstruction, any idea of that went out the window. Would it be on the large plot of land off to the side of the track known as the "
Launch Pad
"? Well, since two other drift series have used that area in the past, it didn't seem to fit JDM's approach which usually involves coming up with fresh and exciting course designs.
I later heard that the plan was to hold it on something called the
Donington Alpine Circuit.
I had no clue what that was until I came along to the shoot of the promotional video a few weeks back. Then it all became clear. On the outskirts of the main track and the Launch Pad is a fast, wide, almost mountain road-like track that the JDM Crew decided to use. It's made up of four corners and a steep uphill straight where the cars seemingly come out of nowhere and fly over the top. There's a right transition into the second turn, aiming for a clipping point close to the deadly armco, then a transition left into the third turn where you plant the throttle and bring the rear of the car to the armco on the straight, leading to another transition right into the final hairpin turn.
Fast corners, armco barriers on all sides and beautiful scenery all around. This was looking to be one of the most unique and exciting drift events in the JDM Allstars calendar.
Read more...
---
---
---
---
---